The Week That Was In Running – July 3 – July 9, 2017
by LetsRun.com
July 13, 2017
After a July 4th hiatus, the Week That Was is back. Below we share a few interesting thoughts we had about the last two weeks of happenings in the world of track and field but don't give you a blow by blow recap of the big meets. If you missed any of our extensive meet recaps of Ostrava, Paris DL, Lausanne DL, London DL, TrackTown Stanford, TrackTown Portland, TrackTown New York, catch up now.
Past editions of the Week That Was can be found here. Got a tip, question or comment? Please email us or post in our forum.
*****
Konstanze Klosterhalfen Continues to Amaze
This summer, Germany's 20-year-old budding star Konstanze Klosterhalfen has gotten plenty of buzz. We've been raving about her all year, whether it was after she soloed a 14:51 5000 or after she broke 4:00 in Rome. However, on July 9th, she may have had her most amazing run ever and it's generated very little buzz.
Article continues below player
At the 117th German athletics championships, Klosterhlafen got her second sub-4 clocking as she won in 3:59.58 (her pb is 3:59.30). Running 3:59.58 when your pb is 3:59.30 isn't amazing. What's amazing about that is there were no rabbits and second place was just 4:10. How did she do it? Well, she ran 3:59.58 without the help of pacesetters by closing her last 800 in 2:04.65 2:05.7.
We've searched all over for a video of the race and can't find one. If you have one, please email it to us.
Update: The video of the race has been found and can be watched here.
More: Konstanze Klosterhalfen Breaks 40-Year-Old MR With A Solo 3:59.58
****
Records Are Made to Be Broken
In our last edition of the Week That Was, we noted how John Gregorek still holds the US junior steeplechase record of 8:33.8 thanks to a time he put up in Philadelphia in 1979. We didn't realize it, but the European junior steeplechase record had lasted even longer. East Germany's Ralf Pönitzsch ran 8:29.50 in August of 1976 and that survived for 40+ years until July 8th when Jakob Ingebrigtsen, the 16-year-old sub-4 miler, tried the steeple for the first time and ran 8:26.81, a day after he ran a 13:49.54 5000.
Congrats to Jakob and we hope he keeps on running different events. We don't think 16-year-olds should exclusively run a single event. Far too often, we've seen prodigious young talents repeatedly running an event that they later find out they aren't really best suited for. They just are so good at the event for their age that they assume that's their event. Anyone remember when Ryan Hall and Jordan Hasay thought they were 1500-meter runners?
On his 3000m steeplechase debut, 16-year-old Jakob Ingebrigtsen has smashed the 41-year-old European U20 record with 8:26.81 in Kortrijk! pic.twitter.com/X8LruaZmxY

— European Athletics (@EuroAthletics) July 8, 2017
*****
Stat of the Last Two Weeks
0 – number of Japanese men going to the 2017 World Championships in the 800, 1500, steeple, 5000 and 10,000 in 2017
0 – number of Japanese men with the IAAF standard in the 800, 1500, steeple, 5000 and 10,000 in 2017. The best Japanese time of the year in the 800 is 1:46.17 (standards is 1:45.90), in the 1500 it's 3:42.20 (standard is 3:36.00), in the steeple it's 8:36.40 (standard is 8:32.00), in the 5000 it's 13:25.56 (standard is 13:22.60), and in the 10,000 it's 27:56.27 (standard is 27:45.00).
On the women's front, the Japanese do have two entrants in the 5000 and three in the 10,000 (Ayuko Suzuki is doubling so there are four women entered). The marathon is clearly the focus in Japan and where they most excel. On that front, a second Japanese man broke 2:09:00 on the year at the Gold Coast Marathon in Japan where Takuya Noguchi ran 2:08:59 to win by five seconds.
****
Congrats To Tim Ritchie For His Top-5 Showing At The Utica Boilermaker 15k
The Utica Boilermaker is one of America's most historic road races and a great one to race if you are looking for a summer road race. Upstate New York is wonderful in July and the conditions are generally quite good (it was an amazing 70 degrees this year). The race was run for the 40th time in 2017 and the winners were Silas Kipruto (Kenya, 43:55) and Mary Wacera (Kenya, 49:18), marking the 10th straight year that an African has won on women's side and the 26th year in a row that an African has won on the men's side.
But we want to give some props to American Tim Ritchie for finishing 4th on the men's side – the first top-5 finish by an American man in Utica in a LONG time. The race's website only lists results back to 2003 but an American male had never finished in the top 5 in any of the previous 14 races dating to 2003.
The top American male finisher at Boilermaker over the last 15 years:
2017 – 4
2016 – 11
2015 – 11
2014 – 11
2013 – 6
2012 – 11
2011 – 9
2010 – 10
2009 – 9
2008 – 12
2007 – 13
2006 – 14
2005 – 20
2004 – 13
2003 – 22
If you know when the last time an American man was top 5 at Utica before 2017, please let us know.
Allie Kieffer (11th, 51:03) was the top American women's finisher in 11th, picking up $3,000 in the process.
More: Kenya's Silas Kipruto Wins Boilermaker 15K In 43:55 Timothy Ritchie was the top American in 4th place, the best place by an American in "many years." *Results
*World Half Bronze Medalist Mary Wacera Takes Boilermaker Title In 49:18
*MB: Boilermaker 15k 2017: Kevin Castille 46:11 Castille was 2nd American and 14th overall.
*****
John McEnroe Is Right / We Should Not Be Comparing Male and Female Athletes on An Absolute Scale
In the US, July is normally a very slow sports month as the NBA and NHL seasons are over, Major League Baseball goes on break and the NFL season hasn't started. As a result, the sports media is looking for stories even if they have to manufacture them and we think that's what they did in the case of John McEnroe. The former tennis star McEnroe has been on a media tour promoting his new book, But Seriously. McEnroe has been slammed by some for being sexist for saying Serena Williams would be "like No. 700 in the world" if she was on the men's tour.
The idea that McEnroe was slamming Williams is absurd. What's not being reported is that the 700 comment only came after McEnroe was asked by an NPR reporter why he called Serena the best female player in the history of the world in his new book and not simply the best player ever.
Garcia-Navarro: We're talking about male players but there is of course wonderful female players. Let's talk about Serena Williams. You say she is the best female player in the world in the book.
McEnroe: Best female player ever — no question.
Garcia-Navarro: Some wouldn't qualify it, some would say she's the best player in the world. Why qualify it?
McEnroe: Oh! Uh, she's not, you mean, the best player in the world, period?
Garcia-Navarro: Yeah, the best tennis player in the world. You know, why say female player?
McEnroe: Well because if she was in, if she played the men's circuit she'd be like 700 in the world
The backlash that McEnroe has received for telling the truth really should be a bit scary for supporters of women's sports. What many people fail to recognize is something that is obvious to us – that on an absolute level, the top male athletes are way better than the top female athletes. One person who realizes that somewhat obvious fact is Patrick Mouratoglou, Williams' coach. When asked about the controversy, he used a track and field analogy in his response.
'I don't really understand why we keep on comparing men and women in everything. 
'I think men's tennis is very different from women's tennis and we like both of them for different reasons. Would we compare men's 100m runners and women's 100m runners, like the time they take to run 100m? No.' 
Mouratoglou correctly points out that it's stupid to compare male athletes vs. female athletes on an absolute scale (and McEnroe only did so once the reporter asked him why Williams wasn't the greatest ever) as women are going to come up short in that type of comparison.
We'll briefly do it to show you why.
Faith Kipyegon was the best 1500 runner in the world in 2016. The Olympic champ ran 3:56.41 in the 1500 last year (which is actually very close to Shannon Rowbury's American record of 3:56.29).
That time puts Kipyegon nowhere near the 700th-ranked man in the world. Every year, there are more than 700 collegians just in the US who run that fast. The NCAA descending order list for D1 only goes to #500 but that 500th-fastest time this year is 3:53.62. Add in the fact that 135 D2 men have broken 3:56.41, as have 78 D3 men and 30 at the NAIA level and we are already over 700. If you add in international athletes, pros and high schoolers (66 high schoolers broke Kipyegon's 4:15.37 equivalent time in the mile) there are WAY more than 700 faster than Kipyegon and we're only in July.
In fact, the results database Tilastopaja says the 1000th fastest man in the world this year has run 3:48.36, which is faster than the women's world record (in 2016, the 1000th man ran 3:47.4)
In terms of the 100 meters, which is the event Mouratoglou mentioned, Elaine Thompson fares a little better. The Olympic champ set a personal best of 10.70 last year, the fastest time by a woman since 2012.
There were fewer than 700 US collegians who bettered that time this year. TFRRS lists 558 collegians in the US under 10.70 this year (347 D1 , 94 D2, 46 NJCAA, 40 NAIA, 24 D3, 7 NCCAA) but again when you add in foreigners and pros you are well over 1000. Tilastopaja.org lists the 1000th male performer for the 100 in 2017 at 10.56 (last year # 1000 was 10.54).
###
If you see those results, one shouldn't need to be a scientist to realize the obvious – testosterone helps a lot in top-end sport performance. However, one of the reasons why the Court of Arbitration for Sport (CAS) suspended the IAAF's rules on hyperandrogenism and allowed people like Caster Semenya to compete (and dominate) without treatment is because there were no scientific papers showing that female athletes with higher testosterone levels do better at sports than female athletes with lower testosterone levels. There is now, as in early July a paper was published in the British Journal of Sports Medicine called "Serum androgen levels and their relation to performance in track and field: mass spectrometry results from 2127 observations in male and female elite athletes" that showed that female athletes with higher testosterone levels do better than those with lower levels.
The paper showed that in the 800 meters, athletes in the lowest third in terms of testosterone level – those at the .40 nmol/L level – ran, on average, 2:02.68 for 800 while those in the highest third of testosterone – 3.26  nmol/L – ran 2:00.50.
Now just because the study is out doesn't mean that Caster Semenya and others will have to start taking hormonal treatment if they are going to compete in the women's division. Sports scientist Ross Tucker has written a great piece explaining how CAS may be looking for even more proof that testosterone is the reason why Semenya is so good. You can read that piece here: Testosterone, performance & intersex athletes: Will the IAAF evidence be enough?
More: McEnroe's NPR interview
*Joanna Harper: "Using Testosterone To Categorize Male And Female Athletes Isn't Perfect, But It's The Best Solution We Have"
******
Doping, Doping, Doping
There were a couple of potentially huge doping developments that came out during the last two weeks.
The first was that Fancy Bears released hacked IAAF documents indicating portions of biological passports for many of track and field's biggest stars were labeled as "likely doping" or "suspicious."
There are two completely different ways one could react to the document.
Give up on being a track fan. If it's true all of the big names in the document are indeed dopers, but the doping authorities didn't act on it, or just can't prove it with 99.99% certainty, there really is no point in being a fan.
Be encouraged by the leak. If the people involved in drug testing are very skeptical and looking for fault in the athletes, this is what the sport needs. The fact that the athletes on the list were never sanctioned doesn't mean there was a cover-up. Let's say, for example, an athlete's hematocrit went from 44 to 48, a scientist might label that as "suspicious" or "likely doping" but then drop those concerns if they learned they'd been to altitude.
Ultimately, we feel that the IAAF/WADA needs to explain in detail what happened if individual athletes request it. We can understand why WADA might be hesitant to explain why people were labeled that way, but we feel they should do it if an athlete requests it for two reasons. For starters, if athletes on the list are clean, their reputations have been tarnished and they deserve to know why they were labeled that way. Secondly, if IAAF/WADA don't explain, many people will just assume there was a massive cover-up.
We at LetsRun.com are waiting for more information to come out but are not giving up on the sport because of the leak. The odds of a huge cover-up aren't very good. Remember, the Russian doping scandal showed us that even after paying hundreds of thousands in bribes, people like Liliya Shobukhova ultimately were still banned.
The second big doping news during the last two weeks was that, more than a year after his hotel was raided, coach Jama Aden was finally charged in Spain. Now, some may think this is a huge development.
We do not. It appears (we use the word "appears" as the only article we've read on the matter is on the Spanish website elconfidencial.com) that the Spanish have very little on Aden. Aden was not charged with anything that is a doping violation – but rather simply for injecting athletes with vitamins, which is a crime in Spain but not in many other places. Ever since this story broke last June, a source told us that Aden might be charged for injecting athletes with vitamins as vitamins such as Magnesium, Calcium and B12 were found in his room and Aden apparently didn't know that injecting vitamins is against the law in Spain. However, it's not an anti-doping violation. So for now, the Aden situation is similar to the Alberto Salazar situation in the US. There seems to be strong proof that the country's medical laws were broken, but less proof that the sport's anti-doping laws were broken.
Update: If you speak Spanish and understand the charges against Aden, please email us as some have read the article on Elfconfidencial and think the charges are more serious.
Oh yeah, one more thing about the aftermath of the Spanish raid. It's worth noting that the judge brought zero charges against 800 runner Musaeb Abdulrahman Balla. Even though EPO was found in his room and in a suitcase that had photos of him in it (Balla claimed it was his roomate's), Balla was not charged as in Spain the possession of doping substances is not a crime and athletes aren't charged unless they are responsible for administration or trafficking.
Now Balla could get a doping ban as it's against anti-doping rules to possess banned substances without a valid justification. We wonder if a ban is in the works for him as he hasn't competed all year.
More:  LRC Does Fancy Bears Hack Reveal That Many Of Track And Field's Biggest Stars Were "Likely Doping?" See The Latest Fancy Bears Documents Here Under the label "likely doping," the document lists the likes of Meseret Defar,Galen Rupp, Mo Farah, Silas Kiplagat, Geoffrey Mutai, and Evan Jager. Under "passport suspicious," there are stars like Asbel Kiprop, Henrik Ingebrigtsen, Luke Puskedra,Mary Ketiany and Aries Merritt.
*MB: Aden reportedly indicted on public health charges
****
Quotes of The Last Two Weeks (that weren't quote of the day)
#1 Jos Hermens Understands Nike's Image Better Than The Company Itself
"Nike should not be afraid. Nike is meant to be … a rebel company! To make an unofficial record is fantastic! For the next five or 10 years everyone talks about Monza and Eliud and the shoes. You couldn't have it any better."
– agent Jos Hermens, paraphrasing an email he sent to Nike CEO Mark Parker this spring in which he encouraged the Nike CEO not to call off the sub-2 attempt out of fears it was upsetting hard-core running fans.
The anecdote about the email comes from a nice Wired magazine piece by Ed Caesar: The Epic Untold Story of Nike's (Almost) Perfect Marathon.
The excerpt below shows many of those fans were on LetsRun.com.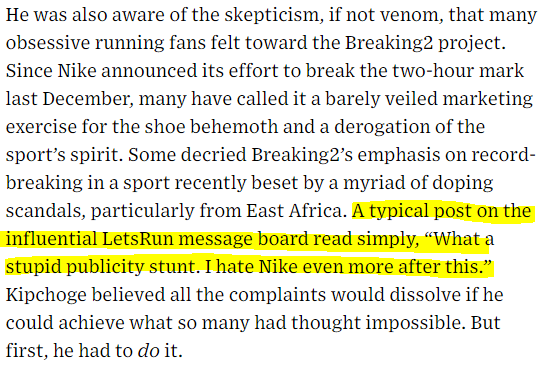 #2 Should Britain Change Its World and Olympic Qualifying To Match the US System of Top 3?
"Make the qualification procedure three past the post. Yes, some people would miss out, but if one of those three didn't get the qualifying time, then use the discretionary process."
-three-time Olympian Goldie Sayers talking to the BBC after the 2017 British Championships attracted disappointing crowds. Sayers had a pretty good grasp on why the meet struggles for popularity. It lacked star power (no Laura Muir, no Mo Farah) and it lacked high stakes, as only the top 2 were guaranteed a World Championship, spot meaning the big stars that did show up had little to worry about.
We saw some of the same problems at the US champs this year as the stars with an IAAF bye could blow it off. We understand why the IAAF wants its biggest stars at Worlds, but kind of wish the bye was done away with.
2/2: Empty stands at UK Trials DISGRACEFUL, a nadir. STARS MUST COMPETE – or have no sport! For Sponsors/Spectators/TV #NotRocketScience

— Tim Hutchings (@TimHutchings1) July 2, 2017
#3 The Eatons Aren't Distance Runners
"The biggest misconception among the general public is probably how often and far Ashton and I run. People think that we could run a 10-miler or jump in a marathon no problem. Let me put it this way, when we were training for the Olympics, we would complain about a 5-minute run, saying that 'our calves got too tight,' 'our feet hurt,' or 'it'll make us slow.'"
– former heptathlete Brianne Theisen-Eaton, writing on weareeaton.com about how she has traditionally viewed distance running. Theisen-Eaton will be doing more distance running in her retirement as she's going to complete the 2017 Bank of America Chicago Marathon for charity.
More: Brianne Theisen Eaton is going to run the 2017 BOA Chicago Marathon
****
Recommended Reads
Some of our favorite articles from the last two weeks.
To see our favorite reads from other weeks, go here.
****
Quotes Of The Day And Last Week's Home Pages
To see the actual quotes of the day from last week or last week's home page or any home page, go to our archive page.
Past editions of The Week That Was can be found here. Questions or comments? Please email us or post them in our running fan forum.