Paris Diamond League Recap: Sifan Hassan Beats Faith Kipyegon, Ronald Kwemoi and Omar McLeod Lose For First Time, Nijel Amos is Back?
by LetsRun.com
July 1, 2017
The 2017 IAAF World Championships begin in just over one month, and in many events, the medal picture is beginning to take shape. Today at the Meeting de Paris, some of the favorites (Christian Taylor in the triple jump, Sam Kendricks in the pole vault, Mutaz Essa Barshim in the high jump) kept rolling while others saw their unbeaten seasons skid to a halt (Faith Kipyegon in the 1500, Ronald Kwemoi in the 3k, Omar McLeod in the 110 hurdles).
In the distance events, the highlight was a showdown between Kipyegon and World Indoor champ Sifan Hassan in the women's 1500, won by Hassan, 3:57.10 to 3:57.51. The women's steeplechase featured the greatest field ever assembled in that event, but when it was over, Kenya's Beatrice Chepkoech was clearly the best as she won by over four seconds in 9:01.69. 2012 Olympic silver medalist Nijel Amos showed he is back in good form by winning the 800 in 1:44.24, while Ethiopia's Muktar Edris upset Kwemoi and Yomif Kejelcha to win the 3,000 in 7:32.31.
We recap everything from the seventh Diamond League meet of the year (the DL campaign is now halfway over), starting with the distance events.
Women's 1500: Sifan Hassan Takes Down the Olympic Champion
Sifan Hassan held off the Olympic champion Faith Kipyegon to win in 3:57.10 and remain undefeated for the year at 1500 as her transition to the Nike Oregon Project has gone tremendously well. Kipyegon got second in 3:57.55 as the front two were well ahead of Gudaf Tsegay of Ethiopia in 3rd in 3:59.55.
This race started extremely fast as the rabbit Halimah Nakayi of Uganda took the field through in 60.95, but Sifan Hassan was right behind her with Kipyegon in tow. The pace settled a bit the second 400 as they hit still a very quick 2:05.70. Hassan passed the rabbit just before the 900m mark and was closely followed by Kipyegon and Tsegay. Kipyegon came up on Hassan's shoulder on the homestretch but Hassan kept the lead at the bell (2:55.3).The front three were 8 meters clear of the next-closest chaser. On the backstretch it became a two-woman race between Hassan and Kipyegon. Hassan still had the lead and kept it to the homestretch where Kipyegon tried to pass her but couldn't do it. Very impressive wire to wire win for Hassan when you discount the rabbit. The last lap was a 61.81 for Hassan.
1500 Metres - Women 
                                                             Pts
    1 Hassan , Sifan                   NED    3:57.10          8
    2 Kipyegon , Faith Chepngetich     KEN    3:57.51          7
    3 Tsegay , Gudaf                   ETH    3:59.55          6
    4 Cichocka , Angelika              POL    4:01.61          5
    5 Arafi , Rababe                   MAR    4:01.81          4
    6 Chebet , Winny                   KEN    4:03.55          3
    7 Jepkosgei , Nelly                KEN    4:04.64          2
    8 Kiyeng , Judy                    KEN    4:05.54          1
    9 Sado , Besu                      ETH    4:05.70           
   10 Akkaoui , Malika                 MAR    4:06.37           
   11 Koster , Maureen                 NED    4:06.70           
   12 Bobocea , Claudia                ROU    4:07.67           
   13 Hall , Linden                    AUS    4:08.55           
   14 Embaye , Axumawit                ETH    4:14.13           
      Nakaayi , Halimah                UGA        DNF           

QT: Hassan the Favorite in London?
Hassan's switch to the Nike Oregon Project reminds us on the surface of Mo Farah: a very good European runner switches to NOP and becomes a world beater. A few things are different with Hassan, however, as she was much better than Mo Farah before joining NOP than Farah was. Hassan's PR (3:56.05) was already better than Faith Kipyegon's (3:56.41). She got a bronze at the 2015 Worlds and was World Indoor champ last year, but was a disappointing 5th at last year's Olympics, and thus the coaching switch. She hasn't yet beaten her 2015 PR and Kipyegon has shown she has the experience of navigating the rounds at the Olympics, but if you want to slot Hassan as the favorite for Worlds it would be hard to argue against you.
QT: The Time Would Have Been Faster If They Started Slower
The rabbit hit 400 in 60.95 (61 seconds is 3:48.75 pace) and it was too quick to ensure a fast time. Also factor in it may have been windy (while the wind was negligible for the sprint races, Beatrice Chepkoech in the steeple and Renaud Lavillenie and Sam Kendricks in the pole vault all complained about the wind).  Hassan said afterwards the early pace was too quick, "It was very difficult especially from the start. I think I pushed it too much from the beginning. The win is very important to me because there was a very strong field in Paris. Despite the hard start, the time is good and the victory is fantastic. It also gives me confidence which everybody needs before London."
Article continues below player.
Women's steeplechase: Beatrice Chepkoech obliterates the greatest women's steeplechase field ever assembled as the madness continues in the women's steeple
Good luck figuring out who to pick in the women's steeple at next month's World Championships in London. So far, there have been five steeples on the 2017 Diamond League circuit (technically two were non-DL events) and there have been five different winners. Often when that's the case, an event is in a down period with no one good enough to separate themselves from the pack. But in the case of the women's steeple this year, it's because the event, still relatively new globally, is deeper than at any time in history.
Today in Paris, the winner was 25-year-old Beatrice Chepkoech, who continued her remarkable rise over the past year to win against the greatest women's steeple field in history. Chepkoech wasted no time as she and Jebet got out hard. World champ Hyvin Kiyeng and Celliphine Chespol, the winner in Eugene, were giving chase in third and fourth but by 1k (2:59.94) the leaders already had eight meters on fifth place. American Emma Coburn was back in seventh at 3:05.
By the halfway point, Kiyeng had fallen off and it was down to Chepkoech, Jebet and Chespol. Kiyeng was 10 meters back with Coburn an additional 30 meters removed. Jebet wouldn't last much longer, however, as tragedy struck on the third-to-last water jump (just after 2k in 6:00.31). Jebet landed okay, but she stumbled coming out of the pit and went down. She lost a ton of ground and with two laps to go she was totally out of it in fourth place, 40 meters behind the leaders.
Still, there was a great duel unfolding up front, where Chespol took the lead with two to go. It stayed that way, Chespol in front with Chepkoech just behind, until the pair hit the backstretch on the final lap. At that point, Chepkoech moved, and moved hard. Not only could Chespol not respond — she was 30 meters behind by the final water jump — but she was beginning to unravel herself as Kiyeng was closing very quickly. Kiyeng would wind up catching her and holding Chespol off for second but neither could touch chepkoech, who won by over four seconds in 9:01.69.
Coburn closed well on the last lap and almost caught Jebet, running 9:11.08 for 5th.
3000 Metres Steeplechase - Women 
                                                             Pts
    1 Chepkoech , Beatrice             KEN    9:01.69          8
    2 Jepkemoi , Hyvin Kiyeng          KEN    9:06.00          7
    3 Chespol , Celliphine Chepteek    KEN    9:07.54          6
    4 Jebet , Ruth                     BRN    9:10.95          5
    5 Coburn , Emma                    USA    9:11.08          4
    6 Diro , Etenesh                   ETH    9:13.25          3
    7 Praught , Aisha                  JAM    9:20.38          2
    8 Schlumpf , Fabienne              SUI    9:22.01          1
    9 Assefa , Sofia                   ETH    9:24.39           
   10 Ghribi , Habiba                  TUN    9:27.02           
   11 Tanui , Norah Jeruto             KEN    9:27.58           
   12 Kirui , Purity Cherotich         KEN    9:33.71           
   13 Gega , Luiza                     ALB    9:36.11           
   14 Pérez , María José               ESP    9:40.51           
   15 Danois , Maeva                   FRA    9:48.42           
      Claude-Boxberger , Ophélie       FRA        DNF           
      Tuigong , Caroline Chepkurui     KEN        DNF
Quick Take: Fourteen months ago, Beatrice Chepkoech had never run a steeple. Today, she just beat the greatest field in history.
One of the reasons for the rise in quality in the women's steeple is an infusion of talent, such as the 20-year-old Jebet and 19-year-old Chespol. But unlike either of those women, Chepkoech, who turns 26 next week, has been around for a while — she was just in the wrong event. Chepkoech began her career as a 1500 runner, and though she earned a respectable personal best of 4:03.28, she never made a World/Olympic team.
She switched to the steeple last year, running her first-ever 3,000 steeple on May 28, 2016, at the Pre Classic (she ran one 2k steeple in September 2015). Chepkoech debuted with a 9:17.41 and eventually got down to 9:10.86 and placed fourth in the Olympics. Not bad for your first year in the event.
But Chepkoech wasn't done improving, and after never breaking 9:10 before this year, she's run 9:01, 9:00 and 9:01 in her three low-altitude steeples this year. Remarkable.
Chepkoech wanted to break 9:00 here but said the wind prevented her, "My aim was to run 9:00 but the wind was too strong and my body was not moving. This track is new for me – I cannot say I did not like it but I wanted to run faster. The fight with the wind was the toughest part."
Quick Take: This could be the medal blueprint for Emma Coburn
Coburn ran well tonight, but even if she clocked her American record time (9:07.63), she still wouldn't have finished in the top three. It's been a similar story for Coburn in the other two DL steeples this year, as she was fifth in Doha and fourth at Pre. The good news for Coburn is that she's closing the gap. In Doha, she was 12.54 seconds behind third. In Eugene, that was down to 4.44 and tonight, with all the medal contenders in the race, it was 3.54.
Given that Coburn's personal best is 9:07 and the top women have all run 9:00 or faster, there are two ways Coburn can medal at Worlds.
Try to hang on with the leaders and try not to die too hard
Do what she did tonight
We think the second strategy is more likely to succeed — Coburn has always had a good sense of pace in Diamond League races — even if it costs her a shot at gold. Coburn is very fit, but she hasn't been close to the win in three DL races. Perhaps one of the top women has a bad day, but with four at 9:01 or faster in 2017, it would take the race of her life for Coburn just to have a chance of winning in London.
But we could easily see Coburn medalling if she uses a similar strategy to the one she employed in Paris. Tonight, she let the top women go but closed hard and made up a lot of ground late in the race. The ideal scenario for Coburn would be what played out tonight up front — the top women tire each other out battling for the win — and Coburn swoops in for a silver or bronze. Yes, she'd still have to run a PR or close to it. But she did that in the Olympic final last year. It's not a stretch to envision Coburn running 9:05 in London, and that could be enough to medal.
Quick Take: Worlds is going to be a lot of fun
The women's steeple traditionally is not a marquee event, but it's been a fun event to follow in 2017. The top women race each other frequently, the times are always fast and the winner is never certain. With just over a month until Worlds, there are at least four different women with a serious chance for gold. If the World Champs are anything like the season we've had so far, this event will be must-see racing in London.
Men's 3,000: Muktar Edris steals the show, takes down Kwemoi & Kejelcha in 7:32.31
Coming in, this was hyped as a battle between young studs Ronald Kwemoi of Kenya and Yomif Kejelcha of Ethiopia. And while both men would hold the lead during the final 200 meters, neither would win. Instead, that honor went to Ethiopia's Muktar Edris, who ran both of them down on the home stretch to win in a personal-best 7:32.31.
The pacemakers were assigned 7:30 pace (exactly 60 seconds per lap) and Kwemoi was game to follow them as the race had strung out by 400 with Jonathan Ndiku, Abdelaati Iguider and Kejelcha the next three racers after Kwemoi. The main casualty was Cyrus Rutto, who won the Kenyan Trials 5,000 last week, who got tangled up and fell 300 meters into the race and could never recover.
Up front, the pace remained hot (2:31.13 at 1k, 4:02 at 1600 meters) but it began to take its toll and with three to go, the race began to bunch up and Kwemoi surrendered his lead to Uganda's Joshua Cheptegei, who held it with two laps to go. Kejelcha and Edris followed, with American Ben True moving up into fourth.
True wasn't done moving as Kejelcha moved into the lead on the backstretch and the American followed, sticking onto the shoulder of the skinny Ethiopian. But as they entered the homestretch for the penultimate time, it was still anyone's race.
Kejelcha and True were running 1-2 at the bell, but Kwemoi, who had been shuffled back and found himself in ninth with 450 go to, had moved up to fourth 150 meters later. On the backstretch, Kejelcha upped the ante and gained a little separation at the front. Kwemoi and Edris weren't licked yet, however, and those two joined with Kejelcha to form a breakaway pack on the final turn.
Kwemoi grabbed the lead with 150 to go but coming off the turn, all three men were close, setting the stage for a thrilling final 100. With 50 to go, Kwemoi finally freed himself from Kejelcha and gained separation, but he couldn't shake Edris, who moved up with him on Kwemoi's outside. Kwemoi, who had spent all of his energy trying to beat Kejelcha, had nothing left to fend off Edris, who stormed down the homestretch to earn victory.
Ben True didn't have the kick to hang with the Africans on the final lap but he still managed a personal best of 7:35.53 to break into the all-time top 10 on the U.S. outdoor list.
3000 Metres - Men 
                                                             Pts
    1 Edris , Muktar                   ETH    7:32.31          8
    2 Kwemoi , Ronald                  KEN    7:32.88          7
    3 Kejelcha , Yomif                 ETH    7:33.37          6
    4 Cheptegei , Joshua Kiprui        UGA    7:34.96          5
    5 Mechaal , Adel                   ESP    7:35.28          4
    6 True , Ben                       USA    7:35.53          3
    7 Tiernan , Patrick                AUS    7:39.28          2
    8 Alamirew , Yenew                 ETH    7:39.57          1
    9 Birgen , Bethwell Kiprotich      KEN    7:43.57           
   10 Iguider , Abdalaati              MAR    7:43.96           
   11 Ndiku , Jonathan Muia            KEN    7:44.33           
   12 Rop , Albert Kibichii            BRN    7:44.69           
   13 Crippa , Yemaneberhan            ITA    7:55.31           
   14 Rutto , Cyrus                    KEN    8:04.56           
   15 Ibrahimov , Hayle                AZE    8:10.52           
      Cheboi , Collins                 KEN        DNF           
      Kiptonui , Cornelius Kiplangat   KEN        DNF
Quick Take: Muktar Edris' wins a big one, and that's good news for Mo Farah
Edris, who won two Diamond League 5,000s last year, ran 13:01.04 to win at the adidas Boost Boston Games on June 2 but against the very best fields, he had struggled in 2017. He was 6th at World XC, 6th in the Doha 3k and 5th in Ethiopian 10,000 trials on June 11. That changed today as he ran down two total studs in Kwemoi and Kejelcha.
While the win was a good sign for Edris, it was also good news for Mo Farah. For the last few years, Farah has been a cut above everyone else at 5,000 and 10,000 meters and if someone is to challenge Farah at a global championship, that athlete also has to reach that level. But no one has been able to consistently win over 3k/5k on the circuit this year, a trend that continued with Edris' victory today, and that won't scare Mo Farah at all.
Edris himself sounded in awe of Farah, "I did some speed training especially to have enough power in the last 100 meters. My event in London will be the 5000m and I am hoping for the medal. I know it is Mo Farah's event but who knows what can happen. My next start will be maybe in Lausanne."
Quick Take: Ronald Kwemoi still needs to improve his tactics
Kwemoi is a mega-talent, but one concern about him heading into Worlds is that he is not the best tactical racer — something his coach, Renato Canova, freely admitted even after Kwemoi won the Bowerman Mile at the Prefontaine Classic. Today, he held the lead for much of the race but allowed himself to get shuffled back all the way to ninth place with 450 to go. Though he was still able to contend for the win, he may have had a little more left in the tank had he been better-positioned to start his kick.
That is something Kwemoi will want to work on between now and London. If your tactics are bad in the 1500, they will be exposed over three rounds of a global championship.
Quick Take: A solid run for Ben True
True was a heartbreaking fourth at USAs last week in the 5k, but he's clearly in great shape right now as he did most of the work in running 13:17 at USAs and clocked a personal best of 7:35.53 today. Props to True for bouncing back quickly and running well right away in Europe — something that can be difficult for U.S. athletes, especially those who just competed on the West Coast.
Men's 800: Nijel Amos is Back!?!
We're not sure Nijel Amos ever went away, but the super talent from Botswana won the 800 in a season's best 1:44.24 in Paris to show he could be a factor at the World Champs in London in a little over a month.
Amos, now running for the Nike Oregon Track Club, showed he was ready to run as he was right with the rabbit Nicholas Kipkoech at 400 (49.64). Amos then led but Kipyegon Bett, the runner-up at the Kenyan Trials last week, took the lead on the backstretch as they both were full of run. Amos was not content to wait until the final straight to battle for the lead and passed Bett on the turn. Bett and Amos hit the final 100m in front and Amos with his flailing form was able to hold on and get the win as Ferguson Rotich came up to try to mount a challenge but could only get 3rd.
800 Metres - Men 
                                                             Pts
    1 Amos , Nijel                     BOT    1:44.24          8
    2 Bett , Kipyegon                  KEN    1:44.36          7
    3 Rotich , Ferguson Cheruiyot      KEN    1:44.37          6
    4 Biwott , Robert Kiptoo           KEN    1:45.05          5
    5 Tuka , Amel                      BIH    1:45.40          4
    6 Kinyor , Job Koech               KEN    1:45.50          3
    7 Bosse , Pierre-Ambroise          FRA    1:45.71          2
    8 Kupers , Thijmen                 NED    1:46.07          1
    9 Dahmani , Samir                  FRA    1:46.76           
   10 Kipketer , Alfred                KEN    1:47.36           
   11 Tarbei , Willy Kiplimo           KEN    1:51.77           
      Kipkoech , Nicholas Kiplangat    KEN        DNF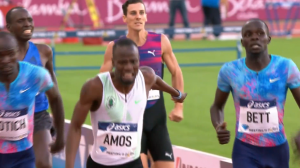 QT: Nijel Amos is Back!?
We're not totally convinced Nijel Amos ever went away, but Amos, who ran 1:41.73 for silver at the Olympics in 2012 as an 18-year-old, has high expectations. Since that Olympic run, he has not made an Olympic or World Championship final (he missed the 2013 Worlds with injury and did not make the final in '15 or '16), but he did run 1:42.45 in 2014 and 1:43.66 in 2015. Last year he only managed a 1:44.66 and flamed out in the first round of the Olympics.
Thus the coaching change to the Oregon Track Club and the win here versus a strong field hints he could be on his way back.
The 800 is wide open right now. The gold medallist from Rio, David Rudisha, hasn't won a race this year, the silver medallist Taoufik Makhloufi hasn't run a race this year, and the bronze medallist Clayton Murphy didn't qualify for London.
Men's 110 hurdles: Jamaican Ronald Levy takes a surprising win
This race was one of the highlights of the meet, and after two qualifying heats, there was a great final on tap featuring Olympic champ Omar McLeod, World champ Sergey Shubenkov and two-time U.S. champ Devon Allen (newly-crowned U.S. champ Aleec Harris was a DNS).
Unfortunately, Allen false-started and was DQ'd from the final, though it may not have been completely his fault. There were numerous false starts on the day, with commentator Stuart Storey criticizing the meet officials on the international broadcast. (See: Can a sprint expert explain all the false starts in Paris? )
When the race did start, McLeod and Euro Indoor 60 hurdles champ Andrew Pozzi waged a good battle down the middle of the track, but McLeod started to struggle on hurdle 7 and his form totally deteriorated from there as he would fade to last (he also looked to make contact with Shubenkov over hurdle 9, briefly locking arms, which could not have helped). That looked to have cleared the way for Pozzi, but Levy, in lane 8, closed exceptionally well over the final barriers and won it handily in the end, clocking a lifetime pb of 13.05. Pozzi took second in 13.14 to move to #3 on the all-time UK list.
Levy, 24, has had an incredible year. Before 2017, he had never broken 13.50, but he ran 13.41 in his first race on April 8 and has kept improving, running 13.10 at Pre to take second behind McLeod and now 13.05 today. At his best, McLeod is still the man to beat in London, but Levy has to be taken seriously as a threat to his crown. Levy is such a neophyte to the top ranks, that today was his first race in Europe ever.
Speaking of McLeod, something looked to be wrong with him after the race as he lay down on the track beyond the finish line for several minutes after the race and had to be attended to. Later, he took to Twitter and confirmed that he is all right.
I am doing great guys. Just caught a cramp in both my calves.

— Omar McLeod✨ (@Warrior_omz) July 1, 2017
One more note on McLeod: in case you missed it, he's now being coached by the University of Kentucky's Edrick Floreal. Not many athletes win the Olympics and change coaches, but the decision has been working for McLeod as he was undefeated until today and ran a PR of 12.90 — tied for 5th all-time — last week in Kingston. Floreal has quite the stable in Lexington as he also coaches women's world record holder Keni Harrison and will have Sydney McLaughlin joining them this fall. When McLeod ran his 12.90, Floreal told him to go out and run 12.8.
110 Metres Hurdles - Men Heats Heat 1             Wind: 0.0 m/s
                                                                
    1 Shubenkov , Sergey               ANA      13.09 Q         
    2 Allen , Devon                    USA      13.10 Q         
    3 Darien , Garfield                FRA      13.15 Q         
    4 Alkana , Antonio                 RSA      13.21 q         
    5 Trajkovic , Milan                CYP      13.27 q         
    6 Baji , Balázs                    HUN      13.28           
    7 Sédécias , Benjamin              FRA      13.41           
    8 Belocian , Wilhem                FRA      14.35           
                                                                
110 Metres Hurdles - Men Heats Heat 2            Wind: +0.1 m/s
                                                                
    1 McLeod , Omar                    JAM      13.13 Q         
    2 Pozzi , Andrew                   GBR      13.24 Q         
    3 Levy , Ronald                    JAM      13.28 Q         
    4 Parchment , Hansle               JAM      13.41           
    5 Brathwaite , Shane               BAR      13.54           
    6 Manga , Aurel                    FRA      13.55           
    7 Payen , Ludovic                  FRA      13.76           
    8 Borome , Nicolas                 FRA      14.01           
                                                                
110 Metres Hurdles - Men Final                   Wind: -0.1 m/s
                                                             Pts
    1 Levy , Ronald                    JAM      13.05          8
    2 Pozzi , Andrew                   GBR      13.14          7
    3 Darien , Garfield                FRA      13.15          6
    4 Shubenkov , Sergey               ANA      13.18          5
    5 Alkana , Antonio                 RSA      13.24          4
    6 Trajkovic , Milan                CYP      13.30          3
    7 McLeod , Omar                    JAM      13.41          2
      Allen , Devon                    USA         DQ
Women's 100: Elaine Thompson wins unconvincingly
Thompson, the Olympic champ, blasted a 10.71 to win the Jamaican Trials last week but tonight she looked nowhere near as dominant as Olympic 4th placer Marie-Josee Ta Lou gave her a run for her money with Thompson winning, 10.91 to 10.96.
100 Metres - Women                                Wind: +0.1 m/s
                                                             Pts
    1 Thompson , Elaine                JAM      10.91          8
    2 Ta Lou , Marie-Josée             CIV      10.96          7
    3 Okagbare , Blessing              NGR      11.09          6
    4 Ahouré , Murielle                CIV      11.10          5
    5 Zahi , Carolle                   FRA      11.17          4
    6 Williams , Christania            JAM      11.22          3
    7 Akinosun , Morolake              USA      11.27          2
    8 Gnafoua , Floriane               FRA      11.37          1
Men's 100: The Ivory Coast's Ben Youssef Meite takes it in 9.99
False starts were an issue in Paris and two men — Kim Collins of St. Kitts & Nevis and Emmanuel Matadi of Liberia — false-started in this non-Diamond League 100. The third attempt was a fair one and Olympic finalist Ben Youssef Meite wound up taking it over Cuba's Yunier Perez, the man who finished second to Usain Bolt in Ostrava on Wednesday.
100 Metres - Men                                  Wind: -0.1 m/s
                                                                
    1 Meité , Ben Youssef              CIV       9.99           
    2 Pérez , Yunier                   CUB      10.05           
    3 Martina , Churandy               NED      10.23           
    4 Bruintjies , Henricho            RSA      10.23           
    5 Forte , Julian                   JAM      10.26           
    6 Zézé , Mickaël-Méba              FRA      10.36           
      Collins , Kim                    SKN         DQ           
      Matadi , Emmanuel                LBR         DQ
Men's 200: Ramil Guliyev of Turkey Wins
Ramil Guliyev of Turkey, who made the Olympic final last year, got the win here as US champ Ameer Webb was only 4th. Afterwards, Guliyev looked to be in pain and explained to the media, "I must tell you it was not easy today. I ate something bad yesterday and had a strong stomach ache. I did not sleep because of this all the night and felt very tired. In this situation, it is a good result."
200 Metres - Men                                  Wind: -0.5 m/s
                                                             Pts
    1 Guliyev , Ramil                  TUR      20.15          8
    2 Martina , Churandy               NED      20.27          7
    3 Dwyer , Rasheed                  JAM      20.45          6
    4 Webb , Ameer                     USA      20.48          5
    5 Tsákonas , Likoúrgos-Stéfanos    GRE      20.51          4
    6 Dukes , Dedric                   USA      20.55          3
    7 John , Jeffrey                   FRA      20.72          2
    8 Bassaw , Ben                     FRA      20.94          1
Women's 400: Williams-Mills wins at age 35
35-year old Novlene Williams-Mills of Jamaica, who was third at the Jamaican Trials, got the win in 51.03. Courtney Okolo, who was 8th at USAs in 51.23, ran almost that same time here 51.19 but that was good enough to get her second as pre-race favorite, Shericka Jackson, who won the Jamaican champs in 50.05 was just third in 51.91.
400 Metres - Women 
                                                             Pts
    1 Williams-Mills , Novlene         JAM      51.03          8
    2 Okolo , Courtney                 USA      51.19          7
    3 Jackson , Shericka               JAM      51.91          6
    4 Jele , Lydia                     BOT      51.96          5
    5 Guei , Floria                    FRA      52.33          4
    6 Zemlyak , Olha                   UKR      52.93          3
    7 Sananes , Déborah                FRA      53.41          2
      McPherson , Stephenie Ann        JAM        DNS
Field Events
Men's Triathlon: France's Kevin Mayer notches two PRs
In order to showcase Olympic decathlon silver medalist Kevin Mayer, the meet organizes put together a triathlon — javelin, 110 hurdles and long jump. Mayer did not disappoint the home crowd as he notched huge PRs in the javelin (70.54 meters; old PR 66.09) and hurdles (13.78; old PR 14.01). He couldn't make it three-for-three in the long jump (he went 7.13; his PR is 7.65) but still handily won the triathlon with 2746 points.
Full Triathlon Results can be downloaded here.
Pole Vault Men: Kendricks remains undefeated on the year
2017 world leader Sam Kendricks of the US didn't miss through 5.72m and that was enough to give him the win over Renaud Lavillinie, Shawn Barber and Paweł Wojciechowski who all cleared 5.62m. Kendricks who has a seasonal best of 6.0 meters, also cleared 5.77 and 5.82 for good measure but then called it a day. Counting indoors, Kendricks has competed in 9 competitions this year and won 9 times.
Pole Vault - Men 
                                                             Pts
    1 Kendricks , Sam                  USA       5.82          8
    2 Lavillenie , Renaud              FRA       5.62          7
    3 Barber , Shawnacy                CAN       5.62          6
    4 Wojciechowski , Pawel            POL       5.62          5
    5 Ménaldo , Kévin                  FRA       5.52          4
    6 Chapelle , Axel                  FRA       5.52          3
    7 Holzdeppe , Raphael Marcel       GER       5.52          2
    8 Kudlicka , Jan                   CZE       5.52          1
    9 Lavillenie , Valentin            FRA       5.37           
   10 Karalís , Emmanouíl              GRE       5.37           
      Balner , Michal                  CZE         NM
High Jump Men: Barshim's good form continues
2017 world leader Mutaz Essa Barshim (2.38 this year) continued his good jumping as he got the win with a first attempt clearance at 2.35m as 2016 Olympic bronze medallist, Bogdan Bondarenko, was second in a seasonal best of 2.32 in his 2nd competition of 2016. Syria's Majed El Dein Ghazal also cleared a seasonal best 2.32 for 3rd.
High Jump - Men 
                                                             Pts
    1 Barshim , Mutaz Essa             QAT       2.35          8
    2 Bondarenko , Bohdan              UKR       2.32          7
    3 Ghazal , Majd Eddin              SYR       2.32          6
    4 Ivanov , Tikhomir                BUL       2.28          5
    5 Protsenko , Andriy               UKR       2.28          4
    6 Grabarz , Robert                 GBR       2.24          3
    6 Mason , Michael                  CAN       2.24          3
    8 Bednarek , Sylwester             POL       2.20          1
    8 Eto , Takashi                    JPN       2.20          1
   10 Thomas , Donald                  BAH       2.20           
   11 Hanany , Mickael                 FRA       2.20           
      Tamberi , Gianmarco              ITA         NM           
      Tobe , Naoto                     JPN         NM           

Men's triple jump: Christian Taylor stays perfect
Taylor surpassed 17 meters in all six rounds, with a best of 17.29 in round two that was enough to hold off his friend and rival Will Claye (17.18). Not counting USAs, where he intentionally fouled his only attempt, Taylor has won all seven of his competitions this year.
Taylor however was exactly 1 meter short of his big goal, Jonathan Edwards world record of 18.29.
Triple Jump - Men 
                                                             Pts    Wind
    1 Taylor , Christian               USA      17.29          8     0.0
    2 Claye , Will                     USA      17.18          7    -0.3
    3 Hess , Max                       GER      17.07          6    -0.6
    4 Pichardo , Pedro P.              CUB      17.05          5    -1.0
    5 Copello , Alexis                 AZE      16.96          4    -0.2
    6 Évora , Nelson                   POR      16.91          3    +0.4
    7 Pontvianne , Jean-Marc           FRA      16.82          2    -0.4
    8 Zango Hugues , Fabrice           BUR      16.60          1    +0.1
    9 Murillo , John                   COL      16.43               -0.2
   10 Compaoré , Benjamin              FRA      16.16               -0.4
Men's javelin: Johannes Vetter earns first career DL victory
Vetter threw over 88 meters in each of his first two DL meets of 2017, but neither was enough for victory as fellow German Thomas Rohler beat him out each time. And just three days ago, Rohler beat Vetter again in Ostrava. But Rohler was not at his best tonight (he was third with a best of 87.23), paving the way for Vetter, whose 88.74 in the first round held up for the win.
                                                                
Javelin Throw - Men 
                                                             Pts
    1 Vetter , Johannes                GER      88.74          8
    2 Vadlejch , Jakub                 CZE      88.02          7
    3 Röhler , Thomas                  GER      87.23          6
    4 Pitkämäki , Tero                 FIN      85.34          5
    5 Chopra , Neeraj                  IND      84.67          4
    6 Kirt , Magnus                    EST      83.88          3
    7 Peacock , Hamish                 AUS      83.87          2
    8 Mardare , Andrian                MDA      77.93          1
    9 Veselý , Vítezslav               CZE      76.00           
   10 Nicollin , Jeremy                FRA      64.19           

Shot Put Women: China's Gong Lijiao dominates
All six of China's Gong Lijiao throws today would have won the competition but she was after a good mark. She finally got over the 19m barrier on her last attempt and won with a 19.14  throw – short of her 19.56 seasonal best.
Shot Put - Women 
                                                             Pts
    1 Gong , Lijiao                    CHN      19.14          8
    2 Márton , Anita                   HUN      18.48          7
    3 Leantsiuk , Yuliya               BLR      18.28          6
    4 Dubitskaya , Aliona              BLR      18.23          5
    5 Guba , Paulina                   POL      17.78          4
    6 Roos , Fanny                     SWE      17.68          3
    7 Arcanjo , Geisa                  BRA      17.36          2
    8 Boekelman , Melissa              NED      17.22          1