2017 Athletissima Lausanne Recap: What a Meet – Wayde Van Niekerk Was Magnificent As Were The Field Events, Charlene Lipsey (1:57.38) and Muktar Edris (12:55)
By LetsRun.com
July 6, 2017
For three hours this evening, the world's greatest athletes put on a show at Stade Olympique de la Pontaise in Lausanne, Switzerland at the 2017 Athletissima – the IAAF Diamond League track and field/athletics meeting. With the picturesque Lake Geneva as a backdrop, the night was full of drama, from Ryan Crouser's 22.39-meter toss to win the shot put early on to the final event, a win in the men's pole vault by American Sam Kendricks after a thrilling battle with 2011 world champ Pawel Wojciechowski. In between, two Diamond League records went down along with three more world leaders.
On the men's side, the performance of the night was Wayde van Niekerk's 43.62 victory in the 400 meters. Running his first international 400 since breaking the world record in Rio last summer, van Niekerk blitzed the field over the final 100 meters and broke Kirani James' Diamond League record of 43.74 set on this track three years ago, despite easing up at the line to check the clock. Muktar Edris also took down the world leader in the men's 5,000 as he followed up his win in Paris on Sunday with a 12:55.23 victory. Christian Taylor lost in the triple jump for the first time this year, to Pedro Pablo Pichardo of Cuba, while Matthew Centrowitz was 7th in his first DL 1500 in two years, clocking 3:34.83 to finish well back of winner Aman Wote (3:32.20).
Article continues below player
Mariya Lasitskene continued her dominance in the women's high jump by breaking the Diamond League record and clearing 2.06m (6'9") to move into a tie for #5 all-time. She took three jumps at a world record of 2.10m but came up short on those. There were also world leaders for Genzebe Dibaba (4:16.05 in the mile) and Sara Kolak (68.43m in the javelin, #7 all-time and the world's longest throw in four years). American Charlene Lipsey clocked a nice PR of 1:57.38 in the 800, but it was only good enough for second as Francine Niyonsaba won in 1:56.82.
Our full meet recap and analysis of a great day of track & field appears below. We start with the mid-d and distance events, then the 400, and then take you to the field events before the rest of the sprints as the field event action was truly spectacular.
Women's 800: Francine Niyonsaba wins & drags everyone to fast times as Charlene Lipsey breaks 1:58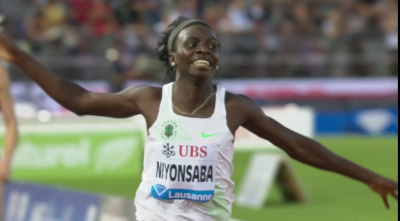 With no Caster Semenya or Margaret Wambui, Olympic silver medalist Francine Niyonsaba was the woman to beat tonight and the rabbits were assigned a quick pace of 56.5 seconds through 400 meters. Niyonsaba was game to follow as she hit 200 in 26 seconds and 400 at 56.8 as the rabbit was almost exactly on pace (56.56).
While Niyonsaba could handle the pace, many of the other women in this field were in uncharted territory. 1500 runners Sifan Hassan and Laura Muir both started cautiously as they were already off the back of the pack at 200 meters.
American Charlene Lipsey, a late add to the field, took the opposite approach and by 400 she had moved up into second behind Niyonsaba.
On the backstretch, Niyonsaba began to stretch out her lead as Lipsey battled with Ethiopia's Habitam Alemu for position on the backstretch. Lipsey eventually won the battle and as she chased Niyonsaba around the final turn, she actually managed to claw back a few meters and was on the Olympic silver medalist's shoulder entering the homestretch. But once again, Niyonsaba was simply too good and pulled away over the final 50 meters to win in 1:56.82, her fifth sub-1:57 in the last two years. Lipsey closed out a fantastic race to take second in 1:57.38, a PR by .63 of a second and good for #6 on the all-time U.S. list.
Hassan and Muir, after starting slowly, moved up well and caught several of the fading 800 runners down the stretch as both women ran PRs — Hassan clocking 1:58.13 and Muir breaking 2:00 for the first time ever in 1:58.69.
Video of race:
800 Metres - Women Race Race 2
                                                             Pts
    1 Niyonsaba , Francine             BDI    1:56.82          8
    2 Lipsey , Charlene                USA    1:57.38          7
    3 Sum , Eunice Jepkoech            KEN    1:57.78          6
    4 Hassan , Sifan                   NED    1:58.13          5
    5 Muir , Laura                     GBR    1:58.69          4
    6 Lindh , Lovisa                   SWE    1:58.77          3
    7 Sharp , Lynsey                   GBR    1:58.80          2
    8 Pryshchepa , Nataliia            UKR    1:58.82          1
    9 Alemu , Habitam                  ETH    1:59.66           
   10 Büchel , Selina                  SUI    1:59.77           
      Usovich , Ilona                  BLR        DNF           

Quick Take: It may be difficult to prove exactly how much of an advantage hyperandrogenic athletes have, but the results don't lie
Earlier this week, a study was published in the British Journal of Sports Medicine studying the advantage hyperandrogenic female athletes have over their competitors. The study showed that, in certain events, female athletes with higher testosterone levels benefit from a 1.8% to 4.5% competitive advantage over female athletes with lower testosterone levels. Unfortunately, as Ross Tucker explains, that may not be enough evidence for the Court of Arbitration for Sport to reinstate the IAAF's hyperandrogenism guidelines when they review the case later this year.
But if you look at the results in the women's 800 meters, it's impossible to ignore that the three women believed to have the condition — Semenya, Wambui and Niyonsaba — have not lost to anyone other than themselves in an outdoor race since the start of 2016.
That was the case once again tonight in Lausanne as even though there were a ton of fast times, only Lipsey was close to Niyonsaba over the final 100 meters and Niyonsaba still pulled away fairly handily in the end.
That being said, today's result should give someone like Ajee Wilson some hope it's possible to beat one of the Big 3 as Lipsey pulled up near her with 50 meters remaining.
Quick Take: What a race
Four women set personal bests tonight, eight women broke 1:59 and all 10 women in the field broke 2:00 as Niyonsaba dragged the field to a slew of fast times. It was just the second time in the last 18 years that eight women broke 1:59 in the same race, with the only other occurrence coming in the Diamond League final in Zurich last year.
Quick Take: A huge PR for Charlene Lipsey, Who Now Has a PR Faster than Ajee Wilson
If you've been watching Charlene Lipsey closely this year, it's been obvious that she's capable of running faster than what she has. Even after she ran 1:58.01 at USAs, we thought she could go even lower as she negative-split that race (59.87-58.15). Tonight, she ran more traditional 800 splits (57.0-60.3) and the result was a healthy PR.
When we spoke to Lipsey's coach Derek Thompson before USAs, he told us that he believed she was capable of running 1:57 in a fast Diamond League race. That's exactly what she did today. For the record, Thompson said in the same interview that Lipsey's training partner Ajee Wilson is planning to go after the American record (1:56.40 by Jearl Miles-Clark) in Monaco on July 21.
US all-time list at 800 outdoors
1. Jearl Miles-Clark 1:56.40
2. Mary Slaney 1:56.90
3. Kim Gallagher 1:56.91
4. Meredith Rainey-Valmon 1:57.04
5. Alysia Montano 1:57.34
6. Charlene Lipsey 1:57.38
7. Ajee Wilson 1:57.67
8. Molly Ludlow 1:57.68
Discussion: Charlene MF Lipsey 1:57.38!!
Quick Take: A good sign for Laura Muir in her first race since breaking her foot
While Sifan Hassan ran a PR of 1:58.13 for 4th, we're not exactly shocked by that result given how well she's been running. But we were mildly surprised that Muir was able to run a big PR of 1:58.69 given that she missed two weeks of running last month due to a stress fracture in her left foot. This was her first race since the Pre Classic on May 27.
The Daily Mail reported that Muir had likely been running on the stress fracture for some time as she had felt tightness in her foot for a month, but the extent of the injury was not revealed until a scan on June 1.
Clearly the time off didn't hurt Muir too much, who is scheduled to attack Zola Budd's 4:17.57 British record in the mile on Sunday in London.
.@lauramuiruns is now the first British woman to run:

sub-2 for 800
sub-4 for 1500
sub-8:30 for 3000
sub-15 for 5000

— Jon Mulkeen (@Statman_Jon) July 6, 2017
Men's 1500: Aman Wote's gamble pays off
With many of the event's big names absent and World Championship silver medalist Elijah Manangoi a pre-meet scratch, this one was up for grabs. Up stepped Ethiopia's Aman Wote, the only man willing to follow the rabbits, who was ultimately rewarded with his second career Diamond League victory at the age of 33 in 3:32.20. Olympic champion Matthew Centrowitz was 7th in his first DL 1500 in two years, running 3:34.83.
The Race
Bahrain's Alsadik Mikhou entered having run 3:32 or faster in his last three races and he was keen to follow the rabbits on the first lap as they hit 400 in 56.39 with Mikhou half a second behind. But Mikhou gave up the lead to Wote on the backstretch of the second lap and with two to go, Wote was the only man with the rabbits as Centrowitz was well back in 10th place.
At 800 meters (1:53.35), Wote had seven meters on second placer and his lead would only grow as he powered down the backstretch. By the bell, it was a full 15 meters, with Centrowitz still back in the pack in 8th.
With the rabbits gone, the only question that remained was whether Wote would be able to hold off a hard-charging field over the final lap. Little-known Kenyan Charles Simotwo, who was 5th at the Kenyan Trials, was making the strongest bid and closed the gap to within five meters coming off the final turn. But he too began to tire entering the homestretch and the gap would remain constant the rest of the way home, with Wote earning a hard-won victory in 3:32.20 (55.98 final 400), his fastest time in two years, with Simotwo running a huge three-second PR of 3:32.59 for second in his DL debut thanks to a sub-54-second last lap. Centrowitz, who crossed 7th, was never a factor for the win.
Results
    1 Wote , Aman                      ETH    3:32.20          8
    2 Simotwo , Charles Cheboi         KEN    3:32.59          7
    3 Kiplagat , Silas                 KEN    3:32.96          6
    4 Kibet , Vincent                  KEN    3:33.34          5
    5 Ingebrigtsen , Filip             NOR    3:34.38          4
    6 Souleiman , Ayanleh              DJI    3:34.70          3
    7 Centrowitz , Matthew             USA    3:34.83          2
    8 Birgen , Bethwell Kiprotich      KEN    3:35.22          1
    9 Biwott , Robert Kiptoo           KEN    3:36.31           
   10 Mikhou , Sadik                   BRN    3:36.55           
   11 Bayer , Andrew                   USA    3:36.85           
   12 Tolosa , Taresa                  ETH    3:38.60           
      Kiptoo , Elijah Kipchirchir      KEN        DNF           
      Rotich , Andrew Kiptoo           KEN        DNF
Quick Take: A nice win for Aman Wote; is he a medal threat at Worlds?
The Kenyans have mostly dominated the Diamond League circuit in 2017, and they'll get four entries at Worlds thanks to Asbel Kiprop's bye. But Wote, the World Indoor runner-up in 2014 who missed most of last year with injury, has gone 3:33, 3:31 and now 3:32 FTW in his last three races. Most impressively, he showed the strength and toughness to hang on when challenged in the home straight. A medal in London will be hard to come by, but he's definitely in the conversation, even at age 33.
Quick Take: Nothing to worry about for Matthew Centrowitz
Obviously Centrowitz won't have enjoyed traveling to Lausanne only to get beaten badly, but as we pointed out in our preview, Centrowitz rarely fares well in his first European race of the season. And though he finished in 7th place, his time of 3:34.83 is not bad at all — it's still 1.68 seconds faster than any other American has run outdoors in 2017. Before the race, we predicted Centro would run 3:34; we just thought that time would get him 3rd instead of 7th.
All of which is to say that if you're a Centrowitz fan, today's result should not worry you. Centrowitz has shown in previous years that he's far better in championship meets than on the DL circuit, and he's still working his way back to 100% after his adductor issues and bout with pericarditis this spring. With another month to go until London, he should be okay.
Quick Take: Another Kenyan talent emerges
Centrowitz is the only American to have hit the World Championship standard of 3:36.00 this year outdoors (though others got it indoors). No American has broken 3:33 since Centrowitz ran 3:30 in Monaco in July 2015.
By comparison, 10 Kenyans have run under 3:36 outdoors in 2017, eight of them under 3:33. Simotwo became the most recent Kenyan to break 3:33 this year as the 22-year-old made a huge improvement on his previous pb of 3:35.67 set last week in Nancy.
Kenya gets more entries at Worlds than any other country (four) but that still may be unfair to them as they have seven of the nine fastest men in the world this year.
Women's mile: Genzebe Dibaba comes up well short of world record
The women's mile was a world record attempt by Genzebe Dibaba. The world record in the mile is an ambitious 4:12.56 by Svetlana Masterkova, but Dibaba has run 3:50.07 for 1500m so it's definitely in her wheelhouse if she's at her best (the mile record converts to roughly 3:53.8 for 1500). The rabbit, Halimah Nakayi of Uganda, took this out on pace in 1:01.40 for 400m. Jenny Meadows took over the pacing duties and the pace dropped to 2:06.10 at 800m and Dibaba was going to need a negative split to get the record. Dibaba was all alone on lap three and hit 1200m in 3:10.54, meaning she was going to have to have a great final 109m to get the record. It was not in the cards as she "only" managed a 4:16.05. That was good enough for a nearly 9-second win over Nelly Jepkosgei of Kenya.
QT: Dibaba's run today was equivalent to a 3:57.08 for 1500. Sifan Hassan has run 3:56.14 this year.
One Mile - Women 
                                                                
    1 Dibaba , Genzebe                 ETH    4:16.05           
    2 Jepkosgei , Nelly                KEN    4:25.15           
    3 Bobocea , Claudia                ROU    4:25.89           
    4 Akkaoui , Malika                 MAR    4:26.42           
    5 Magnani , Margherita             ITA    4:27.51           
    6 Chepkemoi , Caroline             KEN    4:27.79           
    7 Embaye , Axumawit                ETH    4:28.14           
    8 Chebet , Esther                  UGA    4:28.16           
    9 Hall , Linden                    AUS    4:28.21           
   10 Blundell , Jenny                 AUS    4:28.82           
   11 Fernández , Blanca               ESP    4:30.06           
   12 Dibaba , Anna                    ETH    4:41.05           
      Meadows , Jennifer               GBR        DNF           
      Nakayi , Halima                  UGA        DNF           
      Krause , Gesa Felicitas          GER        DNS           
      Worku , Fantu                    ETH        DNS           

Men's 5000: Muktar Edris and 17-year-old Selemon Barega run 12:55!
Fresh off his 3000 win in Paris, the good form of Ethiopia's Muktar Edris continued today as he blasted a 55.14 last lap to hold off 17-year-old upstart Selemon Barega of Ethiopia to win the men's 5000 in a world-leading and new meet record of 12:55.23 – the fastest time in the world since Yomif Kejelcha and Hagos Gebrhiwet ran 12:53 and 12:54 in Brussels in September of 2015.
Edris' win and time were nice but this race may be remembered in the years to come for marking the arrival of Barega on the world scene.
Prior to tonight's race, which was run in warm conditions (79-80 F), Barega, who won African junior gold over the weekend by a dominant 1.48 seconds, had a pb of 13:15. Coming into the year, he had a 13:21 pb (he was World U20 champ last year). He leaves Switzerland with a 12:55.58 pb. 20-year-old Joshua Cheptegei of Uganda, who was 8th in the Olympic 5000 last year (6th in 10k) but may be best known for nearly winning the World Cross Country Championships on home soil before totally falling apart and staggering home in 30th place, broke 13:00 for the first time to grab third with a 12:59.83. Yenew Alamirew, who stayed with the leaders until 800 remained, was fourth in 13:06.81 a big improvement over his 13:25 sb coming in (though he ran that time just four days after he ran 27:19 for 10,000). American Ben True finished sixth in 13:28.29. He wasn't the only one disappointed with his time as Kenyan champ Cyrus Rutto ran 13:48.67 and was last.
Barega said after the race that he wants to win gold in London. "I am happy with this second place today. The tempo was great but I lacked a bit of power in the finish to overtake Edris. I got a bit sick (he threw up) after the race because of pushing hard in the final sprint. I will go to the World Championship with the aim of a medal, hopefully gold," said Barega.
Edris wasn't thrilled with the the conditions, "It was tough conditions here. I felt the wind was strong and the track is hard – good for sprints but does not help endurance runners. I am happy with the win anyway."
The pacing was great early on and very consistent thanks to rabbit Collins Cheboi as he hit 1k in 2:35.53 and 2k in 5:11.26 (2:35.73). Things slowed on the third kilometer (2:40.65 – 7:51.91) before Cheptegei really helped make the sub-13:00s possible by taking the lead and taking the field through 4k in 10:26.87 (2:34.96). The final 12 full lap splits were as follows: 63.01, 62.98, 63.19, 62.41, 62.18, 64.49, 64.14, 61.29, 62.47, 62.41, 62.04, 55.14.
5000 Metres - Men 
                                                             Pts
    1 Edris , Muktar                   ETH   12:55.23          8
    2 Barega , Selemon                 ETH   12:55.58          7
    3 Cheptegei , Joshua Kiprui        UGA   12:59.83          6
    4 Alamirew , Yenew                 ETH   13:06.81          5
    5 Legese , Birhanu                 ETH   13:26.40          4
    6 True , Ben                       USA   13:28.29          3
    7 Wolde , Dawit                    ETH   13:34.44          2
    8 Berihu , Solomon                 ETH   13:37.63          1
    9 Kiptoo , Fredrick Kipkosgei      KEN   13:41.09           
   10 Kipchirchir , Sylvester          KEN   13:46.22           
   11 Rutto , Cyrus                    KEN   13:48.67           
      Cheboi , Collins                 KEN        DNF           
      Crippa , Yemaneberhan            ITA        DNF           
      Kangogo , Cornelius Kipruto      KEN        DNF           
      Kissa , Stephen                  UGA        DNF           
      Wanders , Julien                 SUI        DNF           
      Gebremeskel , Dejen              ETH        DNS           

Quick Thought: If Mo Farah loses the 5000 in London, he'll lose to Paul Chelimo or an Ethiopian
When Kenya's Ronald Kwemoi opted for the 1500 instead of the 5000 at Worlds, we immediately thought Kenya's chances of gold were virtually nonexistent in the 5000. The last place showing by Rutto confirms we were correct. Remember, Kenya didn't put a single man in the Olympic final last year.
QT #2: If Mo Farah Loses the 5000 or 10,000 in London, It May be Because of Joshua Cheptegei
Cheptegei showed at World Cross Country that he's not afraid to front-run, and he showed it again tonight. The only reason he broke 13:00 tonight was because he kept pushing the pace. Those of you tired of total sit and kick races can thank Cheptegei. And if the Kenyans or Ethiopians want a fast race at Worlds, Cheptegei may be the guy to help them get it. Many think a really fast race is the only way to beat Farah and that may depend on what Cheptegei is willing to do in the middle of the race.
We were glad to see him get the sub-13:00 clocking today as watching him do this at World XC was painful but it also was super inspiring:
MB: Ethiopian 17-year-old runs 12:55 5K.
Men's 400: Wayde van Niekerk is On Top of the Sprinting World
Coming in, Wayde van Niekerk already was the world leader at 200m (19.84) and 300m (30.81 WR) and the 400m world record holder added the 400m world lead to his resume as he ran a relaxed 43.62 to knock Fred Kerley (43.70) from the top of the world list and break the Diamond League record in the process.
When they hit the homestretch in this one, surprisingly van Niekerk was not in the lead, as Isaac Makwala of Botswana, who ran 43.72 in 2015 and 44.01 in 2014, had the lead. But van Niekerk effortlessly powered past Makwala and then 20 or so meters before the finish backed off the pace, glanced over at the clock and saw he had the world lead as he crossed the line.
Makwala's countryman, 20-year-old Baboloki Thebe, who ran 44.22 last year in his first year as a 400m runner, closed very well to run 44.02 in second as Makwala held on for third in 44.08 as the top 5 all set season's best or personal bests.
Men's 400m Video in Lausanne:
          
400 Metres - Men Race Race 2
                                                             Pts
    1 van Niekerk , Wayde              RSA      43.62          8
    2 Thebe , Baboloki                 BOT      44.02          7
    3 Makwala , Isaac                  BOT      44.08          6
    4 Norwood , Vernon                 USA      44.47          5
    5 Cherry , Michael                 USA      44.66          4
    6 McQuay , Tony                    USA      45.28          3
    7 Bonevacia , Liemarvin            NED      45.61          2
      Cedenio , Machel                 TTO        DNF           

QT: Thebe's future in the 400 is very bright, but van Niekerk made this look effortless
The 400m final at Worlds should be a great one, but van Niekerk will be the huge favorite. In the past 10 years, the only person who has run faster than van Niekerk did tonight is van Niekerk himself, and he was clearly capable of going even faster in Lausanne.
Field Events
Women's High Jump: Lasitskene soars 6'9″
Russia's Mariya Lasitskene
, the 2015 world champion who is competing this year as an unattached athlete as Russia is banned from international competition, was magnificent. The 24-year-old cleared 2.06m (6'9") on her second attempt, which is the highest clearance in the world since 2011.
2.06m also means that she is now in a 5-way tie for being the 5th highest jumper in history.
The 9 Highest Jumpers in History
1 2.09 WR AUR Stefka Kostadinova BUL 1987
2 2.08 NR Blanka Vlašić CRO 2009
3 2.07 Lyudmila Andonova BUL 1984
3 2.07 NR Anna Chicherova RUS 2011
5 2.06 NR Kajsa Bergqvist SWE 2003
5 2.06 AR Hestrie Cloete RSA 2003
5 2.06 NUR Yelena Slesarenko RUS 2004
5 2.06 NR Ariane Friedrich GER 2009
5 2.06 Mariya Lasitskene 2017
High Jump - Women 
                                                             Pts
    1 Lasitskene , Maria               ANA       2.06          8
    2 Licwinko , Kamila                POL       1.93          7
    3 Skoog , Sofie                    SWE       1.93          6
    4 Lake , Morgan                    GBR       1.93          5
    5 Trost , Alessia                  ITA       1.93          4
    6 Beitia , Ruth                    ESP       1.90          3
    7 Demireva , Mirela                BUL       1.87          2
      Palšyté , Airiné                 LTU        DNS           

Women's javelin: Olympic champ Sara Kolak unleashes a monster in the final round
This one was exciting from the first round through the sixth. World record holder Barbora Spotakova of the Czech Republic tied the meet record of 67.40 meters on her first attempt, her best throw since 2014 and a 2017 world leader. She would hold the lead until the final round. Then up stepped 22-year-old Olympic champ Sara Kolak of Croatia, who unleashed a 68.43-meter bomb, a PR of over two meters and the longest throw in the world in almost four years. Kolak is now #7 on the world all-time list.
Aussies Kathryn Mitchell and Kelsey-Lee Roberts set PRs (Roberts actually tied hers) to finish in third and fourth.
The 7 Longest Javelin Throwers in History
1 72.28 WR Barbora Špotáková CZE 2008
2 71.99 NR Mariya Abakumova RUS 2011
3 71.70 AR Osleidis Menéndez CUB 2005
4 70.20 NR Christina Obergföll GER 2007
5 69.48 NR Trine Hattestad NOR 2000
6 69.35 AR Sunette Viljoen RSA 2012
7 68.43 AR Sara Kolak CRO 2017
Results - Javelin Throw - Women 
                                                             Pts
    1 Kolak , Sara                     CRO      68.43          8
    2 Špotáková , Barbora              CZE      67.40          7
    3 Mitchell , Kathryn               AUS      66.12          6
    4 Roberts , Kelsey-Lee             AUS      64.06          5
    5 Khaladovich , Tatsiana           BLR      62.29          4
    6 Viljoen , Sunette                RSA      61.38          3
    7 Palameika , Madara               LAT      60.35          2
    8 Winger , Kara                    USA      59.19          1
    9 Laasma , Liina                   EST      57.35           
   10 Molitor , Kathrina               GER      57.03
Men's triple jump: Pedro Pablo Pichardo is back, ends Christian Taylor's perfect season
Two years ago, Pichardo and Taylor waged some great duels in the triple jump, but the sport missed out on that last year as Pichardo did not compete at all last year. However, the rivalry is now back and surprisingly, Pichardo who did not debut this year until June 17, won with a leap of 17.60 meters in the final round to hand the double Olympic champ his first loss of 2017.
Triple jump fans will have to savor this matchup as Pichardo will not be jumping at Worlds. He defected from Cuba earlier this year and signed with a club in Portugal but because he cannot represent Cuba at Worlds and there is a freeze on transfers of allegiance, he cannot compete in London.
Triple Jump - Men 
                                                             Pts    Wind
    1 Pichardo , Pedro P.              CUB      17.60          8    -0.3
    2 Taylor , Christian               USA      17.49          7    -0.6
    3 Claye , Will                     USA      17.12          6    -0.3
    4 Copello , Alexis                 AZE      16.98          5    +0.6
    5 Benard , Chris                   USA      16.93          4    -2.2
    6 Pontvianne , Jean-Marc           FRA      16.84          3    +0.4
    7 Murillo , John                   COL      16.47          2    -0.3
      Dong , Bin                       CHN         NM                NWI
Men's Pole Vault: Sam Kendricks Continues Fine 2017
Sam Kendricks continued his fine 2017 as he got the win in an entertaining pole vault at 5.93 on countbacks over 2011 world champion Paweł Wojciechowski. Renaud Lavillenie was third in a season's best 5.87 as 17-year-old sensation Armand Duplantis "only" managed 7th in 5.73.
5.93 was actually a PB for Wojciechowski as Kendricks cheered for him when he went over the bar and came up and gave him a high five. They both then moved the bar to 6.03 but no one could clear that height, which meant that Kendricks remains the world leader at 6.00. Kendricks is also undefeated on the year with wins in Shanghai, Pre, Paris and Lausanne.
Pole Vault - Men 
                                                             Pts
    1 Kendricks , Sam                  USA       5.93          8
    2 Wojciechowski , Pawel            POL       5.93          7
    3 Lavillenie , Renaud              FRA       5.87          6
    4 Marschall , Kurtis               AUS       5.73          5
    4 Ménaldo , Kévin                  FRA       5.73          5
    6 Lisek , Piotr                    POL       5.73          3
    7 Duplantis , Armand               SWE       5.73          2
    8 Barber , Shawnacy                CAN       5.63          1
    9 Lavillenie , Valentin            FRA       5.63           
   10 Holzdeppe , Raphael Marcel       GER       5.53           
   11 Alberto , Dominik                SUI       5.38           
   11 Balner , Michal                  CZE       5.38
QT: It's a Great Year for Vaulting
Kendricks may be undefeated but staying that way won't be easy. Lavillenie had a season's best tonight and Wojciechowski, the PR. Despite only being 7th today Duplantis vaulted higher than he did in his only previous Diamond League meet at Pre.
Men's Shot Put: Ryan Crouser continues to win
Pre-meet, Olympic champ Ryan Crouser of the US said the 23-meter mark is within sight but he had to settle for a dominant win tonight. Crouser had four throws over 22 meters today – all of which would have won the competition. His best throw of 22.39m came in the fifth round.
Olympic bronze medallist Tom Walsh of New Zealand was second in a seasonal best of 21.97m. Walsh was happy with his showing.
"I am very happy with 21.97. I train a lot with Ryan and he almost always is ahead of me. I need to turn the table at some point of time. Not today, who knows I may do that at the biggest stage," said Walsh.
The field was very deep behind Crouser and Walsh tonight as seven men eclipsed 20.80 meters in the same meet for the first time in the history of the shot put.
Shot Put - Men 
                                                             Pts
    1 Crouser , Ryan                   USA      22.39          8
    2 Walsh , Tomas                    NZL      21.97          7
    3 Stanek , Tomáš                   CZE      21.36          6
    4 Žunic , Stipe                    CRO      21.17          5
    5 Storl , David                    GER      21.17          4
    6 Bukowiecki , Konrad              POL      21.03          3
    7 Arnaudov , Tsanko                POR      20.80          2
    8 Gill , Jacko                     NZL      20.70          1
    9 Elemba , Franck                  CGO      20.29           
   10 Romani , Darlan                  BRA      20.07
Women's Long Jump
Ivana Spanovic got the win thanks to a 6.79 jump in round #4 and Shakeela Saunders, formerly of Kentucky, managed to sneak ahead of Olympic champ Tianna Bartoletta with a final-round leap of 6.68.
Long Jump - Women 
                                                             Pts    Wind
    1 Španovic , Ivana                 SRB       6.79          8    -0.6
    2 Saunders , Shakeelah             USA       6.68          7    -0.4
    3 Bartoletta , Tianna              USA       6.65          6    -0.8
    4 Klishina , Darya                 ANA       6.64          5    -0.3
    5 Ugen , Lorraine                  GBR       6.61          4    -0.8
    6 Strati , Laura                   ITA       6.49          3    -0.2
    7 Montaner , Concepción            ESP       6.27          2    -1.1
      Proctor , Shara                  GBR         NM                NWI
Sprints
Men's 100: Justin Gatlin wins again
Justin Gatlin picked up his first Diamond League win of the year as he won the men's 100 narrowly in 9.96 over the Ivory Coast's Ben Youssef Meite's seasonal best of 9.98 and South Africa's Akani Simbine's 9.99 with Isiah Young of the US fourth in 10.00.
The race also marked the third straight wind-legal sub-10 of the year for Gatlin who in addition to winning USAs in 9.95 on June 23rd ran 9.98 on July 4th in Hungary.
100 Metres - Men Race Race 1                     Wind: +0.1 m/s
                                                                
    1 Wilson , Alex                    SUI      10.25           
    2 Mancini , Pascal                 SUI      10.25           
    3 Wicki , Silvan                   SUI      10.47           
    4 Clivaz , Florian                 SUI      10.49           
    5 Mouthon , Bastien                SUI      10.51           
    6 Chuard , Sylvain                 SUI      10.57           
    7 Müller , Pascal                  SUI      10.71           
    8 Reais , William                  POR      10.72           
                                                                
100 Metres - Men Race Race 2                     Wind: +0.2 m/s
                                                             Pts
    1 Gatlin , Justin                  USA       9.96          8
    2 Meité , Ben Youssef              CIV       9.98          7
    3 Simbine , Akani                  RSA       9.99          6
    4 Young , Isiah                    USA      10.00          5
    5 Dasaolu , James                  GBR      10.12          4
    6 Bruintjies , Henricho            RSA      10.15          3
    7 Wilson , Alex                    SUI      10.17          2
    8 Collins , Kim                    SKN      10.77          1
Men's 400 hurdles: Kariem Hussein gives the Swiss a win on home soil
Cornel Fredericks led in lane 8 onto the homestretch then Byron Robinson, 4th at the US Trials, took took the lead and led off the final barrier. But Kariem Hussein of Switzerland overtook him after the final barrier to get the home win in a season's best of 48.79. Rasmus Magi of Estonia closed well in 3rd as did Bershawn Jackson in 4th, as Fredericks faded to 5th.
400 Metres Hurdles - Men 
                                                                
    1 Hussein , Kariem                 SUI      48.79           
    2 Robinson , Byron                 USA      48.88           
    3 Mägi , Rasmus                    EST      48.94           
    4 Jackson , Bershawn               USA      49.04           
    5 Fredericks , Cornel              RSA      49.32           
    6 Stigler , Michael                USA      49.86           
    7 van Zyl , L.J.                   RSA      50.04           
    8 Mfomkpa , Alain-Hervé            SUI      51.45           

Women's 100 Hurdles: Nelvis isn't going to Worlds but she's the DL winner in Lausanne
Sharika Nelvis, who was 5th at the US trials and won't be going to Worlds as only the top 4 at USAs are going, got the win here in a field that featured three of the US's World Championship team members (Nia Ali was third, Christina Manning was fourth and Dawn Harper-Nelson was sixth). It was a good day for the US, which swept the medals in the 100 hurdles at the Olympics last year without world record holder Kendra Harrison, as they went 1-6 in the results.
100 Metres Hurdles - Women                        Wind: -0.1 m/s
                                                             Pts
    1 Nelvis , Sharika                 USA      12.53          8
    2 Stowers , Jasmin                 USA      12.57          7
    3 Manning , Christina              USA      12.58          6
    4 Ali , Nia                        USA      12.61          5
    5 Castlin , Kristi                 USA      12.61          4
    6 Harper Nelson , Dawn             USA      12.75          3
    7 Boons , Eefje                    NED      12.98          2
    8 Zbären , Noemi                   SUI      15.85          1
Women's 200: Dafne Schippers wins a tight one
World leader Tori Bowie was a late scratch in this one, which left world champ Dafne Schippers as the presumptive favorite. Schippers only ran 22.31 in her last DL appearance in Oslo (with a 1.4 tailwind) but she was a much different runner today as she crushed a 22.10 into a 0.5 headwind.
Olympic fourth placer Marie Josee Ta Lou was a chest behind Schippers for most of the homestretch but could never quite get her before fading a tad at the line, giving Schippers the win. Ta Lou was still overjoyed at the finish, however, as her 22.16 was a national record for the Ivory Coast.
200 Metres - Women                                Wind: -0.5 m/s
                                                             Pts
    1 Schippers , Dafne                NED      22.10          8
    2 Ta Lou , Marie-Josée             CIV      22.16          7
    3 Jefferson , Kyra                 USA      22.34          6
    4 Prandini , Jenna                 USA      22.65          5
    5 Duncan , Kimberlyn               USA      22.67          4
    6 Kambundji , Mujinga              SUI      22.82          3
    7 Williams , Bianca                GBR      22.94          2
    8 Atcho , Sarah                    SUI      23.04          1
Women's 400 hurdles: Ashley Spencer bounces back from missing U.S. team to defeat stacked field
Two weeks ago at the US Championships in Sacramento, Ashley Spencer ran 53.11 and only finished in fourth place. Tonight, she ran .79 slower but it was enough to defeat a field that included the top five finishers from last year's Olympic final.
Denmark's Sara Petersen led for much of the race, but Spencer was clearly the best over the final 100m despite a slightly shaky final hurdle. Switzerland's Lea Sprunger delighted the home crowd by making a huge charge after the final hurdle and running a 54.29 PR, just .04 off the Swiss national record.
Olympic/US champion Dalilah Muhammad pulled up during the first 100 meters of the race and did not finish. If Muhammad is injured, then Spencer might end up at Worlds after all.
400 Metres Hurdles - Women 
                                                             Pts
    1 Spencer , Ashley                 USA      53.90          8
    2 Sprunger , Léa                   SUI      54.29          7
    3 Doyle , Eilidh                   GBR      54.36          6
    4 Petersen , Sara Slott            DEN      54.49          5
    5 Hejnová , Zuzana                 CZE      54.69          4
    6 Little , Shamier                 USA      55.10          3
    7 Tracey , Ristananna              JAM      56.23          2
      Muhammad , Dalilah               USA        DNF
There were some other non-DL events. You can see full results here.
Talk about the meet on our fan forum / messageboard: