2017 Rome Diamond League Recap: Sifan Hassan and Hellen Obiri Impress – Is Konstanze Klostherhalfen The Greatest Non-African-Born Talent Ever?
By LetsRun.com
June 8, 2017
The fourth Diamond League track and field / athletics meet of 2017, the Golden Gala Pietro Mennea from Rome, is in the books and we have full event-by-event recap with results below.
Meet highlights included Sifan Hassan blasting a 3:56 1500m with German sensation Konstanze Klosterhalfen running 3:59 and Hellen Obiri running 14:18 to destroy Genzeba Dibaba in the 5000m. Andre De Grasse got back to his winning ways in the 200, as did Aries Merritt in the hurdles, and Dafne Schippers in the 100.
Donavan Brazier was 3rd in his DL 800 debut, and there was a good battle in the steeple with Conseslus Kipruto coming out on top. In the field events, Ekaterini Stefanidi took world record attempts in the pole vault, Lijiao Gong dominated the shot put, and Thomas Röhler threw 90 meters again in the javelin. And in the triple jump, Caterine Ibarguen who had won 40 of her last 41 competitions, was defeated.
We start our recap with the mid-d and distance events and then take you to the sprints and then field events. 
Women's 1500: Sifan Hassan looks incredible as Konstanze Klostherhalfen runs 3:59
Sifan Hassan's transition to Alberto Salazar's Nike Oregon Project is going very well as she destroyed the field on the final lap to win in a meet record and world-leading 3:56.22. Winny Chebet of Kenya had a great final lap to finish second in 3:59.16, breaking 4:00 for the first time, and 20-year-old Konstanze Klosterhalfen of Germany was rewarded for pushing the pace as she finished 3rd, also going sub-4:00 for the first time, five days after joining the sub-2:00 club.
The rabbit Florina Pierdevara did a good job of getting this one out at 4:00 pace as she hit 400 in 63.84. From the get-go, Hassan and Klosterhalfen indicated they wanted to go with the pace and stayed right on the rabbit. With 2 laps to go, Klosterhalfen got impatient and came up on the shoulder of the rabbit and would pass her on the turn before hitting 800 in 2:07.98. Klosterhalfen clearly wanted to run fast and knew to break 4:00 the pace had to stay honest.
Article continues below player.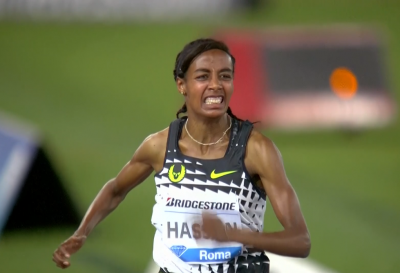 Klosterhalfen led the onto the homestretch before the bell when Hassan passed her to take the lead at the bell (2:55.5). Hassan hit the gas and opened up a gap on Klosterhalfen the next 100m to hit 1200 in 3:10.54. It was the Sifan Hassan show from there to the finish as she would run away from the field the final 300m to win with ease. Hassan never let up and powered home to the finish, coming up just short of her 3:56.05 PR from Monaco two years ago.
The time surprised Hassan as she said afterwards, "It is amazing. I am very surprised, such a fast time! I am so happy. This is my first 1500m race of the season and I start so well! I am so glad about the time. I felt strong, but I did not push and I did not start too fast. It was not so hard for me. On the last 20m I was pushing myself."
Behind Hassan, Klosterhalfen was pushing for the sub-4:00 clocking and would get it, and so would Winny Chebet who was only 6th at the bell but had a tremendous fast lap. Chebet closed in 61.7 to get second and go sub-4:00. As good as Chebet's final lap was, Hassan's was even better up front as Hassan closed in 60.7.
QT #1: Sifan Hassan's Transition to Nike Oregon Project Is Going Well
Alberto Salazar's Nike Oregon Project is under a lot of scrutiny for the substances it gives its athletes, but there is no disputing it has a strong tradition of bringing in established pros and helping them run better than they did in the past. Mo Farah, Dathan Ritzenhein, Shannon Rowbury, and Treniere Moser all ran better after joining the NOP than immediately before.
If Hassan continues that tradition, the world had better look out because Hassan was already a much better runner than Farah, Ritzenhein, Rowbury and Mosier were before they joined NOP. Hassan was the world indoor champion at 1500 last year, the World Championship bronze medallist in 2015, and a 1:58.5/3:56.05 runner before joining NOP after a disappointing 5th at the Olympics. She still all of those things now, but looks like she might be on the verge of going into much rarer territory.
QT #2: Klosterhalfen is the real deal – Is she the greatest non-African-born talent ever?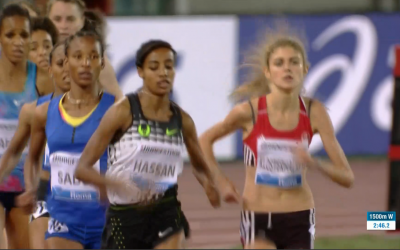 2017 has been a dream for Klosterhalfen. So far this year, she's done the following.
Lowered her 5000 pb from 15:16 to 14:51 in a race she ran without the help of a rabbit.
Lowered her 800 pb from 2:01 to 1:59 (that happened last Saturday).
Lowered her 1500 pb from 4:06 to 3:59.
The fact that she's just 20 and already run 1:59, 3:59 and 14:51 is amazing. Add in the fact that she's got great endurance (32:24 10k road pb) and it's scary to think how good the 20-year-old will ultimately will be.
As great as those times are, we were most impressed by her fearlessness today. Today she passed the rabbit before 800 as 2:07.98 was too slow for her.
She was so good, we have started to wonder, "Is she the greatest female non-African-born talent ever?"
We imagine many people will argue Mary Decker Slaney. Ignoring the fact for a moment that Slaney served a doping suspension (so her whole career should be viewed with some suspicion), it's worth pointing out that Slaney didn't break 4:00 until she was 22.
One other thing about Klosterhalfen, it'd hard as Americans not to watch her run and think, "She's everything Alberto Salazar wanted Mary Cain to be."
MB: Konstanze Klosterhalfen 1:59 800m. Will she break 4min DL Rome? –
Women's 5000: Hellen Obiri crushes Genzebe Dibaba & everyone else to set Kenyan record of 14:18.37
The talk going in was once again about Ethiopia's Genzebe Dibaba trying to break her sister Tirunesh's world record of 14:11.15 but in the end it was Kenya's Olympic silver medallist Hellen Obiri who earned the headlines as she destroyed the field over the final two kilometers to become just the fifth woman in history to break 14:20 — and the first non-Ethiopian. Dibaba, who led early, packed it over the final mile and faded all the way to sixth place as the top four women all set personal bests.
The commentators mentioned that Dibaba had requested 67-second pace for the first mile, a totally ludicrous request considering that is 13:57 pace for 5,000. The first lap was actually 68 seconds, which was still enough to string out the pack single file, and a pack of eight women hit 1600 in 4:36 — 14:22 5k pace.
Dibaba still felt this was too slow and passed the one remaining rabbit a lap later and by the halfway point, the lead pack was down to four: Dibaba, Obiri, 2015 World XC champ Agnes Tirop and Turkey's Yasemin Can. And though Dibaba was leading, she wasn't running world record pace as she went 69.1-69.3 (14:23 pace) for the two laps for which she held the lead.
Obiri recognized that if she were to run a truly fast time, she would have to do it herself, and that's exactly what she did, taking off just before 3k (8:38.3) and dropping a 64.8. A lap later, her lead was a massive 30 meters and growing as no one else could respond.
The question now was whether she had left it too late to challenge the world record. Obiri hit 3400 meters in 9:43.1, meaning she needed a 4:28 final 1600 to do it. She continued to press bravely, but the 64 had taken a lot out of her as she slowed to 68.4-70.9-70.4. That left her at 13:13.1 at the bell, and though the WR was now out of her reach, she kicked it in and was rewarded with a new Kenyan record thanks to a 65.2 last lap. Tirop was second in a 17-second PR of 14:33.09 as 19-year-old Letsenbet Gidey was third in 14:33.32, just shy of Tirunesh Dibaba's World U20 record of 14:30.88.
5000 Metres - Women 
                                                             Pts
    1 Obiri , Hellen Onsando           KEN   14:18.37          8
    2 Tirop , Agnes Jebet              KEN   14:33.09          7
    3 Gidey , Letesenbet               ETH   14:33.32          6
    4 Can , Yasemin                    TUR   14:36.82          5
    5 Diro , Etenesh                   ETH   14:40.29          4
    6 Dibaba , Genzebe                 ETH   14:41.55          3
    7 Kipkemboi , Margaret Chelimo     KEN   14:43.89          2
    8 Cheptai , Irene Chepet           KEN   14:47.11          1
    9 Grøvdal , Karoline Bjerkeli      NOR   15:05.36           
   10 Chelangat , Sheila               KEN   15:15.08           
   11 Lozano , Ana                     ESP   15:18.07           
   12 Degefa , Beyenu                  ETH   15:19.49           
   13 Scott , Dominique                RSA   15:20.10           
   14 Tesfay , Haftamnesh              ETH   15:20.10           
   15 Seccafien , Andrea               CAN   15:20.77           
   16 Twell , Stephanie                GBR   15:24.05           
   17 Rebitu , Bontu                   BRN   15:37.97           
   18 Westphal , Liv                   FRA   15:40.74           
   19 Carton , Louise                  BEL   15:48.94           
      Kushnir , Viktoria               BLR        DNF           
      McColgan , Eilish                GBR        DNF
Quick Take #1: Hellen Obiri is officially your World Championship favorite at 5,000 meters
Obiri was second at the Olympics last year but she's definitely the favorite for gold in London considering the two other medallists in Rio have been absent this year — gold medallist Vivian Cheruiyot moved up to the marathon while bronze medallist Almaz Ayana has not raced due to injury (initially she was supposed to debut here but she scratched a few weeks ago). Obiri was dominant in Shanghai on May 13 and even more so tonight. Plus she managed to take second in the Pre Classic 1500 in between those two races.
She also deserves big props for breaking the Kenyan record — never an easy thing to do in the distance events. Only the Dibabas, Ayana and Meseret Defar have ever run faster than Obiri did tonight. Interestingly, Obiri's 4k split tonight was actually faster than Tirunesh Dibaba's split during her world record, but Dibaba closed that race really hard (2:43 for her final 1k), something Obiri could not do tonight.
Quick Take #2: We don't want to hear any more WR talk from Dibaba
Dibaba said she was going for the world record in Eugene at the Pre Classic two weeks ago and didn't even come close (14:25). She made the same claim again tonight, requesting suicidal 67-second laps to open the race, and in the end she didn't even finish in the top five.
In general, we're not fans of billing every fast race as some sort of record attempt. Yes, it's cool to see records and yes, billing a race as a record attempt can bring added excitement to the attempt. But record attempts lose their luster if every race is billed as such and it can be even more fun to see a world record out of the blue as opposed to in a race where you're expecting it.
The 5,000 world record may go down in 2017, but right now it's looking like Obiri, not Dibaba, who is the most likely to do it. Our advice to Dibaba: forget the 5k and focus full-time on the 1500. After all, she is the current world record holder and reigning world champion in that event. Clearly Faith Kipyegon, who beat Dibaba in the 1500 in Rio, is tough to beat, but if Dibaba is at her very best, it doesn't matter how good Kipyegon is — she won't be able to run 3:50.
Men's 800: Adam Kszczot wins a wild one
The men's 800 was certainly entertaining as the rabbit, 29-year-old Job Kinyor of Kenya, who has a 1:43 pb from 2012, tried to steal the race. Hired to take things out in 50.5, Kinyor went out way too fast and the field never went with him.
At 400 (49.25), Kinyor had a 4+ second led. As he rounded the turn and entered the backstretch, Kinyor started to look over his shoulder and wonder if he might be able to steal it. At 600 (1:17.03), Kinyor still lead by 3.4 seconds.
Could he hold on?
When Kinyor hit the 700-meter mark he still led by more than 10 meters but the tie-up bear had jumped on his back and he'd soon be mowed down by the field which, led by Poland's Adam Kszczot, the 2015 silver medallist at Worlds, was running a big negative split. Kszczot led the chasers all the way home. His final 10 meters weren't great but he held on for the win in 1:45.96 as Kipyegon Bett, the Shanghai winner over David Rudisha, was second in 1:46.00. American Donavan Brazier looked very good in his Diamond League debut as he had the best last 100 of anyone in the field to finish third in 1:46.08.
Kszczot, who failed to make the Olympic final last year despite running 1:44.70 in his semis, won by going 53.6 – 52.4 to get the win. We timed his last 200 in an unofficial 25.5. Kszczot won Europeans indoors earlier this year and was 6th in the DL opener in Shanghai.
Kszczot was happy to win despite the crazy change in pace. "The first 150m were very fast, later, the pace died, it was really horrible so I tried to push it again. In fact, I had to change the pace at least 3-4 times during the race and it costs a lot," said Kszczot. "But I was still able to beat the guys with even better times what makes me happy. This year, I am very focused on the world championships in London as I want to become the world medallist again. I hope the weather in London will be the same as here today because it was great."
800 Metres - Men 
                                                             Pts
    1 Kszczot , Adam                   POL    1:45.96          8
    2 Bett , Kipyegon                  KEN    1:46.00          7
    3 Brazier , Donavan                USA    1:46.08          6
    4 Manangoi , Elijah Motonei        KEN    1:46.22          5
    5 Lewandowski , Marcin             POL    1:46.51          4
    6 McBride , Brandon                CAN    1:46.69          3
    7 Kipketer , Alfred                KEN    1:46.85          2
    8 Kipkoech , Nicholas Kiplangat    KEN    1:47.09          1
    9 Bube , Andreas                   DEN    1:47.33           
   10 Rotich , Ferguson Cheruiyot      KEN    1:48.07           
   11 Amos , Nijel                     BOT    1:48.49           
   12 Kinyor , Job Koech               KEN    1:49.73
Quick Thought #1: While the rabbiting was awful, it sure made things interesting
If we were the meet directors, we're not sure if we'd pay the rabbit as he didn't do his job. We do not understand why they don't have people yelling out splits for the rabbit every 100 meters so they know what pace they are on. And we do not understand why rabbits don't slow down if they are way ahead of the field.
But we might pay him anyway tonight only because his attempt to steal this one made it interesting. As late as 700 meters, we wondered if he might do it, but he crawled home over the final 75 and finished last. Kszczot didn't pass him until the 1:36 mark and yet he managed to put nearly 4 seconds on Kinyor before the finish.
Quick Thought #2: Brazier should be very happy with this one.
Brazier, who ran 1:43.55 last year at age 19, is clearly a big talent. However, his Achilles heel before tonight seemed to be, "Can he do well if the race doesn't go out fast?" The answer is clearly yes as he was closing better than anyone over the final 50.
1:46.08 is a time that only 12 Americans have bettered this year when going all-out. Brazier can do it as a negative split (he went 53.8-53.3 today).
Men's 3000 steeple: Conseslus Kipruto shows he's still the man to beat after Morocco's Soufiane El Bakkali gives him a run for his money
Conseslus Kipruto dominated the men's steeplechase in 2016, going a perfect six-for-six on the Diamond League circuit and winning Olympic gold in Rio. In the first DL steeple of 2017, Kipruto showed that he's still the World #1, but that the gap may have narrowed from last year, when Kipruto would routinely blow out the competition. Kipruto earned the win in a world-leading 8:04.63, but he was challenged until the final barrier by Morocco's 21-year-old Soufiane El Bakkali, last year's Olympic 4th placer, who finished just behind in 8:05.17.
The race went out incredibly fast as the rabbits hit 1k in 2:35.67 — 7:47 pace in an event where the world record is 7:53. Kipruto was right on them, perhaps only a second behind. Two-time Diamond League champ Jairus Birech was the only other athlete brave (crazy?) enough to go with them as the rest of the pack was strung out behind them single-file.
The pace slowed over the second kilometer (2:47.39) and by the time the second rabbit stopped off, Kipruto was the leader of a four-man pack up front, with Birech, El Bakkali and Kenyan World U20 champ Amos Kirui behind him. Those four were all still together at the bell, with El Bakkali best positioned to strike on Kipruto's shoulder. Kirui attacked Kipruto on the backstretch, but Kipruto held him off. Then as they approached the water jump for the final time, El Bakkali made a move to pass Kipruto, but once again the Olympic champ responded.
Entering the home stretch, Kipruto and El Bakkali had separated, with El Bakkali running half a step behind his rival. They were together until the final barrier, at which point Kipruto accelerated away, a move to which El Bakkali had no answer.
A little further back, a pair of Americans ran very impressively as Hillary Bor (6th, 8:11.82) and Andy Bayer (8th, 8:14.46) both notched new PRs.
Results
                                                             Pts
    1 Kipruto , Conseslus              KEN    8:04.63          8
    2 Elbakkali , Soufiane             MAR    8:05.17          7
    3 Birech , Jairus Kipchoge         KEN    8:07.84          6
    4 Kirui , Amos                     KEN    8:08.37          5
    5 Haileselassie , Yemane           ERI    8:11.22          4
    6 Bor , Hillary                    USA    8:11.82          3
    7 Kipyego , Barnabas               KEN    8:14.13          2
    8 Bayer , Andrew                   USA    8:14.46          1
    9 Bett , Nicholas Kiptonui         KEN    8:14.52           
   10 Kowal , Yoann                    FRA    8:15.60           
   11 Kibiwott , Abraham               KEN    8:19.29           
   12 Girma , Tesfaye                  ETH    8:19.67           
   13 Bamoussa , Abdoullah             ITA    8:22.00           
   14 Zalewski , Krystian              POL    8:23.68           
   15 Chiappinelli , Yohanes           ITA    8:27.34           
   16 Zoghlami , Ala                   ITA    8:29.26           
   17 Kemboi , Ezekiel                 KEN    8:33.07           
   18 Cabral , Donald                  USA    8:33.49           
   19 Floriani , Yuri                  ITA    8:39.83           
      Kemboi , Clement Kimutai         KEN        DNF           
      Kipsang , Lawrence Kemboi        KEN        DNF
Quick Take #1: Kipruto is still the king, but there could be a new challenger to the throne in 2017
Kipruto ran very well tonight — he looked in control throughout, was clearly the best over the final barrier and may have been able to break 8:00 with some smarter pacing — but in many of last year's Diamond League races, there was a chasm between him and the runner-up and that wasn't the case in Rome. With that said, Kipruto did look to have more in the tank. We're excited to see how fast he can go this year.
Kipruto said post-race that he hopes to break his PB in Ostrava.
"I started this season as I planned. 8:04 is a good time, last year I had 05 so it is a good sign for this season. But I already have a plan to improve my PB. After the Trials, I am coming to Ostrava and my target is definitely a new PB there," said Kipruto.
And for El Bakkali, this was a breakout run. Yes, he was fourth in Rio last year, but tonight was a PR by over nine seconds and showed that he can hang with the very best in the world. Kipruto remains the gold-medal favorite in London, but Evan Jager better watch out as El Bakkali has clearly upped his game in 2017.
Quick Take #2: Two new additions to the U.S. all-time top 10 list
USAs should be very competitive in the steeplechase this year as Americans Hillary Bor and Andy Bayer both ran PRs to move up on the U.S. all-time list. That still may not be enough to make the team however, as five of the 10 guys in the all-time top 10 are active right now.
U.S. all-time list, men's 3000 steeplechase
8:00.45 Evan Jager   Paris 7/4/15
8:08.82 Daniel Lincoln   Rome 7/14/06
8:09.17 Henry Marsh   Koblenz 8/28/85
8:09.76 Mark Croghan   Stuttgart 8/21/93
8:11.82 Hillary Bor   Rome 6/8/17
8:13.16 Brian Diemer   Koblenz 8/29/8
48:13.29 Dan Huling   Lausanne 7/8/10
8:13.37 Donn Cabral   Eugene 6/28/15
8:14.26 Marc Davis   Zurich 8/4/93
8:14.46 Andy Bayer   Rome 6/8/17
Quick Take #3: A disappointing day for for Ezekiel Kemboi and Donn Cabral
Both men only ran 8:33. That's clearly a disaster for Kemboi, though in recent years his regular season results have had little impact on his championship performances. Last year, Kemboi opened up his 2016 campaign with an 8:31 stinker as well – but that was in early May in Shanghai and it's already June 8th.
As for Cabral, it's worth noting that his first steeple last year, when he made the Olympic final, was only an 8:29 and it came on June 17th. However, running 8:29 and winning and running 8:33 and getting trounced are two different things.
Men's 100: Chijindu Ujah upsets Ronnie Baker

In this non-Diamond League race, Brit Chijindu Ujah came on late to get a surprising win in the 100 in 10.02. Seventy meters in, the race appeared to be a two-man battle between Pre Classic winner Ronnie Baker and France's Jimmy Vicaut. However, Ujah was by far the best over the final 30 meters and he got the win.
100 Metres - Men                                  Wind: -0.2 m/s
                                                                
    1 Ujah , Chijindu                  GBR      10.02           
    2 Vicaut , Jimmy                   FRA      10.05           
    3 Baker , Ronnie                   USA      10.05           
    4 Meité , Ben Youssef              CIV      10.10           
    5 Rodgers , Mike                   USA      10.14           
    6 Kiryu , Yoshihide                JPN      10.18           
    7 Ogunode , Femi                   QAT      10.21           
    8 Brown , Aaron                    CAN      10.35           
    9 Cattaneo , Federico              ITA      10.38
Quick Thought: Yes, we know this race was run into a headwind and the track in Eugene is super fast but the first thought we had after watching this one was, "These guys might be lucky to make the NCAA final."
It took 10.03 to make the NCAA final and the winning time today was 10.02. Yes we know our thought isn't entirely fair as Ronnie Baker, who ran 10.05 tonight, ran a windy 9.86 to win the Pre Classic two weeks ago.
Men's 110 Hurdles: Aries Merritt wins for the first time on the DL circuit since his transplant
The comeback of world record holder Aries Merritt after his kidney transplant continues to pick up steam as Merritt got his first post-transplant Diamond League win in 13.13 – equal to the time he ran in Eugene a few weeks ago and his fastest time post-transplant.
Midway through the race, Merritt was battling Brit Andrew Pozzi for the lead but Pozzi went backwards over the last few hurdles and Merritt held on to win over 2016 Rio silver medallist Orlando Ortega of Spain.
110 Metres Hurdles - Men                          Wind: -0.3 m/s
                                                             Pts
    1 Merritt , Aries                  USA      13.13          8
    2 Ortega , Orlando                 ESP      13.17          7
    3 Shubenkov , Sergey               ANA      13.21          6
    4 Pozzi , Andrew                   GBR      13.24          5
    5 Trajkovic , Milan                CYP      13.39          4
    6 Oliver , David                   USA      13.46          3
    7 Cabral , Johnathan               CAN      13.60          2
    8 Perini , Lorenzo                 ITA      13.65          1
    9 Darien , Garfield                FRA      15.64           

Quick Thought: This was the best race for Merritt since his transplant. While his time was the same (13.13) as what he ran to get fourth in Eugene, today he was running in a .3 m/s headwind whereas in Eugene he had a .9 m/s tailwind.
However, Merritt was far from thrilled with how he ran as this is what he said after the race:
"I just got off the plane after it was late from the States, just arrived 2 days ago and it is not a secret I am still jetlagged. I wanted to run much faster but in the end I am happy with the season best. I made many mistakes, hit a lot of hurdles today but my speed is getting better. The time 13.13 is not that terrible in the end. After 2015, it was tough but I am here, I am healthy so I just need to stay focused and the results will come. At the moment, I am at 80 – 90 percent of my speed work."
Men's 200: Andre De Grasse makes a statement, winning handily in 20.01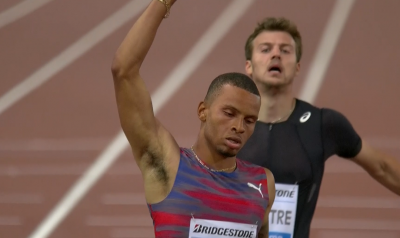 De Grasse was with the rest of the field until about 50 meters to go, at which point he turned on the jets and pulled away to win comfortably in 20.01. De Grasse has had an uneven start to the 2017 season as he was only 5th and 4th in his previous two Diamond League appearances, both at 100 meters. But his run tonight was a reminder of De Grasse's immense talent as he looked a world apart from this field.
Olympic bronze medallist Christophe Lemaitre of France was second in 20.29 as U.S. Olympian Ameer Webb was third in 20.33.
200 Metres - Men                                  Wind: +0.6 m/s
                                                             Pts
    1 De Grasse , Andre                CAN      20.01          8
    2 Lemaitre , Christophe            FRA      20.29          7
    3 Webb , Ameer                     USA      20.33          6
    4 Tortu , Filippo                  ITA      20.34          5
    5 Brown , Aaron                    CAN      20.43          4
    6 Rodney , Brendon                 CAN      20.61          3
    7 Edward , Alonso                  PAN      20.74          2
    8 Martina , Churandy               NED      20.74          1
      Forte , Julian                   JAM        DNS
Women's 100: Dafne Schippers prevails in 10.99
Only three women have broken 11 seconds this year and Dafne Schippers — who ran 10.95 in April — did it again on Thursday to win in Rome, separating from the field late to win in 10.99. Olympic fourth placer Marie-Josee Ta Lou of the Ivory Coast was second in 11.03.
100 Metres - Women                                Wind: +0.5 m/s
                                                             Pts
    1 Schippers , Dafne                NED      10.99          8
    2 Ta Lou , Marie-Josée             CIV      11.03          7
    3 Ahye , Michelle-Lee              TTO      11.07          6
    4 Bartoletta , Tianna              USA      11.26          5
    5 Williams , Christania            JAM      11.32          4
    6 Henry , Desiree                  GBR      11.32          3
    7 Lückenkemper , Gina              GER      11.39          2
    8 Kambundji , Mujinga              SUI      11.40          1
    9 Siragusa , Irene                 ITA      11.70
Women's 400: Natasha Hastings earns her fourth career DL victory
Hastings, who finished fourth in Rio last summer, was in a battle with Jamaica's Stephenie Ann McPherson (6th in Rio) on the final turn, but in the homestretch this one was all Hastings as she pulled away while McPherson faded to fifth place. Hastings wound up winning comfortably in 50.52 as she was the only woman to break 51 seconds on the night.
400 Metres - Women 
                                                             Pts
    1 Hastings , Natasha               USA      50.52          8
    2 Williams-Mills , Novlene         JAM      51.04          7
    3 Zemlyak , Olha                   UKR      51.08          6
    4 Guei , Floria                    FRA      51.51          5
    5 McPherson , Stephenie Ann        JAM      51.52          4
    6 Jele , Lydia                     BOT      51.53          3
    7 Sprunger , Léa                   SUI      51.56          2
    8 Swiety , Justyna                 POL      51.81          1
    9 Chigbolu , Mariabenedicta        ITA      52.28
Women's 400 hurdles: Janieve Russell wins it from the outside
Russell, who was 7th in Rio last year, got out hard in lane 8 and despite a late charge from Denmark's Sara Petersen, held on to win in a season's best of 54.14, just .18 off her PR. This was a non-DL event.
400 Metres Hurdles - Women 
                                                                
    1 Russell , Janieve                JAM      54.14           
    2 Petersen , Sara Slott            DEN      54.35           
    3 Nel , Wenda                      RSA      54.58           
    4 Hejnová , Zuzana                 CZE      55.27           
    5 Stepter , Jaide                  USA      55.62           
    6 Adekoya , Oluwakemi              BRN      55.63           
    7 Pedroso , Yadisleidis            ITA      55.70           
    8 Caravelli , Marzia               ITA      55.83           
    9 Doyle , Eilidh                   GBR      55.86
Men's Javelin: Röhler comes up clutch
The fine form of Olympic champ Thomas Röhler, who threw a national record of 93.90m to win the DL opener in Doha, continued tonight in clutch fashion. In the final throw of the competition, he heaved the javelin 90.06 meters to get the win over fellow German Johannes Vetter (88.15 meters). Röhler and Vetter, who was 4ht in Rio last year, also went 1-2 in Doha.
Javelin Throw - Men 
                                                             Pts
    1 Röhler , Thomas                  GER      90.06          8
    2 Vetter , Johannes                GER      88.15          7
    3 Walcott , Keshorn                TTO      86.61          6
    4 Vadlejch , Jakub                 CZE      86.37          5
    5 Pitkämäki , Tero                 FIN      83.84          4
    6 Kirt , Magnus                    EST      83.70          3
    7 Yego , Julius                    KEN      82.19          2
    8 Hofmann , Andreas                GER      79.65          1
    9 Veselý , Vítezslav               CZE      78.42           
   10 Fraresso , Mauro                 ITA      78.28           
   11 Peacock , Hamish                 AUS      76.92
Women's HJ: Mariya Lasitskene clears 2.00m again
Lasitskene, formerly Mariya Kuchina of Russia but now competing as an independent athlete, has been on fire in 2017 after being forced to sit out of international competition last year. She won the competition easily, clearing her first five bars without a miss and went on to clear 2.00m before missing three attempts at 2.05. Lasitskene has now cleared 2.00 three times in 2017 — no one else has done it even once.
High Jump - Women 
                                                             Pts
    1 Lasitskene , Maria               ANA       2.00          8
    2 Licwinko , Kamila                POL       1.96          7
    3 Levchenko , Yuliia               UKR       1.94          6
    4 Lake , Morgan                    GBR       1.91          5
    4 Trost , Alessia                  ITA       1.91          5
    6 Treasure , Alyxandria            CAN       1.88          3
    7 Demireva , Mirela                BUL       1.88          2
    8 Furlani , Erika                  ITA       1.88          1
    8 Jungfleisch , Marie-Laurence     GER       1.88          1
   10 Skoog , Sofie                    SWE       1.85           
   11 Beitia , Ruth                    ESP       1.80           
      Spencer , Levern                 LCA         NM
Women's PV: Katerina Stefanidi wins and then goes for the World Record
Katerina Stefanidi of Greece showed why she's the Olympic champion as she remain undefeated during her outdoor campaign as she didn't miss at 4.65, 4.75 or a seasonal best of 4.85. After winning at 4.85, she took three attempts at a new world record (5.07) but none of them were close.
The field included all of the medallists from Rio. Bronze medallist Eliza McCartney was third at 4.75m while the silver medallist, American Sandi Morris, struggled and only cleared 4.55m.
Pole Vault - Women 
                                                             Pts
    1 Stefanídi , Ekateríni            GRE       4.85          8
    2 Silva , Yarisley                 CUB       4.75          7
    3 McCartney , Eliza                NZL       4.75          6
    4 Ryzih , Lisa                     GER       4.65          5
    4 Sidorova , Anzhelika             ANA       4.65          5
    6 Morris , Sandi                   USA       4.55          3
    7 Bradshaw , Holly                 GBR       4.40          2
    7 Büchler , Nicole                 SUI       4.40          2
    7 Kylypko , Maryna                 UKR       4.40          2
   10 Moser , Angelica                 SUI       4.20           
   11 Malavisi , Sonia                 ITA       4.20
Women's shot put: China's Lijiao Gong earns second straight DL win in dominant fashion
Gong won on home soil in Shanghai on May 13 and showed that she can win outside of China as well, putting the shot 19.56m on her fifth attempt — the second-furthest throw in the world this year.
Gong was truly dominant tonight, as she was the only woman over 19 meters on the night and managed to throw at least 19.18 on all six of her attempts — a distance only two other women have surpassed all year.
Shot Put - Women 
                                                             Pts
    1 Gong , Lijiao                    CHN      19.56          8
    2 Bunch , Daniella                 USA      18.95          7
    3 Carter , Michelle                USA      18.86          6
    4 Márton , Anita                   HUN      18.55          5
    5 Dubitskaya , Aliona              BLR      18.43          4
    6 Leantsiuk , Yuliya               BLR      17.93          3
    7 Johnson , Felisha                USA      17.68          2
    8 Crew , Brittany                  CAN      17.51          1
    9 Dongmo , Auriole                 CMR      17.29           
   10 Guba , Paulina                   POL      17.15
Women's TJ: Yulimar Rojas hands South American rival Caterine Ibarguen a rare defeat
Ibarguen, the reigning world and Olympic champion for Colombia, entered this meet having won 40 of her last 41 triple jump competitions. But the Venezuelan Rojas, the Olympic silver medallist, jumped a world-leading 14.96 meters last week and backed that up with a 14.84 victory today as Ibarguen could only manage 14.78.
With Ibarguen 33 years old and Rojas only 21, there could be a changing of the guard in the women's triple jump this year.
Triple Jump - Women 
                                                             Pts    Wind
    1 Rojas , Yulimar                  VEN      14.84          8    +0.6
    2 Ibargüen , Caterine              COL      14.78          7     0.0
    3 Rypakova , Olga                  KAZ      14.64          6    +0.1
    4 Mamona , Patrícia                POR      14.42          5    +1.0
    5 Williams , Kimberly              JAM      14.21          4    +0.3
    6 Povea , Liadagmis                CUB      14.15          3    +0.7
    7 Derkach , Dariya                 ITA      14.04          2    +1.3
    8 Gierisch , Kristin               GER      13.82          1    -0.3
    9 Saladukha , Olga                 UKR      13.75               +0.3
   10 Papahrístou , Paraskeví          GRE      13.67               +1.7
   11 Petrova , Gabriela               BUL      13.63               -0.3