TrackTown Summer Series Portland Recap: Andrews Drops Out, as Ben Blankenship Wins a Thriller over Merber and Engels, Windle Keeps Rolling
by LetsRun.com
July 2, 2017
TrackTown Summer Series Meet #2 was held in Portland today and the marquee matchup, the men's 1500m, did not disappoint. Sure Robby Andrews didn't hit the World Champs qualifying standard and dropped out but it was a crazy tight three way battle for the win won by Ben Blankenship.
The New York Empire won the track and field meet 86 to 85 over the Philadelphia Force. We have no idea what that means for the series finale Thursday in NYC, but the meet is on ESPN so tune in and find out. Update: Doug Binder of Dyestat writes, "New York (Sunday's winner) and San Francisco (Thursday's winner) will go into the finals with 15 points. Philadelphia and Portland will start out a step behind with 12 points each."
We will paste results in the recap eventually but you can find results on one page here. If you want to watch the meet you can rewatch the stream here.
Men's 1500: Ben Blankenship edges Kyle Merber in a thriller as Robby Andrews' standard bid comes up short
On paper, the men's 1500 was the highlight of the meet. Not only was the field loaded (four of the top five finishers from USAs), but the pace promised to be fast as U.S. champ Robby Andrews was looking to punch his ticket to Worlds by hitting the 3:36.00 IAAF standard. Though the competition lived up to the hype, the time did not as neither Andrews nor anyone else would hit the standard today. Instead, after the pace dragged during the middle of the races, the fans were treated to a four-way kick down the home stretch with Ben Blankenship holding off Kyle Merber to win by six-thousandths of a second as both men were credited with the same 3:37.43 time. Andrews, who led in the early stages, realized at the bell that he was not going to hit the standard and stepped off the track with 350 to go.
The Race
Lopez Lomong was tasked with rabbitting this one at 2:52 through 1200 meters (3:35.0 pace) and Andrews wasted no time getting out behind him on the first lap, with Andrews hitting 400 in 56.2 (3:35.0 pace is 57.3). However, a gap was starting to form between Lomong and Andrews, and even though Lomong slowed down on the second lap, he still had a gap of around 10 meters. Andrews led Engels and Gregorek through 800 in 1:55.7 (59.5 last lap) and they were now behind 3:36.0 pace.
The pace would lag even further on the backstretch and with 600 to go, the entire field was now bunched together with Lomong way out in front and Andrews still leading the racers. Pat Casey moved up past Andrews to take the lead at the bell (2:42.31). Then Engels went by Andrews. Then Blankenship. Then Cristian Soratos. Midway through the first turn, the entire field had passed the U.S. champ and a spent Andrews, knowing that the standard was now an impossibility, stepped off the track in order to save his reserves for another attempt on Thursday in New York. He would have had to have closed in 53.17 or faster on his final lap, and it was clear at the bell that Andrews didn't have that in his legs today.
Even without Andrews, the race was setting up for an exciting last lap, and Engels took the lead with 300 to go with his Philadelphia Force teammate Blankenship running on his outside shoulder. At this point, Lomong should have stepped off, but he was slow to move outside, creating some confusion on the backstretch. Blankenship took advantage, squeezing between Engels on his inside and Lomong on his outside to move into the lead just before the final turn.
Blankenship still led coming off the turn, but Engels, 2016 TrackTown champ Colby Alexander and Merber were all lined up behind him and midway down the home straight, all four of them were in it with a chance. Blankenship, Engels and Merber were neck-and-neck-and-neck with 25 meters to go, and in the end Merber's late lunge on the outside was not quite enough as Blankenship held him off by a tiny margin to win in 3:37.43 thanks to a 54.85 last lap. Engels was third in 3:37.65 as he improved his PR by .01.
Article continues below player.

Quick Take: Will Robby Andrews try a different strategy in New York?
Exactly two years ago, Andrews turned up in a meet in Portland needing to run the IAAF standard to make the World Championship team and did just that, clocking 3:35.82 at the Portland Summer Twilight meet. This afternoon, he could not get it done and thus his wait for Worlds will have to continue.
Andrews still has until midnight on July 21 to get the 3:36.00 IAAF standard, so there's no reason to panic. But it will be interesting to see if he employs the same tactics in the TrackTown Summer Series final in New York on Thursday. Though several of the other guys in this race are also chasing the standard (if Andrews doesn't get it, Engels and Soratos could take his place; Blankenship already has the standard), Andrews was the one under the most pressure to get it and as a result he went right with Lomong. But Andrews is a much better racer than time trialer, and going out in 56.2 may have been too much for him (by comparison, when he got the standard in Portland two years ago, he went out in 58.0 and was not even the first racer).
Last year's TT Summer Series final in Eugene was really fast (five guys broke 3:36 with another at 3:36.04), and guys like Engels and Soratos will also be looking to run fast in New York. Perhaps if Andrews races to win, the time will come naturally.
On the other hand, Andrews has had some off days this year and this may have been another one. Maybe he shows up in New York, uses the same strategy and runs 3:34.
By dropping out, Andrews did not earn his team one point, but it didn't matter in the team standings for the finals.
Post-race Robby told reporters as captured by Dyestat, "I'd be lying if (I said) there's no pressure to get the world championships standard. It is my job to get it." He then said winning his first USATF title was draining, "It was way more emotional than it was physical. Winning your first national title, honestly that is humbling. It took a lot more out of me than I was expecting it to. Getting second is almost a blessing in disguise the last few years." He then said he's been in Oregon this week staying with Clayton Murphy. Video interview here.
Quick Take: What a difference a week makes
One week ago, five of these guys lined up in Sacramento in the U.S. final. This was the order of finish there:
1. Andrews
3. Gregorek
4. Engels
5. Soratos
12. Blankenship
This afternoon, it was totally different:
1. Blankenship
2. Merber (did not make final at USAs)
3. Engels
4. Alexander (did not make final at USAs)
5. Gregorek
6. Casey (did not make final at USAs)
7. Soratos
That goes to show you that the 1500 can be a little fluky sometimes. And that championship racing is a lot different from a one-off rabbitted race.
Men's 800: Drew Windles Keeps it Rolling
This race was sort of  replay of the USA 800m final as Erik Sowinski led once the rabbit dropped out, but it wasn't as fast (52.42 for Sowinski at 400). Sowinski opened up a couple-meter gap on the field on the backstretch but  Drew Windle, 3rd at USAs,  moved up on his shoulder with 200 to go. Windle, Sowinski and Andres Arroyo of Puerto Rico and the University of Florida, were three-wide on the homestretch but Windle pulled ahead and held off Arroyo as Sowinski settled for third.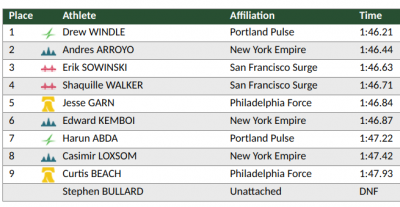 Women's 3000m: Stephanie Garcia Wins
Stephanie Garcia and Lauren Paquette separated from the field by the kilometer mark and the Garcia separated from Paquette the final 800m to get the comfortable win.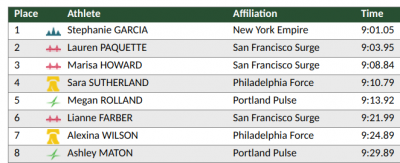 Women's 100m: Barbara Pierre Wins
Last year's 60m World Indoor champ Barbara Pierre beat Joanna Atkins, who, believe it or not, was the NCAA champ at 400 in 2009.
Men's 100: Michael Rodgers Prevails
Rodgers, 6th at USAs in the 100, was the favorite and he won comfortably over Kyree King, formerly of Oregon, who was 4th at USAs in the 200.

Women's 400: Phyllis Francis Wins
Francis, 5th at the Olympics last year and 2nd at USAs this year, was the class of the field and showed it.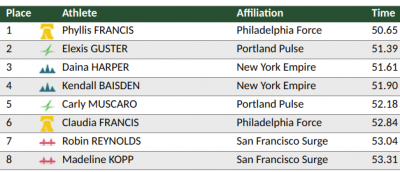 Combined Shot Put: Whiting and Carter Prevail
This was a combined men's and women's competition and Team Philadelphia had the best women's throw by Olympic Champ Michelle Carter, and best men's throw by Ryan Whiting so it won the competition.

Men's Triple Jump: Omar Craddock Wins
Three-time NCAA champ Omar Craddock, 5th at USAs this year, got the win over Josh Honeycutt (4th at USAs) and Donald Scott (3rd at USAs).


Women's High Jump: Inika McPherson Wins, Chaunte Lowe's Struggles Continue
McPherson got the win and took attempts at a lifetime PB of 1.96, but came up short. Chaunte Lowe, 4th at the Olympics last year, was 4th and last here, after getting 7th at USAs.

Results on one page here. If you want to watch the meet you can rewatch the stream here.
Talk about the meet on our fan forum: MB: Tracktown Summer Series Portland Live Thread