Ronald Kwemoi Announces Himself in the 3K, A Historically Fast Women's Steeple, A BOMB From Thomas Rohler in the Javelin & Much More As the 2017 DL Season Kicks Off in Doha
By LetsRun.com
May 5, 2017
The Doha Diamond League meet has become must-watch TV for track fans in recent years and the 2017 edition did not disappoint as there were a ton of incredible performances on track & field's opening day.
The performance of the meet was an absolute bomb from Germany's Thomas Rohler in the javelin, as he threw 93.90 meters to move up to #2 on the world's all-time list. The women's steeple was also incredible as four women broke 9:10 in a race for the first time in history (Hyvin Kiyeng upset world record holder Ruth Jebet for the win as Celliphine Chespol sliced almost 15 seconds off the world U20 record), and there were big wins for emerging sprint stars Akani Simbine in the 100 (9.99 into a headwind, defeating Justin Gatlin and Andre De Grasse) and 21-year-old Qatari Abderrahaman Samba in the 400 hurdles (48.44, smoking Olympic champ Kerron Clement in the process). Amazingly, that was only the fourth 400 hurdles race of Samba's life.
Article continues below player
In distance action, Caster Semenya was brilliant again, turning the much-hyped 800 showdown with Genzebe Dibaba into a laugher with a 1:56.61 victory. We have a separate article on that race here: LRC Caster Semenya Destroys Genzebe Dibaba in Much Anticipated 800 Matchup at IAAF Doha Diamond League. Ronald Kwemoi took down a stacked field in the 3,000, clocking a blazing 7:28.73 to run away from American Paul Chelimo in the home stretch, while World silver medallist Elijah Manangoi announced his return with a 3:31.90 victory in the 1500 as Kenyans swept the top six places in that race.
There were also wins for U.S. stars Keni Harrison in the 100 hurdles (12.59 into a -2.3 headwind), Christian Taylor (17.25m in the triple jump) and Michelle Carter in the shot put (19.32m) on a terrific day of track & field. We recap all the action below for you event by event, with results and LRC analysis.
Talk about the meet on our fan forum / messageboard:
Women's steeplechase: World champ Hyvin Kiyeng takes down Olympic champ Ruth Jebet as four women break 9:10 in a race for the first time in history
Anyone who thought that Ruth Jebet was unbeatable didn't account for Hyvin Kiyeng. The world champ and Olympic silver medallist absorbed the best Jebet had to offer tonight in Doha and responded with a late move of her own, pulling away to win by daylight in the final 100 meters and record the sixth-fastest time in history, 9:00.12. Jebet, who led most of the second half of the race, couldn't even hold on for second as Olympic 4th placer Beatrice Chepkoech of Kenya ran her down before the line, 9:01.57 to 9:01.99 to become the fourth-fastest woman in history (although Jebet appeared to stop caring once she realized she wasn't going to win).
Times were fast all around as a third Kenyan, Celliphine Chespol, destroyed the World U20 record, knocking almost 15 seconds off the mark to take third in 9:05.70. Emma Coburn was the top non-Kenyan-born finisher, taking fifth in 9:14.53.
The Race
The pace was hot from the beginning and by 1k (2:59.97), they were on sub-9:00 pace and only three women remained up front (Chepkoech, Jebet and Kiyeng). Chespol joined them a lap and a half later, but Jebet got tired of running in a pack and with three laps to go, she dropped the hammer.
At first, it looked as if we were in for a repeat of what we saw several times in the 2016 season, Jebet blasting away from the rest of the world. She led by 10 meters over Kiyeng with two laps to go (with Chespol and Chepkoech slightly behind Kiyeng), but that gap remained the same at the bell. At that point, Kiyeng looked like the stronger runner while Jebet appeared to be struggling, and Kiyeng began closing the gap on the backstretch, pulling up on Jebet's shoulder as they entered the water jump.
This was the women's steeple at its finest: the Olympic champ/world record holder trying to hold off the world champ/Olympic silver medallist as both women chased the 9:00 barrier. Tonight, there was no question who was better, with Kiyeng passing Jebet entering the home stretch and leaving her rival in the dust. She gained a small measure of revenge for her defeat in Rio last year, but this story is far from over.
Results
    1 Jepkemoi , Hyvin Kiyeng          KEN    9:00.12          8
    2 Chepkoech , Beatrice             KEN    9:01.57          7
    3 Jebet , Ruth                     BRN    9:01.99          6
    4 Chespol , Celliphine Chepteek    KEN    9:05.70 WU20R    5
    5 Coburn , Emma                    USA    9:14.53          4
    6 Assefa , Sofia                   ETH    9:15.66          3
    7 Krause , Gesa Felicitas          GER    9:15.70          2
    8 Praught , Aisha                  JAM    9:19.29          1
    9 Ghribi , Habiba                  TUN    9:27.97           
   10 Garcia , Stephanie               USA    9:30.43           
   11 Kirui , Purity Cherotich         KEN    9:31.73           
   12 Quigley , Colleen                USA    9:33.13           
   13 LaCaze , Genevieve               AUS    9:37.10           
   14 Fougberg , Charlotta             SWE    9:42.14           
   15 Getent , Tigest                  BRN    9:46.35           
   16 Frerichs , Courtney              USA    9:54.91           
      Gathoni , Ann                    KEN        DNF           
      Tuigong , Caroline Chepkurui     KEN        DNF
Quick Take #1: Women's steepling is reaching a new level: one-third of the 12 fastest times in history were run in this race
Kiyeng (9:00.12, #6), Chepkoech (9:01.57, #7), Jebet (9:01.99, #10) and Chespol (9:05.70, #12) all ran times that ranked among the 12 fastest in history.
While Kiyeng and Jebet were already on that list (they now own 7 of the 10 fastest times ever run), Chepkoech and Chespol were new additions.
Last year, Jebet and Kiyeng showed that women can consistently run in the low-9:00 range, with Jebet resetting the bar with her massive 8:52 world record in Paris in August. Now that other Kenyans, such as the 25-year-old Chepkoech and 18-year-old Chespol, are taking up the event and have a target to shoot for, times are getting faster across the board. They both earned massive PRs tonight, with Chepkoech jumping from 9:10 to 9:01 and Chespol going from 9:24 to 9:05. Could we soon see dominance from the Kenyan (and Kenyan-born) women in the steeple that rivals that of the men?
One more note on the times: we feel a little bad for Kiyeng. She's now run 9:00.01 and 9:00.12. Of course, she's the third-fastest woman in history and won tonight, so we doubt she's too upset on missing out on sub-9:00 again.
Quick Take #2: Jebet vs. Kiyeng could be a potentially great rivalry
It was tremendously exciting to see Jebet and Kiyeng shoulder-to-shoulder over the final water jump battling it out for the win. Hopefully, we'll see several more close races between the pair this year, but that's not a guarantee. Remember, last year the two were neck-and-neck at the finish at the Pre Classic, only for Jebet to crush Kiyeng in their final three matchups (she won by 8 seconds in Rio, 9 in Paris and 3 in Zurich).
Quick Take #3: A good start for rookie coach Joe Bosshard
Lots of eyes were on Emma Coburn tonight as she made the surprising decision to part ways with the coaches who guided her to Olympic bronze last year (Heather Burroughs/Mark Wetmore) to be coached by her fiance Joe Bosshard. Last year Coburn's first steeple was a little quicker (9:10.76), but it needs to be remembered that last year she was surprised she opened that fast and that that opener came later in the year as it was run at Pre on May 28, after she'd already run a 4:06 1500 in early May. So in our eyes, her opener today was very similar to last year's – it just may not seem like it as she wasn't close to being competitive with the top women in this race.
Joe Bosshard certainly should be feeling good about how things are going as he is coaching two athletes right now. And while Coburn ran an acceptable race, his other pupil, Aisha Praught Leer, ran the race of her life to take 8th in 9:19.29, a 12-second PR (and, it should go without saying, a Jamaican national record).
(9:30 was likewise a decent run for Stephanie Garcia, though still 11 seconds off her 9:19 PR. She isn't coached by Bosshard, we just wanted her to get some pub).
Quick Take #4: Not a great night for the Bowerman Track Club
Bowerman TC teammates Colleen Quigley (12th in 9:33.13) and Courtney Frerichs (16th in 9:54.91) both had a rough go of it in their season openers. But both women ran well over the winter. It's certainly not time to panic.
Frerichs was in tears after the race, but don't worry, she's not injured. She came down with a case of food poisoning on Thursday that had her throwing up all day and night, which explains why she was so far off her best.
Men's 3000: Ronald Kwemoi Looks Sensational As He Outduels Paul Chelimo And Wins In 7:28
The cream certainly rose to the top in the men's 3000 as at the bell there were four men still in contention for the win and all four were incredibly accomplished. The four contenders were the last two World Indoor 3000 champs in Yomif Kejelcha of Ethiopia (2016) and Caleb Ndiku of Kenya (2014), the Olympic 5000 silver medallist Paul Chelimo of America and the world junior record holder at 1500, Ronald Kwemoi of Kenya (3:28 pb). In the end, Kwemoi, the man whom coach Renato Canova has guaranteed will win the 2020 Olympic 5000, got the win in 7:28.73 with Chelimo second in 7:31.57.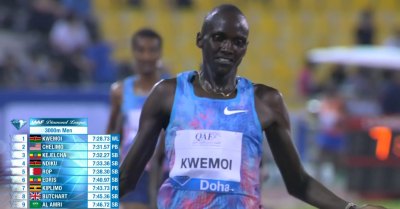 The Race
The race was rabbitted well and was fast from the get-go. After a 28 first 200 for the rabbit, the leader to leader splits for the final 7 laps were as follows.
Lap 1 60.00
Lap 2 61.22
Lap 3 61.37
Lap 4 61.44
Lap 5 61.54
Lap 6 59.69
Lap 7 55.23
Kejelcha had the lead at the bell and Chelimo was in fourth but once the final 200 began, it was clear this was going to be a two-person battle between Kwemoi and Chelimo. Once they hit the homestretch, Kwemoi, who was already leading, looked like he hit the nitro button in a video game as he absolutely destroyed Chelimo over the final 100. Kwemoi got the 7:28.73 win thanks to a 55 flat last lap (it was 55.23 leader to leader but he was in 2nd at the bell; he actually might have been 54 high) and unofficial 26.5 last 200. Once beaten, Chelimo relaxed a little bit but still ended up second in 7:31.57 (57.5 last lap) with Kejelcha third (7:32.27) and Ndiku fourth (7:33.36).
Brit Andrew Butchart, who was 6th in the 5k in Rio, took top non-African-born honors in 8th (7:45.36) as American Ben True ran 7:47.00.
3000 Metres - Men 
                                                             Pts
    1 Kwemoi , Ronald                  KEN    7:28.73          8
    2 Chelimo , Paul Kipkemoi          USA    7:31.57          7
    3 Kejelcha , Yomif                 ETH    7:32.27          6
    4 Ndiku , Caleb Mwangangi          KEN    7:33.36          5
    5 Rop , Albert Kibichii            BRN    7:38.30          4
    6 Edris , Muktar                   ETH    7:40.97          3
    7 Kiplimo , Jacob                  UGA    7:43.73          2
    8 Butchart , Andrew                GBR    7:45.36          1
    9 Al-Amri , Tariq Ahmed            KSA    7:46.72           
   10 True , Ben                       USA    7:47.00           
   11 Soi , Edwin Cheruiyot            KEN    7:48.12           
   12 Kipruto , Conseslus              KEN    7:49.00           
   13 Ibrahimov , Hayle                AZE    7:49.75           
   14 Balew , Birhanu                  BRN    7:52.98           
      Cheboi , Collins                 KEN        DNF           
      Kazi , Tamás                     HUN        DNF           
      Longosiwa , Thomas Pkemei        KEN        DNF           

Quick Thought #1: Kwemoi certainly lived up to Canova's praise in this one
Kwemoi was great in this one and his dominance over the final 100 was complete. While he's only got a 13:16 5000 pb, one can see why Canova thinks he'll be very hard to beat in a championship 5000. He's a 3:28 1500 guy and he clearly showed those wheels here today.
Given the fact that he ran 7:28, we're pretty confident he'll be able to handle the extra 2000 meters for the full 5k distance and he'll soon be a sub-13:00 guy.
Quick Thought #2 This was a great race for 3000/5000 fans
In recent years, the men's 5000 has been a bit boring in large part due to Mo Farah's total dominance in the event from 2011-2016. In an era when much of the top distance talent finds it more lucrative to race the roads rather than the track, it's really refreshing to see all of this young talent run so well in the season opener.

Here are the ages of the top 4 today:

Kejelcha – 19
Kwemoi – 21
Ndiku – 24
Chelimo – 26
Heading into last year, most people viewed Ndiku or Kejelcha as the only humans with a prayer of beating Farah but neither really got the chance (Ndiku was hurt for much of the year and Kejelcha was left off the Ethiopian Olympic team). To have Ndiku healthy once again is great for 5k fans and to add Kwemoi to the mix is even better.
Quick Thought #3: American fans, let's not take Chelimo's greatness for granted
It's been a while since America has had a distance guy who could battle for a DL title in a fast race on the circuit in the 3000 or 5000, probably not since Bernard Lagat in 2012 or 2013.
With his 7:31.57, Chelimo is now the 5th fastest American indoors or out at 3000 according to TFN.
7:29.00 Bernard Lagat (Nike) 08/29/10
7:30.16i Galen Rupp (Nike) 02/21/13
7:30.84 Bob Kennedy (Nike) 08/08/98
7:30.93 Ryan Hill (Bowerman TC) 08/27/16
7:31.57 Paul Chelimo (Army WCAP) 5/5/17
US fans, we've got good news for you. Chelimo knows that Worlds are a long way away as after the race he said, "My main goal was to come up here and do my best. It's still too early to run too fast."
Men's 1500: Elijah Manangoi is back as Kenyans sweep the top six places
Six weeks ago in Uganda, the Kenyan women put on a show at the World Cross Country Championships, perfect-scoring the world in going 1-2-3-4-5-6. The Kenyan men pulled off the same feat in the 1500 tonight in Doha, albeit on a smaller stage. And they did it without two of their top runners — Olympic finalists Asbel Kiprop and Robert Kwemoi sat this one out.
In their place, 2015 World silver medallist Elijah Manangoi was the man who led them home in a world-leading 3:31.90 as he emerged victorious in a three-way kick over countrymen Silas Kiplagat and Bethwell Birgen. Australia's Ryan Gregson was the top non-Kenyan in 3:34.56. The U.S.'s Ben Blankenship was never a factor and struggled home in last place in 3:42.20.
The Race
The rabbits got out hard in this one, with a 55.37 opening 400 and at 800 (1:53.10 for the rabbit), the field was fairly strung-out, with Timothy Cheruiyot and Manangoi only half a second behind the rabbit up front. Cheruiyot was beginning to get impatient with 600 to go and he passed the rabbit as they entered the homestretch for the penultimate time. He continued to lead at the bell (2:36), but there was still a pack of men behind him.
Manangoi made his first serious move halfway down the backstretch and seized the lead, and with 200 to go, it was Manangoi in front with Cheruiyot, Birgen, Kiplagat and Kibet all following behind him in identical sky blue Nike singlets.
Birgen edged just in front of Manangoi midway through the turn, but Manangoi responded and seized the lead back at the top of the homestretch. Kiplagat swung outside and it was now a three-way kick for the win. Birgen, who seemed surprised that he was now under attack from the inside (Manangoi) and outside (Kiplagat), faded and though Kiplagat put up a brave effort, he could never totally close the gap to Manangoi, who held him off to open up his outdoor season with a win. Kiplagat settled for second in 3:32.23.
    1 Manangoi , Elijah Motonei        KEN    3:31.90          8
    2 Kiplagat , Silas                 KEN    3:32.23          7
    3 Birgen , Bethwell Kiprotich      KEN    3:32.27          6
    4 Kibet , Vincent                  KEN    3:32.66          5
    5 Cheruiyot , Timothy              KEN    3:32.87          4
    6 Biwott , Robert Kiptoo           KEN    3:34.30          3
    7 Gregson , Ryan                   AUS    3:34.56          2
    8 Wote , Aman                      ETH    3:34.81          1
    9 Holuša , Jakub                   CZE    3:36.16           
   10 Aden Said , Said                 QAT    3:37.42           
   11 Souleiman , Ayanleh              DJI    3:40.81           
   12 Wolde , Dawit                    ETH    3:41.20           
   13 Blankenship  , Ben               USA    3:42.20           
      Kivuva , Jackson Mumbwa          KEN        DNF           
      Rotich , Andrew Kiptoo           KEN        DNF
Quick Take #1: A big win for Elijah Manangoi
There were some big guns sitting this one out (Kiprop, Matthew Centrowitz, Abdalaati Iguider, Nick Willis), and as a result this was a race that you would expect Manangoi to win if he is to return to his form of 2015 and early 2016 and contend for a medal in London. He did just that, picking up where he left off before an injury forced him to drop out of the Olympics last year. A very good sign for Manangoi, and one that should give him a confidence boost as he prepares to face the big boys later this season.
Manangoi's coach, Bernard Ouma, clearly thinks he is capable of big things this year. In March, he told The Standard that Manangoi, who owns a 3:29 pb, will be going after the world record this year.
"Last time when we caught up with you, I told you that when the time to go for the world record comes, we will let you know," Ouma said. "That time has come and we are working on it day and night knowing well it's a huge ambition but we are determined to lower it. Watch us this season."
Manangoi was happy with the result today as after the race he said, "It was a wonderful, impressive first race this season. I feel I'm in good shape."
MB: Elijah Manangoi's coach says the 1500 WR may soon be theirs!! "He is in great shape and ready to bring down the WR"
Quick Take #2: Rough nights for Ayanleh Souleiman and Ben Blankenship
It's only one race, and it's only May 5, so we're not going to panic, but neither Souleiman (2014 World Indoor champ, 4th Olympics) nor Blankenship looked particularly impressive tonight as both men failed to break 3:40.
Quick Take #3: Nike has to do something about their singlets
We say this every year, but it's absurd that half the field in these distance races wear the exact same singlet. On the final turn, there were five Kenyans battling for the win and all five were wearing identical uniforms. Track & field already has a problem in that, globally, many Kenyans are simply grouped together and viewed as a faceless pack rather than a set of individuals. Lining them all up in the same uniform only exacerbates this.
Sprint/Field Event Recap
Men's javelin: Thomas Rohler unleashes a 93.90-meter bomb, the #2 throw of all time
Johannes Vetter took the early lead with a personal best, world-leading throw of 89.68 in round 3, but it was another German, Olympic champ Thomas Rohler, who stole the show, uncorking an epic 93.90-meter (308'0.75") throw one round later. That put him #2 on the all-time list, behind only world record holder Jan Zelezny. Zelezny's 98.48 WR hasn't been touched since he set it, and Rohler still has a long way to go to come close to that. But Rohler's was a magnificent performance in and of itself, and the longest throw in the world in 20 years.
"I did not see that coming, I did not expect that in the first start of the season," Rohler told the IAAF afterward. "I'm second-best, ever. It will take some days to realize that."
    1 Röhler , Thomas                  GER      93.90          8
    2 Vetter , Johannes                GER      89.68          7
    3 Vadlejch , Jakub                 CZE      87.91          6
    4 Pitkämäki , Tero                 FIN      84.26          5
    5 Magour , Ahmed Bader             QAT      83.18          4
    6 Peacock , Hamish                 AUS      82.97          3
    7 Yego , Julius                    KEN      81.94          2
    8 Amb , Kim                        SWE      80.85          1
    9 Arai , Ryohei                    JPN      74.68           
   10 Kaida , Mohamad Mohd             QAT      65.11
Men's 100: South Africa's Akani Simbine wins it as Gatlin and De Grasse struggle
For the first time in three years and eight months, Justin Gatlin lost a 100-meter race to someone not named Usain Bolt. And just like that race in Brussels on September 6, 2013, Gatlin finished fourth as this time it was South African sensation Akani Simbine taking the win in 9.99 into a 1.2 m/s headwind. Gatlin was fourth in 10.14 as fellow Olympic medallist Andre De Grasse was a nonfactor, taking 5th in 10.21.
Gatlin got his traditional good start but the 35-year-old could not separate as he has in recent years. Simbine could, however, and the 23-year-old, who ran 9.92 in March, cruised to the win over the final 50 meters. 34-year-old Asafa Powell was 2nd in 10.08.
Simbine hasn't exactly come out of nowhere — he was 5th in the Olympic final last year — but his strong domestic season (he was undefeated in South Africa in March and April, running sub-10 five times) and his win over a quality field tonight suggest he may have hit another level in 2017.
De Grasse's time was certainly a disappointment, but it was actually a stronger performance than his 2016 Diamond League opener, where he ran 10.05 with a 2.6 tailwind at the Pre Classic (the Pre run was worth 10.18 with no wind, while his run tonight was worth 10.13). Obviously, De Grasse would have liked to have run faster, but it's worth noting that De Grasse has timed his peak perfectly the last two years and looked great at the World Relays a few weeks ago.
    1 Simbine , Akani                  RSA       9.99          8
    2 Powell , Asafa                   JAM      10.08          7
    3 Ogunode , Femi                   QAT      10.13          6
    4 Gatlin , Justin                  USA      10.14          5
    5 De Grasse , Andre                CAN      10.21          4
    6 Meité , Ben Youssef              CIV      10.21          3
    7 Baker , Ronnie                   USA      10.24          2
    8 Collins , Kim                    SKN      10.33          1

Men's 400 hurdles: A star is born as 21-year-old Abderrahaman Samba crushes everyone
Track and field has its latest sensation. World, it's time to meet Abderrahaman Samba of Qatar. Samba, a 21-year-old who came into the meet as the world leader thanks to a 48.31 that he ran in just the third 400 hurdles race of his life, proved that his world leader was no fluke as he DESTROYED the field in this non-Diamond League race, winning by nearly a full second in 48.44. When Samba hit the homestretch, he was already well clear of the field and he'd cruise to victory.
And don't think his large margin of victory was because this field wasn't full of quality. While it didn't count in the DL points race, it included 2016 Olympic champ Kerron Clement (2nd in 49.40) and silver medallist Bonface Mucheru as well as 2015 world champ Nicholas Bett (4th in 49.70).
Clement wasn't upset with his beatdown as after the race he said, "My time's not bad. Last year I opened up around the same time. It's about progression throughout the year, so I'm pretty pleased with my time."
Last year, Clement opened his DL season with a 49.56 in Doha but that was this third race of the year whereas today was his first of 2017.
    1 Samba , Abderrahaman             QAT      48.44           
    2 Clement , Kerron                 USA      49.40           
    3 van Zyl , L.J.                   RSA      49.49           
    4 Bett , Nicholas Kiplagat         KEN      49.70           
    5 Fredericks , Cornel              RSA      49.96           
    6 Shaib , Mohamed                  QAT      50.37           
    7 Mucheru , Bonface                KEN      50.61           
    8 Whyte , Annsert                  JAM      50.80
MB: World, it's time to meet track and field's latest young phenom. Meet Abderrahman Samba of Qatar
Women's 200: Olympic champ Elaine Thompson mows down the field and reasserts her dominance
This was a close race with 100m to go. This was not a close race at the finish. Jamaica's Elaine Thompson simply blew the field away on the home straight, opening up a chasm and winning by .26 over Olympic silver medallist Dafne Schippers of the Netherlands. Thompson could have run a lot faster than her 22.19 winning time, but the race was run into a 2.3 m/s headwind. It's clear that Thompson, who hasn't lost a 100 or 200 in 11 months, is the best sprinter in the world and right now, it's not particularly close.
    1 Thompson , Elaine                JAM      22.19          8
    2 Schippers , Dafne                NED      22.45          7
    3 Ta Lou , Marie-Josée             CIV      22.77          6
    4 Facey , Simone                   JAM      23.00          5
    5 Campbell-Brown , Veronica        JAM      23.09          4
    6 Okagbare , Blessing              NGR      23.15          3
    7 Henry , Desiree                  GBR      23.22          2
    8 Atkins , Joanna                  USA      23.32          1
Men's high jump: Mutaz Essa Barshim gets a world leader on home soil
Barshim wound up clearing two bars more than everyone else in the field as he had no misses through 2.31m (which would have been enough to win) and went on to clear 2.33 and then a world-leading 2.36 — on his first attempt, no less. Barshim didn't end up trying for a higher bar, but the home fans went home happy thanks to his win.
    1 Barshim , Mutaz Essa             QAT       2.36          8
    2 Grabarz , Robert                 GBR       2.31          7
    3 Thomas , Donald                  BAH       2.29          6
    4 Ghazal , Majd Eddin              SYR       2.29          5
    5 Castro , Luis Joel               PUR       2.26          4
    6 Kynard , Erik                    USA       2.26          3
    7 Baker , Chris                    GBR       2.26          2
    8 Protsenko , Andriy               UKR       2.26          1
    9 Hanany , Mickael                 FRA       2.23           
   10 Nuh , Andu                       QAT       2.15           
   11 Hamdi , Mohamat Allamine         QAT       2.10
Women's 100 Hurdles: Keni Harrison Wins Despite Running with a Broken Hand
World record holder Keni Harrison blitzed a really fast time to destroy the field in the women's 100 hurdles as she ran a 12.59 to win a by .31, running into a fairly stiff 2.3 headwind.
The news wasn't all good for Harrison as the international TV announcers thought she may have been injured in the final meters of the race. We went back and watched the replay and she appeared to grimace/frown right as she approached the finish line. After getting her flowers, she immediately went to her bag and was soon escorted from the track by a man with the medical staff. The international announcers said she turned down the opportunity to be driven off the track in a cart.
UPDATE: Harrison's coach Edrick Floreal tweeted out the source of Harrison's discomfort — she broke her hand during her warmup.
@Ken_AYE_ shows GRIT by winning Doha 100mH DL after breaking her hand warming up! was rushed to the hospital after the race! #FLOKNOWS pic.twitter.com/sVmcGlkvlh

— Edrick Floreal OLY (@coach_Floknows) May 5, 2017
Men's 400: Gardiner defeats Merritt in battle of World Relays heroes
The Bahamas' Steve Gardiner, just 21, who came in undefeated as the world leader, got the win in 44.60 as LaShawn Merritt, victorious at the Drake Relays last week, had to settle for second in 44.78. Both Gardiner (mixed 4×400) and Merritt (men's 4×400) earned gold medals at the World Relays two weeks ago, but Gardiner was the top dog tonight.
    1 Gardiner , Steven                BAH      44.60          8
    2 Merritt , LaShawn                USA      44.78          7
    3 McQuay , Tony                    USA      44.92          6
    4 Sibanda , Karabo                 BOT      45.05          5
    5 Norwood , Vernon                 USA      45.41          4
    6 Santos , Luguelín                DOM      45.55          3
    7 Maslák , Pavel                   CZE      45.59          2
    8 Bonevacia , Liemarvin            NED      45.95          1
Men's triple jump: Christian Taylor wins it
With consistent headwinds, it wasn't a great night for jumping, but double Olympic champ Christian Taylor got it done and took the victory as he and fellow American Omar Craddock were the only men to surpass 17 meters.
    1 Taylor , Christian               USA      17.25          8    -0.4
    2 Craddock , Omar                  USA      17.08          7    -1.5
    3 Copello , Alexis                 AZE      16.81          6    -0.3
    4 Dong , Bin                       CHN      16.76          5    -1.4
    5 Doris , Troy                     GUY      16.58          4    -1.6
    6 Murillo , John                   COL      16.40          3    -0.6
    7 Hoffmann , Karol                 POL      16.13          2    -1.9
    8 Al-Mannai , Rashid Ahmed         QAT      15.52          1    -1.6
    9 Maheswary , Renjith              IND      14.77               -2.1
Women's shot put: Olympic champ Michelle Carter continues her perfect start to 2017
Carter was the only woman in the field to surpass 19 meters, getting out to 19.32 on her third attempt. She's now 3-for-3 in 2017 after wins at USA Indoors, the Texas Relays and Doha.
    1 Carter , Michelle                USA      19.32          8
    2 Márton , Anita                   HUN      18.99          7
    3 Dubitskaya , Aliona              BLR      18.90          6
    4 Leantsiuk , Yuliya               BLR      18.22          5
    5 Borel , Cleopatra                TTO      17.96          4
    6 Smith , Brittany                 USA      17.84          3
    7 Jasim , Noora Salem              BRN      17.69          2
    8 Boekelman , Melissa              NED      17.43          1
    9 Roos , Fanny                     SWE      16.82
Women's pole vault: Katerina Stefanidi opens her outdoor season with a win
Stefanidi, the reigning Olympic and Diamond League champion (she also won the European Indoor title in March), picked up where she left off last year as she took the victory with a 4.80m clearance. American Sandi Morris was second, clearing 4.75,, though she didn't make it easy on herself as she missed her first attempts at 4.55, 4.65 and 4.75.
    1 Stefanídi , Ekateríni            GRE       4.80          8
    2 Morris , Sandi                   USA       4.75          7
    3 Silva , Yarisley                 CUB       4.65          6
    4 Bradshaw , Holly                 GBR       4.55          5
    5 Ryzih , Lisa                     GER       4.55          4
    6 Nageotte , Katie                 USA       4.45          3
    7 Brown , Kristen                  USA       4.25          2
    7 Newman , Alysha                  CAN       4.25          2
      Büchler , Nicole                 SUI         NM           
      Clark , Megan                    USA         NM           
      Li , Ling                        CHN        DNS

Talk about the meet on our fan forum / messageboard: