Week That Was: Top 5 Winners From Hoka Meet, 40-Year-Old Kim Collins Beats 20-Year-Old Trayvon Bromell, Lawi Lalang Struggles, And Is Mike Powell BACK?!
Plus read about the dude who tried to hang with Chris Solinsky at the state XC meet.
Join Our Supporters Club To Keep Reading
Sign up today to get a free 12-week training program and t-shirt.
The Week That Was In Running – May 16 – May 22, 2016
By LetsRun.com
May 26, 2016
We already broke down some of the big stories last week – whether it was the Rabat Diamond League (Caster Semenya and Almaz Ayana super impressive), or the Hoka One One Middle Distance Classic, or the announcement of the Ethiopian Olympic marathon team: 2016 Ethiopian Olympic Marathon Team Announced – Ethiopians Leave Off World's Fastest Woman And Arguably The World's Greatest Distance Runner Ever. If you missed that coverage, click on the links.
Past editions of The Week That Was can be found here. Questions or comments? Please email us or post them on our fan forum.
****
Thumbs Up / Thumbs Down
Article continues below player
When we first started the Week That Was, we did a lot of it in Thumbs Up or Thumbs Down fashion. We thought we'd bring that back this week so we can make a bunch of points quickly as we're running a bit behind with the Pre Classic starting on Friday.
Thumbs up to the Brits for coming up with creative ways to promote track and field. We've always thought that sometimes track and field meets have too many events. An event with a single-event focus can often be a huge success. The Brits showed that last week as the Highgate Harriers held the British 10,000 Olympic Trials by itself and had the races run through a beer garden.
Brilliant.
Now this is a great way to run a 10,000m: loud music, and run through a tent full of boozed-up fans. #Highgate10k pic.twitter.com/zCjQ4zc2lo

— Cathal Dennehy (@Cathal_Dennehy) May 21, 2016
The world's best long jumper, Greg Rutherford, last week also announced he's planning on having a world-class long jump event, with prize money, in his back yard after the Olympics.
Thumbs Down To The Brits for holding the 10,000 Trials on the same day as the FA Cup Final. We're as big of track fans as there are but if you held the US Olympic 10,000 trials at the same time as the Super Bowl (not a perfect analogy), we're not sure which event we'd watch.
And let us pause a moment and remember this moment from the FA Cup Final. #COYP
We also advise all Americans looking for a Premier League team to support to consider Crystal Palace.
More: LRC The British Have Figured Out How To Make A 25-Lap Track Race Interesting – Run It Through The Middle Of A Bar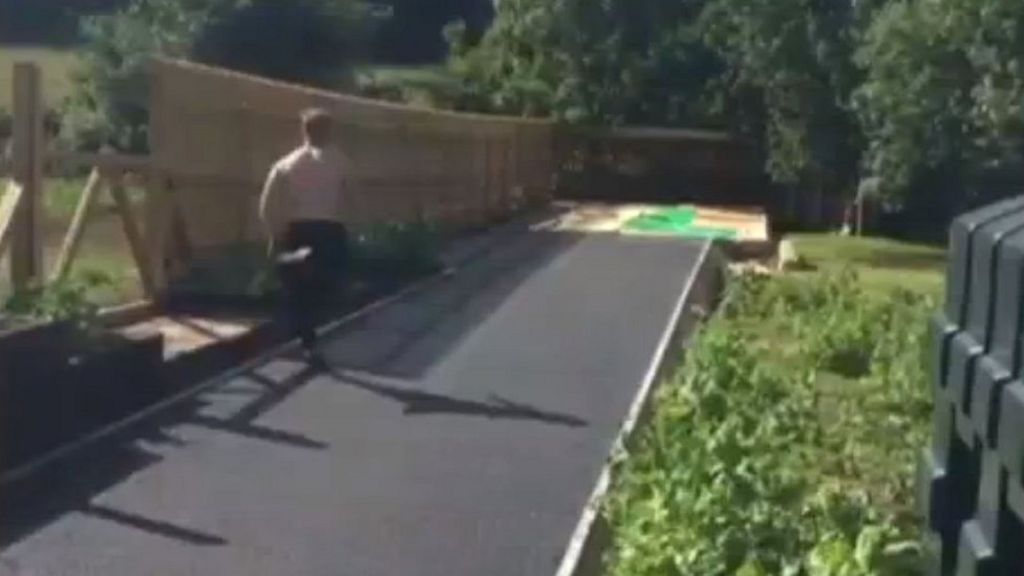 *Olympic Champion Greg Rutherford Plans To Host Long Jump Event – With Field Better Than Diamond League – In His Back Yard/Garden In September He expects the athletes to get paid as well. Great idea.
Thumbs up to the Europeans for announcing they're willing to go back in time and try to analyze what European records were clearly the result of doping.
? European Athletics to study validity & credibility of all European Records in response to #doping scandals
? https://t.co/kndv7o3ZcL

— PJ Vazel (@pjvazel) May 19, 2016
A statement from our @SvenPres on @iocmedia & @Olympics findings following retesting of Beijing 2008 samples. pic.twitter.com/C0Mm5GhqtT

— European Athletics (@EuroAthletics) May 17, 2016
Proving that someone doped 30 years ago – whether it's a European like Marita Koch or American like Florence Griffith Joyner – might not be possible. Would wiping all world records off the books and starting over be a possible solution? That's probably not realistic either. We do know one thing. We think moving forward, the career-long marks of someone convicted of a 2+ year doping offense should be wiped off the books. The assumption should be if they were clearly on drugs later in their career, it was likely that was the case early in their career as well.
Thumbs Down to Polish 800 runner Adam Kszczot for forgetting his passport last week. That mixup prevented him from making his 2016 Diamond League debut in Rabat.
@jgault13 from Polish: (Adam) Kszczot missed Rabat race due to realizing at the airport he forgot his passport. https://t.co/JUldnfg6nJ

— Tomek Baginski (@tomekbag) May 23, 2016
Thumbs Up to Tirunesh Dibaba for winning and running fast in her first race in two years. Dibaba surprised herself by running 31:16 to win the Great Manchester Run. Congrats to Kenenisa Bekele for getting back on the horse after London and winning the men's race in 28:08. When healthy, Bekele is still one of the very best distance runners on the planet. If we were Bekele, we'd train our butt off for the next month and if things are going well try to get one of the other Ethiopians with an Olympic spot to give it up.
Thumbs Down to virtually all of the racers at the Hoka One One Middle Distance Classic. The meet in California is basically a time trial. As a result, if you told us that before the meet, the winning times of the top two sections of the 800 would be over 1:47, the only person to break 3:38 in the 1500 would be a 10,000m runner (Hassan Mead), we wouldn't' have believed you.
Even though they didn't run particularly fast, some people did get a big jolt of confidence, If we had to name our five biggest "winners" from the meet, with winner meaning those that benefitted the most from it, they would be:
Eric Jenkins – he destroyed everyone over the final 300 of the men's 5000, winning by more than 2.5 seconds in 13:24.67.

Evan Jager – 8:15 may be his slowest opener in recent years but he wasn't running for time. His 57.3 final lap was very impressive.
Jordan McNamara – not only did he win his section of the 1500 in 3:38.26 but his Olympic chances got a boost also from the struggles of two of the guys that have been locks for the U.S. 1500 team in recent years. Leo Manzano was dead last in his section at Hoka (3:43.86) and it's come out that Matthew Centrowitz has been out with a stress reaction.
Kate Grace – Yale's finest is the U.S. leader so far this year at 800 (2:00.05) and got the win at Hoka in 4:05.65. Her pb coming into the year was 4:07.35.
Natosha Rogers – The 25-year-old was 2nd at the Olympic Trials in the 10,000 in 2012 (but didn't go to the Olympics as she didn't have the standard, which is kind of ironic as her 31:59 time from that race is easily under the standard for 2016) and then disappeared from the sport. She's back and running for New Balance under Steve Magness. Her improvement over the last few weeks has been unreal. At Hoka One One, she ran a new pb of 15:28.56. In April, she failed to break 16:16 at Mt. SAC.
Natosha Rogers' Three 5000's in 2016
16:16.51 – Mt. SAC – April 15th
15:58.95 – Stanford – May 1st
15:28.56 – Hoka One One – May 20th
The problem for Rogers is she doesn't have the Olympic Trials standard of 32:15 for the 10,000. She belongs in the race.
Thumbs Down to Olympic runner and Member of Parliament Wesley Korir for calling for the Professional Athletics Association Of Kenya's Organizing Secretary, Julius Ndegwa, to be arrested because Korir claims Ndegwa found "bogus runners" to make up doping claims to make Kenya look bad. Korir also called to investigate the visas of the journalists writing the stories. Shooting the messenger when it's clear there is a real problem is never a good idea. Five-time Abbott World Marathon Major winner Rita Jeptoo, two-time World XC champion Emily Chebet and 58:46 half-marathoner Mathew Kisorio aren't creations of the Western media looking to make Kenya look bad.
That's not saying Ndegwa is an outstanding citizen. This thread titled "Has Wesley Korir gone over to the dark side?" but renamed by Korir's supporters to "Wesley Korir dares to speak the truth about Liars" is super interesting and one of our Kenyan posters says "Julius Ndegwa is, hands down, the dirtiest, most criminally corrupt excuse of a human being in Kenyan politics; and that, in itself, is saying something. Rod Blagojevich has nothing on this guy, it's as if Chicago decided to elect Al Capone to office. Every Kenyan outside of his constituency is hoping he loses the election next year so the law can go full-blast after filthy a**. Prison is too good for this maggot, he belongs in hell." Wow.
More: Wesley Korir Calls For Arrest Of Professional Athletics Association Of Kenya's Organizing Secretary For Helping Journalists Find "Bogus Runners" To Make Up Doping Claims
****
We Are Officially Confused
Race Results Weekly reported that last week that 2016 Eritrean Half-Marathon Championships were held last week – in Göteborg, Sweden? Yes, that's we've been told. They were part of the Göteborgsvarvet road race. If anyone knows why or how this came about, email us. It's not like there was big prize money as the top Eritrean Abraham Adhanom only ran 64:50 in a race that was won by Kenyan Richard Mengichin in 59:35. Viola Jepchumba (68:05) of Kenya won the women's race where we don't see any Eritrean finishers.
****
There Are No Sure Things In Track and Field — Lawi Lalang Continues To Struggle
The mindset of "Edward Cheserek is going to be America's next great distance star if and when he gets citizenship" certainly isn't a crazy idea. However, we want to remind you it's not a guarantee.
In the past, the following statements seemed reasonable as well.
"German Fernandez is going to be the next great American 5000 runner. "
"Mary Cain is going to be the next great American women's middle distance runner."
"Lawi Lalang is going to be the next NCAA star to excel as a pro."
While Fernandez, Cain and Lalang are all still competing, none of them are excelling. The struggles of Fernandez and Cain are well-documented, so we wanted to talk about Lalang's struggles a little bit. To be honest, we are stunned by them. In college, he was VERY good, winning 8 NCAA titles and running 13:00 in 2013. After ending his collegiate career in 2014 with one of the greatest races ever: LRC LA Race for the Ages: Lawi Lalang Defeats Oregon's Edward Cheserek and 10,000 Screaming Oregon Fans (technically Lalang's career ended the next day with a runner-up showing in the 1500 to Mac Fleet), Lalang ran solidly in Europe as he had a seasonal best of 13:03. However, last year, his first full season as a professional, only resulted in a 13:16.
This year is going even worse. Last week, Lalang ran his 5000 seasonal debut in Hengelo and only ran 13:36. That wasn't just a one-off bad race for Lalang as he only ran 8:03 for 3000 in Japan earlier in the month.
****
40-Year-Olds Continue To Amaze But We Are Mesmerized By Thoughts of A 51-Year-Old
In recent years, we've been amazed that so many 40-year-olds have done so many amazing things in track and field. Whether it's Bernard Lagat breaking nearly every masters track distance record or Meb making an Olympic team, it's all been pretty amazing.
Last week, the super master performances moved to the sprints where 40-year-old Kim Collins beat 20-year old Trayvon Bromell in the 100 at the Great CityGames Manchester.
Kudos to Collins who says he won't retire until he breaks 10.00 as a master.
That being said, seeing so many 40+ athletes excel is starting to get a bit old. If 40 is the new 30, then is 50 the new 40?
We learned last week that long jump world record holder Mike Powell, 51, may be making a comeback as he said "I know I can jump 8.30."
"I know I can jump 8.30m"

Mike Powell not done yet: https://t.co/VZ20Ecrk7M

(FYI @TimHutchings1) https://t.co/ONDrJ6yPSR

— SPIKES (@spikesmag) May 12, 2016
Now that would blow our mind. 8.30 is 27′ 2¾". 8.30 is also tied for 5th in the world this year and is as far reigning World and Olympic champ Greg Rutherford has jumped this year. The US record for 40+ is Aaron Sampson's 7.68 m (25'2½"). For a 50-year-old, the record is Shirley Davisson's 6.42 m (21'0¾").
We hope Powell goes for it. It would be a must-watch event in our mind. If anyone knows where and when he's going to compete, please email us.
*****
It's Ok To Lose As Long As You Go For It
As we do each week, we share our Recommended Reads – our favorite articles from last week – at the end of the Week That Was . But we just came across an article that we didn't even have up on the homepage that we found interesting. In it, the author, Kyle Willkom, recalls going to watch Chris Solinsky run the 2002 Wisconsin state cross country meet when the author was in 7th grade. What impressed Wilkom the most, however, wasn't Solinsky – it was the runner-up , Dustin Fier, who got crushed by 57 seconds but dared to try to hang with Solinsky.
I remember it like it was yesterday. I was in 7th grade, and my parents drove me in our minivan to watch my brother run in the Wisconsin state cross country meet. On the way there, I heard nothing but stories of the LEGENDARY Chris Solinsky — a senior in high school who had won the state title the past two years and was going for his last hoorah!
This guy was a god. He was a machine. He was a running phenom. I mean, there was a meet-and-greet set up for him after the race so he could give autographs and shake hands with people (and he was a senior in high school!). One of his nicknames was "the Rocket," which was fitting because it was also his high school mascot. He couldn't be beat, and everyone who showed up that day seemed to know it.
Everyone except one guy. A scraggly-haired kid named Dustin.
More: NO FIER – HOW WATCHING ONE HIGH SCHOOL CROSS COUNTRY RACE CHANGED MY LIFE
*****
Stat of the Week I
95.9 – percent of Russian doping positives in 2016 (47/49) that have been the result of meldonium.
More: WADA: Prohibited meldonium found in 47 of 49 Russian dope tests
****
Stat of the Week II
82.54 – number of seconds that Brit Jess Andrews chopped off from her personal best to win the British Olympic Trials last week, as she went from 33:21.53 just six weeks ago to 31:58.99.
More: LRC Total Unknown Jess Andrews Sets Huge 83-Second PR To Win British 10,000m Trials And Qualify For Rio
*MB: Jess Andrews 90 sec PB! makes Team GB Oly Squad!!! Miracles do happen
*MB: Wait, what? The gal that had the HUGE pb to make the British Olympic 10k team is engaged to a pro cyclist in Spain?
****
What do you do when you set the national record in the pole vault?
Great moments in sports are often made more memorable by the crazy reactions or non-reactions the stars have after history is made, as those links remind us of two from just the last year in the world of sports.
Well, track and field has one of its own. Last week, Missouri's Chris Nielsen broke the US national HS pole vault mark by clearing 18 feet, 4 3/4 inches during a Class 5 sectional meet at Staley High School, breaking now world champion Shawn Barber's previous record of 18-3 1/2.
Well, we've got to hand it to Nielsen – well actually his girlfriend – as her reaction was amazing.
National High school record in the pole vault by Chris Nielson of Park Hill High school. 18' 4" pic.twitter.com/OFGlD3RNMs

— Jake Stansbury (@jStansy) May 21, 2016
We guess you can't please everyone. Not everyone who visits LetsRun.com liked the reaction. Some on the messageboard thought it was over the top. MB: Kid's girlfriend dry humps him after he breaks high school national pole vault record.
*****
Email Of The Week
Last week, we mentioned how NCAA track scores should definitely include teams that score zero points in the final standings. They shouldn't just not show up in the results, they should be listed with a big fat zero. An experienced NCAA official saw what we wrote and emailed in some good news. He said the NCAA agrees with us and there is a new rule stating that teams that score zero points need to be listed in the final scores.
His email was full of great rules insight so we share it with you in full below. He's now going to be our go-to rules expert.
– Don't know that I agree that the 4×4 should arbitrarily be selected as the method for resolving a team tie but in case you weren't aware…in the run off example you gave did you know that the NCAA rule actually allows the games committee to (ahead of time) pick EITHER a run off or a coin flip to determine the last qualifier when there is a tie for the last spot coming out of prelims? A coin flip! See rule 5-10-5 where "drawn by lot" is an option. And I've actually worked conference meets where that was selected as the option!
– I do agree the team score of "0" should be reflected and in fact the NCAA added that to the rule book this past rules cycle (2015/16). See rule 7-1-4.

Lastly – one additional item of note that I didn't see get any play on the MB was that during the Men's 10k at the SEC meet the power & lights to the entire stadium (and a portion of the surrounding campus) went out. The race was being held after 10:00 pm so light was pretty important at that point. 🙂 The race was stopped (they had run about 1200m) and once power was back they ran the full 10k.
We were so amazed by the last point in the email that we started a messageboard thread on the 11,200-meter SEC 10,000 – MB: Truly amazing: 25 laps wasn't enough to decide SEC 10k, the race was 28 laps long!!.
****
Quotes of The Week
The first one was actually the quote of the day but we are putting it in here again as we thought it was hilarious to use a 'layup' as a great sign of athleticism.
#1 The Definition of Athleticism for Distance Runners – Can They Do A Layup?
"Some distance runners, they try a lay-up and they can't. A lay-up is uncoordinated and difficult for them. Those aren't the one you want to be doing the steeplechase. Evan can do a lay-up beautifully."
-Bowerman track club Jerry Schumacher talking about how Jager's 'athleticism' made him a natural for the steeplechase.
More: Jerry Schumacher Says Evan Jager Was A "Total Natural" At The Steeplechase And Compares Steepling Ability To Being Able To Do A Lay-Up In Basketball
#2 Why Wasn't Someone Disciplined For Their Major Screwup?
"If this had happened in any other sport there would almost certainly have been some repercussions, but instead the IAAF appeared happy to let it go."
-1995 world champ Sonia O'Sullivan complaining to the Irish Times that nothing was done after the starter screwed up the Doha men's 1500 and Shanghai men's 800.
#3 The Best Running Partner In The World Might Be One That Doesn't Talk
"(My dog) Pacer is my hero. He'll put a chase on a bear or a moose to allow me to continue to run safely. He's a great running partner."
-Canadian runner Reid Roberts talking to cbc.ca after his dog Pacer helped fight off a mother bear that attacked him on a run in British Columbia. The dog bit the bear and distracted it so Roberts, who needed 16 stitches, could escape to safety.
More: Runner Attacked By Bear And Saved By His Dog While Running In The Woods In Canada
*Related: Toni Reavis Writes About Running With Your Dog
#4 Usain Bolt Explains Why He's Not Worried About Zika
"Because I'm fast. [Mosquitoes] can't catch me."
–Usain Bolt explaining last week why he's not worried about the Zika virus.
More: Usain Bolt Says He's Not Worried About Zika Outbreak In Rio
****
Recommended Reads
NY Times: More Major Russian Doping Allegations As Former Moscow Lab Director (The One Who Didn't Mysteriously Die After The WADA Report) Details How Sochi 2014 Urine Samples Were Switched Fearing for his safety, Grigory Rodchenkov fled Russia for the US, and now has opened up about the state-run doping cover-up he partook in where hundreds of dirty samples at the Winter Games were swapped for clean urine. From the involvement of the Russian intelligence agency, to the hole in the lab wall used to pass bottles through, the sensational story is something out of an old spy movie.
Jerry Schumacher Says Evan Jager Was A "Total Natural" At The Steeplechase And Compares Steepling Ability To Being Able To Do A Lay-Up In Basketball
Toni Reavis's Piece Remembering Sammy Wanjiru 5 Years After His Death
Masters Runner Fred Zalokar Shooting For Age-Group Sweep Of The World Marathon Majors
Jerry Schumacher Says Evan Jager Was A "Total Natural" At The Steeplechase And Compares Steepling Ability To Being Able To Do A Lay-Up In Basketball
Runner Attacked By Bear And Saved By His Dog While Running In The Woods In Canada Reid Roberts was able to escape with only non-live threatening wounds thanks to his dog, Pacer, attacking and distracting the bear.
Greg Rutherford Fears "Arms Will Be Twisted" To Allow Russians To Compete In Rio
UK Opinion Piece: "IOC Must Be Brave And Throw Russia Out Of Rio 2016" The Telegraph's Oliver Wood thinks for Thomas Bach to follow through on his "zero tolerance" policy, Russia needs to be banned, but he thinks "it will almost certainly never happen."
GoPro Video Tells The Incredible Story Of Kenya's "YouTube Man" Julius Yego
Meet LSU's Nethaneel Mitchell-Blake – He's Gone From Unknown Student To Great Britain's New Sprint Hope In The Span Of 2 Weeks Mitchell-Blake spent the first 13 years of his life in the UK but then moved to Jamaica. He had to sit out the entire 2015 season after being arrested on rape charges which were dropped before trial and has come back with a vengeance this year as he ran 19.95 at SECs.
Alexi Pappas Gets Lengthy Profile Piece In The NY Times The article doesn't just focus on running, but Pappas' other talents in poetry, acting and film-making.
*MB: Alexi Pappas profile today in the Times
Previous Recommended Reads from other weeks can be found here.
****
Quotes Of The Day And Last Week's Home Pages
To see the actual quotes of the day from last week or last week's home page or any home page, go to our archive page.
Past editions of The Week That Was can be found here. Questions or comments? Please email us or post them in our running fan forum.