A Race for the Ages: Lawi Lalang Defeats Oregon's Edward Cheserek and 10,000 Screaming Oregon Fans
by LetsRun.com
June 13, 2014
EUGENE, Ore. — What a race!
Arizona's Lawi Lalang outkicked previously-unbeatable Edward Cheserek of Oregon in front of 10,104 screaming Ducks fans at Hayward Field to win the men's 5,000 meters tonight in a meet-record 13:18.36 at the 2014 NCAA Outdoor Track and Field Championships. Cheserek made his move with 240 meters to go but for the first time in his NCAA championship career, he was unable to break his closest competitor. Lalang hung right with him and, after a thrilling home-stretch battle, Lalang pulled away with 25 meters to go to win the greatest 5,000-meter race in NCAA history.
Cheserek, who was coming back from a victory in Wednesday night's 10,000 settled for second in a big PR of 13:18.71 but he couldn't be too upset: Oregon went 2-3-4 in the race to claim a massive 19 points in the team race. Lalang has one more track race in a career that's already brought him eight NCAA titles. He'll go for number nine in Saturday's 1500 final.
The Race
With noted front-runners Lalang and Kennedy Kithuka in the race, a fast pace was expected and Kithuka wasted no time pushing it up front; by 600 meters, the 25 runners were strung out single-file. Kithuka led the field through 800 meters in 2:08 and it was clear early: this one was going to be fast.
By the time they hit 1600 in 4:16, there was a lead pack of six: Lalang, Kithuka, Cheserek, Wisconsin's Mo Ahmed, NC State's Andrew Colley and Wednesday's 10,000 runner-up Shadrack Kipchirchir of Oklahoma State. Lalang, who had taken the lead just before 1600, wanted to ensure the pace remained fast and continued to push, running 64.87 from 1400 to 1800. Colley and Kipchirchir dropped and the lead pack was down to four.
At 2200 meters, Kithuka took the lead again, but Lalang, who said after the race he was worried that Kithuka wouldn't run fast enough, quickly responded, regained the lead and kept pushing. This same act played out several times over the course of the second mile: Kithuka taking the lead and Lalang immediately responding and passing him back.
Article continues below player.
With a mile to go, Lalang finally took the lead for good as Kithuka began to fade. Cheserek and Ahmed remained with Lalang as a second group, led by Stanford's Joe Rosa and also including Oregon's Eric Jenkins and Trevor Dunbar and Villanova's Patrick Tiernan, made inroads on the leaders.
Lalang continued to push, running 64.7 and 64.5 laps in the hopes of running the kick out of Cheserek, who closed Wednesday's 10,000 final in 53 seconds. The pace was too much for the other runners to handle, and with two to go it was down to Lalang, Cheserek and Ahmed. A 63.59 penultimate lap dropped Ahmed.
At the bell, only the two NCAA legends, Lalang and Cheserek, remained.
Lalang started to press entering the first turn of the final lap, but Cheserek — who had been militant about not letting a gap form to Lalang for the entire race — was hanging tough. With 240 to go, Cheserek took off, just as he had in the 10,000 (only about 10 meters farther down the track).
But this time, he'd been running 64s and 63s for the final mile, not 70s and 71s, and he was being chased by a 13:00 guy in Lalang. Lalang stuck on him and on the final turn, the roaring Hayward Field fans witnessed an event heretofore unseen in the collegiate ranks: a competitor was gaining on Cheserek in the last 200 of a race.
As they came off the final turn, Lalang, now in lane two, had pulled ever so slightly ahead of Cheserek as Cheserek moved wide to maneuver around a lapped runner on the inside. Lalang and Cheserek sprinted up the homestretch side-by-side, and with 50 to go Cheserek was drifting to the outer edge of lane two and into Lalang. The two made contact as both runners struggled to maintain their form.
As they neared the finish line, Lalang made one last bid for the lead, and this time Cheserek could not respond. Lalang had enough room to celebrate over the line, and though the partisan crowd wanted to see an Oregon victory, they applauded both men vociferously for a truly spectacular race.
Many had wondered before the race how to defeat the great Cheserek and Lalang revealed the answer: a 4:09 last mile, closing in 56.74 for the final 400.
Behind the top two, the merciless pace took its toll on the early leaders. Ahmed faded to fifth and Kithuka to eighth as Ducks Trevor Dunbar and Eric Jenkins ran very smart races to take third and fourth, racking up major team points for Oregon. Ahmed was next, with Tiernan, Rosa and Kithuka rounding out the top eight, all of whom ran 13:34 or faster (five men broke 13:30).
Results, quick takes and interviews below.
Talk about this amazing race in our messageboard as the fans are going bonkers over it: Wow Wow Wow!! The greatest 5000 in NCAA history. Lawi comes back on Ches!!! NCAA Record. UO goes 2-3-4!!!
Quick Take #1: Top two times both under the previous NCAA record. Two lead changes in the final 200. A roaring crowd of 10,000+. The greatest NCAA 5,000 ever.
(Email us if you think we're wrong.)
Quick Take #2: Lalang was very excited after this one was over and feels today's win will inspire him tomorrow.
When asked what impact this race would have on the 1500 and whether he'd be too tired to end his NCAA track career on a winning note, Lalang said just the opposite. He thought today's win would inspire him and motivate him for tomorrow.
Lalang also said, "This one was the main one for me. Tomorrow will take care of itself."
As for having to overcome that roaring Hayward Field crowd that was supporting Cheserek, Lalang had a simple reply. When he heard the crowd roar, he just make believed they were cheering for him.
Lalang said it wasn't his plan to let Cheserek take the lead with 240 to go, but once Cheserek went and Lalang stayed close he was confident he'd take him. "I've got this," Lalang thought to himself and told the media afterwards, "I knew if he kicked it, it would be around 26. I said, 'You know what? I can do 26 too.'"
Quick Take #3: 19 Points For The Men Of Oregon
Cheserek admitted that he was surprised when Lalang came back around him and said it was tough come back from the 10,000 two days ago.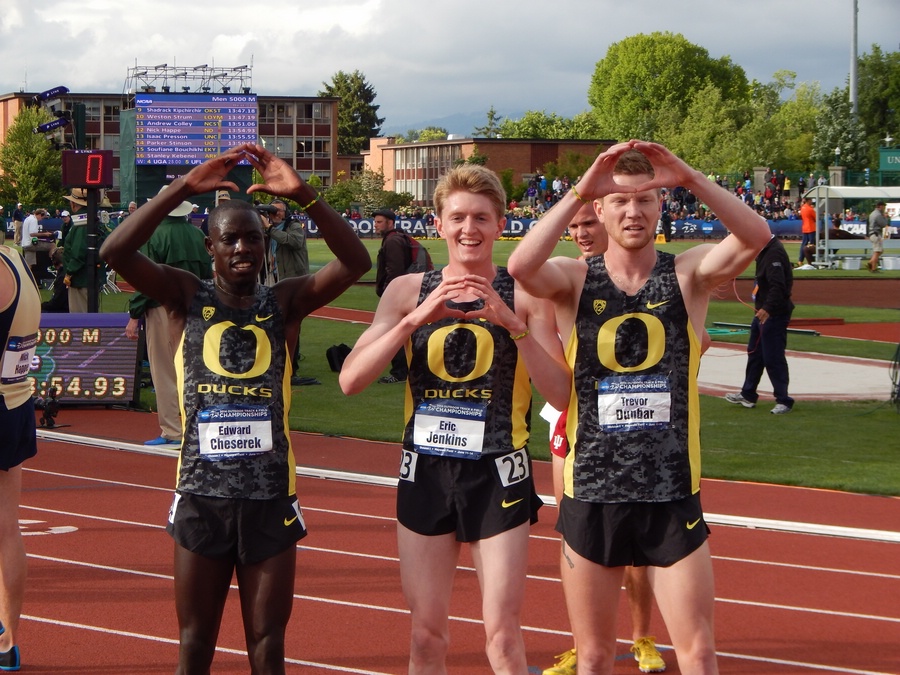 Quick Take #4: Stanford's Joe Rosa was hoping to be top American coming in but was happy with his 13:31 pb and his 2013-14 campaign as a whole.
Rosa said his season is now over and the goal is to get ready for cross country where Stanford will face a loaded Oregon team but also the defending Pac 12 champs Colorado. He said coach Chris Miltenberg's training is working well for him and that the Cardinal believe they have 4 guys who can finish top 10 at NCAAs next year (himself, brother Jim Rosa, Sean McGorty and transfer Maksim Korolev). On an individual day, he said that's not going to happen but they are focusing on making sure if they have a bad day they don't fade all the way back to 100.
Quick Take #5: Kithuka said that he wanted a fast race but that he didn't talk to Lalang about making it fast beforehand.
Kithuka was upbeat even though he finished just eighth as he executed his race plan and just couldn't hang on to Lalang and Cheserek when they broke away. Kithuka is out of eligibility and closes out his career with one NCAA XC title and one indoor 5,000 title. He said he's not done with classes at Texas Tech until August, so he's going to stay in Lubbock with his coach until then and figure things out.
Quick Take #6: Wondering what the most NCAA titles in a career on a men's side is?
The most-ever for the women is 9 by Suzy Hamilton and Sally Kipyego. Lalang will get to #9 is he wins the 1500 but he's nowhere near the all-time record for men:
15—Suleiman Nyambui, UTEP (XC 1980, 5,000‑meter run 1980‑81‑82, 10,000‑meter run 1979‑80‑81‑82).
Even if he doesn't win #9, 8 leaves him in pretty good company as Jesse Owens won 8 NCAA titles as well:
8—Jesse Owens, Ohio St. (100‑yard dash 1935, 100‑meter dash 1936, 220‑yard dash 1935, 200‑meter dash 1936, 220‑yard low hurdles 1935‑36, long jump 1935‑36).
Quick Take #7: This race proves to us that for track to be popular, it needs to feature competition not time, and races where the outcome means something.
There was a 5000 meters run on this very same track two weeks ago at the Nike Prefontaine Classic. In worse conditions (much hotter), it featured a much faster winning time (13:01) and faster last lap (54.7) but it wasn't nearly as exciting: Caleb Ndiku Outkicks Alamirew as the Americans Struggle.
Quick Take #8: Coach Li Compares Lawi Lalang's collegiate career to Bernard Lagat's
No doubt about it Lalang's collegiate career has been way better than Lagat's. Coach Li talks about Lawi's win and we ask him to compare Lawi's career to Bernard's.
More: MB Talk: Wow Wow Wow!! The greatest 5000 in NCAA history. Lawi comes back on Ches!!! NCAA Record. UO goes 2-3-4!!!
Results:
| Place | Name | | Affiliation | Time | | | Heat (Pl) |
| --- | --- | --- | --- | --- | --- | --- | --- |
| 1 | Lawi Lalang | SR | Arizona | 13:18.36 | | | 1 (1) |
| 2 | Edward Cheserek | FR | Oregon | 13:18.71 | | | 1 (2) |
| 3 | Trevor Dunbar | SR | Oregon | 13:26.90 | | | 1 (3) |
| 4 | Eric Jenkins | JR | Oregon | 13:27.41 | | | 1 (4) |
| 5 | Mohammed Ahmed | SR | Wisconsin | 13:28.45 | | | 1 (5) |
| 6 | Patrick Tiernan | FR | Villanova | 13:31.25 | | | 1 (6) |
| 7 | Joe Rosa | JR | Stanford | 13:31.69 | | | 1 (7) |
| 8 | Kennedy Kithuka | SR | Texas Tech | 13:34.91 | | | 1 (8) |
| 9 | Shadrack Kipchirchir | SR | Oklahoma State | 13:47.18 | | | 1 (9) |
| 10 | Weston Strum | JR | Loyola Marymount | 13:47.19 | | | 1 (10) |
| 11 | Andrew Colley | SR | North Carolina St. | 13:51.06 | | | 1 (11) |
| 12 | Nick Happe | SR | Notre Dame | 13:54.93 | | | 1 (12) |
| 13 | Isaac Presson | SR | North Carolina | 13:55.55 | | | 1 (13) |
| 14 | Parker Stinson | SR | Oregon | 13:59.18 | | | 1 (14) |
| 15 | Soufiane Bouchikhi | SR | Eastern Kentucky | 14:01.48 | | | 1 (15) |
| 16 | Stanley Kebenei | JR | Arkansas | 14:03.02 | | | 1 (16) |
| 17 | Matthew Schwartzer | FR | Indiana | 14:08.38 | | | 1 (17) |
| 18 | Kirubel Erassa | JR | Oklahoma State | 14:12.98 | | | 1 (18) |
| 19 | Leoule Degfae | | Virginia Tech | 14:13.17 | | | 1 (19) |
| 20 | Tom Purnell | SO | Harvard | 14:14.07 | | | 1 (20) |
| 21 | Curtis King | SO | Dartmouth | 14:24.80 | | | 1 (21) |
| 22 | Matthew Gillespie | SR | Iona | 14:30.20 | | | 1 (22) |
| 23 | Wesley Gallagher | SO | Northeastern | 14:34.79 | | | 1 (23) |
| 24 | John Bleday | JR | Dartmouth | 14:36.49 | | | 1 (24) |
| 25 | Matt Fischer | JR | Penn State | 15:05.99 | | | 1 (25) |