The British Have Figured Out How To Make A 25-Lap Track Race Interesting – Run It Through The Middle of A Bar
by LetsRun.com
May 20, 2016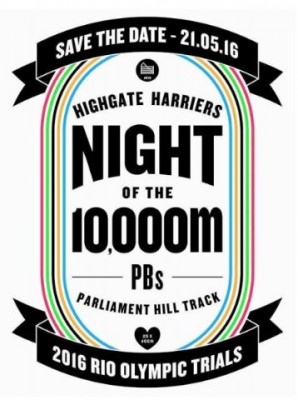 We need to hand it to the Brits. Many Americans view them as tradition-bound and not innovative.
Article continues below player.
We totally disagree.
The British have figured out a way to make a 25-lap track race incredibly entertaining, scratch that, make six 25-lap track races exciting.
On Saturday night, the 2016 British Olympic Trials for the 10,000 meters will be held as part of the "Highgate Harriers Night of the 10,000m PBs" in London. The event will feature six different 10,000-meter races. The events will be streamed live on the internet and the first two Brits across the line in the elite races, assuming they have the Olympic standard of 28:00 for men and 32:15 for women, will be Rio-bound. Trust us, you're going to want to watch it as the race will be run through a bar. Yes, a bar.
Let us try to explain with an excerpt from an email we got from Tom Bedford, son of former 10,000-meter world record holder and London Marathon director Dave Bedford:
Imagine your local high school track with no stands that allows fans to come into lane 3 and watch the race and runners up close and personal.  This year they will run through a tunnel connected to a back-straight bar. Yes, you read that right, runners will be running through a bar!
We have some great runners turning up for free to achieve OG times including Jo Pavey, Vivian Cheruiyot, Andy Vernon and Chris Thompson. The evening, in my mind, is taking distance track running back to how it should be = FUN!
We asked for a little more details on just how the bar is going to be set up and Tom sent us a crude sketch of what it's going to be like. We're not sure if he's just an incredibly poor artist or if he'd been drinking when he sketched this out: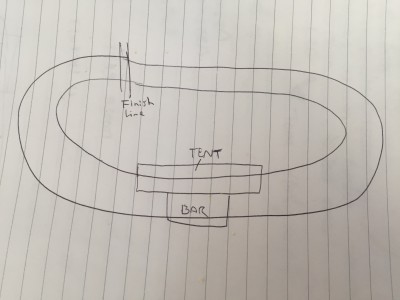 We guess we'll just have to wait and see what it ends up looking like. Well actually, a little research reveals this isn't the first year the Brits have had trackside drinking at the 10,000 as here's some sports journalism at its finest – a 2014 interview from the event in 2014 when Tom interviewed Dave in the middle of the 10,000 as both cracked open a cold one.
Talk about this awesome event on our world famous fan forum / messageboard: MB: Are you ready for some craziness? Saturday night's British 10,000 Olympic Trials will be run through a bar!!
The event starts at 12 noon ET (17:00 local) with the elite men's race at 3:15 pm ET (20:15 local) and women at 4:00 p.m. ET (21:00 local). Watch it live here. We've just found the Highgate Harriers website which has more info and some photos from last year's race.
Expected Elite Fields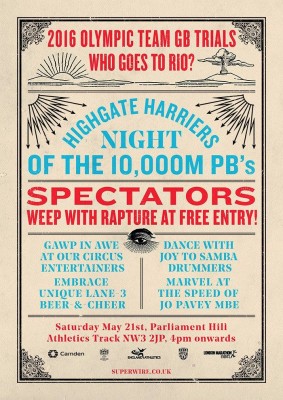 Women's Championship: 9 p.m. (Rio Qualifying Time 32mins 15secs)
Jo Pavey MBE (GB) 4 time Olympian, 2014 European Champion with PB of 30.53
Linet Masai (Kenya) 2009 World 10,000m Champion & 2011 World Champion Silver medallist with PB of 30.26
Kate Avery (GB) 2015 European Cross Country Silver medallist with PB of 31.41
Beth Potter (GB) 5th in the 2014 Commonwealth Games with PB of 32.03
Sophie Duarte (France) 2013 European Cross Country Champion with 10k PB of 32.21
Krisztina Papp (Hungary) Two time Olympian & National Champion with 10k PB of 32.21
Mary Cullen (Ireland) NCAA Champion, National Champion with with 10k PB of 32.21
Sabrina Mockenhaupt (Germany) European Cup 10,000m winner with PB of 31.14
Salome Rocha (Portugal) PB of 32.19
Lily Partridge (GB) 2015 European Cup 10,000m Bronze medallist with PB 32.20
Carmen Martinez (Paraguay) Selected for Rio Olympics to run the marathon
Men's Championship: 8.15pm (Rio Qualifying Time 28mins 00secs)
Andy Vernon (GB) 2014 European Silver medallist with PB of 27.42
Chris Thompson (GB) 2010 European Silver medallist with PB of 27.27
Dewi Griffiths (GB) 2016 National Inter Counties Champion with PB of 28.48
Mitch Goose (GB) PB of 13.34 for 5,000m
Ross Millington (GB) PBs of 28.38 for 10,000m, 13.36 for 5,000m & 7.49 for 3,000m
Juan Antonio Pérez (ESP) PBs of 28.25 for 10,000m and 13.44 for 5,000m
Adam Hickey (GB) 2016 National Cross Country Silver medallist with PB of 13.41 for 5,000m
Jonny Hay (GB) 2016 National Cross Country Champion with PB of 13.57 for 5,000m
Luke Caldwell (GB) PBs of 13.29 for 5,000m and 28.29 for with PB of 30.53 10,000m