Week That Was: A Must-Read On Ryan Hall, The Syracuse Men And Allie Ostrander Keep On Rolling, Kim Conley Is A Beast, Is Morgan Uceny On Her Way Back, Boris Berian Is No Fluke, Mike Rossi, And Updates From Kenya
by LetsRun.com
February 4, 2016
Welcome to a special Thursday edition of the Week That Was. Last week was a big one. We already covered a lot of stuff as it happened – the Camel City Elite Races, Matt Tegenkamp's retirement, and Galen Rupp entering the Olympic Marathon Trials,
Past editions of The Week That Was can be found here. Questions or comments? Please email us or post them in our running messageboard.
Article continues below player
****
Recommended Reads
Normally, we put the Recommended Reads at the bottom of our Week That Was but not this week. Please do yourself a favor and read this article by Peter Hessler in The New Yorker on Ryan Hall's retirement: Ryan Hall, America's Fastest Marathoner, Slows Down (P.S. If you are a fan of the The New Yorker, Amazon currently has a deal where you can get three months of The New Yorker for a ridiculous $5.)
A few weeks ago, our friend David Epstein of ProPublica also had an interesting piece (that we don't think even showed up on our homepage) on how Olympic bronze medallist hurdler Priscilla Lopes-Schliep had a gene mutation that made many think she was an obvious doper as she looked like this: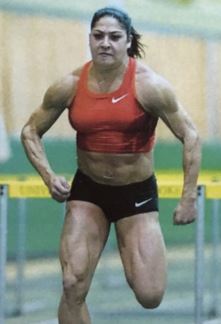 The DIY Scientist, the Olympian, and the Mutated Gene: How a woman whose muscles disappeared discovered she shared a disease with a muscle-bound Olympic medalist.
Other Recommended Reads
Previous Recommended Reads from other weeks can be found here.
****
Stat of The Week
6:11 – margin of victory for three-time Japanese Olympian Kayoko Fukushi who will now be a four-time Olympian since she got under the 2:22:30 Japanese qualifying mark with her 2:22:17 win at the 35th Osaka Women's Marathon.
The time was a big 2:04 PR for the 33-year-old Fukushi, who ran on the track in her previous three Olympics (10k in 2004 and 2008 and 5k/10k in 2012). Fukushi, who won the bronze medal in the marathon at the 2013 Worlds, was able to get the PB despite having to run the final 12.2 km all alone after the rabbit stopped at 30k. The time and victory had to be especially satisfying for Fukushi as she debuted in Osaka in 2008 and staggered home in 2:40:54 in a race in which Race Results Weekly says she went out on 2:21 pace. The win in Osaka was Fukushi's second marathon victory of her career, but her first time actually crossing the finish line first, as she won Osaka in 2013 after the winner was DQ'd for doping.
****
Last week was a good one for 2014/2015 Diamond League steeple winner Jairus Birech as he got the win at the famous Cinque Mulini meeting in Italy, taking down 13:05 man Aweke Ayalew of Bahrain. Last month, Birech opened his 2016 campaign with a 3rd place showing in a race won by Imane Merga at the Campaccio cross country meeting, also in Italy.
In the women's Cinque Mulini race, Faith Kipyegon continued to impress with her second XC win of the year. Guess how much she won by? 48 seconds on the 6.45 km course.
More: KENYA'S BIRECH AND KIPYEGON TRIUMPH AT THE CINQUE MULINI CROSS COUNTRY RACES|
*MERGA AND APROT TAKE CAMPACCIO TITLES IN SAN GIORGIO SU LEGNANO
****
Syracuse Men and Allie Ostrander Keep On Rolling
Last week, on the oversized track in Seattle, NCAA XC runner-up Allie Ostrander of Boise State ran 15:21.85 for 5,000 meters. That's an incredible time for Ostrander. If Ostrander were eligible for U.S. junior records (she missed the cutoff by eight days she turns 20 on December 24, 2016) – that would have been the #2 5,000 ever run by a U.S. junior (Sarah Disanza is the US record holder at 15:20.57) indoor or out. Ostrander ran a big negative split as she ran 7:50/7:32 for her two halves.
As it stands, Ostrander is already the seventh-fastest indoor collegian in history at 5,000 and she's run a grand total of one collegiate track race.
5000 METERS
1. 15:01.70* Jenny Barringer (Colorado) 2/14/09
2. 15:12.22 Emily Sisson (Providence) 2/28/15
3. 15:14.18 Kim Smith' (Providence) 3/12/04
4. 15:17.28 Sonia O'Sullivan' (Villanova) 1/26/91
5. 15:20.57 Sarah Disanza (Wisconsin) 12/6/14
6. 15:21.66* Betsy Saina (Iowa State) 2/9/13
7. 15:21.85* Allie Ostrander (Boise State) 1/29/16
8. 15:25.47* Aliphine Tuliamuk-Bolton (Wichita State) 2/9/13
9. 15:27.42 Sally Kipyego' (Texas Tech) 3/9/07
10. 15:28.11 Abbey D'Agostino (Dartmouth) 3/8/13
*performance came on oversized track
The winner of the race in Seattle was New Balance's Kim Conley, who won in an indoor PB of 15:09.31, nearly equaling her outdoor pb of 15:08.61. After missing the 2015 track season, Conley is back and in the form of her life. She's certainly way ahead of where she was in 2012. That year, Conley snuck onto the Olympic team by finishing third in an epic race and just barely dipping under the 15:20 Olympic standard by running 15:19.79. We doubt people will be squeaking onto the team by just getting under the standard at the Trials this year as Conley's 5,000 rival Abbey D'Agostino — whom Conley beat by .19 in that race at the 2012 Trials — is also in good form, having run 4:31.50 for the mile in Boston last week.
It's worth noting that Ostrander's Boise State teammate Minttu Hukka ran the fastest indoor time in Finland's history to finish 5th (16:09.36).
MB: UW Invite: Allie Ostrander track debut
###
Ostrander wasn't the only person to be showing no post-XC fatigue last week. The men from Syracuse put up some fine times in Boston, demonstrating that their NCAA title in cross country was far from a fluke.
Up until last year, in the long history of the Syracuse track and field program, the program had never produced a sub-4:00 miler, indoors or out. On Saturday in Boston, the Orange, led by Justyn Knight's NCAA-leading 3:56.87, had three guys not only break 4:00 in the same race but also break 3:59.
 BU Mile Results
1. Chris O'Hare           adidas (GBR)           3:56.00
2. Justyn Knight          Syracuse (CAN)         3:56.87 PB
3. Adam Palamar           Syracuse (CAN)         3:58.55 PB
4. Henry Wynne            Virginia               3:58.74 PB
5. Joel Hubbard           Syracuse               3:58.94 PB
6. Daniel Winn            Baa                    3:58.94
7. Joe Stilin             Zap Fitness/Reebok     4:00.69
8. Steve Mangan           NE Distance            4:01.52
9. Dan Lowry              Baa                    4:01.66
DNF– Julian Oakley        Providence (NZL)
DNF– Taylor Gilland       Unattached
Making the feat all the more impressive was the fact that it was the first race of the year for both Knight and Joel Hubbard.
Considering Colin Bennie ran 7:54 in the 3,000 at the same meet, the Orange could very well have four sub-4:00 guys in the mile this year indoors. Very impressive. There must be something about the color orange that produces scores of sub-4s indoors as remember in 2013 Dave Smith's Oklahoma State program had five sub-4 guys.
Here is how the top five for Syracuse at NCAA XC fared at BU on Saturday (listed with their place at NCAAs)
4. Justyn Knight – 3:56 mile
8. Colin Bennie – 7:54 3k
9. Martin Hehir – 7:56 3k (out of indoor eligibility)
39. Philo Germano – 14:00 5k
47. Joel Hubbard – 3:59 mile
Those aren't the only good guys at Syracuse. Last week, Syracuse had guys who didn't make the conference XC squad (top 10) run the following – a 3:58 mile (Adam Palamar, who admittedly ran 3:38 at age 19 in 2013 before he got to Syracuse), a 8:11 3k from redshirt frosh Mickey Burke and a 14:04 5,000 from junior Kevyn Hoyos.
More: In the history of NCAA track, has a team ever had 3 guys go sub-3:59 in same race until last week when Syracuse did?
###
Ostrander was also not the only teen to run well in Washington last week. At UW, 18-year-old Alexa Efraimson opened her 2016 campaign with a 4:34.35 win in the mile. That doesn't mean it was smooth sailing for all U.S. teen phenoms. 19-year-old Mary Cain ran a low-key meet at the Armory where she lapped the field in the 3k. Normally when you lap the field, we aren't concerned with the time but given the fact that Cain's 1500 pb dates to 2013 and her time was just 9:23 – some 21 seconds slower than what she opened up in 2013 – it certainly doesn't make us feel extremely confident.
In case you can't keep it straight due to the fact that Cain and Efraimson are both pros but Ostrander is in college, here is how the teen phenoms stack up in terms of age.
Alexa Efraimson – 18 years, 11 months old (born February 20, 1997)
Allie Ostrander – 19 years, 1 month old (born December 24, 1996)
Mary Cain – 19 years, 9 months old (born May 3, 1996)
More: MB: Mary Cain 9:23 3k season opener. Is this a good or bad sign??
January: LetsRun.com Debates: Is It Time To Panic For Mary Cain? How Many World Records Will Be Set In 2016?
****
Don't Forget Morgan Uceny
While Mary Cain's result makes us a little nervous, we found an encouraging result last week from one of the only U.S. woman in recent memory to be ranked #1 in the world, Morgan Uceny. Uceny earned that honor in 2011, and in 2012, she won the US Olympic Trials, defeating both Shannon Rowbury and Jenny Simpson. However, both seasons were most remembered for Uceny's falls at the World Champs and Olympics. The years since 2012 have been a struggle as she only managed a 4:08 sb in 2013, a 4:04 in 2014 and a 4:09 in 2015. But our Cornell connections (LetsRun.com co-founder Robert Johnson coached the men at Cornell and Uceny ran there) tell us Uceny has had her first injury-free offseason in years, and it showed in Boston last week where Uceny ran with the pack for a mile before taking off and winning the 3,000 by 5+ seconds in 9:04.87. Now 9:04 is by no means a world-class time for a professional 3,000, but it's a pretty solid one for someone like Uceny who was pretty much a pure 800 runner for all of college. Remember, as mentioned above, Cain raced an all-out 9:02 in 2013 – the year she ran her 4:04 1500 pb and made the World Championship final. So it looks like Uceny is fit enough to think about being a contender for another Olympic spot if all goes well over the next five months.
****
Boris Berian Is No One-Year Fluke
Boris Berian was the revelation of the track season in the U.S. last year. Except for a disaster at USAs, where he failed to make the final, he was sensational. It looks like he's not going to be a one-year wonder as his 2016 season opener was fantastic. Running on the same track that will be used at World Indoors in Portland, he ran 1:46.00.
800 Results
1. Boris Berian, Big Bear TC/New Balance      1:46.00 PB
2. Patrick Peterson, Big Bear TC/New Balance  1:49.08
3. Myles Andrews, Big Bear TC/New Balance     1:51.67
4. Richard Jones, Unattached                  1:52.53
5. Selasi Lumax, Big Bear TC/New Balance(GHA) 1:54.88
###
It's worth pointing out that the US leader at 800, Donavan Brazier (1:45.93), ran a 2:56 DMR split in Arkansas – not bad for someone who runs just 25-30 miles per week. MB: Did anyone watch the DMR at Arkansas – How did Donavan Brazier look in the 1200? 
****
Abdi's Dream of An Unprecedented 5th US Olympic Team Vanishes – Maybe Ritz Can Do It In 2020?
We've been following Abdi Abdirahman's quest to become the first U.S. track athlete to compete at five Summer Olympic Games pretty closely. Now that the quest is likely over after Abdi pulled out of the Marathon Trials earlier this week (as one wouldn't think he'd have any shot of making the team in the 10,000 at age 39), it got us thinking, "Might Ritz be able to make a fifth team in 2020?" Ritz has already made three Olympic track and field teams for the U.S. He's favored to make a fourth this year and he's a little big younger comparatively than Abdi (Ritz is 33, Abdi was 35 in 2012).
Abdi has been overshadowed by Meb during his career, but 4 straight Olympic teams was a very impressive accomplishment.
****
Bedan Karoki Says Don't Forget About Me
Ever since Mo Farah committed himself to the 2016 World Half Marathon Championship, the race has been billed by many (including us) as a mouth-watering clash between Farah and Geoffrey Kamworor . Well last week, Kenya's Bedan Karoki, the 2015 World Cross Country runner-up, reminded us that there will be more than two people competing in Cardiff in March. On Saturday at the Discovery Cross Country Championships in Kenya, Karoki destroyed everyone in the race by 22+ seconds including Kamworor (who dropped out after getting gapped by more than 50m) as well as Asbel Kiprop (who also dropped out).
Should Kamworor fans panic? We don't think so. Kamworor won the Kenya Police Champs by more than 30 seconds a few weeks ago and said he simply had a bad day.
"I felt stomach stitches after running for 7km. But I am okay since this was part of my preparation," Kamworor said to The Star.
Karoki told The Star he plans on being in Cardiff, "My intention is to run at the world half marathon and I believe I will perform well. This meet gives me an opportunity to build up on my speed and endurance."
We now share with you our Video of The Week.
Evan Scully of scullytherapyclinic.com shot a video of the race and it's awesome to see Kiprop, Karoki and Kamworor hammering it out in Kenya.
****
Mike Rossi's Fame/Infamy Continues To Grow – Rossi Gets His Own Song
Last year, we provided convincing evidence that Mike Rossi did not properly qualify for the Boston Marathon.. Some 21,000+ posts later, people are still talking about the story on the messageboard: MB: Did Mike Rossi (viral marathon dad) cheat his way into Boston? We must admit it's hard even for us to keep track of the latest chatter as if you miss a week, you are a hundred posts behind. Last week, we went back on the thread for the first time in weeks and asked if we'd missed anything of note. Yes, we had. A LetsRun.com visitor has made a Mike Rossi song.
Entitled "Boston Bandit", you can listen to it for free here.
More: LRC Lehigh Valley Got It Wrong: The Evidence Is Conclusive: Mike Rossi – The Viral Boston Marathon Dad – Is A Marathon Cheat And Should Never Have Been On The Starting Line In Boston
LRC Did Mike Rossi – The Viral Marathon Dad – Try To Cheat LetsRun.com Out Of $10,000 On Saturday?
LRC Viral Marathon Dad – And Suspected Marathon Cheat – Mike Rossi Fails To Claim First Part Of LetsRun.com $100,000 Challenge Which We Are Doubling To $200,000
MB: Did Mike Rossi (viral marathon dad) cheat his way into Boston? 
****
Quotes of the Week (that weren't quote of the day)
#1 Pat Yourself On The Back – The New Yorker Says You're The 'Most Knowledgeable' Fans In The World
"The message boards at Letsrun.com, the most knowledgeable and active site for running fans,"
-excerpt from a piece in The New Yorker by Peter Hessler.
More: Ryan Hall, America's Fastest Marathoner, Slows Down
#2 Don't Sweat the Small Stuff
"They don't worry about every little, gritty detail. Instead they just focus on doing a workout and eating right. It helped me get over my own mental blocks it was awesome."
– Portland 5th-year senior Woody Kincaid talking to Ken Goe about what he learned from living in Kenya last summer. He avoided hotels and tried to live like the average Kenyan, which he says is possible to do on $15 per month.
#3 Ultimately, We Are Competing Against Ourselves
"In many sports, championships are clouded by the antagonism of the warring factions, a cauldron of conflict, hostility, and stress congealed into a toxic stew. But the Trials are different, because running is different. Despite the magnitude of the moment, the mood is mutually supportive. Rare in sport, or in life, is something so fierce so friendly.
"Running has its rivalries, sure, but it is only facially zero-sum. Though we seek a scarce prize, we know, deep down, it is only us versus ourselves, no one else to hold accountable, no one else to blame. Our competitors make us better."
-excerpt from a guest column by Mike Cassidy on LetsRun.com last week.
More: Four More Years: Mike Cassidy Misses Olympic Trials Qualifier, But Finds Victory In The Journey As He Looks On To 2020
****
Quotes Of The Day And Last Week's Home Pages
To see the actual quotes of the day from last week or last week's home page or any home page, go to our archive page.
Past editions of The Week That Was can be found here. Questions or comments? Please email us or post them in our running fan forum.