Bio of Weldon Johnson

Bio of Weldon Johnson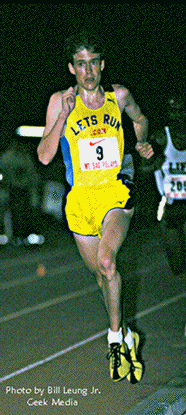 The start of the LetsRun.com empire
LetsRun.com co-founder Weldon Johnson ran competitively for more than half of his life, with the majority of this time under the tutelage, of his fabled coach John Kellogg. His running story truly embodies the LetsRun.com site motto, "Where Your Dreams Become Reality." Weldon grew up in Dallas, and attended St. Mark's high school where he developed as a runner his senior year, breaking 5 minutes in the mile for the first time, and running 4:28 1,600m and 9:35 for 3200m.
Weldon walked on to the cross-country and track and field teams at Yale University where he continued his improvement, but was far from a star. He never reached his goal of becoming an All-American or even making it to the NCAA meet, but he did achieve All-East status in the 5,000m and 10,000m.
After college, Weldon moved to Washington, DC where he worked as an economic consultant and tried to make the difficult transition to post-collegiate running back under the direction of his high school coach, John Kellogg. He continued to develop as a runner strictly adhering to the long-range plan laid out for him. Weldon, who always saw himself as a marathoner, first tried to the distance in 1998, winning the nation's 5th largest marathon, the Marine Corps Marathon. Weldon, won or set personal bests in his first 4 marathons, in the process qualifying for the 2000 Olympic Marathon Trials. After having a breakthrough in the fall of 1999, and qualifying to represent the United States in the World-Half Marathon Championships, Weldon decided to go for broke and train full time for the Olympic Marathon trials. At the time, he was nothing more than a good regional runner with a big dream.
At the start of 2000, Weldon left his consulting job, packed his bags, and moved to Flagstaff, Arizona to train at altitude in the mountains and to start LetsRun.com. He had a major breakthrough that stunned the running community, running 28:27 for 10,000m, at the time, the #9 time of the year by an American which was an incredible improvement of 1 minute and 22 seconds over his previous best time. Legend has it that was the first race he wore the now famous, LetsRun.com, singlet. Weldon was not quite as surprised as everyone else because he knew that his training is based on the best principles out there and that was one of the reasons LetsRun.com was quick to catch on.
The Olympic Marathon Trials were a "disappointment" for Weldon, as he finished 25th fading in the brutally hot conditions at the end. However, he had put himself in contention to make the team at halfway showing how far he had come as a runner, when just a year before no one gave him a chance. (Click here to go way back in the LetsRun.com archive to read Weldon's recap of the race).
Yet, Weldon's incredible improvement did not end in 2000. In 2001, he moved back to Flagstaff once again to train full time. Once again the results were remarkable. He placed 4th in the nation on the track in the 10,000m (behind the #1 American all-time, the 10th place finisher in the Olympics, and the #7 American all-time), won 2 international 10km track races, and improved his 10k time to 28:10.
Accepted into Stanford business school for the fall of 2001, Weldon was granted a one year deferral to continue pursuing his dream as a runner and to continue building LetsRun.com, and helping others enjoy their running more through this website. He ended up giving up his spot to attend Stanford to further develop LetsRun.dom and try and make the 2004 Olympics.
Weldon missed most of 2002 with various injuries, but did pace the incredible Paula Radcliffe to a world record in the marathon at the 2002 LaSalle Bank Chicago Marathon.
He came back from his injuries in 2003, to place 4th in the country at 10,000m at the USA Track and Field Championships running a personal best time of 28:06.58, qualifying to represent the United States at the Pan American Games in the Dominican Republic. His chances to make the 2004 Athens Olympics were realistic as the top 3 in the United States qualify. However, a series of injuries that began at the Pan Am Games derailed his Olympic dream which he reflects upon here.
He then relocated to Ithaca, NY where LetsRun.com moved its "Corporate" headquarters in 2004. Weldon hoped his best running days were not behind him but a series of undiagnosed foot injuries and a navicular stress fracture kept him on the sidelines since 2004.
LetsRun.com however, does not need time off, or get injured, and has continued to thrive.
Weldon hopes that through this site, you will learn how to train smarter and to enjoy your running more. For running is perhaps the simplest sport in the world, but there is something magical about its purity.
To contact Weldon click here.
From His Running Days:
Name: Weldon Johnson
College: Yale University
Personal Bests:
1500m 3:52
10,000m 28:06
Running highlight:
Buildup for 2000 Olympic Marathon Trials:
"I really blossomed as a runner and began to believe that I could make the Olympics. It was an uplifting and humbling experience."
Running lowlight:
"It's tough to pick a lowlight. I've had some bad races, but they are all something to learn for. Generally, each season and each race I have gotten better, so it's hard to complain. Plus, I love running."
Advice to other runners:
"If you're serious about running you need to train properly. Luckily, by chance in high school my coach was John Kellogg, who is my coach today. In high school and post-collegiately when John has coached me I have always improved each year, and always gotten better as the season progressed. That has not been by chance either. I train smarter than most other runners. All the effort in the world will only help you so much if you're training improperly."
Parting thoughts:
"I hope you learn to enjoy running as much as do. There is something magical about its simplicity and beauty. The world would be a lot better place if everyone was a distance runner."
---
Runner's World &
Running Times



Combined Only $22
a Year
Save $87

---

Running & Track and Field Posters
---

Running Shoe Savings: Nike Lunar Glide 20% Off Super popular shoe from Nike featuring Flywire and Lunar Foam
---