LRC We Hope To Post Live Coverage From The Course Here
LRC Wejo's Thoughts On Men's Race
LRC New Photo Album Of US Team, Pre-Race Press Conference And Firmer Course Day Before Race

LRC LetsRun.com Gives You A Tour Of The Bad-*** Course The official course tour isn't until Saturday but we didn't travel all the way to Poland just to stay in our hotel room. (Assuming no one gets hurt), we loved the course and think Sunday is going to be full of drama, and think cross-country should replace the 10,000 at the Olympics. One thing is certain - this course wouldn't be certified by uptight NCAA coaches. A turn within the first 100 meters, jumps, a big-*** hill, several near 180 degree turns. Learn all about it.
*LRC Course Photos
*LRC Update: Video Tour Of 2013 World XC Course

LRC Will Cold Weather Really Help People From Cold Climates?
Previous World XC
Recommended Reads:
Two Guys Who, Like Us, Wish World XC Was Bigger: Competitor.com's Peter Vigneron: "If I were in charge, there would be only two events in competitive distance running: the mile and cross country, and everything else would be for fun."
US XC Champs Director Ben Rosario: The Future Of World XC - Put It The Day Before A Major Marathon


LRC 6 Thoughts From The World's Greatest Foot Race LRC is now in Poland for the World XC Championships in Bydgoszcz. We'll have extensive coverage starting later on Friday, but first we've got a little world XC history and ponder a few things, including whether it's going to be a long day on Sunday for the Kenyan men and if Galen Rupp (or Mo Farah) could win the junior boys race. Along the way, we remember when their coach Alberto Salazar was a total stud in 1982.

IAAF Men's Preview: Defending Champ Imane Merga The Man To Beat Can he be challenged by surprise Kenyan Trials winner Philemon Rono or 2010 silver and bronze medalists Teklemariam Medhin (Eritrea) or Moses Kipsiro (Uganda). Ethiopian Trials champ and star marathoner Feyisa Lilesa is also in the field.

Women's Preview: Ethiopian Trials Champ Hiwot Ayalew And Kenyan Trials Champ Margaret Muriuki Top List Of Gold Medal Contenders Ayalew was 11th in 2011 and was 5th in the Olympic steeplechase. Muriuki was 6th in 2010 World XC. Also in the field are 2010 champ Emily Chebet and Ireland's Euro champ Fionnuala Britton.

USA: US #1 Chris Derrick Knows It Won't Be Easy: "It's not going to be in my comfort zone ... 3 years ago, Mo Farah was 21st and he was a 12:57 guy [at the time]."

USATF: Meet Team USA - Nice USATF Media Guide For Entire Team

Snow Is The Big Story
LRC What's The Craziest Weather You've Ever Raced In? LRC's Wejo and Rojo have both touched down in Bydgoszcz, Poland to cover this Sunday's World XC Championships and the weather is going to be the story. There is a ton of a snow in Poland and the forecast is for negative to 0 degress Celsius on Sunday. We've got a mini-LRC Poland photo gallery and hope to have much more from Poland on Friday after touring the course and talking to the US teams. In the meantime, we're wondering what's the craziest weather you've raced in?


Previous World XC News
LRC Kim Conley Talks Prior To The 2013 World Cross-Country Championships Get the lowdown on the woman who has improved by more than a minute in the last 4 years in the 5k.
LRC

Chris Derrick Talks Prior To The 2013 World Cross-Country Championships

Get the lowdown on how the guy who some call "the greatest runner never to win an NCAA Championship," who went on to win a US Championship in his very first race as a pro. How has his training changed, what does he think of life as a pro, what are his goals for World XC, and does he sleep in an altitude tent? Derrick tells all in this exclusive LetsRun.com interview.
RW Q&A With Ben True Ahead Of World XC Talking about racing World XC 2 year ago he said, "You're in an all-out sprint from the start, and guys are slowly pulling away from you. You expect that the pace will settle at some point, but it never really does. ... you have to be prepared to go hard, and just to suffer the rest of the way."
IAAF Junior Men's Preview: Ethiopia's Hagos Gebrhiwet, Who Beat Rupp This Indoor Season, Set The World Jr 3k Record (7:32.87) & Won Ethiopian Trials Is Slight Favorite Other favorites include Kenya's World Junior steeple champ Conseslus Kipruto and Ethiopia's World Jr. 5,000 champ Muktar Edris.
Interview With Kenyan World XC Junior Team Member Moses Mukono Ahead Of World XC He trains under the famous Brother Colm, who also coaches David Rudisha.
DyeStat Does Short Profiles/Recent Highlights For The 12 Men And Women Representing The US At World XC
US News
Usain Bolt News: Bolt Vs. Rudisha Over 400m?
Asafa Powell: How To Spot A Gold Digger "Men, be smart about your choices in women. There are some manipulative women out there who are only trying to get close to get what they can out of you, and once you can't fulfil that need, that person will be gone."
After Setting WR And Winning Gold, Ashton Eaton Admits He Suffered Post-Olympic Thoughts Of "What Do I Do Now?" - But He's Motivated Again Eaton may do LJ/Decathlon double in 2016 and just pole vault in 2020.
Good News: Cincinnati Men's Track/XC To Get Scholarships Back
Bolt Will Run 100m In Rome On June 6th
Despite Economic Crisis, Juan Antonio Samaranch Says Spain "Cannot Afford Not To Continue" 2020 Olympics Bid
Britain's European Silver 60m Man James Dasaolu (6.48) Says That His 60 Time Converts To Sub-10 For 100m He ran 10.09 back in 2009 as a 21-year-old but then tore "every muscle in my lower body in the last few years."
Calabar Celebrates Its 2nd-Straight Jamaican Champs Victory On Boys Side
More Post-NYC Half Results *LRC Analysis
Proof Sleep The Night Before The Race Doesn't Matter: Dathan Ritzenhein Says He Didn't Sleep The Night Before He Finished 3rd At The NYC Half Marathon "I didn't sleep at all last night. I've never had that happen before."
*NYC Half 3rd Placer Lisa Stublic Always Thought Of Herself As A Steeplechaser Before She Got Some Harsh/Good Advice From Her Coach In Croatia Coach Petrovic told the Columbia alum, "You're a horrible steeplechase runner, get it out of your head."
*Race Recap *Video Highlights


LRC LetsRun.com Analyzes The 2013 NYC Half/ With Post-Race Athlete Reaction What's the takeaway from Wilson Kipsang's 61:02 win, Ritz's 61:10 3rd place showing, and Bernard Lagat's half marathon debut? What about Caroline Rotich's win on the women's side and former CT state champ and Columbia runner Lisa Stublic, who was a surprising third (and now runs for Croatia) ahead of top American Stephanie Rothstein Bruce, who had a big PR?


LRC Wilson Kipsang And Caroline Rotich Win NYC Half (results and splits only) After a slow start at the NYC Half, Dathan Ritzenhein heated things up and then Wilson Kipsang took over, running to victory in 1:01:02 over Italy's Daniel Meucci and Ritz. Bernard Lagat ran 1:02:33 in his debut as he beat his training partner Abdi2. On the women's side Caroline Rotich led at 5k, 10k, 15k, 20k, and the finish but it was far from easy. Early leader Kim Smith dropped out with a muscle strain and Rotich was caught by Diane Nukuri-Johnson and Lisa Stublic but held on for victory.

*IAAF Recap
*Japan University Runner Kenta Murayama Does Well In NYC Half With A 10th Place Finish (1:02:02)
*NY Times: NYRR Stage Their First Major Road Race Since The Cancellation Of The NYC Marathon
*OTB: LAGAT 1:02:33 for 12th at NYC half!!! Ritz 1:01:10 for 3rd *Jason Hartmann
Weekend Track Action
Jamaican Boys And Girls' Champs
Pre-Race
Previous NYC Half News
LRC Bernard Lagat, Abdi Abdirahman and Dathan Ritzenhein are all running the 2013 NYC Half Marathon on Sunday with different objectives. For Lagat, it's his anticipated half marathon debut. Lagat sounds ready and has been training some with Abdi. For Abdi, the emphasis is on getting ready for the Boston Marathon next month. Abdi sounds off on that and the drug problem in the sport. For Ritz, there is no spring marathon or World XC. Can he regain his 1:00:00 form? Textual recaps coming. Interviews with all 3 below:
Upcoming Action
LRC W3k: The Coronation: Abbey D'Agostino Completes The Double The NCAA has a new queen and American distance running may have its leading face for the next decade as D'Agostino became the first American 5,000 and 3,000 NCAA indoor champion ever, let alone at the same NCAA meet. Jordan Hasay finished second in what she called "probably the best race of my life." as she gave Oregon the points that gave them their 4th-straight team title. Emma Coburn won the mile and Natoya Goule the 800.
*Flash recaps - more later. In the meantime, check out:
*LRC Post-Race Video Interviews With Most Of Saturday's Major Players
Friday Night
LRC 5ks: Abbey D'Agostino And Kennedy Kithuka Dominate In Different Ways The women's 5,000 came down to the final mile between stars Abbey D'Agostino, Betsy Saina and Jordan Hasay - and it was no contest. D'Agostino was clearly best. On the men's side, Kennedy Kithuka put in an early surge and that was all it took despite a game effort by Diego Estrada to keep it honest throughout.
Pre-Race Day - Mid-Day Update:
LRC

Pre-Race Buzz From The 2013 World Cross-Country Championships

The races are less than 16 hours away. What's the buzz in Poland? We give you insight from US runners Deena Kastor and Ben True. Did you know that Dave Smith goes way back with Keith Hanson of the Hansons-Brooks team? Plus an unconfirmed sighting of a coach who is never photographed.
LRC Former XC Skier Ben True Talks To LetsRun (video) True, who now shares the same coach as Abbey D'Agostino (Mark Coogan), seems to be in excellent shape as he just won the US 15k.
LRC Deena Kastor Speaks To LetsRun (video) How do you run the world's toughest race just 7 days after running a marathon at age 40?
Press Conference: LRC Coverage Coming Later Today

IAAF President Lamine Diack Speaks "I also want to say that although we are in Europe, many European countries are not competing here, no one from the Balkan countries, no one from the Scandinavian area, many countries are not here ... I hope that is not because East Africa is winning a lot of the time,"
WELL SAID: PaulTergat: "I think it is high time that cross country running is included in the Olympics, it's a phenomenal event and it deserves it's place on the Olympic stage."
US: USATF Pre-World XC Captain Quotes Deena Kastor: "The entire course is a concern. There wasn't one spot on the course that I felt that we could sail through or surge without slipping, falling or having the mud suck up your shoe. It's a gnarly course. It will be an epic day tomorrow, and we'll be facing some pretty harsh elements."
Ireland: Irish Examiner Predicts Irish Women And Fionnuala Britton To Finish 6th Britton's coach has told her to treat the race like it's a 5k (not the 8k it is).
*Fionnuala Britton Talks About How She Sets Up Her Spikes Based On Course Conditions
Random Non-World XC News
Studies Looking At Foot Strike
Previous Pre-World XC News
More Non-LRC World XC News:
Drug News
Haile Gebrselassie Will Try To Win His 6th Bupa Great Manchester Run 10k Title On May 26th He had a great race last year, setting a then world-leading 27:39 and beating Patrick Makau and Stephen Kiprotich.
US Stuff
Interesting: The Guardian Looks At The Asics Running Lab's New "Running Ability Measurement" Test, Which Looks At Multiple Factors To Predict Your Time "The assessment looks at everything from cardiorespiratory fitness to flexibility and strength, limb alignment, body composition and running form before estimating your marathon and half-marathon potential." Another test looks at your DNA to predict whether you're a high or low responder to aerobic training.
Random International News
More Kenyan News: Two More Kenyan Drug Busts
Doctor In Operación Puerto Drug Scandal Says He May Name Names
He's Got Our Vote: Ato Boldon Gets Emmy Nomination For Event Analysis
Leyton Orient Soccer Club Chairman Says He Expects To Lose Judicial Review Case Against West Ham In Olympic Stadium Occupancy Dispute "But we will have to move for survival [if West Ham get sole occupancy of the Olympic Stadium]. If I stay, I get crushed."
Previous World XC News
Today's Top Headlines: Ethiopian 10k Trials At Pre, Caster Semenya Engaged?
More From Jamaican Boys And Girls Champs
More Results On The Roads: Kawauchi PRs Again
Lolo Jones' Passion For Bobsled: Lolo Jones: "If I won a freakin' medal - if I won any medal - I would not be a bobsledder. Absolutely not. Are you kidding me? No. No!" "I'm so desperate. Desperate. It absolutely doesn't matter (whether she wins in the Winter or Summer Games.)"
RE:RUN San-Diego Is A Cool Event Coming In May That Will Try And Promote The Sport By Combining A Local Road Race With An Elite Track Meet Participants will finish the local 5k/10k and be treated to a short-and-sweet elite track meet only 5 events. A long list of elites competing includes Duane Solomon, Ryan Gregson, David Torrence, Nate Brannen, Mark Wieczorek, AJ Acosta, Geena Gall, Brenda Martinez, Alysia Montano and Brie Felnagle.
World XC Is This Weekend
Learn From The Pros
LRC Ten Training Tips From Bernard Lagat, Dathan Ritzenhein And Abdi Abdirahman The American men took center stage at the NYC Half on Thursday. You can watch video interviews with the top American men (Lagat here, Ritz here and Abdi here) and we will have more on their race preparations on Friday, but in the meantime we compiled ten training tips from Bernard, Dathan, and Abdi that you can use in your own training.
English Are Still Really Upset The Commonwealth Games Standards Are Stiffer Than The Olympics
NY Times: "After The Mile: The Tim Danielson Story"

LRC M Mile/3k: What A Double - The Great Lawi Lalang Is Back Lalang, who up until this time last year was viewed as unbeatable at the NCAA level, got his mojo back with some major style points thrown in as he had one of the greatest nights in NCAA history, as he won both the mile (3:54) and 3,000 (7:45) in meet records. The Arkansas Razororbacks won NCAA title #41.


LRC 800s/W Mile: Elijah Greer Outduels Cas Loxsom; Emma Coburn Adds The Mile Title To Her Résumé And Natoya Goule Wins NCAA Title #1 The men's 800 ended up being the mano vs. mano battle between the two American seniors that everyone wanted to see - Greer and PSU's Casimir Loxsom with Greer coming out on top.


AP Recap: Arkansas Gets Its 20th Indoor Title And 1st Under Coach Chris Bucknam It's NCAA title #41 for the program as legend John McDonnell won 40.
*LRC Coach Chris Bucknam And John McDonnell Talk About Bucknam's NCAA Title #1
*Oregonian: Oregon Wins Its 4th Straight Women's Indoor Title

More:
Doper #1 Suing Doper #2: Turkey's Former 1500 Euro Champ Süreyya Ayhan Kop Suing Olympic 1500 Champ Aslı Çakır Alptekin For Part Of Her Winnings Claiming She Gave Her Doping Coaching Doping Advice The biggest joke is the last line of the article saying how both athletes (one serving a lifetime ban the other about to) "have been role models for young Turkish sports people, particularly girls."
Bolt/Sprinting News
Non-World XC Weekend Action
Non-World XC News
Bizarre News
A Good "What About The Sport?" The Four Olympic Gold Medallists In Alabama's History Will All Be Signing Autographs On Saturday For Free At 5pm
RIP Former 200m WR Holder Pietro Mennea
Weekly Recap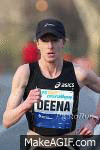 LRC Yuki Kawauchi PRs (Again), Ryan Hall Withdraws (Again), Deena Doesn't Break 2:30 (Again) Ryan Hall's Boston DNS isn't all bad, as we try to give you some good training advice from him as a result. We also tell you why hammer throwers are the most entertaining people in the sport and repeat, "Free Jenkins." We also ponder if Deena will ever break 2:30 again and are pleased to see Julia Lucas back competing.
Despite The Cold Conditions, 5 National Records Went Down At The NYC Half Last Weekend They were all on the women's side and included the runner-up Diane Nukuri-Johnson's 1:09:12, which broke her own Burundi NR and 3rd placer/Columbia alum Lisa Stublic, whose 1:09:18 broke her own Croatia NR.
10-Year-Old Who's Trying To Become The Youngest To Run A Marathon On All 7 Continents Was Deterred By Bad Weather In Antarctica He was 18 miles in when the runners were stopped because of bad weather and forced to leave. He ended up completing the rest of the marathon when he landed back in Chile which, according to the rules of the "The Official 7 Continents Marathon Club," still counts.
NYC Photo Gallery (Updated On 3/20)
NYC Half Video Highlights
Common Trend: 4 Russian Swimmers Caught Doping; Russian Swimming Almost Gets A 24-Month Suspension From International Swimming Federation The rules say that "4 positives from one nation within a 12 month period results in the FINA member federation being suspended in its entirety for 24 months." However, Russia got out of it on a loophole. 3 of the 4 were suspended while the 4th, who is only 14 years old, was given a warning.
Tuesday In South Africa: SA 400H NR Holder LJ van Zyl Will Compete Against Botswana's Olympic 800 Silver Medalist Njel Amos Over 400m
NCAA Admin News
"Brilliant Video Interview" (Those Aren't Our Words): Lagat Making His Half Marathon Debut (More Here)
Ritz At The NYC Half (More Here)
Three Cheers For Abdi Sounding Off On Drug Cheats (Abdi Talks His Training Here)
Abbey D'Agostino: Double NCAA Champion
WWLD (What Would Lance Do?) In Wake Of Embarrassing Number Of Doping Offenses, Russia Offers To Donate An Extra $390,000 A Year To WADA
Interesting Read: Pat Butcher Looks At The History Of Sexism In The World Of Running Over The Years Muslim clerics not wanting women to run now is just the latest in a long line of insults thrown at women in athletics during the last 100+ years.
Week That Was
LRC WTW Forget About Jenn Suhr, Lopez And Mary Cain: The Best Closes In Track History, Meet Brannon Kidder, Erik Sowinski's HS Coach, Praise From Nick Willis, And An Apology To Kara Goucher On a week that saw Lopez Lomong's AR on Friday, Jenn Suhr's world record on Saturday and Mary Cain making history on Sunday, we cover everything else making news in the running world.
Jenn Suhr World Record *Photos
Jenn Suhr Breaks World Record Suhr was perfect all day until she broke the world record at 5.02 meters. She then attempted 3 times at 5.07 (the highest vault indoors or out).
*Video Of World Record Vault
*Reuters: "Gritty Suhr Happy To Finally Reach New Heights"
Jerry's Boys Take On The Big Apple
LRC
Lopez Lomong Sets New American Indoor 5,000 Record - Runs 13:07.00!!! We recap the historic night in NYC that saw Lomong get the AR, Chris Derrick get the "A" at 13:12.00 and the rest of Jerry's boys struggle a bit at the end as the pace was super hot. Includes exclusive post-race interviews that include Teg, Lomong, and Derrick, who talks about German Fernandez and Alan Webb.
*Photo Gallery *Race Video *Post-Race Interviews *Race Results Weekly

*Great News From Another Schumacher Stud: Chris Solinsky's 1st Track Race In Nearly Two Years Is Successful - Dominant 8:05 Win At UW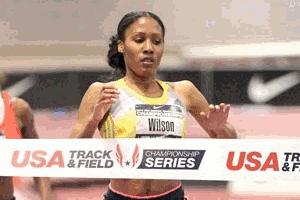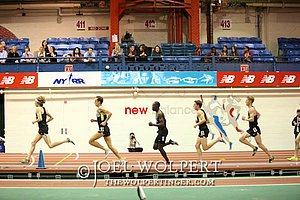 Crazy Finish Of Women's 3k (More Here)
Usain Bolt Does The Harlem Shake
Beautiful People: NCAA Banquet Photos (Click On Photo)