LRC: Records Galore At 2013 Millrose Games: Lagat, Mary Cain, 2 X 600, Chris O'Hare Mary Cain started the record-setting night in the women's mile and it continued all night after that until Chris O'Hare set a collegiate record in 4th place in the Wanamaker Mile. In between, Bernard Lagat barely got back his 2 mile record, unheralded Erik Sowinski upset Duane Solomon AND Nick Symmonds to set the American record in the 600, and Alysia Montano crushed the field and the AR in the 600.
Deena Kastor Wins Her First Race As A Master At Kaiser Permanente Rock 'n' Roll Pasadena Half-Marathon In 1:12:57 Adam Kovacs won the men's race in 1:06:42 as Dartmouth alum Glenn Randall (famous for leading the first 10k of the 2012 Boston Marathon) finished second and Sergio Reyes was 3rd.
UK/European News
LRC Mo Farah Wins, G. Dibaba Dominates And Michael Rimmer Gets Away With A Foul The British fans got what they want as Mo Farah won as expected, but the distance performance of the night came from Genzebe Dibaba, who won the 1,500 by 7+ seconds. After a trip at the finish line, there was a shock result in the men's 800. Plus world leaders by Natasha Hastings and Murielle Ahoure who beat Shelly-Ann Fraser-Pryce, who ran her 1st-ever indoor race.
*Shelly-Ann Fraser-Pryce Pleased With Her Indoor Debut As She Takes 2nd In 60m As Carmelita Jeter Was Well Beaten In 4th Fraser-Pryce: "Will I be back for more, definitely."
*Aleksey Dmitrik Wins HJ In 2.33m Over Olympic Medalists Robbie Grabarz & Ivan Ukhov Jenny Meadows finished second in the 800 in her first race since September 2011. Russia's Ekaterina Poistogova won in 2:02.25.
*UK's Holly Bleasdale Wins PV Over Olympic Silver Medalist Yarisley Silva In 4.70m
*BBC Recap

*Cool Video Of Mo Farah Training And Interviewing In Kenya Talking about the future, he mentions eventually taking a stab at the WRs in the 5,000/10,000.
*Based On His Training In Kenya, Paula Radcliffe Thinks Mo Farah Will Do Well At The Marathon Distance "I've seen him attack the long runs out [training] in Kenya and he has all of the ingredients [for success]."
*Mo Farah To Run The First Half Of The Virgin London Marathon This Year Yes, half of it. Unusual to say the least, but it can't hurt the TV ratings. Article and video interview with Mo. Arguably the world's greatest marathon men's field got even better.
Previous: 2013 Virgin London Marathon Field Released - Is This The Greatest Men's Marathon Field In History?
*MB: MO FARAH TO RUN HALF THE 2013 VIRGIN LONDON MARATHON

Good For Her: *Shelly-Ann Fraser-Pryce Slams Male Sprinters For Avoiding Each Other
Usain Bolt's 2-Handed Jam Was Highlight Of Friday Night's NBA Celebrity Game Bolt seemingly belongs in the NBA as the refs let him get away with a massive travel but it was impressive nonetheless. Bolt's post-dunk interview was very funny as he claimed he just has a long stride.
2013 RAK Half Marathon Was Friday Morning
LRC Geoffrey Kipsang: The Total Stud Who Could Win World XC, But Will He Run It? Kipsang is simply on fire right now. Haven't heard of him? Read our article or look below but he's currently the best runner on the planet.

Geoffrey Kipsang (58:54) And Lucy Kabuu (66:09) Win 2013 RAK Half Marathon On Record-Setting Day The RAK is now officially the best half marathon on the planet. Ken Nakamura reports that for 1st time ever, 3 nen broke 59:00 in a single race and 4 women broke 67, 6 broke 68 and 10 broke 69. LRC Analysis coming soon.
*2013 RAK Half Marathon Stats By Ken Nakamura
*IAAF Recap *Sheikh Saud Attended RAK Half Marathon
Oscar P Charged With Murder
*The Curse Of The Swoosh: Nike Athletes Who Have Faced Scandals *MB: Is Nike the new SI or Madden jinx?
*Oscar's Murder Stuns His Italian Host Town Of Gemona
*Reeva's Family Starting To Speak To Press
*Alan Abrahmson Reacts To Oscar P: "(He) seemed like one of the world's genuinely nice guys."


Previous:
Oscar P Shows Up In Court, Sobs - Newspaper Reports Shots Fired Through Bathroom Door The paper that first broke the story, The Beeld (translated from Afrikaans), says the shots were fired through a bathroom door.
*Family And Management Team Issues Statement That Dispute Charges In The "Strongest Terms"
*Did Oscar P's Father Once Accidentally Shoot Himself In The Testicles? (Tranlsated From Afrikaans)
*Police Reject Self Defense Theory - Charge Oscar P With Murder The Internet was full of people saying, "Maybe she surprised him on VDay and got shot as he thought she was an intruder at 3 am," but security footages shows she arrived at the house at 8:15 pm.
*Oscar Pistorius Charged With Murder After He Shoots And Kills His Girlfriend
*Police Totally Discount Intruder Reports
*TMZ.com Exclusive: Pistorious' Blade Legs NOT Considered Weapons Behind Bars
*Christine Brennan: Pistorius latest athlete we really don't know
*Simon Hart States The Obvious: A Guilty Verdict Will Ruin His Legacy Forever
*Not Everyone Has Given Up On Oscar P: Runner's World S. Africa Editor: "I think today everybody has kind of rallied round him."
*A Look At Some Of Oscar Pistorius' Alleged Past Incidences Of Drunken And Abusive Behavior Interesting read.
*Inside Oscar's Bedroom: One cricket bat, one baseball bat, a revolver and a machine gun Daily Mail

*S. Africa Has Strict Gun Laws, Tons Of Guns, And Gun Violence Washington Post
*Nike "I am the bullet in a chamber" Oscar P Ads Pulled, As Are Oscar P "Oscar's" Awards
*Q&A With SI's David Epstein On Oscar
*Slain Model Reeva Steenkamp An "Angelic Soul"
*Remembering Reeva Steenkamp
*Police To Oppose Bail At Friday Hearing
*What Happens Next
Mid-Week News
Daring To Ask The PED Question
A Must Read: Daring To Ask The PED Question: "If everyone is secretly suspicious of so many athletic achievements, why aren't we talking about it?" In our last Week That Was, we said, "There are two types of runners - those that either 'get' letsrun.com or don't." Well, sports writer Bill Simmons might not be talking about running, but he definitely "gets" LRC as he explains why questioning today's professional athletic performances in is not only okay, but has become part of sports. As he says, "There is no such thing as 'the benefit of the doubt' anymore. Not in sports. Too many people took advantage. All the benefits are gone." It is for this reason that we allow threads like this one to exist: MB: Solomon suddenly world class and Rupp soloing 3.50 indoor miles - Come on Letsun, ask the questions!
LRC Photo Gallery


LRC Chris Derrick!?! - National Champion! link fixed The wait is over. Arguably the greatest American collegiate distance runner not to win an NCAA title, Derrick pulled away from Dathan Ritzenhein and Matt Tegenkamp to win his first national title in his first race as a sponsored pro. It was a good day for Jerry Schumacher's crew as they had 3 of the top 4 in the men's race plus Shalane Flanagan winning the women's.


LRC Shalane Flanagan Wins 2013 Women's US Cross-Country Championships Flanagan was the class of the field (World XC bronze in 2011), but Olympian Kim Conley put up a brave fight. Afterwards, Flanagan said she will not run World XC as she prepares for the Boston marathon.

Jr. Races: *LRC 2013 Jr. Girls Results - William & Mary's Emily Stites Dominates
*LRC 2013 Jr. Boys Results - Ok. State's Craig Nowak Wins
*USATF Athlete Quotes
Rest In Peace Will Steele - aka "The Cancer Guy"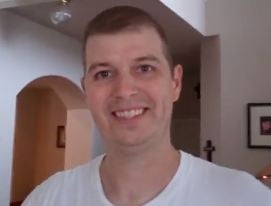 LRC Celebrating The Life Of "The Cancer Guy" Will Steele Will Steele was running 18 minute miles last year. And never has there been a more inspirational runner on LetsRun.com. We pay our respects to this great man who contributed so much to the LetsRun.com community and lost his battle with cancer one month ago on Christmas eve.
A MUST Read - One Of The Greatest Races Ever Run - The US Women's Version Of The Billy Mills 10,000 Win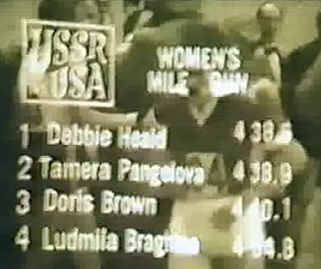 RWorld Reintroduces The World To Debbie Heald, Who 40 Years Ago Incredibly Ran The US HS Indoor Mile Record Of 4:38.5 Steve Friedman's piece on Heald is moving to say the least. Heald, whose father had committed suicide, who had been molested and who was always battling injury (13 different running-related surgeries), somehow at the US vs. USSR meet at age 16 in 1972 beat the greatest runners in the world, including the indoor 1,500 record holder and that year's eventual Olympic 1,500 champion, by running an a 8.5-second PR of 4:38.5. She came from way back to win thanks to a ferocious kick and she was known for having no kick. Her life since then has been full of struggles with schizophrenia but her HS indoor record still stands.
MB: Debbie Heald article in RW
Relative Unknowns Philemon Rono And Margaret Wangare Win - Geoffrey Kipsang Gets Wild Card Rono, who turned 22 a week ago Friday, has a 60:58 half PR. A 33-year-old 13:24/27:45 guy was 2nd. Geoffrey Kirui was third. The women's winner has PRs of 4:06/14:48 and was 4th at the Kenyan 1,500 Trials last year. The big news is there are 4 wild card selections who may run, including the man we think may win Worlds - Geoffrey Kipsang. *Results
*World XC Junior Champ Faith Chepng'etich Wins Kenyan Trials; Mercy Cherono's Younger Sister Caroline Chepkoech Was 4th Kwemoi Ronald was the winner of the boys junior race over a field that included sub-27 10ker Emmanuel Bett (a different Bett than the sub-27 10ker) and World Junior steeple champion Conseslus Kipruto.
*Capital FM Recap *IAAF Recap *Standard Media
*Men Race Video

LRC Geoffrey Kipsang: The Total Stud Who Could Win World XC, But Will He Run It? Kipsang is simply on fire right now. Haven't heard of him? Read our article or look below, but he's currently the best runner on the planet.
Today's Doping News
Oscar Pistorius Updates
Mid-Week Results
3-Time World Champ Moses Kiptanui Speaks On Drugs In Kenya: "There are a good number of athletes out there who are using drugs." For everyone who is stunned, we'll say this: "Wherever there is big money, there is corruption." *Audio Of Kiptanui
UK-Related News
Admin News: IOC Won't Reassign Armstrong's Olympic Medal
Drug News: Australia Getting Serious About Anti-Doping
Bolt/Blake/Powell Opened Up On Saturday *Results
LRC Photo Gallery


Men's 3k: LRC Galen Rupp Is Defeated As Hagos Gebrhiwet Sets New World Junior 3,000 Record Of 7:32.87


Women's 2-Mile: LRC Mary Cain Runs 9:38.68 For 2 Miles - The Greatest Distance Performance In US HS Girls History Tirunesh Dibaba was way ahead of the field as she won in 9:13.17.

LRC The Rest Of The 2013 New Balance Indoor Grand Prix - Centro, Lakhouad And Wright Win As Suhr Takes Crack At AR
Run, Recover, Run More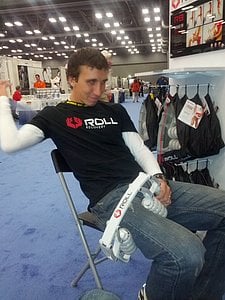 LRC Runners Recover Better And Hopefully Stay Injury Free With These Two Products From The 2012 Running Event Wejo talks about some of the injury prevention products he saw at the The Running Event, which include better methods for massage, icing, and compression.
The Running Event Is In The Books *Photos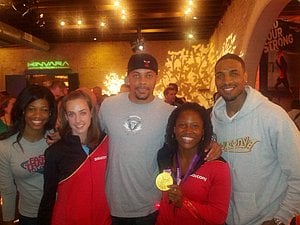 LRC The 2012 Running Event Is In The Books: Five Takeaways On The Industry Shark Tank's Daymond John Speaks The trade show for specialty running shops was last week in Austin, Texas and LRC's Wejo was there plus Ryan Hall, Meb Keflezighi, and most of Saucony's top athletes. The running industry should be renamed the "how to not get injured" industry. Some take-aways from the convention.
*Press Release: The Running Event 2012 Attracts 2,100 To Austin
NCAA Conference Action (Patriot/Big East, MAAC, Others) Start This Weekend *All NCAA Results
News From Japan
3 Random But Interesting Distance Articles
Who Doesn't Love An Underdog? Meet Altra Zero Drop
The Week That Was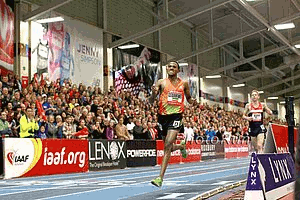 Ryan Hall Speaks
Beautiful People: NCAA Banquet Photos (Click On Photo)
Back To Top
18-Yr Old Ethiopian Muktar Edris Gets The Win Over A Deep Field In Campaccio XC Race As Kim Conley Gets 4th For The Women He beat out John Kipkoech (12:49 5000) and sub-27 man Geoffrey Kirui by less than a second as Moses Kipsiro was 4th, Leonard Komon 8th, Euro XC Champ Andrea Lalli 9th and Scott Bauhs 10th. Debele Degefa won the women's race in a close sprint with Afera Godfay as Conley was 4th and two-time World steeplechase bronze medallist Milcah Chemos 6th.