Oscar P Charged With Murder
Oscar Pistorius Charged With Murder After He Shoots And Kills His Girlfriend The initial reports were Oscar mistook his girlfriend, model Reeva Steenkamp for a burglar as she tried to surprise him on Valentine's Day. That has changed and police have charged Oscar with murder and indicated there were previous domestic incidents at the house.
*A Look at Some of Oscar Pistorius Alleged Past Incidences of Drunken and Abusive Behavior Interesting read.
*Remembering Reeva Steenkamp
*Police to oppose bail at Friday hearing
This Weekend's Action: Millrose, Kenyan XC Trials And No 5,000 American Record Chase For Galen Rupp *Millrose Live On ESPN3 Starting At 7PM ET
Updated Rupp Was Ready To Run
LRC No American 5k Record Chase For Galen Rupp This Weekend In Birmingham Galen has pulled out of the 5,000m. No word yet on what is next for Galen who is "unwell" which could be a slight injury or under the weather. Update: According to Rupp's agent and the meet director, Galen was still scheduled to run; other athletes and the 2nd rabbit pulled out and the 5k was cancelled because organizers wanted an entertaining race for TV and fans. *Discuss

Millrose: Bring Back The Mile Wanamaker Preview Includes schedule, records, men's and women's entries.
RW Q&A With Matt Centrowitz Ahead Of The Wanamaker Mile Where He Says He's Shooting For Sub-3:52 He also talks about how his training has changed a ton since he's moved over to being coached by Alberto Salazar.
Don Cabral Just Ran A 3:56.41 Mile PR At Husky, But Thinks He Can Go Even Faster At Millrose Cabral has recently moved across the country to Bellingham, WA to be trained by his high school coach Peter Oviatt.
*Video Interview With Cabral After His Husky Mile 3:56 PR This was actually his first sub-4 mile.
RunnerSpace Interview With Cas Loxsom Ahead Of Millrose On Penn State's expectations ahead of the Millrose 4x8 he said, "We're all aware that the collegiate record is 7:17.45, and we're also aware that the world record is 7:13.94, and that our season bests add up to 7:13.10."

Kenyan XC: Kenyan XC Champs/World XC Trials Are This Saturday Field includes former World XC silver medalist Lucas Rotich, former World cross bronze medalist Vincent Chepko, Africa XC champ John Mwangangi and 4th placer Timothy Kiptoo, world cross-country bronze medalist Clement Lagat, 26:51 10ker Emmanuel Bett, former world junior 3,000m steeplechase champion Jonathan Ndiku Muiya and others.

North Rift Athletics Kenya Chooses Their Team For Saturday's National Championship Includes Amsterdam half marathon runner-up Kenneth Kimutai and 10,000m Olympic trial finalist Joseph Kitur. Former World junior 1,500m champ Stacy Ndiwa leads the women's team.
Paul Tergat Gives Positive Feedback After His 4-Day Visit To Poland To Inspect Course/City For World XC Champs "I am very, very, very impressed by the course. It will be a real cross country for the runners."

Other: Deena Kastor Running The Kaiser Permanente Rock 'n' Roll Pasadena Half Marathon This Sunday This will be her first race as a "masters runner" as she turned 40 today. The U.S. masters record is 1:11:50, which was set in 2006 by Colleen De Reuck.
Science Of The Sport's Ross Tucker Analyzes The Questions And Debates Associated With Long-Term Athlete Development "There is no evidence, because there are no long-term prospective studies ... However, it seems reasonable to hypothesize that if youth selection is delayed, and if the pool of available talent is kept large for long enough, we will see more viable prospective talents and thus better performance."
Previous Weekend Previews
US News
Ritz Running Chicago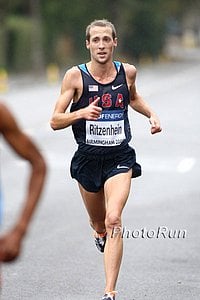 Dathan Ritzenhein To Run 2013 B Of A Chicago Marathon It's only February, but that doesn't mean marathoners aren't thinking ahead to paydays in the fall. After running a track season, Ritz hopes to improve on his 2:07:47 last year in Chicago, which made him the #3 all-time US performer. And to show how tough marathoning has become, that only put Ritz 9th in the race.
LRC Archives:American Dathan Ritzenhein Runs A 2:07:47 PR To Become Third-Fastest American At 2012 Chicago Marathon
US Pro News & Will President Obama Talk About Running Today?
Iowa: Betsy Saina Moves To #4 All-Time In 5,000i With 15:21.66 (Including oversized tracks) Wichita State's Aliphine Tuliamuk-Bolton was 2nd in 15:25.47.
*Women's Results Heather Kampf won the seeded mile in 4:37.13 as Lisa Uhl won the "unseeded" in 4:48.04. *Men's Results

UW: Andy Bumbalough Edges Evan Jager 3:56.12 To 3:56.14 As Donn Cabral Also Runs 3:56 Six guys ran 3:58 or faster. Charles Jock was last in one of the non-invite sections in 4:14.97.
*Good Video Interview With Chris Solinksy Talking A out His First Time On The Track Since 2011 (He Rabbitted The Mile) "I think I'm in about as good a shape as I was in freshman/sophomore year of college right now."
*MB: What happened to Charles Jock?
*Jordan Hasay Destroys Field And Wins By 6+ Seconds In 15:46 *Post-Race Interview With Hasay & Alexi Pappas
*Lopez Lomong Won 800 In 1:46.53 Over Tyler Mulder (1:46.80); Geena Gall Wins Women's Mile In 4:31.75
*Kevin Williams' 13:38 Wins Men's 5k As 22 Guys Break 14:00
*Oregon Gets Two More Sub-4:00 Milers At UW Meet
*Full Results Ryan Hill won the 3k in 7:49.20 over Diego Estrada (7:50.44) as top 10 were 7:53 or faster. Cally Macumber won the women's 3k in 8:59.98.
*Post-Race Video With Ryan Hill, Who Says He Wasn't Happy The Top Competition In The 3k Was Split Up Into 2 Heats. Estrada agrees and was also disappointed he didn't get to race Hill.

IU Hoosier Invy: IU's Zachary Mayhew Wins 3k In 7:51.61 Over Andrew Bayer (7:51.75)
*Race Video: IU's DMR Runs 9:33.43, Ranking Them 2nd In The NCAA This Year Bayer closed with a 3:58.5 1,600 leg.
*Full Results

Arkansas (Tyson): NCAA XC Champ Kennedy Kithuka Runs 13:26 And Wins By 1 Minute +
*Patrick Rono (1:47.66) Spanks Elijah Greer (1:48.42) Chris O'Hare was 2nd in 1:48.28.
*Cross, Rono Win Titles On Day One
*Full Results Riley Masters won the mile in 3:56.25 as the top 5 all went sub-4.
*Masters 3:56.25 Makes Him Maine's Fastest Miler Ever
*Texas Women's 4 X 4 Runs A Fast 3:30.95

Texas A&M: Henry Lelei Wins 3k And Breaks School Record With 7:55.80 Texas A&M men and women swept the team titles.
*Full Results Nike's Jackie Areson won the mile in 4:39.52.

Other: Washington's Jeremy Taiwo's 6156 Is #3 All-Time In The NCAA And #7 All-Time In US History Taiwo's total of 6,156 points ranks him third in NCAA history and seventh in U.S. history.
*Taiwo Sets Heptathlon High Jump WR At 7 feet, 4½ inches At Boise State Challenge It was a huge PR for him as his previous best was 6-11½.
*Full SPIRE Division I Indoor Track & Field Invite Results
*Cool Idea: University Of Portland Stages "Halftime Mile" During Basketball Game
2013 UK Champs/European Trials Are Saturday/Sunday *Schedule/Results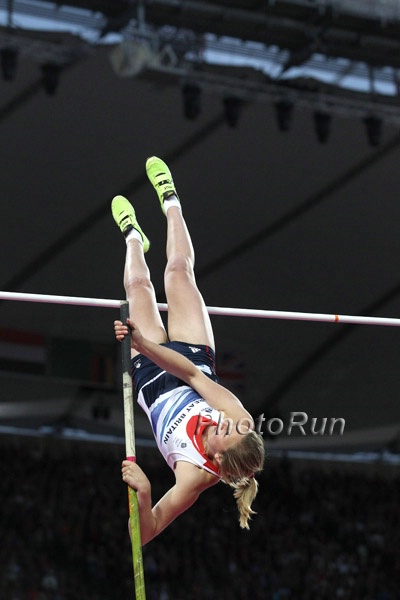 *IAAF UK Champs Recap: Robbie Grabarz Won The HJ In 2.31m And Took A Close Stab At The UK Indoor Record Of 2.39m 2008 Olympic 400 champ (2012 silver) Christine Ohuruogu used the meet as training and came in second in the 200 on Day 2 after going out in the 60m semifinals on Day 1. 2012 World Indoor TJ champ Yamile Aldama won the TJ easily. In the women's 800m, Marilyn Okoro lost to Ireland's Claire Tarplee (2:03.66).
*AW Recap: Grabarz: "It was only my second competition so to be jumping that high is pretty good."
*Holly Bleasdale Sets Wins UK European Champs Trials PV With A World-Leading 4.77m
*Athletics Weekly UK European Champs Trials Day 1 Recap
*This Year, UK HJer Robbie Grabarz Will Try To Become Only The 5th Man To Hold The European Indoor And Outdoor HJ Title At The Same Time

Other UK: UKA Head Coach Peter Eriksson Gives Assurance They Will Continue To Fully Support Jessica Ennis Despite Dispute With Her Coach
*Jessica Ennis's Coach Attacks British Athletics For "Lack Of Respect" As He Rejects Their Reduced Package Offer To Coach Her He said he will continue to coach her, but "If that's how I'm valued, it makes sense to leave it."
Daring To Ask The PED Question
A Must Read: Daring To Ask The PED Question: "If everyone is secretly suspicious of so many athletic achievements, why aren't we talking about it?" In our last Week That Was, we said, "There are two types of runners - those that either 'get' letsrun.com or don't." Well, sports writer Bill Simmons might not be talking about running, but he definitely "gets" LRC as he explains why questioning today's professional athletic performances in is not only okay, but has become part of sports. As he says, "There is no such thing as 'the benefit of the doubt' anymore. Not in sports. Too many people took advantage. All the benefits are gone." It is for this reason that we allow threads like this one to exist: MB: Solomon suddenly world class and Rupp soloing 3.50 indoor miles - Come on Letsun, ask the questions!
Doping And Crime
LRC Photo Gallery


LRC Chris Derrick!?! - National Champion! link fixed The wait is over. Arguably the greatest American collegiate distance runner not to win an NCAA title, Derrick pulled away from Dathan Ritzenhein and Matt Tegenkamp to win his first national title in his first race as a sponsored pro. It was a good day for Jerry Schumacher's crew as they had 3 of the top 4 in the men's race plus Shalane Flanagan winning the women's.


LRC Shalane Flanagan Wins 2013 Women's US Cross-Country Championships Flanagan was the class of the field (World XC bronze in 2011), but Olympian Kim Conley put up a brave fight. Afterwards, Flanagan said she will not run World XC as she prepares for the Boston marathon.

Jr. Races: *LRC 2013 Jr. Girls Results - William & Mary's Emily Stites Dominates
*LRC 2013 Jr. Boys Results - Ok. State's Craig Nowak Wins
*USATF Athlete Quotes
Great Sunday Action In Japan
Armory Collegiate Invy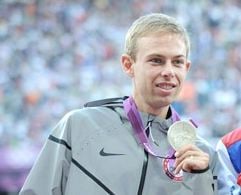 LRC Galen Rupp Runs 3:50.92 Mile To Become Fifth-Fastest Indoor Miler Who said Galen Rupp has no speed? The endurance king has become the speed king the last two years and Rupp showed it on Saturday by running 3:50.92 in Boston to become the 2nd-fastest American indoor miler ever behind Bernard Lagat. *Videos
On The Boards: *Rupp runs 3:50!!
*any updates on the BU elite mile?
*Rupp is the 5th fastest indoor miler in history


updated Mary Cain Smashes High School Mile Record By Running 4:32.78 Cain breaking the record may have been expected considering she ran 4:11 last year outdoors for 1,500 (roughly 4:31 for a mile), but Debbie Heald's old record (4:38.5) was the longest record on the books for high school women (from 1971) and Cain absolutely crushed it - and we use that term knowing it is way over-used in track but well-deserved here. In the men's mile, Robby Andrews faded to 4:11.
*What's Better Than Having An Olympian For A Coach? Having Two: With Salazar Living On The Other Side Of The Country, NZ 2004 Olympian John Henwood Has Been Administering Her Workouts In NY
*Video Interview With Mary Cain
OTB: Mary Cain 4:32.78
Oregonian's Ken Goe Against High Price Pay-Per-View Track Broadcasts
London Does It Again
LRC 2013 Virgin London Marathon Field Released - Is This The Greatest Men's Marathon Field In History? All we can say is - Wow! The course record holders of all five majors, the Olympic champ, the WR holder - you name it, they got it. And one the women's side? How about the debut of Tirunesh Dibaba plus 4 of the 5 non-pregnant sub-2:20 runners from last year? So sick.
*Reuters: Dibaba To Race In London Marathon *Discuss


LRC Mary Keitany Is Pregnant With Second Child, Will Miss 2013 London Marathon And Season
Oregon Indoor Mile Record Holder Mac Fleet Is Pumped To Be back On Track After 2 Years Of Injuries Things were so bad last year, he started drinking heavily and tried to tear his plantar on purpose.
Rest In Peace Will Steele - aka "The Cancer Guy"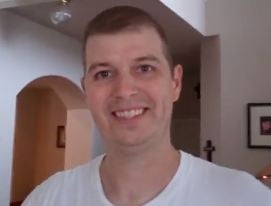 LRC Celebrating The Life Of "The Cancer Guy" Will Steele Will Steele was running 18 minute miles last year. And never has there been a more inspirational runner on LetsRun.com. We pay our respects to this great man who contributed so much to the LetsRun.com community and lost his battle with cancer one month ago on Christmas eve.
Want To Watch A Live Stream Of The New Balance Games Or The Armory Collegiate Invitational? It Will Cost You $20 And just think many of you complained that the entire Diamond League Series on UniversalSports.com was too much at $25 with individual meets just $1.99. In our book this doesn't seem to be about track fans, but about getting parents to pay.
Unbelievable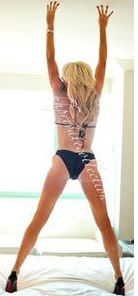 The Smoking Gun.com: Suzy Favor Hamilton Has Been Working As $600/Hour Escort For Last Year SFH, the 3-time Olympian, has been one of the hottest commodities in the escort business over the last year as she jumped up to a #3 ranking and got rave reviews for her runner's body and for providing the "full GFE (girlfriend experience)." One client raved, "I would do anything to protect her. ... She is worth every penny. I will go bankrupt before I stop seeing her. I hope no one else goes to see her, because I want her all to myself. ... I never thought I would find anyone in this hobby like her."
*Definitely Not Politcally Correct: Chicago Sun-Times Columnist: SFH isn't alone - lots of female distance runners are total nut jobs SFH had "a glint of ferocity in her eyes, of suppressed danger. I saw the look in many of the Wisconsin middle-distance and long-distance female runners. In my book, I made special note of them, of their lapses into near insanity, of their successes and crashes and eating disorders and dependence on their controlling German head coach, Peter Tegen."
*Suzy Favor Hamilton Issues A Statement
*MB: Suzy Favor-Hamilton: Vegas Escort
A MUST Read - One Of The Greatest Races Ever Run - The US Women's Version Of The Billy Mills 10,000 Win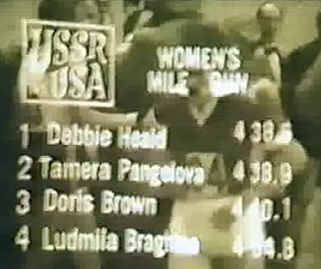 RWorld Reintroduces The World To Debbie Heald, Who 40 Years Ago Incredibly Ran The US HS Indoor Mile Record Of 4:38.5 Steve Friedman's piece on Heald is moving to say the least. Heald, whose father had committed suicide, who had been molested and who was always battling injury (13 different running-related surgeries), somehow at the US vs. USSR meet at age 16 in 1972 beat the greatest runners in the world, including the indoor 1,500 record holder and that year's eventual Olympic 1,500 champion, by running an a 8.5-second PR of 4:38.5. She came from way back to win thanks to a ferocious kick and she was known for having no kick. Her life since then has been full of struggles with schizophrenia but her HS indoor record still stands.
MB: Debbie Heald article in RW

Heald's Incredible 1972 Race

More On Heald:
*2002 LA Times Feature
*1972 Sports Illustrated
*1967 Faces In The Crowd At Age 11
From The MB:
*16-year-old Debbie Heald takes down the Russians, sets AR in 1972
*No Wikipedia entry for Debbie Heald ...
*1972 USA vs. USSR: 16-year-old wins the women's mile in a national record. (still standing)
*1972 Video Of Debbie Heald
USATF To Own A Road Race
LRC USATF Gets Into the Road Race Business With the .US National Road Racing Championships Staring this year, USATF will own and operate the season ending road-race to the USA Running Circuit (USARC). It will be a mass participation event over 12k that includes $100,000 in prize money (with $20,000 to the winners). We break down the announcement for you.
A Interesting Read Rojo's 'No Question Goes Unanswered' Interview With Women's Running Website - Saltyrunning.com
This is a great read as Rojo goes back to the beginning and shares the co-founders vision for the site. He is unfazed when asked if LRC is "elitist, anti-hobbyjogger, and anti-women", he reveals the secrets as to how the site is made each day, and he defends the no registration policy of the messageboards.
Previous: Saltyrunning's A Girl's Guide To Letsrun.com
*MB: Discuss

*The LetsRun Interview, Part II: "What I'm about to say is controversial...." Rojo talks about why running will never be as popular as the NFL, PEDs, his own running and who the athletes are to watch in 2013. *MB: Discuss
Mid-Week Results
UK-Related News
Admin News: IOC Won't Reassign Armstrong's Olympic Medal
The Week That Was
LRC The Week That Was: A Bunch Of Nick Symmonds, The Nike .1% Solution, LRC Goes To Japan, And Much More This week we wonder, "Can Nick Symmonds really move up to the 1,500?", LetsRun.com goes to Japan, JK is confirmed to be a genius (yet again), and we wish that Nike would sponsor a "Just Do It Fairly" campaign. Along the way there is talk of Matt Tegenkamp, Dathan Ritzenhein, Al Sal, Mary Cain, Galen Rupp, German Fernandez, Robby Andrews, Leo, Centro, Wheating, Tyson Gay, Dorian Ulrey, Rich Kenah, Sam Mackenzie and Nick Wade.
Drug News: Australia Getting Serious About Anti-Doping
The Kenya-Nike Connection
Kenyan World XC Trials Are Saturday, But Some Top Runners Won't Be There
Is World XC Doomed? Even The Kenyans Don't Wanna Go: Defending World Junior XC Champ Geoffrey Kipsang And Former World 5k Champ Eliud Kipchoge Pull Out Of Saturday's Kenyan XC Champs/World Trials Kipsang is racing the Ras Al Khaimah Half Marathon on Friday instead and Kipchoge is focus on races on the road, saying, "Many senior athletes are looking at the monetary value in the event compared to the road races and it is logic for them to jump ship." Previously announced - defending World XC champ Vivian Cheruiyot and defending runner-up Linet Masai won't be competing.
*Eliud Kipchoge Says He Will Miss Kenyan World XC Trials To Focus On The Barcelona Half Marathon
International: Bolt Says He "Has Never Been So Nervous"
European
Bolt/Blake/Powell Opened Up On Saturday *Results
Random International News
An Inside Look At The Men's Olympic Marathon
Thursday Was A Good Day For Usain Bolt
Today's Running Science
LRC Photo Gallery


Men's 3k: LRC Galen Rupp Is Defeated As Hagos Gebrhiwet Sets New World Junior 3,000 Record Of 7:32.87


Women's 2-Mile: LRC Mary Cain Runs 9:38.68 For 2 Miles - The Greatest Distance Performance In US HS Girls History Tirunesh Dibaba was way ahead of the field as she won in 9:13.17.

LRC The Rest Of The 2013 New Balance Indoor Grand Prix - Centro, Lakhouad And Wright Win As Suhr Takes Crack At AR

LRC Bernard Lagat Runs 7:34.71 For Dominant 3k Win In Germany Lagat blew away 12:48 runner Yenew Alamirew to win by almost 4 seconds in what is the 5th-best 3,000 performance (or 2-mile) in US history.
Rest Of German Meet: Meseret Defar 8:35, G. Dibaba 4:02 As 5 WLs Set In Germany *Full Results
Kenyan Doping News
9-Year-Old Running Marathon In Antarctica For Charity
Flotrack Defends Its $150 Subscription Fee To Ken Goe Of Oregonian, Who Still Doesn't Like It
LRC Duane Solomon Is The Real Deal - He Breaks US 600 Meter Record With 1:15.70 Win In Scotland Duane Solomon got rid off Chip Jenkins' record just days before it celebrated its 26th birthday and proved 2012 was far from a fluke. In other action, Bernard Lagat got a win in the 3,000 as Centro was smoked in the 1,500. Plus Geena Gall, Sara Vaughn and more.
*MB: Hrs Later Penn State Sr. Cas Loxsom Just Misses Solomon's New Record When He Runs 1:15.79 He did beat Jenkins' old record of 1:15.80.
Thank God They & Not Us Asked It - Carmelita "The Jet" Jeter Can't Fly Away From The Doping Question Jeter refused to answer the following question: Did Lance Armstrong's confession make "it harder to convince people that athletes in other sports were clean?" Her answer: "Well, I'm going to stay away from anything with that question, thank you."
LRC Mary Cain Runs 9:02.10 For 3,000 - Arguably The Greatest Distance Performance In High School History
MB: *Cain 9:02!!!
*Mary Cain 9:02!!!
*How many boys state 3200/2 mile can mary cain win?
*NOW what do you think about a Baxter-Cain face-off at 3200 / 2-mile? Hmmmm?
Recommended Watch: Very Well Done Documentary On Ryan Vail On The Life Of A Professional Runner "This is my job. It's not about, 'I don't feel like running today' because everyone doesn't feel like going to work today. So I just say, 'This is better than a 9 to 5. Get out there and do your work today. This is going to work. Just get out there and do it.'"
Run, Recover, Run More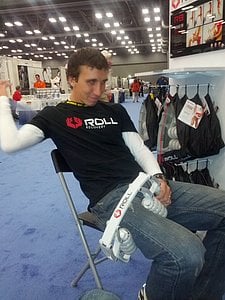 LRC Runners Recover Better And Hopefully Stay Injury Free With These Two Products From The 2012 Running Event Wejo talks about some of the injury prevention products he saw at the The Running Event, which include better methods for massage, icing, and compression.
The Running Event Is In The Books *Photos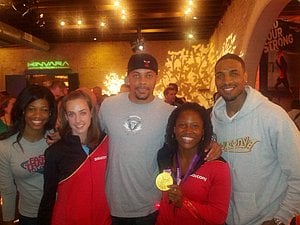 LRC The 2012 Running Event Is In The Books: Five Takeaways On The Industry Shark Tank's Daymond John Speaks The trade show for specialty running shops was last week in Austin, Texas and LRC's Wejo was there plus Ryan Hall, Meb Keflezighi, and most of Saucony's top athletes. The running industry should be renamed the "how to not get injured" industry. Some take-aways from the convention.
*Press Release: The Running Event 2012 Attracts 2,100 To Austin
Guys Everywhere Celebrate: Aussie Hurdler Michelle Jenneke Featured In Sports Illustrated Swimsuit Edition She's the hurdler made famous by this YouTube video.
*Aussie Hurdler Michelle Jenneke Will Compete In Sydney Track Classic on March 9
More On Wresting Getting The Axe
Wresting Cut From 2020 Olympics
Random News
US News: Nick Symmonds Moving To 1,500?
Recommended Read: Former Teen Sensation Caitlin Chock Writes About What It Was Like To Train Under Alberto Salazar The first US HSer to break 16 loved it even though she pretty much disappointed performance-wise.
Big Doping News
LRC Chris Derrick Wins One, The Ageless Deena K, Galen Rupp Getting Beaten, Mary Cain The Real Deal, Doping, And The Photo, Video And Stat Of The Week We span the globe to cover the sport like no other. It was a big week with USATF XC, the New Balance Boston meet, a dual in Japan and much more. Many of America's stars present and possibly future were in action.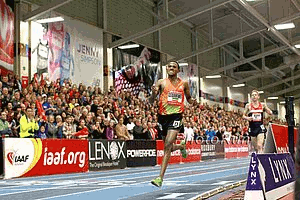 The Week That Was In Running - January 21-27, 2013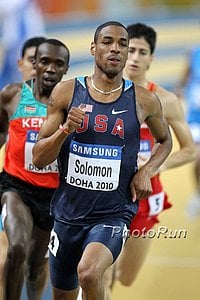 LRC Rupp & Solomon Improve A Lot, Those That Do And Those That Don't Get LRC, 2:04 Marathons Aren't Special, Putting Mary Cain's Mile Record In Perspective This week we start by telling you there are two types of runners - "those that get LetsRun.com" and "those that don't." We tell you why we think analyzing the improvements of Galen Rupp & Duane Solomon is the very best part of our website - even though we know many (including "A Duck") totally disagree. We then put the record runs from Dubai, Solomon and Mary Cain in perspective before quoting a running executive who says a 2:04 marathon isn't "special" anymore.
A Look At On Running: Run On Clouds
LRC A Look At On Running And The "Cloud" Technology: Shoe Company Started By Former World Class Triathlete Olivier Bernhard was a world class triathlete who was injured with Achilles problems. So what did he do? He started tinkering with his shoes. What did he come up with? A better shoe technology, he thinks. Learn more about Olivier and the "Cloud" technology as LRC starts taking a look at some of the newer shoe companies.
Remembering Will Steele: "The Cancer Guy" Talks About Being Diagnosed And Living Life (Much More Here)
Webb Back In Portland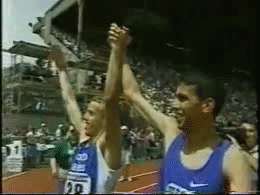 Confirmed: Alan Webb Has Returned To Portland, Joined Jerry Schumacher's Group And Is Focused On 5/10k Flotrack's Ryan Fenton caught up with the American mile record holder on his 30th B-Day, as a more mature Webb talked about his recent struggles and the decision to switch to his 4th coach in the last 3.5 years. We give you the highlights as we know most of you don't have 22 minutes to spare. A great read (or watch) depending on how much time you have.

MB: Webb Training in Schumaker's Group, to Focus on 5k/10k in 2013, eventually the Marathon
MB: Happy Belated 30th Bday Alan Webb
A Great Guest Column
PJ Browne A Woman I Used To Know - Suzy Favor Hamilton Guest columnist PJ Browne reflects on Suzy Favor Hamilton and depression in a Recommended Read. "What I can now say about depression is that the irrational and the bizarre become the norm. There is no blueprint in a hit and miss mixture of drugs, incarceration and therapy. In my case, Zoloft turned me into a daring, brazen individual much to the embarrassment of my family."
Ryan Hall Speaks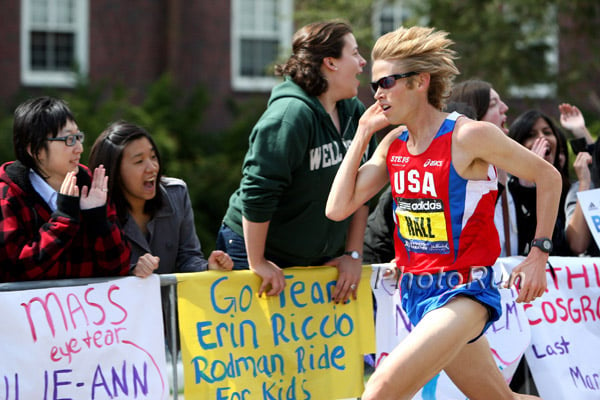 LRC Ryan Hall Talks About Cam Levins' 190-Mile Weeks And Is Impressed Hall: "It's working for him. My hat's off to him. He inspires me. That's why I started following him on Twitter. I feel like I'm training hard and I'm not doing nearly that kind of training."
LRC Ryan Hall Talks About His Running Shoes Hall says he has different shoes for every speed he runs and that he has an "unhealthy attachment" to the Asics Gel Hyper Speed.
LetsRun.com's 2012 Year In Review
LRC We Say To You The Visitor, "Thanks A Million" For Making 2012 A Record Year For Us Now that the college football bowl season is over, the year is over in our mind and it's time to recap the
special year we had in 2012. No matter how you look at it, 2012 was a record year for LetsRun. Unique visitors were up 38.55% and for the first time we surpassed a million unique visitors in a given month. Read the article to find out what our 5 busiest days were, what our 5 least busy days were, our most popular articles, most popular threads and more. Guess what day generated the most page views. Hint: it wasn't even a day during the Olympics or US Olympic Trials.ce Armstrong continues and we wonder if Ashton Eaton would be nothing more than a D3 football star had he stuck with the gridiron. And Jacob Hernandez calls it quits.
Meb And The Mental Side Of Running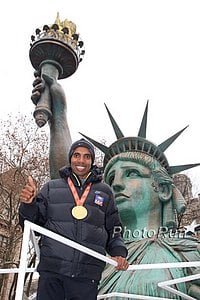 LRC Meb Keflezighi Talks About Getting His Start In Running, The Mental/Physical Breakdown Of The Sport Meb: "I really believe during preparation it's 90% physical, 10% mental. When the gun goes off it's 90% mental and 10% being healthy."
NCAA Cross Photo Galleries (Captions Now Added)
Beautiful People: NCAA Banquet Photos (Click On Photo)
Back To Top
18-Yr Old Ethiopian Muktar Edris Gets The Win Over A Deep Field In Campaccio XC Race As Kim Conley Gets 4th For The Women He beat out John Kipkoech (12:49 5000) and sub-27 man Geoffrey Kirui by less than a second as Moses Kipsiro was 4th, Leonard Komon 8th, Euro XC Champ Andrea Lalli 9th and Scott Bauhs 10th. Debele Degefa won the women's race in a close sprint with Afera Godfay as Conley was 4th and two-time World steeplechase bronze medallist Milcah Chemos 6th.