Shalane Flanagan Wins Lisbon Half, Tadese Three-Peats Updated with IAAF story The American got the big upset win (just as we predicted) and Zersenay Tadese got the win but not the world record (just as we predicted). Flanagan ran 68:51 for the win.
OTB: Flanagan wins Lisbon. Lock for Olympic gold?
*Will there be an official Lisbon half-marathon thread?
*Letsrun...seriously your picking Shalane Flanagan to win the 2012 Lisbon Half Marathon?
*Photos
*LRC Lisbon Half Marathon Preview

B Of A Shamrock Shuffle: *Results (link fixed) *Discussion Abdelaaziz Atmani won as Abdi was 3rd. Julia Lucas won over Delilah Dicrescenzo.
Altitude Training At Mammoth Lakes
A Look At Top US Marathon Women Who Didn't Make The Team In Houston And Their Plans As They Move To The Track Deena Kastor originally thought her London Games dreams were done, but now is going to try and qualify on the track and says "my legs are waking up to the training and I feel refreshed dropping down in distance."
LRC Andrew Wheating Gets In A Snow Fight Brawl With Russell Brown Eugene got a rare snow and all hell broke loss between former NCAA star Andrew Wheating and training partner Russell Brown. Fortunately for track and field fans everywhere, it was all captured on film. The good news is Wheating appeared to be healthy before he was viciously tackled. Full video. *Discuss On The Boards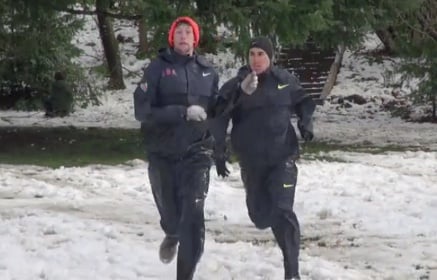 Distance News
Serena Burla Q&A After Her 2:28:27 Huge PR At Last Week's Seoul Marathon This didn't get a lot of attention, showing how much better American marathoning is getting. A bit surprising Burla didn't run Boston.

Japan And Kenya Doing The Best In The World Half Marathon Rankings The Japanese depth is amazing. The Kenyans of course dominate the top marks.
News From The UK
Random Kenyan News
US News
Getting Ready For The Olympics
Some Of The World's Best Women Are On the Comeback Trail, Learn From Them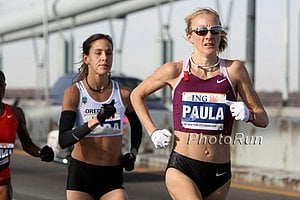 Guardian Takes A Long Look At Paula Radcliffe Dropping Out Of 2004 Olympic Marathon Radcliffe had injuries heading into Athens.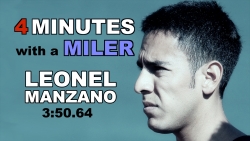 Bring Back The Mile: 4 Minutes With Leo Manzano: Leo Talks About The Mile, Breaking 4 For The First Time And This Weekend's Manzano Mile Leo's got a nice quote: "You don't ask people, 'Hey, how many 1,600s did you run today?' You ask them, 'Hey how many miles did you run today?'"
Move Over, Brojos
NY Times Asks: How Long Does It Really (Scientifically) Take To Recover From A Marathon? We like how the author, Gina Kolata, slyly brags she qualified for Boston with half an hour to spare. We now understand why she quotes LRC in her articles at times - she's fast.
Upcoming
Another Big Doping Scandal?
Tuesday's Yellow Pages Series I Event In South Africa *Full Results
South Africans Come Up Short Of "A" Standards South African steepler Ruben Ramolefi won in 8:27.50 in his 1st race since September, Gladwin Mzazi won the 5,000 in 13:24.13, Peter van der Westhuizen won the 1,500 in 3:38.61. 2012 African xc champ Clement Langat, whom some reports said was going to stay in South African to race in the meet, did not start the 5000.
*200,000 South African Rand ($26,000) To Be Split By Anyone Getting "A" Qualifiers

More South African News: Did You Know That Oscar P Has Two Pet White Tigers And He's Shed 37lbs (17kg) In 2.5 Years? Apparently he's loaded as well, as the tigers cost $47,000 each. "If you've got extra weight you've got to justify it. If it's not adding to the power-to-weight ratio, it has to go."
Upcoming Races
LRC Men's 3,000m Final Lives Up To The Hype World 5,000m champion Mo Farah squared off with two-time world indoor champion Bernard Lagat and 2012 World leaders Augustine Choge and Edwin Soi of Kenya. Once again, Bernard Lagat was too good. They were all in contention on the final lap. There was some contact, two guys running on the infield, a DQ and a resintatement, but none of that stopped Bernard Lagat from showing he's the best 3,000m runner in the world.


LRC 800s: Pamela Jelimo Is Back As USA's Erica Moore Gets Bronze, 18-Year-Old* Mohamed Aman Gets Gold The last time Pamela Jelimo was any good, Erica Moore wasn't an 800m runner. They both left World Indoors pleased, as Moore made her first sub-2:00 clocking count with a bronze medal. In the men's race, 18-year-old* favorite Mohamed Aman got gold. On The Boards: Erica Moore 800m at Worlds

LRC Hellen Obiri Stuns Four-Time World Champ Defar link fixed Obiri Closes In 4:06.6 For Gold Get used to the name Hellen Obiri. Last year, she ran internationally for the first time and won the Kenyan 1,500m championships. This year, in the fourth 3,000m of her life, she came from behind to stop Meseret Defar from getting her 5th world title.

IAAF Final Day Recap: Brittney Reese Is Incredible, Aries Meritt Upsets Liu Xiang, Will Claye Wins Brittney Reese had her back to the wall in the long jump, so what did she do? Unleash a jump that made her #3 all-time to win.

Saturday
LRC Saturday: Iguider Wins Thrilling Men's 1,500m, Dibaba Lives Up To The Hype, Ashton Eaton, Sanya Richards Ross, Chaunte Lowe And Justin Gatlin (Uh) Get Gold World Record And $90,000 For Eaton A tremendous day of action and a good one for the USA. We break it down, including the men's 1,500m, where Abdalaati Iguider ruined the coming out party of Ilham Tanui Özbilen in an exciting race that saw Matt Centrowitz challenge for the lead. Genzebe Dibaba dominated the women's 1,500, showing she's the real deal. Plus Sanya Richards Ross, Chaunte Lowe and Justin Gatlin are all back from various ailments, some self inflicted, some not. Not to mention a super-tight long jump and a gold by a 39-year-old married to a former heroin dealer.

The Fast Guys Of The LRC Puma Faas Challenge (Our Apologies For Disrespecting The Always Disrespected David McNeill)

LRC The Fastest Puma Faas Winners - Mark Wieczorek, David McNeill And Ricky Flynn LetsRun.com is made up of the most passionate and fastest runners on the planet. The three guys above entered the Puma Faas Challenge just like you even though they are total studs. Mark is a 1:46.00 800m runner, David a two-time NCAA 5,000m champion and an Australian national champion, and Ricky was a breakthough performer at the Olympic Trials Marathon. Read all about them. Thanks to Ricky's run at the Trials, he may be getting a sponsor soon, so he's giving his shoes to his roommate.

Previous: Get Inspired With The Final 20+ Winners In The Puma Faas Challenge A guy with incurable cancer who wants to run 16-minute miles, a guy who want to break 4 despite getting hit by a car going 35mph, a woman who has a 5-year running streak going that includes two pregnancies, much more.
Dreams Don't Become Reality?

LRC Haile Gebrselassie Tweets "My Olympic Marathon Dream Is Over" And Ethiopia Announces A Preliminary Olympic Marathon Team Missing A Few Stars Geb's tweet is big news as we'd like to see him make one final attempt to compete in the Olympics. Just as big news may be that neither Gebre Gebremariam, Tsegaye Kebede nor Fiyesa Lilesa were on the preliminary team. Their men's team is the top 4 Ethiopians from Dubai.

LRC Galen Rupp's American 2-Mile Record Is Highlight Among 5 World Leaders Pre-race, we pondered if this was the best men's indoor mile in the US since LetsRun.com was founded and it lived up to the hype, as Silas Kiplagat edged Caleb Ndiku in a world-leading time, but it was Galen Rupp, running to honor the late Geoff Hollister, who stole the show with an impressive American record at 2 miles. In other action, Brenda Martinez took on some of the world's best in the mile, Jamaica's 8th best sprinter beat all the Americans, and Tianna Madison (a long jump world champion most of you have forgotten) shocked VCB and Allyson Felix in the 60m.
UK News: Athletes Not Feeling The Pressure
Aussie/NZ Updates
In Case You Missed It
The "Bolt Effect"
A Younger Kawauchi! Yuki Kawauchi To Pace Younger Brother In Marathon Debut At Kasumigaura Marathon April 15th
Kirani James Pulls Out Of May 5th Jamaica Invitational
IAAF Asks "What makes a great Racewalker?" Our answer: ability to tolerate frequent mocking and strange looks on the street.
WADA Chief Calls For More Blood Testing He says athletes using performance-enhancing drugs such as HGH are "getting away with it" because not enough blood testing is being done. In 2010, WADA analyzed 258,267 samples, but only 5,000 were blood and the rest were urine.
Men's Corner
Good News For The 99% Of Us Who Wear Shoes
Barefoot Running May Not Be As Efficient As Wearing Really Light Shoes The shoe used in the test was the Nike MayFly.
4 Recommended Reads
Random News That Makes The LRC Cut
Recommended Read: 23 Years Ago From Monday, Tim Hutchings Got Silver At World XC In Boston & Now Hutchings Laments Current Bi-Annual State World Cross-Country Hutchings: "... the IAAF have a lot to answer for as they reduced it to a virtual track race with manicured lawn-like courses around the world being used for the world championships and the real skills of cross country - being able to cope with changes in surface and inclines and twist and turns - being stripped away so that the event has become more like a glorified road race or even a track race on occasion."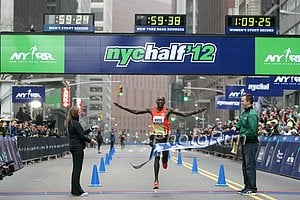 LRC Recap: Peter Kirui & Firehiwot Dado Prevail After Head-To-Head Battles From the start, both the men's and women's races turned into one-on-one battles but with different results. In the men's race, Peter Kirui did all the work as Deriba Merga tried to hang on, but in the end, Kirui was rewarded with a victory in the 2nd fastest time ever (59:35) as no American men finished in the top 10. Kim Smith led most of the women's race, but Firehiwot Dado pulled ahead late and won in a new CR (68:35) as Kara Goucher was 3rd.
*MB: NYC Half 2012 race coverage thread and updates.
*MB:Today was Ritz's worst finish Since....
*MB:Did Kim Smith get pawned? (sic)
*MB: Todd Williams is really good at broadcasting
*Nice WSJ Recap
*Davila Loved The Weather: "If you can't run fast on a day like today, you might as well go bowling."
*IAAF Recap
*Goucher: "I had a lot more fun this year."

Japanese 20-Year-Olds Impress In Half - One In Japan (1:00:53) - One In NYC (61:48) 20-year-old Olympic 10,000m Favorite Chihiro Miyawaki (Team Toyota) set a course record of 1:00:53 in his half marathon at the National Corporate Half in Japan as another 20-year-old Japanese guy beat Ritz in NYC by running 1:01:48. Plus another Japanese guy ran 61:15 in Japan.
*Japanese Collegians Talk About Their NYC Half Experiences
*Japanese Coach Talks Pre-NYC Half
Recommended Read The New York Times Introduces Kirani James To The World James has risen from poverty and a tiny party island to world champion in a very short period of time despite having an awkward left foot plant that "experts" have insisted he change (remind anyone of Michael Johnson?). James, just 19, is still a full-time student at the University of Alabama, as anything less than that and he'll be deported. Crazy. He already is #3 all-time at 400m indoors.
Olympic 100m Champ Shelly-Ann Fraser-Pryce Tells Fans - Don't Be So Critical "It's not that day for you to be telling us, 'Oh, you're worthless, you're not supposed to be doing that' ... instead of saying, 'Good luck next time. All the best when it comes again.'"

LRC 3,000s: Chris Derrick Pushes Lawi Lalang To The Line, Emily Infeld Wins Her First Title (link fixed) Friday night, Chris Derrick won accolades for coming within 1.7 seconds of beating Lawi Lalang. Derrick did even better on Saturday night, coming within .17 seconds. In the end, Derrick's efforts weren't enough, as Lalang completed the double. In the women's 3,000m, Emily Infeld won a four-person sprint around the final bend over (among others) Jordan Hasay. Hasay's Ducks were so good they would have won the team title if she had stayed in Oregon.


LRC Mile, 800 And Team Recaps: Chris O'Hare Goes Wire-To-Wire, Jordan Hasay Tries To, Mason McHenry Surprises In 800, Nachelle Mackie Gets Another BYU 800 Win, Oregon, Florida Three-Peat After beind edged out last year, Chris O'Hare went gun-to-tape to win the mile, while Jordan Hasay tried to do the same but just came up short. In the 800s ASU's Mason McHenry showed what running your best when it matters can do for you, and Nachelle Mackie made it two years in a row for BYU wire-to-wire victories. In the team competition, Florida three-peated thanks to Jeff Demps (60m three-peat), Tony McQuay (45.77 400) and Omar Craddock (triple jump win). Oregon three-peated on the women's side and was led by Jordan Hasay's 11 points, plus English Gardner winning the 60 and Brianne Theisen the pentathlon.

Curtis Beach Sets Six PRs And Runs 2:23 1,000m To Get NCAA Heptathlon Title Beach ran 1:50 for 800 in high school and could be a mid-d runner if he wanted to. 2:23 is incredible for a multi guy. Discuss here.
Friday NCAAs
LRC 5,000s: Chris Derrick Puts Up A Brave Fight In 5,000m As Lawi Lalang Wins The Title, Betsy Saina Holds Off Deborah Maier Chris Derrick may not have won the men's 5,000m on Friday night but he earned a lot of people's respect with the way he challenged the fastest-ever 5,000m runner in the NCAAs, Lawi Lalang. In the end, Lalang had too much the final 200. On the women's side, Betsy Saina got her first NCAA title despite a tough challenge from Deborah Maier.
OTB: Chris Derrick... WHAT A RUN!!!!!! *CMON DERICK, DO IT FOR AMERICA!!! *Debbie Maier is Rockin it!

LRC DMRs: Notre Dame Surprises And Katie Flood Lives Up To The Hype To Get Washington The Title Notre Dame's Jeremy Rae holds off IU's Andy Bayer and BYU's Miles Batty to get the win. Katie Flood runs fastest women's mile of the day to get Washington the win over Oregon, Dartmouth, and Georgetown.

LRC Mile And 800m Prelim Recaps All the big favorites through, but a couple of surprises.
OTB: Fall In Heat 2 Of Men's Mile *Cas Loxsom is a CHOKE ARTIST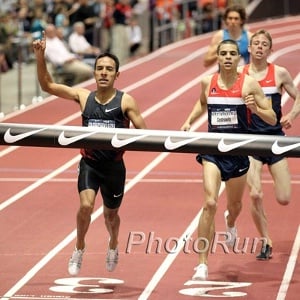 Sunday: LRC Manzano Outkicks Centrowitz And Rupp To Win 1,500, Simpson Holds Off Martinez (Updated) Two weeks ago, Manzano ran 3:57 in his opener but was last place in a super-stacked mile in Arkansas. In the women's 1,500m, Jenny Simpson edged Brenda Martinez, showing Martinez is the real deal (Martinez had by FAR the best finish as she got boxed and was 6-7 meters back with 100m to go and barely lost), and Sanya Richards-Ross ran a 50.71 meet record. Chaunte Lowe set an American record in the women's high jump, showing she is more than back from maternity leave. Distance recaps, results, and videos with winners.
*Ashton Eaton Wins LJ With A New PR
On The Boards: Manzano outkicks Centrowitz and Rupp!
Really, what happened Rupp in the last two laps tonight?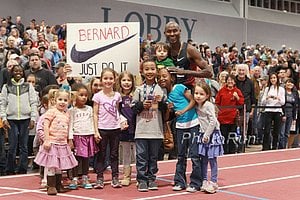 LRC USATF Indoor Men's 3k: Lagat, Lomong Crush Rupp (Updated w/ video interviews) Galen Rupp pushed the pace early, hoping his 12th attempt at beating powerhouse Lagat would be the charm, but was badly dropped before the bell, unable to challenge Lagat, who then crushed Lopez Lomong with a 25-second last lap. On to Worlds for Lagat, where he may be the favorite to defend his title. Like Lagat, Jenny Simpson ran away with the women's 3,000m title. Find out why she won't be running in Istanbul.
*IAAF Recap Day 1 Will Claye jumped 17.63m in the TJ for the furthest mark by an American in 23 years.
*Jennifer Suhr Overcomes Aching Achilles To Win PV At US Champs She only had to clear two heights and then made 3 attempts to break her own AR, but missed.
*Results *LRC Official USA Indoor TNF Champs ABQ Thread
*Lagat: "I just wanted to show these guys that Daddy can still kick." RRW Recap
*USATF Recap
Flanagan Over Davila, Goucher Gets Third As Top 4 All Break Old OTrials Record Flanagan (2:25:38) pulled away from Davila (2:25:55) and Goucher was third in 2:26:06. Amy Hastings broke the old Trials record at 2:27:17 but didn't make the team. Deena Kastor was 6th in 2:30:40.
LRC Men's Marathon Trials Analysis And Reaction The 2012 Trials race was a classic. We throw some love to the top 3, ponder Ritz's future in the marathon, tell you who had the best debut, and tell you who that guy you never heard of was. Plus we talk about Meb's 74-year-old badass dad and look at the fortune of some old timers who didn't make the team, Josh Cox and Dan Browne, in addition to the ones who did (Meb and Abdi).

Race Recap: Meb Keflezighi Captures 2012 Olympic Trials Marathon Title
Three Nice Deals On Running Shoes
1) Nike Free 2+ $59.98 For men - 1 color only at this price. Other colors and women $79.99-$99.99.
2) Adidas Leap $49.98
3) Brooks Adrenaline 11 $59.98
Little LRC gets a commission with your purchase.
Weekly Recap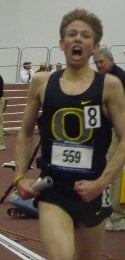 LRC The Week That Was In Running: March 5 - March 11, 2012 This week, we wonder if the NCAA milers could have beaten Bernard Lagat at Worlds if they'd jumped into the 3k with a mile to go, compare Chris Derrick to Galen Rupp, tell you how Meseret Defar was beaten at Worlds, tell you how many NCAA runners would have medalled at Worlds, pay homage to the great Mizuki Noguchi, and also explain why indoor track in many ways is better than outdoor track.
Highlights And Last 800m Of Men's 3,000m At Worlds (Larger Video Here - We Previously Had It Set Up So You Could Watch Without Knowing The Results)
High School New Balance Nationals *Results
Men's 1,500m Final From World Indoors (Women's Here)
Prince Harry Over Usain Bolt
Day 2 USATF Indoor Photos (Tokyo Marathon Photos Here)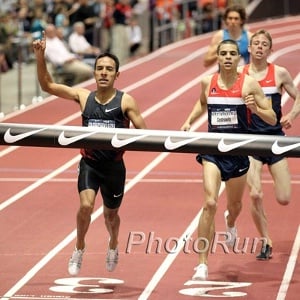 Day 1 USATF Indoor Photos
Spend 10 Minutes To Get To Know The World's Best(?) Marathoner Patrick Makau (Also Has Footage Of Him Training In Kenya)
LetsRun.com Track Talk Live From Kenya: Friday's Live Show Is Now Available On Demand In The Player Below (Or Download It Here)
Rupp's 2-Mile American Record From Arkansas (Last 2:20 Or The Full Race)
Final 400 (Or Full Race) Of Lagat's American Record (Wanamaker Mile Video Here)
Photo Gallery: Rupp Makes History (Interview Below Or Here)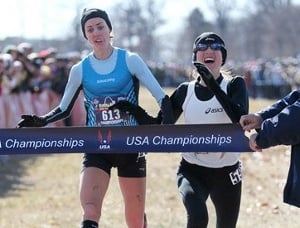 Trailer For "ITEN - The Town Of RED Dust"
NCAA Women's Photo Gallery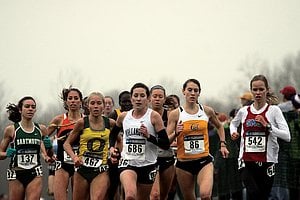 NCAA Men's Photo Gallery (500+ Photos)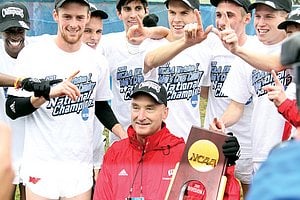 Training Corner (More In The Training Forum)