The Week That Was In Running: March 5 - March 11, 2012
By LetsRun.com
March 15, 2012
Last weekend, we nearly killed ourselves as we slaved away for you, our loyal reader, covering both the World Indoors and NCAA Indoors at all hours of the night. The lack of a European daylight savings threw us for a loop but we recovered and managed to keep you in the loop.
However, it took us a while to recover from that ... but we are back before the end of the week with a few comments about last week's great NCAA Indoors and World Indoors action. But first we make you pay attention to a race in Japan.
****
2004 Olympic Marathon Champ Mizuki Noguchi Returns To The Marathon & We Notice
Noguchi Loses To Someone Not Named Catherine Ndereba For 1st Time In Her Life
Last weekend, the final Japanese selection race for the Olympic marathon team was held - the Nagoya Marathon - and 2004 Olympic champ Mizuki Noguchi competed. We know the race and her participation in it generated next to zero press in the US, but that doesn't mean it wasn't newsworthy. As a result, we started our weekly recap with her race as we want people to appreciate it.
Noguchi hadn't run a marathon since 2007, so just getting back to the starting line was a huge accomplishment.
And Noguchi certainly made the race memorable. Even though she dropped off the lead pack before halfway (by 17km), the great champion did not give up. She captivated the nation for a while when she re-took the lead at 30km, but ended up 6th in 2:25:33.
Now here's a crazy stat for you that shows you how great Noguchi is even though most people don't realize it. Prior to Nagoya, only one woman, Catherine Ndereba, had ever beaten Noguchi in a marathon. Yes, that's right. Prior to Sunday, Noguchi had finished 6 marathons and won five of them. In the one that she didn't win, she got second at the World Championships to Ndereba.
Noguchi Gave It A Go In Nagoya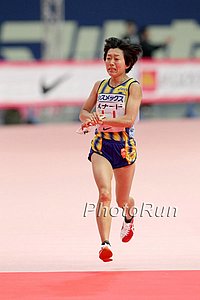 More Nagoya Photos
2002
2:25:35 1 Nagoya 10 Mar
2003
2:21:18 1 Osaka 26 Jan
2:24:14 2 WC Saint-Denis 31 Aug
2004
2:26:20 1 OG Athína 22 Aug
2005
2:19:12 AR 1 Real Berlin 25 Sep
2007
2:21:37 1 Tokyo 18 Nov
2012
2:25:33 6 Nagoya 11 Mar
More: Japan Running News Recap Of Last Weekend's Final Selection Race - The Nagoya Marathon
****
How To Win A 3,000 World Indoor Title - Close Fast As Hell
The men's and women's 3,000 at the 2012 world indoors were two of the bigger races of the action-packed weekend.
In the women's 3,000, in one of the bigger upsets of the meet, Ethiopia's Meseret Defar, who had a 3-4 meter lead at the bell, was destroyed by Kenya's Helen Obiri over the final 200m as Defar's bid for a 5-peat came to a shocking end as it seemed all race that Defar was in total control.
After it was over, we thought to ourselves, "Did Defar really lose? How did that happen?"
The answer is simple.
4:06.0 -
4:06.0 is the time of the last 1,500m run by Kenya's Helen Obiri in the 3,000.
That is very good. Only three women ran faster than 4:06 for 1,500 all year indoors this year and Obiri did it in the 2nd half of a 3,000. Guess what Obiri's seasonal best at 1,500 was this year? 4:06.25, which she ran in Germany on February 12. LetsRun.com has also calculated Obiri's final mile to have been 4:25.3, which is better than the 2012 world leader of 4:28.41.
Meseret Defar has nothing to be ashamed of. The 4-time world indoor 3,000 champion ran a good race. Someone just went out and ran an Olympic A standard for 1,500 in the 2nd half of a 3,000 to beat her. Very impressive.
Obiri wasn't the only one who ran a great final mile to win a 3,000 in Istanbul.
By our estimation, the final mile of the men's winner, Bernard Lagat, was almost exactly 4:00.0, with a final 400 of 54.2 and final 200 of something like 26.2. After watching that, we were wondering how many if any of the NCAA men's milers could have beaten Lagat if they'd hopped on the track totally fresh after the pros had done 1,400 meters of running. We'd say maybe - MAYBE - one.
Tulsa's Chris O'Hare won the NCAA mile in 4:01.66 with a last 400 of 54.15 and last 200 of 26.92.
So the overall finishing time of the NCAA mile was slower than Lagat's final mile at Worlds and the last 400 at NCAAs was almost exactly the same as at Worlds, but since Lagat's final 200 was noticeably faster, we must admit we are giving him the edge over O'Hare.
****
How Many NCAA Guys Would Have Medalled At Worlds?
The talk above got us to thinking - how many of the NCAA guys and gals would have medalled at Worlds if they'd been there?
To be truthful, the mid-d and distance runners are pretty much the only one's at NCAAs who would almost have zero shot of medalling. In most of the other events, watch out.
We did a little research and here are the NCAA guys and gals that would have medalled at Worlds had they just equaled their NCAA performances.
Silver Medallists
Heptathlon - Curtis Beach 6,138
Heptathlon - Japhet Cato (6,082) (assuming Beach wasn't there, or he'd obviously had been knocked down to bronze)
Women's 60h - Christina Manning (7.91)
Women's HJ - Brigetta Barrett (1.96)
Bronze Medallists
Men's 60- Jeff Demps (6.56)
Men's 400 - Tony McQuay (45.77)
Men's 4 x 400 - Arkansas 4 x 400 - 3:04.93*
Women's 400 - Diane Dixon (51.78)
Women's 60h - Brianna Rollings (7.93)
Women's LJ - Whitney Gipson (6.91)
Now you'll notice we put an * next to the Arkansas 4 x 400. An asterisk means they wouldn't have medalled. They wouldn't have medalled at World Indoors for a simple reason - they wouldn't have been allowed to compete as a team, since two of their members are from the US, one is from Estonia and one from Jamaica.
Oh yeah, there was one time at NCAAs that would have actually won gold at Worlds. Are you ready?
Mason McHenry's 1:47.96 win in the men's 800. Now, we didn't even bother to mention it as the facts are, he'd have zero chance at medalling at Worlds. Mohamad Aman's winning time of 1:48.36 at Worlds was slower but only because Aman's opening 200 was roughly 29.5.
The mid-d or distance runner with the best chance of medalling would have been Arizona's Lawi Lalang. But Lalang's last mile in the 3k at NCAAs was probably just under 4:06 (4:05.8) with a last lap of 55.88 and last 200 of 27.28. Remember Lagat's last mile was 4:00 and his last 500 was 54.2 and last 200 was 26.2.
Now a World Championships silver medal is worth $20,000 in prize money. But when you consider that, say, a Duke education with room and board is now approaching $60,000 per year after taxes, everyone in the NCAAs isn't necessarily losing out by staying in college.
****
5 Random/Parting Thoughts About The 2012 World Indoors
1) If it wasn't for the fact that the true stars of the sport to the public at large - the 100m and 200m men - really have nothing to do indoors, we'd say indoors track in many ways is better than outdoor track for the following reasons:
i) The weather is always perfect. 70 degrees and zero wind. How many outdoor races do you watch where the announcers complain for 10 minutes about how no one will do anything good because the weather sucks?
ii) A small crowd looks big indoors and is way louder inside a domed stadium.
iii) The small track makes the races full of jostling, which is exciting.
iv) The short straightaways (and the lack of wind) makes frontrunning easier, so more people aren't afraid to lead.
The men's 1,500 was a great race in that regard. Seriously, watch it and tell us you don't think it's a race an average sports fan would enjoy. Look at all of the contact:
Admittedly, the silver medallist Ilham Tanui (William Tanui of Kenya) Ozbilen of Turkey could have been almost DQed about 3 times, but he did a great job of pushing people out until lane 2 on the turns while not letting someone else come on the inside. On another note, Ozbilen wasn't supposed to be allowed to compete for Turkey until 2013. Now miraculously right before Worlds are held in Turkey, he is cleared to compete and this will make medalling at the Olympics harder.
But think about other sports. You see action like that all the time - it's often all about jostling.
In the winter Olympics, there is a reason why short track speed skating seems to be more popular than the original - it's full of contact. If NASCAR was like outdoor track, they'd just run the cars in time trials in separate lanes. Instead, NASCAR is like indoor track, where people have to battle for the pole position.
Seeing 400-meter runners jostle for the lead at the crash is exciting. We'd like to see a 400 outdoors where people break for the pole on the backstretch. Not every race, but spice it up every now and then.
2) "What about the sport?" We think it's ridiculous that a world championship is held and so many athletes skip it because it doesn't fit their training cycle. Something needs to change. Three possible solutions:
i) The athletes need to stop making excuses (it was only two weeks after USAs).
ii) The IAAF needs to change the dates of the championships - move it up a few weeks (world outdoors is in August, put world indoors 6 months later in February so people can have two true peaks).
iii) The shoe companies, which basically pay the athletes, need to make it part of their contracts.
iv) The IAAF needs to consider ways to entice athletes to compete at more major events. Pro tennis forces athletes to compete at certain events.
3) Memo to Universalsports.com. We enjoyed watching the coverage on TV, but how many times do we have to say it? Please get one distance expert in the booth. You need a distance nerd in the booth to talk about distance races. End of story.
We don't get why television broadcasts will repeatedly have non-distance people talk about distance races. Quite honestly, distance races take up the most time, so that's when you need the most knowledgeable commentators as there is a lot of time to fill in a 3k or 5k. Having a former heptathlete talk about distance races is about as smart as having someone from LetsRun.com talk about the high jump. The only difference is in the high jump, we could only show our lack of knowledge for a little less than 10 seconds during an approach, not for a little less than the 10 minutes it takes to run a 3k.
Jill Montgomery, the one Universal had as the color commentator on the distance races, is very good-looking and has been compared to Erin Andrews and she's a good overall announcer to have on a broadcast, but she doesn't know distance and isn't excited about it (she's a former heptathlete, apparently). If the race goes out slow, a distance aficionado isn't going to bitch and complain about it.
Ato Boldon is the best in the business with the sprints. If you are going to use a non-distance guy for the distance portion of the broadcast, we suggest you use him. He's probably smart enough to either turn it down or email us for advice.
4) David Rudisha, watch out. Your loss to Mohamed Aman wasn't necessarily a fluke as the guy is clearly the real deal.
5) Erica Moore - You are our Performer of the Week. While many of your more accomplished fellow competitors couldn't be bothered to go to World Indoors, you went and ran a PR when it mattered most - in the final - and left with a bronze medal. Not only that, you dived across the finish line. We officially are rooting for you to make the US Olympic team.
More: MB: Erica Moore 800m at Worlds
****
Comparing Chris Derrick & Galen Rupp

One of the biggest stories of NCAA indoors was the fact that Lawi Lalang lived up to the hype, but boy did Chris Derrick make him work for it, as Derrick fought bravely in both the 5,000 and 3,000.
After NCAAs were over, there was an interesting thread on the message board last week after NCAAs entitled: Galen Rupp 6 titles=no heart. Derrick zero titles=all guts
The thread was basically asking if the reputations of Chris Derrick and Galen Rupp while in college are justified. Remember Rupp, until he broke out in 2009 at NCAA indoors, was viewed as the guy who couldn't win the big one and he was often ripped because he couldn't win, whereas Derrick received heaps of praise last week for coming up just short.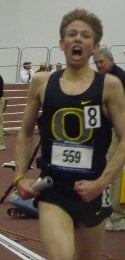 We think the thread is a good one because often in running, people are viewed as winners or losers when in reality winning is often largely out of your control. If you are going up against an all-time great, it's very hard to win. The fact of the matter is Lawi Lalang is way better on the track at 3k/5k than Sam Chelanga was in college and Chelanga was Rupp's main rival. If Derrick was facing the competition this year that Rupp faced in 2009, there is zero doubt in our minds that Derrick would be an NCAA champ, as he would have at least won the 3,000 at NCAAs. The 3,000 at the 2009 NCAAs was a Rupp cakewalk and would have been a Derrick cakewalk as well if that's what Derrick had faced this year. The runner-up in the 3,000 in 2009 was sophomore Michael Coe of Cal and the third placer was Elliot Heath of Stanford, who was just a freshman.
That being said, we're not sure if Derrick would be able to close down the NCAA 5k in 1:55 as Rupp did in 2009 or if Derrick ever could anchor the Stanford DMR to victory as Rupp also did in 2009 (Rupp pictured after winning on the right). But we like the thread as we doubt very few people even contemplate Derrick being in Rupp's league - and in our minds, they should.
People need to realize that when Rupp shot to NCAA track dominance in 2009, he was basically a year older than Derrick is right now. Derrick is 21 and doesn't turn 22 until October. Rupp was 21 in 2008 when he redshirted the NCAA track season to focus on the Olympics. He was 22 when he won his first NCAA indoor title in 2009 and 23 (May birthday) when he won his first of only two NCAA outdoor titles.
PRs Before Age 22/# NCAA Titles
Galen Rupp - 7:49.16 13:30.49 , 27:33.48 - Zero Titles.
Chris Derrick - 7:46.81, 13:19.58, 28:26.65 - Zero Titles.
That being said, Rupp might have won some NCAA titles in 2008 at age 21 had he raced, as he ended up being very good that year. The 27:36 10,000 that he ran that summer (after turning 22) in the less-than-ideal conditions of the Beijing Olympics didn't get him much praise, as he was only 13th, but it was a performance that was probably equivalent to something close to the old American record of 27:13 at the time.
****
A Few Other Thoughts About Last Weekend's NCAA Indoor Action That We Wanted To Mention Before We Call It A Day
1. To win an NCAA 800-meter title by more than 1 second is impressive/ridiculous. Congrats to BYU's Nachelle Mackie, who won by 1.18.
2. How many people would have thought going into the weekend that Oregon's Jordan Hasay or BYU's Miles Batty would win zero NCAA titles between the two of them over the weekend? Last year, they won 4.
****
6 Quotes Of The Week (That Wasn't Quote Of The Day)
****
#1: "I was fortunate to be a part of that era (the 1970s and 80s which featured an indoor circuit of 11 laps to the mile indoor tracks). Now, there's less drama and more money."
Looking back, the "Chairman of the Boards" says: "I'll take the drama."
- Eamonn Coghlan talking in a fantastic piece by Nick Canepa in the San Diego Tribune looking back at Coghlan's indoor mile world record of 3:50.6 that Coghlan set in 1981 in San Diego, which Canepa says is easily the best sporting moment he's ever witnessed in 40 years working in San Diego.
****
#2: "There is no difference between the World Cross Country Championships and the Africa Cross Country Championships, because competition is always between Kenyan and rivals Ethiopia and with the confirmation of Ethiopia runners to grace the championships, it will be as competitive as a World Cross because it will have the best,"
- 2011 world junior XC champion Faith Chepngetich talking to The Standard about the upcoming African Cross-Country Championships.
****
#3: "Growing up, I was always a football player, so I never dreamed of running in the Olympics. But in high school when I started to run, something just turned on in me."
and
"(My coach Mike Holloway has) called me at 1 o'clock in the morning and said, 'You need to work on this tomorrow and watch this video.' And I'm like, 'Coach, it's 1 in the morning.' And he said, 'Yeah, but we've got to get it done.'
- 2012 NCAA 60m champ Jeff Demps talking in a New York Times profile on Demps which talks about why he's passed up on the chance to be 3rd or 4th round pick in the NFL to pursue sprint stardom.
****
#4: "(He went out) way too fast. As much as we try to get him to run more event splits, when there's people ahead of him, he only knows one speed: All out to catch people."
- St. Benedict's head coach Marty Hannon talking to ESPN Rise about how his star pupil Edward Cheserek went out in 54.6 (25.6 1st 200) on the anchor of the DMR at the New Balance HS indoor nationals. On the weekend, Cheserek or his team won the 2 mile, SMR and DMR, but he did get beaten in the open mile.
****
#5: "It (my rosary) belongs to my nephew, we steal each other's stuff. It is his prized possession and I took it from him. He is kinda my inspiration. He is really tiny, but he goes out every year and tries out for the basketball team and he knows he is not tall enough, but he goes everytime and sticks with it because he is determined to make the team."
"Knowing that has been a real source of inspiration for me, to see that he is so driven and determined. So he is my inspiration this year to go out there and push on."
- 31-year-old Jamaican sprinter Aleen Bailey talking to the Jamaica Gleaner about her good luck rosary. Bailey herself probably feels a bit overmatched as well, as its hard to keep up in the sprint ranks at age 31. She was 7th at World Indoors last week.
****
#6: At Los Angeles High School, where at 15 he walked the halls with a cane, he began to accept his disability. But by December 2004 of his senior year, he felt bored, unchallenged. He searched for something new.
His research led to marathons, and he decided to run in the L.A. Marathon the next March. Though he didn't like running, he wanted to prove a disability couldn't stop him or others like him.
"I don't know if you've noticed or if you knew, but in the blind community, there are so many people that are couch potatoes, who are not doing anything with their life. There's so much that they can do."
- Excerpt and quote from an LA Times profile on blind marathoner Christian Alvarado.
****
Other Happenings Of Note
High School New Balance Nationals *Results
NCAA DII and DIII
Gate River Run *Results
Mo Trafeh Three-Peats, Janet Cherbon-Bawcom Wins Title And Equalizer Bonus Molly Huddle was 2nd on the women's side and Christo Landy was second on the men's. More coverage here. *RW Post-Race Brief Chat With Trafeh Here
Japan's Olympic Marathon Team Is Released And LetsRun Hero Kawauchi Is Snubbed
****
Recommended Reads/Listens
*Lots Of Great LRC Coverage Of Both 2012 World Indoors & 2012 NCAA Indoors Here
*San Diego Union Tribune Writer Syas Eamon Coghlan's 3:50.6 Indoor Mile Record From 1981 Was Easily The Best Moment He's Covered In 40-Plus Years
****
Quotes Of The Day From Last Week / Last Week's Homepages
Note: To see a particular day's homepage, click on the hyperlink of the date on the left. The quote's hyperlink will take you to that particular article - not that day's homepage.
Monday 3/11: "I was thinking his back was the national championship. I wanted it really bad. I felt I was so close."
- Stanford's Chris Derrick, talking about the final straight in the men's 3,000m at the NCAA Championships, where he finished .17 seconds behind Lawi Lalang, one day after finishing 1.7 seconds behind Lalang in the 5,000m.
---
Sunday 3/10: "I heard the roar and thought 'maybe I'm dropping him.'" Then when Lalang came by him at the bell, Derrick said he realized, "No. That (roar)'s for him."
- Stanford's Chris Derrick, talking about the move he made in the NCAA 5,000m to take the lead over Arizona's Lawi Lalang. Derrick made great moves with 800m and 300m to go, but finished runner-up with 13:26.88 to Lalang's 13:25.11.
---
Saturday 3/9: "The thing about Alex is, she is so conscientious - every mile, every whirlpool, every stretch, every pair of shoes, every little detail, everything there could be, she takes care of them. I think sometimes that is her problem, because if one little thing goes wrong, and you're depending on a routine, you can't roll with it."
- Vin Lananna, talking about Oregon senior Alex Kosinski who will run the 5k tonight at NCAA Indoor Nationals. She is a 6-time All-American but has never ran at NCAAs Indoor due to injuries, so has missed being part of Oregon's last two championship teams.
---
Friday 3/8: "I was absolutely elated and couldn't wipe the smile off my face as I warmed down around the Stanford University campus, still couldn't stop smiling as we celebrated with pizza delivered to our hotel and a single beer by the pool (as we couldn't find anywhere open that late on a Sunday night). My manager Nic Bideau described it as the most subdued celebration of an Australian Record that he had ever witnessed, yet I was content- which for me showed that I had definitely come a long way from my former party-boy days when I would have celebrated winning a game of Mario Kart with a streak through campus and a week-long bender."
- Australia's Ben St. Lawrence, talking about last year at Stanford, where he set a 40-second PR to break the Aussie 10,000m national record, in this blog about his path from overweight partier to Olympian.
---
Thursday 3/7: "At an Olympic Games or any major event the performance impact of becoming ill or even feeling a little bit ill can be significant ... Hand hygiene is it. It is all about hand hygiene."
- BOA chief medical officer Dr Ian McCurdie talking about why the Brits are encouraging their athletes to not shake hands at the 2012 Olympic Games. Meanwhile, an expert of British etiquette is justifiably upset for the lack of decency from the hosts.
---
Wednesday 3/6: "I've been on this newspaper (San Diego Tribune) for 40 years ... when I'm asked to name my greatest sporting moment on San Diego turf, I don't have to rifle through my card catalog ... nothing tops the night of (Eamonn) Coghlan's (world indoor record in the) mile on the Sports Arena boards during the Jack-in-the-Box Indoor Games (in 1982). It was electrifying. He blew the roof off the joint. If you had never seen a track and field event in your life, even if you were the losers' parents, you had to feel what it's like to be a page in history."
- Nick Canepa writing in the San Diego Tribune about Eamonn Coghlan's 3:50.6 world record at the Jack-in-the-Box Games in 1981 on an 11-laps-to-the-mile track in San Diego.
---
Tuesday 3/5: "I was just chasing and chasing. I was not ready to run with the leaders when the real racing started at 25Km, so I decided to run my race and was just hoping that the leaders would come back to me. When I was getting closer (to the Japanese in front of me) I kept on chanting 'Olympics, Olympics' in my heart and kept on pushing."
- Japan's Ryo Yamamoto, who had a 3:44 PR to run 2:08:44 at the Lake Biwa marathon over the weekend, overtaking top Japanese honors on the track in the final 400m to likely secure himself a 2012 Olympic berth.
---