2012 Track & Field By The TV Numbers
Broadcasts On National TV Still Far Outdraw The Internet - Millrose Was Seen By At Most 1/5th The People As Your Standard Visa Championship Series Event
By LetsRun.com
March 15, 2012
With the indoor track season now over, we thought we'd take a chance to look back and tell you how the indoor meets did on television.
If our sport wants to grow, people have to be able to see it.
We reached out to the Nielsen Company, who does television ratings in the United States, and asked them for ratings for some of the indoor meets in the US this past year. Without further ado, the TV ratings for some recent indoor meets:
Date
Event
Channel
# Of Viewers P2+

March 2012

World Championships

Universal Sports

-------

Feb26, 2012

USATF Indoors

ESPN

586,000

Feb12, 2012

USATF Classic In Arkansas

ESPN2

459,000

Jan29, 2012

US Open @ Madison Square Garden

ESPN2

447,000

*All Shows Above 2 Hours. P2+ Represents The Average Number Of Viewers
The first thing you probably noticed is the World Championships do not have a number of viewers for them. That is because they are on Universal Sports, a cable station that does not even get rated by Nielsen. The basic premise is Universal Sports is on so few outlets that for practical purposes it is too small to measure how many people are actually watching it. So from a TV perspective, the biggest indoor meet of the year almost didn't exist in the United States (although we'll admit that we personally very much liked the meet being on TV, as it's way better to watch it on an actual television versus the Internet).
The data shows that the two broadcasts above on ESPN2 got similar ratings and the broadcast on ESPN did a little bit better. This is what most people would expect. We didn't get the ratings for the New Balance Boston Games, which also was on ESPN2, and think it would have similar ratings.
While we were bothering the people at Nielsen, we decided to ask them for viewership numbers for some other prominent track and field/running shows from the last year. All of these events were on NBC.
Date

Event

Channel

# Of Viewers P2+

Jan 14, 2012

Olympic Trials Marathon

NBC

1,100,000

Nov6, 2011

ING NYC Marathon

NBC

706,000

Sept4, 2011

Last Day Of World Championships (1.5 Hours)

NBC

1,560,000

Aug 28, 2011

World Championships (Usain Bolt 100m DQ) (1.5 Hours)

NBC

1,752,000

June 4, 2011

Preontaine Classic (1.5 Hours)

NBC

750,000

*All Shows Above 2 Hours Unless Otherwise Indicated. P2+ Represents The Average Number Of Viewers
These shows got higher ratings, but that could be expected as they were higher profile events, plus events can expect a lift from being on NBC even versus ESPN. We were pleased to see the Olympic Trials Marathon did pretty well. That beat the New York City Marathon just as it did in 2007. In 2007, the men's Trials only got a half-hour highlight show. Here it got two hours and the number of viewers was better than in 2007.
How Did The Millrose Games Do On YouTube?
The other big news this indoor season was the Millrose Games moved from Madison Square Garden to the Armory. We were outspoken critics of the move, as we believe track and field should be on the biggest stage possible. The Armory people do a great job putting on meets and the Armory should definitely have a pro meet, but in our opinion, it just should be in addition to the Millrose Games. As part of the move to the Armory, the Millrose Games dropped out of the Visa Championship series and as a result for the first time in 5 years was not on LIVE ESPN2 (all the meets above were on tape delay).
The good news was the meet made the best of a bad situation and formed a partnership with YouTube. At the time the partnership was announced, LetsRun.com's Wejo (Weldon Johnson) said, "The key question is does YouTube put some promotional muscle behind this. Claude Ruibal, the founder of Universal Sports now is the head of sports at YouTube, and they need to generate buzz. If youtube puts a banner atop its site, "Live Now Millrose Games" then that means something otherwise view this as not much different than a track meet streamed on UniversalSports.com."
Well, what happened? YouTube promoted the site on its homepage and its Twitter feed. Screen shots below come courtesy of Brett Hoover - the excellent webmaster of the Armory and Hepstrack.com.
9:52 pm Eastern screen shot of YouTube homepage (click for larger image):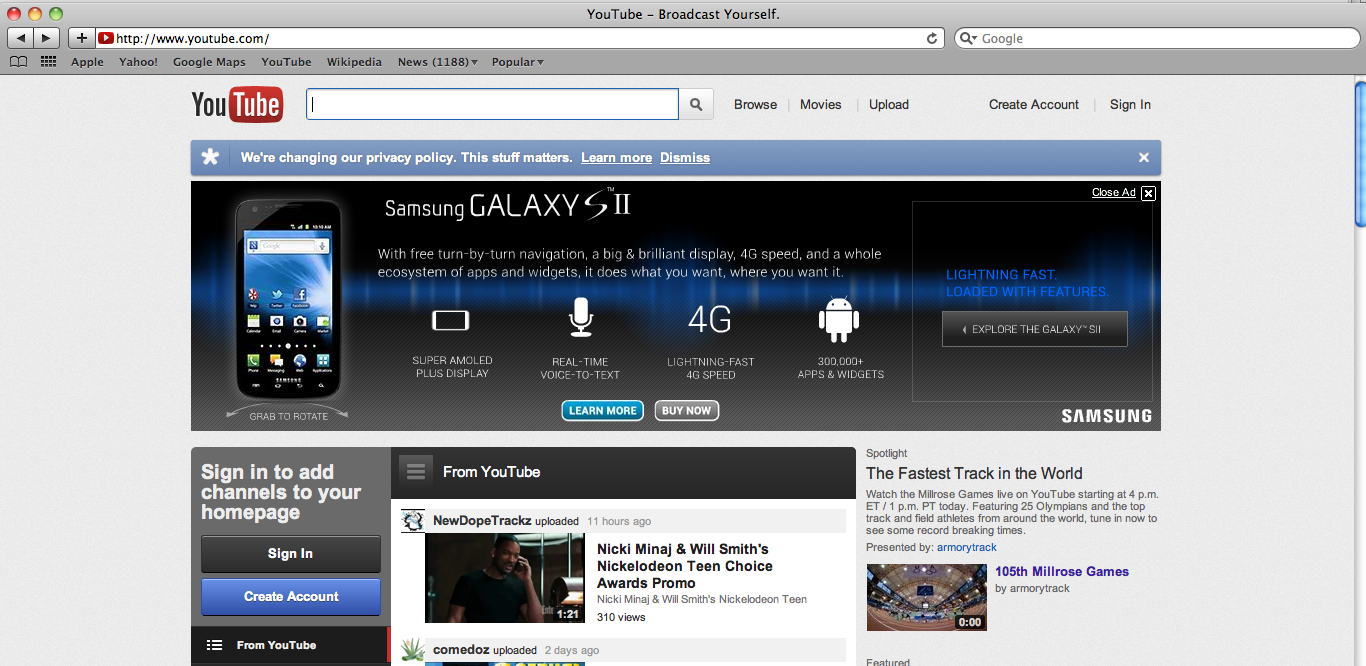 YouTube's Twitter feed, which later this week will probably go over 10 million followers, promoted the meet: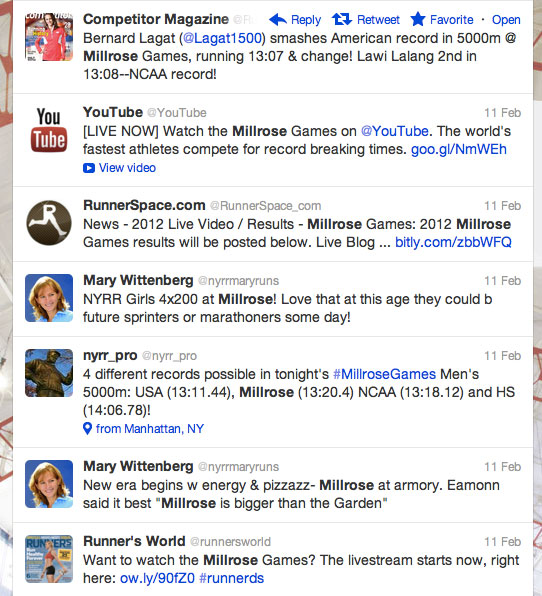 Very impressive promotion for our sport. The other good thing was the broadcast itself was of tremendous quality in terms of streaming. Very well done.
So how did that translate into viewers?
85,000 people total watched the Millrose Game live at some point according to Brett.
A few caveats on the number. First, Brett said there was a problem with the low-definition stream and Millrose people believed this number would have been higher if that stream had worked. The second caveat is this is the total number of viewers who at one point hit play on their computer, not the average number. It's important to remember that the Nielsen numbers above for the TV broadcasts are not the total number of unique viewers, but rather the average number of viewers for the broadcast. Also realize that the Millrose broadcast went from 4pm to 11:30 pm.* So if you hit play to watch the Youth Girls' 4 x 200-meter Relay at 5:27pm and watched for 2 minutes, you count as a viewer. Over 7.5 hours, you're going to have way more total viewers than average viewers.
But even if one pretended the total number of viewers who watched Millrose was the average number of viewers, the stats show that at most one-fifth the people watched Millrose as watched the USATF Classic on ESPN2. And in reality, it was even less as that's not an apples-to-apples comparison - it's more of an apples-to-oranges comparison, as the average number of viewers was probably significantly less for Millrose.
One fifth the audience and this was with front page promotion on YouTube and on the Twitter feed and counting a total viewer as equivalent to an average viewer. Imagine what will happen when YouTube doesn't do that for our sport? This is why we say the biggest events of track and field need to be on national TV.
While it is great to try bring in new fans of the sport with the homepage promotion on YouTube, we bet many of these viewers didn't stay around too long. Check out this link: http://goo.gl/info/NmWEh (hit "alltime"). It shows that 1,725 people clicked on the link to watch the feed from the promotion on the YouTube feed. Yes, 9 million followers on Twitter only corresponds to 1,725 clicks. And 2/3 of those clicks were from outside of the US.
Clearly, the reach of an internet broadcast even with homepage promotion of YouTube behind it (which we can't expect our sport to always get) is currently vastly inferior to TV on a major network.
Still, Millrose deserve props for going for the largest internet audience possible. Plus their move to YouTube had some positive side effects, as other meets like the ones in the Visa Championship series started putting their races on YouTube for archival purposes. Our sport archives very well.
Internet Vs. TV Is Secondary To Putting On Interesting Meets
The internet vs. TV debate is a short term concern as internet and TV continue to converge. The most important issue facing our sport is putting out a compelling product people want to watch. If track and field does not have interesting matchups that are produced and promoted effectively, then our sport will continue to suffer. If an event is boring, not a lot of people will want to watch it whether it's online or TV. If it's compelling, someone will figure out how to get it before a large audience. Eyeballs means dollars and the hidden hand has a wonderful way of working these things out.
****
*We're assuming the Millrose numbers don't include the Millrose Collegiate Meet, which started at 9 am. If they do, the number of visitors for the pro meet is even less.