World Indoors (And NCAA Indoors) This Weekend
Final Japanese Selection Race - 2012 Lake Biwa Marathon *Photos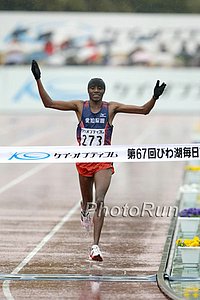 Kenya's Samuel Ndungu Debuts With 2:07:04 For The Win as Japan's Ryo Yamamoto Has Huge 3+ Minute PR To Grab Olympic Spot Henryk Szost got the Polish NR with 2:07:39 and Ryo Yamamoto was the first Japanese in 2:08:44. The Japanese has 2 sub 2:09s, 5 sub 2:10s, and 7 sub 2:10:06 ins this race.
Caster Semnya Opens Up
HS News
*Mary Cain Wins 1,500 At NY State Meet With 4:24.25 To Set Sophomore USR And #4 All-Time Saratoga HS/Oregon alum Nicole Blood had the previous record at 4:27.57.
*MB: MARY CAIN is easily the greatest running prodigy in the US since Mary Decker Slaney
*Futsum Zeinasellasie Opens Season With 9:00 3,200 At MIC Invy
*Top HS Marks From Weekend
*Cain: "I was just like, 'Kill it.' Once I took the lead, I was like, 'I'm not letting this up.'"
Dreams Don't Become Reality?

LRC Haile Gebrselassie Tweets "My Olympic Marathon Dream Is Over" And Ethiopia Announces A Preliminary Olympic Marathon Team Missing A Few Stars Geb's tweet is big news as we'd like to see him make one final attempt to compete in the Olympics. Just as big news may be that neither Gebre Gebremariam, Tsegaye Kebede nor Fiyesa Lilesa were on the preliminary team. Their men's team is the top 4 Ethiopians from Dubai.
More Geb: Associated Press Column: Should Gebrselassie Say Goodbye? His agent seems to think so.
Discuss:
Worth A Look
Andrews Going Pro?!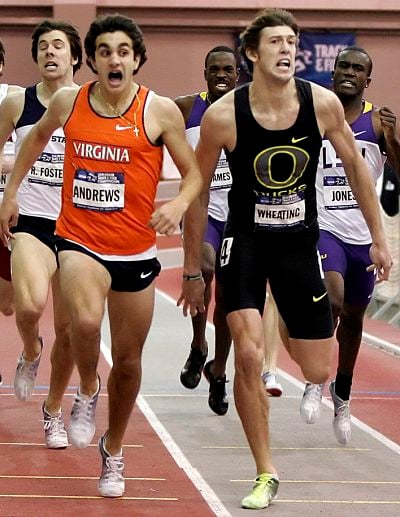 LRC Robby Andrews Leaves UVA Track Team LetsRun.com has learned that the two-time NCAA champ's incredible NCAA career at the University of Virginia has come to an end. What a career it was - bookended by NCAA titles. It started with an epic .01 win over Andrew Wheating and ended with an epic 1:44.71 - .04 win over Charles Jock. Andrews has not officially gone pro, but that seems to be the likely next step.
*UVA Release
*Humorous: Robby Andrews Career Decision Flowchart
MB: Robby Andrews No Longer Running for UVA *Is There Any Chance Robby Andrews Transfers? *Robby Andrews to Oregon Project?
Do You Like Underdogs? - Please Read These Two Recommended Reads
USA And World Indoor News
USA Team Announced For World Indoors And It's Led By Bernard Lagat - And Galen Rupp Is On It Rupp is running the 1,500m as Leo Manzano is skipping World Indoors. Three cheers for Rupp going to race the 1,500. Anyone remember 2008 when Rupp still couldn't break 4:00 in the mile? He has never been afraid to race and that racing experience has made him a much better runner. *World Indoor Roster Full Of OTC/Oregon Project Athletes

The Athletes Win Round 1: USATF Not To Have Logo Restrictions At National Championships Last week, the athletes were proposing 3 logos on uniforms, and USATF was proposing 2. Now we have no restrictions, except at the Olympic Trials, which are under USOC rules.
More World Indoor News

LRC Geb Goes For It ... Fades To 2:08:17 4th Well-paced, good weather, perfectly positioned, Haile G had the lead and a gap on the field at 36k but surprisingly faded and was passed one-by-one until he was off the podium in the final kilometer. It was a strange marathon, as both Geb and last year's defending champ Hailu Mekonnen, who were the two leaders, both faded after surging ahead. Michael Kipyego (2:07:37) brother of women's star Sally Kipyego, took the win while Arata Fujiwara stamped his ticket to London with a 2:07:48 PR. 38 y/o Geb complained of back pain afterwards. Geb is now known for his post-race excuses, but for once we tend to believe him (he also dropped a water bottle at 35k and stopped to get it before not picking it up - wonder if that affected his back).
*LRC OFFICIAL Tokyo Marathon Haile Geb Thread
*Brett Larner's JRN Race Recap
*Haile Says "I could run another marathon in two weeks."
*LRC Favorite Yuki Kawauchi Disappointed With 14th Place/2:12:51 Showing Kawauchi: "If you're not good enough to be internationally competitive then you don't need to go to the Olympics. I tried, and it's over. Selection is based on results, and I do not think I will be picked."
*IAAF Recap
*Tokyo Photo Gallery
Birmingham - Aviva Indoor Grand Prix *Results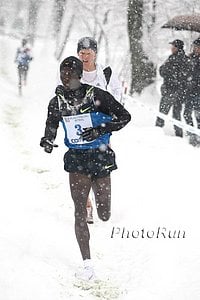 Top Indoor Meet Of Year
Eliud Kipchoge 8:07.4 2-Mile Defeats Mo Farah This was a tremendous race with 4 guys, Kipchoge and Farah plus Uganda's Moses Kipsiro and Tariku Bekele, battling on the final lap. Kipchoge, the 2003 World 5,000m champ, got the win and World Leader. If you think this makes him the best Kenyan right now, think again. Kipchoge was 4th in the 3,000m in Germany last weekend. In other action, Genzebe Dibaba blasted another fast 1,500 (4:01, Anna Pierce 4:11), Liu Xiang ran a PR to beat Dayron Robles, Jamaica's 8th-fastest 100m man last year, Lerone Clarke, ran a national record in the 60 ahead of Asafa Powell, Meseret Defar ran 8:31.56, Jessica Ennis had 2 PRs and a world best in the hurdles, and Bernard Lagat was well beaten at 1,500m. 8,000 fans in attendance. This is what track and field needs.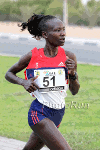 LRC Mary Keitany & 17-Year-Old Dennis Koech Win 2012 RAK Half Marathon Windy conditions slowed down the winning times considerably (60:34 and 66:42), but Mary Keitany did still produce the 8th-fastest 13.1 in women's history as a 17-year-old Kenyan dispatched the 2012 world leader and a 2:03 marathoner in the men's race.
*IAAF Recap Geoffrey Mutai Withdraws With Sore Foot And Then Fast Times Are Blown Off Course The IAAF is saying that Koech is 18.
*Pre-Race Photos *Race Previews
Week That Was
LRC Rupp's Record Vs. Lagat's Record, Down Goes Rono, Miles Batty, Chris Derrick And Ryan Hill?, Plus Katie Flood, Marathoning, White Dudes In The 4 X 400, Some Canadian Coaching Advice And More Just in time for Valentine's Day, the track and field world came afire with some sizzling action and records galore. We got the meat (what you expect) and the potatoes (what you wouldn't expect) of the track and field world covered. We guarantee you won't be disappointed. If you are, complain here.
Interesting Read: Patrick Makau Speaks On Being Self Coached, His Half Marathon Loss In Spain, And His Two Newborn Twin Sons He gives great training advice, as he talks about listening to his body and says that he could have won in Spain, but he decided to save himself for other things ahead. Good read from Mutwiri Mutuota.
*10-Minute Video Interview With Makau From Same Story
Sprint News
Recommended Read: The Telegraph's Ian Chadband Catches Up With Yohan Blake After His 2012 Season Opener - Blake Still Plays Cricket Every Sunday With Glen Mills' Blessing Can anyone in America imagine a college coach letting a sprint star play pickup games on the weekend? Yet Blake, who comes from a tough background, is super-fast. "I wasn't born with a golden spoon in my mouth; it was a really tough life. So many times, we had no money to even get to school. I'd have to find empty beer bottles to sell and spent hours carrying water on my head because we had no water at home. It gave me strength which helps me today."
LRC Galen Rupp's American 2-Mile Record Is Highlight Among 5 World Leaders Pre-race, we pondered if this was the best men's indoor mile in the US since LetsRun.com was founded and it lived up to the hype, as Silas Kiplagat edged Caleb Ndiku in a world-leading time, but it was Galen Rupp, running to honor the late Geoff Hollister, who stole the show with an impressive American record at 2 miles. In other action, Brenda Martinez took on some of the world's best in the mile, Jamaica's 8th best sprinter beat all the Americans, and Tianna Madison (a long jump world champion most of you have forgotten) shocked VCB and Allyson Felix in the 60m.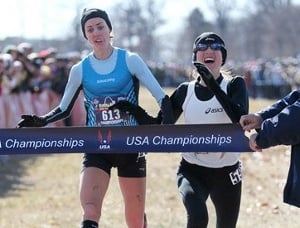 Molly Huddle Celebrates Too Soon, Sara Hall Wins XC On Lean, Bobby Mack Beats Aaron Braun Great races in the chill of St. Louis, as Molly Huddle and Sara Hall battled to the line. Huddle put up her hands thinking she won, but Hall leaned and got the win. Photos here. On the men's side, Mack pulled away from Braun the final 600m. More coverage here. Photo finish photo here.
London Marathon Goes To Iten
Virgin London Marathon, Which Made 2012 Athlete Announcements In Kenya, Is Giving Back To Iten, Eldoret Communities



LRC Photo Of The Day: Virgin London Marathon Fields Announced From Iten, Kenya We didn't realize London was in Iten to announce its 2012 fields. Very cool.

Bring Back The Mile Officially Launches For years, we (and many in the sport) have wondered why the mile isn't the #1 distance event in the land and why it's not run instead of the 1,500 or 1,600. Finally, someone has decided to do something about it.
*Bringing Buzz Back To The Mile *Discuss *Like On Facebook
LRC Men's Marathon Trials Analysis And Reaction The 2012 Trials race was a classic. We throw some love to the top 3, ponder Ritz's future in the marathon, tell you who had the best debut, and tell you who that guy you never heard of was. Plus we talk about Meb's 74-year-old badass dad and look at the fortune of some old timers who didn't make the team, Josh Cox and Dan Browne, in addition to the ones who did (Meb and Abdi).

Race Recap: Meb Keflezighi Captures 2012 Olympic Trials Marathon Title

NY Times Recap: Meb Over Hall, Abdi Grabs 3rd Spot The race lived up to the billing as the top four all broke 2:10, whereas previously there had only been one sub-2:10 in OTM history. After a blistering first half (63:25), Meb Keflezighi got his 2nd PR in 69 days, as he ran 2:09:08 to win over Hall (2:09:30). A resurgent Abdirahman (2:09:47) hung on for the final Olympic spot in 2:09:47 over Ritzenhein, who broke 2:10:00 for the first time (2:09:55). In the process, Meb became the first American to make an Olympic marathon team 8 years after making it previously. Abdi had no idea until we talked to him that Martin Fagan, whom he trained with some this winter, had reportedly tested positive for EPO.
LRC Trials Live Thread Here
Trials On The Boards:
LRC 2:05:06!!! Geoffrey Mutai Caps Year In Style An unbelievable year in men's marathoning had an appropriate finish, as the Kenyan man who had the most unbelievable of all years, Geoffrey Mutai, smashed the previous NYC Marathon record by a stunning 2:38 - that's two minutes and 38 seconds. If it wasn't the greatest 2nd-greatest men's marathon performance ever, you'll have to tell us what was. American Meb Keflezighi hung with the leaders for 20 miles after a blistering 63:16 1st half and ended up with a much-deserved PR. Mutai picked up $200,000 by winning, but the big financial winner was runner-up Emmanuel Mutai, who won $635,000 ($500,000 for the WMM title).


LRC Mary Keitany Beats Herself The women's race was full of gut-wrenching drama, as Mary Keitany went out in a crazy 67:56. The problem was she came back in 74:42, as unheralded Firehiwot Dado (Rome Marathon champ) got the win.

LRC Post-Race Interviews: Meb And His Coach Bob Larsen Talks About His PR Despite Throwing Up Plus the winners - Geoffrey Mutai, Firehiwot Dado, men's and women's top 3, Ed Moran, Molly Pritz, Lauren Fleshman and Bobby Curtis.
Today: Prince Harry Meeting With Usain Bolt In Jamaica The AP article gives the Jamaican Prime Minister second billing to Bolt.
Distance News Of Note
Athletics Kenya Releases Probable List Of 64 Names for Olympics 5,000m, 10,000m Teams, Denies It's About The Money Moving Kenyan Trials To Prefontaine Classic If someone says it's not about the money, that usually means it is about the money. The Kenyan officials can't keep their stories straight. Kenyan Athletics General Secretary David Okeyo says the Kenyan athletes will race against the international stars at Pre, while his Kenyan Athletics Chairman Isaiah Kiplagat said they'd race in their own race. And did you see this report that said only 5 Kenyans in each event would be invited to Pre? This currently is one giant mess.
Bring Back The Mile Getting More News
Bring Back The Mile: Ritz Still Wants A Sub-4 Mile Ritz reveals that he NEVER has run a mile in his life. Shocking. The 1,600m should be abolished. We can see some rationale people have for running 1,500 but none for 1,600m. And Meb Keflezighi also does not have a sub-4 mile.

Leo Manzano Brief Chat: Bring Back The Mile, Winning USAs, The Manzano Mile And More He's running his own Manzano mile later this month. We wish Nike icentivized him to run World Indoors, but London is what matters.
Husband And Coach Of Lucy Kabuu (2:19:34) Is Hoping That A World Record Or At Least A Kenyan Record In London Will Result In Athletics Kenya Changing Course And Naming Kabuu To The Olympic Team Kabuu wasn't on the original list of 6 potential Olympians for Kenya as she'd never run a marathon before her stunning 2:19:34 debut. Husband: "We are currently training to beat either Paula Radcliffe's world record or the Kenya national record held by Catherine Ndereba (2:18:47)."
Random But Interesting Links
Day 2: Mottram Is Back, Wins 5k; Rudisha Cruises In 800 (Symmonds Struggles), Pearson Impresses Craig Mottram ran away from Collis Birmingham to win the 5,000m in 13:18, David Rudisha crushed the 800m field to win in 1:44 (Nick Symmonds ran 1:48), and world hurdles champ Sally Pearson got a PR in the 200m and her fourth-best time in the 100m hurdles. Ben True (13:26) and Will Leer ran in the 5km. More From IAAF
*Australian High Performance Manager Is Full Of praise For Mottram "What he did in the race against Collis was tantamount to Mottram re-establishing himself in our psyche that he is the No.1 man over 5,000m. And once he has that confidence behind him, we then know with the right training and the right progress he's one of the rare distance athletes that can shake it up with the Africans."
*2-Time world champion at 400h, Jana Pittman, will start running on Monday but is quickly running out of time to qualify for London 2012
*17-Year-Old Aussie Liz Parnov Likely To Be On Olympic Team
*Sally Pearson After Winning 100m Hurdles In 12.49 Seconds: "Holy crap! I know I can't swear, what can I say? It's really fantastic." *AP Article
*Runner's Tribe Recap
On The Boards: *Symmonds ran 1:48 in Melbourne, Sure, it's March Nick, not August!
*Mottram wins 5000m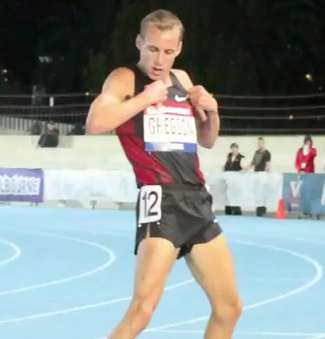 Day 1: Ryan Gregson Wins And Does A Dance As Kiprop Falters For 3rd Year In A Row - Torrence 2nd, Willis Third On a windy day, Asbel Kiprop had the lead in the middle but faded to 5th (3:42.52) as Aussie record holder Ryan Gregson got the win (3:38.51) to prove he's at least temporarily over last year's injury problems. He was followed by Torrence (3:39.32), Willis (3:39.77), Riseley and Kiprop. Kiprop: "I don't know exactly what happened. It was not my day today ... I did 10 seconds slower than what I was expecting. It doesn't disappoint me at all."
*AP: Pearson Wins, Frayne Gets TJ Qualifier
IAAF Recap Afterwards, Gregson did a dance at the finish (video embedded to your right or here). Was it because of this tweet?

OTB: Gregson is back!!! (def. Kiprop, etc)
*Gregson's Finishline Dance
*LEER 13:36!!!!!!!!!!!!!!

More:
Stanley Biwott (59:44) Becomes 1st Man To Break 1 Hr At Paris Half
10.74 Wins Jamaica's Under-20 100m Title As Race Was Run Into 4.4 Headwind
News From Europe
Also From Last Weekend
A Current & Future Marathoner In The News
Meet The Triathlon Coach Who Taught Ryan Hall He Needed To Recover More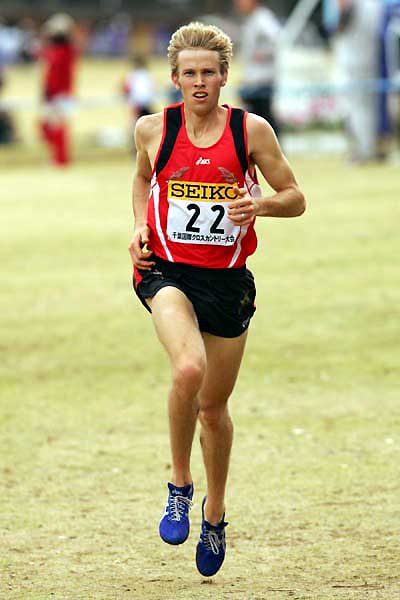 No, the name of "Mr. Recovery" isn't God - it's Matt Dixon. Dixon seems to be a smart guy who had one triathlete cut his "volume by 30 percent, added easier workouts and had him eat more." We'd say that would help 90% of all distance runners if only instead of cutting their volume by 30%, they increased it by 30%. "Our goal is not to train as hard as we can, but to perform well."

Salazar Says "Mea Culpa" And Takes Blame For Aggressive Race Plan That Blew Up And Cost Galen Rupp 3k Spot In Albuquerque They knew sitting and kicking would result in a Lagat slaughter, so they tried to take it out hard but they underestimated Lopez Lomong. "(Lomong's) always been a great runner," Salazar said. "We totally respect him. But he hadn't run a distance race in a while. We underestimated what he could do. It was a mistake."
More Tokyo Marathon News *Tokyo Photos
Distance News
More On US Champs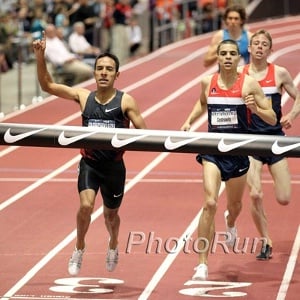 Sunday: LRC Manzano Outkicks Centrowitz And Rupp To Win 1,500, Simpson Holds Off Martinez (Updated) Two weeks ago, Manzano ran 3:57 in his opener but was last place in a super-stacked mile in Arkansas. In the women's 1,500m, Jenny Simpson edged Brenda Martinez, showing Martinez is the real deal (Martinez had by FAR the best finish as she got boxed and was 6-7 meters back with 100m to go and barely lost), and Sanya Richards-Ross ran a 50.71 meet record. Chaunte Lowe set an American record in the women's high jump, showing she is more than back from maternity leave. Distance recaps, results, and videos with winners.
*Ashton Eaton Wins LJ With A New PR
On The Boards: Manzano outkicks Centrowitz and Rupp!
Really, what happened Rupp in the last two laps tonight?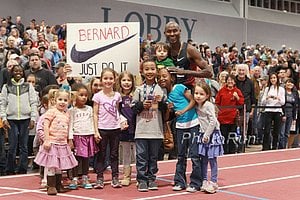 LRC USATF Indoor Men's 3k: Lagat, Lomong Crush Rupp (Updated w/ video interviews) Galen Rupp pushed the pace early, hoping his 12th attempt at beating powerhouse Lagat would be the charm, but was badly dropped before the bell, unable to challenge Lagat, who then crushed Lopez Lomong with a 25-second last lap. On to Worlds for Lagat, where he may be the favorite to defend his title. Like Lagat, Jenny Simpson ran away with the women's 3,000m title. Find out why she won't be running in Istanbul.
*IAAF Recap Day 1 Will Claye jumped 17.63m in the TJ for the furthest mark by an American in 23 years.
*Jennifer Suhr Overcomes Aching Achilles To Win PV At US Champs She only had to clear two heights and then made 3 attempts to break her own AR, but missed.
*Results *LRC Official USA Indoor TNF Champs ABQ Thread
*Lagat: "I just wanted to show these guys that Daddy can still kick." RRW Recap
*USATF Recap
World Record For Yelena Isinbayeva (Updated) In case you wondered, Yelena Isinbayeva is fully back as she went 5.01 for the world record. Asked whether anyone could beat her this year, she said, "I think you can answer that question yourself," in reference to her 29cm winning margin. Isiah Koech won the 3k over Dejen Gebremeskel, Caleb Ndiku and 7:29.94 man from earlier this year Augustine Choge. Morgan Uceny ran 4:08 to get a close 3rd in the 1,500m as Anna Pierce struggled again.
*Dayron Robles Wins Stockholm 60m Hurdles As Liu Xiang Is DQed For A False Start
*"Yelena Isinbayeva Is At Her Best When Challenged"
Week That Was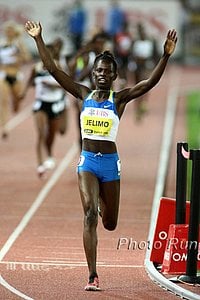 LRC Pamela Jelimo, Nick Symmonds Medal Chances Go Down, Good News For Ritz, Coaching Advice Of The Week And Photos Of The Week We catch you up on the goings-on of the running world in LetsRun.com fashion. The biggest news of the week was at a race you probably didn't even know took place.
A Definite Recommended Read & Discuss

Sports Illustrated & Tim Layden Profile Mo Farah & Galen Rupp: A Bond Born At Speed The two training partners clearly will have vastly different amounts of pressure on them at the London Games and it's clear that Rupp is happy to not be in the spotlight: "I don't envy Mo. He's going to have a bunch of people cheering for him, but all that stress. It's nice sometimes to just train and not have all that external stuff."
MB: Rupp 10.9 and Farah 11.3 for the 100m *Do you believe the rest of the SI article about Rupp & Farah? 8 x 1200 at 4,551 Ft Altitude in 3:09/2min rest? *Alberto Salazar's coaching pre-Galen Rupp *Does Rupp have any realistic chance of beating Lagat this weekend?
Sydney Track Classic *Results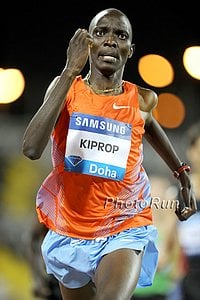 Kiprop 1:45.9, Rudisha 45.61, David Torrence 3:35.6 Wins The Australian season got underway in full force with the two best mid-distance runners, Olympic and World 1,500m champ Asbel Kiprop and World 800m champ David Rudisha, both dropping down in distance. Rudisha ran 45.61 at 400, while Kiprop got the 800m win in 1:45.9. Kiprop dropping down let American David Torrence win the 1,500 in 3:35.6. World hurdles champ Sally Pearson did the hurdles/200m double. Nick Symmonds did not have his kick and was a well-beaten 6th in 1:47.44, which is a pretty good opener.
Kenyan XC Champs
Bedan Karoki, Joyce Chepkirui Win The Toughest XC Race On The Planet Karoki is the Japanese-based athlete who won the Stanford 10,000m last year. Chepkirui had a breakout year in 2011, running 30:38 on the roads (prior to last year, she had never broken 33 minutes) and ran 31:26 to win the Zatopek 10k. World and NYC Marathon champ Edna Kiplagat was 3rd, while former World XC Champ Joseph Ebuya was 49th.
*Bedan Karoki Says Kenyan XC Was Part Of Buildup For Fukuoka Marathon (Which Is In December)

LRC Track Talk Live From Kenya Employee #1 has been in Kenya for 2 weeks, meeting with many of the sport's stars. In this 45-minute broadcast, get the inside scoop.
Upcoming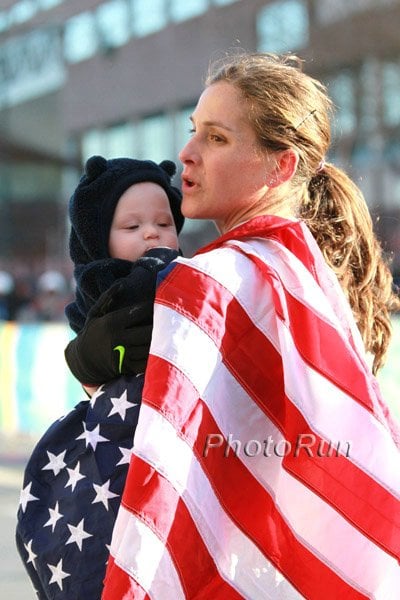 Meb, Ritz, Kara And Desi To Run 2012 NYC Half Also sponsorless man Scott Bauhs will run as will a bunch of other Americans, including 2009 WChamps 5,000 team member Julie Culley in her 13.1 debut. *AP

*Transcript Of Meb, Bob Larsen & Mary Wittenberg Teleconference (Word document) Meb reveals that his wife ran a 5k in 26:05, officially eliminating their children as #1 prospects for the class of 2030.
*Denver Post Catches Up With Ritz, Who Is Excited To Get Back To The Track - Ritz: "I still think I'm one of the best runners in the world."
*Ritz Blogs About His Recent Training: "I got out my spikes for the first time in two and a half years."
LRC: Lagat Smashes American Record, Collegiate Record Books Rewritten Bernard Lagat ran 13:07.15 and smashed Galen Rupp's American indoor record, but the most impressive achievements may have been the rewriting of the collegiate record books. Lawi Lalang (13:08) not only obliterated the old indoor record but he ran faster than Henry Rono's nearly 34-year-old outdoor record. Chris Derrick got beaten badly but becomes the 5th-fastest collegian in the US indoors or outdoors. In the Wanamaker mile, Matt Centrowitz reminded us why he won the bronze medal at Worlds and Miles Batty broke the collegiate record.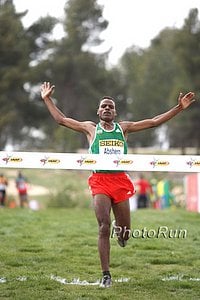 LRC Hello World, Meet Ayele Abshero (2:04:23 Debut!) The 21-year-old former Jr. World XC champ's marathon debut was super-special, as his surge with just over 3km remaining decimated the deepest marathon field in history, as four men broke 2:05 in the race, eight broke 2:06, 10 broke 2:07, and 17 broke 2:10 - all records as fastest-ever times for places were recorded in spots three through 17. 2011 belonged to the Kenyan men, will 2012 belong to Ethiopia? The women's race was super-fast and super-deep as well, as 3 women broke 2:20 in the same race for the 1st time, as Aselefech Mergia ran 2:19:31 to win and a record 9 women broken 2:25. Martin Lel was a DNF, Ramaala 2:12. *AP
*Butcher: Ethiopians Strike Back
*MB: 4 guys I've never heard of go sub 2:05 in Dubai
Flanagan Over Davila, Goucher Gets Third As Top 4 All Break Old OTrials Record Flanagan (2:25:38) pulled away from Davila (2:25:55) and Goucher was third in 2:26:06. Amy Hastings broke the old Trials record at 2:27:17 but didn't make the team. Deena Kastor was 6th in 2:30:40.
Ryan Gregson Talks About His Post-Race Dance Inspired By NFL Football And Trying To Party In New York, Miami, Bahamas, Jamaica, Cayman Islands, Cancun, Las Vegas In 3 Weeks
Assorted News
Can You Do The Gregson? Ryan Gregon's Dance After Winning 1,500m In Melbourne (We Know He Loves Whitney Houston)
The Votes Are In ... Final Puma Faas Winners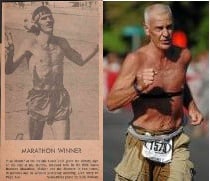 LRC The Amazing People Who Are The Final Winners Of The LRC Puma Faas Challenge The final winners in the LRC Puma Faas Challenge whom you helped us select are simply amazing. We've got Olympic Trials runners, a guy with incurable cancer who just wants to run 16-minute miles, a guy who hit by car going 35mph while running and still wants to break 4:00 in the mile, Nick Symmonds' college teammate, a guy who has run 50,000 miles and never run in Pumas, a 69-year-old who won marathons in the '60s, '70s, and '80s and made the 1980 Olympic Marathon Trials, a former LetsRun.com cult hero, and a woman who has a 5-year running streak going that includes two pregnancies and two births. Crazy Unbelievable people. Puma wanted to prove its Faas line is for hard-core runners and what better way to do it than give away 100 pairs of shoes to put to the test.
The Weekly Review
LRC Week That Was: USA Indoors, Your Top 50 Hopefuls For The Olympic Trials, Geb, Geb And Geb, Kawauchi, Peter Rono's Son, And Some New 800m Talent We span the globe to give you insight into the running world. If you want to know what is going on, click through. If you want to be uninformed, don't. Plus learn about the proprietor of Johnsonrunning.com.
International News Of Note
Non-World Indoor Sprint News
Abel Kirui Victory Dance - Barcelona Half Marathon
Day 2 USATF Indoor Photos (Tokyo Marathon Photos Here)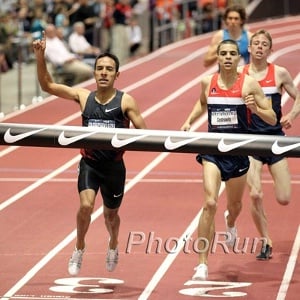 Day 1 USATF Indoor Photos
Fabulous Read:
San Diego Tribune On Eamonn Coghlan's World Record In Indoor Mile 31 Years Ago We can give this the attention it deserves after this weekend's action.
Leo Wins And Talks About How Hard It Is To Stay On Top (More Mile/800 Coverage Here, 3,000m Here)
Brenda Martinez On (Almost) Running Down Jenny (More Mile/800 Coverage Here, 3,000m Here)
Spend 10 Minutes To Get To Know The World's Best(?) Marathoner Patrick Makau (Also Has Footage Of Him Training In Kenya)
Race Of The Week: Kipchoge Outkicks Farah In 2-Mile (Final 500 Or Full Race)
LetsRun.com Track Talk Live From Kenya: Friday's Live Show Is Now Available On Demand In The Player Below (Or Download It Here)
Rupp's 2-Mile American Record From Arkansas (Last 2:20 Or The Full Race)
Final 400 (Or Full Race) Of Lagat's American Record (Wanamaker Mile Video Here)
Photo Gallery: Rupp Makes History (Interview Below Or Here)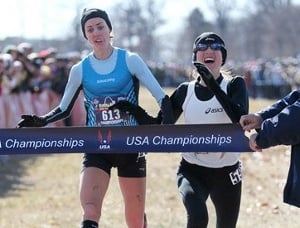 Trailer For "ITEN - The Town Of RED Dust"
NCAA Women's Photo Gallery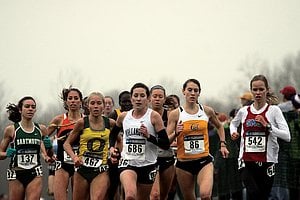 NCAA Men's Photo Gallery (500+ Photos)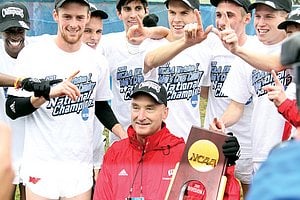 Training Corner (More In The Training Forum)
Universal Sports Back To Top