The Week That Was In Running: February 6-12, 2012
By LetsRun.com
February 14, 2012
This week was a great one for US distance fans and we've got it covered from New York City to Arkansas to Washington to Canada.
****
Performance Of The Week - Galen Rupp's 8:09.32 American 2-Mile Record
With so many great performances last weekend at the USATF Classic in Fayetteville and Millrose in New York, it's hard to know where to start. But we figured why not start with the best - our performance of the week.
Just minutes after Bernard Lagat had eclipsed his own American 5,000 indoor record of 13:11.44 in New York by running 13:07.15, Galen Rupp returned the favor by besting Lagat's American 2-mile record of 8:10.07 by running 8:09.72.
Rupp's AR is the superior one for us on a number of fronts.
1) 8:09.72 for 2 miles is on any good performance chart a superior performance.
By our calculations, it converts to 13:04.14 for 5,000.
2) Rupp achieved his record without any competition.
Yes, Rupp was aided by a nice rabbiting performance for 1,800 (more on that later), but he had to run the final 1,200 all by himself. Lagat had competition until the very end of the race.
3) Rupp's AR came at an event that is not his specialty, whereas Lagat was running his bread-and-butter event.
Galen Rupp's best event on the track is the 10,000, and he may end up being a half marathon / marathon specialist. For him to run so well at such a short distance is a very good sign.
A Few Additional Interesting Tidbits About Rupp's Run
According to our calculations, Rupp's record run is the equivalent of a 7:33.44 3,000, which is just slightly slower than Bernard Lagat's indoor 3,000 record of 7:32.43.
Counting indoor and outdoor 3,000 and 2 mile times (Matt Tegenkamp's outdoor 2-mile record is 8:07.07), Rupp would be the #5 performer on an all-time US 3,000 list.
Top 5 US Performers At 3,000 Or 2 Miles
7:29.00 Bernard Lagat (Nike) 08/29/10
7:30.84 Bob Kennedy (Nike) 08/08/98
7:30.99+ Matt Tegenkamp (Nike) 06/10/07
7:33.37 Sydney Maree (Reebok) 07/17/82
7:33:44+ Galen Rupp (Nike) 02/11/12
+ = Converted From 2 Miles
One Last Thought On Rupp's Run
While we're talking of Rupp's performance, can we give out big thumbs up to Tim Ritchie and Michael Coe. Normally, we don't give out big props to guys that get lapped, but both of these guys deserve some major props. Both of them moved out into lane two as Rupp came flying by late in the race. Rupp only got the record by .35. If he had to go out into lane two to pass them both, he might have missed the record.
More: USATF Classic *Results *Photo Gallery *LRC Galen Rupp's American 2-Mile Record Is Highlight Among 5 World Leaders
2012 Millrose Games *LRC Lagat Smashes American Record, Collegiate Record Books Rewritten *Results *Lagat, Wanamaker Mile Video
****
Two Collegiate Records Fall At Millrose, But The Big News Is Henry Rono's Outdoor Mark Is Finally Surpassed + Don't Forget About Chris Derrick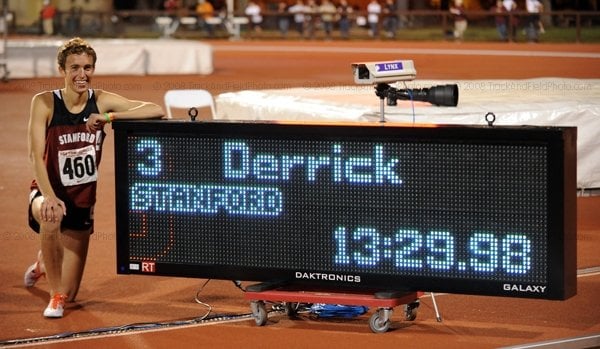 Derrick Celebrating His Short-Lived
American Jr. Record As A Frosh
In addition to Rupp and Lagat's American records, nearly everyone is aware of the fact that two other collegiate records also fell at Millrose. Miles Batty set a new collegiate record in the men's mile (3:54.54) while Lawi Lalang set the new record in the men's 5,000 with a 13:08.28.
What many people may not realize is that Lalang's mark, which took exactly 10 seconds off Galen Rupp's old collegiate indoor record of 13:18.28, also is the fastest 5,000 indoors or out in collegiate history, as 33+ years later, someone has finally run faster - just barely - than Henry Rono did on April 8, 1978 when he ran 13:08.4.
And we also don't want people to overlook what Stanford's Chris Derrick did in getting 5th at Millrose in the 5,000 in 13:19.58. As we pointed out in our Millrose recap, that mark - in addition to the mark being a overall PR of 10.16 seconds - makes Derrick the #3 American in US indoor history behind just Rupp and Lagat (#4 is Doug Padilla, who ran 13:20.55 and had the US record from 1982 to 2009). Additionally, it makes Derrick the 5th-fastest US collegian in history indoors or out.
The top 5 US collegians in history indoors or out are as follows:
1. 13:15.77 Bill McChesney 1981
2. 13:18.12i Galen Rupp 2009
3. 13:18.46 Brent Vaughn 2008
4. 13:19.22 Rudy Chapa 1979
5. 13:19.58 Chris Derrick 2012
Note: Although at #5 on the list above, Derrick does not have the Stanford all-time record according to Stanford. The Stanford website lists Ian Dobson's 13:15.33 and Ryan Hall's 13:16.03 from 2005 although they were run at USATFs after the NCAA meet of Hall and Dobson's senior year. So it depends on when you stop counting someone as a collegiate athlete. More here. Thanks to reader Freddy P bringing this to our attention).

****
Miles Batty's Collegiate Record And Centrowitz's Run
Miles Batty broke the collegiate record for the mile at the Armory. It's gotten some attention on LRC but perhaps not as much as it ordinarily might because of what else happened over the weekend, plus the expectation that many people expected the record to fall. Without question if UNC's Tony Waldrop ran 3:55.0 on an 10-11 laps to the mile indoor track in 1974, the collegiate record should be much faster today. As we said in our LRC profile on Waldrop in 2005:
Thirty one years ago, Richard Nixon was president, the Vietnam war was winding down, gas was 53 cents a gallon, television broadcasts were black and white in Australia, Steve Prefontaine was still alive, neither Mo Green nor Tiger Woods were yet born, and amazingly the NCAA indoor record in the mile was 3:55.0, just like it is today, thanks to the 3:55.0 world record run by Tony Waldrop of the University of North Carolina on February 17, 1974.
We urge you to take a minute and click here to learn about Waldrop and his amazing story. His 3:55.0 was a world indoor record. Amazingly, he retired in an Olympic year in 1976 after the indoor season to pursue his doctorate.
Miles Batty lowered the record to 3:54.54 at the Armory in getting second to Matt Centrowitz. And while the record may not have gotten a ton of attention on LRC, it got a ton of attention with Miles' BYU teammates. Hence our Video of the Week: Miles' BYU Team Reacts to Him Setting the Collegiate Record. We believe the guy filming this is two-time Olympic marathoner, TV analyst and BYU coach Ed Eyestone. Definitely worth a watch; we recommend watching the whole thing. If you want to just see the craziness, watch from 3:10 on.
As for the Wanamaker Mile itself, the race did a good job of putting together a mile field with a limited budget (collegians only cost a plane ticket and a hotel room), but the "Wanamaker" Mile should have more than one pro of note Regardless of the field, Matt Centrowitz, the bronze medallist at 1,500m, looked phenomenal and reminded us why he won the bronze at Worlds. In today's age, getting a bronze at Worlds in the 1,500m is never a fluke. In case you had some doubts how Centro would do in 2012, watch the end of the mile below. We've got it set to start with 500 to go. If you want to watch the full race, click here. Centro looks like a man running versus boys even though he still could be in college and Batty is actually 2 years older.
****
Overlooked Performance Of The Week - New US American Collegiate Record In Men's 3,000
With so much great action last week, there were bound to be a couple of great performances that got overlooked. We think it's important people don't forget about a few achievements just because they didn't happen on ESPN2 in Arkansas or in the media capital of the world (New York) at the Millrose Games.
At the University of Washington meet, NC State senior Ryan Hill ran 7:43.08 on the oversized track to become the fastest US collegian in history, breaking Galen Rupp's old collegiate best of 7:44.69.
Hill is now officially the fastest guy that many of you have never heard of - MB: Who is this Ryan Hill dude from NC State? I never heard of him ...., Ryan Hill most underrated runner in NCAA?, Ryan Hill 13:44 NCSU Freshman)
You've probably never heard of him because collegiate track and field is so competitive these days that last year, despite running 7:50.78 indoors for 3,000 and 13:31.67 for 5,000 outdoors, Hill scored a grand total of zero points at NCAAs, as he was 9th indoors in the 3k and 19th outdoors in the 5,000. As a sophomore, Hill did score, as he was 7th outdoors in the 5,000.
We very much believe that Hill deserve props and praise for his accomplishments and hope that 2012 sees him arrive on the national scene in a major way at a major meet. A Foot Locker South regional champ as a junior in HS, Hill is clearly a talent.
LetsRun.com has long said that running fast times at obscure venues in front of zero fans isn't what's going to make the sport popular and Hill is the perfect example of that.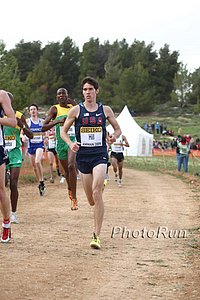 The 5 Fastest Collegians Indoors At 3,000 (According To T&FN)
7:38.59 Alistair Cragg (Arkansas) 02/14/04
7:41.4+ Henry Rono (Washington State) 01/21/78
7:43.08 Ryan Hill (NC State) 02/11/12
7:44.1+ Suleiman Nyambui (UTEP) 02/16/79
7:44.69 Galen Rupp (Oregon) 02/07/09
Bold = American + = Converted Time
Despite getting the AR, Hill is not the fastest American collegiate ever at 3,000. The fastest 3,000 in collegiate history actually came outdoors way back in 1979. Rudy Chapa ran 7:37.70 for what at the time was an American record. In the same race, Alberto Salazar ran 7:43.79.
7:37.70 Rudy Chapa (Oregon) 05/10/79
7:43.79 Alberto Salazar (Oregon) 05/10/79
Speaking of Chapa, we always find it funny when we hear people criticize Chapa along the lines of, "Chapa ran too much mileage in HS and never developed properly, as he ran so much and ran that 10k (Chapa's 28:32 10,000 HS record is legendary)." As if an American record in the 3,000 isn't development.
****
Runner-Up For Overlooked Performance Of The Week
Hill wasn't the only collegian to enjoy a banner day on the oversized track out at Washington. Husky sophomore Katie Flood, who ran an NCAA-leading 8:55.31 in the 3,000 two weeks ago, ran 4:28.48 to become the 4th-fastest collegiate indoor miler in history. Flood, a 4:44 performer in HS, enjoyed a good freshman year last year at UW, as she got her 1,500 PR down to 4:18 (roughly a 4:38 mile). But she's at a whole new level in 2012.
Even though she ran so fast, Flood didn't win the race, as 2011 World Championships bronze medallist Sally Kipyego won in 4:28.41.
It'll be interesting to see what Flood does at the NCAA meet. She soon may be a star.
The 5 Fastest Collegiate Women's Miles In History
4:25.91i Jenny Simpson (Colorado) 02/28/09
4:27.19i Sally Kipyego (Texas Tech) 02/28/09
4:28.31i Vicki Huber (Villanova) 02/05/88
4:28.48i Katie Flood (Washington) 02/11/2012
4:29.04 Angela Chalmers (Northern Arizona) 05/16/87
****
Keeping The Marathon Race Directors Honest: London > Boston
Last week, the 2012 Boston Marathon fields were announced. We have no doubt that the race will be exciting, but we generally try to compare the elite fields at the major marathons so we can keep the race organizers honest, as there can at times be a tendency to try to live off the reputation of the race instead of spending the big bucks to get the most incredible fields possible.
For as long as we can remember, we've been saying the #1 marathon in the world in terms of quality is always the Virgin London Marathon and that certainly appears to be the case this year.
Below we compare the PRs of the expected entrants for the 2012 London and Boston elite fields.
Men
#Sub 2:04 Runners
#Sub 2:05 Runners
#Sub 2:06 Runners
#Sub 2:07 Runners

Women
#Sub 2:20 Runners
#Sub 2:21 Runners
#Sub 2:22 Runners
#Sub 2:23 Runners

London
2
3
10
12


4
7
8
13

Boston
1
2
5
8


1
2
3
5
More: LRC Boston Marathon Releases Elite Fields For 2012 *London Men's Field *London Women's Field (PRs have improved since Dubai) *2:19:34 Marathoner Lucy Kabuu Added To London Marathon Field The Kenyan officials have said they won't put her on the Olympic team.
****
Those Whose Stock Is Rising (They Had A Good Week)
1 . Allyson Felix - The 200/400 specialist went into last weekend's USATF Classic in Arkansas with a 7.32 indoor 60m PR and left with a 7.10. A near quarter-second PR in the 60m is hard to come by and must be giving Felix great confidence as she seeks her first Olympic gold medal in 2012.
2. Tianna Madison - The 26-year-old is no longer a teenage sensation. Back in 2005 at age 19, Madison won the world title in the long jump while at Tennessee. Nothing she's done since then has come close. Well, Madison was the winner of the women's 60 at the USATF Classic over the weekend in 7.02 - a huge improvement over her 7.18 previous PR. A .16 PR for 60m might mean one could run .25 faster over 100m. If one takes .25 off her current 100m PR of 11.05, then Madison is a 10.80 woman and an Olympic medal contender in the 100m. Will she be a sprinter? A long jumper? Or both? It's a good problem to have. In her post-race ESPN2 interview, Madison sounded motivated and said the improvement was the result of her not cutting any corners this year.
3. Lopez Lomong - The 2008 US Olympian at 1,500 won the 800 invite at UW with a 1:47.87, beating 800-meter specialists like Cas Loxsom and Aaron Evans amongst others in the process.
4. Caleb Ndiku - Yes the 19-year-old lost the mile in Arkansas, but that's not the point. The fact that he nearly beat Silas Kiplagat, the World Championships silver medalist at 1,500, in a mile is a very good sign. LetsRun.com Employee #1 is currently in Kenya doing some reporting for us on many of the top Kenyans as they get ready for their 2012 Olympic campaigns. He told us an interesting observation that coach Renato Canova made to him about Ndiku. Canova feels Ndiku is one of the few Kenyan guys with the speed required to be a potential medallist at 5,000. Think about it, to medal you need to be able to kick with the likes of Farah, Lagat and possibly Bekele.
It's a good observation for sure, but another thing to remember is that Ndiku currently has a 5,000 PR of 13:18. His 1,500 PR of 3:32 is a bit better on the relative scale. If he can stay within .03 of Kiplagat all year at the mile/1,500, Kenya would have a great chance of an unprecedented sweep of the 1,500 medals with reigning Olympic and world champion Asbel Kiprop thrown in the mix.
5. Brenda Martinez - After wins at the US Open and New Balance Games at the Armory in the miles, Martinez had reason to be feeling good about the way things were going heading into the 1,500 at the USATF Classic meet in Arkansas. But what she did there, even though she ended up third, really impressed us. A big Thumbs Up to Martinez for just going for it. The more accomplished runners didn't want to go with the rabbit, so Martinez just shot ahead and went for it. Good job to Brenda Martinez for making the race.

These aren't distance runners
5. Arkansas' Men's 4 x 400 - The Razorback men ran a sensational 3:03.76 at home, nearly breaking the collegiate record for a standard 200 meter track of 3:03.51 (held by Florida - Baylor's all-time fastest 4 x 400 indoors is 3:03.96). And we know this may not be politically correct, but we know many of the viewers watching the performance on ESPN2 were thinking the same thing - three of the four guys were white. How far back in time do you have to go to find the last time that a 4 x 400 team led the nation with three white guys on it? If you know, email us.
6. Kirani James - A world-leading 45.19 is nothing to be upset with. But honestly, James' stock is rising more because his #1 rival on paper was terrible last weekend (see below).
7. Alberto Salazar - To us, the best image of the whole weekend was seeing Alberto Salazar get so excited on ESPN2 as his protege Galen Rupp broke the 2-mile American record. Salazar has devoted his professional life to seeing Galen Rupp do well in running, and it was a treat to see someone be so pumped.
8. LetsRun.com (Yours Truly) - In our Millrose Games preview, we wrote the following about Lawi Lalang:
But after Lalang's 3:55 mile win a few weeks ago, we here at LetsRun.com started to wonder just how good is Lawi Lalang might be right now. In our minds, speculation that he could medal at the London Games isn't out of the question. Thus we are really going to be watching this race to see how Lalang stacks up against Lagat. People may think we're crazy, but a Lalang win wouldn't stun us at all.
The fact that we contemplated Lalang might be able to beat Lagat raised a lot of eyebrows - even one of our employees thought it was a ridiculous statement. Well, Lalang made the former world champ work for the win, as he went out and ran 13:08.28 to Lagat's 13:07.15.
****
Those Whose Stock Is Falling (They Had A Bad Week)
1. Anna Pierce - Last week, we were somewhat encouraged by her 2:38 1k and hoped that meant she was on her way to returning the 3:59 form she showed in 2009 and not the 4:10 form she showed in 2011. Well, she ran the 1,500 last weekend in Arkansas and ran 4:13.12. A 2:38 equates to about a 4:12, so this certainly wasn't another step towards the old form she used to have. Consider this, on a weekend when three US favorites for the 2012 Olympic team at the 1,500 distance all ran well in New York - as Shannon Rowbury and Jenny Simpson both ran 4:06 in the 1,500 and Morgan Uceny won the 800 - Pierce was only the US's 9th-fastest person on the weekend at the 1,500 distance.
2. ESPN2 Announcers During Galen Rupp's 2-Mile Record - ESPN2 showed virtually the entire 2-mile record run. And when a running in a record attempt, it's very critical that people get the times right. For some reason, the announcers seemingly forgot that a 2-mile starts 18m+ or around 3 seconds back of the start line. As a result, for most of the telecast they were talking about how Rupp was behind pace, as they thought he went through the mile in about 4:10, when in reality he went through in 4:06+.
But one of the things we are very much aware of at LetsRun.com is that it's way easier to criticize than it is to praise, so we'll end with some praise. We enjoyed the telecast on ESPN2 done by Lewis Johnson, Ato Boldon and newcomer Todd Williams - yes, the former 27:31 performer. Johnson is way better as a play-by-play guy than he is as a mid-d or distance analyst. When he's in that role, we always cringe a little bit. So producers, let him do what he's best at - either play-by-play or interviews.
People under the age of 35 may not really know who Williams is and if you don't know who he is, we encourage you to read this interview with Williams that we did back when he retired in 2003, but let us summarize his career for you quickly. In the 1990s, when the US sucked at distance running as everyone was seemingly focused on low-mileage solutions, Williams and 12:58 5,000 man Bob Kennedy were putting in 1970s mileage levels and were America's two male hopes of note. Williams' best accomplishment may have been his 9th-place showing at World Cross-Country back in 1995 when it was a single race and everyone knew it was cross-country as it should be understood - with seven men per squad.
It's hard to believe, but Chris Derrick is basically as fast as Williams ever was - 13:19.50 for Williams, 13:19.59 for Derrick.
3. LaShawn Merritt - $25,000 was on the line for the 2008 Olympic champ if he could break the 500m world record of 60.17 set by Ken Lowery.
Well, Merritt was nowhere close to the record, as he ran a very subpar (for a world class guy) 61.39. Not good at all - especially considering the man who beat him at Worlds last summer - Kirani James - was running 45.19 in Arkansas the same evening.
Something To Consider Thanks To The Smart People At Speed Endurance.com
At the 1986 and 1987 NCAA champs, American Roddie Haley (Arkansas star) twice broke 60.00 for 500. In fact, he ran 59.82 on a 10-laps-to-the-mile indoor track. Neither mark was ever ratified as a world record. Once because the track didn't have a rail, which people didn't think was necessary because if you stepped over the inside, you'd fall off the track. The second time, the staggers were incorrectly drawn for the heats but apparently not the final - but for some reason the track statisticians DQed the time from the final as well. Want to read more about Haley? Check out this great article on speedendurance.com: What is the Indoor 500m WR?
****
Stat Of The Week
30
The number of people that broke 50 seconds in the 400 at the UW meet. It's also the number of men who either broke 4:00 in the mile, 8:00 in the 3,000 or 14:00 in the 5,000.
****
Weekly Free Coaching Advice - Here's How To Figure Out If Your Coach Is Any Good
This week our free coaching advice is very simple - pick a great coach yourself and then don't worry about it. But how do you know if your coach is any good?
Well in our minds, there are VERY few people who are truly great coaches in a comprehensive sense.
To us, a great coach truly understands the human body and running and thus should be great at coaching a wide variety of events. Far too often, you'll see a coach that specializes in a certain area or is known for more success in a certain area - "A great mid-d coach but he struggles at the 5k." or "Great with long distance guys but no good with milers."
To us, coaches with these type of raps have a system that often works great for a particular event group but they don't truly understand what they are doing. They likely got a bit lucky with trial and error, which is fine for that event group assuming things are going well. But it's better to have someone who really understands why everything works. That way if something goes wrong - injury or illness - adjustments can be made.
So if you are wondering if the local coach is any good, maybe ask yourself, "Are they successful with a lot of runners over various events or ages?" If the answer is yes, you probably have a good one who really gets it all. We were reminded of this fact in reading a nice Running Times interview with Guelph University and Speed River TFC coach Dave Scott-Thomas, who said the following:
Competency is appealing to me, so the distance doesn't matter, and again, when I started coaching, I kept hearing this notion of, "Well, there's people that are specialists over 800m or the marathon," and I understand that, but I don't think it has to be limiting. If you conceptually understand energy systems, why can't you program middle distance and long distance at the same time? So I have affection for any event where I'm working with somebody who's competent and passionate about it ...

I don't have one distance or event that I prefer over others. I just have athletes in the group that want to be good at what they're doing, and that's really my primary driver.
More: 5 Minutes with Dave Scott-Thomas: He's the coach of Canada's top marathoners Reid Coolsaet and Eric Gillis, as well as 3:56 miler Taylor Milne
****
Good Rabbits Get Some Praise
It amazes us that week after week, hundreds of thousands of dollars will be spent to put on professional meets and yet in meet after meet, the rabbiting will be terrible. A rabbit should basically NEVER EVER be seen running way ahead of the field and the rabbit should basically always hit the splits he or she is expected to hit. Yet most times, it seems as if the rabbit goes out way too hard for the first 400 and thus if the 800 split is hit correctly, then field is headed in the wrong direction as the 2nd 400 was way too slow.
Well, last week we saw some great rabbitting.
1) Mark Wiezcorek did a fantastic job in the Wanamaker Mile at MSG.
The field wasn't real keen on going with his pace early on, but Wiezcorek was always looking over his shoulder to make sure there was never a big gap between him and the field. He made it through 1,000 meters and then took the field around an extra turn before stepping into the field. It doesn't get much better than that. He ran very even, was aware of the what the field was doing and made it an extra turn.
2) Craig Miller had the rabbiting performance of the week in Arkansas.
Miller rabbitted Rupp to the 2-mile record and did a wonderful job as he made it 1,818 meters. Rupp's coach Alberto Salazar wanted a negative split for Rupp and a 4:06 1st mile and that's exactly what Miller gave him and it was incredibly even. After the first lap of 218 meters was a tiny bit slow (31.3 200 pace) Miller's next 7 laps were all run between 30.48 and 30.95. He then accelerated on his final lap to give Rupp some momentum toward the negative split - 29.97.
To rabbit 1,818 that well at that type of pace, one has to be in pretty good shape. And Miller is. He already ran 3:58.65 at the Armory on January 21st. Let's hope the 3:37.56 1,500-meter performer was given a nice payday as he deserves it.
One other thing about Miller's performance, he was helped greatly by Salazar, who was on the infield yelling out splits every 100 meters. To us, the meet management or coaches have to play a critical role in helping the rabbits out by giving them feedback at least every 200 meters because 400 meters is too long to find out you are off pace.
****
6 Quotes Of The Week (That Weren't Quotes Of The Day)
****
#1 - "Better to get up hungry from the table."
- What Andrey Baranov, the manager of the world's #1 female marathoner Liliya Shobukhova, told her after she complained she thought she could have done better in her marathon debut in London in 2009 had she started faster. The advice, which appears in a world marathon majors profile of Shobukhovsa, is great advice for all first-time marathoenrs. It's way better to start out too slow and have a good experience than go too fast and never want to run a marathon again. Shobukhova left her 1st marathon a little hungry (time 2:24:24) and has since improved to 2:18:20.
More: Learn About The Rise of The #1 Marathoner In The World - Liliya Shobukhova
****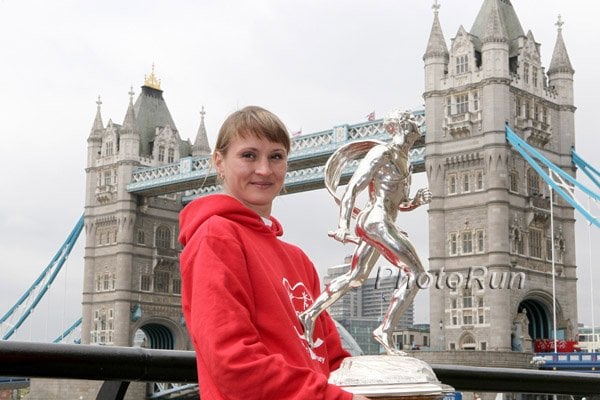 #2 - "If you could somehow take all the great performers [in history] and somehow line them up, she would be hard to bet against. Liliya now against Paula in her prime, or Joan in her prime, or Ingrid, or Rosa Mota, or any of the great ones that have competed here over the years, I think you've got to put her at the top of the list. I think she could go a lot faster."
- Bank of America Chicago Marathon director Carey Pinkowski talking about Shobukhova in the same World Marathon Major profile of her.
In our minds, Pinkowski is a little bit biased on this one, as Shobukhova is the three-time defending champion in Chicago. Shobukhova is one of the all-time greats, but the facts don't lie. Even if Shobukhova could go a great deal faster than her 2:18:20, people need to realize how much faster Paula Radcliffe's world record of 2:15:25 is compared to 2:18:20. That's 2:55 faster, or some 6.67 seconds per mile. That's an eternity.
It's just slightly less than the difference between say an Olympic hopeful in Andy Bumbalough (13:16 5k PR) and an Olympic medal contender in Bernard Lagat (12:53 PR at 5k). Or think of it this way. On the men's side, people are speculating if we'll ever see a sub-2 hour marathon in our lifetime. Well, 2:55 faster than this year's Boston winning time of 2:03:02 is 2:00:07.
****
#3 - "For guys like Hollister, the running biz was never about money. It was about making a better running shoe, talking track to some sweaty, mud-covered kid at a little cross country race in anytown, USA, and influencing another generation to stay with it. That was Geoff Hollister and his merry pranksters, driving beat up vans across the country, showing those running shoes with the swoosh on them."
- Larry Eder writing about employee #3 at Nike Geoff Hollister, who passed away on Monday, February 6th.
More: Thinking of Geoff Hollister, by Larry Eder
****
#4 - "If the field will be strong, I will no doubt set a new (5,000 world) record."
- Reigning 10k/5k world champion Vivian Cheruiyot talking confidently about her desire to set a world record in the women's 5,000 prior to this summer's Olympic Games. We'll find out if Cheruiyot is just talking big as some Kenyans are known to do or whether she's in superb fitness this next weekend, as she'll compete in Birmingham.
More: Kenya: Cheruiyot Sets Eyes On Record
****
#5 - "If a shoe company isn't going to pay me a reasonable amount, why would another company?
I am in this sport to try to run fast and enjoy the experience. I hope someone pays me to do it but if not, I'll keep trying anyway."
- 27:48 man Scott Bauhs reacting to the fact that he made the US World Championships team for 10,000 last year and was dropped by his old sponsor adidas.
More: Despite Making 2011 World Championships In 10,000, 27:48 Man Scotty Bauhs Is Dropped By Adidas
****
#6 - "Initially, when the idea (that Kara Goucher join our training group) was proposed, I was a little apprehensive. When I envisioned my Olympic buildup, Kara was not a part of it. I envisioned Lisa and I. This was my situation, my group. At first, I was a little scared, to have her join, because we both wanted the same thing."
- Shalane Flanagan talking in a fantastic piece by Ken Goe in The Oregonian about Kara Goucher and Flanagan training together in the same training group: Rivals Shalane Flanagan and Kara Goucher become teammates, friends and 2012 Olympians
****
Recommended Reads
Interview With Dave Scott-Thomas, Who Coaches Canada's Top Marathoners Reid Coolsaet & Eric Gillis And 3:56 Miler Taylor Milne
Meet HS Girls Super-Coach: Neal Levy The coach of girls HS mile leader Samantha Nadel as well as 12 sub-11:30 3k girls and 4 sub-10:05 3k girls has some simple coaching rules that would help 99% of all high school coaches - base is way more important than workouts: "No formal interval training. No mile repeats. No tempo runs either."
Learn About The Rise Of The #1 Marathoner In The World - Liliya Shobukhova The former 5,000 also-ran is now a world beater in the marathon. We're not sure about what Carey Pinkowski says about her, though: "If you could somehow take all the great performers [in history] and somehow line them up, she would be hard to bet against."
Rivals Shalane Flanagan and Kara Goucher become teammates, friends and 2012 Olympians
****
Other News Of Note From The Last Week
2012 UK Indoor Championship Results - Not a lot of hot distance action although former FSU star Hannah England won the 3k.
*More: World Class Performances At Aviva UK Trials
USATF XC *XC Results *Men's Photos *Women's Photos
Molly Huddle Celebrates Too Soon, Sara Hall Wins XC On Lean, Bobby Mack Beats Aaron Braun Great races in the chill of St. Louis, as Molly Huddle and Sara Hall battled to the line. Huddle put up her hands thinking she won, but Hall leaned and got the win. Photos here. On the men's side, Mack pulled away from Braun the final 600m. More coverage here. Photo finish photo here.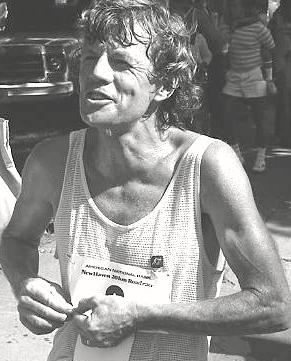 Geoff Hollister, An Original Nike Employee And Former University Of Oregon Track Runner, Dies At Age 66 Hollister was a legend at Nike and the sport of track and field and Nike wouldn't be the same without him. He also was the producer of Fire on the Track, which was voted the best running movie ever on LetsRun.com. Members of the Oregon Project wore special singlets at NB supporting him as he was critically ill at the time. (Photo via Nike South Africa).
*TrackFocus Article On Geoff Hollister With Email From Prefontaine's College Roommate, Pat Tyson
*Excellent Tribute from American Running Association *Thinking of Geoff Hollister, by Larry Eder
*Alberto Salazar: "He's the most courageous man I've ever seen ..."
*MB: R.I.P Geoff Hollister
2 Tour de France Winners Guilty Of Doping
*NY Times: 2010 Tour de France Winner Alberto Contador Found Guilty Of Doping
*In symbolic move because he's been retired for 5 years, 2007 Tour de France winner Jan Ullrich suspended for 2 years for blood doping
****
Quotes Of The Day From The Week:
Note: To see a particular day's homepage, click on the hyperlink of the date on the left. The quote's hyperlink will take you to that particular article - not that day's homepage.
Monday 2/13: "Jerry didn't think I could. He thought I was talented enough, but he didn't think we had enough time. I appreciated the fact that he didn't sugarcoat anything."
"[After,] I had a lot of relief. All of this stress that I had been carrying around was finally over, all this nervousness. Was I crazy to leave Alberto? Did I have enough time with my hip? I could stop questioning myself."
- Kara Goucher, talking about before and after the Olympic Trials Marathon. It comes from in a great article by Ken Goe titled "Rivals Shalane Flanagan and Kara Goucher Become Teammates, Friends and 2012 Olympians," which details Kara's move to Jerry Schumacher's group.
---
Sunday 2/12: "This was a special race ... Just give it 100% and go for it from beginning to end ... It was all about effort. That was what Geoff (Hollister) wanted."
- Galen Rupp on his impressive 8:09.72 American record 2-mile at the USATF Classic. Rupp got sick earlier in the week, but went for the record anyway to honor the late Geoff Hollister. Minutes before, halfway across the country, Bernard Lagat took down Rupp's 5,000m record.
---
Saturday 2/11: "The demand and the interest and the allure of running New York is as strong, if not maybe stronger than last year. This price increase doesn't seem to have turned away people."
- ING NYC Marathon spokesman Richard Finn on the $60 price increase of the NYC Marathon to $255. The Bloomberg News article talks to many runners who think $255 is too much. If that's the case, then don't run it. We must say the Marine Corps Marathon is a bargain at $92. Considering how expensive NYC is to visit, an extra $60 to run probably isn't going to prevent many people from entering.
---
Friday 2/10: "At first, I was thinking, 'This is a joke.'
But after I talked to people, I realized you have to keep the tradition going."
- The former Chairman of the Boards and Millrose legend Eamonn Coghlan, talking about the Millrose Games move from Madison Square Garden to the Armory in a New York Times "Sports of the Times" piece by George Vecsey.
---
Thursday 2/9: "No formal interval training. No mile repeats. No tempo runs either."
"Hills and strides, that's all we do. It's cross-country year-around. Training does not change from summer to fall to winter. The weather changes, that's all."
"Hills for strength, strides for speed. We keep it simple."
- HS girls super-coach Neal Levy, the coach of HS girls mile leader Samantha Nadel, as well as 12 sub-11:30 3k girls and 4 sub-10:05 3k girls, offering some simple coaching advice. Base is very, very important. Workouts way less so.
---
Wednesday 2/8: "I wasn't thinking of mileage. I was using my legs for transportation as they would get me to the top of the mountain and take me back. There was a lake that was 57 miles from Spokane in the other direction. I would run out to the lake, go for a swim, take a little nap and run home in the afternoon. Whether I was training or running I would just do it. You can do more if you don't think of it as running. Here in Oahu I have run around the island which is 147 miles. If you are going for a 147 mile run you'd probably die after 20 miles. However, if you aren't going for a 147 mile run but you're just going around the island and enjoying the sights and the fun you're having, you just enjoy!"
- Gerry Lindgren talking in an in-depth interview with Gary Cohen about his running career and training.
---
Tuesday 2/7: "Geoff is my hero."

"He's the most courageous man I've ever seen ... what he went through the past eight years, battling cancer, all over his body, one after another, and still, he had such grace and composure. He was the most upbeat and caring guy that you ever saw."
- Alberto Salazar on Nike employee #3 Geoff Hollister who lost his battle with cancer yesterday. Nike or the sport of track and field would not be what it is today without Geoff. He also produced Fire on the Track, the #1 running movie of all time as voted on by you. Our thoughts and prayers go out to his family and friends. Longer Oregonian article on Geoff here, Pat Tyson tribute here. On The Boards: R.I.P Geoff Hollister