Event-By-Event Recap Of 2012 Millrose Games
By Tim Loh For LetsRun.com
February 11, 2012
NEW YORK - Records toppled left and right at the Armory Saturday night, as the Millrose Games took place for the first time in a century somewhere other than Madison Square Garden.
Competing before a reportedly sold-out crowd of 5,000 (Editor's note: We're trying to find out what Tim means with this comment - we're assuming he's referring to the fact that empty seats were seen throughout the Armory), Bernard Lagat claimed the American record in the indoor 5,000; a relaxed-looking Matt Centrowitz impressively won his first Wanamaker Mile; Jenny Simpson outlasted Shannon Rowbury in the women's 1,500 meters; and the collegiate 5,000 and mile records fell.
Men's 5,000 Meters: Lagat And Lalang Put On A Show As Lagat Smashes American Record & Lalang Gets Henry Rono's Hallowed Collegiate Record From 1978
Chris Derrick Becomes 5th-Fastest US Collegian Ever As Well
Two weeks ago, after coming in second in the mile at the US Open at Madison Square Garden, Bernard Lagat predicted he could take down Galen Rupp's indoor American record of 13:11.44.
Tonight, he seemed bent on realizing that from the gun - and helped others smash several records in the process.
Following right on the heels of rabbits Ben Bruce and Bolota Asmerom, Lagat clipped off the 800 meters in 2:05, the 1,600 in 4:12, and the 3,000 in 7:55. Training partners Lawi Lalang and Stephen Sambu, both of the University of Arizona, tucked in right behind him, and Leonard Korir, of Iona College, hung tight to them.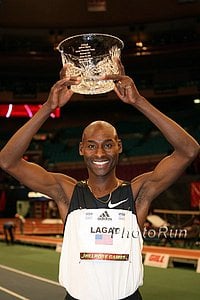 Chris Derrick, of Stanford, and Andy Baddeley kept pace a few strides behind the lead pack.
The crowd was roaring with 600 meters left, as Lagat and Lalang pulled clear of Sambu and it became a two-man race (Lagat, 37 years old; Lalang, 20). They hit the 4,600 meters, Lagat a step ahead of Lalang, in 12:09.
Lagat pulled into a commanding lead down the final backstretch, distancing himself a few meters from Lalang with 150 meters to go. Displaying the sort of finishing speed that he couldn't muster at the US Open, Lagat held on for a 13:07.15 victory, shaving four seconds off Rupp's American record.
Lalang came in right behind him, in 13:08.28, taking a full 10 seconds off Rupp's collegiate record. More impressively, it makes Lalang the fastest collegian in history indoors or out as he broke Henry Rono's hallowed 13:08.4 collegiate record from April 8, 1978.
Sambu held on for a strong third place, also smashing Rupp's former mark, in 13:13.74.
Korir was 4th in 13:19.54 and Stanford's Derrick ended up in 5th in 13:19.58.
The fact that Derrick finished 5th in the race may have obscured for many how great of a run it was for the senior. In addition to the mark being a overall PR of 10.16 seconds, Derrick's 13:19.58 makes him the #3 American in US indoor history behind just Rupp and Lagat (#4 is Doug Padilla who ran 13:20.55 and had the US record from 1982 to 2009). Additionally, it makes Derrick the 5th fastest US collegian in history - indoors or out.
The top 5 US collegians in history indoors or out are as follows:
1. 13:15.77 Bill McChesney 1981
2. 13:18.12i Galen Rupp 2009
3. 13:18.46 Brent Vaughn 2008
4. 13:19.22 Rudy Chapa 1979
5. 13:19.58 Chris Derrick 2012
(Note: Although #5 on the list above, Derrick does not have the Stanford all-time record according to Stanford. The Stanford website lists Ian Dobson's 13:15.33 and Ryan Hall's 13:16.03 from 2005 although they were run at USATFs after the NCAA meet of Hall and Dobson's senior year. So it depends on when you stop counting someone as a collegiate athlete. More here. Thanks to reader Freddy P bringing this to our attention).
Though Edward Cheserek finished in eighth of 9 places, a ways back from the excitement up front, the high schooler out of Newark, NJ, dipped under 14 minutes - 13:57.04 - to set the national high school record, erasing Lukas Verzbicas's old mark of 14:06.78.
*Video Of 2012 Millrose Games: Bernard Lagat's American Record 5,000m
Bernard Lagat, Lawi Lalang And Coach James Li Talk Records.
Men's 5,000-meter Run
Finals
  

1 Lagat, Bernard

               

Nike

                  

13:07.15 American 
  

2 Lalang, Lawi

                

 

Arizona

               

13:08.28 College
  

3 Sambu, Stephen

               

Arizona

               

13:13.74 College
  

4 Korir, Leonard

               

Iona College

          

13:19.54
  

5 Derrick, Chris

               

Stanford

              

13:19.58
  

6 Baddeley, Andy

               

New Balance

           

13:22.44
  

7 Barrios, Juan Luis

           

Nike

                  

13:23.61
  

8 Cheserek, Edward

             

Newark, NJ

            

13:57.04 Natl HS
  

9 Tyner, Justin

                

W C A P

               

13:59.88
    

Asmerom, Bolota

              

Saucony

                    

DNF
    

Bruce, Ben

                   

U.S.A.

                     

DNF
Men's Mile: Centro Makes It Look Easy, Miles Batty Gets Collegiate Record
Taylor Milne, the Canadian Olympian hot off a 3:56 mile last week in Boston, pulled a field that didn't jumble much through the half mile in 1:57 and 3/4-mile in 2:56.
Matt Centrowitz, the bronze medallist from Worlds, running his first mile as a pro, looked extremely relaxed in second place. Garrett Heath held on tight in third until, just after the 1,000-meter mark, Miles Batty, of BYU, passed him on the inside.
Then Milne faded - fast - with 400 meters to go, opening the door for Centrowitz to sail ahead unchallenged to a 3:53.92 victory. Over the final stages of this race, Centrowitz was able to glance over his shoulder as he showed some of the speed that got him the Worlds bronze. It was almost too easy for Centrowitz, who looked super-impressive here. Centrowitz, who is one of the best milers in the world, was simply schooling the collegians who had been assigned the task of trying to challenge him.
But the top collegian in the field and the runner-up probably didn't care. Batty closed strong and got what he wanted - the NCAA indoor record with a 3:54.54, eclipsing German Fernandez's 3:55.02 and finally erasing any doubt about Tony Waldrop's 3:55.0 hand time from 1974 possibly being the best collegiate indoor mark.
Video Of 2012 Millrose Games: Wanamaker Mile

Centro Reminds Us Of His Bronze


Meet Your New American
Collegiate Mile Record Holder

Heath held on in third place.
Finals
1 Centrowitz, Matthew Nike 3:53.92A
2 Batty, Miles B.Y.U. 3:54.54A
3 Heath, Garrett Saucony 3:55.24
4 Kisorio, Silas Unattached 3:55.84
5 Van Ingen, Erik Binghamton 3:56.37
6 O'Hare, Chris Tulsa 3:56.63
7 Levins, Cam So. Utah 3:57.16
8 McCarthy, David Providence 3:57.86
9 Milne, Taylor New Balance 4:00.78
10 Merber, Kyle Columbia 4:02.83
11 Boylan-Pett, Liam N.J.-N.Y. 4:10.86
12 Olmedo, Manuel Nike 4:16.71
-- Wiezcorek, Mark U.S.A. DNF
Women's 1,500: Simpson Wins
Right from the gun, World Champion Jenny Simpson tucked in behind the rabbits, clicking off splits of 65 and 2:13.
Behind her, Isabel Macias led a jumble of racers that included former Worlds bronze medalist Shannon Rowbury, who appeared boxed in fourth place. With less than 400 meters to go, Rowbury finally moved to the outside and into second place, setting up the showdown everyone was hoping for.
It wasn't much of a showdown, though. Simpson commanded the race from tape to tape, holding her position over Rowbury in the last 150 meters. Rowbury seemed unable to call up the finishing speed or necessary positioning to strike.
Simpson held on for 4:07.27, with Rowbury a half-second back at 4:07.66.
Jenny On Her Win

NYRR Wanamaker Women's Metric Mile
Finals
1 Simpson, Jenny New Balance 4:07.27
2 Rowbury, Shannon Nike 4:07.66
3 Macias, Isabel adidas 4:08.80
4 Infeld, Maggie N.Y.A.C 4:10.12
5 Sifuentes, Nicole Saucony 4:10.92
6 Follett, Katie Brooks 4:11.51
7 Van Dalen, Lucy Stony Brook 4:11.78
8 Centrowitz, Lauren New Balance 4:11.97
9 Maloy, Liz New Balance 4:15.40
-- Muncan, Marina New Balance DNF
Women's 800 meters: Uceny Gets Win #1
Would someone break 2:00?
By 400 meters, as Phoebe Wright took the field through in 61 seconds, the answer was clear: No.
Morgan Uceny clung to her shoulder, and Fantu Magiso was biding her time in fourth.
2011 World 1,500m #1 Uceny surged into the lead with 150 meters left and would get her first win of 2012. Magiso kicked past Wright in the last 50 meters to claim second place.
Ajee Wilson, the New Jersey high school star who finished last in Boston last week, moved into fourth place for an impressive showing. She smiled broadly when the race was over as someone yelled: "You did it! You hung with them!"
Women's 800-meter Run
Finals
  

1 Uceny, Morgan

       

         

adidas                 2:03.35

  
  

2 Magiso, Fantu

                

Ethiopia

               

2:03.72

  
  

3 Wright, Phoebe

               

Nike

                   

2:03.95

  
  

4 Wilson, Ajee

                 

U.S.A.

                 

2:04.13

  
  

5 Vessey, Maggie

               

New Balance

            

2:04.18

  
  

6 Thomas, LaTavia

              

Nike

                   

2:04.19

  
  

7 Wallace, Lea

                 

Nike

                   

2:05.55

  
  

8 Goldfarb, Aly

                

Puma

                   

2:16.38
Men's 500 meters: Merritt Comes Up Short In Attempt To Be 60-Second Man
$25,000 was on the line for Olympic champion LaShawn Merritt if he broke the world record of 60.17, but he didn't come close.
Mel Sheppard Men's 500-meter Dash
  

1 Merritt, LaShawn

             

Nike

                   

1:01.39

  
  

2 Anderson, Jeshua

             

Nike

                   

1:01.86

  
  

3 Hurtault, Erison

             

C.P.T.C.

  

N.B.

         

1:02.27

  
  

4 Courtney, Michael

            

U.S.A.

                 

1:02.59

  
  

5 Mutekanga, Julius

            

C.P.T.C. N.B.

          

1:03.14

  
  

6 Livingston, Strymar

          

Bronx, NY

              

1:03.39 
Women's 400 meters: Sanya Richards Runs Fast
Howard Schmertz Women's 400-meter Dash
Finals
  

1 Richards-Ross, Sanya

         

Nike

                     

50.89 
  

2 Hastings, Natasha

            

Under Armour

             

51.85
  

3 Dorr, Fawn

                   

Brooks

                   

53.33

  
  

4 Wineberg, Mary

               

N.Y.A.C

                  

53.91

  
  

5 Lloyd, Shereefa

              

adidas

                   

54.45

  
* Richards broke the Armory record of 51.62 set by LSU's Hazel-Ann Regis in 2005.
Men's 60-Meter Hurdles
David Oliver got revenge on Terrence Trammel by .01. Trammel had bested Oliver at MSG two weeks ago.
Mushin Men's 60-meter Hurdles
Finals
  

1 Oliver, David

                

Nike

                      

7.51
  

2 Trammell, Terrence

           

Track Star

                

7.52
  

3 Merritt, Aries

               

Reebok

                    

7.53
  

4 Fourie, Lehan

                

South Africa

              

7.65
  

5 Osaghae, Omo

                 

adidas

                    

7.69
  

6 Phillips, Richard

            

Jamaica

                   

7.69
  

7 Wilson, Ryan

                 

Saucony

                   

7.75
  

8 Moussa, Dembele

              

Essex CC

                  

7.86
Girl's High School Mile
US leader Samantha Nadel ran nearly the same time she did a few weeks ago - coming up just .08 short of her own Armory record.
New Balance High School Girls' Mile
Finals
  

1 Nadel, Samantha

              

North Shore

            

4:46.19M 
  

2 Moye, Megan

                  

Cosby

                  

4:49.95

  
  

3 Nerud, Brianna

               

North Shore

            

4:50.12

  
  

4 Cain, Mary

                   

Bronxville

             

4:52.19

  
  

5 Chase, Sophie

                

Lake Braddock

          

4:54.14

  
  

6 Paul, Rachel

                 

Sachem East

            

4:54.64

  
  

7 Panisse, Alexis

              

Cardozo

                

4:57.39

  
  

8 Batzel, Audrey

               

Ocean Lakes

            

4:57.56

  
  

9 Seykora, Maria

               

Notre Dame

             

4:58.00

  
 

10 Gerlach, Tori

                

Pennridge

              

5:03.70

  
 

11 Margey, Kelsey

               

Friends Academy

        

5:06.57

  
 

12 Sargent, Sara

                

Pennsbury

              

5:14.87 
Boy's High School Mile: Zavon Watkins Gets The Double
While the top high school distance runners built up a base in the fall with cross-country, New York mid-distance stud Zavon Watkins played quarterback for his high school's football team. In his last game of the season, he suffered a concussion that set back his transition to the track.
No matter, as he followed up his win at the US Open with a win here.
No one seemed to want to take the lead in the unrabbited boy's high school mile, with Connor Rog, a Virginia-bound racer from Fairfield, Conn., leading the pack through 200 meters in 32 to 33 seconds.
Hiding in back was Watkins - through 1,000 meters he remained in last place. But the Penn State-bound senior threw down something like a 57-second last quarter mile to win convincingly in 4:13.83.
Crossing the finish line, flexed his muscles, emitted a battle cry and spiked the finish-line on the track like a football.
"I came into the race preparing to sit and kick, but I wasn't aware I was getting pushed back so far," he said. "Somehow I happened to get there in time and make the kick."
Two Big Mile Wins For Zavon In 2011





Larry Byrne New Balance Boys' High School Mile




Finals




  

1 Watkins, Zavon

               

Liverpool

              

4:13.83

  




  

2 Marsella, Mike

               

Chariho

                

4:14.68

  




  

3 Holt, Eric

                   

Carmel

                 

4:17.05

  




  

4 Price, Everett

               

New Providence

         

4:17.38

  




  

5 Napolitano, Rob

              

Red Bank Cath

          

4:17.92

  




  

6 Surkont, Konrad

              

Stuyvesant

             

4:18.90

  




  

7 Rog, Conor

                   

Fairfield Prep

         

4:19.66

  




  

8 Lewandowski, Stephen

         

Mountain Lakes

         

4:19.68

  




  

9 McIe, Adam

                   

Brewster

               

4:22.93

  




 

10 Willig, Ned

                  

Great Valley

           

4:25.83

  




 

11 Ellis, Travis

                

Morris Hills

           

4:26.66