US News (But Not US Champs)
Have An Extra $250,000?
Lee Evans Wants To Sell His 400m And 4 x 4 Olympic Gold Medals For Charity
Day 2: Jenn Suhr's American Record, #2 Performer All-Time And Jillian Camarena-Williams AR In Shot Highlight Suhr got a rare 4th attempt to get the record due to an official error. The distance races saw Jenny Simpson complete the mile-3k double, Jeff See win the mile, Phoebe Wright continue her fine form by winning the 800, and Duane Solomon get the men's 800m crown. All in all, there were 7 world leaders at the meet.
*Jenny Simpson Wins 3k To Complete 3k/Mile Double And Says, "Take that everyone who thought I wasn't going to be back." Co Gazette
*MBoard: Jeff See wins USATF indoor mile
*Jenn Suhr Sets American Record On Her 4th Attempt (With Video) Trackfocus
*Mike Rodgers Runs 6.48 To Win His Third 60m National Title
*Day 2 Photos


LRC Bernard Lagat Wins 3,000m At USA Indoors And Makes It Look Easy Galen Rupp tried his best to beat Bernard Lagat on Saturday night, but Lagat ran away from Rupp with ease on the final lap, reminding us how damn good he is at 3,000m. Last year, when Lagat won World Indoors, we said he was "Utterly Brilliant." This one was "utterly smooth." Jenny Simpson ran away from Sara Hall on the last lap to win the women's 3,000m. More Sunday.
*On The Boards: USATF 5000m: Lagat, 7:57.17, Rupp 7:59.91
*Day 1 Photos
World's Best 10k In Puerto Rico *Results
Sammy Kitwara Wins World's Best 10km (updated) World XC Joseph Ebuya pushed early, but another LRC favorite, Sammy Kitwara came out on top. The big news may be 4th placer WR holder for 10k, Leonard Komon who defied Athletics Kenya and ran the race. They kicked him off the World XC team as a result. We commend him and wish Linet Masai and Vivian Cheruiyot had run as well if they wanted. Sentayehu Ejigu won the women's crown. We hope to have a better recap article Monday. *2nd Recap
*Only Three More Missing From Kenya XC Camp But Komon Won't Be One Of Them
Willis Wins Mile, Gets His Olympic Silver, Alan Webb 3rd In 800 On an emotional afternoon, an hour after being presented with his Olympic silver medal, Nick Willis won the mile in 3:58.4 over Will Leer's 3:58.8. Brandon Bethke was 3rd. Lee Emanuel went down hard with 220-250 meters to go and did not finish. Afterwards, Willis was grateful to his American competitors for helping lead and break the wind. Alan Webb was third in the 800m in 1:52.2 and then paced the mile.
*MB Thread *NZrun.com Thread
*Cool video promo on the meet with Webb, Willis and Warhurst on the right of this page or here.
*Donate To Earthquake Relief Here

More From South Of Equator: LJ van Zyl Runs 47.66 South African Record In 400m Hurdles, Caster Semenya Runs Slower Than 4:24 In 1,500 Debut
*LJ Turns His Sights To Winning World Title
More Down Under
One Week To Incredible Melbourne Meet: Kiprop Added To 1,500m It will be a stellar way to kick off the 2011 IAAF outdoor season. WR holder David Rudisha in the 800, Olympic champ Asbel Kiprop and Nick Willis (and Alan Webb according to this article) in the 1,500, and a great one for American distance fans with Bernard Lagat, Chris Solinsky and Matt Tegenkamp in the 5k (imagine if Rupp had stayed an extra week in Australia).
Ju$tice Is Achieved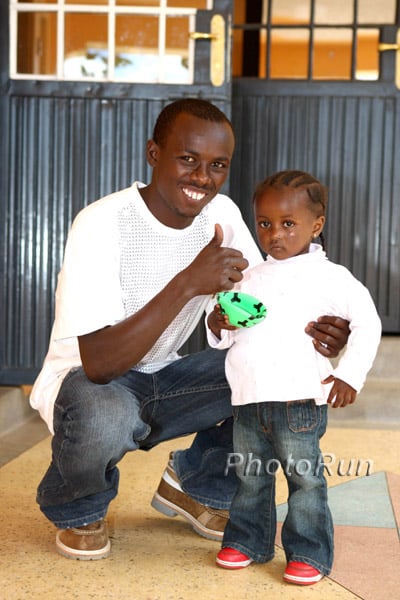 We Wonder How Much It Cost
Sammy Wanjiru's Attempted Murder Charge Is Dropped He may still have to face charges for having an illegal firearm, but the Olympic marathon champ's wife and watchmen have dropped their accusations. In case you missed it, Wanjiru and his wife reconciled very publicly on Valentine's Day as shown by this video newscast. *Article From Kenyan Paper On Charges Being Dropped
Having Marital Difficulties? Read This: Olympic champ discovers love is truly a marathon.
News From Oregon
A Brief Chat With 3:57 Miler Erik van Ingen LetsRun.com headquarters are less than a mile where van Ingen often trains in the winter, so we have always been big fans of his. Now knowing he was inspired by Chris Lear's Sub-4, we are even bigger fans.
Random But Interesting
Tuesday's Action *Results
Stockholm: World Junior Records Galore Abubaker Kaki (2:17) went out too fast in his world record attempt (25.5) but still won in the 1k (2:17.55) as Meseret Defar (8:36.91) triumphed in the 3,000m, as American Shalane Flanagan 8:39.18 (#3 time for an American) came up short in her AR attempt. In the 1,500, Abeba Arigawi crushed the reigning world indoor champ with a 4:01.47 and moved up to #10 all-time and announce herself as a potential future star, as Morgan Uceny ran 4:05.35 (#4 all time US). The junior records all belonged to Angelica Bengtsson in the pole vault (4.63).
*MB Thread
Stockholm Preview: Kaki Racing Augustine Choge And Deresse Mekonnen In World Record Attempt At 1,000m, Meseret Defar Going For 3k WR Should be a good one.
The Toughest XC Race In The World
Geoffrey Mutai Dominates Kenyan XC, Linet Masai Outkicks Vivian Cheruiyot, Defending Champs Ebuya And Chebet Out Of Worlds If you're looking for the best runner on the planet right now, look no further than Geoffrey Mutai, as he is on an incredible roll and he kept it going Saturday in Kenya. Mutai, who averaged 2:05:03 in his 2 marathons last year (neither of which he won), has now won 3 XC races in a row in Kenya by dominating margins, as he won by 44 seconds on Saturday if the results are correct. On the women's side, world 10k champ Linet Masai outkicked world 5k champ Vivian Cheruiyot. The Kenyan XC champs were full of drama, as defending world champs Joseph Ebuya (dropped out) and Emily Chebet (injured ankle in race) did not make the Kenyan teams for Worlds. Not surprisingly, in the junior race, recent world junior record setter Isiah Koech (12:53 for 5k and 7:37 3k) ran to a comfortable 4-second win. He said: "My aim is to take gold in Spain before going for the World Championships." *Koech XC Thread
On The Boards: Renato Canova On Mutai: "At the moment, there is an athlete clearly stronger than any other in the World, and (it) is Geoffrey Mutai ... There is a reason for this: Geoffrey is preparing Marathon ... Preparing marathon in the modern way, it's possible to be very much competitive in a Cross, 4 weeks before. But preparing a cross with the Kenyan system, you can forget that is possible to run a marathon 4 weeks later.
*Geoffrey Mutai Is Confident Going Into World Cross
LRC Mary Keitany Runs 1:05:50 WR At RAK Half Marathon To Pocket $75,000 Keitany is an absolute stud and her run Friday in the UAE was the first sub-66 clocking on a totally legitimate course, although Paula Radcliffe has run 65:40. On the men's side, former Boston champ Deriba Merga went out in a ridiculous 13:37, set a new 8km world best of 21:51 for the roads, and then held on for a 59:24 - good enough for a 20-second win. Patrick Makau, one of the pre-race favorites, appears to be in marathon training mode as, after trying to stay with Merga early on, he only managed a 63:51.
*IAAF Recap
On The Boards: OMG did Mary Keitany just run sub 1:06 half marathon WR?
*Official RAK Half Marathon Thread
Week That Was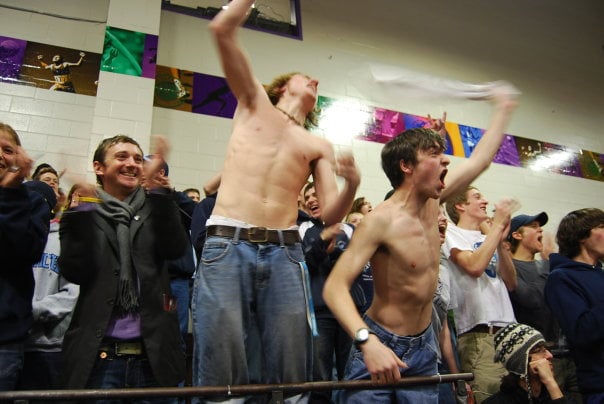 LRC Week In Review: The Performance Of The Week, Meb Left Out Of Boston, High Jumping, And What About The Fans? It was a tremendous week on and off the track from 17-year-old Isiah Koech's 12:53 5k to Bernard Lagat's American 2 mile record to Chris Solinsky's 3:54 mile to Kim Smith's 1:07:36 half marathon. We've got it all covered, even take a look a stud American high jumper, and ask everyone associated with the sport to think of you - its fans. Because no matter how good the action on the track, if no one is watching it, our sport will suffer.
Japan Marathons
World's First Two-Legged Robot Marathon Race will involve 422 laps of a 100m course indoors and will run nonstop for up to 4 days ... with occasional battery charge breaks of course. *Video Preview Included
The Secret Is ... There Is No Secret
Coaching: There Are No Secrets, Substitutes Or Shortcuts For Success ... Do The Work
World Records And Olympic Medals?
China Hires Agent Jos Hermens To Help Win Medals After helping Haile Gebrselassie and Kenenisa Bekele become rich Olympic champions, China is hoping he can do the same for them. Even though China led in gold medals at Beijing, they only had two bronze medals in Track and Field.
This Just In: Walking IS Easier Than Running
Former XC State Champ Erin Gray Is Surprised By The Easiness Of Race Walking Gray has only been race walking for about 16 months, but she already qualified to represent Team USA at the 2011 Pan American Cup and is close to the Olympic "B" Standard. She says "the race itself, felt surprisingly easy." We're less surprised.
Lagat And Verzbicas
Lagat Does It (8:10.07), Lukas V Comes Up Short Message board thread here. Bernard Lagat threw it down the final few laps to smash the US 2 mile record, while Lukas V went out too fast (4:15-16 range) and ended up getting lapped by Lagat. He ran 8:43.24, which is still good for #3 US all-time indoors. *See His Splits Here
*Update 8:13 AM: Nice IAAF Recap Of Koech's Run
LRC: Isaiah Koech Runs 12:53 Indoors As Galen Rupp Comes Up Short In American Record Attempt
Isaiah just turned 17 at the end of December and he put on a performance to remember as he pulled away from World Champ Eliud Kipchoge for the super-impressive win. 12:53 indoors is amazing. With no advance fanfare (the track writers in Oregon didn't even write about it), American Galen Rupp was in the race in his 2011 indoor opener and ran a solid 13:21 after being on 13:05 pace at 3k, according to this thread. In other action, Nixon Chepseba got the narrow win over Augustin Choge in a world-leading 3:34 in the 1,500m, and Liu Xiang was 3rd in his European return.
*Athletics Weekly: 17-Year-Old Runs 12:53 As Kim Collins Breaks 11-Year-Old PR (6.52)
*Details On Rupp's Race
*17-Year-Old Runs 12:53 Indoors!
*Some More Highlights From Dusseldorf
No Meb In Boston
RRW: John Hancock Releases Elite Field For 2011 And Meb Keflezighi Is Left Out And Controversy Simmers
*John Hancock And Boston Marathon Do Not Make An Offer To Meb To Run This Year's Race Races have limited funds, and Boston's are way more limited than New York or London's, but it shows the financial realities of our sport when the Boston Marathon does not even extend an offer to America's top marathoner the last decade to run its race. That is what Meb Keflizighi is saying happened on his website. Perhaps Boston did not want to insult Meb with a low offer. We reached out to the BAA and Boston on this matter and they chose not to comment on it.
*Full John Hancock Release Reigning champs Robert Kiprono Cheruiyot & Teyba Erkesso will defend their titles. Coming March 20th: NYC Half Marathon - Meb, Hall and Abdi!
Sad News
17-Year-Old World Junior Silver Medallist And 8:23 Steepler Albert Yator Dies From Malaria Yator's death was a surprise and is a very tragic reminder that malaria is not just something we read about in the newspaper and should ignore.
On The Boards: RIP: Albert Yator 17, 8:23 steepler and World Jr Silver Medalist
Russell Brown Cruises To 3:54 Win, Webb, Manzano And Verzbicas All Over 4 The men's mile featured Alan Webb, Leo Manzano, Nick Willis and high school star Lukas Verzbicas, but the star of the night was Russell Brown, who crushed the field winning in 3:54 as Webb, Manzano and Verzbicas all didn't break 4. Afterwards, Webb threw a tantrum (seriously, that's a fair way of describing it) before addressing the press, and we'll have more on that Sunday. In other action, Sally Kipyego turned back Jenny Simpson in the 3k, Phoebe Wright got another win in the 800m, but the performance of the night may have been Dejen Gebremeskel running 7:35 and outkicking Mo Farah with a last lap of 26 while having one shoe on for most of the race.
Yenew Alamirew Runs 7:27.80 To Lead 3 Under 7:30 Barrier For First Time Ever, David Oliver Runs Fast In Hurdles Alamirew dominated a late season 3k last year and backed it up here, showing he is the real deal. For the first time ever indoors, more than one guy broke 7:30 in a race, as Alamirew triumphed over Augustin Choge and Eliud Kipchoge. David Oliver easily dispatched Dayron Robles and nearly got the US record, and LRC favorite Silas Kiplagat lost in the 1,500m.
*IAAF Recap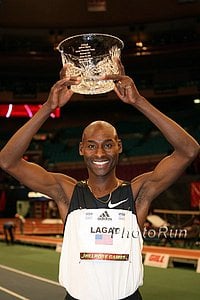 LRC Analysis
Millrose Behind The Scenes: Lagat Goes Down, Millrose Entertains Employee #1 and his able assistant went into the bowels of Millrose to tell you what really happened at the grand-daddy of track and field meets in the world. High schoolers flashing U of O symbols, overlooked 3:34 1,500m runners, and pros addicted to LetsRun.com - we've got it covered.
Conspiracy Theory?
Iran Says 2012 Olympic Logo Is "Racist" They claim that the Olympic logo, which is meant to represent the year 2012, actually says "Zion" which is the word they use to describe Israel and their government. They threaten to boycott the Olympic if the logo is not changed.
*2nd And 3rd Articles
European Indoor Champs Updates
Tokyo Marathon: A Legend Is Born *Photos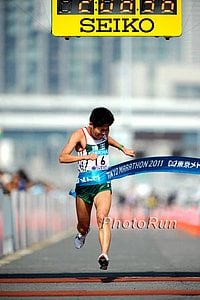 Hailu Mekonnen Wins, Japanese Amateur Yuki Kawauchi Runs Amazing 2:08:37 For 3rd And Faints At Finish Yuki Kawauchi's story is amazing. A 13:59 5ker and 29:02 10ker, he has a full-time job and has stayed away from the Japanese collegiate and professional system, yet he stunned all of Japan with a 2:08:37 run. Dreams do become reality.
*On The Boards: 13:59 5k, 29:02 10k Japanese AMATEUR Runs 2:08:37 at Tokyo Marathon and Passes Out

*Yuki Kawauchi Is "The Rocky Of The Marathon World" *He will race at World Champs by taking vacation days from his full-time job.
*Japanese Federation Feeling Impact Of Kawauchi's Run
*Summary Of Post-Race Press Conference

*Sorry To Miss Tokyo Marathon, Gebrselassie Hope To Return To Japan We hear about how disappointed Geb was and what his future racing plans may look like.

*Chilean Miner Edison Pena Runs 5:08:19 In Tokyo, 30-Minute PR
NCAA Conference Action *More Conference Results Here
SEC: Results *Florida Men, LSU Women Win SEC Indoor Titles
*James Kirani Runs 44.80 World Junior Record At 400m Recap and Video. *IAAF Article

Big 12: *Results
German Fernandez Is Back Fernandez dominated the men's mile and came back for 2nd in 3,000m. Nebraska women and Texas A&M men won the meet.

Big 10 Results: Men, Women
The Ohio State women won their first ever championship and Minnesota men won their third straight. *Minnesota Article
Day 1: Andy Bayer won the 3k and got 2nd in the mile.

ACC: Results The Virginia Tech men and Clemson women dominated. *Virginia Article

Heps: Men, Women
The Princeton men crushed it as Cornell was a strong second, but the rest of the league combined would have lost to Princeton. The Princeton women edged Columbia.

MPSF (pseudo PAC-10): Results
The big news was Oregon's 9:26.78 DMR, the #2 time in NCAA history. Elliott Heath 4:00 mile, Jordan Hasay 4:35. *And It Was A Cold Meet
European News
Historic Bay To Breakers Race Will Be Celebrating Its 100th Anniversary - Yet Some Think Race Will Be Cancelled After This Year Supposedly the race is losing money. But doesn't everything in California cost more than it brings in? The real problem appears to be all the drunks on the course and perhaps that is keeping away sponsors. AEG has to have someone smart enough to figure out how to make money on 50,000 entrants. *Comments On SF Gate Website Worth A Read
Week That Was
LRC Week In Review: Proof That The Kenyan Training Camps Do More Harm Than Good, An In-Depth Look At The 2012 Olympic Track & Field Schedule, Boston Changes Things Up, And Much, Much More This week, we have it all covered for you once again. We start by ripping the Kenyan training camp system, then tell you who is likely to attempt Olympic doubles in 2012 and who isn't, then we get sidetracked by sexting, Oprah Winfrey and Robby Andrews' family's exploits. We also praise some amateurs for promoting the sport and tell the elites running for Nike they need to do more.
US Updates
Good For Some Laughs
Galen Rupp & Mo Farah Set National 5k Records! (13:11.44 and 13:10.60) The two Alberto Salazar-coached athletes put on a brave battle, with Farah coming out on top on the last lap, as Rupp regained his American record from Bernard Lagat by .06. Rupp and Farah will be training together through 2012 and their partnership is off to a strong start. Rupp is scheduled to go for the American 10k record next week in New Zealand. The meet also saw a cool 400m hurdles race (video here or on the right), an 8:30 3k and American Morgan Uceny going sub-2:00 in the 800.
*Mo Farah Breaks British 5,000m Record With His New Coach Alberto Salazar One Of The 8,000 In Attendance Telegraph.co.uk
*Farah Credits Salazar's Coaching
*Rupp/Farah 5k Video
International Track News
Outdoor Track Action South Of The Equator
S. Africa: Caster Semenya Wins Her Comeback Race in 2:04.12 And Then Says She May Do 800-1,500 Double At Olympics Every female 1,500m runner just got nervous. *2nd Article

New Zealand: Nick Willis 3rd In 800 (1:51.56) In His First Race In New Zealand It's the same place where Nick broke 1:50 for the first time 10 years ago as a high schooler. *Video Of 2011 Race
Mid-Week Action Off The Track
Maryland's Andrew Valmon, Miami's Amy Deem Named 2012 US Olympic Track Coaches Valmon's appointment shows that a) "coaching" the Olympians and coaching the collegians are completely different things and b) that collegiate coaching success is often about resources. At the last 2 ACC outdoor meets, Valmon's teams have been 11th and 10th out of 12 teams, yet he'll be coaching Team USA. In fairness, at Maryland, Valmon only has 7 scholarships to work with (schools can have 12.6), and with Team USA, he'll be stocked with talent. Meanwhile, Florida Gators and NCAA champion coach Mike Holloway will be Valmon's assistant.
US News: Site For Post-Collegiates
USATF: RunPro.com - Site Launched For Distance Runners Making Transition From College To Pro Running So about half of all LetsRun visitors' dreams. *RunPro.com
MB: Boston Marathon Announces New Sign-Up Process The fastest qualifiers will get to sign up first. This is bound to make some people really happy and others irate.
*USA Today Article Starting in 2013, age group standards will be made 5 minutes faster (3:05 for 18-34 males, for example). This is the first time they've gotten stricter since 1980.
USATF Wants Your Opinion On TV Broadcasts
Week In Review
LRC The Week That Was: Brent Vaughn And Russell Brown Surprise, Shalane Flanagan And Ashton Eaton Impress, Gebremeskel Wins With One Shoe, And Yenew Alamirew - The Next Great Star? There was a ton of incredible action last week, from Russell Brown's surprise win in Boston to the XC champs to the heptathlon to a sub-4:00 mile at altitude, and we've got it covered. We compare Brent Vaughn to Dathan Ritzenhein, wonder when Ashton Eaton will beat Bryan Clay and Trey Hardee, and ponder whether Yenew Alamirew is the next great star of the sport.
*Video Of Alamirew's 2 Impressive 3k Wins
US XC Champs In San Diego *Results

Brent Vaughn Wins Convincingly, Shalane Flanagan And The Other Winners Dominate Vaughn, the CU record holder at 5k (think about that for a second) dominated the field the 2nd half of the race to win by 6 seconds, the smallest margin of victory of the day. Shalane Flanagan totally destroyed Molly Huddle, winning by 44 seconds, and getting a little revenge for Huddle taking her 5k American record last year. Foot Locker champ Aisling Cuffe won the junior girls race convincingly. 49-year-old Master Pete Magill won in the men's masters ranks, while Colleen De Reuck showed she was in the wrong race, winning by 1:34.

*Denver Post: Brent Vaughn Makes Surprising Comeback After DNFing At US Half Marathon Champs Last Weekend Vaughn was excited to "finally" get in a satisfying race and said, "I felt like I was getting the monkey off my back. It just feels good to finally get one."
*San Diego Union-Tribune: Flanagan Dominated But Says She Didn't Know She Had It In The Bag: "I always run scared."

On The Boards: Men: BRENT MF VAUGHN
Women: Shalane Flanagan Takes USA Cross-Country Title By 45 Seconds In 25:47
Masters: 50-Year-Old Pete Magill CRUSHES
Good Read: Jerry Schumacher Profile In Portland Paper Got to be a quote of the day in here somewhere."
Men: LRC Mo Trafeh Outkicks Ryan Hall Ryan Hall, Mo Trafeh and Patrick Smyth battled together on the streets of Houston for 11 miles. In the twelfth mile, Hall tried to push ahead. Smyth was the first to crack, but Trafeh stayed on Hall's heels. With 200m to go, Trafeh gave it one final surge and passed Hall to get the win.
*Photos
*Video Of Men's Finish *Men's Post-Race Interviews


Women: LRC Jen Rhines' Return Trumps Burla's After a 4-year absence, Jen Rhines made a return to the longer distances with a win and a PR. However, her comeback was the least impressive of the day, as that award definitely goes to Serena Burla. Burla was second just as she was last year. However, in the last year, she had been diagnosed and beaten cancer. Pretty amazing. Mother of three, Nan Kennard, who trains with Colleen De Reuck, was a surprise third.
*Photos
*Video Of Women's Finish *Women's Post-Race Press Conference
LRC Week That Was: Delaware Gets The Ax, Wanjiru Crashes, Dubai Makes Some Marathoners Rich, And The US Indoor Season Gets Going As usual, we recap the week in running like nobody else. Now that the holidays are behind us, the running world is starting to heat up again.
Caster Semenya Sits Down & Gives The BBC Her 1st Extended Interview Since Gender Controversy Arose Semenya said she doesn't want to dwell on the gender issues; she only wants to focus on running, but she did get irritated when asked if she was given hormonal treatment.
Alberto On Galen
LRC: Update On Galen Rupp's Training: Two Distinct Seasons For Rupp In 2011, More Mileage Alberto Salazar has done a tremendous job crafting Galen Rupp's career despite the critics (we specifically remember pro athletes who saw Galen train as a high schooler saying he'd burn out). Alberto says 2011 will be a bit different for Galen than 2009 and 2010, with 2 distinct peaks (and time off in between) and that there is still a lot of room for improvement in terms of training mileage. Plus, we take a look back at Galen's incredibly long and consistent 2009 and 2010 seasons.
It's Not This Easy In America
Olympic Marathon Champ And Accused Attempted Murderer Sammy Wanjiru And His Wife Supposedly Reconcile Press reports are indicating that the families of Wanjiru and his wife got involved and urged a reconciliation which may result in charges being dropped, although his wife was a bit coy in her responses to the press (as we're sure $$$ is still being negotiated). *Updated LRC MBoard Talk: "He is now officially qualified to be a professional American athlete. Can some of the women on this board tell me why abused women stay with their abuser. Often, until they are beaten to death?"
*Sammy Wanjiru Arrested For Attempting To Kill His Wife And A Domestic Worker
The 10 Best High School XC Runners Ever
LRC Week That Was: The 10 Best High School XC Runners Of All Time, Verzbicas, Tribute To Gary Reed, The NY Times & The NE Patriots And More We've got the entire running world covered from San Diego to Japan, from the high school ranks to the pros, and even talk about the NE Patriots and the NY Times.
Definitely Worth A Read
Ollie Matson, Hall Of Fame Running Back And Olympic 400m Bronze Medalist (46.8), Dies Our sport's history is amazing, as is Matson's story. He was on the 1951 Univ. of San Francisco team that he called the "greatest of all time" (they went undefeated and are the only college football team with 3 future NFL Hall of Famers on it). However, there was one "problem" with the team. It had two black players on it. That meant bowl inviations only if the black players didn't play. The team said no, the team lost $70,000 and the school CANCELLED football the next year. Amazing. Great Frank Litsky writeup.
Cool Video With Webb, Willis And Warhurst For Christchurch Earthquake Appeal Meet (To Donate To the Cause, Click Here)