The Week That Was In Running - February 7 - 13, 2011
To read last week's LRC Week That Was, click Here.
To read any 2010 LRC Week That Was, click Here.
By LetsRun.com
February 15, 2011
What Was The Most Impressive Performance Of The Weekend?
17 Year Old Isiah Koech's 12:53 5k in Germany 53.1%
Kim Smith 1:07:36 US All Comers Half Marathon Record 18.5%
Bernard Lagat's 8:10:07 American 2 Mile Record in NYC 10.4%
Chris Solinsky's 3:54.52 Mile in Washington 8.2%
Christin Wurth Thomas's 8:43 World Leader in 3k at Tyson 6.5%
Tim Nelson's 7:49 3k Win in Washington 1.9%
Other 1.5% Total Votes: 1051
For the second week in a row, we asked you, the LetsRun.com viewers, to vote for which performance you found to be "Most Impressive" from last week. Your votes as of Tuesday evening appear in the box above.
We'll now tell you what we thought of all of them and which one truly was the most impressive performance of the weekend in our minds.
17-Year-Old Isiah Koech's 12:53 5k In Germany

An incredible performance. Koech is clearly going to be a new star as he's now the third fastest in indoor history. On an absolute level, this was definitely the most impressive performance of the weekend, but it's not getting our vote. That would be too easy. The performance is amazing and it shows the American 5k stars need to raise the bar. Lagat and Solinsky and crew had better be trying to think how can they run under 12:50 this summer.
As for Koech's age, we don't necessarily believe he's 17. Year in and year out, there always are questions about the top Africans' true ages, whether it is 2006 or just this summer when a LetsRun.com visitor apparently discovered fraud in the age of Kenya's Paul Lonyangata, who won the world junior 10,000 title (and the IAAF did nothing about it). So yes we understand Isiah may not be 17. But don't let the age controversy take away from the performance. An unheralded guy ran away from Eliud Kipchoge in a 12:53 and 12:55 race indoors. Super, super impressive. It doesn't matter if Koech is 27, the other stars of the sport had better start wondering how they can beat him.
*IAAF Recap Of Koech's Run *LRC: Isiah Koech Runs 12:53 Indoors As Galen Rupp Comes Up Short In American Record Attempt *Athletics Weekly: 17-Year-Old Runs 12:53 As Kim Collins Breaks 11-Year-Old PR (6.52)
*Details On Rupp's Race *17-Year-Old Runs 12:53 Indoors!
Last 1000m of Koech's Run

Bernard Lagat's 8:10:07 American 2-Mile Record In NYC
Lagat looked amazing and got the record and $10,000 bonus for crushing the record. Bernard is so good and consistent we expected him to break the record and he was fabulous over the final laps in New York. It's a shame they just couldn't have run this race (instead of the 3,000) in the midst of the New Balance meet the week before so everyone could watch it on national television (see our blurb later on the piece on how everyone in track needs to think about how we can promote the sport). We were glad this unique event was put on with Lukas Verzbicas going for the 2 mile high school record.
Chris Solinsky's 3:54.52 Mile In Washington
A great opener for the 10,000 US record holder and some might say it makes our prediction that he won't PR in 2011 look foolish. People went absolutely bonkers over the performance on the message board, as there was a Super Hot thread that popped up right after the race entitled "Did Solinsky really just do that??? (3:54 Mile Opener)" that opened with the following post:
Did Chris Solinsky really just open his season with a 3:54? Someone please tell me he's raced somewhere else. He's a 5k-10k guy and he just ran 3:54 to open his season, in February. He's getting really, scary good.
We'd answer that question by saying, "Yes. He just did open in 3:54. No, he's not getting really, scary good. He's already really, scary good."
That being said, it's not the most impressive performance in our book. Why? Because much like Lagat's performance, it's largely expected.
Everyone seemingly has forgotten that Solinsky opened in 3:55 last year in Washington and that opener was two weeks earlier - at the end of January. If a guy we've hardly heard of, Miles Batty, can run 3:55 while in college, then we shouldn't be too shocked by Solinsky running 3:54.
Christin Wurth-Thomas's 8:43 World Leader In 3k At Tyson
Another impressive performance that generated a good thread on the message board: Christin Wurth-Thomas yesterday slashed 11 seconds off 3000m best for the WORLD LEAD and no love. That being said, not the most impressive performance of the week in our book. Why? Well, it lasted as a world leader for less than a day, as two women would run faster the next day in Germany (1. Mercy NJOROGE, KEN, 8:42.75 WL, 2. Sylwia EJDYS, POL, 8:43.22 PR). Additionally, it's a good time but nothing unheard of - Wurth-Thomas is now #7 on the US all-time indoor list.
Tim Nelson's 7:49 3k Win In Washington 1.9%
This race and the Lagat-Verzbicas 2 mile in New York were the two races we wanted to watch all week. This race was interesting as it had the "names" or stars in it, with the likes of Sam Chelanga, German Fernandez and Alan Webb. However, this week we're a bit miffed that no one in the sport seems to be promoting the sport properly (more on this concept below) and realizing a simple truth to sports and the key to LetsRun.com. As Jeff Pearlman wrote last week in the Wall Street Journal, "Talking Sports Beats Watching It." If only people had been guessing who would win and talking about it all week. The problem is fields often aren't finalized until the day of the race in many cases and we didn't even know Webb was running until the day of the race.
Ignoring our anger for the lack of publicity for this race, there is no way we can count a 7:49 as our most impressive performance of the week, as Galen Rupp might have even split that fast in the midst of his 13:21 5,000 in Germany. If Rupp didn't split that fast, Isaiah Koech certainly did, as his 3K split was 7:43.
*Watch Nelson's Win Here
Our Most Impressive Performance Of The Week - Kim Smith's 1:07:36 US All Comers Half Marathon Record 18.5%
Former Providence star Kim Smith went down to New Orleans and ran the fastest half marathon on US soil by running a ridiculous 67:36. This is our Performance Of The Week.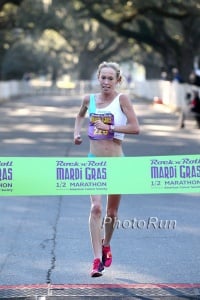 Let's start by stating the facts. 67:36 is very, very good for a half marathon. If Smith were from America and not New Zealand, she'd almost be the US record holder, as its just two seconds behind>Deena Kastor's US record of 67:34 (although Kara Goucher did run faster on an non-record-eligible course). Smith is now the 24th-fastest woman in history.
Additionally, the performance was unexpected. (Smith is known for the unexpected performances, so perhaps that makes it expected? more on this below) Unexpected performances always deserve more praise in our minds as they are simply more fun to learn about. (Solinsky running 26:58 will never be the same as him running the 26:59 last year).
Smith has always had a lot of potential. However, despite having very respectable PRs of 14:39 (faster than the American record) and 30:35, she has been a bit overmatched on the track at the very top level of the sport. However, her two marathon attempts last year showed some promise, as Smith ran 2:25:21 to get 8th in London before getting 5th in New York. But according to the McMillan calculator, a 67:36 equates to roughly 2:22 in the marathon, which instantly gives one the hope that they'll be a medal contender in 2012.
We also are giving Smith our Performance Of The Week award as, quite honestly, we think Smith deserves way more publicity.
We know Kara Goucher and Shalane Flanagan both have either a World Championships or Olympic medal to their name, but think about how much publicity they get in this country and how little Smith generates. On paper, the three are fairly similar.
Let's play our favorite little game of Runner A, Runner B or Runner C?
Runner A's PRs: 14:39, 30:35, 67:36, 2:25:21. Runner A's age: 29 years, 88 days.
Runner B's PRs: 14:44, 30:22, 68:37, 2:28:40. Runner B's age: 29 years, 222 days.
Runner C's PRs: 14:55, 30:55, 66:57, 2:25.53. Runner C's age: 32 years, 221 days.
Given those stats, most people would probably say they'd want to be Runner A as she beats both of the other runners' PRs 3-1 and also is younger. Well, Runner A is Kim Smith. Runner B is Shalane Flanagan and Runner C is Kara Goucher. Of course, the numbers above leave out two important things, the bronze medals that hang around runner B (Olympics 10,000m) and Runner C's (World Champs 10,000m) necks.
They all are former NCAA stars, are native English speakers, train in the US and are marketable. When one looks at the stats, it's pretty crazy to think how much not being a US citizen hurts Smith in terms of her publicity. She ran 14:39 indoors two years ago, which is way better than the current American outdoor record. Yet most of you hardly know who she is.
One of Kim's problems is she hasn't figured out how to run fast when it counts most. Smith is famous for running fast times in races all by herself in February. Of her 10 best-performances lifetime prior to this one, 5 of them were in the month of February. 3 of them were Valentines day weekend. Unbelievable.
She's also famous for running fast races that she absolutely dominates. Her 14:39 5k she won by nearly 3 minutes, her 14:50 indoor 5k she won by nearly 2 minutes, and this race she won by over 3 minutes (although there were men in the field). Hardly any one knew Smith was running this weekend, because the field wasn't very strong, but it didn't matter to her.
*****
Email Of The Week/Who is Miles Batty?
We may have barely even heard of Miles Batty prior to last week but we received a great email from messageboard regular Equinox2100 (who is a competitor of Batty's out in the West region) that gave us a lot of great background info on Batty. Anyone who had been following him prior to his 3:55 last week probably realized he was going to run, really, really fast:
Never heard of (Miles Batty)? The guy's a stud. Those who he races around the country sure remember him. A few highlights:

XC:

-Took down Chad Hall at his home course @ UCR by 20seconds (ran 23:52) as his opener in XC
-3rd @ Roy Griak, definitely an overshadowed performance as that's where Sambu became a new name in NCAA XC. But, he beat some great guys there too (Ryan Hill, Fraser, Colley, Waggoner, Blankenship, Bor, etc).
-5th @ Prenats in Chalenga's race RIGHT behind Trevor Dunbar
-2nd in the Mountain West behind McNeill ONLY.
-15th & All-American @ NCAA's - 'nuff said.

He definitely has the aerobic capacity. I mean he never finished worse than 5th until nats, and he even got 15th there. His bio said he ran the 4x1 in Highschool so I guess he had some speed to tap into, and now that he's got that great aerobic base he's just ripping up the track. Ran a 4:04 earlier this season @ BYU (~4500 ft?) totally alone, went pretty much uncontested at UW a few weeks later for 4:00 (Primm 2 seconds back, but he's a big kicker so I'm assuming he wasn't pushed early though I may be wrong).

So he finally gets a race where he's NOT the cream of the crop by a long shot, and wham. 3:55.

Still though, that's damn impressive.

-Equinox2100
*****
Meb Isn't Invited To Boston
Last week, it came out that American marathon star Meb Keflezighi wasn't offered an appearance fee to compete in the 2011 Boston Marathon. Many fans were outraged. In our minds, it certainly is disappointing, but it proves the point that we've thought all along about Boston: "There is only so much money to go around." In some years when Boston had both> Ryan Hall and Meb, we were wondering if they were openly trying to create a situation where an American was bound to win. Boston doesn't have anywhere near the money at its disposal as, say, New York, so if a bunch of money is spent on American stars, that leaves a lot less for quite honestly the normally more-accomplished (not in Meb's case) but cheaper-to-invite African competitors.
Boston was the last of the majors to really embrace being a pro race and in some ways, they still haven't fully embraced it as in New York and Chicago big banks are the title sponsors - it's the ING New York City Marathon and the Bank of America Chicago Marathon - whereas in Boston, the race is still the Boston Marathon, although John Hancock is the principal sponsor.
In terms of money, we don't know exactly how much the BAA spends on the marathon, but their total operating budget for 2011 is approximately $9 million for 2011. The operating budget of the NYRR is more than $50 million. Now the $9 million figure might be a little bit low as the weird thing about the Boston Marathon is that the runner's negotiate directly with John Hancock for appearance fees so maybe that's not included in the BAA's operating budget.
But money talks. In baseball, the Yankees have the most money and get the biggest starts on a yearly basis. In marathoning, the Virgin London Marathon is the equivalent of the New York Yankees in baseball and the ING New York City Marathon is probably the equivalent of the Boston Red Sox in that they have a ton of money to throw around but have to at least think about it before they spend it. The Boston Marathon is probably the equivalent of a team like San Franscisco - a big market team, yes, but one that is totally outclassed by the Yankees (in baseball, the Yankees payroll is twice that of San Francisco and we'd be surprised if London's wasn't at least twice that of Boston's).
So it sucks Meb won't be running in Boston. And the problem American marathon stars have is there is only one big spring marathon in the US so Meb can't play Boston off of New York or Chicago. It sucks the Boston Marathon doesn't have the money to get Meb in this year's race, but that's the reality. If it was the John Hancock Boston Marathon, Meb would likely be on the starting line, but the BAA has chosen not to go that route.
More: RRW: John Hancock Releases Elite Field For 2011 And Meb Keflezighi Is Left Out And Controversy Simmers
*John Hancock And Boston Marathon Do Not Make An Offer To Meb To Run This Year's Race Races have limited funds, and Boston's are way more limited than New York or London's, but it shows the financial realities of our sport when the Boston Marathon does not even extend an offer to America's top marathoner the last decade to run its race. That is what Meb Keflizighi is saying happened on his website. Perhaps Boston did not want to insult Meb with a low offer. We reached out to the BAA and Boston on this matter and they chose not to comment on it.
*Full John Hancock Release Reigning champs Robert Kiprono Cheruivot & Teyba Erkesso will defend their titles.
*****
17-Year-Old Albert Yator Passes
Sad to see that 17-year-old World Junior silver medallist Albert Yator of Kenya died last week. The headlines said he died of malaria, but a post-mortem examination said he actually died of pneumonia. Would he have lived if he were in, say, America? We don't know, but many people don't realize that pneumonia is often deadly in the US, killing between 40 and 70,000 per year. It's not like Yator didn't have access to medical care, as he was training as part of the Ricky Simms PACE management group.
More: On The Boards: RIP: Albert Yator 17, 8:23 steepler and World Jr Silver Medalist
*****
21-Year-Old Steph Twell Breaks Her Ankle
Sad in a totally different way to see that Stephanie Twell broke her ankle in a freak fall while leading comfortably in a cross-country race in Belgium. She's viewed as the next Paula Radcliffe in Britain, but this injury sounds pretty serious.
*****
The Borlées Start To Move Up?
Few people seem to have realized that the Borlée twins, formerly of Florida State, ran the 600 last weekend in Belgium. It was said before the race that the "slow" twin Kevin Borlée (European 400m champion, PR of 44.88), who has better stamina than his "fast" brother Jonathan Borlée (2009 NCAA champ, 44.78 PR) would be taking a crack at the 12-year-old world best of 1:15.12 by Nico Motchebon of Germany. And in the end, he came pretty close, as Kevin ran 1:15.65.
Hard to believe that David Rudisha's split in his world record run of 1:41.01 was more than full second faster - a ridiculous 1:14.59.
*****
Non-Running Performance Of The Week
The name of the website is Letsrun, so we don't often talk about field events, but let's face it, if you are a fan of running, you are likely to be at a track meet and might want to entertain yourself by watching the field events. In that light, let us introduce you to high jumper Erik Kynard. The sophomore at Kansas State leaped a ridiculous 7'7.75" last week on his first attempt and didn't try to go higher. 7'7.75" makes him now the third-highest collegian in history.
Kynard is certainly the real deal. He competed at the 2008 US Olympic Trials after his junior year of high school. However, we particularly like his story, as he's had to overcome some adversity. As a senior in HS, he was hurt much of the year and last year, as a freshmen, he struggled by his lofty standards. So often phenoms don't handle adversity well (anyone remember Alan Webb's freshman year at Michigan?), but Kynard didn't give up or blame his new coach. In fact, he ultimately turned to his coach, the legendary Cliff Rovelto, to help him turn things around. Kynard talked about how he turned things around last week in a Q&A on Kstatecollegian.com:
Last year, I had a very hard time because it was my first year in college. There was a lot going on outside of track. I really didn't compete to the level of my expectations. I felt like I put a lot of pressure on myself. I began questioning if I wanted to even continue doing this. I was trying to live up to other people's expectations instead of my own. I kind of broke it down mentally and got back to it. I came to Coach and asked him what I needed to do. I built myself back up and got it together.
So a big Thumbs Up to Kynard for being a stud ... make that a coachable stud.
The whole reason why Kynard went to Kansas State was to be coached by Rovelto. If you don't know who Rovelto is, you must not be a high jump fan, as during his career, he has coached a ridiculous 40 All-Americans and 24 conference champion high jumpers, including three NCAA champs (and it looks like it may soon be four).
Check out what Kynard said about how important he views coaching to be to his success:
Q: Is high jumping an event where coaching can make or break an athlete?
A: Oh yes, coaching can make a great difference. If it didn't, I wouldn't have come to Manhattan. Anything specific, just like technically, track and field isn't just a pure talent sport. You've got to learn. It's just like basketball. You can have one of the best players ever, but if you don't have the four other guys around him and a support system, he'll be nothing.
More: *Kynard Profile On Big12sports.com *Kynard Bio On K-State Site *Q&A In Kstatecollegian.com
*****
Quote Of The Week (That Wasn't Quote Of The Day)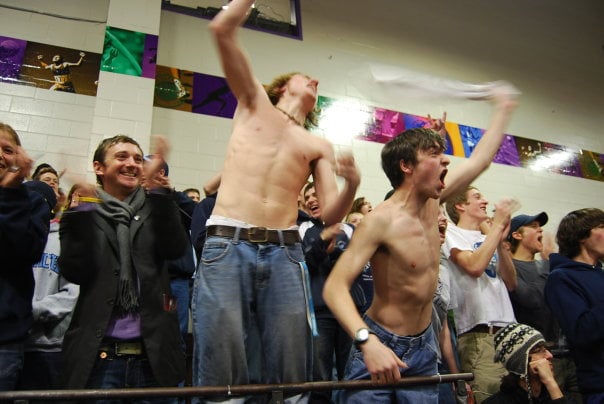 What About the Fans? and Recommended Reads
Track and Field News had a nice profile of the revelation of the 2011 indoor campaign, Andy Bayer of Indiana. The piece gives a lot of background on Bayer and explains how a 7:49 guy could only finish 67th at NCAAs in XC (no base after coming back from injury) and not make the Big 10 final last year at 1,500 (injured Achilles). It also reveals that Bayer will redshirt outdoors so he can try to get in some much needed base work before hopefully running the 1,500 outdoors at USAs.
*Track & Field News Profile On Andy Bayer
#2 We also particularly liked the column by Ken Goe of the Oregonian last week entitl¿'d go a step further and say track and field in general) is in trouble because it seems to cater to those involved in the sport, instead of the fans. To prove his point, he used>Stephanie Hightower's State Of The Sport speech as a starting point:
In Hightower's message, she restated the USATF mantra, "The athletes are why we are here."

I think that mantra encapsulates why the USATF is failing the sport.

Nowhere in her report did Hightower talk about the fans. If track and field ever is going to regain its foothold in the U.S. sports scene, somebody is going to have to care about the people who buy tickets and tune into televised meets.
We personally don't think track and field will ever be wildly popular like it once was and also don't think that track's popularity will go up much until everyone involved starts to think about how they can individually promote the sport instead of just worrying about themselves. Some on the message board wonder why we continually make fun of and call the "oversized" indoor tracks illegal. We do so primarily because of two reasons.
1) The tracks are illegal for IAAF qualifying, and
2) They aren't spectator friendly. Oversized tracks by-and-large were built to go around indoor turf fields. So by running meets on there, one is basically admitting track has no spectator value. We here at LetsRun.com are very pumped that Chris Solinsky opened in 3:54 last week, but instead of doing it in front a few hundred last week at UW, wouldn't it have been better to do it at the one regular season nationally-televised indoor meet of the year - the week before at New Balance?
In actuality, we are fine with indoor tracks but let's then stop with the incessant talk of, "When will track be as popular as it once was?" That ship sailed a long time ago, and won't be coming back anytime soon without a lot of hard work behind the scenes. Even in the 1970s and 1980s, there was a viable indoor circuit (we remember going to Reunion Arena in Dallas to watch a pro indoor track meet as a kid) that went all across the USA. Now the average early season indoor meet is nothing more than a glorified practice/time trial.
Outside of the pro meet promoters, almost no one in America cares whether track and field meets are entertaining for fans or even draw in fans. It's not the job responsibility of 99% of college coaches as the sport is non revenue generating. The Flotrack Husky Classic this past weekend is a perfect example. It was a tremendous meet performance wise, but it is not designed for fans. It is designed for college coaches and athletes and is in essence a glorified time trial. Alan Webb and German Fernandez were racing yet nothing was announced in advance. (We can't think of any other sport where two phenoms would compete against each other almost secretly. ). Even if you found out they were racing and wanted to go watch, you wouldn't know what time their race was because there is just one 3k after another and they are the 4th one. If the meet was designed with any thought for a spectator, there would be say a set schedule and all the top events would be back to back to back (so instead of four 3ks, and then four miles, you'd have the top men's mile, the top women's mile, then the top 3k, etc). So a spectator could come out for 2 hours and watch something and be entertained (so that would mean introductions, and music). It may be too much to ask college coaches to try and bring in fans, but we at least would like everyone in the sport to think "is there one thing I can do to make it better for fans?" So the Washington meet would just change the schedule to have the top sections one after another on a set schedule and would announce at least the day before Webb was running.
The NYRR helped put on the Lagat and Verzbicas 2mile race in NY and they put some thought into the fans. The 2 mile was part of a bigger meet, but the competitors were known in advance and the 2 mile was at an exact time (8:06 pm), and there were introductions and music. Hopefully a few people who were at the meet even to see a friend run left thinking, "That was pretty cool". And if a more casual fan wanted to watch online, it was easy to do as the time was known. The most hard core of us will watch anything, anytime, but we are the vast minority.
So back to: "When will track be as popular as it once was?" Maybe never. However, the sports popularity is a marathon not a sprint and we should view it as a group marathon. If we all put our best foot forward, and then another one, eventually we'll get closer to the finishline of increased popularity. The sport's popularity will not increase overnight. If Ryan Hall wins Boston, sure it will help, but if you think it will make our sport mainstream you are crazy.
It comes back to us all asking, "Is there one thing I can do to help the fans?" For example, Galen Rupp ran in Stuttgart this past Friday and virtually no one knew about it in advance. So next year, when Galen Rupp runs in Stuttgart, he, his agent, or Nike, says, "Yes Galen is running Friday in Stuttgart, and here's what he's trying to do..." A few more people are interested as a result. As long as our sport is just results on a timing sheet, we're in trouble.
The track and field fan superfan blog in this post touches on Goe's article and encourages fans to reach out to USATF to make the fans a priority of the sport. We applaud the effort.
*Ken Goe Says USATF Needs To Think Of Its Fans
Other Happenings Of Note
Nixon Chepseba Beats William Biwott (Tanui) + Millrose Mile Champ & Defending World Indoor Champ Deresse Mekonnen In 1,500m With A 3:34.98 As Multiple World Leads Set In Liévin Biwott is the guy who beat Silas Kiplagat over the weekend, so this was a stacked race. Equally as big news was the DNF by Abubaker Kaki, who came into the race undefeated at indoor 800s for his life. *Abubaker Kaki Loses For 1st Time In His Life To David Torrence
Ghent: 17-Year-Old Isaiah Koech Sets Junior Record In 3K With 7:37.50 Just two days after smashing the junior indoor 5K record with a 12:53, Koech breaks the junior record in the 3k with a 7:37.50 as Ismael Kombich set new world leader is set in the 1,500 (3:34.13). *LRC MB: Isiah Koech does it again - How many youth & world junior records will he destroy?
Other Top Performances From Ghent:
New World Record In 2,000m Indoor Steeple By Paul Kipsiele Koech
Karlsruhe, Germany: David Oliver (7.40) Over Liu Xiang (7.53) Liu improved .07 from his European debut 2 nights earlier.
Karlsruhe, Germany Results (8:42 World Leader In 3k) American Christin Wurth-Thomas lost her world-leading status at 3k.
UK Champs: UK Indoor Champs Recap: 17-Year-Old Jodie Williams And Dwain Chambers Win 60m IAAF
*Emotional Kelly Sotherton Wins 400m At UK Trials In 53.46 The former heptathlete is now focusing on the 400. *2nd Article
Looking Ahead (Time To Start Getting Excited For ...)
LetsRun.com certainly believes that arguably the most fun thing about running is the anticipation and talk about upcoming performances, but how can you talk about it if you don't know what's happening. Here's what should be happening later this week.
Fri: RAK Half Marathon
Sat: Aviva Grand Prix Russell Brown is in the 1,500, Abubaker Kaki in the 1k, Morgan Uceny in the 800, Galen Rupp in the 5,000.
Sat/Sun: Big East Indoors
Quotes Of The Day From Last Week
Monday: "My goal was to run a little bit slower because my coach didn't want me to push it too hard."
- Kim Smith after her 1:07:36 half marathon at the 2011 Rock N Roll Mardi Gras Half Marathon in New Orleans, the fastest half marathon on American soil ever by a female. Up next for Kim is the Boston Marathon.
Sunday: "I'm happy it was a PR, and to do it almost all by myself, I'm really happy."

"I was definitely nervous, with all of those sharp college guys sitting right behind me."
- American 10,000-meter record holder Chris Solinsky after opening his 2011 campaign in impressive fashion with a 3:54 mile win over the college boys on Saturday. For the record, Saturday, 2/12/2011, should be remembered as the day that US male collegiate distance running reached an all-time high, as for the weekend there were at least 10 collegiate sub-4s, including a 3:55 by collegian Miles Batty (Who the hell is that? Had anyone ever heard of him? We have no idea except he's now a stud), plus 10 auto 3k qualifiers in a single race. Ridiculous.
Saturday: Barely 17 Years Old.
12:53 for 5,000.
Indoors.
World, Meet Isiah Koech!!!
- Hello, world; it's time to meet Isiah Koech, who blitzed the third fastest 5,000 in history on Friday night in Germany.
Friday: "Starting in July 2010, my team communicated consistent and serious interest to John Hancock's elite athlete coordinator about my competing in the 2011 Boston Marathon. Unfortunately, though John Hancock's representative indicated there was a lot of interest in having me as part of the field and keeping the conversation alive until late January, no offer was made. It's not that I'm not getting what I want, it's that John Hancock did not make me an offer at all."

- Excerpt from a statement Meb Keflezighi made on his website expressing his disappointment at not getting an offer to run the 2011 Boston Marathon.
Thursday: "That day I learned a valuable lesson, that just because something seems hard and you don't feel prepared does not mean that you can't do it."

- Andrew Gertig, a guy who ran 4:30 at the San Francisco Marathon a few years ago with no training. His buddy, who had supposedly never run more than a mile ever in his life, ran 5:30. Gertig's post got some attention on Lifehacker, Runnersworld, and even a little on our message boards.
Wednesday: "I need to get a marathon in every single day just for peace of mind."

- Australian mega-mileage man Pat Farmer, who will attempt a 13,049-mile run from the North to the South Pole starting next month and ending next February. In a feat that will put Dean Karnazes to shame, he will run two marathons a day on just fours hours of sleep and pass through three continents and 14 countries.
Tuesday: "But now our sport is more of a marketing strategy. You have a bunch of athletes wearing Nike or adidas or Reebok and that is how the athletes are identified. There tension between the athletes is missing. And I suppose that is what sport is all about. Perhaps, one of the main reasons due to the lack of appeal for track and field sport today is the missing rivalry between modern-day athletes."

- Hurdling legend Edwin Moses talking about the decline in popularity of track and field in the World. Thankfully, the short hurdlers of the world will race each other nearly every weekend and that's why we like them.
Last Week's Homepages
*Mon (Feb. 14) *Sun (Feb. 13) *Sat (Feb. 12)*Fri (Feb. 11) *Thu (Feb. 10) *Wed (Feb. 9) *Tue (Feb. 8)
---
Runner's World &
Running Times



Combined Only $22
a Year
Save $87

---

Running & Track and Field Posters
---

Offers of interest: Nike Lunar Glide Discount Discounting on this shoe not allowed until recently.
---