News From Ireland (Someone Tell Us The 2nd Link Isn't The View Of Most Irish)
2-Time Olympic 10k Champ Derartu Tulu Headline Sunday's Yokohoma Marathon *Watch Live Online At 10 PM EST Saturday Night
LRC Mary Keitany Runs 1:05:50 WR At RAK Half Marathon To Pocket $75,000 Keitany is an absolute stud and her run Friday in the UAE was the first sub-66 clocking on a totally legitimate course, although Paula Radcliffe has run 65:40. On the men's side, former Boston champ Deriba Merga went out in a ridiculous 13:37, set a new 8km world best of 21:51 for the roads, and then held on for a 59:24 - good enough for a 20-second win. Patrick Makau, one of the pre-race favorites, appears to be in marathon training mode as, after trying to stay with Merga early on, he only managed a 63:51.
*IAAF Recap
On The Boards: OMG did Mary Keitany just run sub 1:06 half marathon WR?
*Official RAK Half Marathon Thread
Definitely Deserving A Mention
Week That Was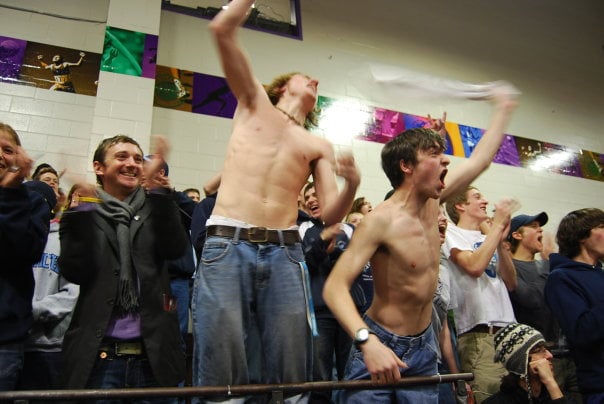 LRC Week In Review: The Performance Of The Week, Meb Left Out Of Boston, High Jumping, And What About The Fans? It was a tremendous week on and off the track from 17-year-old Isiah Koech's 12:53 5k to Bernard Lagat's American 2 mile record to Chris Solinsky's 3:54 mile to Kim Smith's 1:07:36 half marathon. We've got it all covered, even take a look a stud American high jumper, and ask everyone associated with the sport to think of you - its fans. Because no matter how good the action on the track, if no one is watching it, our sport will suffer.
Japan Marathons
World's First Two-Legged Robot Marathon Race will involve 422 laps of a 100m course indoors and will run nonstop for up to 4 days ... with occasional battery charge breaks of course. *Video Preview Included
The Secret Is ... There Is No Secret
Coaching: There Are No Secrets, Substitutes Or Shortcuts For Success ... Do The Work
World Records And Olympic Medals?
China Hires Agent Jos Hermens To Help Win Medals After helping Haile Gebrselassie and Kenenisa Bekele become rich Olympic champions, China is hoping he can do the same for them. Even though China led in gold medals at Beijing, they only had two bronze medals in Track and Field.
This Just In: Walking IS Easier Than Running
Former XC State Champ Erin Gray Is Surprised By The Easiness Of Race Walking Gray has only been race walking for about 16 months, but she already qualified to represent Team USA at the 2011 Pan American Cup and is close to the Olympic "B" Standard. She says "the race itself, felt surprisingly easy." We're less surprised.
Isaiah Koech Is For Real
Ghent: 17-Year-Old Isaiah Koech Sets Junior Record In 3K With 7:37.50 Just two days after smashing the junior indoor 5K record with a 12:53, Koech breaks the junior record in the 3k with a 7:37.50 as Ismael Kombich set new world leader is set in the 1,500 (3:34.13). *LRC MB: Isiah Koech does it again - How many youth & world junior records will he destroy?
Other Top Performances From Ghent:
New World Record In 2,000m Indoor Steeple By Paul Kipsiele Koech Koech Ran 5:13.77 to break his own world record by 3 seconds.
*Some Other Highlights
Lagat And Verzbicas
Lagat Does It (8:10.07), Lukas V Comes Up Short Message board thread here. Bernard Lagat threw it down the final few laps to smash the US 2 mile record, while Lukas V went out too fast (4:15-16 range) and ended up getting lapped by Lagat. He ran 8:43.24, which is still good for #3 US all-time indoors. *See His Splits Here
*Update 8:13 AM: Nice IAAF Recap Of Koech's Run
LRC: Isiah Koech Runs 12:53 Indoors As Galen Rupp Comes Up Short In American Record Attempt
Isiah just turned 17 at the end of December and he put on a performance to remember as he pulled away from World Champ Eliud Kipchoge for the super-impressive win. 12:53 indoors is amazing. With no advance fanfare (the track writers in Oregon didn't even write about it), American Galen Rupp was in the race in his 2011 indoor opener and ran a solid 13:21 after being on 13:05 pace at 3k, according to this thread. In other action, Nixon Chepseba got the narrow win over Augustin Choge in a world-leading 3:34 in the 1,500m, and Liu Xiang was 3rd in his European return.
*Athletics Weekly: 17-Year-Old Runs 12:53 As Kim Collins Breaks 11-Year-Old PR (6.52)
*Details On Rupp's Race
*17-Year-Old Runs 12:53 Indoors!
*Some More Highlights From Dusseldorf
No Meb In Boston
RRW: John Hancock Releases Elite Field For 2011 And Meb Keflezighi Is Left Out And Controversy Simmers
*John Hancock And Boston Marathon Do Not Make An Offer To Meb To Run This Year's Race Races have limited funds, and Boston's are way more limited than New York or London's, but it shows the financial realities of our sport when the Boston Marathon does not even extend an offer to America's top marathoner the last decade to run its race. That is what Meb Keflizighi is saying happened on his website. Perhaps Boston did not want to insult Meb with a low offer. We reached out to the BAA and Boston on this matter and they chose not to comment on it.
*Full John Hancock Release Reigning champs Robert Kiprono Cheruiyot & Teyba Erkesso will defend their titles.Coming March 20th: NYC Half Marathon: Meb, Hall And Abdi!
Sad News
17-Year-Old World Junior Silver Medallist And 8:23 Steepler Albert Yator Dies From Malaria Yator's death was a surprise and is a very tragic reminder that malaria is not just something we read about in the newspaper and should ignore.
On The Boards: RIP: Albert Yator 17, 8:23 steepler and World Jr Silver Medalist

Gonzaga University Runners Hit By Alleged Drunk Driver

Some Positive Distance News: Track & Field News Profile On Andy Bayer The 2011 breakout star will redshirt outdoors.
Russell Brown Cruises To 3:54 Win, Webb, Manzano And Verzbicas All Over 4 The men's mile featured Alan Webb, Leo Manzano, Nick Willis and high school star Lukas Verzbicas, but the star of the night was Russell Brown, who crushed the field winning in 3:54 as Webb, Manzano and Verzbicas all didn't break 4. Afterwards, Webb threw a tantrum (seriously, that's a fair way of describing it) before addressing the press, and we'll have more on that Sunday. In other action, Sally Kipyego turned back Jenny Simpson in the 3k, Phoebe Wright got another win in the 800m, but the performance of the night may have been Dejen Gebremeskel running 7:35 and outkicking Mo Farah with a last lap of 26 while having one shoe on for most of the race.

Post-Race: LRC Alan Webb Throws A Tantrum After Disappointing Opener Alan Webb's competitive fire is legendary and the dark side of that competitive fire was on full display after Webb's disappointing performance. We've seen many athletes get upset, but none like Webb on Saturday night, especially after an earlier season opener. We've got the details and try to give some perspective to Webb's behavior.
On The Boards: That Webb article is a breach of professional decorum.
Wejo explains here, here and here our thoughts for this story and why it was reported.
Eaton Breaks Record!
Ashton Eaton Shatters His Own World Record In Heptathlon! Eaton scored 6,568 points to break his own world record by an impressive 69 points, setting PRs in the shot, 60m, and 60m hurdles. His hurdles time of 7.60 seconds was so good it would have won the 2008 World Indoor Champs and actually breaks the hepathlon record of 7.74 held by Olympic decathlon gold medalist Bryan Clay.
*IAAF Recap
Yenew Alamirew Runs 7:27.80 To Lead 3 Under 7:30 Barrier For First Time Ever, David Oliver Runs Fast In Hurdles Alamirew dominated a late season 3k last year and backed it up here, showing he is the real deal. For the first time ever indoors, more than one guy broke 7:30 in a race, as Alamirew triumphed over Augustin Choge and Eliud Kipchoge. David Oliver easily dispatched Dayron Robles and nearly got the US record, and LRC favorite Silas Kiplagat lost in the 1,500m.
*IAAF Recap


Impressive: Belgian Dude Stefaan Engels Completes 365th Marathon In 365 Days Updated
Boston Pre-Race
LRC Lukas Verzbicas Talks To LetsRun.com It takes a true phenom to get LetsRun.com excited about a high schooler, but we're now officially leading the bandwagon, as we caught up with America's greatest high school phenom (since the Hall-Webb-Ritz era) two days before he tries to join Webb in the sub-4-indoors-as-a-HS-runner club. A natural showman of sorts, Lukas talked about his goals for Saturday, his training, his decision to go Oregon, whether he contemplated going pro straight out of HS, and much more. A must read.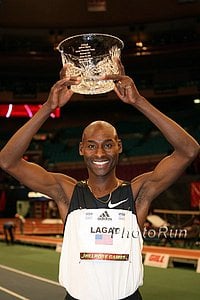 LRC Analysis
Millrose Behind The Scenes: Lagat Goes Down, Millrose Entertains Employee #1 and his able assistant went into the bowels of Millrose to tell you what really happened at the grand-daddy of track and field meets in the world. High schoolers flashing U of O symbols, overlooked 3:34 1,500m runners, and pros addicted to LetsRun.com - we've got it covered.

Unlucky 7: Deresse Mekonnen Snaps Bernard Lagat's Winning Streak At 6 The 23-year-old 2010 world indoor champ defeated the 36-year-old President of the Boards (or did Father Time win?) in a fantastic Wanamaker mile, but not without Lagat putting up a fantastic fight that saw him at least three times try to retake the lead in the final two laps.
*Samantha Nadel Wins High School Girls Millrose Mile In 4:50.58
*NY's Chad Noelle Wins Boys Millrose Mile In 4:16.71
*Register-Guard: World Pentathlon Record Holder Ashton Eaton PRs In Two Out Of Three Events To Beat Olympic Champion Bryan Clay And World Champion Trey Hardee Eaton set a new shot put PR at 46-8 and lowered his 60m hurdles time to 7.64.
*Jamaicans Lose Sprint Showdown With USA Jamaicans Veronica Campbell-Brown and Nesta Carter won the sprints, but US sprinters claimed victory on points in the US-Jamaica challenge.
*IAAF Recap: Mekonnen Ends Lagat's Streak
*Millrose Games: Nadel, Noelle Win HS Miles!
*UVA Wins College 4 x 800 Without Robby Andrews
Oregon News
Injury-Prone Dathan Ritzenhein Will Now Shift Focus To 10k At World Champs *LRC MB: RITZ! ENOUGH WITH THE MARATHON!

Lukas V Commits To Oregon For Real It's now official; two time Foot Locker XC national champ Lukas Verzbicas has an oral commitment to Oregon. The news was out unofficially last week. Letsrun.com has learned Lukas considered turning pro but the money he wanted wasn't there. Why would Nike pay big bucks for him when they can get him much cheaper in the U of O singlet?
*Message Board Thread
60th Anniversary Of Pre's Birthday Keeps Generating News
Craig Mottram & Benita Willis To Lead Australia At World XC Championships Mottram will run for the first time since 2008 and will lead a squad that includes former NAU star David McNeill. *Australian XC Trials Results
News From Japan
Records For Rupp And Farah
Mid-Week Action On And Off The Track
Maryland's Andrew Valmon, Miami's Amy Deem Named 2012 US Olympic Track Coaches Valmon's appointment shows that a) "coaching" the Olympians and coaching the collegians are completely different things and b) that collegiate coaching success is often about resources. At the last 2 ACC outdoor meets, Valmon's teams have been 11th and 10th out of 12 teams, yet he'll be coaching Team USA. In fairness, at Maryland, Valmon only has 7 scholarships to work with (schools can have 12.6), and with Team USA, he'll be stocked with talent. Meanwhile, Florida Gators and NCAA champion coach Mike Holloway will be Valmon's assistant.

Russian Indoor Champs: Olesya Syreva Runs World-Leading 8:41 3k At Russian Indoor Champs

Poland: 5,000 Fans Turn Out To Watch Ivan Ukhov Jump 2.36 In Poland *Results
US News: Site For Post-Collegiates, Lance Retires, And Eaton's Temper
MB: Boston Marathon Announces New Sign-Up Process The fastest qualifiers will get to sign up first. This is bound to make some people really happy and others irate.
*USA Today Article Starting in 2013, age group standards will be made 5 minutes faster (3:05 for 18-34 males, for example). This is the first time they've gotten stricter since 1980.
North Carolina Holds Indoor State Meet Outdoors
*"Winter Track Championship" Highlights
High-Tech Running
Cruise Control For Runners? No, we're not talking about a treadmill.

Faster, Higher, Stronger?
Could This Vibrating Platform Make You Better At Track?
College And US News
LAst Weekend's Action / US College Men's Distance Running Reaches An All Time High / Results *Tyson *Husky
*
Armory
*
BU Valentine
Alan Webb / Salazar News
USATF Wants Your Opinion On TV Broadcasts
Week In Review
LRC The Week That Was: Brent Vaughn And Russell Brown Surprise, Shalane Flanagan And Ashton Eaton Impress, Gebremeskel Wins With One Shoe, And Yenew Alamirew - The Next Great Star? There was a ton of incredible action last week, from Russell Brown's surprise win in Boston to the XC champs to the heptathlon to a sub-4:00 mile at altitude, and we've got it covered. We compare Brent Vaughn to Dathan Ritzenhein, wonder when Ashton Eaton will beat Bryan Clay and Trey Hardee, and ponder whether Yenew Alamirew is the next great star of the sport.
*Video Of Alamirew's 2 Impressive 3k Wins
US XC Champs In San Diego *Results

Brent Vaughn Wins Convincingly, Shalane Flanagan And The Other Winners Dominate Vaughn, the CU record holder at 5k (think about that for a second) dominated the field the 2nd half of the race to win by 6 seconds, the smallest margin of victory of the day. Shalane Flanagan totally destroyed Molly Huddle, winning by 44 seconds, and getting a little revenge for Huddle taking her 5k American record last year. Foot Locker champ Aisling Cuffe won the junior girls race convincingly. 49-year-old Master Pete Magill won in the men's masters ranks, while Colleen De Reuck showed she was in the wrong race, winning by 1:34.

*Denver Post: Brent Vaughn Makes Surprising Comeback After DNFing At US Half Marathon Champs Last Weekend Vaughn was excited to "finally" get in a satisfying race and said, "I felt like I was getting the monkey off my back. It just feels good to finally get one."
*San Diego Union-Tribune: Flanagan Dominated But Says She Didn't Know She Had It In The Bag: "I always run scared."

On The Boards: Men: BRENT MF VAUGHN
Women: Shalane Flanagan Takes USA Cross-Country Title By 45 Seconds In 25:47
Masters: 50-Year-Old Pete Magill CRUSHES
Good Read: Jerry Schumacher Profile In Portland Paper Got to be a quote of the day in here somewhere."
Men: LRC Mo Trafeh Outkicks Ryan Hall Ryan Hall, Mo Trafeh and Patrick Smyth battled together on the streets of Houston for 11 miles. In the twelfth mile, Hall tried to push ahead. Smyth was the first to crack, but Trafeh stayed on Hall's heels. With 200m to go, Trafeh gave it one final surge and passed Hall to get the win.
*Photos
*Video Of Men's Finish *Men's Post-Race Interviews


Women: LRC Jen Rhines' Return Trumps Burla's After a 4-year absence, Jen Rhines made a return to the longer distances with a win and a PR. However, her comeback was the least impressive of the day, as that award definitely goes to Serena Burla. Burla was second just as she was last year. However, in the last year, she had been diagnosed and beaten cancer. Pretty amazing. Mother of three, Nan Kennard, who trains with Colleen De Reuck, was a surprise third.
*Photos
*Video Of Women's Finish *Women's Post-Race Press Conference
LRC Week That Was: Delaware Gets The Ax, Wanjiru Crashes, Dubai Makes Some Marathoners Rich, And The US Indoor Season Gets Going As usual, we recap the week in running like nobody else. Now that the holidays are behind us, the running world is starting to heat up again.
Caster Semenya Sits Down & Gives The BBC Her 1st Extended Interview Since Gender Controversy Arose Semenya said she doesn't want to dwell on the gender issues; she only wants to focus on running, but she did get irritated when asked if she was given hormonal treatment.
Boston Globe Feature Article
Have Athletes Reached Their Limits? The author seems to think they have because so many world records have stagnated since the 1980s. He does acknowledge drugs played a role in many records from the '80s. However, he is perplexed by one athlete - Usain Bolt - and says Bolt's breakthroughs today are why he is so newsworthy. Track and field, by focusing on the competition and not the records, can stay relevant in our opinion.
Duke Senior Kate Van Buskirk Sets Collegiate Record In 1,000 She had an incredible weekend as she ran 2:41.00 after splitting 2:04.15 on a 4 x 800.
More Men's Track & XC Programs Bite The Dust
Sports Illustrated Columnist Joins LRC Faithful In Ripping Delaware For Cutting Its Men's Track & Field / XC Teams Jeff Pearlman is a little biased as he used to run for them, but that doesn't mean he's not right on the money. UD Track is 100 years old this year.
*LRC MBoarders Express Their Outrage
*A Blogger Is Irate
*Delaware's Cowardly Release

Bemidji State's Men's Indoor & Outdoor Programs Get The Ax Not quite as old as Delaware, which is celebrating its 100th anniversary, Bemidji track has been around since 1928.
Alberto On Galen
LRC: Update On Galen Rupp's Training: Two Distinct Seasons For Rupp In 2011, More Mileage Alberto Salazar has done a tremendous job crafting Galen Rupp's career despite the critics (we specifically remember pro athletes who saw Galen train as a high schooler saying he'd burn out). Alberto says 2011 will be a bit different for Galen than 2009 and 2010, with 2 distinct peaks (and time off in between) and that there is still a lot of room for improvement in terms of training mileage. Plus, we take a look back at Galen's incredibly long and consistent 2009 and 2010 seasons.
It's Not This Easy In America
Olympic Marathon Champ And Accused Attempted Murderer Sammy Wanjiru And His Wife Supposedly Reconcile Press reports are indicating that the families of Wanjiru and his wife got involved and urged a reconciliation which may result in charges being dropped, although his wife was a bit coy in her responses to the press (as we're sure $$$ is still being negotiated). *Updated LRC MBoard Talk: "He is now officially qualified to be a professional American athlete. Can some of the women on this board tell me why abused women stay with their abuser. Often, until they are beaten to death?"
*Sammy Wanjiru Arrested For Attempting To Kill His Wife And A Domestic Worker
The 10 Best High School XC Runners Ever
LRC Week That Was: The 10 Best High School XC Runners Of All Time, Verzbicas, Tribute To Gary Reed, The NY Times & The NE Patriots And More We've got the entire running world covered from San Diego to Japan, from the high school ranks to the pros, and even talk about the NE Patriots and the NY Times.
Last 300m of Galen Rupp and Mo Farah's 5000m Dual in Britain
Kenyan XC Recap
This Is Awesome: Indoor 400m Hurdles At Aviva Birmingham Meet
Nick Willis 3rd In New Zealand 800 On Saturday
Sammy Wanjiru News Gets A Bit Ridiculous
Sammy Wanjiru Court Case Postponed As He Doesn't Show Up And His Lawyer Tells Court He Is Unwell From Car Accident After you read the story below, you'll see how it looks like Wanjiru's team appears to be stalling for time and hoping this case goes away. In case you don't know, Wanjiru, the world's best marathoner, was charged with threatening to kill his wife.

Oops: Video Of Sammy Wanjiru On Kenyan National TV Reconciling With His Wife And Spending Valentine's Day With Her (See Below)
On The Boards: Wanjiru is in love again thanks to St Valentine
Last 1,000m Of Isiah Koech's Stunning 12:53
Good News ... USATF Wants Your Opinion
Alamirew The Next Great Star? His 3k Win In Stuttgart. More On Him Here
Last 250 (Or Full Race - Just Rewind It) Of Russell Brown's 3:54 Win In Boston
Last 250 (Or Full Race - Rewind It) Of Dejen Gebremeskel Outkicking Mo Farah In Boston With 1 Shoe
Training Talk Is Back
Training Talk With New Marathon Star Stephanie Rothstein And Ben Bruce Stephanie lowered her marathon PR by over 10 minutes, skipping the 2:30s entirely, running 2:29:35 in Houston. And she's still got her sights on lowering it another 10 minutes. Textual recap coming later, but you can listen above or download the podcast here (1:30).
Train Smarter
Save Some Cash

Two Of The Best Running Movies Of All Time (Don't Believe Us? Click Here)
Alberto On Rupp And Ritz's Training
Relive Men's NCAAs: *Recap *Results *Photos *New (2nd Photo Album Added Here)
Relive Women's NCAAs: *Recap *Results *Photos *New (2nd Photo Album Added Here)
800m Royalty Together For The First Time Ever: Juantorena, Coe, Kipketer And Rudisha (It's Well Worth A Watch If You Have The Time, Or Read The Recap Here)
Save Some Cash

Train Smarter
Great Deals

Universal Sports Back To Top