The Week That Was June 8 - June 15, 2009
June 16, 2009

By LetsRun.com
To read last week's LRC Week That Was, click Here.
To read any 2009 LRC Week That Was, click Here.
This week we start off with some random thoughts before getting to the 2009 NCAA champs, the start of the Golden League, and some really fast women's 10k action.
---
Toronto Festival Of Excellence
A Thumbs Up to the people in Toronto for putting on a nice meet with some big names at last week's Toronto Festival of Excellence. We found it hard to believe that some people were complaining about the whole setup as being overpriced, as the meet had the following names amongst its event winners - Usain Bolt (10.00), Saif Shaheen (13:24), LaShawn Merritt (44.83), Bryan Clay (victory in triathlon), Sally Kipyego (4:29.64 mile), Nate Brannen (3:55.0), Priscilla Lopes-Schleip (12.86) and Amy Acuff (1.91m). Let's see ... that's two world record holders and three Beijing gold medallists. Do people really think they'll compete for free? If you want big names, you are going to have to pay to watch them run.

In our minds, every person who considers themselves to be a serious track and field fan shoul be prepared to spend a minimum of $50 per year to support the sport.

Take a look at the video of Bolt's race and the big crowd and the noise and tell us that this event is bad for track & field. If that doesn't convince you, then read what former world 100-meter record holder Donovan Bailey said about why he went to watch Bolt.

Bailey: "I wanted to come here and see him do his thing, on Canadian soil. You have to understand that this is the very best specimen in track and field ever. He's going to do things that none of us have seen ... including me, who once held that title. As a fan I'm just here watching and cheering him on and hoping that he stays healthy so that we see some really good things in Berlin."

Before everyone writes off Bolt's 10.00 as being totally subpar, one needs to realize that it was run in less than ideal conditions. He ran into a .9 m/s headwind. Thus it's equal to a 9.95 in still conditions. And the Toronto track is soft and favors distance runners. Priscilla Lopes-Schleip only ran 12.86 in the 100 hurdles and she has run 12.52 this year.

It's also worth noting that both Dathan Ritzenhein (2nd in 13:34.00), as well as 2008 NCAA XC champ Josh McDougal (last in 14:29), were also in the men's 5k in Toronto. While McDougal is being bashed on the message board for his performance, we want to give him a Thumbs Up for being healthy enough to compete again.

*Full Results. *2nd Video of Usain From Track Side, Which Includes Behind-The-Scenes Shots. *Canadian Press Recap Of Meet - Bolt Wins, Kipyego Beats Elmore In Women's Mile, Shaheen Crushes Ritz In 5k
---
Reflections On The 2009 NCAA Track & Field Champs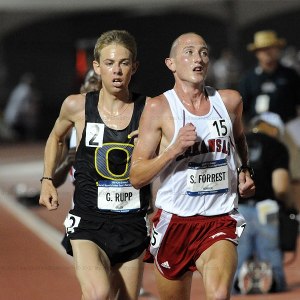 We'd like to start by saying that the NCAAs were great as usual. We'd also like to say the facilities at Arkansas were incredibly top notch and we were impressed by the campus and the downtown of Fayetteville. All of the Arkansas jokes should stop now, as the place was very nice. The crowd? Certainly a little disappointing.
On to our analysis of the action - the Oregon men didn't get the coveted triple crown and many on the LRC message board immediately seemed to take great glee in putting down Oregon and blaming their distance squad for their failure to get the outdoor title. Because of their resources, the Ducks will always be scrutinized.
Before we analyze the Ducks a bit closer, we'll state that we don't see any threads pointing out that NCAA XC runner-up Iona only scored 4 points at the meet or XC pre-meet #2 Oklahoma State scored only 10 points, and zero without Fernandez (since Oregon doesn't seem to get any credit for the points Rupp or Wheating scored).
We also would like to note that we don't see any threads pointing out that 3rd-placer Stanford, under 1st-year coach Jason Dunn, had 4 scorers in the distances and put up 19 points. Well done, Stanford.
Other than the justified criticism of Oregon steeplechaser Chris Winter for letting up at the line in the steeple, the question seems to be roughly, "Is it unusual that two top 10 NCAA XC guys in Puskedra and Biwott only scored one point combined at NCAAs?"
We looked into the debate a little and the answer seems to be, "It depends on how you look at it." It's a bit shocking to realize that 4 of the 10 runners in cross-country didn't score at NCAAs in track. Yes, that's right. Only 60% of them scored. But looking at it the other way, three of the top 10 weren't even in the meet. So of the 7 guys in the top 10 from NCAAs that did compete, Puskedra was the only one not to score.
1 Galen Rupp SR Oregon - 29:03.2 - Greatest American in NCAA history? 20 points.
2 Samuel Chelanga SO Liberty - 29:08.0 - 3rd 10k
3 Andrew Ledwith SR Iona - 29:25.4 - 5th in 10k
4 David Kinsella SR Portland - 29:26.5 - Injured didn't compete outdoors.
5 Luke Puskedra FR Oregon - 29:27.8 - 11th in 10k.
6 Mohamed Khadraoui SR Iona - 29:29.3 - Didn't compete outdoors. No eligibility?
7 Chris Derrick FR Stanford - 29:29.4 - 3rd in 5k.
8 John Kosgei JR Oklahoma State - 29:32.4 - DNS in 5k at regionals.
9 Shadrac Kiptoo-Biwott SR Oregon - 8th in 5k
10 Kyle Perry SR BYU - 29:46.1 - Won Steeplechase.
11 Patrick Smyth SR Notre Dame - 29:47.2 - 4th in 10k.
12 Mark Steeds JR Georgia State - 29:49.2 - 11th 5k.
13 Andrew Bumbalough JR Georgetown - 29:51.7 - redshirt outdoors?
14 Jordan Kyle JR Colorado - 29:52.4 - 12th in 10k.
15 David McNeill JR Northern Arizona - 29:53.0 - 2nd in 5k.
Were Lananna and the Ducks probably counting on more than 1 point between Biwott and Puskedra? Yes. Should Puskedra, who had one of the better true freshman seasons in recent memory, be criticized? Of course not.
Super Frosh - Chris Derrick & German Fernandez

Speaking of super-freshman, how about Stanford's Chris Derrick? The guy is definitely LetsRun.com's Distance Freshman of the Year. No other freshman had the body of work that he did at the NCAA level. 7th at NCAA cross-country, a double scorer in the 3k and 5k indoors, a 13:29 American junior record in the 5k outdoors, which he followed up with a 3rd place finish in the 5k. The guy was a stud and he was a stud for all three seasons, which is hard enough for a senior to do, let alone a freshman. Oh yeah - and he also did World XC, where he was 15th, just behind Oklahoma State's German Fernandez.
Fernandez is obviously the only freshman to have won an NCAA distance title, thanks to his domination of the NCAA 1,500 meters. The only thing that stunned us about the race was how easy he made it look. People are trying to say that his title is watered down as Andrew Wheating and Galen Rupp didn't run and Matt Centrowitz was hurt and several guys weren't in top form and tired from indoors. Stop it. Stop the excuses. The field had 6 guys that had run 3:37 or better this year and another such runner in McClary, who had run 3:36 last year, and five of them ran their 3:37s in May. And a true freshman beat them all leading wire-to-wire. And the guy almost certainly isn't eventually going to be a 1,500 meter runner. Remarkable. We had a video of the last lap of the race up but had to take it down after 72 hours due to NCAA regulations. You can read our recap here.
All we can say to Mr. Fernandez is please stay in school. Rupp and Barringer have GREATLY increased in their marketability by making themselves huge names and record holders at the NCAA level. Winning 6 NCAA titles and developing a dominant kick and going sub-4:00 for 1,500m bring in, big, big dollars. Being an Olympian in the women's steeplechase or an Olympian who can't win an NCAA title or break four in the mile are not the ways to bring in the big bucks. Meanwhile, the can't-miss prospects that went pro early like Chris Lukezic or Kevin Hicks (does anyone even remember that guy anymore?) are barely remembered these days. Hicks ran 1:44.94 at NCAAs in 2005 at the age of 20. His best race since then? A 1:46.55 last year.
People like to complain that guys are over-raced in NCAAs. And truth be told, they are a little bit. But the NCAA system gives runners structure, as well as big goals to shoot for that are realistic. If you go pro as a 13:29 or 3:37 or 1:45 guy, then what? You run that time in a pro meet, get slaughtered in the process, and get discouraged, as no one is excited about you anymore. That's why we think there are so many pros that can't even hit their collegiate times any more. They don't have realistic, exciting goals to shoot for.
Chris Derrick After His Incredible Frosh Year (2:51)

Derrick And Rupp

German Fernandez After His 1,500 Victory

Super Frosh (And A Super Senior) All Over The Place
Speaking of young studs, the men's meet was full of talented freshman. Bryan Green of Runnerstribe wrote a nice article that points out how hard it is for freshmen to score at NCAAs. In 2006, freshmen scored 43 points combined in the women's meet. In 2007, the freshmen scored zero according to Green (unbelievable). Last year, 29 points.
This year, the freshmen did really well. On the men's side alone, 4 events were won by freshman. In addition to Fernandez, Virginia Tech's Marcel Lomnicky won the hammer, Oklahoma's Will Claye won the triple jump and Florida State's Jonathan Borlee won the 400. Of course, labeling Borlee and Lomnicky as freshmen is a totally unfair as both of them are 21-year-olds.
It's sort of the equivalent of calling a BYU senior a senior instead of a post-grad. Now, now, please don't email us complaining that we dislike Mormons or anything like that. We thought BYU's Kyle Perry's domination of the steeplechase and big PR of 8:29.94 was an awesome story. His steeple PR coming into the year? 8:56. But that doesn't mean that we can't point out that he's going to turn 26 before the end of the year. Perry's development is the perfect example of how years of structured training in a structured, college team can produce big and steady improvement.
But back to our original point, the freshman class this year at NCAAs was unbelievable. On the men's side alone, they scored 104.5 points. On the women's side, 30.5. Note: Our math was probably off a little bit but you get the point.
Revised Men's 10k results - Rupp, Forrest, Kinsella
In trying to figure out what all of the top NCAA XC guys did in track this year, we came across a nice article on Portland's David Kinsella. He was injured outdoors but graduated with a 3.96 GPA in biology and is now off to Stanford Law School. He'll also be $5,000 richer thanks to a much-deserved West Coast Conference post-graduate scholarship. Very impressive stuff. We were struck by one comment in the article however.
Portland coach Rob Conner said the following about Kinsella:

"David would have had his best track season this year. He'd have qualified for the Olympic Trials easily and would have been the only guy between (Oregon's) Galen Rupp and third place in the NCAA 10,000. Only six guys have ever been under 28 (minutes) in college, but he'd have done it this year, guaranteed. He just didn't get to prove it."
We love Conner and the underdog Pilots every year, but guaranteeing a sub-28 minute 10k? That's a bit much.
In this day and age of stellar collegiate distance running, one might think that a guy who was twice top 10 at NCAA XC might be able to get under 28:00. But thinking it's possible and doing it are two totally different things. And to guarantee it? That's ridiculous. Particularly when one considers that Kinsella's 10k PR is 28:57.97.
And The First Sub-27:00 American 10k?
And while we think it's poor form to guarantee anything, Rob Conner has us in the guaranteeing mood and we almost want to guarantee that Galen Rupp would break 27:00 if he ran a 10k right now. Well, maybe not, as only 30 guys in history have done it and all of them were born in Africa, but what he did in Fayetteville was quite remarkable. We don't have time to properly appreciate his efforts here, but we gushed over him in our Day 2 and Day 3 recaps here. The Oregonian Rupp's homestate newspaper says we went "gaga over Rupp's performance." Good. We want everyone to know how incredible Rupp's senior season was and how as a runner, he's at a whole different level than he was a year ago and than everyone else in the NCAAs. In today's age of superlatives, true greatness often doesn't get the credit it deserves. Rupp's NCAA campaign this year was truly remarkable. Considering both Vin and Alberto talked to Wejo at indoor NCAA about LetsRun.com being too harsh on Galen, if we're now "gaga" for him, maybe some of you will appreciate how damn good Galen Rupp is now. A year ago, we - like a lot of you - thought his upside was severely limited. LetsRun.com viewers know track and field (hell, roughly 70% of you predicted Rashid Ramzi's positive drug test) and 47.8% of you last October thought Rupp would never win an NCAA title. Now he's got 6 of them. Now all doubts are gone. It's just very impressive that a guy who not long ago couldn't break 4:00 in a mile if his life depended on it can now close 5ks and 10ks in sub-4:00 if he has to. His last 1,600 of the 5k was 4:00.08 (and he trotted the last 25m). He went 3:01 for the last 1,200 of his 10k (nearly walking across the line in that one, too).
This got us to thinking about who was the last guy to do the 10k/5k double at NCAAs? We were thinking it had to be Bernard Lagat's brother, Robert Cheseret, as we remember him getting tripped in the middle of the 5k at the 2004 NCAA meet, getting up and still beating Dathan Ritzenhein (to take a trip down memory lane and read about that race, click here; to see all of our 2004 NCAA coverage click here). But we forgot that Cheseret lost the NCAA 10k that year to Arkansas' Alistair Cragg. The last guy to do it was Stanford's Brad Hauser in 2000. Collegiate distance running in 2000 wasn't nearly as good as it is now, but Hauser was no slouch. He ended up making the Olympics at 5k that year (with a 13:27.31 PR) and the next year he broke 28:00.
800 Men Step It Up (As Does Geena Gall)
Heading into NCAAs, much was being made behind the scenes about how weak the men's 800 meter field was, as only 6 guys had run 1:47 on the year. Well, that talk ended quickly in the semis, when 13 guys ran 1:47 or better in two heats. Admittedly, they had perfect - and we mean perfect - mid-d weather, as it was warm but with ZERO wind, but it was still impressive nonetheless.
But in the end, we got what we wanted in a final. An epic race between the two big studs - Wheating and Everett as recapped here. On the women's side, Michigan's Geena Gall had a weekend to remember as she not only repeated, she also lowered her PR by a ton. Her previous PR of 2:02.24 was actually from the 2007 NCAA meet. Now it's 2:00.80 thanks to her wire-to-wire victory.
The Regional System Works
Looking for proof that a regional system rewards those who peak at the right time? Then look no further than the 10k - one of two events (decathlon is the other) where qualification is based entirely on times. In the men's 10k, the bottom 5 people in the race - the 3 DNFs of Diego Mercado, Dann Nunn and Yosef Ghebray, plus the last two finishers of Kiel Uhl and Jake Schmitt, all qualified for the NCAA championship at the first Stanford meet on March 27th. From March 27th to June 11th is a long, long time. Nunn was the winner of the Stanford meet. The story was the same on the women's side, as 3 of the 4 DNFs qualified for NCAAs on 3/27 or 3/28, including the No. 2 seed coming into the race in BU's Andrea Walkonen.
Zero Points For UCLA Men
Are we the only people that realized that the UCLA men scored zero points at NCAAs? We know it's hard as hell to score, but zero points for a school like UCLA? That's hard to believe. When is the last time that happened?
Scott MacPherson - LetsRun.com's Hero For Being The Ultimate Team Player
A few weeks ago, we pointed out that we found it odd that Scott MacPherson tripled at the SEC meet but school record holder Shawn Forrest only ran one event. We got a lot of emails with different theories on the matter. As a result, we did ask MacPherson about it after his fine 5th-place showing at NCAAs in the steeple (5th in the final after finishing 6th in his prelim), and it's clear that the triple came out of the blue in the middle of the week when it came out that some guys who were going to double or triple were only doing one event. Bucknam then asked MacPherson to consider doing three events. MacPherson then sent Bucknam a text saying he'd do it. Classic.
"Put me in the 10k. I'll run it," MacPherson described his thinking to us. "We need the team points. It was Bucknam's first outdoor SEC championships and I didn't want him to lose it on account of some guys not doubling or tripling."
"I can't say why no one else did it. Only they know ... I was happy to do it."
Based on MacPherson's answer, the possibility that some guys flat out said they wouldn't double or triple is gaining in odds.
Pat Henry Gets Titles # 28 &29, But There Is Only 1 John McDonnell
The NCAA meet was held at Arkansas, where John McDonnell won 40 national titles. Watching the meet, it was impossible not to realize that big-time coaches make a big-time difference. Oregon is good because they have Lananna. A&M is good because they have Pat Henry.
After the meet, we came to the conclusion that it likely it will likely be a long time before Arkansas wins another NCAA title, and since Pat Henry is coaching, A&M will likely win a lot in the near future.
Henry builds programs to win NCAA track titles. Period. That is his #1 goal. Balance or cross-country? Not an issue. Get some top-end sprint/jump talent and see what happens.
We found it interesting to contrast Henry's success to McDonnell's. The most obvious difference besides the lack of XC success is Henry doesn't even always win his conference meet. At LSU, Henry's Tigers won 27 NCAA titles but only 19 SEC titles. At A&M, the men have never won the Big 12 but now are NCAA champs.
Altogether now at A&M and LSU, Henry's teams have won 25 SEC or Big 12 conference titles and 29 national titles. Ignoring vacated titles, McDonnell won 84 conference crowns and 42 NCAA crowns.
There only is one John McDonnell - a man who somehow could get it done all three seasons at both the conference and national level.
More:
Day 4: LRC: Texas A&M Wins Men's And Women's Titles On Epic Day Fernandez Goes Wire-To-Wire In 1,500, Wheating Gets First NCAA Title, Gall Repeats, FSU Goes Sub-3:00
Day 3: LRC: Nothing Can Stop Rupp. The perfect senior season ended in style and more than made up for the first 3 years as a 4:00.08 final 1,600 gave him his 6th NCAA title of the year.
Day 2: LRC: NCAA Day 2 Recap: Rupp Wins 1st Outdoor Title With Style As Lisa Koll Fails To Score
Day 1: LRC: NCAA Day 1 Track Recap
*LRC: Field Event And Multi Recap
---
Berlin Golden League: Bekele Beatable, Where Are The Women Distance Runners? And Is This The Year Augustine Choge Puts It All Together?
The Golden League is the top series of pro meets in the world and it got underway in Berlin on Sunday. But with Usain Bolt racing in Toronto and the USATF meet starting next week, many of the top stars were missing. The Golden League, like the World Marathon Majors, really is more of a marketing concept than anything, and if the top athletes do not go along, it loses some of its luster. It looks like next year the Golden League will be fully replaced by the much bigger Diamond League (we previously thought the Golden League might still exist within the Diamond League. If anyone knows for sure, email us).
The Berlin meet still had some great performances and interesting matchups. The most interesting race for us was Kenenisa Bekele in the 5k. Last week, Kenny Bekele, in his first race of the year, dropped out of a 1,500. Was the great one beatable? Not this time.

Bekele got the win in 13:00.76 over Abraham Chebii's 13:01.08. But as you can see in the race highlights here, it was far from easy for Bekele. He was constantly looking over his shoulder during the last lap. He said afterwards, "I had to work really hard for the victory." The 5k is a Golden League event this year so this may have been step one of Bekele's quest for a share of $1 million.


Can Choge Emerge As A Star?
The other top distance action was the men's 1,500. Augustine Choge blasted to a 3:29.47 win over Haron Keitany, who was nearly a second back in 3:30.20. A sub-3:30 clocking is impressive any time of year, especially in June. The problem for Choge? He has a history of running his best races in June (or May or March for that matter; Choge ran 3:30.88 in Qatar this May and ran 12:56 for 5k in March of 2006). Last year, he ran 3:30 to win in Berlin. By the time the Olympics ran around, he only got 10th in the final. The scary thing with Choge is we're still not sure the 1,500 is his best event. He ran 12:53 as an 18-year-old in 2005. Perhaps this is the year Choge, now only 22, puts it all together and learns how to peak when it counts. If he gets it right, he seems to be a gold medal threat at 1,500 or 5k. Although 1,500 seems to be his better event now, he ran 12:53 4 years ago. (Photo of Choge beating soon-to-be Olympic champ Asbel Kiprop at the Kenyan Trials)

Women's Distance Races In Berlin
We wish we could say the women's distance races were forgettable in Berlin. But that would be too kind, because there weren't any women's distance races in Berlin. Yes, ladies and gentleman, a Golden League meet had no women's races above 400. Hard to believe. Meet promoters are free to include whatever events they think will sell, but you'd think the IAAF might have some stricter requirements to join the Golden League level.

At least they were kind enough to have the women's 400. Sanya Richards ran a stellar 49.57 seasonal best. Richards at one point was one of the female superstars in the US, but she has yet to get a World Championships or Olympic gold. Perhaps this is the year.

In other action, the women's high jump was stellar, with Ariane Friedrich jumping 2.06 and taking some good attempts at the world record.
*Berlin Golden League *Results *Watch On Demand: On Universalsports.com
Recap: Bekele Narrow 13:00.76 Win, Augustine Choge 3:29.47!, Sanya Richards 49.57

Photo Of The Week
Turn your head to the side and read in English. This is what Usain Bolt was wearing when he showed up in Toronto. Can you imagine if Kobe Bryant wore something like this?
Usain Bolt
arriving in Toronto.
---
Performance Of The Week
There was a lot of great action with NCAAs and the Golden League getting underway, but a little-publicized meet in the Netherlands produced two of the top 10 women's 10ks in history. Ethiopia's Meselech Melkamu ran 29:53.80 to become the #2 all-time performer at 10k (and #1 if you don't believe the ungodly world record of 29:31.78 by Wang Junxia in 1993 was clean). Also in the race, Kenya's Florence Kiplagat became the #9 performer in history and the new Kenyan record holder at 30:11.53. Recap of Melkamu's 29:53.80.
---
Recommended Reads & And A Rant Against Rabbitted Races
Before we give you a list of some recommended reads that we enjoyed last week, our read of the week has to be Pat Butcher's rant about the evils of rabbitted races. In our minds, a rabbitted race should be the exception, not the norm, and Butcher seems to agree. Rabbitted races inevitably lead to the headline of "Runner A wins but fails to get record," which just turns fans off on track and field. Imagine if, in the NBA finals, the headline after every game was "Kobe scores 44 but fails to break Wilt's scoring record."
After Butcher's great blog, it was only fitting that we had a race that proved Butcher's point beyond a reasonable doubt. The NCAA men's 10k was great simply because there were no rabbits. A 63-second opening lap and a 75.99 22nd lap, which included a 42-second 200 as the runners nearly came to a stop before figuring out who would make a final bid for glory. Forrest and Chelanga surged over and over, throwing everything they had at Rupp, but to no avail. If this race had been rabbitted, there would have been little drama, as Rupp would have just latched on and kicked by them. But in an unrabbitted affair, there was drama over and over again.
We were only allowed to put up the final 3 minutes of the NCAA men's 10k for 72 hours, so to replace it, we have found one of the greatest non-rabbitted races in history on the right.
The men's 800 at NCAAs also ended up being a great non-rabbitted affair that had way more drama as there were no rabbits.
Recommended Reads From Last Week
1) Running Cartoons: Jeremy Wariner And Alan Webb
2) Pat Butcher On One Of Track's Worst Components: Rabbitted Races Butcher has often railed against rabbits in the sport and we agree. Too much emphasis is being placed on time and not enough on man-vs.-man competition.
Remembering The Last Week With The Quotes of the Day - Day By Day:
Monday: "Coach Henry has always told me there's no magic potion for success. Coach Henry simply trains smart."
- Texas A&M sprinter Gerald Phiri in a pre-NCAA article on A&M coach Pat Henry. In the article, Henry said it takes five years to build a program. This is his fifth year at A&M and he was rewarded with 2 national titles.

Sunday: "I could see the finish line. I could see the trophy at the finish line waiting on me. I thought, 'Just drive.' That's all I thought."
- Texas A&M anchor Justin Oliver on finishing 2nd by .22 to give Texas A&M a sweep of the NCAA titles on Saturday in a thrilling NCAA meet. If Oliver had been passed, it would have been a four-way tie for first. Galen Rupp's perfect season was not enough to give Oregon the coveted triple crown.
Saturday: "We're still in the mix, but we're just not in the position I would like to be going into the final day."
- Oregon coach Vin Lananna on his team's chances. Despite Galen Rupp capping a perfect season (much more on that here and below), the Ducks are in a dog fight for the men's and women's team crowns.

Friday: "There are times Galen Rupp looks as if he's toying with opponents."
- Associated Press intro to their story on Galen Rupp winning the NCAA 10k title in fine form on Thursday night. Shawn Forrest and Sam Chelanga threw blow after blow at Rupp in a very exciting race, but Rupp answered the challenge with ease. Rupp's win was needed by the Oregon Ducks as Matt Centrowitz, Jr, the #1 seed in the 1,500, finished last in his heat, tightening up the team competition. The link above goes to our recap of Thursday's action where we have a link to the AP article which you can find here.

Thursday: "If he (Ashton Eaton) fouls that, it's not just 'Ashton Eaton just screwed himself out of a national championship.' This is, 'Oregon is no longer in the running.'"
- Oregon assistant coach Dan Steele on Oregon's Ashton Eaton, the favorite in the decathlon, who fouled on his first two jumps on Wednesday. Fortunately for the Ducks, Eaton's third jump was the best of anyone in the competition and the Ducks and Galen Rupp (thanks to mild weather due to a thunderstorm) left Day 1 in as good of shape as could be expected.

Wednesday: "The idea of somebody outworking me … it just sickens me."
And ...
"If I could fight like [Rupp], I'd be really good."
- Quote 1 is from Galen Rupp the perfectionist, who may finish off a perfect 2008-2009 with wins in the 10,000 and 5,000 and the Oregon team title. Quote 2 is from Liberty's Sam Chelanga, who will face Rupp in the 10,000m on Thursday night in Arkansas.

Tuesday: 3:59.90!!!!!
- time run by Colorado's Jenny Barringer at the Prefontaine Classic to shatter the NCAA record. She becomes only the 4th American to break 4:00 (and 2nd non drug cheat to do so).