The Week That Was In Running - May 31 - June 6, 2010
By LetsRun.com
June 8, 2010
To read last week's LRC Week That Was, click Here.
To read any 2010 LRC Week That Was, click Here.
In our weekly recap this week, we give props to Bernard Lagat for his new 5,000 AR and praise him for not putting it out of reach earlier in his career. Along the way, we also ponder if Dennis Mitchell is still a cheat and we give out props the arguably the most ignored American runner on the planet and ask you if you can tell us who has the Colorado school record at 5,000 meters. We also give props to World XC champ Emily Chebet, Haile Gebrselassie, Mary Wittenberg, Renato Canova and Nick Arciniaga. Plus our Race Video Of The Week and much more.
Bernard Lagat Gets AR In 5,000
We wanted to start off this week's weekly recap with an email we may or may not have received from a LetsRun.com visitor.
June 5, 2010.

Hey Brojos,
Can you please forward the following message to Bernard Lagat?

Dear Mr. Bernard Lagat,

I just wanted to thank you for not ever getting in a half-way serious European 5,000 up until this point in your career. We're not sure if it was part of your Nike contract or what but we are very appreciative of you letting the native born Americans have some fun with chasing after Bob Kennedy's mark the last few years. It's been fun to see the likes of Ritz, Tegenkamp and Solinsky have a chance at the record and we thank you for not running 12:50 or something close to that to put it out of reach back in say 2007 when you were the world champion.

Sincerely yours,
Anonymous USA Distance Fan
Last week, the big news in the LRC world was exactly what we hinted at above. Bernard Lagat finally got the American record that has been long overdue as part of his resume in our book. How a 5,000 meter world champion in the year 2010 could only have a PR of 12:59 was beyond us. When we heard he was running the 5k in Oslo, we knew he'd get the record and couldn't believe that only 33% of LetsRun.com visitor's agreed with us, particularly considering he set a 3,000 PR the week before.
Lagat did indeed get the record as he ran 12:54.12 to get third as Chris Solinsky became the 5th American under 13:00 with a 12:56.66 (Editor's Note #1: How cool is it to say that, "fifth American under 13:00." Editor's Note #2: If the rest of Solinsky's career is a wash, we're sure many will talk about how the last 3 digits of his time are 666. Time will tell we guess).
As for the race itself, it was the perfect race to prove that what famed coach Renato Canova wrote on the LetsRun.com messageboard is true - that the lack of lots of fast 5,000 times in recent years has been the result of the fact that there have been very few rabbitted races in Europe of late.
Ten guys broke 13:00 in Oslo alone on Friday. Only fifteen guys did it in all of 2009 but that was mainly because there were only 4 sub-13:00 races on the planet last year.
If you aren't in a fast rabbitted race, it's hard to run fast and Bernard Lagat is the perfect example of that. Lagat first broke 13:00 in 2005. Yet up until last Friday, he'd never been in a race that was won under 12:57. No wonder he didn't have the American record. But he's got it now.
Up until Friday, only twice in Lagat's life had he been in a 5,000 race where the winner was under 13:00 and not named Lagat. At the 2006 ISTAF meet in Berlin, Lagat was 9th in 13:12 in a race that Bekele won in 12:57. At the 2008 Olympics, Lagat was once again 9th (in 13:26) in a race that Bekele won in 12:57.
We apparently aren't the only ones that think Lagat could have run much faster in the past. Check out this thread:

If Lagat can run 12:53 right now past his prime, how fast could he have been?
More: Lagat Gets 5,000 American Record, Solinsky Runs 12:56! *Solinsky runs 12:56!!! but...*Oslo Diamond League Preview: Lagat vs. Solinsky vs. American Record Message Boards: IT'S ON: Bernard Lagat or Chris Solinksy next 5000m AR at Bislett *Rudisha or Kaki in Oslo Friday night? And what time?
More From Oslo
Oslo was the third Diamond League meet of the year and there were a lot of excellent marks/races throughout the meet. But we don't have time to talk about them all but do want to point out that there was a barely wind aided 9.72 from Asafa Powell and a nice win in the Dream Mile by Asbel Kiprop in 3:49. Also Kenya's Milcah Chemos really impressed us in the women's steeple. Only one woman in history has broken 9:00 and the self-coached former mid-distance runner Cheiywa absolutely hammered out after the mark, passing 1k in 3:01 and 2k in 6:03, before dying a bit but holding on for a 9:12. Cheiywa ran her first steeplechase a little over 1 year ago so it certainly wouldn't surprise us to see her break 9:00 later in the year.
But to us, the race of the meet was the men's 800. Two guys engaged a real race with both each other and the 1:42 barrier. FANTASTIC. Definitely our Race Video Of The Week. In case you don't know what happens, we'll just put the video down and let you enjoy. You can read more about Oslo at the links below the video.
More: *Full Results *IAAF Recap *LRC Recap of Oslo *David Rudisha - 1:42 Oslo *How come Lagat does not get a Letsrun opening Flashpage that says, "LAGAT 12:54"
4th Time's A Charm - World Cross-Country Champion Wins For First Time In US
If the men's World Cross-Country champion was racing on US soil, undoubtedly it would be big news. Well, since it happened on the women's side last week, we want to give props to Emily Chebet for showing up, racing and winning at the 32nd Freihofer's Run For Women 5k in Albany, NY. Not only did she win. Chebet, who only dispatched of 2010 LA Marathon winner Edna Kiplagat in the last 400, also set the course record. Chebet chopped six seconds off the previous CR - the largest increase in the race's history.
Of course, this is actually the fourth race of the year for Chebet in the US since winning World XC (and 2nd last week). With little fanfare, she was 3rd at Lilac Bloomsday and 2nd at Bay To Breakers as well as third at the Dick's Sporting Goods BolderBOULDER 10K on Memorial Day. The fact that the World XC champion isn't winning major US road races with regularly may surprise many, but to us it makes some sense as the 24-year-old Kibet is a racing neophyte. She barely competed at all in 2008 (1 race) or 2009 (0 races) and to our knowledge has never run a 5,000 meter race on the track. Her 5k of 15:12 improved her PR from the 15:59 she ran at Freihofer's in 2007. The more races she gets the better she'll ultimately be in the long run.|
More: *Kenya's Emily Chebet Sets New Course Record At 32nd Freihofer's Run For Women 5k In Albany, NY *Results *Benita Willis Facing Tough Task In Attempt To Win 4th Freihofers
And The Colorado Buffalo 5,000 Meter School Record Holder Is ...
Speaking of Bolder Boulder, we want to give props to the Team Colorado men for beating the USA men and finishing 2nd overall. Nothing fuels the motivation like being overlooked by race organizers. Speaking of overlooked, the man who led the way for Team Colorado was Brent Vaughn, who was 4th overall in 29:56. Vaughn may be the most overlooked American in history. We doubt many LRC visitors realize that it's Vaughn who is the Colorado 5,000 school record holder at 13:18.46 - not the more famous Buffs in Olympians Jorge Torres (13:24.56), Dathan Ritzenhein (13:27.77), Adam Goucher (13:31.64) or Alan Culpepper (13:31.7).
Of course, as good as Team Colorado ran (other team members were Aaron Braun and Jim Carney), they were a ways off from Team Ethiopia, which crossed the line holding hands as they swept the top 3 places in the 3-person-per-team race and picked up $23,875 to split between the 3 of them.
More: *Ethiopian Teams Sweep, Team Colorado Beats Team USA The Ethiopian men had a perfect score of 6 and the women took 2 of the top 3 places.
*Results Colorado men Vaughn, Braun and Carney of Team Colorado took it to Team USA and Team Kenya. *Race Video Guy fully decked out as Moses sprints out to the lead.
Once A Cheat ...
Does anyone else besides us think it's odd that drug cheat Dennis Mitchell put on a track meet last weekend in Florida and it produced the fastest 100 meter sprint time in the world? All we can think to say is, "Who did the timing? Did some double check the timing or at least make sure it was legit?"

Over the weekend at Mitchell's Star Athletics Sprint Series 1 meeting in Clermont, Florida, Kelly-Ann Baptiste of Trinidad & Tobago took a full .10 off the 2010 world-leading time and her own PR by running 10.84 seconds. 2nd placer Shalonda Solomon also took a huge chunk off her PR and ran 10.90 as compared to her previous best of 11.04.
We're not saying that the athletes didn't run the times in question as a meet for sprinters and hurdlers in warm weather with nice tail winds should produce excellent times, but we'll be very suspicious if later in the year, they don't recreate them. And to us, Mitchell has zero credibility in the sport.
More: *Baptiste Sizzles To World-Leading 10.84 In Florida
If Only The US Government & Greece And Other Countries Were Like The IAAF ...
Last week, much was made about how the IAAF is going to cut its budget by $20 million in the next three years due to falling revenues and the worldwide economic recession. Many viewed this as a negative. We here at LRC viewed it as a positive. Sure, seeing revenues decline that much for track isn't a good thing. But think of the bright side.
1) Rich IAAF bureaucrats will be forced to cut back on their elaborate travel. That is always a good thing. The days of them staying at 5 star hotels while the athletes stayed in much shoddier ones may soon be a thing of the past.

2) The IAAF is setting an example for the countries of the world to follow and maybe down the road the IAAF will be hired and paid large amounts of money to help countries manage their own economic crisis. Unlike seemingly every government in the world, the IAAF realizes it can't spend money it doesn't have. Sure, the IAAF austerity program is helped by the fact that the IAAF can't legally print money like governments and thus when times are tough, they are forced to cut back. But they apparently are doing a good job of it, as the AP article states, "With the increased Olympic revenue, the IAAF expects its income through 2012 to be $204 million with expenditures of $203 million."
More: *IAAF To Reduce Budget $20 Million Over The Next Three Years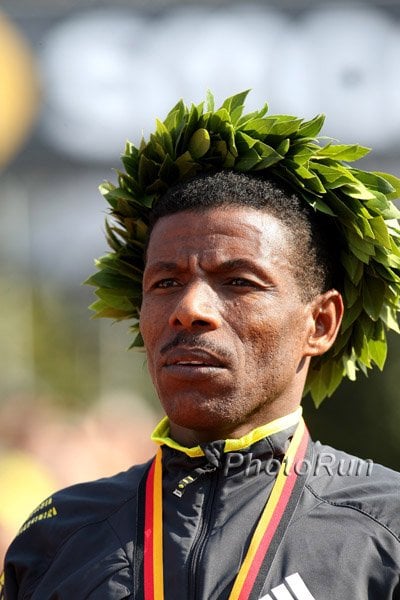 Dreams Do Become Reality - Haile Will Actually Race A Marathon And It Will Be In The US
Last week, it was announced by the New York Road Runners that marathon world record holder Haile Gebrselassie will make his US marathon debut in the US at this Fall's ING New York City Marathon. Quite honestly, we are SHOCKED by this. Literally shocked.
Why? Because Gebrselassie has never really raced on an honest, non-flat marathon course in his life. The marathons he's run in his life are London, Amsterdam, Berlin, Fukuoka, and Dubai. Those are all pancake-flat courses for the most part.
Geb was never a big fan of World Cross-Country, so we assumed he didn't like hills. But honestly of late, we also figured he didn't like true competition as most of his races had seemingly been set up for him to win the race and go after his own world record. Since dropping out of London in 2007, Geb had alternated for 7 straight marathons between Dubai and Berlin.
So a BIG-TIME THUMBS UP to Mary Wittenberg for getting Haile to race in New York and a big-time Thumbs Up to Haile for running as well. We loved how Haile said his career wouldn't be complete without a win in NYC, "My career is not complete. This is really serious."
Japan's Arata Fujiwara (2:08:40 PR) will be racing NYC as well.
More: *LRC Message Board Thread Here *Haile Gebrselassie To Make US Marathon Debut At ING New York City Marathon In 2010 AP Article on Haile *Photos Brett Larner In NYC To See Haile G And Arata Fujiwara Run With Kids On National Running Day
Odds & Ends
Brian Sell Unretires?
2008 Olympic marathoner Brian Sell supposedly had retired. Except last week, the former Hansons-Brooks runner said maybe not. He may continue to compete while in Dental school at Penn State if an upcoming half marathon in Seattle goes well.
*Video: Brian Sell Not Exactly Retired

Mo Farah In The News
On Monday May 31st, Brit Mo Farah picked up a big road win as world road 10k record holder and Olympic bronze medallist Micah Kogo, as well as recent 27:29 performer Chris Thompson as he set a new UK roard record of 27:44. Kogo said he didn't feel good in the race and will now rest up and run the 5k in the Rome Diamond League meet on Thursday. There was no rest for Farah as on Saturday he ran a track 10,000 and ran the fastest time for a European in nearly two years by clocking 27:28, after a conservative 13:50 opening 5,000. Farah mainly was running the race to get his European championship qualifying time in case he wants to double at Euros later this summer. More: *New UK 10k Road Record As Mo Farah*Beats Olympic Bronze Medallist Micah Kogo *On The Boards: NEW UK RECORD - FARAH BEATS KOGO AND THOMPSON AT BUPA 10000m *Mo Farah Runs GBR #3 All Time 27:28 At European Cup *Britain's Farah and Portugal's Monteiro get Cup victories *Video's From Monteiro
Rock N Roll
Running two marathons in four months isn't standard training but it's what both 2001 world 5k champion Richard Limo and former ING New York City marathon champ Hendrick Ramaala did on Sunday when they ran the Rock N Roll marathon in San Diego. Limo's 2nd marathon since March proved to be a success as for the second time in a row (he was the runner-up in LA) he ran under 2:10, and this time he got his first marathon victory in 2:09:58 (Limo's PR is 2:06:45). Father Time may be catching up to the 38-year-old Ramaala, as he was only 7th in 2:14:41 after running 2:15 in Lake Biwa in March.
American Nick Arciniaga deserves praise for finishing third in a near two-minute PR of 2:11:47 - previous PR of 2:13:46. More: *Arciniaga Runs 2:11 For 3rd As 2001 5k World Champ Richard Limo Gets 1st Marathon Win *Rock N Roll Results *LRC Photos *Hendrick Ramaala Headlining Sunday's San Diego Rock 'N' Roll Marathon *Nick Arciniaga 2:08:58 At Rock 'N' Roll San Diego Sorry, that's a prediction, not a result.
Other News of Note
*Bill Bowerman's Widow Barbara Bowerman Dies At 96
*Anita Wlodarczyk Of Poland Breaks Hammer World Record 78.30m
Drug News
For the 3rd Time This Year, Athlete Coached By Former Shot Putter Geoff Capes Involved In Drug Scandal
Recommended Reads
*Extensive Interview With Jack Fultz, Winner Of The 1976 Run For The Hoses Boston Marathon In 90+ Degree Heat
*Athletics Weekly Catches Up With 1968 100yd Record Setter Charlie Greene
*Former UW Roommates Broke Pole Vault And Long Jump World Records 47 Years Ago
Last Week's Quotes Of The Day:
Monday: "I was hoping for a huge breakthrough performance. I ran strong the last 10K and was able to catch a few more guys. I was hoping for better but I'm not going to be disheartened with a two-minute PR."
- American Nick Arciniaga after a 2:11:47 3rd-place performance at the Rock 'n' Roll San Diego Marathon on Sunday (and 10k PR 29:34 in the first quarter of the race). Former 5,000m world champion Richard Limo won the first marathon crown of his career in 2:09:56.

Sunday: "I had an epiphany that it was going to be a great day as I wasn't all that surprised at how good I felt. I didn't see the runners ahead of me as enemies. I saw them as allies - the faster they ran, the faster I was likely to run. This is an important and valuable cognitive construct for all competitive athletes. Competition anxiety - which usually robs us of some of our efficacy by causing us to run less fluidly and relaxed - grows out of a focus and concern about things over which we have little or no control."
- Boston Marathon Champion Jack Fultz describing the race. At that point he was in 10th and looking ahead at 9 runners spread out on the hill ahead.

Saturday: 12:54.12 ... Lagat
-Your new American record holder at 5k is Bernard Lagat. Lagat almost got the win and the Chris Solinsky bandwagon keeps on rolling with a 12:56.66 PR in 6th.
Friday: "I've never been to Oregon, so I'm excited. Tell the people in Track Town to be excited, because we're coming out there to put on a good show."
- Sam Chelanga of Liberty, who will do the 10k/5k double at NCAAs after running 27:08 at Stanford. They start Wednesday.

Thursday: "In running, in track, you often get hung up on the results. It just becomes result-driven. You train really hard. Every little thing is so scripted. With Andrew, he is a free spirit. He's been a breath of fresh air for me. I've really enjoyed him. He's re-energized my excitement about the sport of track and field."
- Oregon coach Vin Lananna talking about Andrew Wheating, who will race the 1,500/800 double on his home track at NCAAs. There's a good story in this article about Wheating running 4:05 on the B or C DMR when nobody knew who he was and Lananna didn't bother to even get a watch on him.

Wednesday: "I have been called a cheat and disqualified from a race I never claimed to have won ..."
- 69-year-old Anthony Gaskell, who was DQed from the London Marathon after his record-breaking 3:05 was wiped from the record books after it was revealed he cut more than 10 miles off the course. Gaskell claims he was simply dropping out while others aren't so sure.

Tuesday: "Well I think what we just did here over the last few days is bad for track and field."
- Coach Pat Henry of current superpower Texas A&M talking about the NCAA Round 1 regional system. We'll have more analysis of the current plan vs. the proposed 24/8 descending order list/conference championship plan later this week.
Last Week's Homepages
*Mon (June 7) *Sun (June 6) *Sat (June 5) *Fri (June 4) *Thur (June 3) *Wed (June 2) *Tue (June 1)