LRC: The Always Wild Week That Was In Running: May 3-9, 2010
By LetsRun.com
May 11, 2010
This week we put an end to the Rupp-Solinsky controversy, analyze the continual decline of Jeremy Wariner, announce the return of Walter Dix, tell you why Usain Bolt is clean, fall in love with the 25 kilometer distance, and amazingly discover that hGH actually helps performance. All that plus Haile Gebrselassie puts an end to the barefoot running craze and a great race video from Australia.
Quote Of The Week #1
Our first quote of the week (that wasn't a quote of the day) comes from an article written by Ken Goe of The Oregonian. We figure it was appropriate to start with this quote, as last week we devoted almost our entire weekly recap to breaking down Chris Solinsky's 26:59 American record performance in the 10,000. In that article, we talked about the false Solinsky/Rupp controversy and Rupp came out this week and ended all such speculation with the following quote:
"You can't blame other guys for doing what they did. They did what gave them the best chance to win. I've sat on other people before and then outkicked them. That's part of the game."
More: Rupp Talks To The Oregonian
Men's And Women's 25 KM World Records Are Obliterated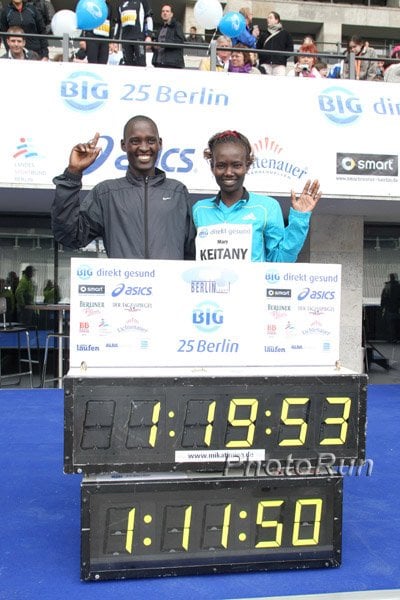 Photo: Samuel Kosgei and Mary Keitany lowered the 25km world records in BIG fashion in Berlin.
The big racing news from last week came from the BIG 25 road race in Berlin on Sunday morning, where both the men's and women's world records fell. It was pretty much a foregone conclusion that Japan's Mizuki Noguchi's women's world record of 1:22:13 would fall to Kenya's Mary Keitany, as the old mark was very soft. It was set in the middle of Noguchi's 2:19:12 Japanese record run in the 2005 Berlin Marathon.
The record did indeed fall, as Keitany's 1:19:53 clocking obliterated it by 140 seconds.
1:19.53 is pretty darn good, as it equates to 5:08.6 pace per mile. That being said, it really puts in perspective just how unreal Paula Radcliffe's world record is in the ladies' marathon. If Keitany kept up her 25km world record pace for a full marathon, she'd run 2:14:51 for the marathon. Radcliffe's world record is 2:15:25. In case you didn't know 25k is 15.5 miles, so Keitany would have to keep that pace up for 10.7 more miles. That brings us to the ridiculous post of the week: MARY KEITANY: can she take down Paula's Legendary 2:15:25 WR.
Women's marathoning needs a new star and Keitany, who ran an African record of 66:36 to win the World Half Marathon title last year, is likely to be it. The 28-year-old will be making her marathon debut this fall and all we can say is, "Let the bidding begin."
Men's Record Falls As Well
In terms of the men's race, Galen Rupp certainly knows how Kenya's Gilbert Kirwa is feeling right now. Just like Rupp did at Stanford last week in the 10,000, Kirwa ran faster than Paul Kosgei's old record of 1:12:45 by clocking a 1:11:58 (he went through the half marathon in 60:44). The problem for Kirwa was he was just the 2nd guy across the finish line, as Samuel Kosgei ran 1:11:50 to set the new world record.
Kosgei is best known for being the guy we praised as Haile Gebrselassie's pace setter for the Berlin marathon last year. The 24-year-old Kosgei did a magnificent job of setting the pace in Berlin in '09, as he was standing next to Geb when The Emperor set the world record of 30k at 1:27:49. If one wonders how someone can rabbit someone the entire distance to a 30k world record, well they should probably realize that Kosgei's new 25k world record comes out to 4:37.45 pace per mile. If he kept that up for 30k, he'd run 1:26:12.
Like Keitany, Kosgei has big goals for his marathon debut this fall. He wants to come back to Berlin and run again this year with Gebrselassie. Only this time, he wants to defeat Gebrselassie. We gotta give Kosgei a Thumbs Up for spicing things up and talking a little trash after his world record on Sunday.
Quote Of The Week #2 (That Wasn't A Quote Of The Day)
"My next goal is running my first marathon. I would like to come back to Berlin for that in September. If Haile Gebrselassie should return I would look forward to this. And it would be my goal to beat him."
Speaking of Berlin and Geb, it looks like the efforts of the NYRR's Mary Wittenberg weren't enough to entice Geb to run the ING New York City marathon this fall, as it came out last week at least unofficially in a Berlin daily that Geb is going to return to Berlin for another record attempt this year. Nothing official yet.
More: *LRC BIG Berlin 25k Photos *Kosgei, Keitany Shatter 25Km World Records In Berlin - Updated *Geb Commits To 2010 Berlin Marathon
More 25k Action
25k is a weird distance, but apparently early May is the ideal time for 25ks, as the US National Championships were held on the road last weekend at the 33rd annual Fifth Third River Bank Run 25-K in Michigan. Congrats to US champs Andrew Carlson and Katie McGregor. It was not only a good day for Carlson but also for his McMillan elite teammates, as they swept the top three spots on the men's side. It's worth noting that 2:10:36 marathon debutante Brett Gotcher, whom we featured earlier this year in a training talk session, was the runner-up in Michigan. It's also worth noting that the week before, Gotcher lowered his 10k personal best by 18 seconds to 28:09. Many were speculating what he was capable of after his 2:10. More: *US 25k Champs
Fifth Third River Bank 25k Women
Berlin BIG 25k Women
Fifth Third River Bank 25k Men
Berlin BIG 25k Men
1. Firehiwot Dado, 26, ETH 1:23:46 CR* $3000
2. Genoveva Jelagat Kigen, 29, KEN 1:24:53 1500
3. Katie McGregor, 32, St. Louis Park, MN 1:26:24 7000a + 1000
4. Samia Akbar, 28, Herndon, VA 1:29:03 3000a
5. Dot McMahan, 33, Rochester, MI 1:30:08 2000a

1. Mary Keitany, KEN 1:19:53
2. Alice Timbilil, KEN 1:24:38
3. Pasalia Kipkoech, KEN 1:26:47
4. Eunice Kales, KEN 1:29:05
5. Christine Chepkemei, KEN 1:29:30

1. Andrew Carlson, 28, Flagstaff, AZ 1:14:42 7000a + 3000
2. Brett Gotcher, 25, Flagstaff, AZ 1:15:06 3000a + 1500
3. Nick Arciniaga, 26, Flagstaff, AZ 1:15:18 2000a + 1000
4. Jason Hartmann, 29, Portland, OR 1:15:38 1000a
5. Josh Eberly, 29, Gunnison, CO 1:15:54 800a

1. Samuel Kosgei, KEN 1:11:50
2. Gilbert Kirwa, KEN 1:11:58
3. Terefe Maregu, ETH 1:13:16
4. Erick Rotich, KEN 1:13:24
5. Matthew Koech, KEN 1:13:45
Weekly Drug Update #1 - Why Usain Bolt Is Clean
We've always thought there are a number of ways to figure out who is clean and dirty without even administering a drug test. The most obvious is to look for suspicious and rapid improvement. Another way is to look at the winners of the race and see if they are enjoying it. We've always felt that cheats don't really enjoy winning or if they do it looks faked. We're glad to learn that we aren't the only ones who think this way. Former sprint great Ato Boldon (now a great television commentator), wrote a piece on the Usain Bolt effect for the adidas Grand Prix website which included the following excerpt:

"I defend all current track athletes from those sorts of aspersions, but with Bolt even more so. Why? For one thing, I can trace his rise to greatness quite clearly. And in my days as an athlete, I competed against most of the sprinters who turned up guilty of doping in the last decade. All had one thing in common: a seeming lack of real joy in competing. Bolt is the exact opposite." More: *The Inside Track By Ato Boldon
And if one was looking for proof that you don't always need a positive or negative test to know who is or isn't a doper, they need to look no further than Eva-Maria Gradwohl of Austria. She is proof positive that sometimes a little common sense goes a long way in the doping world.
Gradwohl, who competed in the 2008 Olympic marathon and is a two-time winner of the Linz marathon, was banned from the sport last week for refusing to take a doping test while on vacation in Croatia. She likely had good reason to refuse the doping test, as she is partner of Walter Mayer, the former coach of the Austrian skiing team, who was caught up in the doping scandals at the 2002 and 2006 Winter Olympics.
Additionally, last week Austrian doping officials officially started an inquiry into whether Sydney Olympic silver medallist Stephanie Graf doped in 2003.
Weekly Drug Update #2 - Believe It Or Not hGH Actually Helps Performance
Speaking of common sense, don't believe all of those athletes that say they take hGH just to get them healthy and that it doesn't offer them a competitive advantage. Of course it does. WADA sponsored a study on hGH and the results were breathtaking.
Listen to what Ken Ho, one of the study's co-authors, said about the effect hGH combined with steroids has on a sprinter.
Quote Of The Week #3
"We found the enhancement in sprint capacity would correlate to a 0.4 second improvement over 10 seconds in a 100-meter dash. This improvement could turn the last-place finisher in the Olympic finals into a gold medal winner."
More: WADA-Sponsored Study Claims hGH Makes Difference Between Last And First In Olympic 100m Final
Quote Of The Week #4
Since we already mentioned Boldon's column on Usain Bolt, we thought might as well give it some more praise. We love the following excerpt even though it wasn't quote of the day:
I consider myself fortunate, as it concerns Bolt, for two reasons. In the way that people who have seen the Pyramids of Giza or the Taj Mahal will tell you, pictures and film do neither of them appreciable justice. Same for Usain. I have been in the broadcast booth during each of Bolt's five world records, and the memory of each has been seared into my brain somewhere closely below the birth of my children. No one who witnesses one in person ever forgets a Bolt world record.
- Ato Boldon talking about the joy he gets from watching Usain Bolt compete.

More: *The Inside Track By Ato Boldon
Race Video Of The Week

We'll try adding a new feature of The Week That Was this week. And that is our race video of the week. Nowadays, there are tons and tons of race videos made each week and very few of them are things we'd even dream of spending 30 seconds on. But every week, there have to be at least a few races worth watching.
We have our first winner. Admittedly, the race didn't take place last week, but we just found the video last week. It's the video of the 2010 Australian Men's 1,500 final, which featured a great duel beteween Jeff Riseley and Ryan Gregson.

We love the video for a ton of reasons:
1) It features an actual race between two great studs.
2) It proves the superiority of non-rabbitted races to rabbitted races.
3) It celebrates the wonders of modern technology. How cool is it to watch the Australian national champs? Ten years ago, that would have been unheard of without dropping about $10,000 to get to Australia.
4) It features great announcing. No need to mute flotrack or Larry Rawson.
Roughly two months ago, USATF head Doug Logan talked about the need for improving the announcing on US broadcasts of track events. Our solution was to just hire someone who was truly knowledable about the sport but make sure they have an accent and are from the UK as shown by this great video of the 1980 World Cross-Country Championships. We want to change our recommendation and say that an Australian can be hired as well.
If you have ideas for a Video of The Week for next week, please email us.
Geb - A Fan Of Minimalist Shoes? Nope.
Author Matt Fitzgerald had an interesting piece on what many of the pros think of the minimalist shoe craze that has been set off by the book, "Born To Run." Many people might think that Haile Gebrselassie, a man whose stride is a thing of beauty and who seemingly was literally born to run, would be all over the craze. Well, they would be wrong, as shown by the following excerpt from Fitzgerald's piece:
I was surprised to see Geb wearing an altogether different type of shoe, one of adidas' heaviest trainers, on a short, easy run he led me and some other journalists on. Here's a man who weighs 113 pounds, runs so lightly that I could not even hear his feet landing on a treadmill he ran on at 4:43 per mile (his world record marathon pace) six feet away from me, and is a true forefoot striker whose heels never, ever touch the ground, and yet he of all people trains in pillow shoes. Here's a man who is so meticulous about his gear that I overheard him complaining to an adidas technical engineer about the side slits in his shorts not being deep enough, and of all the shoes he could choose for logging heavy miles it's a pair with marshmallow soles. Here's a man who grew up running barefoot and has no interest in going back!
More: *Matt Fitzgerald On Minimalism
Sprint News - The Decline Of Jeremy Wariner Continues? The Re-Emergence Of Walter Dix?

One would think with his chief rival LaShawn Merritt out with a positive doping test, that things would be looking up for Jeremy Wariner. Maybe not. Ignoring two DNFs, Wariner hadn't lost a 400 to someone not named LaShawn Merritt since September of 2005, a time frame that had spanned 51 races. Well, Wariner lost his 2010 debut in Puerto Rico on May 8th to Olympic bronze medallist David Neville, as Wariner ran 45.47 to Neville's 45.44. Losing to Neville isn't the end of the world, but it's certainly fair for people to question whether Jeremy Wariner's best days are way past him.
The 45.47 time is by far Jeremy Wariner's slowest outdoor opener since he was a senior in high school. A 45.47 first race may be good for most people but it's not for Wariner. It also marks the 4th straight year that Wariner has opened up slower than the year before - a very troubling trend for Wariner fans. Wariner hasn't broken 44.00 since August of 2008.
Jeremy Wariner's Outdoor Opening 400 Times Since HS
2010 - 45.47
2009- 45.06
2008- 44.82
2007- 44.62
2006- 44.12
2005- 45.13
2004- 45.21
2003- 45.13
More: Neville Breaks Wariner's 5-Year 400m Win Streak!
Walter Dix Is Back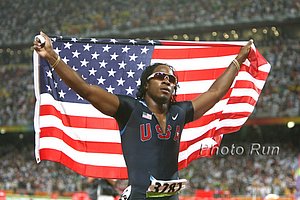 American sprint fans looking for good news can take heart with the performances of Walter Dix last weekend. Coming into 2010, many were wondering what version of Walter Dix would we would get - the 2008 phenom or the 2009 bust?

The former FSU Seminole had a great first year as a pro in 2008, as he picked up Olympic bronze medals in the 100 and 200 and ran 9.91 and 19.86. But his 2009 season was a total disaster, as he got caught up in a contract dispute with his agent, got injured and just got worse as the season went on. He opened up with a 10.00 but ended up running 10.32 at USAs and never even competed in the 200.
Well, Walter Dix's 6.58 indoor personal best earlier this year was a good sign that things were on right track. Now we know for sure that all is well in Dix(ie) land, as he ran 9.98 and 19.89 within the span of 90 minutes last week at Florida State.
More: Walter Dix Is Back: Runs 9.98 And 19.89 *On The Boards: Dix @ FSU Twilight
Thanks To LetsRun.com ... Track Is Popular Again
On Monday, the Washington Post's Amy Shipley wrote an interesting article talking about how track and field is doing pretty well in terms of popularity and the article explored whether the Internet was playing a large role or not in track's resurgence (or lack of further decline). We certainly enjoyed being called a "powerhouse" site by The Post and think that Amy Shipley's thesis is one worth exploring. It's a thesis we'd never really thought about, but the more we think about it, we certainly do think that sites like ours help because they let the die-hard track fan realize he's not a total loner. Compare that to twenty years ago - after a total decline in mainstream media coverage of track but prior to the Internet - fans who were still following track might have felt like social pariahs as they didn't realize there were hundreds of thousands of people just like them. We also feel that the Internet is the perfect medium for track as with events happening all over the globe, it's very hard to follow. Additionally, thanks to Internet, people can now follow track and not waste all weekend doing it. Instead of having to go to an 8-hour meet, they now can watch the one race highlight they want and be done within 5 minutes. However, at the same time, we believe television and exposing the sport to casual fans are key to the sports success. The women's pro soccer league has 250,000 followers on twitter and that means nothing.
By the way, the headline to this section was a joke - sort of.
Odds & Ends

Looking for signs that track is indeed gaining in popularity, well the fact that Kara Goucher's pregnancy was announced in the New York Times is certainly a good sign. She is five months pregnant and due the same day in September as Paula Radclife. We wish both women the best of luck with their pregnancies and their subsequent returns to racing.
More: LRC MB: A Friendship Built for Long Distance/// Goucher pregnant



Sad news to report that one of the fastest half marathons on the planet is now a thing of the past. The Half Marathon Rotterdam, which has produced six of the 20 fastest times in half marathon history, as well as six of the 10 fastest times in history, was cancelled due to a lack of financial support. The race had been sponsored by the Dutch banking company Fortis, which is also the key sponsor of the Fortis Rotterdam Marathon. *ROTTERDAM HALF-MARATHON DISCONTINUED
Last week, we talked a lot about how there are a lot of Kenyans/Ethiopians who could break 27:00 in the 10,000 but you've never heard of them as they are on the roads. We might want to add Eliud Kiptanui to that list, as he ran a 2:05:39 marathon to win in Prague over the weekend. Very impressive.
More: *Pat Butcher: The Story Of New Teenage Marathoning Star Eliud Kiptanui *Eliud Kiptanui Runs 2:05:39
To read last week's LRC Week That Was, featuring Chris Solinsky's 26:59, click Here.
To read any 2010 LRC Week That Was, click Here.
Recommended Reads
*Excellent Profile Of Jamaican Sprinter Shelly-Ann Fraser
*Pat Butcher: The Story Of New Teenage Marathoning Star Eliud Kiptanui
*Stephen Mayaka - The First Kenyan HS Runner In Japan
*LRC Chris Solinsky Is The Tallest And Heaviest Sub-27 Man In History

LetsRun.com Quotes Of The Day - Day-By-Day:
Monday: "Some people might think 2:07:11 is a good time. But I'm not happy with this time. What I think is a good time is 2:05."
Yemane Tsegay after finishing 2nd to Eliud Kiptanui in the Volkswagen Prague Marathon. In a huge surprise, Kiptanui ran 2:05:39 in his second marathon to become the newest 2:05 man from Kenya.

Sunday: "If you can fill the unforgiving minute With sixty seconds' worth of distance run - Yours is the Earth and everything that's in it, And -which is more - you'll be a Man, my son."
- Rudyard Kipling.
Saturday: "Track meet? Track meet? How could you go to a track meet?"
- Quote from a Yale student in an article by HepsTrack.com's Brett Hoover on the highly unusual 1970 Heptagonal Outdoor Track & Field Championships. The Heps are this weekend and the article is very well-researched, a definite Recommended Read.

Friday: "If you want to run, run a hundred metres. If you want to experience another life, run a marathon."
- Emil Zátopek. We're not sure what it means either, but it sounds cool.

Thursday: "I had nothing to lose. I think that helped, because there were points in the race when it was quick and I'm questioning 'this is suicide, running 63s and 64s in the middle of a 10k.' But in the back of the head, I'm like 'I've got nothing to lose. I'm just going to go after it. If I blow up, then so be it. But if I stick on it and am able to hang on, it'll be a pretty darn good result.'"
- Chris Solinsky, aka "The Rocket."

Wednesday: "I've kind of gotten used to it because I was bigger in high school and college. Even my teammates would tease me about being a fatty, and the first thing they'd say after a race is that's probably a fatty world record. It's okay. I told my dad that nobody ever told a bumblebee he isn't supposed to fly."
- Chris Solinsky talking to reporters on Tuesday. We did our research to confirm that Solinsky is officially the fattest man to ever break 27 ... and it's not even close.
Tuesday: "He was paying all sorts of attention to DyeStat as he was progressing up and of course all sorts of people know everything on DyeStat so they were saying that he would never amount to anything because he was too big and all this kind of stuff. And he was worrying about it and I was telling him, 'You know what, Chris? It all comes back down to who you are and your own motivation.'"
- Wayne Solinsky, father of Chris, in a deleted scenes episode of "Wisconsin to Worlds" filmed by Kimbia.net last year.
Last Week's Homepages
*Mon (May 10) *Sun (May 9) *Sat (May 8) *Fri (May 7) *Thur (May 6) *Wed (May 5) *Tue (May 4)
---
Runner's World &
Running Times



Combined Only $22
a Year
Save $87

---

Running & Track and Field Posters
---

Great Running Shoe Deals Nike Lunar Glide $79.99 A very popular innovative Nike shoe on sale now.
---