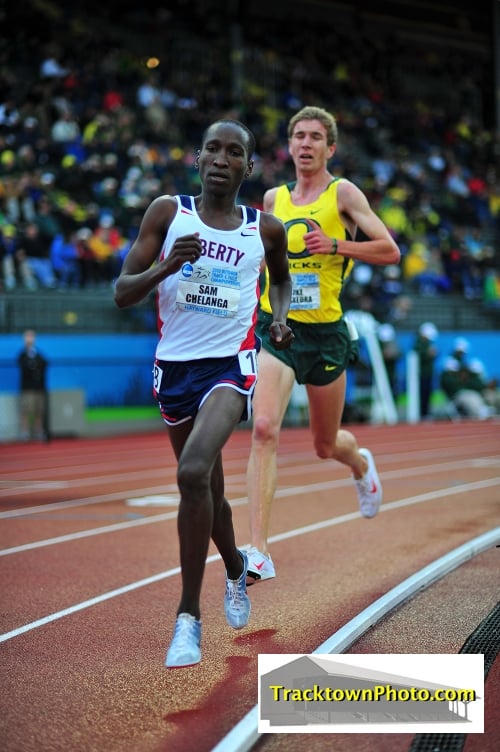 NCAA Day 2 Recap - Chelanga Wins Big, 1,500 Finals Set Sam Chelanga didn't wait as long as Lisa Koll to make his move, surging to the front after 2k and obliterating the competition for his first NCAA track title. The big surprise was tall sophomore Luke Puskedra surging with Chelanga in an attempt to help his team get some badly-needed points. The strategy didn't work but it was the only gutsy move of the race as the other guys played it conservative. Check out our 1,500m semifinal recaps and the interesting tidbits from Day 2. 800 final tomorrow!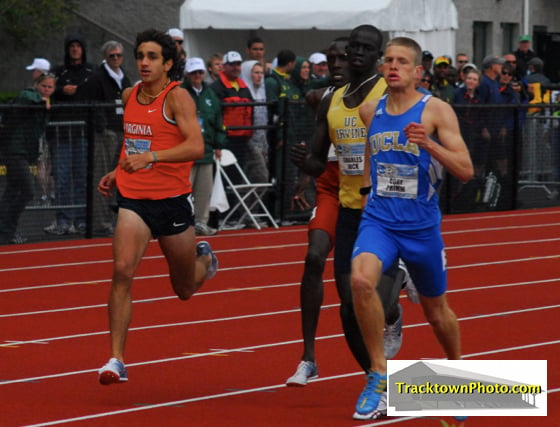 LRC Andrews 1:45.54! - 800m Semifinal Recap In one of the first races of the day, Robby Andrews won a super-fast first 800m heat (5th was a non-qualifying 1:46.19) in US junior #3 1:45.54.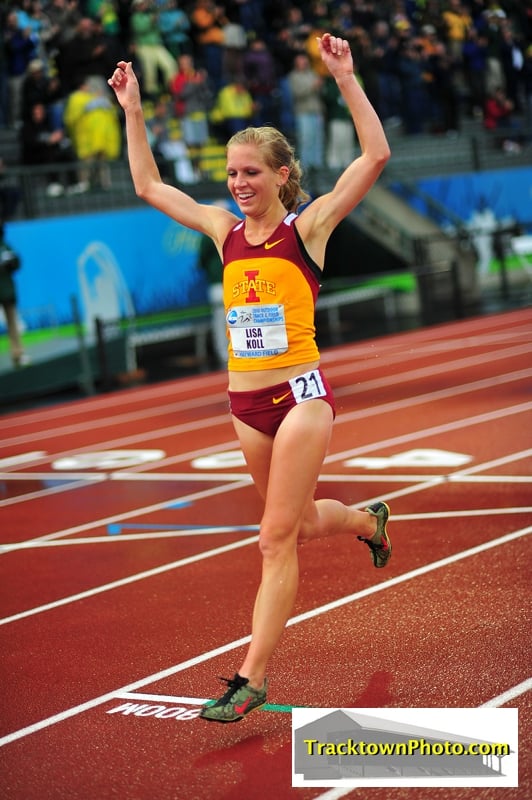 LRC Day 1 Distance Recap - Koll Dominates 10k After the race, it was hard to tell if Koll had just completed an easy tempo workout or an NCAA 10k final. Next up for the NCAA 10k record holder and 2-time champ is a showdown with Illinois' Angela Bizzarri in Friday's 5,000m. Koll's teammate Betsy Saina was 2nd while Nicole Blood responded to the home crowd to get 3rd.

LRC Wheating, Eaton And Track Town Buzzing For NCAAs The press conference proved mildly interesting as Wheating says he'd be "thrilled" to get a shot at Robby Andrews and Oregon/A&M coaches, irked over regionals, aglow over great fields set for Eugene.
*Andrews: "He who kicks last, wins ..."

*Ex-Duck Coach Martin Smith Doing Well At Oklahoma Smith was run out of Eugene but it's been a win-win for both the Sooners and Ducks.
Looks Like The Saga Is Over ... Continues?
Caster Semenya Press Conference Cancelled at Last Second We had speculated she was coming back to competition as IAAF head Lamine Diack was going to attend. Now we have no idea what is up except that Diack is in S. Africa for the World Cup instead of in Rome for the Diamond League.
Tyson Gay Out Of Adidas NY Grand Prix Usain Bolt had already pulled out of the meet with an injury. We wonder how deep in the summer we'll have to go before Bolt, Gay, or Powell race one another.

adidas Grand Prix Start Lists The meet will be on live network television (NBC) in the US from 4-6pm Eastern on Saturday. The women's 1,500 and men's 800 are the top distance races for LRC fans.
LRC $20,010 NCAA Distance Prediction Contest Show us your track and field knowledge and have some fun watching the NCAA meet. Our contest is pretty easy. Pick from our color-coded scorer the top 3 in each distance race and the team battle at the 2010 NCAA Track Champs in Eugene. We give you the top 10 athletes, their school, and top time in 2010. The first event's picks need to be in by 7:30pm Eastern Wednesday.
LRC The Week That Was In Running This week we give props to Bernard Lagat for his new 5,000 AR and praise him for not putting it out of reach earlier in his career. Along the way, we also ponder if Dennis Mitchell is still a cheat and we give out props the arguably the most ignored American runner on the planet and ask you if you can tell us who has the Colorado school record at 5,000 meters. We also give props to World XC champ Emily Chebet, Haile Gebrselassie, Mary Wittenberg, Renato Canova and Nick Arciniaga. Plus our Race Video Of The Week and much more.
San Diego Rock 'N' Roll Marathon *Top Results
Arciniaga Runs 2:11 For 3rd As 2001 5k World Champ Richard Limo Gets 1st Marathon Win

The men's field was Rockin 'n' Rollin in San Diego, especially in the first 10-15k, as they rolled out in 29:34 before a Moroccan threw down a 4:26 mile.

*LRC Photos

Yulia Gromova (2:27) won on the women's side for the 3rd straight year.
Flying Females At Freihofer's
World XC Champ Emily Chebet Sets Course Record 15:12 At Freihofer's Run For Women *Results State College's Rebecca Donaghue was the first American in solid 15:50 while the first three ran speedy 15:12, 15:20, 15:23.
Fantastisk
Not So Fantastic
For the 3rd Time This Year, Athlete Coached By Former Shot Putter Geoff Capes Involved In Drug Scandal
Oslo Diamond League *Results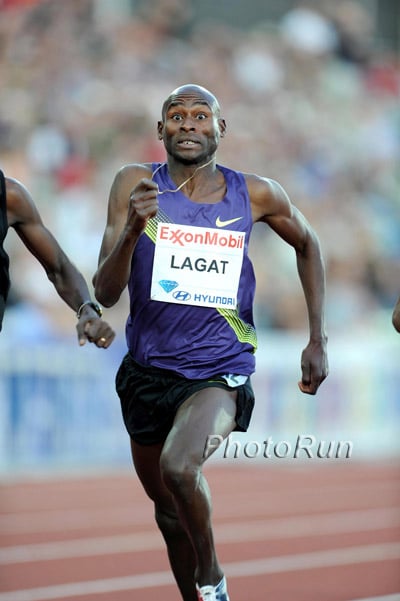 LRC Lagat Gets 5,000 American Record, Solinsky Runs 12:56!
Lagat and Solinsky both ran well as the American 5,000m standard keeps getting tougher and tougher. Solinsky's 57-second finishing lap couldn't keep up with the front runners as his 12:56 just missed Ritz's 12:56 from '09. The 800m world record (1:41.11) is truly in jeopardy this year as David Rudisha and Abubaker Kaki ran 1:42.04 and 1:42.23 in the race of the evening. (Video of Rudisha and Kaki Here)
*Solinsky runs 12:56!!! but...
*David Rudisha - 1:42 Oslo
*How come Lagat does not get a Letsrun opening Flashpage that says, "LAGAT 12:54"
Video: Brian Sell Not Exactly Retired 2008 Olympian Brian Sell is finding it hard to stop competing and training. That's why we love him.
Story Keeps Getting Better
Record-Breaking Marathon Cheating Grandpa Is Walking 340 Miles For Publicity!

Was The 69-Year-Old DQed For Cutting London Marathon Trying To Cheat? He claims he was simply dropping out. Others aren't so sure and think he wanted a record. We have found his finishing photo on the left.

True Headline: UK College Graduate To Race Steam Train To Combat Obesity Sounds like a plan!
Laura Roesler Ends Prep Career With Record 20 State Titles And Now She's Off To ... Oregon This probably should have been our quote of the day: "On Friday in the 100 preliminaries, Milbrath became the first North Dakota competitor to beat Roesler in any event since Roesler was in seventh grade." Yes, that's right, Roesler failed in her bid to win 5 state titles for 4 straight years, as she was finally beaten in the 100, where she said she is "vulnerable" - but mega props to her for her amazing run.
Golden Gala Roma Recap There were 6 world leaders in Rome. Lashinda Demus was probably the performer of the meet with a 52.82 400m hurdles that's only half a second from the WR. Asafa Powell ran a world-leading 9.82 to win the 100m by a big distance. In the women's 800m, Halima Hachlaf, who had never broken 2 before, ran a world-leading 1:58.40, as Maggie Vessey ran a solid 2:00.73 but only finished 9th as 6 women, including two from GBR, ran under 2. The men's 5,000 was a crazy race that went out too fast and had a mad sprint finish which went to Imane Merga in 13:00.12. Augustine Choge won the 1,500 in 3:32. Milcah Chemos Cheywa put on a furious finish to win the women's steeple in a world leader. A great women's high jump and a Jeremy Wariner world leader.
Boards: Diamond League Live Thread
*Wariner Runs 44.73
*Why isn't Rupp in the Rome 5,000 today???
LRC NCAA Predictions Who Will Win NCAAs? We show you the LetsRun.com fan votes from our $20,010 Prediction Contest. Want to see how you're doing? Check scores here. 7 people are still in contention for the $20,010.

Friday NCAA Distance Finals (Live On CBS College Sports TV 8-10 Eastern):

Men's 800m Final - 8:40pm This race needs no intro.

Women's 800m Final - 8:50pm Phoebe Wright goes for sub-2:00.

Men's Steeple Final - 9:00pm Can Princeton's Cabral get Ivy League's 2nd win?

Women's 5,000m Final - 9:40pm Champion Bizzarri waits for dominant Koll.

LetsRun.com And TrackFocus.com Preview NCAAs
We're fortunate to be heading to Eugene to cover the NCAA championships starting Wednesday with Andrew Wheating and Robby Andrews in their 800m semifinal heats and Lisa Koll in the women's 10k. Can the Ducks rise to win team titles in front of big home crowds? We give you our individual predictions, tell you who's running each event, and introduce the big stories of this year's Hayward Field Championships.
Non-NCAA News: Bobby Curtis Runs 13:18 And No One Notices

Flagstaff Survivor Contestant Matt Smith Wins Christchurch Kiwi Marathon Go back to 2002 in the LRC archive to learn about Flagstaff Survivor.
Final Regional Analysis - We Show You The Hard Data And Argue For Pure Regionals
LRC Editorial: The Case For (Pure) Regionals By comparing regionals to the NCAA basketball tournament, we tell you why we think the Pure Regional system of qualifying for NCAAs is a winner and tell the BCS coaches to stop whining.

LRC Exclusive Unbiased Research Of Current And Proposed 24/8 Regional System: Men
LRC Exclusive Unbiased Research Of Current And Proposed 24/8 Regional System: Women
We have finished up hours and hours of research and analyzed how the first year of Pure Regionals worked out. We show you what percent of the top 10 and top 24 on the descending order list in each event (and event group) made it to the show in Eugene. We also conclude our analysis of the 24/8 Plan and show you which conferences would benefit from that proposed plan the most. See how many (if any) of the conference champions that might get in next year, got in this year.

Piece On Brandon Bethke And David McNeill - NCAA 5,000m Could Come Down To ASU, NAU Duo Add a guy named Chelanga to that mix.

Interview With Princeton's 5k/Steeple NCAA Qualifier Donn Cabral Cabral ate a good steak between last Saturday's steeple and 5,000 and qualified for both, plus ran 4:00 for the mile in practice.

Boards: Can Blood Or Bizarri Beat Koll At Eugene?

Lananna Says Wheating's Free Spirit Has Re-Energized His Passion For Track And Field
World Marks Set
NEW WR: Anita Wlodarczyk Of Poland Breaks Hammer World Record 78.30m

Trinidadian Kelly Ann Baptiste Runs World-Leading 10.84 In Florida
NCAA Newsmakers
Sam Chelanga Underappreciated Will he win the 10k/5k double? Chelanga ran 27:08 a few weeks ago although hardly anyone noticed. Hard to believe Galen Rupp, David McNeill and others have shut him out of NCAA track titles.

*Nicole Blood Feature In Register Guard Props: Blood moved beyond her high school superstar days to become a big team contributor over time for the Ducks.
The IAAF Is In Some Financial Trouble
IAAF Cutting Budget By $20 Million In 2012 Lamine Diack, the IAAF head who surprisingly announced a bid for re-election, says the IAAF is not in peril.
Good Read: Extensive Interview With Jack Fultz, Winner Of The 1976 Run For The Hoses Boston Marathon In 90+ Degree Heat Fultz is still very involved with the sport, including directing the Ivy League Ekiden trip every year that helped Wejo, Rojo and Employee #1 travel and race in Japan.
Story Of Lopez Lomong Coming To Movie Theater Near You (In 2012)
Cartoon - Wejo Impresses Danica Patrick Racing in the LetsRun singlet, Wejo impresses most ladies, even 37-minute 10k 8kers like Danica Patrick.
A Gift On National Running Day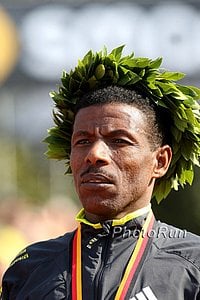 Haile Gebrselassie To Make US Marathon Debut At ING New York City Marathon In 2010 The world record holder in the marathon will be taking to the streets on New York this October. We can't tell you how excited we are to see Haile actually race instead of time trial. The great Haile G made the announcement today at Icahn stadium in New York. *Message Board Thread Here

*Photos Brett Larner In NYC To See Haile G And Arata Fujiwara Run With Kids On National Running Day
West Regional Photo Galleries Courtesy Of LetsRun Reader Bert Richardson From Texas

If you were gone over the weekend, there weren't a ton of major surprises at regionals on the track, as (for the first time ever) everyone except multi-eventers had to qualify directly for NCAAs. Andrew Wheating did run a 3:37.52 PR and a 1:46.44 seasonal best, but some are wondering if Robby Andrews (who ran a 1:46.87 PR) will outkick him in the 800.
Asafa Powell Leaving Nike Nike reportedly cut the less-marketable Asafa Powell's annual guarantee from $750k down to $300k and word is Li Ning of China is stepping in to add the currently on-form Jamaican to their Thorkildsen and Isinbayeva stable of track stars. Hard to believe, but Nike now won't represent any of the top 3 men's sprinters in the world.
*IAAF Chat: Powell Says Big Times And Big News Are Coming
NCAA Day 1 Highlights