LRC 2010 KBC Nacht Recap: David Rudisha Runs 1:41.51 To Become 2nd-Fastest 800 Man In History!!! The Kenyan blitzed a 1:41.51 in the Belgium on Saturday night to become the fourth under the 1:42 barrier. You can watch the race video in our recap. In mid-d and distance action, Erin Donohue PRed in the 1,500 (4:03.91) as AJ Acosta backed up his 3:53 mile with a 3:36 1,500 and beat Lopez Lomong in the process. Plus, Tim Nelson ran well in the 5k (13:20) as Brian Olinger struggled in the steeple and Craig Mottram ran 13:36.
*Video Of Rudisha's 1:41.51
Discuss: 1'41.51 !!!!!!!!!!!
First White Man Breaks 10.00 France's Christophe Lemaitre became the first white man to break 10.00 as the lanky 20-year-old ran 9.98 on Thursday. We've got to give Reuters credit for mentioning his race in their headline. *Reuters Article *LRC MB: Lemaitre 9.98 *Full Speed Race Video Here *Funny Slo-Mo Video Here
Ronnie Ash Runs 12.98 In Hurdles Wind-aided but still pretty damn good. *Results
Fraser Drug Update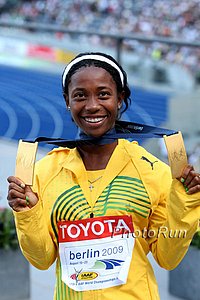 *Shelly-Ann Fraser's Positive Was For A Painkiller
*Asafa Powell On Teammate Fraser: "She didn't cheat."
*Asafa Powell Hopes Shelly-Ann Fraser Positive Is Not A Big Deal We too hope it's not a big deal.
*Wada Defends Jamaica's Anti-Doping Record After Shelly-Ann Fraser Test People are worried about conflicts of interest in Jamaica as well as the fact that there have been 8 positives on the small island in a year.
Lots Of Low Key Friday Action Included Tons Of American Names
Looking Ahead To Saturday Night's Low Key Action
World And Olympic 100m Champ Shelly-Ann Fraser Tests Positive Of course she has an innocent explanation, but we'll see if the authorities buy it.
On The Boards: "... because she's Jamaican, it's already established that it was an honest mistake from a lovely, humble, genuine person and the minimum sanction will be applied."
Recommended Read: Great Article On Warhurst's Vietnam Service
Just As Was Predicted A Few Days Ago On LRC
War Hero Ron Warhurst Retires After 36 Years At Michigan Ron had a great amount of success during his career and is probably known best for his engaging personality and for leading two white guys to Olympic medals in Brian Diemer (steeple bronze 1984) and Nick Willis (1,500 silver 2008). *2nd Message Board Thread On Ron's Retirement Here
LRC The Week In Review Report Cards For The Americans At Pre This week, instead of recapping the winners and losers from the week as a whole, we focus on one thing exclusively - the 2010 Pre Classic. And given the fact that we have been swept over by World Cup fever, we have gone ahead and given every single American participant in a mid-d or distance event a letter grade for their performance, much like soccer websites rate players on a 0-to-10 scale after a match. Agents, parents and pros, no whining. We're not trying to be rude, we're just trying to make the sport interesting.
News From Australia
Tyson Gay Says He's 85% Healthy We can't wait to see him or Powell race Bolt.
News From Britain
Mark Lewis Francis On Comeback Trail Rojo and Wejo are big fans of the sprinter and don't understand why he's not a national hero in Britain since he amazingly anchored them to 4 x 100 gold with a 10.04 PR.
Year 2 Of Rock N Roll Athletics Was Wed. Night In Glasgow *Results
Version Two Of Rock N Roll Super8 Athletics Is Deemed A Success
Click on results and guess what former world champ David Krummenacker ran for 800.
London Defeats Glasgow Despite Guest Appearance For Lolo Jones On Glasgow Team Jones actually was defeated in her hurdles race.
The Beginning Of The End Of Women's Athletics? Or Did She Get Treatment?
LRC Prefontaine Recap: Wheating 3:51!!! (Wright 1:58!!!) updated
The Pre Classic was full of great performances across the board, as the meet featured an American record by David Oliver (12.90) and the first sub-13:00 on US soil, but 2010 NCAA champs Andrew Wheating and Phoebe Wright had the performances of the day at Pre from an LRC perspective. Wheating moved up throughout the Bowerman mile to get 5th in 3:51, beating all of the 2008 US Olympians in the process. Wright beat all of America's top 800 runners and skipped the 1:59s entirely as she was fourth in 1:58.22. Despite producing the first sub-13:00 on US soil, the men's 5,000 didn't live up to the hype (just as we predicted), as Chris Solinsky was well beaten in 13:08 and Matt Tegenkamp ran 13:25. Abubaker Kaki's WR attempt in the men's 1k came up short but he did get a world leader, while Nick Symmonds became #5 all-time in the US with a 2:16.35 3rd-place finish. In the "B" mile, Ryan Gregson and AJ Acosta ran 3:53 as Galen Rupp struggled with a 3:57.72. In the women's 5k, Shalane Flanagan ran 14:49.

Post-Meet Talk From Eugene Register-Guard
*Wheating Thrilled With Mile; Kiprop Happy But Wanted More Kiprop: "I wanted to run 3:47 and break the stadium record today. I didn't do that, but I'm proud to have won."
*David Oliver Getting Into Rare Territory; Tyson Gay Seems Healthy Again US champ and new AR sharer Oliver really wants a 12.8-something instead of being stuck in those mundane 12.9s. Gay, though a little nervous and finishing second in the 200 to a sharper Walter Dix, ran a not-too-shabby 19.76 in his first race back from a short layoff. *Gay Satisfied With 19.76
*High Praise For Big-Meet Atmosphere And A Day Full Of Records At Pre E. Garry Hill of T&F News remarked, "It felt like being at a European meet, at a BIG European meet ..." Outstanding marks ruled the day, as David Oliver equalled the AR in the 110H, US all-comers records were set in the men's 1,000 and 5,000 and the women's HT, Phoebe Wright cracked the (post-college season) CR in the 800, numerous meet records and Hayward Field records were rewritten, and Andrew Wheating and AJ Acosta delighted the Duck faithful with a 3:51 school record and an impressive 3:53 in the mile races.
*Wheating Realized He Could Have Been In Contention In Bowerman Mile The double NCAA champ felt he was too tentative vs. the "big dogs" in the middle stages of his first world-class mile race and may have finished with too much left.

LRC Event-By-Event Recaps With Video
AP Recap: Dix edges Gay in 200 at Prefontaine Classic
More: Walter Dix spoils Tyson Gay's return to 200m
*Bridget Franek Rebounds From So-So USAs As Top American At Pre The multi-time PSU All-American and recent NCAA steeple champion wilted at US nationals but bounced back nicely to beat the US champ and is now #6 on the all-time US list.
*Solinsky Got Dropped In Last 800 But Fought To A Quite Respectable Time People forget how good a 13:08 is. The 10,000 AR holder gave everything he had to stay in contention as long as possible and "died" to a time that has only been run by 5 Americans other than Solinksy himself. *Message Board: Solinsky's 3-Race String Is Amazing

LRC Event-By-Event Recaps With Video
*Men's Mile Asbel Kiprop and Andrew Wheating had big days. The Olympic champ Kiprop proved yet again that he's the best miler on the planet, as he got the win in 3:49.75. NCAA 800/1,500 champ Andrew Wheating also was fantastic, moving up throughout the race to get 5th in 3:51.74!!! Lopez Lomong never was a factor but did set a small PR in 7th (3:53.18), while Bernard Lagat ran 3:54.36. Leo Manzano was awful at Pre for the 2nd straight year and ran 4:06.51.
*Men's 5,000 Tariku Bekele became the first person to break 13:00 on US soil as he ran 12:58.93. As we sort of expected, the race didn't live up to the hype from an American perspective, as Chris Solinsky was well-beaten in 7th (13:08.11) and Matt Tegenkamp ran 13:25.09.
*Women's 800 The race lived up to the hype, with Mariya Savinova lowering her world lead to 1:57.56 - a new Pre meet record - as she held of world 1,500 champ Nancy Langat (1:57.75) and Olympic and World Champs runner-up Janeth Jepkosgei (1:57.84). NCAA champ Phoebe Wright broke 2:00 for the first time in a big way to get fourth in 1:58.22. 2-time US champ Alysia Johnson PRed as well in 5th (1:58.84). Anna Pierce (1:59.42) and Maggie Vessey (1:59.90) also dipped under 2:00.
*Women's Steeple Milcah Cheiywa Chemos defeated world champion Marta Dominguez by running 9:26.70.
LRC Recap Gay Over Powell, Alysia Johnson Wins 800, Manzano Nipped By Kiprop Gateshead featured the first showdown between any of the big 3 in the sprinting world and the matchup did not disappoint, as Tyson Gay got a come-from-behind win. In the distance races, the Americans did well. Alysia Johnson won the 800 convincingly over a 1:58.4 runner and Leo Manzano, who last week lost to Asbel Kiprop by over 100m, was battling with him for the win. Ben Bruce set a PR, as did Galen Rupp (13:10) and Mo Farah. And we want to remind you a Brit ran 13:00 28 years ago.

More: Rusty Tyson Gay Defeats Asafa Powell Guardian
Sadly, No One In The US Will Notice
Legend Allen Johnson Retires One of our favorites.
On The Boards: Thank You Allen Johnson
Ron Warhurst And Nick Willis To Keep Working Together
2010 USATF Club Champs Gets Underway In San Francisco $10,000 is on the line. *Results
Yelena Isinbayeva To Miss Entire Season
Diamond League #7 (Of 14) - Athletissima Lausanne - *Results *Lausanne Photos
LRC #1: Lausanne Recap: World Leaders All Over The Place
LRC #2: Dan Huling Impresses With Steeple PR As He Moves Up To #5 All-Time In US As Uceny Joins Top 10 In 1,500
The big news in Lausanne was the return to action for Usain Bolt in 2010 from an Achilles injury, and he ran a world-leading 9.82. Up next is a confrontation with Asafa Powell in Paris (Powell has run 9.82 unaided as well this year but also 9.71, 9.75, 9.81 wind-aided and 9.83 into the wind). However, we know the LRC faithful are most interested in the mid-d and distance action and we break down every race for you, including inspired runs by Morgan Uceny and Dan Huling, who now are both in the US top 10 all-time, as Uceny is #10 and Huling now #5.

On the men's side, the world leaders in addition to Bolt were former Olympic champ Jeremy Wariner in the 400 (44.57), world youth record holder Nicholas Kemboi, who ran 3:33 four years ago as a 16-year-old, finally going sub-3:33 (3:31.52), Olympic champ Brimin Kipruto in the steeple (8:01.62), and Ivan Ukhov in the men's high jump (2.33). On the women's side, world 5k champ Vivian Cheruiyot (8:34.58 3,000m), Ethiopian Gelete Burka (3:59.28 1,500m), and world champ Yargelia Savigne (14.99 triple jump) all had world leaders. However, we know LRC viewers are most interested in the mid-d and distance action and we break down all of the races for you and tell you Andrew Wheating fans why you should be pumped.

In American distance news, steepler Dan Huling continued his steady improvement with an 8:13.29 PR (#5 all-time US - he ran 8:14.69 last year) for 4th and former Cornellian Morgan Uceny ran a 4:02.40 PR (#10 all-time US) ahead of last year's sub-four runner Christin Wurth Thomas. The distance race of the evening may have been the men's 800, as David Rudisha won again, turning back Olympic champ Mbulaeni Mulaudzi and 2007 World champ Alfred Yego, as all 3 went 1:43. Walter Dix went sub-20 in the 200, Bershawn Jackson won the 400m hurldes, Brittney Reese won the long jump and Debbie Dunn had another sub-50 clocking in the 400.

More Brief AP Recap: Vuvuzelas come to track and field and Bolt on showdown with Powell: "It's going to be something big."

On The Boards: Dan Huling 8:13 PB!
*BOLT ...just another 9.82
*BURKA 3:59.28 .... UCENY 4:02.40 (PR)
*Lausanne 1500m KEMBOI 3:31.52 World lead!
Sad But True - Race Walker Is Italy's Top Entrant At World Juniors
Sprint News
Mid-D News
We Agree - Go Pound A Double Shot
British Researchers: Coffee Really Does Help Performance "A small increase in performance via caffeine could mean the difference between a gold medal in the Olympics and an also-ran."
Landis Spills More Beans On Lance Armstrong
Lengthy In Depth Wall Street Journal Article On Doping Allegations Landis goes into great detail on the alleged doping, talks about the team selling Trek bikes secretly to finance doping, and parties with strippers and what appeared to be cocaine.
On The Boards: Landis on Armstrong - the gory details
NCAA XC Nationals Would Be Run On 2km Loop At Course Where High School Champs Are Held Scroll down for this info.
USATFs In Review
LRC The Week That Was In Running: 2010 USATF Nationals We go behind the results and give you our insight. We praise Galen Rupp, Lauren Fleshman and Molly Huddle, warn Chris Solinsky, talk about the men's 1,500m and in the process compare Matt Tegenkamp to Kenenisa Bekele and do much more, including telling you why Vin loves AJ and give some junior runners props (including one who beat Robby Andrews). We even discuss cross-country running in June.
Reims Results (French Site)
Summary From Athletics Weekly Mahiedine Mekhissi-Benabbad sets 2,000 steeple world best (5:10.68), world TJ champion Phillips Idowu is runner-up for 2nd meet in a row; Dayron Robles dominates hurdles in 13.09.