LRC Excellent Read Leading Elites Satisfied After Record Day In Boston - Inside Story Find out what the elites were saying after the fastest-ever men's Boston and another thrilling women's finish. Ryan Hall quotes Vin Lananna, Cheruiyot talks about Cheruiyot, Erkesso hangs on, and the scoop on Tune, Goumri, Merga and Meb.

Boston Director Dismisses Worries About Cheruiyot Briefly Running On Path During Record Race Good common sense. This is not a 1980 Rosie Ruiz situation.

LRC Robert Kiprono Cheruiyot Wins In 2:05:52! Erkesso Survives On Women's Side! Yes, a 2:05 in Boston has now occurred. Cheruiyot battled last year's champ Deriba Merga until past the 24th mile mark and then it was just him against the clock, as the 21-year-old made history in Boston. American Ryan Hall ran faster than any American ever has in Boston to finish 4th, as Meb Keflezighi ran a very game race ahead of Hall for most of the race and finished 5th. Teyba Erksesso looked to be well on her way to a blowout win in the women's race but in the end, she held on by the narrowest of margins. Cheruyiot, aka Robert the Younger, is a different person than the 4-time Boston champ Robert Kipkoech Cheruiyot, aka Robert the Elder, and Omar Ahmed.

LRC Commentary: What Impressed Me Most: Boston 2010 LetsRun.com's Wejo gives his impressions on what stood out for him from Boston 2010. Was Cheruiyot's run the most impressive marathon ever? Who was the most impressive American on Monday?

*LRC Boston Marathon Update Thread

*Results, Intermediate Splits From Boston Site And Press Room

*Photos

Men Quotes: Cheruiyot The Younger Runs To Surprising Boston Record Win
Women Quotes: Teyba Erkesso Wins Yet Another Thrilling Women's Finish in Boston

American Groups
*Team USA Minnesota Places Lehmkuhle 9th And Vega 12th
*Hanson's Brothers Get 2-Out-Off-3 Across The Line In Nice Times
*LRC Inside Look At The Day Before Boston Find out what Meb's knee injury is like, the #1 destination for a running fan in Boston, who is the most popular woman runner in Beantown, and who the co-author of an upcoming biography on Meb will be.
*Boston Columnist Rips Foreign Runners: "It's just not sporting to see someone from another continent, with a name I can barely pronounce, never mind spell, dash into our town, snatch a piece of our heritage, pocket a huge wad of cash, then bolt for the next big city on the marathon map that offers up its pot of gold and glory."
*Boston Is A Difficult Course To Master
*Wise Meb Says He Thinks He Has A Shot Some think Meb is gonna DNF and some think he's gonna win.

*Beatable: Deriba Merga Says Family Troubles At Home Mean He's Not Fully Fit

Meb/Ryan Hall Media Day Video: Meb on whether an American can win, "Ryan and I are here. So we're going to give it a shot. Otherwise we wouldn't be here."

*Profile Of Little-Known Ethiopian Chala Dechase, Who Challenged Gebrselassie In Dubai American fans, if Dechase or Gilbert Yegon win, don't say we didn't warn you.

LRC Ryan Hall On The Boston Course Ryan sported a full beard when he arrived in Boston, but has now shaved it off and even ran with royalty on the Boston course - Bill Rodgers. Videos of 2 of Hall's workouts on the course.
*RRW: Ryan Hall Hopes Extra Practice On Course Will Bring Boston Success

LetsRun.com's John Hancock Boston Marathon Preview - Men We pick our top 5 (although it's down to 4, as Evans Cheruiyot has pulled out) contenders and give you the lowdown on the field. Are they trying to set this thing up for Meb or Hall to win? You be the judge.


LetsRun.com Previews The Boston Marathon - Women Elite
It's a rematch in Boston between the top two 2009 finishers. Salina Kosgei hopes to repeat her 1-second sprint margin that left 2010 co-favorite Dire Tune crumpled on the finishing mat ... but don't count on it. Throw in the 2-time defending Houston champ and a relative unknown dark horse and Boston's got a decent field in a time where there aren't very many fast women's marathoners.
*LetsRun.com Boston Marathon Women's Elite Biographies

LetsRun.com Training Talk With F-M Coach Bill Aris
LRC Learn From The Best We talked to one of the top HS coaches in the land, Bill Aris. Aris is the coach of 4-time National Champions girls Manlius XC and the original Stotans of '04, the boys team that finished 2nd at the inaugural NXN. Aris talks about magically motivating his HS runners to do magical things, his new pro team and whether or not his prodigy Alex Hatz will go sub-4:00 this spring. Plus, he discusses the runner who may be more talented than Lopez Lomong, what he thinks about people who criticize successful HS runners who struggle in college, and more. We've transcribed the 90-minute podcast into 4 parts if you don't want to listen to it all.
*Page 1: Introduction, What is the Stotan Lifestyle, Percy Cerutty, The Process is the Goal, and There is No #1 Runner
*Page 2: Getting Kids to Buy Into the Program, Logistics of Running a High School Program, What to Do With People New to Running, Weekly Mileage
*Page 3: (No Magic) Workouts, Strength Training and Doubles, Collegiate Success, and Running as a Part of Life
*Page 4: Stotan Racing Team, Lopez Lomong vs. Dominic Luca, Alex Hatz and the Sub-4 Quest
LetsRun.com - Getting Kids Through Grad School 1 At A Time
Attention RDs: Survey On Trends In Event Sponsorship
London Loses Lel - Still Has Major Star Power
Abel Kirui Aims For Virgin London Marathon Course Record With this year's field, it's hard to imagine the record won't go down.

Martin Lel Pulls Out Of 2nd Straight London
Injury problems continue to hamper the man who won London 3 times and dominated the major marathoning world for years.

London Talk On The Boards: Tadesse will destroy Geb's Marathon WR Can the man who a few weeks ago ran a 58:22 WR for the half marathon break Sammy Wanjiru's marathon stranglehold?
International News
Penn Relays Set To Delight
Volcano Virgin London Marathon
Specially-Organized Airlift To Bring Top Africans To London Wanjiru, Abel Kirui, Kibet, Mutai, pacemakers are being specially transported to London through Eritrea (yikes) and Spain. What a story!

Kenyans Seriously Concerned About Travel-Weary Legs And Volcanic Ash-Ed Lungs This will probably be a situation where they run better-than-expected

Watch Out, Wanjiru: London Times Writer Says Britons Lemoncello and Dan Robinson May Move Up In Rankings Thanks To Others' Travel Fatigue Great Britain's elite deserve much credit for their efforts, but this sure is wishful thinking.

Volcanic Ash Affects Vienna City Pacemakers And Austrian President
Bolt Daily
Usain Bolt Will Make 100m Season Debut In Daegu May 19 The man is doing the IAAF a huge favor with this move.
Need A Grip? UKA Can Help You Get One - Random News
LRC The Week That Was We figured we should do The Week That Was ahead of time so people will have something to read while watching the Boston marathon and so we'll have time to work on our Boston coverage. In this week's weekly recap, we take a look at a lot of the pros who had their outdoor openers. We give props to the amazing Tyson Gay and wonder whether he can beat Usain Bolt and we talk about the most unheralded performer in American track and field, Dan Huling, and wonder if Dan Lincoln should be getting nervous. We also give props to Molly Huddle for a big PR and a Thumbs Down to last year's surprise, Maggie Vessey. We also compare Ryan Gregson to Alan Webb and show you how in one week East Africa can equal a lifetime of production from America in the industry known as the marathon.
LRC Eddy Lee Does It! Becomes Most Famous Sub-4 1,500m Male Of All Time In case you didn't visit LetsRun.com over the weekend, Eddy Lee went sub-4 for 1,500m on Friday, the same day his 2.5-year-old thread "My goal of sub 4:00 1500-I will not stop until I reach my goal," reached 1,500 posts. Lee's quest shows that dreams do become reality and the training resource that LetsRun.com is.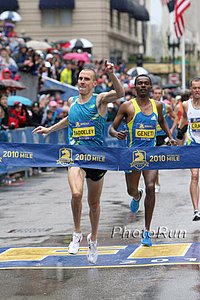 Andrew Baddeley, Morgan Uceny Win Soggy BAA Invitational Miles Andy Baddeley overcame Ethiopian Marcos Geneti with less than 20m to go to win in 4:08 (not bad considering the wet roads and tight turns). Morgan Uceny looked great and won comfortably over big-time crowd favorite Sara Hall.
*LRC Photos Nice pictures of Josh Cox winning the 5,000.
Sanya Richards(-Ross) 800m Debut
2:10.74 According to this thread, that is what she ran in high school on 4 x 800s.
Update On The Other Pros
College Results
Saturday: Results: Maggie Vessey only ran 2:06 in the 800m, as Canada's Diane Cummins got the win. Former NCAA champ Tyler Mulder won the men's 800 (meet still going at time of writing).

Friday Results: American junior record holder Molly Huddle runs PR 15:05 to get 2nd behind Sally Kipyego in the women's invitational 5,000 and steepler Daniel Huling won the men's 5k in 13:24. The Puma Mile setup was exciting, as Derek Scott won over Liam Boylan-Pett, both in 4:00.xx, as the men caught women's leader Barbara Parker with 150m to go (Puma coverage with video).

Thursday Results: Bernard Lagat's brother and former NCAA stud Robert Cheseret could only manage 6th in his comeback, as William & Mary's Jon Grey won the 10k. Cheseret did break 29 minutes. Give him 6 weeks and we bet he's sub-28. Olympian Billy Nelson only ran 8:52 in the steeple. A current CU buff - Emma Coburn - won the women's steeple.

2010 Mt. SAC Race Video: Here (announcers, can't scroll) and Here (no announcers, can scroll to end of races).
Golden Diamond League
Bekele Not Done - Signs On For Rome Golden League
*Boards: IS KENENISA BEKELE FINISHED?
More Boston
Latest Boston Elite Press Coverage:
*Interview With Meb Keflezighi's Nutrition And Performance Coach Dr. Krista Austin Boston Globe
*Interview With Japan's Boston Entrant Yurika Nakamura
*Hall Has Our U Maine Writer Friend Convinced That A Breakthrough Is Coming And apparently the LetsRun voters!
Americans Look To Win Boston On Patriot's Day
Improving The Sport - NYRR's Lottery And Watching World XC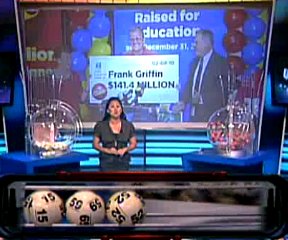 LRC Improving The Sport - NYC Marathon Lottery And World XC Ideas This is hopefully the first in a series of articles on what we can do to make our sport better off. Instead of just being critical, we're proposing ways to improve our sport. If you have any suggestions for our sport, please email us.
Cheruiyot The Younger And Merga Party In Boston Proving "That No Matter The Culture, We Distance Runners Are Among The Geekiest In Society." More Here.
Exciting Boston Women's Finish
Tom Brady Congratulates His Sister At The Finish Of Boston