Improving the Sport: The ING New York City Marathon Lottery and World XC
by: Weldon Johnson, LetsRun.com
April 13, 2010
This is hopefully the first in a series of articles on what we can do to make our sport better off. It is way too easy to criticize what is wrong with the support rather than to come up with ways to improve it. One of our favorite speeches is from Theodore Roosevelt and the speech will be 100 years old 10 days from today. Part of it says, "It is not the critic who counts; not the man who points out how the strong man stumbles, or where the doer of deeds could have done them better. The credit belongs to the man who is actually in the arena, whose face is marred by dust and sweat and blood; who strives valiantly; who errs, who comes short again and again..." So instead of just being critical, we're proposing ways to improve our sport. If you have any suggestions for our sport please email us.
Last week with spring marathon season here, Boston Chicago and New York were both in the news.
First up, on about five hours notice, the Bank of America Chicago Marathon announced that American star Ryan Hall would be running this year's race (link). Why the rush? Because the next day, the ING New York City Marathon hosted a live video announcing the lottery results of who was in their race. Also on the ING NYC broadcast was the announcement of American stars Meb Keflezighi and Deena Kastor as 2010 entrants (link).
Competition between the fall marathons is great and makes both races raise their bar. We're all for it.
NYC Marathon Show

First off, we give major props to the NYRR for trying to create

buzz for their event and our sport seven months before the NYC Marathon. However, if you watched the show you most likely thought it was a bust. First, there were technical problems. The NYRR video site crashed. If you were lucky like us and found the stream on livestream.com, the sound made ING NYC Marathon race director Mary Wittenberg sound like the devil or Andre the Giant for the first part of the show. Completely unacceptable for an event like the New York City Marathon. But technical problems are easily fixed.
After watching the "lottery" show, a few things became apparent.
1. The NYC Marathon has a large captive audience at its fingertips.
2. The show was not a lottery show at all and can be vastly improved.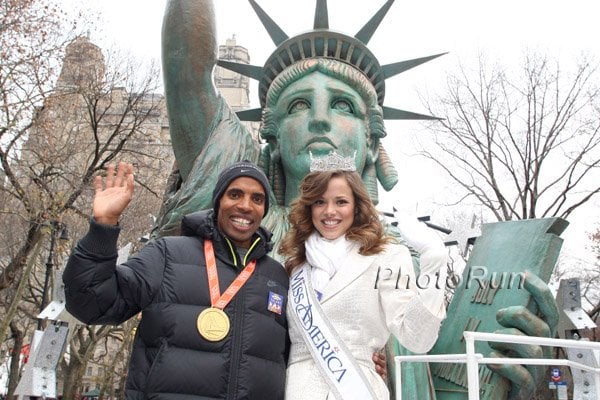 The focus of this article is on improving the "live" lottery show by the ING New York City Marathon. As for point #1, at one point we saw over 4,000 people watching the show*. Who knows how many people would have watched if the NYRR website had worked entirely throughout the show? 10,000? 20,000? Although it's not a huge number, this is more people than watched the USATF Cross Country Championships online live. Most of these people tuned in to find out one thing: whether they were in or out of the 2010 ING NYC Marathon.
*Note: Public Service Announcement to the non-technical race directors out there. Live video internet streaming these days can be done for free on livestream.com or ustream.tv. Many of the streams you see these days are done by these services even though they can be hosted on your own website. If you watch a live show on ustream or livestream you can see how many people are watching
At the end of show, what did viewers find out? Nothing. Well, I take that back, they found out the names of 9 people selected to run the marathon, plus Deena and Meb.
The lottery show was not a lottery show at all. It was simply 9 normal marathon runners being announced and Deena and Meb being announced. A true lottery involves suspense. That means numbers, balls, or packets being drawn out of a basket.
Unless the lottery show is actually a lottery show, most people in the NYC Marathon will have no interest to tune in each year.
How to Improve the NYC Lottery Show
So here is what the NYRR should do.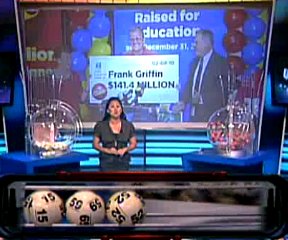 1) Divide all the people who enter the ING NYC Marathon into buckets. For example, if 120,000 people want to run the marathon and 40,000 are accepted, then tell everyone they're either bucket 1,2, 3, 4, 5, 6, 7, 8, 9, 10, 11 or 12 beforehand and then select four of the buckets as the "winners" and the people who get to run New York. The NYC Marathon can do it however it wants so it gets its proper geographic mix. It can have put the numbers into a basket or one of those lottery things you see on TV and start drawing out numbers. That is a lottery and that is suspenseful. That gives people reason to watch the show year in and year out. That is what most people assumed was going to happen (i.e. a lottery show where at the end you found out whether you won or lost).
2) Announce the lottery results in conjunction with the Boston Marathon. Do it the weekend of the Boston Marathon or maybe even during the Boston Marathon broadcast. The point is you have over 100,000 people most of whom are not that interested in the sport of marathoning at your fingertips. Take this opportunity to get them interested in our sport as a sport. Clearly, Mary and the NYRR are trying to increase awareness of our sport and are thinking of innovative things to do like the lottery broadcast. With a few simple improvements, not only can they get more people watching (it really needs to be a lottery to get people to keep watching), but they can expose these people to our sport as a sport.
New York and Boston can work together between themselves to sort out the details of how this is done. Instead of arguing whether Boston is benefiting or New York is benefiting, remember both parties will be better off. New York will expose some fans who are really only interested if they are in or out of the New York Marathon to the Boston Marathon. With the Boston Marathon only on Universal Sports (a network too small to even get picked up by Nielsen ratings) and the internet, its audience is much less than when it was on ESPN2. Bringing in more people can not be detrimental, even if some people are tuning in only to see the ING New York City Marathon Lottery drawing. Surely our sport needs all the fans it can get instead of wondering if one race's sponsors might be helping another's. For our sport to grow we can not just preach to the choir we must bring new fans into the mix. We can do that by mass television appeal (network broadcasts) or by using every opportunity we have to get new fans.
One more thing, the NYRR had "lottery parties" during happy hour the day of the marathon announcement. Great idea. Runners got to come out and mingle together and get drink specials. Tie this in with Boston Marathon weekend. If the lottery is done on the weekend, then coincide the happy hours to the lottery announcement so people can watch it live. If the lottery is done on Monday, the day of the Boston Marathon, have the parties that evening in conjunction with a rebroadcast of the marathon.
IAAF and World XC
The World cross-country champs last month for perhaps the first time ever were not available for viewing in the United States or Great Britain. Not on television, and not online (unless you went to our forums and found a Polish feed of the race).
Track and Field needs to be on TV (and ideally a station people watch. NBCs audience is vastly greater to ESPNs audience which is vastly greater than Universal Sports. The NYC Marathon is seen by way more people than any other marathon in America because it has an NBC highlight show), but at the very least on the internet. In today's age of internet streaming, World XC not being on is unacceptable.
The IAAF is lamenting the demise of the popularity of cross country in Western countries and then does nothing to ensure that fans can actually watch the races. How can there be fan interest, when the races can't even be watched?
It comes down to money. In Britain, the BBC wanted to broadcast the champs but the IAAF rights' holder wanted more money. In the US, we believe Universal Sports had the rights but chose not to broadcast the meet. We're all for people making a buck in the sport and have no problem with races trying to get as much money as possible for their tv packages.
However, the IAAF should have a rule on the books in all of its rights packages. If you own the rights to an event, and you choose for whatever reason not to broadcast the event, the IAAF itself can broadcast or stream the event or rebid it out. This is Pareto efficient - the fans are better off and the rights holders are no worse off. Sites like livestream.com or ustream.tv would no doubt love to stream a World Championship to show off their services. World XC would be a hit on LetsRun.com as well.
---
Runner's World &
Running Times



Combined Only $22
a Year
Save $87

---

Running & Track and Field Posters
---

Great Offer: Nike Lunar Glide Sale Multiple colors of this shoe available.

*Nike Air Max Moto 7 Get 2 Pairs for a Crazy $112
---