Boston Marathon - The Day Before
By Emory Mort
LetsRun.com
April 18, 2010
I was around Copley Square today, taking in some of the Boston Marathon scene. Here's what you might be interested in if you enjoy following the elite sport of distance running.
Meb Might Surprise People - Says Injury Shouldn't Be Any Problem
I was at a Nike function today and got to chat with Meb Keflezighi for just a moment. One of Meb's traveling crew wondered which one of us at LetsRun.com made our marathon predictions. I think they were wondering why Keflezighi - a LetsRun favorite who we interviewed the night before his win last year in New York (when noone else was paying attention to him) - wasn't picked in the top 5 and wasn't even picked to be one of the top 3 Americans. I think they were surprised we hadn't picked Meb to do better.
We heard Meb was injured and didn't think he'd do that well with a bum knee. But after talking with Meb a little today and hearing about his slightly injured knee which is making a lot of running insiders write him off, I think Meb is going to do better than many people think. He told me his knee is fine on long tempo runs and actually only gave him trouble when he ran easy on it. Maybe I'm just drinking the Kool Aid, but I'm thinking Meb is going to be near the win.
Also, it's worth mentioning that Meb and former USA Today track writer Dick Patrick are working on a book together. We really miss Patrick as a regular journalist, but we're glad he's doing a book with Meb. If Meb makes me sound like a genius and wins Boston, we hope Patrick - who writes some of the most interesting running articles - makes double from the book sales than he would have from USA Today.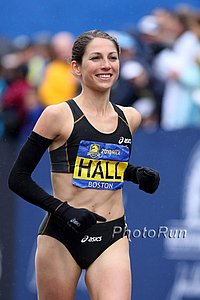 The Average Fan Loves Sara Hall
When the women BAA milers were introduced, Sara Hall got about 10x more applause and cheering than anyone else, including comparable milers Erin Donohue and Morgan Uceny. Based on how many people were just going bonkers for Hall, I'm thinking people are going to go nuts if Ryan Hall wins an American marathon major. It seems like all the media and public attention might almost be a tough burden for the Halls to bear, but it's certainly not something they would complain about, as it's kind of the runner's dream to be basically the face(s) of American distance running and charity work.
Sara Hall ran well in the mile but was outdone by Uceny. My former teammate at Cornell, Uceny (US indoor mile champ this year) is in very good shape. Erin Donohue was 6th at indoor Worlds and Uceny absolutely smoked her. The US women's 1,500 depth is looking something like this: Shannon Rowbury, Christin Wurth-Thomas, Jenny Barringer, Anna Pierce, Donohue, Uceny, Hall, Sarah Bowman ... We have like 1-and-a-half great marathoners but about 5 really good milers, with 5 more not far behind.
Bill Rodgers Running Center - If You're Into Running, Go Here
My friends and I went to Bill Rodgers' Running Center. It's near the Boston Commons. I don't really know anything about the geography of Boston, so you'll have to find it yourself. There are just a ton of cool running relics in this store. We asked one guy in the store what the business is like in the store during marathon weekend. He made a little inch between his fingers and said Boston Marathon weekend made Christmas look like this. There were dozens of people in the tiny store just gobbling up stuff.
If you come to Boston and want to get good running gear or just learn about running history, go to Bill Rodgers' store. They have excellent selection on shoes.
Some of the signs and articles and stories from the early 20th century through the '70s and '80s are interesting and funny and you can't find them anywhere else. I could have easily spent an hour in there.
Josh Cox Wins BAA 5k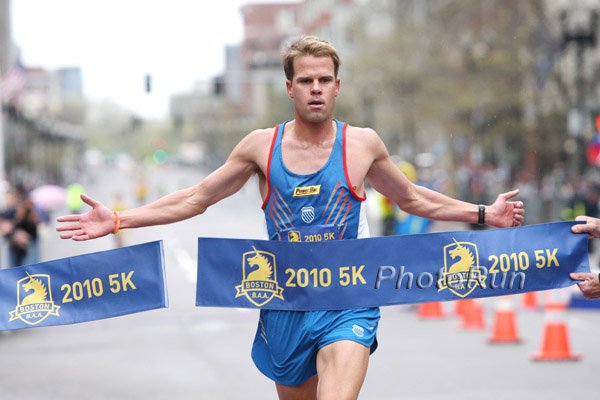 I missed the 5k, but Josh Cox won. I hope he's here to do the Universal Sports race commentary with Toni Reavis (who was out all morning doing the BAA 5k and mile announcements, and was great like always), as those two did a great job on the Rotterdam Marathon pacemaking time trial last week.
Chat With Hanson's Guys On Saturday
My former teammate Sage Canaday and his two Hanson's teammates will be running on Monday. I just wanted to mention them because Canaday, who ran 2:21 for the marathon while still running in college, told me that the three of them had run every step of training together for months on end. At one point, he told me, they ran 8 straight weeks at 130 miles/week or more while working 40 hour weeks at the running store. Those guys really get after it and I thought I'd give them a shout out as they won't be in the top 5 and won't get hardly any attention but their effort is noteworthy.
---
Runner's World &
Running Times



Combined Only $22
a Year
Save $87

---

Running & Track and Field Posters
---


More Nice Offers: Nike Lunar Glide Savings Super popular shoe from Nike featuring Flywire and Lunar Foam

*Nike Air Max Moto Sale $69.99 for this shoe from our partner.
---