US Women 800m Top 10 Rankings - 2009
Americans Maggie Vessey and Anna Willard win Prefontaine Classic, 3 Golden League Meets (Rome, Paris, Brussels) and go 1-2 at World Athletics Final.
LetsRun.com's year-end rankings evaluate the best US runners in every event from 800m to marathon - easily the most interesting summary you will find anywhere in the media.
By LetsRun.com
December, 2009
Editor's Note: As for how we came up with the rankings, we'd say in general we value top finishes at major events over time. Also, generally if we knew a certain ranking was between two people, we would stop and ask ourselves, "Whose season would we rather have?" That person ended up being ranked higher.
We are sure it's possible that you disagree with our the rankings. If you disagree with them, please email us your suggestions or post your comments in the official 800 rankings thread here. If you convince us to make a change, we will do so in January and re-publish a finalized version then.
---
A year after Kenyan teenager Pamela Jelimo dominated every major 800m race on the global stage on her way to winning Olympic gold and the $1,000,000 Golden League Jackpot, a South African teenager named Caster Semenya became the most famous - or infamous - women's 800m runner in world history.
Yet 2009 women's middle-distance running was truly a year for American emergence. In the 1,500m, three American women - including a collegian (Jenny Barringer) - broke 4:00 for the 1,500m and another American (Shannon Rowbury) won an IAAF World Championships medal for the first time since convicted drug cheat Regina Jacobs.
In the 800m, nobody in their right mind could have predicted the success of the American duo of Maggie Vessey and Anna Willard. Before the year Vessey was barely mentioned when people discussed the US 800 ranks and Willard's name did not even come up (Willard only ran one 800 in 2008). Now they're discussed on the world stage.
Vessey started things off with one of the most joyous races you will ever watch (see video above) when she won the Prefontaine Classic 800m over, among others, 3-time US Olympian Hazel Clark and Jelimo. Vessey, who we will discuss more below, went on to set a world-leading time in Monaco that would only be bested by controversial South African teenager Semenya.
When Vessey wasn't winning, Brown University alum and steeplechase standout Anna Willard was. Willard was - get this - 100% at the 800m in 2009, winning 4 races in 4 starts, including three of the eight most important global meets (Paris and Brussels Golden League and Greece's World Athletics Final).
Willard was also - get this - 100% against Vessey head-to-head, so our 2009 #1 ranking goes to ...
LRC #1. Anna Willard • Nike • 1:58.80 (#2 US) • Champion Brussels And Paris Golden League, Reebok NYC And World Athletics Final
LRC #2 Maggie Vessey • New Balance • 1:57.84 (#1 US) • Champion Rome Golden League, Pre Classic, #4 US Champs, World Athletics Final Silver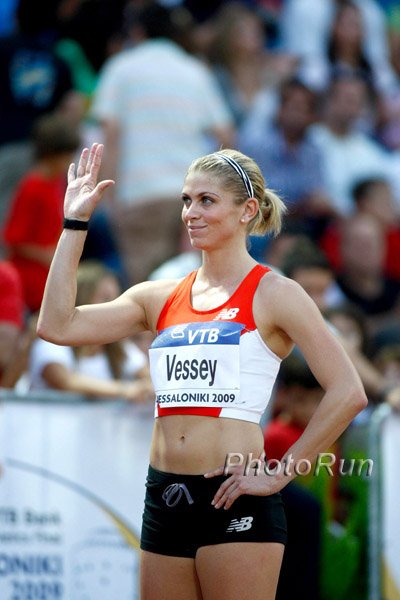 We'll talk about Willard (left) and Vessey (right) simultaneously since they really were the bright stars of the 2009 US 800m show this year.
Vessey was first on the scene as she delighted us, a live national TV audience, and all the fans in attendance in Eugene by coming from way, way behind to win the Prefontaine Classic 800m in what was supposed to be the first big showing for 2008 sensation Pamela Jelimo.
Jelimo never got things rolling in 2009, but Vessey sure did. Wearing a blue-and-white top that looked like it came from Wal Mart, the then-unsponsored Cal Poly San Luis Obispo graduate coached by Greg Brock steamrolled the field despite being 30m behind the leader and in last place for most of the race. With the stunned crowd, stunned announcers and stunned LRC co-founders watching, Vessey showed even she was surprised as she just stood there with eyes wide open saying "Oh my God!" after she broke the tape.
A couple weeks later, Vessey came back and had people in shock as she would fall way behind in her USA Championship heat, semi-final and final only to roar to victory in the final 150m (well, she didn't win the final, but she sure would have if the race was 5m longer (LetsRun.com recap of the race here)).
Vessey was a sensation to track fans, especially LetsRun.com fans. Sure, there are many "sit and kickers" out there, but to do what Vessey was doing (basically spotting the leader about 30-40m and running alone) against the top 800m runners on the planet was both extra-ordinary and extra-entertaining.
Vessey, in a sign of things to come, disappointingly finished 4th at USA's (behind LRC #3 Hazel Clark, LRC #5 Geena Gall and LRC #7 Phoebe Wright). Her races from there on out were either amazing or sometimes pretty bad. One of the highlights of our year was talking to her coach and LetsRun.com reader Greg Brock after Vessey's shocking emergence. Brock explained why he thought Vessey ran the way she did - both coming from behind and also relatively inconsistently - in our Recommended Read interview (truly, we'd recommend it whether Rojo did the interview or not ... well maybe not, as Rojo actually asked some good questions and wrote an interesting piece).
By the time we talked to Brock (early August), Vessey had gone from virtual unknown (well, not really, as she was 5th in the 2008 Olympic Trials) to Prefontaine Classic champion (and vanquisher of Pamela Jelimo), Rome Golden League winner (again conquerer of the world's best 800m runners) and then, shock of all shocks, world leader after her 1:57 in Monaco. What an amazing journey. Now running for New Balance, Vessey wasn't running well at every meet (she would occasionally bomb or simply not even get into the race), but when she was on fire, it was awesome to watch. It's hard to believe another US runner - let alone an Ivy League 1,500m/steeplechase runner from Maine - could rival her for the prestigious LetsRun #1 year-end ranking, but a perfect season from Anna Willard did just that.
Vessey had her inconsistencies, but always consistent at 800m was Anna Willard.
Anna Willard earned our #1 ranking by:
Running four 800m races in 2009 and winning them all
Breaking 2:00 in three of her wins (2:00.20 was her slowest performance)
Winning 2 Golden League meets (Brussels and Paris) and a legitimate international competition at Reebok NYC
Winning the coveted World Athletics Final ($30,000 for first place) over Maggie Vessey, no less
Defeating Maggie Vessey in all three of their 800m meetings (Reebok, Brussels, World Athletics Final)
It's truly hard to believe Willard came into the year most accomplished in the steeplechase and competed in the 1,500m at Worlds after winning the US title in that event. A Mainer, Willard attended Brown University undergrad and ran a graduate season at the University of Michigan. Considering she comes from Maine and Brown, maybe we should have expected her to take an unusual path (don't worry; this makes Mainers and Brown graduates proud, not offended). But nobody could have expected this kind of excellence at arguably Willard's 3rd-best event (though she became a standout 800m runner in college).
Willard's 2009 season ends with her ranked in the LRC top 3 in the US in three events. Now based in Mammoth with coach Terrence Mahon (coach of top US marathoners Deena Kastor and Ryan Hall, among others), Willard seems to be in a position to go after international medals. The toughest decision might be to decide which event. We give Willard, who in meet after meet in 2009 really had a devastating final 80m kick, credit for choosing the 1,500m at Worlds in 2009 over perhaps the "easier" event in the steeplechase. We actually wonder if perhaps the 800m would have been her best bet for taking a stab at a medal.
LRC #3 Hazel Clark • Nike • 1:59.96 (#4 US) • US Champion
Now 32, Clark's significant 2009 accomplishments included her outdoor 800m US title (her 5th) and breaking 2:00 (her 8th season doing so). Her best win other than the US Championships was at adidas Carson.
The 3-time Olympian and 5-time USA outdoor 800m champion Hazel Clark broke 2:00 in the Berlin semifinal but did not advance to the final.
LRC #4 Geena Gall • University Of Michigan • 2:00.44 (#7 US) • NCAA Champion • 2nd, US Champs
Geena Gall (right), a former teammate of Uceny's and Willard's at Michigan, had a great year, winning the NCAA Championships outdoors for the 2nd year in a row as well as a 2nd-place finish behind Hazel Clark at the US Championships. Gall competed at the World Championships in Berlin and was eliminated in the semifinal round. Gall has since moved to become a member of Nike's Oregon Track Club, joining 800m standouts such as Nick Symmonds.
Many might think Wurth-Thomas deserves to be No. 4 as she ran way faster than Gall, but when we were stuck debating between two people, we paused and asked ourselves, "Who's season would you rather have?"
Would you rather win seven 800 meter races on the year and be NCAA 800 champ and a World Champs team member at 800 and run 2:00.44 or only run the 800 four times (and win only one) but run 1:59.35 to finish 7th in Europe?

Clearly, we prefer Gall's season over Wurth-Thomas's.
LRC #5 Christin Wurth-Thomas • Nike • 1:59.35 (#3 US)
1,500m specialist Christin Wurth-Thomas stepped down to 800m to work on a little different system and became the 4th American to dip under 2:00 in 2009.
LRC #6 Phoebe Wright • University Of Tennessee • 2:00.40 (#6 US) • 3rd, US Champs
Thanks to a phenomenal 3rd-place at US nationals, Phoebe Wright had a chance to run for a spot on the US Worlds team in Berlin but could not come up with the necessary world "A" standard. Despite that minor bug, Wright had a tremendous year along with her Tennessee teammates, as she/they won all three distance relay titles at Penn Relays (4 x 800m, 4 x 1,500m and Distance Medley) and she took 2nd and 5th individually at NCAA indoors and outdoors, respectively.
LRC #7 Morgan Uceny • Reebok • 2:00.06 (#5 US) • 6th, US Champs
Cornell alum Morgan Uceny (left) makes it two Ivy League alums in the top 7 for 2009 (and three former Wolverines). Uceny was still getting into shape in June for the US Championships after an injury to her knee sidelined her for a considerable amount of time in the fall and winter of '08 and '09. She rallied to post a number of low-2:00 clockings in Europe to show that she's back near the form that took her to two surprise finishes at the 2008 US Olympic Trials. Her seasonal best came in Monaco where Vessey ran 1:57.
LRC #8 Laura Hermanson • North Dakota State University • 2:01.28 (#12 US) • 5th, US Champs
Laura Hermanson finished 2nd at NCAA outdoors and 5th at the US Championships to cap a solid year that saw her sit 12th on the overall US 800m performance list.
LRC #9 Brenda Martinez • UC Riverside • 2:00.85 (#8 US) • 9th, US Champs
Martinez ran the 1,500m at NCAAs, coming in second place behind Florida State's Susan Kuijken. In the 800m, she rallied to perform at a high level at USAs, making the final, where she finished last. Her 2:00.85 personal best from 2009 puts her 8th on the US list.
LRC #10 Alysia Johnson • Nike • 2:01.09 (#11 US) • 7th, US Champs
Coming back from injury, 2008 Cal grad Alysia Johnson struggled to regain the form she showed in 2007 when she was the NCAA and USA outdoor champ. In her first year as a pro, the 23-year-old Johnson broke 2:02 four times.
LRC Honorable Mention - Heidi Dahl • East Tennessee State University • 2:00.88 (#9 US)
Dahl was 6th in the NCAA 1,500 but the 2:00.88 she ran behind Brenda Martinez in Europe earned her the 9th spot on the US descending order list in '09 and also our Honorable Mention award.
Official LRC 2009 USA Women's 800 Ranking Thread Discuss our rankings.
More LRC 2009 800m Women's Coverage:
USAs: *LetsRun.com Recap of USATF 800m Final Results, Video of Race, and Recap.
Worlds: *800m Semifinal Recap Clark and Vessey Go Out.
Worlds Final: *Caster Semenya Dominates But Is She "Entirely" Female?

*Plus the LetsRun.com Caster Semenya Video that Made it Around the World, Nearly 1 Million Views on Youtube and Featured on Good Morning America