2010 Boston Marathon Women's Bios
By LetsRun.com
April 14, 2010
Below you will find bios about the top women's entrants for the 2010 Boston Marathon, as well as their bib numbers. We hope you print it out and have it with you as you watch on television or in person on Monday.
We've also produced LetsRun.com's Preview of the 2010 Women's Boston Marathon, which includes our picks for who is going to win. If you are into the men's race, please see the LetsRun.com's Preview of the 2010 Men's Boston Marathon, which includes our picks for who is going to win.
For more elite info, see the Boston marathon website.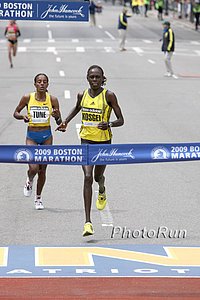 Salina Kosgei KEN (Bib #1) - Reigning Boston Marathon Champion
Kenyan Salina Kosgei won Boston last year in a thrilling sprint finish ahead of Ethiopian Dire Tune for the biggest win of her veteran career. American Kara Goucher was left 80m out of contention in the fast finish of the slow-paced race.
Kosgei ran ING New York later in 2009 and finished 5th. But she certainly doesn't appear ready to defend her title, as her half marathon prep race last month was a 75-minute one as compared to the 69-minute half she ran prior to last year's Boston. Now 33, Kosgei will hope for a slow pace and a kicker's finish again.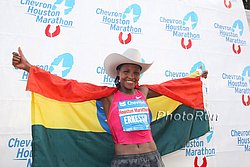 Teyba Erkesso ETH (Bib #4) - 2-Time Reigning Chevron Houston Marathon Champion
Erkesso is one of the pre-race favorites. She won the 2009 and 2010 Chevron Houston Marathon in course records 2:24 and 2:23:53. She was 4th in the 2009 Bank of America Chicago Marathon behind Liliya Shobukhova, Irina Mikitenko and Lidiya Gregoriyeva.
Erkesso's latest result was a 4th-place finish in the RAK Half Marathon in February.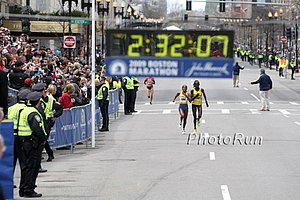 Dire Tune ETH (Bib #5) - Returning Boston Marathon Runner-Up
Tune will race her 14th marathon in Boston despite being listed as only 24 years old. Were it not for a fantastic kick from Salina Kosgei in Boston in 2009, Tune would be the 2-time reigning Boston Marathon Champion. Tune won Boston in 2008 in 2:25:25.
Like Erkesso, Tune is a 2-time Houston Marathon Champion (2007 and 2008), though Erkesso's performances were faster than Tune's Houston best of 2:24:40.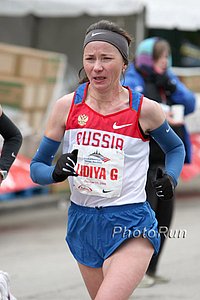 Lidiya Grigoryeva RUS (Bib #6) - 36-Year-Old Boston And Chicago Champion Runs Again
In 2005, Grigoriyeva won Paris. In 2006, she won L.A. In 2007, she won Boston and in 2008, she won Chicago.
But the marathon winning streak finally ended in 2009, as the tough Russian was 6th in Boston and 3rd in Chicago.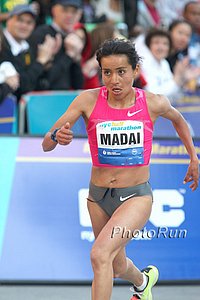 Madaí Pérez MEX (Bib #3) - National Record Holder Was 3rd In 2007 BAA Boston Marathon
Coming off a 3rd-place PR performance (69:45) behind Mara Yamauchi and Deena Kastor at the 2010 NYC Half Marathon, Pérez looks to be back near the form that earned her a 2nd-place finish in Rotterdam in 2004, a 4th-place finish in Chicago in 2006 and a 3rd-place finish in Boston in 2007.
Pérez ran the Mexican national record 2:22:59 when she was 4th in Chicago 3.5 years ago. This is her first marathon since the 2008 Olympics, where she was 19th.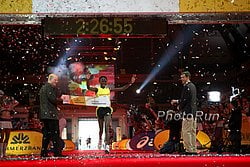 Agnes Kiprop KEN (Bib #10) - Has Not Lost A Marathon (Reims '08, Torino '09, Frankfurt '09)
30-year-old Kenyan Agnes Kiprop is undefeated in the marathon. She finished 8th in the 2010 RAK Half Marathon, running 68 minutes.
To the left is the photo of Kiprop winning the Commerzbank Frankfurt Marathon last year. They have the most glamourous marathon finish in the world.
Sun Weiwei CHN (Bib #19) - 2006 Chinese Marathon Champion Running 23rd Marathon At Age 25
We won't blame Sun for being a bit fatigued in Boston, as she will be running her 23rd competitive marathon despite being only 25 years old. Sun ran 4 marathons last year, finishing 13 at World Champs in 2:29. Her best time is a 2:25 from 2002, when she was, according to her listed age, 17.
Albina Mayorova-Ivanova RUS (Bib #8) - Running 23rd Marathon, 2:25 Best
Albina Mayorova-Ivanova has a long list of marathoning accomplishments, including 4th in Chicago ('03) and London ('04) and a 6th in Boston ('03).
Yurika Nakamura JPN (Bib #9) - '08 Nagoya Marathon Champion (2:25:51)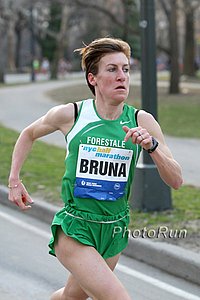 Bruna Genovese ITA (Bib #7) - Competing In 6th Boston Marathon
Genovese ran five Boston Marathons and finished between 3rd (2005) and 9th each time.
Her latest result was a 72:55 half marathon in the NYC Half in March.
Genovese's marathon best came in 2006, when she ran 2:25:28 to finish 4th in Boston.
Nailya Yulamanova RUS (Bib #11) - 2009 Fortis Rotterdam Marathon Champion (2:26:30), 8th At World Championship Marathon
Michelle Frey USA (Bib #17) - Frey Returns To Marathoning With A PR Of 2:35
Waynishet Girma ETH (Bib #14) - 2:29 Best From 2009, Ran 2:32 In Dubai Earlier This Year
Jia Chaofeng CHN (Bib #Unknown) - Marathon Unknown Had Career-Best 2009
Jia ran PRs at 5,000 and 10,000m last year (15:27 and 31:45) and won the Chinese long and short XC Championships.
Though listed as her debut, our database service shows Jia ran a 2:44 marathon in 2007.
---
Runner's World &
Running Times



Combined Only $22
a Year
Save $87

---

Running & Track and Field Posters
---


More Nice Offers: Nike Lunar Glide Savings Super popular shoe from Nike featuring Flywire and Lunar Foam

*Nike Air Max Moto Sale $69.99 for this shoe from our partner.
---