LetsRun.com's Preview Of The 2010 Boston Marathon
By LetsRun.com
April 13, 2010
Predicting what is going to happen in any marathon is a very difficult task, as marathoners race very infrequently. But previewing the 2010 Boston Marathon is basically an impossible task, since many of the top entrants are saddled with question marks.
The field is certainly a bit deeper than in years past, as 2010 ING New York City marathon champion Meb Keflezighi at one point only had the 17th-best PR of those expected to run, at 2:09:25. But truth be told, there aren't that many big stars of marathoning entered in Boston. At most, we'd say there are 5 big-name stars and all five of them have serious question marks. We present the "names" in order of who we think would be most likely to win if they were all 100%:


The 5 "Names"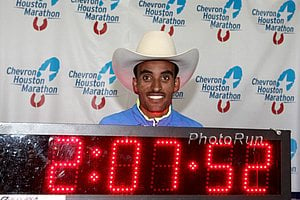 1. Deriba Merga - Something seriously seems to be up with the defending champ. After DNFing at the World Champs, he has DNFed in two half marathons this year. If he's healthy, without a doubt he's a force to be reckoned with, as in addition to his win in Boston, he was the one pushing the pace for much of the crazy 2008 Olympic marathon.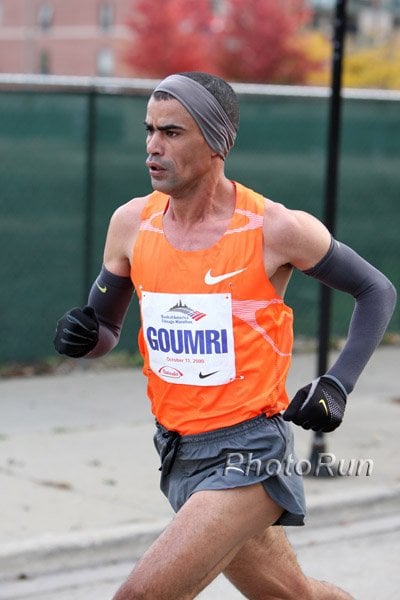 2. Abderrahim Goumri - To say there are question marks about Goumri is a bit misleading, since there always are question marks surrounding his fitness prior to a marathon, as he never really races before marathons anymore. But without any prep races to judge, it's impossible for us to even guess if he's in top shape. But history tells us that the former 12:50 5ker is one of the most consistent marathoners in the world. He has raced 6 world marathon majors and finished second in four of them, third in one and sixth in the other, although that should be contrasted to his subpar showing at the World Champs (DNFs in 2007 and 2009) and Olympics (20th in 2008). His 2:05:30 is the fastest in the field.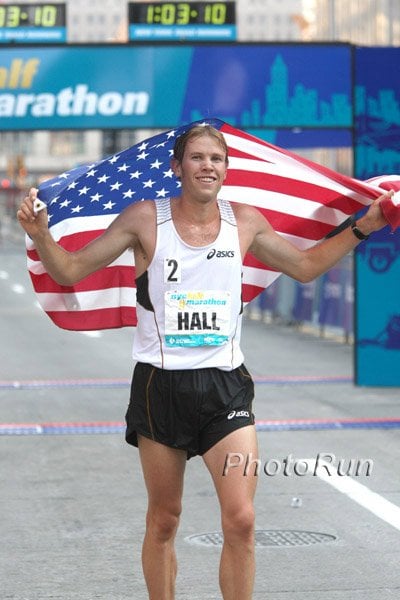 3. Ryan Hall - America's most consistent marathoner only ran a 64:08 way back in January in his only prep race prior to Boston, later pulling out of the half marathon in New Orleans. Contrast that to the 62:35 and 61:52 half marathons he ran prior to getting 4th in New York last fall. Of course, last fall, Hall said he left his best performance in practice, so the lack of strong race preps may end up being a blessing in disguise.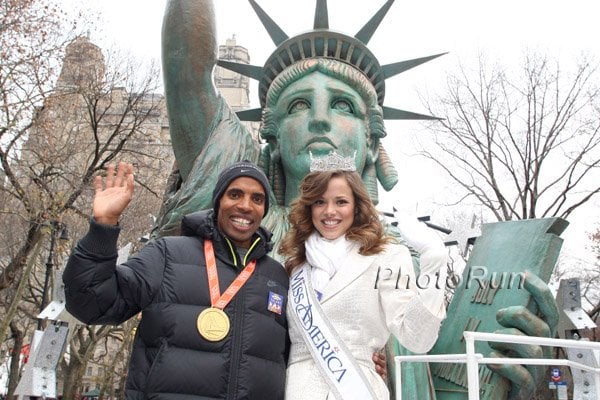 4. Meb Keflezighi - The New York champ has zero races under his belt this year and that has us worried. Contrast that to last year, when prior to running a PR in London, he had already won the US Cross-Country title as well as the US half marathon title. Last fall, he went into New York after a setting a new personal record of 61:00 in the half.
5. Evans Cheruiyot - We're not sure if he's truly a "name" star in the marathon world, but he probably should be, as he's won a major (2008 Chicago in 2:06:25 just as we accurately predicted that he would). His most recent prep race was 16th-place 64:05 showing in Rotterdam. That contrasts very poorly to the 59:29 he ran in Rotterdam less than month prior to winning in Chicago. If you are a Cheruiyot fan, you are probably heartened by the fact he did run a 61:57 half in Kenya in February.
*** Update: Evans Cheruiyot has withdrawn as of Tuesday. ***

Analysis
Of the so-called five names, we'd say we're least worried about Goumri and Hall. We think Ryan Hall has purposely tried to under-do his training this year and we'll see if it pays off on Monday. We'd say we're very worried about Keflezighi and Merga, as their recent lack of races or race finishes contrasts completely with their past history and we just don't think Cheruiyot is in good enough form to win it.
So of the "names," the only two we see winning from a logical standpoint are Goumri (very good chance, but he's never won a major) and Hall (not a great chance, simply put, because an American man hasn't won since 1983, but Meb didn't it so why can't he?). That being said, Merga is an absolute stud, so if he's with the leaders at the 30k mark, watch out. Because if he's on, he's hard to beat.
But there are a number of others that we think might take this thing down. The others with the best chance in our minds, are listed in order of being most likely to win:
3 Others That Could Win
1.
Chala Dechase - If you are able to put a scare into the world record holder in the marathon, then you are good enough to win Boston. And that's exactly what Dechase did in January, when he put up a good fight against Haile Gebrselassie, leading late in the race before Haile kicked away to victory in the final kilometers. Running only his 2nd career marathon, Dechase lowered his personal best to 2:06:33 in Dubai in January. In 2008, Dechase finished second in the ING Amsterdam Marathon in 2:08:31. Two marathons under his belt and both were 2:08 or better. Watch out in Boston.
2. Gilbert Yegon (also known as Gilbert Koech) - This 29-year-old's story is an interesting one. Until last year, he was basically a total unknown. Up until 2006, there were no race results listed for him. In 2006, he ran a half marathon in 63 minutes in Kenya before recording zero results in 2007. In 2008, he ran the Standard Chartered Half Marathon again in Kenya, this time in 62 minutes. He ventured out of Kenya for the first time last year and his European results really weren't promising until his stunning 2:06:18 debut in Amsterdam. Prior to that, he'd finished 12th, 10th and 14th in half marathons in Europe, although he did run 61:26 in the fastest one.
Can he replicate that same type of magic? Perhaps. This year, he ran 58:56 for 20k some six weeks prior to Boston. A 58:56 for 20k equates to about 62:20 for the half marathon, which is very similar to the 62:00-flat he ran 5 weeks prior to Amsterdam last year. He's our long shot pick to win this thing.
3. Robert Kiprono Cheruiyot - This is not the four time Boston champion Robert Kipkoech "Mwafrika" Cheruiyot, who pulled out of the marathon. But another Robert Cheruiyot could be a winner in Boston. We like Robert for two main reasons. One, he's young - only 21. Two, he's a proven marathoner through and through. Despite his age, he already has a marathon win in Frankfurt in 2008 in 2:07, a runner-up in Frankfurt in 2009 in 2:06:23 and a 5th-place finish in Boston last year. His latest performance was an unremarkable 8th-place 63:16 in the Paris Half Marathon this March, but the guy is a true marathoner who rarely races at other distances. He's always produced when he's toed the starting line at a marathon, as he's run three marathons in his short career and the worst of them was his 5th-place showing in Boston last year.
Of course, we haven't mentioned two Kenyans who both ran 2:06 last year - David Mandago and Elijah Keitany - but we are discounting their chances mainly because they both were over 62:30 in their half marathon preps (see our take on all of the elite entrants here).
So after breaking the field down for you, in our minds there are six that might win: Deriba Merga (defending champ), Abderrahim Goumri (best marathon record of anyone in the field, despite zero wins), Ryan Hall (American hope), Chala Dechase (2:06:33 in January), Gilbert Yegon (2:06:18 debut last fall), and Robert Kiprono Cheruiyot (21 years young with three marathons, with his worst showing being a 5th at Boston).
Not having heard the runners talk at the press conferences (we'd love to hear what Merga and Goumri say about their preparations), we'll make some tentative predictions.
LRC Predictions: 1) Goumri 2) Hall 3) Yegon 3) Dechase 4) Cheruiyot. DNF for Merga.
Comment: We're not fans of Goumri, but he's long overdue for a victory.
The Americans
As for the Americans, the fact that Kefelizghi hasn't raced at all makes us very nervous. Given Hall's consistent track record as a marathoner, we'd say he's definitely the favorite to be the top American finisher. However, there are some other Americans that could claim that honor.
Former NCAA Cross-Country champion Josh Rohatinsky enters Boston on a high, as he knocked 50 seconds of his half marathon PR in New York on March 21st to place 6th in 61:55. He's was 7th in New York in 2:14 in his last marathon in 2008. If he knocks a few minutes off that, he could very well end up in the top 5 if he tries to run a patient race from behind.
Just under 62:00 for the half is a result that Antonio Vega also likes, as he ran 61:54 to win the US Half Marathon Championships in Houston this January. While their half marathon personal bests are similar, we like Rohatinsky a little more, as he's just got way more credentials on his CV. Rohatinsky's 10,000 PR is 27:54 versus Vega's 29:00.
Finishing 4 seconds behind Vega in March's US 15k championships was American Jason Lehmkuhle. The 31-year-old veteran cracked the top 10 in New York last fall and might crack the top 10 here as well, as generally the foreigners run for broke.

LRC Predicted Order Of Finish For Americans: 1) Hall 2) Rohatinsky 3) Lehmkuhle 4) Keflezighi 5) Vega

We feel bad picking Meb that low, as the guy has run 10 marathons and finished in the top 3 in 6 of them and top 10 in 8 of them, but the fact that he hasn't raced makes us very nervous.
---
Want more info? Please see our individual men's bio page where we give you facts about all of the top entrants as well as their bib numbers so you can print it out and have it as you watch on tv or in person on Monday.

---
Runner's World &
Running Times



Combined Only $22
a Year
Save $87

---

Running & Track and Field Posters
---

Great Running Shoe Deals Nike Lunar Glide $79.99 A very popular innovative Nike shoe on sale now.
---