LetsRun.com's Preview Of The Women's 2010 Boston Marathon
Double Houston Champion Erkesso Joins 2009 Protagonists Kosgei and Tune.
By LetsRun.com
April 14, 2010
We started our men's preview of the 2010 Boston Marathon with a statement about the depth of men's marathoning. Predicting what's going to happen in a men's World Marathon Major in the year 2010 is next to impossible. The fields have so many people who could theoretically win the thing, and they race so infrequently, that picking a winner is a shot in the dark even for people who follow the sport religiously.
Well, that's certainly not the case on the women's side.
Please don't call us sexist. Even the Boston Globe printed an article early this week about the lack of American contenders on the women's side. But in our minds, the article really could be written about women's marathoning in general. The world record in the women's marathon is 2:15:25, but the fastest time in 2009 was just 2:22:11 by Irina Mikitenko. When one realizes that 25 women in history have run faster than that, it should be clear to all that women's marathoning is in the midst of a weak patch that may not be resolved until world record holder Paula Radcliffe returns after pregnancy or a Tirunesh Dibaba-type or Meseret Defar-type-talent steps up in distance (for comparison sake, we thought we should point out that the 25th-best performer in history on the men's side has run 2:06:16 and there were 16 performances faster than that last year alone).
So what's the point of all this history? Well, we just wanted it to be known that predicting the winner of the 2010 Boston Women's Marathon isn't nearly as hard as it is on the men's side. We think one of the following women will win:
1. Dire Tune - The 24-year-old is back for her third straight Boston and is less than one second away from going for a 3-peat. In 2009, Tune won by two seconds in a sprint finish in Beantown before losing by one second last year.
Her form this year appears to be very similar to the last two years, so she should be a major factor. In 2008, prior to winning in Boston, she ran a 31:46 at The World's Best 10k race in Puerto Rico. Last year, before almost winning, she ran a 31:55. This year? She ran her fastest time yet - a 31:40.
Tune is someone who has proven herself on the Boston course and she appears to be in good form. Also, she isn't over-raced. In 2008, she ran 4 marathons, whereas last year, she only did two. Thus she should be the betting favorite in our minds.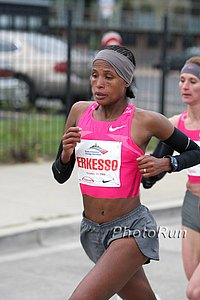 2. Teyba Erkesso - The 27-year-old is hoping to copy what her compatriot Deribe Merga did last year - win the Chevron Houston Marathon in January and then Boston in April. The former World Cross-Country short course bronze medallist finished and won her first marathon last year in Houston (2:24:18) before getting fourth in Chicago (2:26:56). This year she PRed and won again in Houston (2:23:56).
In February, she ran a 67:41 at the RAK Half, which nabbed her fourth. The question of the day on Monday is: "Is she still in top form or is she perhaps on the way down since this is her third marathon in six months?"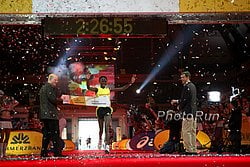 3. Agnes Kiprop - The 30-year-old is a bit of an unknown in elite circles. But if we are going to give an unknown a chance, we're going to go with one who is a proven winner. Kiprop has run three marathons and won them all - albeit in only 2:32, 2:26:22 and 2:26:57. She comes into Boston after having run a half marathon PR of 68:48 at the RAK Half in February. In that race, she lost to two of our bigger favorites in Erkesso (67:41) and Tune (67:58), but it was a big improvement over her 69:54 previous PR. If she wins, it certainly will be a big upset, but she seems to be improving, is a proven winner and is in the form of her life. Call her our LetsRun.com Upset Pick.
The Others
We haven't listed the defending champ Salina Kosgei as someone who we think could win, although maybe we should. She's definitely a proven commodity as in addition to last year's win, she's been in the top 10 of an Olympics or World Marathon major 7 times. But we don't like the fact that she ran a disastrous 75:52 half marathon last month in her only prep race prior to Boston, which compares quite unfavorably to the 69:06 she ran last year prior to winning in Beantown.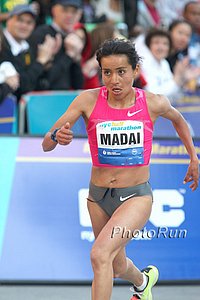 Mexican national record holder Madaí Pérez (2:22:59 PR) comes into Boston apparently ready for a strong performance, as she set a new personal best in placing third at the New York Half Marathon (69:45) last month. Clearly she's rested and focused on Boston, as the marathon will be her first marathon since finishing 19th in Beijing. We probably should list her as someone (along with Kosgei) who could win, but we don't think she'll be the winner as she's 0-for-9 in her previous career marathons. If we're keeping our list three names long, we'd rather go with someone who has never lost a marathon as compared to someone who has never won one.
The Americans
As the Boston Globe article stated, there are no serious American contenders in Boston this year. McMillan Elite's Paige Higgins is the top entrant based on PR (2:33:06), but she is running Boston after dropping out of LA. Michelle Frey has run 2:35:51.
LRC Predictions: 1) Tune 2) Erkesso
Tune is the youngest of the major contenders, the most proven on the Boston course, and apparently in good form. The only knock on her is her PR of only 2:24:40. If Tune doesn't win, expect her red-hot compatriot to do it. If Erkesso wins, we expect her to do it in impressive fashion by crushing the field.
---
Want more info? Please see our individual women's bio page, where we give you facts about all of the top entrants (as well as their bib numbers) so you can print it out and have it as you watch on television or in person on Monday. We've also produced the LetsRun.com Preview of the 2010 Men's Boston Marathon.


---
Runner's World &
Running Times



Combined Only $22
a Year
Save $87

---

Running & Track and Field Posters
---

Offers of interest: Nike Lunar Glide Discount Discounting on this shoe not allowed until recently.
---