Leading Elites Satisfied After Fast Day In Boston
Younger Cheruiyot Skips 2:06 In Epic Performance, Hall 'Runs Free' To Become Fastest American in 114 Years In Boston
By Emory Mort, LetsRun.com
Boston, MA (April 19, 2010)
*LetsRun Quick Recap *Official LetsRun Thread *Complete Results, Mile/5km splits
Robert Kiprono Cheruiyot accomplished what many running fans never thought they would see, a 2:05 marathon in Boston. Two-time Chevron Houston Marathon Champion Teyba Erkesso won a thrilling women's race that came down to the final steps. We hope to give you the inside stories from the winners and intriguing contenders in a remarkable 2010 John Hancock Boston Marathon.
Men's Race Fascinates
After weeks of talk from Ryan Hall about not being as aggressive in Boston as he was last year when he led the field through an opening mile of sub-4:40, he shocked many as he led most of the miles in the first half of the race. Wearing a sharp red USA Asics jersey, Hall and Meb Keflezighi in the same white USA Nike jersey he wore in New York both played significant roles in the lead pack of 15 men for the first hour.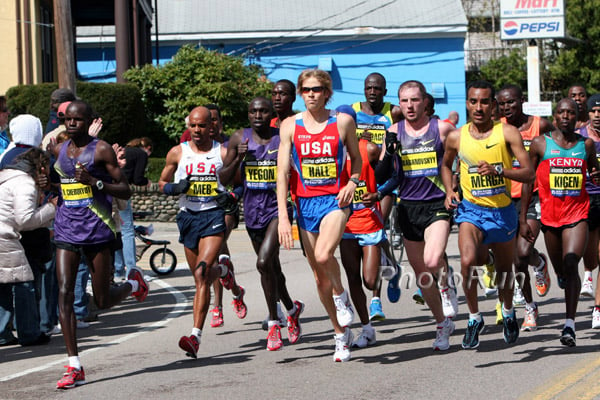 Photo: Men's Lead Pack Led By Hall and Meb Early
The relative monotony of 4:50 miles was first disrupted in the 10th mile as several Kenyans and Ethiopians including bold 2009 Boston champion Deribe Merga threw in a series of surges and a 4:35 10th mile. The large, calm lead pack was splintered, but would re-form minutes later as the pace hit a lull and the field ran their first slower-than-5:00 mile. Hall, refusing to react, maintained his 3:02/km pace and would catch the pack minutes later, re-assuming the lead as if nothing had happened, clicking his watch every mile and egging on the Wellesley girls during the race. One reporter asked him after the race why Hall was checking his watch so much as the reporter saw him look at his Garmin 5 times in 2 minutes. A light-hearted Hall laughed and said, "I don't really have an explanation for that. That does seem a bit excessive."
The men passed halfway and all was calm. The 63:25 21km clocking meant the large pack were all under 2:07:14 course-record pace. But that all changed quickly as Merga, Chala Dechase and others threw in surges that only a few could handle. The leaders clocked 4:42 for the 14th mile and Hall was again dropped as he refused to disrupt his pre-planned rhythm. A 4:37 16th mile and the course bottomed out as the hills approached. Little did we know we'd see three more sub-4:40 miles from Cheruiyot and Merga in the Boston hills.

Cheruiyot would not take the lead for good until the 24th mile. Following Merga for most of the 2nd half, Cheruiyot ran 5km splits of 14:57, 14:49, 14:34 between 25k and 40k, ramping the pace higher and higher before finishing hard down Boylston St.
Hall's 2 Words Were "Joy" and "Freedom"
As he stated with certainty after the race, American hope Ryan Hall's plan was to "run free" and to run his own race. The last time we saw Ryan Hall he was miserable after his 4th-place finish in New York. He was grumpy in the press conference and seemed really down. After his 4th-place Boston finish he exhibited a completely different attitude.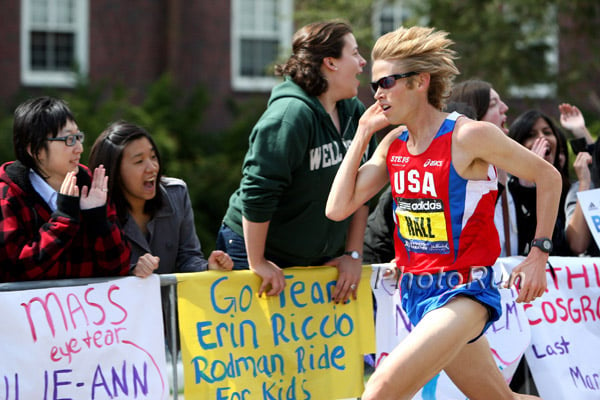 Photo: Hall "running free" and asking the girls at Wellesley for more noise.
Hall said quite bluntly after the race that he was not concerned with what anyone else was doing. In a bold statement that will certainly draw some interesting reactions from critics who would prefer more stoic competitiveness, Hall shook off any pressure to act "tough" and said, "My two words were 'Joy' and 'freedom'... I gave the Wellesley girls a little pump up... I was just running my own race out there." Hall was referring to a point mid-race where, after being dropped once already, he was back in the lead and putting his hand to his ear, asking the Wellesley girls to make more noise.
Rather than respond to the surges mid-race, Hall's and Mahon's plan was to run as evenly as possible. He ran almost the entire race at exactly 4:50-4:55 mile pace. In fact, his plan worked very well in some respects as he came within 2 seconds of defeating the returning champion, ran faster than the 2009 Boston winning time by 1-second, and beat the reigning ING NYC Marathon champion in Keflezighi who finished 5th, just off his lifetime marathon personal best. Hall also finished with the fastest time ever recorded by an American in Boston.
Around 25-30km into the race, I talked with Hall's coach Terrence Mahon and he gave a pretty interesting summary of what was going on. At the time, Merga and Cheruiyot were out in front running Boston at a speed nobody had ever accmplished before, running sub-4:40 miles and not even taking a break on Heartbreak Hill where they ran 4:55. He thought it was possible that one or both of them could blow up or else they were going to break new ground and run 2:06 or 2:07.
Mahon also pointed out that Keflezighi, who was near the leaders at that point, was on pace for about a 2-minute marathon PB (his best coming in was only about 16th-best in the field at 2:09+).
Hall, Mahon said, was doing exactly what they had planned despite seeming - to the average viewer - to be way out of it. Hall pointed out after the race that he didn't actually give up on the race win until 24 miles when he saw the lead helicopters off in the distance and was fairly sure that he wasn't catching the leader(s) at that point. In fact, he came within 2 seconds of catching one of those leaders but the other leader was having an unreal day.
Hall's Post-Race Comments Intriguing - Quotes Vin Lananna
Hall may have brooded after his previous failures to win in big marathons, but on Monday he showed a new mental approach to the race. When questioned about his new non-reactive pacing strategy, Hall brought up advice from some big names in the sport. He defended his race strategy by quoting his former coach at Stanford, Vin Lananna who once asked Hall, "Where does the big elephant sit, Ryan? It sits wherever it wants to." Hall went on to say, "So you have to be confident to sit whenever, and it doesn't always work out but you have to have the confidence to do it."
"Where does the big elephant sit, Ryan? It sits wherever it wants to."

- Ryan Hall citing a quote from his former coach at Stanford, Vin Lananna, describing his willingness to run his own race in Boston.
Hall, now the fastest-ever American at Boston, also mentioned advice he got from 4-time Boston champion Bill Rodgers, who told him to maintain on the uphills and fly the downhills.
But some reporters and certainly a number of fans will not be impressed with Hall and Coach Mahon's new strategy - at least when he's not winning the race. One reporters asked, "Did you have too much fun today?" Hall laughed, "I don't think you can have too much fun. To me running's not all about records and place. I'm sure I'll have people heckling me, 'You could have gotten Merga!'... I was disappointed with being down in New York so I decided to enjoy today."
Coming down the final straight, Hall was closing very quickly on Deribe Merga, but finished 2 seconds short. As I watched him run by, Hall started with some fist pumps and points to the sky before he crossed the line. Hall's 4th-place finish earned him $25000 in prize money, which he will donate to his foundation to support projects in Africa and youth running mentoring programs in Chicago and other cities where he races.
"I know I can win this race, it's just a matter of time. Today was a big breakthrough day, guys are paving new territory"
'Cheruiyot The Younger' From Nandi Kipsigis Tribe Looks Forward To Improving His 50-acre Farm With $175,000 Prize For Win and Record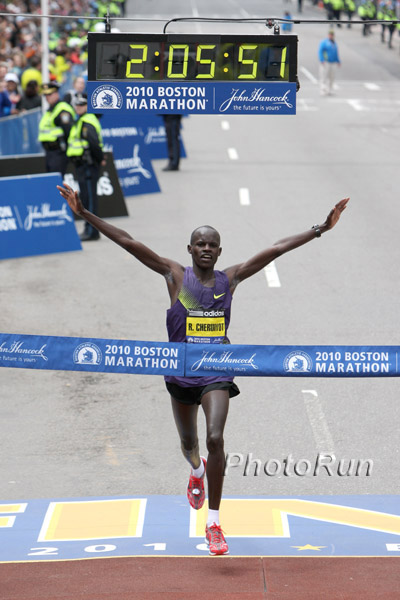 Photo: Cheruiyot finishes a run to remember in Boston.
Kiprono Cheruiyot was in happy spirits after the race, and justifiably so. He had lowered the Boston Marathon course record into the 2:05's. No man in the 114 year history of Boston had ever accomplished even a 2:06 and only a handful had run in the 2:07's.
At age 21, Cheruiyot is now a rich man and can go back to his 50-acre cow and sheep farm in Kenya as a wealthy and recognized man for life. He is trained by 37-year-old coach William Kiplagat (a 2:06:50 marathoner himself) with training partner Vincent Kipruto who ran 2:05:13 nine days ago in Rotterdam
Cheruiyot had some more interesting comments, including a look into the Kenyan marathoning mindset circa 2010. He said that Kenyans have a lot of confidene because so many of them are running fast. He said, "We have a program. I think everything now in the program is good." Patrick Makau, Sammy Wanjiru, Geoffrey Mutai, Duncan Kibet, James Kwambai, Kipruto and others would have to agree.
Though some American fans might worry one of their countrymen may never win again, Cheruiyot (who motioned to Ryan Hall who was sitting next to him at the time) pointed out, "These things change much each year. It's not just for one person." It's not easy to run 2:04 or 2:05 over and over as you only get 2 chances per year. Men's marathoning is deep, unpredictable and exciting these days.
Cheruiyot said 'Cheruiyot the Elder' gave him advice two months ago regarding Boston. Apparently he told him to run with probing surges to test the field. But, 'Mwafrika' said, don't lead too much, just make sure it's a fast pace. Cheruiyot credited Hall's early pace as key to getting the race record. Late in the race, at the critical moments, Cheruiyot described his mindset as he ended Merga (and anyone else's) hopes for winning Boston. The new Robert K Cheruiyot in Boston said simply, "If somebody is a champion, you try to go with him. When we came to 38k I thought 'why not me now? I'll try.' "
*Editor's Note: Thanks to this thread (R. Kiprono Cheruiyot is Kipsigis, not Nandi ) we realized we incorrectly reported Cheruiyot "The Younger" as Nandi when in fact Cheruiyot "The Elder" is a Nandi while "The Younger" is Kipsigis. We apologize for the error.
Women's Race - Tune DNF's, Kosgei Runs Well For 3rd Considering Fitness, Close Finish At Front Was Perfect Drama
The three big favorites in the women's race were Ethiopian Dire Tune, Ethiopian Teyba Erkesso and Kenyan Salina Kosgei.
All fared differently and were almost out-performed by a 24-year-old Russian Tatyana Pushkareva who had the race of her life on Monday.
Tune dropped out of the race, ending a 3-year string of Boston domination broken only by a great finishing kick by Kosgei in 2009. Kosgei said her hamstrings are still injured from her fall in New York in November and that 3rd place was about as good as she could expect considering her fitness.
Erkesso ran an impressive race. Her second half was run in 71:20 after a 75-minute opening half. Erkesso looked very fresh most of the time despite her wild upper body arm and torso carriage that isn't exactly "smooth". Erkesso almost became an example for all future marathoners of what not to do in Boston, tactically. In the end she held on and completed her 3rd marathon in 6 months but not before facing a big-time scare from the bubbly new-Russian-on-the-block.
Pushkareva was asked after the race why she was waving to the crowd in the middle of the race. The questioner went on, "Is this a Russian tradition?" She smiled, as she had throughout the interview, and said through a translator, "Because I feel great!"
The 2009 San Antonio Marathon champion, Pushkareva entered Boston as basically a nobody in the sport with only a 2:30 personal best. She said her plan was to sit back and run strong at the end, and run strong she did. Training as a professional distance runner since the age of 17, she was happy with her race and said of her $75,000 winning performance, "Today I did everything that I could. I would not change anything."
Erkesso Says She Felt Fine The Whole Race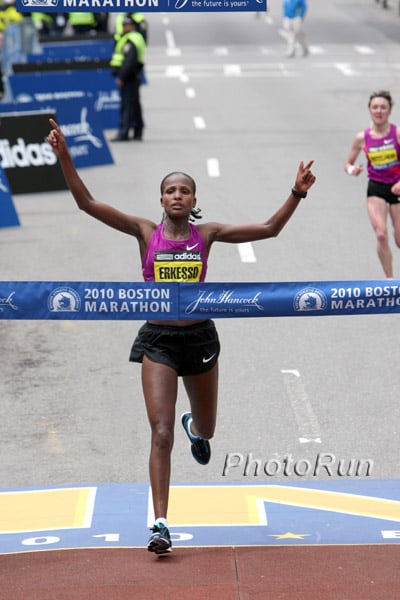 Photo: Erkesso caps off a dominant, aggressive run with Pushkareva right behind.
Teyba Erkesso answered questions after the race and assured everyone that despite the thrilling finish, she didn't have any problems out on the course. "I knew I was in very good shape, so I pushed the race from the beginning," Erkesso said, referring to her decision to bolt to the lead before the women reached the halfway point. Looking at her splits, Erkesso ran very well through the majority of the second half of the race, covering the final 21k in just over 71 minutes after a relatively controlled first half. Pushkareva waited longer to make a more steady push, but couldn't catch Erkesso, who expended her energy just a little bit better to cross the line first with only a few meters to spare.
Erkesso should not be remembered as someone who misjudged the course. During her intitial push, Erkesso ran 13, 14 and 16 in 15:17, 15:18 and 15:06 according to unofficial race splits. This surge eliminated her most dangerous rival, training partner Dire Tune. Later in the race, Erkesso was able to cover 24, 25, 26 in 5:24, 5:36 and approximately 5:22. She wasn't exactly slogging to the finish. Pushkareva, running with a more conservative beginner's mindset, didn't go with the initial surge but was able to eat into the lead later in the race. Erkesso, it should be noted, won because of aggressive, confident racing and strategy... not in spite of it.
Casualties - Tune, Goumri, Merga, Meb - Not Everyone Ran Fast on Monday
LRC pre-race favorites Dire Tune and Abderrahim Goumri failed to finish the 2010 Boston Marathon after factoring in the lead pack for much of the race. Other big names Deribe Merga and Meb Keflezighi struggled in the final miles, losing minutes to stronger finishers over the final 2-3km. Even on a "fast day" in Boston where one man shattered the course record, the American Boston record went down and 2nd-place finisher Tekeste Kebede almost broke the old course record of 'Cheruiyot The Elder', not everyone was running fast. The temperature and humidity were both low on Monday, but the wind was probably neutral at best. Cheruiyot The Younger's performance was simply transcendant.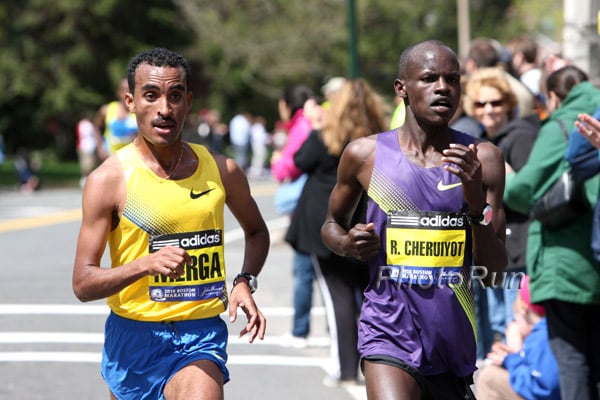 Photo: Despite inadequate preparations, Merga came the closest to taking down Cheruiyot.
Merga, in his post-race comments, said he felt good until 39k when "my legs hurt so I could not follow [Cheruiyot]." In typical Merga fashion, he ran at the front until he broke, and then made it to the finish... barely. In holding off Hall by 10m, Merga won $40k vs. $25k. After "family troubles" and several disappointing races, Merga showed he is still a major player as he came just 2 or 3 miles from running faster than any other man ever had in the 114 year history of Boston. Merga even addressed a questioner who brought up our Saturday quote of the day where he was quoted in an article saying "I never finish unless I will finish in the top 3. If I anticipate ahead of time that I will not be top 3, I quit. That is my philosophy." Merga smiled and said, "I am in a very good shape. So I was going for the #1 spot. So I am very happy with this spot." As we saw again in Boston, Merga runs to win, every time, and isn't worried about blowing up.
Keflezighi, like Hall and every elite we saw and talked to, was gracious and positive after the race. Sporting black supportive tape on his knee that helped him during the race, Keflezighi came within seconds of his career-best marathon time despite slowing significantly in the final miles. He recognized the amazing performance by Cheruiyot. Courtesy of Race Results Weekly and David Monti we got this quote: "I talked to Robert and he ran a phenomenal race," Keflezighi said, clearly impressed by Cheruiyot's time. "Wow," he added. "Wow" was the word of the day in Boston as a new Cheruiyot skipped tradition and 2:06 in an awe-inspiring performance.
---
Runner's World &
Running Times



Combined Only $22
a Year
Save $87

---

Running & Track and Field Posters
---


More Nice Offers: Nike Lunar Glide Savings Super popular shoe from Nike featuring Flywire and Lunar Foam

*Nike Air Max Moto Sale $69.99 for this shoe from our partner.
---