Houston: *Results *LRC: Houston Photo Gallery via photorun.net
*Meb Is Back The forgotten man in American distance running, the American 10k record holder, Meb Keflezighi, showed he may still have some bright days in front of him with the 10 second win over Dathan Ritzenhein in Houston.
Full Marathon: Texas Record For Deriba Merga
Merga was 4th place at the Olympics and Houston stepped up its big game in paying to get him. They were rewarded with a 2:07:53 Texas Record. Teyba Erkesso got the women's course record in 2:24:18.
Pre-Race:
US Half Marathon Champs: After Disappointing 2008, Meb Keflezighi Pumped To Race As Brian Sell Says Meb & Ritz Could Challenge Hall's ARecord Meb: "I've been waiting for this day, and this day has finally arrived." As for beating Hall's American Record, we say, "No way."
*In Shift, Dathan Ritzenhein Opening Season On Roads At Houston Half Marathon David Monti's profile piece is full of useful info. Ritz is going to run Houston and then hopefully defend his title at US Cross before starting his London preparations. Meanwhile two former fatties are garnering all the mainstream media attention.
*Message Board: Meb or Ritz at Houston?
*Message Board: Houston Half-Marathon Championships
Full Marathon:Deriba Merga Going For Course And N. American Records On Sunday!!! If he runs 2:05 in Houston, it will without a doubt be one of the greatest performances in history. He'll be challenged by 3-time winner David Cheruiyot.
*LRC Approved: Houston Marathon Prediction Contest
*IAAF Preview Of Race
*4 Team USA Minnesota Members Running In Houston On Sunday
*Article On Crazy Marathoning Couple That Has Raced In Antartica
Obama Mania Hits Kenya
Pamela Jelimo Part Of Kenyan Delegation To Inauguration
Travis Padgett To Make Indoor Pro Debut At Millrose

Preview Of Sunday's Standard Chartered Mumbai Marathon - The next to last event in Greatest Race on Earth series.

Former Villanova Track Star Patrick Traynor Dies Of Heart Attack The most outstanding male athlete of the 1962 Penn Relays was also the AAU steeplechase champion in 1962 and 1963 as well as the AAU cross-country champ in 1963. *Message Board: Recall Your Traynor Memories Here
Remorseful Meth Addict Who Slammed HS Hood-To-Coast Runner With Car Gets 5 Years In Prison The victim suffered a stroke as a result.
Bernard Lagat To Run 3k In Stuttgart On Feb. 7th It's the week after Millrose.
2009's Fastest Miler Andrew Baddeley To Defend New Balance Crown At The Armory on January 24th. He'll face a great international field that includes Blincoe, Myers and others.
Oscar Pistorius In Awesome Shape Hoping To End 2009 At World Champs He's lost a lot of weight.
Torino Leaving No Stones Unturned Getting Ready For European Indoors We must admit the stadium looks sweet.
Sergey Lebid And Hilda Kibet Named European Athletes Of Month

Günther Weidlinger Looking For History At Vienna Marathon Don't know Weidlinger? He is the guy that is most famous for his terrible, terrible steeple fall at worlds in 2007. In reality, he's a studly runner with PRs of 3:34, 8:10 (steeple), 13:13, 27:36 and 61:42 - all of them national records. If he runs faster than 2:12:22, he'll be the only guy we know of with every national record from the 1,500m through the marathon including the steeple. Do you know of anyone who has every national record from 1,500m through marathon? *Vienna Marathon Press Release On Weidlinger
Emily Brown Feeling Confident She'll Be Better Than Ever After 3-Race Junket She's healthy and running well once again.
Catching Up With Abebe Dinkesa After His Impressive Win In Edinburgh The guy's win shouldn't have been viewed as such a big upset as he's a 26:30 10ker. Now that he's finally healthy, he's aiming for World Cross-Country and his marathon debut this spring.
Famed Kenyan Armed Forces XC Meet Takes Place This Saturday

Kelly Sotherton Pumped By van Commenee's Return
Angered By Silver, Phillips Idowu Is Living 115 Miles Away From Family/GF Looking For Gold

LRC: The Week That Was While we focus on the Re-Design Contest, we have a secret guest writer recap the week for us. From BUPA XC to Liu Xiang to John McDonnell losing two titles, we've got you covered. We even jump on the bandwagon and give a thumbs down to the economy.
This Week's Sign Of The Apocalypse
Justin Gatlin Celebrated As Youth Role Model In Florida We find it embarrassing that parents let their children line up and get autographs at a youth race. We guess they want them to grow up to be thieves. How about this quote from the organizer?: "The impact he has on kids, it's fantastic. I'm thrilled that was he was able to be here for this. It's just an incredible donation of time."
Justin Gatlin Is Talking About A 2010 Comeback
Kenyan Coach Julius Kirwa Excited About Kenya Women's Chances At World XC Thanks to Florence Kiplagat, Linet Masai and Pauline Korikwiang, the coach thinks the Kenyan women can win for the first time in over a decade.
Here's a novel idea
To Save Its Other Sports - Western Washington Cancels Its Football Program
*Official WWU Statement
*Western Prof Gives President Cheers For Dropping Football

Former UT Star Kamiel Maase Retires He's certainly one of the fastest runners to ever come out of the NCAA (and one of the fastest white guys in history). His PBs of 13:13.06, 27:26.29 and 2:08:21 are all Dutch records and compare favorably to someone like Alan Culpepper.
Team Cook With New Members Leonel Manzano And Jessie Carlin Is Training In Mexico And Shannon Rowbury Is Blogging About It
Christine Ohuruogu Faces Tricky $1m Question The article acts like she faces a difficult dilemma - go for the Golden League jackpot or focus on the world champs? In our minds, it's not an issue as she's not good enough to win the Golden League jackpot. If she does, we'll give $1,000 to charity. *Ohuruogu Gives Thinly-Veiled Message To Sanya Richards: "The World Championships are more important to me than money." An interesting article that talks about how Richards' Myspace page trashes Ohuruogu.
Heptathlete / Long Jumper Beauty Queen?
Klüft Will Only Run 60m This Winter She's recovering from a stress fracture and thus will be paid a lot to run an event she's not good at.
Ethiopia's World Youth 3000m Steeplechase Comeback Highlights Ethiopian Short And Middle Distance Championships Legesse Lemiso is back after an injury-plagued 2008.
Interviews And Profiles
*Interview With Britain Sprint Star Harry Aikines-Aryeetey
*The Awesome Training Regimen Of Britain's Goldie Sayers Sayers won 4th at the Olympics in the javelin.
*Brief Chat With Hansons' Luke Humphrey RW
*Atsushi Fujita Is Back On The Right Track JRN
*Update On Japanese Star Mizuki Noguchi JRN
*Q&A With ASU Thrower Ryan Whiting PAC-10
42 Down To 40
*Arkansas Vacates Two NCAA Track Titles Due To NCAA Ruling On Tyson Gay They were unsure how many points they needed to give up due to Gay's ineligibility - all of his relay points or just 1/4th. *2nd Article On Arkansas With Quotes From McDonnell
2009 USATF National Road Championships Running Circuit Announced Only in our sport can you pony up $10,000 to host a US Championship. We should start hosting them ourselves. We were thinking the minimum should be $50,000. Problem is there then would be 1 US Championship a year (the marathon).
Coaching Advice Of The Century
"There has never been a distance runner who has reached the highest level without training twice a day." The quote is from the great Steve Moneghetti and is from an article on Australian 10k champ Lara Tamsett, who trains once a day. Tamsett, however, seems like she has a great future and we think a ton of people on Letsrun could learn from her training advice. She seems to understand what training is about: "I don't like to push my body to the limits in training. Every now and then I'll put it on the line in a rep but mostly I'll save it for competition. It's more important to be a better racer than a trainer."
Interview With 1968 Olympian Van Nelson Who Beat Kip Keino: "I had to get on with my life. I couldn't be running all the time."
Lauren Fleshman Recovering From Olympic Trials Heartbreak And Navicular Stress Fracture
Home Depot Immediately Ends Sponsorship Of US Olympians Sad news indeed.
Christian Smith, 2008 800 Meter Olympian, To Leave OTC Elite *LRC Thread
Clash Of Titans In Bupa Edinburgh XC Meet Saturday Zersaney Tadesse, Eliud Kipchoge, Sergey Lebid, Augustine Choge and Boniface Kiprop! Bekele is out with injury. On the women's side, Stephanie Twell, Mestawet Tufa, Vivian Cheruyiot and Linet Masai will battle. A great field!
Male Eating Disorders Apparently Are On The Rise Get on the Bolt, Webb and Wejo diet.
Interview With Sub-15 5k Runner Lauren Fleshman
UKA Decides To Keep XC Teams At Home For Pre-Worlds Training Camp Apparently they had a team of physiological experts evaluate what location is best for a 1-week training camp. We thought they were concerned with excess expenditures of money.
Geb Set To Chase Another Marathon World Record On Friday, January 16th, 35-year-old Haile G will run the Standard Chartered Dubai Marathon. It is hard to believe that The Emperor is already set to tackle another world-record paced marathon. Seems like just a couple of months ago he was running 2:03:59 in Berlin, but time has flown and he's ready for another crack. Geb says he's fitter than he was last year when he ran the first half in Dubai in 1:01:27 en route to 2:04:53 (#2 all-time performance at that point). He said after Berlin that sub-2:03 was possible.
Deriba Merga Commits To Run 2009 Chevron Houston Marathon Merga's name adds real credibility to the marathon after he finished 4th in the 2008 Olympic marathon. He'll face 3-time Houston winner David Cheruyiot. The top woman is expected to be marathon debutante and 10-mile world record holder Teyba Erkesso (ETH, 51:44 from 2007 Cherry Blossom).

XC The Way It Would Be In The Olympics
*Eliud Kipchoge Holds Off Big Names Lebid And Soi In XC Snowstorm 2008 Olympic silver medalist at 5k, Kipchoge could only hold off Lebid by 2 seconds, while bronze medalist Edwin Soi was back in 5th. Recommended Click: Check Out These Sweet Photos

Racing Results
*British Miler Andy Baddeley Runs 14:23 In Low Key 5k
*More Baddeley Baddeley, 2008's Fastest Miler, Has Extensive Cross-Country Schedule Lined Up Plans to race in New Zealand, Australia, US and Amman. Hard to believe Baddeley and Alan Webb have run world-leading times the last 2 years.
Chats With Track & Field Icons
*Interview With Heptathlon WR Holder Jackie Joyner-Kersee
*Texas A&M Coach Pat Henry Excited For 2009 Indoor Season In New Track Center
*Brief Chat With Fan Favorite Pete Gilmore
*One We Missed: A Sara Hall Blog Entry From Zambia
LRC: The Week That Was
We keep to our New Year's resolution of recapping all 52 weeks of the year. We give you the rundown on Japanese Ekiden mania, New Year's races galore, and tell you why Oregon doesn't get every recruit in the nation. And we even make fun of Ohio State for coming up short each year around this time.
Fields For 2009 Men's & Women's USA Half Marathon Championships A great start to the New Year with Ritz, Meb, and Brian Sell going head to head to head.
More Houston: Deriba Merga Commits To Run 2009 Houston Marathon Merga has run 2:06, was 4th at the Olympics, and is a great pickup for Houston.
Steve Roush, The USOC Chief Of Sports Performance, Resigns USA Today He apparently got in some trouble for telling the cyclists who wore the stupid black masks in Beijing to apologize. We applaud the guy.
PRRO Circuit Eases Bonus Purse Eligibility Rules: One Win Automatically Puts You Into Bonus Contention
Extensive 2009 Hakone Ekiden Review The New Year's race is Japan's most important professional Ekiden and this year's was perhaps the best one ever. Our apologies. We were confusing the race with the professional New Year's Ekiden. The Hakone is just technically the Japanese Eastern Collegiate Champs but it is a huge, huge deal (national television for two straight days) and comes one day after the New Year's Ekiden which is the Super Bowl of Japanese professional running (and where David Monti reports the top 3 runners all ran for 8.3km a total time faster than the 8k world record). So 3 straight days of running on national television in Japan. Brett Larner explains more on the history here.
HS News: Zach Torres' Dive At Foot Lockers Got Him All-American Status "For me, getting to the national championships and getting to run in that race and getting treated like I did ... it just blew my mind." And the dive likely was the photo of the year on letsrun.com. In case you were gone over the holidays, here are the LetsRun.com 2008 Photo Archives and 2008 LetsRun.com Homepage Archives.
Colette Falsey, 9th Placer At Illinois State Meet, Overcame Battle With Leukemia
Almost A High Schooler: Linet Masai, Rising Star, Is Moses Masai's Sister
1996 NCAA Champ And Collegiate 800 Record Holder Julius Achon Getting Married In Uganda On Saturday And The Stars Like Ismael Ahmed Will Be There In case you aren't familiar with Achon's life story, it is a a remarkable one. From child soldier to NCAA champ and record holder to pacer/assistant for the Nike Oregon Project. In August, we apparently missed a great profile on his life which we now recommend that you read. Recommended Read: Profile Of Julius Achon He supports 11 orphans on his $20,000 stipend from Nike and other sources. *Support his charity here.
Asafa Powell To Open Season With 400m Race On Jan. 31 He did the same thing last year and only ran 48.7.
Edwin Soi And Sergiy Lebid To Have Rematch Of Last Year's Epic XC Duel On Wednesday In Italy
Reno Vault Summit Recap And Results Former Binghamton star & NCAA champ Rory Quiller 2nd on men's side.
Huge Upset On Men's Side Of Xiamen Marathon
NCAA-Related News
Recommended Read: Another Great Interview With John McDonnell
*Interview With Ohio State Miler Jeff See
*Trevor Dunbar Discusses His College Decision With The Oregonian Dunbar's mom went to Portland, he likes the coach and, unlike the Oregon Ducks, the Pilots offered up some dough! Trevor Dunbar To Portland *Dunbar Thread
One of our favorite 2008 Stories: Stephanie Brown Trafton Missed The 2004 Olympic Team And Returned Golden In 2008
Bill Livingston Writes About Reno's National Pole Vault Summit Good piece about Track and Field's high fliers truly in their element.
William Sichel's Goal: 600 Miles In 6 Days
*Time for your daily running history lesson. Today's topic? Victorian-Era Pedestrianism!
IAAF's Golden League 2008 Review
We hope he's OK:
*Double Silver Medalist Richard Thompson Involved In Car Accident
*Thompson Just Voted Trinidad & Tobago's Sportsman Of The Year
We Agree: Get Ready for a Great 2009
10 Things To Watch In Athletics (From A UK Perspective)

Track & Field News 2008 World Rankings
*Men's Event-By-Event Leaders
*Women's Event-By-Event Leaders
*Women's Athlete of Year: Dibaba
*Men's Athlete Of Year: Bolt

Blackballed Into Retirement?
Drug Cheat Dwain Chambers Admits He Might Retire Due To Financial Pressure Britain's sprint star has been banned by 51 top European meets, so it's going to be hard for him to make a living. He currently is being supported by a lady friend. "I'm able to continue competing as long as my lady is still in a job. I have no one other than Leonie supporting me."

Usain Bolt Beats Michael Phelps Again & Is Honored As La Gazzetta dello Sport's Athlete Of Year He tells the Italian paper his coach has told him 9.58 and sub-19 are possible.
2008 IAAF Grand Prix Review Part Deux

Great Thread Resurfaces: Exxx-Duck, malmo and "Old School Oregon training week"
Sad News: A great athlete you may have never heard of passes at 70
Sid Purkis Dies Of Cancer; Ran 1:48 And :48 In 1961
108 World Records Too Late: World Swimming Org To Discuss Swimsuit Rules Imagine if the Zoom Victory led to 100 new World Records in track.
*US Sports Academy Votes Phelps Male Athlete Of The Year ... Bolt 3rd
If she keeps fibbing, Santa might keep her on the naughty list Video: Marion Jones Continues To Deny Knowingly Using Drugs On National Television
USATF CEO Doug Logan Grades Himself On Performance In 2008
LRC The Week That Was As the year nears its end, we decided to focus our attention on our year-end review which will start on Xmas. As a result, we recap the week that was in a single sentence.
Two Young Women's Track Stars Of The Future
*Nadonnia Rodrigues Is The US 400m Star Of The Future And Brooklyn's Athlete Of The Year
*Morgan Uceny Had A Great 2008, Currently Dealing With Knee Injury
UK Athletics Poaching Track Coaches From Around The World
Canada's Kevin Tyler Appointed Coaching Director Of UK Athletics
USATF Changes World
Junior
Youth Qualifying
Indianapolis Track That Hosted Olympic Trials, Nationals To Be Destroyed The track saw a lot of great memories, including Flojo's 10.49. We just looked this run up on Wikipedia to double check it was in Indy and it was. Then we found out it was in the quarterfinals. Are you kidding? It immediately should be scrapped from the books. That's all the evidence we need. Then we saw a video of it. She doesn't react like someone who thinks they just smashed the world record.
On the boards: Discuss Flojo's Run
*Track stadium in Indy slated to be demolished
Blog: Should USATF Leave Indianapolis For NYC?
USATF To Allow Headphones In Non-Championship Races
Jim Hage's Running Column In Washington Post Gets The Ax We're sorry to see it go.
On the boards: Which cities still have weekly running columns in the newspaper?
Map Of Haile G's World Record Marathon With Splits
New LRC Usain Bolt Boston Celtics Photo Gallery
The world's fastest man was in Boston Friday night with front row seats at the Celtics game. LetsRun.com was on hand as the Celtics won their 17th straight, and Bolt got the lead in the associated press recap of the game: "After racing within a game of tying a team winning streak, the Boston Celtics were all abuzz -- with talk of a famous face in the front row. Olympic gold medalist sprinter Usain Bolt watched as the defending NBA champs won their 17th straight and improved to 25-2 with a 125-108 victory over Chicago on Friday night."

End-Of-Year Looks Continue
*Kenya: Kenya's Track Women Finally Come Of Age 2008 certainly will be remembered as the coming of age of the Kenyan women as they got their first-ever Olympic golds.
*Britian: Usain Bolt Is Michael Johnson's Athlete Of The Year Johnson writes a good piece and also gives his theory on why Bolt celebrated in the middle of the 100m.
*USA: Running USA's Ryan Lamppa's 10 Best Moments In US Distance Running In 2008 Ryan Hall's 2:06:17 or Shalane Flanagan's bronze? Which is #1?
*Britian: The 20 Best Sports Pics From The UK Include One Great One Of Usain Bolt
*IAAF: Combined Events Year-End Review
Nice IAAF Profile Of Falk Cierpinski Is Ruined By Fact There Is No Mention Of His Father's Drug Usage Falk's story is an interesting one, but any story in 2008 should talk about how his father was really a drug cheat who won two Olympic golds.
Berhane Adere And H. Gebrselassie To Defend Dubai Marathon Titles On Jan. 19th
LRC: Foot Locker Prediction Contest Results The computer has done its calculations and it should have done them sooner. LetsRun.com's Wejo comes in 2nd place in the unofficial men's results.
Foot Locker Nationals Turns 30 In Historic Fashion
*Girls' Results *Boys' Results *New Foot Locker Photos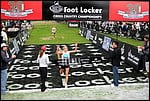 LRC Girls: Jordan Hasay Gets Bookends In Thrilling Race The girls' race featured the last three defending champs for the first time ever and it did not disappoint. Unheralded Allie McLaughlin made the race, opening up a big lead and nearly pulling a Rudy. Last year's champ Ashley Brasovan led the chase and caught McLaughlin in the last quarter mile and appeared to be on her way to victory but Hasay, who won as a freshman, was not done yet. She stormed back the final 200m to get the win to go out just like she started her high school career - on top. Read the recap above and watch this video if you want to see the *Girls' Results. *Excellent Video (no chop) of the final part of the girls race. Well worth a watch.


LRC Boys: Solomon Sails Maryland's Solomon Haile crushed the field as expected and LetsRun.com fan favorite Trevor Dunbar (the guy who ran a ~ 9 minute 3,200m on a snow-covered track) was an impressive second. Plus one of the runners drops the word "repose" in his post-race interview. *AP Recap
*Boys' Results
*Video with no choppiness
On the boards: A ton of threads on Solomon Haile's age. Maryland officials cleared him to compete after talking to officials in Ethiopia, but Wejo is curious about the excuse of having the Coptic calendar having him 21 years old (???)
LRC's World Famous Boards: Has Nike's NXN Ruined Footlocker's Nationals? *Trevor Dunbar wins Foot Locker H.S. Division *More Impressive than Hasay's win is that she has a 4.83 GPA How is this even possible?
Foot Locker PreRace:
*LetsRun.com Contenders And Pretenders Excited For Saturday's 30th Foot Locker High School XC Champs The Super Bowl of high school running is here and the contenders and pretenders are excited. The last two women's champs, Ashley Brasovan and Kathy Kroeger, and men's pre-race favorite Solomon Haile talk about the excitement in the air. Plus Haile talks about meeting his favorite runner, Ryan Hall.
LRC's Girls Preview: 30th Edition Of Foot Locker Championship Is An All-Time Classic!!! 3 Former champs will battle it out with a slew of newcomers. A truly exceptional race. The boys are definitely being overshadowed by the girls this year.
LRC's Boys Preview: Can An American Win It? FLCC is normally all about the search for the next great American distance star. Not this year.
*All 40 Runners Ranked: 2008 Foot Locker Cross-Country Prediction Contest Poll
P.F. Chang's Rock 'N' Roll Arizona Marathon & ½ Marathon. *Results
Kenyan Moses Kigen Edges Ethiopia's Tekeste Kebede In Photo Finish (2:10:36) As Josh Cox Gets US 50k Record Cox threw up a ton but hit the marathon in 2:20:32 en route to a 2:47:16.
*Women's Race: Ukranian Olena Shurkhno won in 2:31:22 as American Sally Meyerhoff finishes fifth in 2:35:52 after leading from miles 8 to 13.
Pre-Race: Michael Aish Looking To Repeat In San Diego After Olympic Snub - He won last year in an Olympic A time and NZ decided to send no one in the marathon. Embarrassing.
Lance Armstrong Finishes 64th Out Of 133 In Return To Pro Cycling
Belgian Marathon Record Holder Marleen Renders Calls It A Career at Age 40 2:23 is the record.
Pro XC Action
*Moses Kipsiro Edges Tariku Bekele In Seville
*Italian XC: Wilson Kiprop And Federica Dal Ri The Winners In Villa Lagarina Cross Country
Kenneth Mungara (2:11:51) And Haile Kebebush (2:34) Win Mumbai Marathon Titles And $31,000
Kenyan Armed Forces Championships - Old Legends Make Surprise Returns & Steal Show
Men's Race: Former World Jr. Silver Winner Vincent Kiprop Gets Armed Forces Title As Paul Tergat Steals The Show 5-time world champ Paul Tergat made a surprise return to cross-country and finished 17th in very muddy conditions. The best part - it sounds like he is maybe considering a serious return to XC action. He'll decide soon. *Tergat Impressed With How XC Has Evolved Over Last Decade - Calls For Early Start To Training Camp
*Mboard: Thread On Tergat's Return
*Another Article With Picture Of Tergat In Main Pack *Nice Picture Of Tergat After Race Here
Women's Race: Lineth Chepkurui Romps To 31-Second Win As Sally Barsosio Returns Barsosio, the 1997 World 10k champion, was 3rd on the women's side and appears to be making a strong comeback in her first race since 2006. 5-time world champ Paul Tergat was 17th.

UW Opener *Race Videos Here
*Galen Rupp Works On Speed And Runs 1:51/4:10 Double At UW (oversized track) He got the win the mile, beating Tim Bayley and Steve Sherer.
*Kara Goucher Runs 4:39/9:03 Double
Video:*Galen Rupp Talking About Opening Season In 800 And Mile
Unbelievable - Yet Another Greek Gold Medallist Tests Positive This time it's the 20km race walk winner from 2004.

Ramaala Wins Half In South Africa And Says London Preparations Are Going Well
*Ramaala Learned From Last Year's Mistake When He Got Nipped At Line/

*Andrew Springer Runs 4:10 HS Leading Mile
Domestic Track Series To Kick Off In South Africa Next Friday
World Indoor 60m Champ And African Record Holder at 100m Olusoji Fasuba Loves Nigeria But Would Consider Switching Nationalities To Achieve Dreams

Reebok Boston Is Gonna Be Good On Feb 7th
*Nick Willis - Alan Webb Gonna Clash In Men's Mile One is coming off a dream season and the other a nightmare.
*Meet Adds 5k To Schedule So Shalene Flanagan Can Run 1st-Ever Indoor 5k In Front Of Hometown Fans
*MBoard: Thread On Reebok Field
Weekend XC Action
*Tariku Bekele Leads Star Studden Field In Seville
*Preview Of Sunday's XC Race In Italy

Geb Full Of Smiles After Missing Out On $1 million

Dubai Marathon
Rain/Wind Halt Geb's WRecord Attempt: Haile G Wins In 2:05:29 As Bezunesh Bekele Wins In 2:24:01
Geb hit the halfway in 1:01:45 and was on record pace until 30km when things slowed dramatically. At 32km, when the rabbits dropped out, he was still 1 second ahead of WR pace, but he was unable to do it on his own over the final 10km in the rainy conditions. Known for hating wet pavement, Geb was very pleased with his performance and considers it to be better than his 2:04:54 from last year.
*Message Board Thread On Race
*Haile's Record Attempt Was Aided By Sean Hartnett's Specially-Designed World Record TV Screen (link fixed) photo here A great idea. His screen gave running time, split kilometer times, average kilometer times, and projected half and full marathon times.
*Geb Offers Advice To Bankers Suffering Stress From Global Financial Crisis: "They should run."
*Geb Thinks It's Possible Down The Road He Could Run 2:02:59 But Most Likely 2:03:20-30
Meanwhile Lots of News About Sammy Wanjiru
*Sammy Wanjiru To Try To Bring World Record Back To Kenya At Berlin Marathon In Sept. It wouldn't surprise us to see him get in London.
*Sammy Wanjiru Has Gotten Fat He's looking to lose 2kgs before Dubai half in March.
Drug News
*Jeff Novitskey Now Involved In Roger Clemens Case Novitskey normally equals jail. *Video: Clemens' Former Trainer Expects Him To Go To Jail For Perjury
*Gail Devers Agrees With Tenet #1 Of LRC Constitution - Ban Steroid Cheats For Life

Weird Article: List Of Prominent Olympians Who Turn 50, 60, 70 and 80 This Year
Scott Bauhs, Amy Hastings, Anna Willard And Jon Pierce Join Team Running USA

Nice Profile: Dartmouth's 1st Sub-4 Miler Ben True Chooses Pro Running Over Pro Skiing The guy is finishing up at Dartmouth this winter and for the 1st time he's doing both skiing and running at the same time. *Message Board Thread On True
A Brief Chat With Steve Scott Scott talks in anticipation of him being honored at the 100th Drake Relays in April.

The World's Richest Half Marathon Is Shaping Up Nicely For February
NEW YEAR - NEW RECORDS BECKON AT 3RD RAK HALF MARATHON
Jan 31st: "Big Three" Showdown In Men's Shot Put At 2009 Millrose Games Cantwell, Hoffa and Nelson always put on a great show for the fans.

Deena Kastor Updates Journal "From the high of the Olympic Trials to the low of the Olympic Games I look forward to a greater and more consistent 2009."

IAAF Watching Closely Conflict In Middle East As World XC Is In Jordan

Steve Cram: "Athletic success can come down to sheer bloody-mindedness and I think Steph Twell's got it."

He Truly Touched People Across The Globe
Ryan Shay Cross-Country Classic To Be Held This Sunday - In France! Unbelievable.
Magdalena Lewy Pulls A Wejo "Flagstaff is an amazing place to train."
Kenya Getting Ready For Their Version Of The ESPYs

Athletics Kenya Wants All Foreign Coaches To Be Sanctioned Before Working In Country

Former FSU Star Andrew Lemoncello Is Ditching Steeplechase To Go For Marathon In 2012 The European bronze medallist didn't get out of the heats in Beijing and realizes the steeple is too short of an event for him.

Big Winds Slow Times At Egmond Half Marathon You know it's really windy when a Kenyan wins in 65:46. The race also served as the last for former UT longhorn Kamiel Maase.

He's Certainly The Favorite For World XC Juniors
Reigning World Junior Cross-Country Silver Medallist Ayele Abshero Crushes Last Two Senior World Silver Medallists Mosop And Komon In Spain
26-Year-Old German Mid-D Star (1:44.14 PB) René Herms Found Dead A heart ailment is suspected but we're sure in this day and age people will speculate about drug use.

Of Mice And Marathons
Brazilian Who Has Tattoo Of Mickey Mouse On Each Leg Wins Disney Marathon For 6th Time Wearing A Goofy Hat
*Article That Mentions Tattoos
*Article In Spanish On Bastos For Those Of You Who Don't Read English
*MBoard: Thread On Crazy Brazilian

*Abraham Chebii Is Back - Kenyan XC From Kip Keino's Farm
*Trifecta: Pauline Korikwiang Takes Final Kenyan XC Installment

*Dwain Chambers Barred From Another Meet
*Steroids In High School? Apparently Not In Texas 4 positives out of 10,000 tests of high schoolers in Texas has testing and spending critics up in arms.

Britain To Prepare For World XC Instead Of Camp In Cyprus The temps in Jordan won't be too hot apparently.

In case you missed it yesterday
*Double Olympic Champ To Race Reebok Boston On Feb. 7th
*Kaki And Dibaba To Go For World Records On Feb. 7th In Stuttgart

LetsRun.com 2008 Foot Locker Prediction Contest Recap
LetsRun.com 2008 NCAA XC Prediction Contest Recap
Wejo recaps the LRC NCAA XC and Foot Locker prediction contests. The winners included a Brooks Hansons runner, a high school national champ, and others whose stories won't disappoint. Check your scores and see how you stacked up.
Drug News: Other Sports Finally Getting Hit Hard
*13 Players And Coaches On Cyprus Soccer Team Banned For 'Roids *LRC Cyprus Thread *Drug Testers Become More Prepared, Have Tests Ready Before Products Hit The Market *Ken Burns' 10th Baseball Documentary Focused Mainly On Steroid-Enhanced Records
Jackson Kipkoech Runs 2:08 To Win Marathon In Israel Unbelievable. Relative unknown Kenyan runs 2:08 in war zone.
Olympic Games Don't Beat Recession As China's Visitors Fall Travel to China fell for the first time since SARS hit.
Liu Xiang In The News
China's most high-profile athlete is recovering in the United States following surgery to repair his famously-ailing Achilles tendon. Liu's coach came out and stated that he will not compete at outdoor worlds unless he runs 13.20 before the Berlin meet. We found two other interesting bits of news on Liu Xiang, one a video (apparently a Coke commercial) of Houston Rockets and NBA star Yao Ming visiting Liu in his temporary home in Houston and the other an interview with Liu Xuegen, Xiang's father.
*Liu Xiang Will Skip Berlin Worlds Unless Able To Run 13.20
*Coke Ad Where Yao Ming Stops By To See Rehabbing Liu Xiang
*Liu Xiang To Father: "I will get stronger."
UPDATE: Eugene On Short List For Possible Golden League Expansion Sites The Prefontaine Classic is one of a handful of meets the IAAF is considering elevating to Golden League status. Sounds exciting, and it would be great to have more big, international meets on US soil. But we're not sure how realistic this is because the Pre meet is a late spring meet, plus it's like a 12-hour flight from Europe, so how many big stars are really going to be expected to show up? We guess they'll show up if the price is right. Story to be continued ...
Golden League May Expand To 12, But Current Meet Directors Quietly Seem To Express Some Misgivings Apparently if there is any dispute it is all about one thing - who controls the television money.
*London In The Running For 2010 Golden League Meet BBC
Great XC Action This Weekend:
*Stephanie Twell And Paula Radcliffe Comparison Increasing In Advance Of This Weekend's BUPA Edinburgh XC
*Twell To Face Tough Test At Bupa Great Edinburgh International Cross-Country sport.scotsman.com
*Miler Andrew Baddeley Out To Defend His 4k Crown In Edinburgh
21-Year-Old Dayron Robles Envisions Perfect Indoor Season And World 60m Hurdles Record
Belarusian Hammer Throwing Cheats Appealing Testosterone Suspensions
Zürich May Be Dropped from Golden League Hard to believe as many regard it as the top meet in the world. Maybe it doesn't need the Golden League.
Additions To Salazar's Group: Arianna Lambie And Joaquin Chapa
Brief Chat With Kara Goucher After The ING NYC Marathon
A Great Profile Of 2008 Olympic Heptathlon Champion Natalya Dobrynska IAAF
A Star In the Making?
Eritrea's Samuel Tsegay Shockingly Dominates Spanish XC The Eritrean, who was 4th in the world junior 10k in 2006, dominated the 4th placer in the 10k from the Olympics, Moses Masai, from start to finish. Linet Masai got the women's win.

More On Steph Twell's Debut Win As Senior On the men's side, former FSU Seminole Andrew Lemoncello was 3rd behind Boniface Kiprop, who surprisingly was beaten.
*American Emily Brown Was 4th In Ireland Behind Twell Good to see she's back healthy and racing.
29 Years Later, BUPA Great North Run Is Still The Greatest The race is so great it gets publicity in January when it doesn't take place until September.
Hakone Ekiden Final Results And Recap: 1st Win For Toyo!
Toyo U. Rides Big First Day To Hakone Victory
*Video Highlight Of 2009 Hakone Ekiden
Scintillating First Day Of Hakone Ekiden Surprise Toyo Univ. leads team race. Japan Running News' Brett Larner recaps an amazing first day of action at Japan's biggest sporting event, the Hakone Ekiden. The final leg, 23.4km with 800+ meters elevation gain, was won in 1:17, one of 4 records set on the day. *Hakone Ekiden Video Highlights
Glen Mills Has Found 3 Things To Fix In Bolt's Start For Next Season
Saturday International Action
*Twell And Boniface Kiprop Highlight Saturday XC In Antrim, Ireland
*More Saturday Action: China's Xiamen International Marathon
*Reigning Champion Kiroptich Faces Tough Field In Xiamen
Tadesse Tola Trounces 10k Field In Madrid
Tola Wins Madrid 10k Blazing First Half In 13:36, Morocco's Goumri Only 9th
Kwambai Rings In 2009 With Another Superb Performance As Kenyans Roll Kwambai ran 2:05:36 in Dubai in '08.
Strange, strange, strange: Indian 800m Runner Who Failed Sex Test Is Now Content Coaching
Track and Field Goes 2 for 2!
Bolt Narrowly Voted Sportsman Of The Year By International Media - Isinbayeva Is Sportswoman Of The Year Bolt edged Michael Phelps on men's side and 800m sensation Pamela Jelimo was a distant 2nd on women's side. Seems like a fitting ending to a great year in track and field.
Global New Year's Eve/New Year's Day Race Results
*NYC Quigley Takes Down Olinger At Emerald Nuts Midnight Run Through Central Park *Emerald Nuts Thread
*Italy Edwin Soi Over Lebid, Gharib And Baldini In Bolzano, Galkina Samitova Takes Women's 5k
*Japan Fujitsu Wins New Year Ekiden - Results and Recap
*Brazil Kwambai And Yimer Win In Sao Paolo
*Portugal Merga And Felix Win In Amadora
British Press: Let's Turn The UK Athletics Ship Around It's not nearly as easy to dominate the world in track as it is in sailing and rowing.
Once A Runner Re-Released *LRC Thread
11 Bulgarian Weighlifters Tested Positive Before Olympics
DRUGS: Bulgarian Champion Sprinter Tezzhan Naimova Earns Two-Year Drug Ban
Olympian Tezzhan Naimova is a big name in Bulgaria, but now has become infamous after admitting guilt for manipulating her urine samples just as a large group of Russian women were. She won the World Junior Championship 100m and 200m in 2006. Enough is enough; the IAAF should get the urine manipulators - perhaps the most audacious cheats of all - out of the sport for good.
*Three Bulgarians Test Positive, Receive 2-Year Bans
*Top Bulgarian Sprinter Drug Cheat Naimova's Stats
*Message Board Thread
The Kenyan XC Trials Are Approaching
*Competition For World XC Spots Will Be Extra Tough This Year Thanks To IAAF Rule Changes Only six competitors are allowed per race; kind of sad to see the numbers cut down on the men's side.
*Coach Julius Kirwa Thinks Team Will Be Better In '09 Than '08 No post-election violence this year, plus a lot of junior studs are moving up to the senior ranks.
British News:
The Big Female Hope
Stephanie Twell Honored By Radcliffe Comparisons And Excited To Move Up To Senior Ranks She almost made the Olympic final as a teenager.
*Twell Facing American Emily Brown And Plenty Of Tough African Competition On Saturday In Antrim, Ireland Boniface Kiprop leads the men's field.
The Big Male Hope
Ian Stewart And UK Placing Their Distance Hopes On Mo Farah's Shoulders
Christine Ohuruogu Honored As MBE As Other Athletes Get Bigger Honors Triple Gold Medallist Chris Hoy was knighted.

Avoid The Seven Deadly Sins Of Running Technique
A Bona Fide Star: Everyone's Excited For Jelimo's Indoor Debut
Team Discovery LETSRUN?
One we missed (but you guys didn't!) and came across today: 2 relatively untrained Kenyans cycled Alpe d'Huez in August (in sick times). It would be fascinating to see Kenyans and Ethiopians emerge on the European cycling scene in 2009.
*Kenyan Cyclists On The Way
*More On Kenyan Cyclists Zakayo Nderi And Samwel Mwangi
*Results Of The Kenyans' Alpe d'Huez Time Trial
LRC Thread From August: Kenyans on Bikes
Olinger And Dobriskey To Run Emerald's Midnight Run In Central Park
Italy's New Year's Eve BOClassic Preview
*2008 IAAF Grand Prix Review
*2008 Sprints Review It was an amazing year in the sprints and the IAAF does a great job of placing 2008 in proper historical perspective. Times were certainly fast, but rather than the whole world getting faster, the time drops came mostly from the tiny nation of Jamaica. More from '08: Bolt's 100m Is The Independent's 5th Greatest Moment Of The Year
Catch Up With Two American Track Stars
*Scott Bush Interviews Khadevis Robinson Almost the quote of the day from the best interview in track, KD: "Have I bounced back? Bounced back from what? I was never down." He was .06 seconds from making the Olympics.
*Extensive Profile Of Golden USA Hurdler Dawn Harper
Tour The House That 26 World Records Built - Haile G's Mansion
Recommended Read: Extensive Preview Of Japan's Biggest Sporting Event - The 85th Hakone Ekiden Most letsrun.com visitors don't realize how big this Ekiden (and many others) are in Japan. Live national television for hours.
*The History Of Hakone Ekiden
Thanks To Russian Sting, Reuters Says 2008 Was A Good Year For Drug Testers In addition to the sting, a test for CERA came out and it was a pretty good year on the anti-doping front. This article is a recommended read for sure.
Usain Bolt News
*Bolt Honored As L'Equipe's Athlete Of Year Phelps 2nd, Nadal 3rd.
*British Sprinter Tyrone Edgar With His 10.06 PB Says Usain Bolt Can Be Beaten
*Usain Bolt Starts Own Clothing Line Bolt's clothing line can be found here at Sun Island Jamaica Limited. We'd love to know what PUMA thinks of it all.
Athletes 1 - Athletics Kenya 0
Athletics Kenya Backtracks On Making Athletes Run 4 of 7 Domestic XC Races To Be Eligible For World XC
Gregory Konchellah, aka Youssef Saad Kamel, Counting His Losses & Getting Ready For Indoors. He hopes to compete for Kenya at Worlds. All we can say is don't count on it.
Athletics Kenya Using Death In Brazil As Good Reason To Reign In Rogue Managers We certainly think there are rogue managers but we also imagine AK will want a cut of the $$$ as well.
LetsRun.com Boston 08 LetsRun.com Party Photos The party hosted by Puma was a smashing success. A packed house, as those passionate about running (from ages 5 to 65+) came to celebrate a great weekend in Boston. LetsRun.com fans celebrated with Rojo, Wejo, Matt Taylor, and a few legends in the sport, including former marathon world record holder Steve Jones and Olympic Silver Medallist Sonia O'Sullivan. The Harpoon beer was flowing, DJ Inkognito kept things going and contrary to popular opinion, there was a healthy mix of males and females. The reviews were excellent. "It's refreshing not to see the same 50 people (industry insiders) at a party." "Most favorable female-to-male ratio I've seen in a long time."
101 Years Old, Still Smoking, Running and Drinking: Buster Martin: "I'm not worried about the fags because I'll carry them with me. Everyone says smoking kills but it's taking a long time in my case." The 101-year-old legend plans on smoking while running Sunday's London Marathon.
LetsRun.com 2007 Worlds Coverage:
*Sunday's Homepage Ndereba marathon
*Saturday's Homepage
*Friday's Homepage Tyson Gay
*Thursday's Homepage Lagat
*Wednesday's Homepage Lagat
*Tuesday's Homepage Bekele 10k
*Monday's Homepage Tyson Gay
*Sunday's Homepage Dibaba/Goucher 10k
*Saturday's Homepage Kibet Marathon
LetsRun.com London Men: Lel Leads 3 Under 2:05:30!!!, Ryan Hall 2:06:17
Ryan Hall Goes Through Halfway on World Record Pace
The 2008 Flora London Marathon will be remembered for a long time. The lead pack of 9 went through 5k at 14:21 (2:01 pace). They continued together (yes, all 9) through halfway on world record pace (1:02:13). Ryan Hall then went to the front soon after and asked the pacemakers to go FASTER. Soon Hall was off the back, but he would catch the leaders briefly again and go on to run 2:06:17. Until Sunday, only 7 guys had ever run under 2:06:15, now 11 have. Up front, it came down to a 3-man battle over the final mile before Martin Lel got his 3rd straight World Marathon Major win over the final quarter mile as he led 6 guys under 2:07 and to $50,000 bonuses each. Recap, photos, video above
This Guy Has Totally Won Back Our Respect
Maasai Warriors Finish Marathon link fixed One of them went back to the course and finished the race a day after being forced to go the hospital after a ceremonial wrap cut off his circulation. He said, "It was very important for me to do this. This is what I came to England for."
LetsRun.com Ryan Hall Reflects On His Incredible Run We tell you (and let you watch) what Ryan, his dad, his granddad, his coach and even Martin Lel had to say about Ryan. Lel was full of praise for the American and shocked by Ryan's attempt to get the pacemakers to go even faster. If Hall didn't already have your respect, he does after reading this article, as he pays homage to a throwback type of guy - Steve Jones. Text and Video.
LetsRun.com Video: Ryan Hall Talks About His 2:06:17 at the 2008 Flora London Marathon
*More LRC London Videos Here
*Photo Gallery
LetsRun.com Rojo's Tour of China, Part 1 - Hanging Out With Usain Bolt
Rojo went to the Puma Party put on for Usain Bolt. Open bar, Chinese dancers putting on their best sorority girl imitations, and then Rojo going 1-on-1 with Bolt. Rojo actually asked Usain about moving up to the 800m. Bolt hinted the Jamaicans want him to run the 4 x 400m. More importantly, Bolt apologized for visiting Facebook instead of LetsRun.com.
2008 real,- BERLIN MARATHON - Watch Video Highlight or Race Replay *Results *Photos
Haile G. 2:03:59!!! Mititenko 4th Fastest Woman Ever Haile Gebrselassie made more history Sunday on the streets of Berlin. After going through the halfway point in 1:02:04, Haile continued to flirt with world record pace but was stalked by Boston runner-up James Kwambai. Haile threw down the gauntlet the last 7km to dispatch Kwambai and just dip under the 2:04 barrier. On the women's side, German star Irina Mikitenko ran a brilliant race, running a negative split to smash the 2:20 barrier and become the fourth fastest woman ever.
*Geb: "I can go faster."
*The Science Of Sport Analyzed Geb's Splits As The Race Unfolded link fixed
*Geb's Record in Berlin Is His 24th World Record (or 26th depending on who is counting)
*Mikitenko Moves Into Tie in World Marathon Majors Standings Gete Wami must finish 2nd or higher in New York to move ahead. If she doesn't, they will be tied (and tied in the tie-breakers) so they might share the title. *Washington Post Article on WMM
*Falk Cierpinski, son of Waldemer Cierpinski, 2:13 in Berlin
On the boards:
*Wanjiru's Olympics > Geb's WR
*Haile's Splits from Berlin ... how far could you run with him??
*Live Message Board Thread

Lance Armstrong Gives A Lengthy Interview On His Comeback And Talks About Almost Everything
From politics to doping to fearing for his safety at this year's Tour, Armstrong tells all and the best part is The Guardian has published it all.
*AP Recap of Interview: Armstrong Fears For His Safety
Column: Lance Armstrong should stay away from France
*Lance Armstrong Claims British Cycling Success Helps Prove His Innocence
2008 ING New York City Marathon *Results *Searchable Results *Video: Men's Highlight Video *Photo Gallery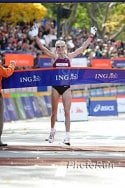 Women's Race: Paula Dominates Goucher Third
Paula Radcliffe showed why she's the best marathoner in the world as she dominated the women's field in the second half of the ING NYC Marathon. Radcliffe took a different strategy this year in NY. She led every single step of the way, but she said with the high winds her plan this year was to save something for the end and run negative splits and it showed. She poured it on the final six miles, winning by nearly two minutes. Radcliffe never looked back and said when she turned for the final quarter mile at Columbus Circle, she wasn't even positive she had the race won. American Kara Goucher ran up front for most of the race and had a successful debut in third in 2:25.53 (American debut record). Olympic silver medallist Catherine Ndereba, Dire Tune, Rita Jeptoo and Gete Wami were left in Radcliffe's wake, causing Wami to tie with Irina Mikitenko for the World Marathon title. The World Marathon Major race directors were then left to vote to break the tie. They voted for Mikitenko and just like that she got $500,000 and Wami got nothing.
*Radcliffe Doesn't Look Back En Route To 3rd Win
*Paula Destroys Top-Class Women's Field
*Mikitenko Awarded WMM Prize In Tie-Breaking Vote
*Women's Recap And Race Replays From UniversalSports.com
*Paula Post-Race Press Comments
On the boards: Wami gets nothing of World Marathon Prize while tying for spot #1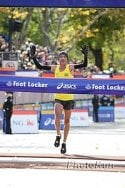 Men's Race: Marilson Gomes Dos Santos Storms From Behind To Win Coming into the 2008 ING NYC Marathon, Abderrahim Goumri had the distinction of being the top marathoner in the world who had never won a marathon (2nd in London in 2007, 3rd in London in 2:05:30 this year, and 2nd in NY last year). On Sunday in NY, he was clear of the field and on his way to what seemed to be his first marathon victory. However, savvy 2006 NY champ Marilson Gomes Dos Santos saved his best for last and stormed from behind in the final mile to overtake Goumri and get the win (afterwards Goumri said a missed fluid bottle might have caused him to run out of steam). Dos Santos ran 1:02 for the second half for a big negative split. Veteran Paul Tergat said he twisted an ankle on the course but returned to action with a fourth place finish. American Abdi Abdirahman led the American charge in 6th place as four Americans were in spots 6, 7, 8 & 10.
*Men's Recap and Race Replays From UniversalSports.com
*Gomes dos Santos Is Going To Disney To Celebrate
*NYT: New York Brazilians Say "Gomes who?"
On the boards: Nate Jenkins at NYC marathon?
LRC: The NCAAs That Were Now that the emotions have died down, we've decided to take a look back at NCAAs and analyze what it all meant. Who had the best and worst meet? Best and worst season? How good were the Oregon men? Is women's running really much less competitive than men's? We answer these questions and much more including, "How smart are the Letsrun.com visitors?"

If you can't dominate the big sports, quit and try to dominate the lesser sports
Crew & Swimming Now More Important Than Athletics In Britain The UK is trying to go for the medals regardless of sport or signficance and as a result, the once mighty Britain is giving more money to swimming and crew than athletics as athletics received a tiny decrease in funds while swimming and crew got more. *Athletics, Flagship Event Of 2012 Games, Given Slight Funding Cut *Despite Funding Cut, UK Athletics Chief Niels de Vos Is Bullish About 2012 *Athletics To Grin & Bear £1.4m Funding Cut *It Could Be Worse: Volleyball, Fencing, Handball, Table Tennis, Water Polo, Weightlifting And Wrestling Get Nothing.
Men Results: *Team *Individual LRC: *Men's Photos Almost 600 of them.
LRC: RUPP And Oregon Are Golden Galen Rupp put away the demons of the near misses and captured his first NCAA title by shadowing Liberty's Sam Chelenga for 9,600m and then outkicking him on the straight to lead Oregon to the team win. Oregon dominated the team title as Oklahoma State had a forgettable day. Super frosh German Fernandez dropped out with an achilles injury (photo of Fernandez in great pain here), while Oregon frosh Luke Puskedra was a very impressive fifth.
*USA Today Recap of Race
*On the boards: Eyewitness Account Of German Fernandez's Injury
*Chelanga's Lack Of Experience Shined Through!
*German Fernandez Has Achilles Injury
*Recap On NCAAs From Oregonian
*NCAA Post-Race Interviews: Flotrack
*NCAA Post-Race Interviews: Trackshark
Women Results: *Team *Individual LRC: *Women's Photos
Kipyego Threepeats Susan Kuijken tried to make it interesting, but in the end, Sally Kipyego was too good and she became the first woman to win 3 NCAA XC titles. The Washington women got the women's team title as expected.
Only On LetsRun : *Kipyego Is Lucky
*UW Coach Greg Metcalf Says Race Didn't Go According To Plan But Huskies Came Out On Top
*Metcalf: "We should be better next year" (scroll down in article)
*NCAA Post-Race Interviews: Flotrack
*NCAA Post-Race Interviews: Trackshark

*LRC: 2008 NCAA Men's XC Championship Preview Rupp vs. Chelanga And Oregon vs. Oklahoma State Headline A Championship For The Ages
*LRC: 2008 NCAA Women's XC Championship Preview Kipyego And Washington Chase History - Others Shoot For The Podium
Recommended Read: Rupp & Kiptoo-Biwott Friendship Fuels Oregon Success The article for the most part is a profile on Kiptoo-Biwott, who is a father figure to the team and a new father himself.
*Liberty's Preview of Race
*W. Virginia Women Hope To Respond To Bell Ringing With 1,500 Meters Left
*Terre Haute Tribune Star Preview
*Profile Of Indiana State's Scott Keeney
*Matt Centrowitz Jr. Reportedly Will Race NCAAs For Oregon *Message Board Thread on Oregon 7
*Oklahoma State Ready For NCAAs - Shooting For Win
*Recommended Read: Dick Patrick's USA Today Sam Chelanga Interview
*Great For The Sport: NCAAs To Be Shown Live In Hayward Field
*Oregon Runner Alex Kosinski Profiled By Eugene Paper
*LRC: World Famous NCAA XC Prediction Contest
More NCAA XC News:

NCAA D2 & D3 XC Nationals
D2 Scott Bauhs Gets Coveted Individual Win As Adams St. Wins Team Titles
*Men's Results *Women's Results
D3 Cortland St. Gets 1st Men's Title As Middlebury Wins Women's
*32 Page Message Board Thread