42 Down To 40: Arkansas & McDonnell Lose Two Titles
The NCAA decided finally that Arkansas must give back two track titles won back when Tyson Gay was competing for them because he received travel expenses. McDonnell summed it up best: "The 40 (championships) don't bother me; forty is plenty for me. The thing is the two that (the NCAA) took away from those kids and what they took it for - for $360 in travel. There was no academic fraud, no cheating. (The NCAA) just wanted to do it, I guess."
McDonnell's other quote was classic as well: "I'd hate to see what would happen if we did something really serious."
It's hard to not have sympathy for McDonnell on this one. 360 bucks. And if we remember correctly, Lance Brauman drove Tyson Gay, an athlete he already coached, somewhere. No one is arguing that Arkansas didn't break the rules here, but we're talking about minor violations. We're sure that some top Division I football programs bend the rules way more than this every year (Anyone remember when five years ago it was legal to fly football recruits in on private jets?). Penalizing the entire team for the minor infractions of Lance Brauman seem a bit harsh, but maybe the second place teams in those two years can provide a different perspective on the matter ... A tough call for sure as if you let $300 slide here and there you end up with big-time problems.

*UA's Appeal To Save Two National Titles Denied
*Arkansas Vacates Two NCAA Track Titles Due To NCAA Ruling On Tyson Gay They were unsure how many points they needed to give up due to Gay's ineligibility - all of his relay points or just 1/4th. *2nd Article On Arkansas With Quotes From McDonnell
Bupa Great Edinburgh International Cross-Country
Dinkesa upsets and Twell continues to impress
Edinburgh, home of last year's World Cross race provided some great action for fans in the UK. Former Great Ethiopian Run champ Abebe Dinkesa returned to form after suffering from some nagging Achilles problems. The African took advantage of the adverse weather conditions (gusts up to 50 mph!) and a tactical race to surprise super-studs Zersenay Tadese, Eliud Kipchoge and Boniface Kiprop.
The women's race provided a great story as well, as British wunderkind (and 2008 Olympian) Stephanie Twell continued to impress with her gutsy 4th-place effort. Maybe more importantly, she showed her desire to succeed, saying, "I'm not totally satisfied with fourth." We'll see how she progresses in the next few years and how she handles the pressures of the media, as she has already elicited some comparisons to Paula Radcliffe. She'll certainly have some stiff competition as her fellow 19-year-old Linet Masai from Kenya brought home the title on the day.
Sexism seems to be dying down in Kenya so Twell had better watch out because she may be hard-pressed to ever beat Masai, particularly in cross-country. Masai, the 2007 world junior cross-country champ, is 4 months younger than Twell. She could have run in the juniors last year but didn't and got the bronze at World Cross. She then followed that up with a junior world record and 4th-place showing in the Olympics (30:36.50).

In Spain, at the "66th Cross Internacional Juan Muguerza," Ayele Abshero proved to us that he is the big-time favorite for world juniors in cross-country. Abshero, who got the silver last year, crushed the last two SENIOR silver medallists in Spain in Moses Mosop and Leonard Komon.

Bupa Edinburgh XC: Linet Masai Is For Real
*Abede Dinkesa Returns To Form With Edinburgh Victory
*Twell Finds Masai Too Tough To Handle
*Twell And Masai, Both 19, Promise Great Rivalry
*Steph Twell Goes On Longest Run Ever On Sunday (98 Minutes) And Talks About Her Marathon Plans For 2020
*Brendan Foster Pumped About Twell's Chances For 2012 And Beyond Foster: "I'm 100 per cent certain that Steph, if she sticks with the 1,500m and doesn't rush too early into becoming a 5,000m runner, will come good by the time London comes around."
*Article Says Twell Has Potential To Surpass Paula Radcliffe
*IAAF Recap Of Race: Dinkesa Shocks Tadese As Linet Masai Shines In Women's And Twell Finishes 4th The guy has been injured the last few years but put on a show on Saturday.
Spain: Reigning World Junior Cross-Country Silver Medallist Ayele Abshero Crushes Last Two Senior World Silver Medallists Mosop And Komon In Spain
Golden League Changes?
IAAF officials are considering expanding the Golden League outside of Europe. They could increase the number of meets from 6 up to 12. Tracktown, USA might make a bid to become Tracktown, Earth as Eugene is being considered as a potential site along with Beijing and Doha, Qatar. On a stupider note, the inclusion of the Lusanne meet in Switzerland could mean the elimination of the Weltklasse event in Zürich, arguably the best single-day meet in the world.
More:
* Eugene On Short List For Possible Golden League Expansion Sites
*Zürich May Be Dropped from Golden League Hard to believe as many regard it as the top meet in the world. Maybe it doesn't need the Golden League.
*Golden League May Expand To 12, But Current Meet Directors Quietly Seem To Express Some Misgivings Apparently if there is any dispute it is all about one thing - who controls the television money.
*London In The Running For 2010 Golden League Meet BBC
*MBoard: NYC is better location for Golden League than Eugene
Liu Xiang Not Recovering Quickly
Liu Xiang will not run in the World Championships this summer unless he is in shape to run under 13.20. The former Olympic and World Champion will concentrate on recovering and does not want to damage his confidence after the most undoubtedly depressing summer of his life. Xiang provided one of the most heartbreaking moments of the Beijing games when he pulled up lame after a false start in the first round of the hurdles. Perhaps he emulated the success of Abebe Dinkesa and his return from Achilles problems.
More:
*Liu Xiang Will Skip Berlin Worlds Unless Able To Run 13.20
*Coke Ad Where Yao Ming Stops By To See Rehabbing Liu Xiang
*Liu Xiang To Father: "I will get stronger."
Jesus Look-A-Like Christian Smith Leaving the Oregon Track Club
Christian Smith "resurrected" his career at the trials this year when he edged out Khadevis Robinson for the final spot on the US 800 meter squad. His dive for that third and final spot to give the 3 Eugene, based athletes was THE story of the trials. The often-forgotten fact was that Smith was really getting his workouts from his Kansas State coach, Mike Smith. So it's not a surprise to learn that he will return to Kansas State to finish up his undergraduate degree and train. Smith claims to have completed a solid fall of training and we will look for him to impress in 2009.
*Christian Smith, 2008 800 Meter Olympian To Leave OTC Elite *LRC Thread
Weekly Drug Update
Basically the entire Cyprus soccer club APOP Kyniras are facing a four-year ban for violating steroid policies. We aren't making it up.
*13 Players And Coaches On Cyprus Soccer Team Banned For 'Roids *LRC Cyprus Thread
Other Drug News:
*Drug Testers Become More Prepared, Have Tests Ready Before Products Hit The Market
*Ken Burns' 10th Baseball Documentary Focused Mainly On Steroid-Enhanced Records
Thumbs Down
To the economy, for forcing Home Depot to end its 16-year sponsorship of Olympic hopefuls. The program allowed athletes to work part-time and paid them double for their efforts. Over the years they've sponsored 600 Olympic and Paralympic athletes, including US marathoner and Letsrun.com Message Board hero Brian Sell. Current athletes will be allowed to continue their work, but their salaries will be halved and they will no longer offer positions to other hopefuls (unless of course they are experts in lawn and garden care).
*Home Depot Immediately Ends Sponsorship Of US Olympians

Thumbs Up
To the Letsrun.com prediction contest winners who were finally announced this week. Seventeen-year-old Jamie Rindfuss won the overall title for the Footlocker contest while Matthew Call won the NCAA team contest and NC State runner Scott Crews won the individual prediction contest. Wejo's detailed coverage of the contests can be found here:
LetsRun.com 2008 Footlocker Prediction Contest Recap
LetsRun.com 2008 NCAA XC Prediction Contest Recap
Again, to Abebe Dinkesa; we can't over-emphasize the badassery of Dinkesa's performance. Even with Bekele bailing on the race, through the transitive property of racing, by beating Tadese, who ran Bekele right out of the 2007 World Championships, Dinkesa is better than Bekele. That works ... right ...? But in all seriousness, Dinkesa might be a true "blue collar" Ethiopian as he somehow flies under the radar even with PRs of 12:55 and 26:30. Shocking.
Interesting Threads From The Week
*Most Famous Person to Post on LetsRun?
*Has Kenenisa Bekele ever heard of LetsRun.com?
*Flojo's 10.49 Not Wind Aided?
*Official Is Your Dinner Webb Certified?
*Has anyone attempted or completed the 800/1500/5000 triple at a meet of significance?
*What times do you respect from someone 50 years old?
Recommended Reads From The Week
*Lopez Lomong Talks About Training, Bringing His Brothers To The US And More
* Detailed Profile On Sammy Wanjiru's Coach, Robert Kioni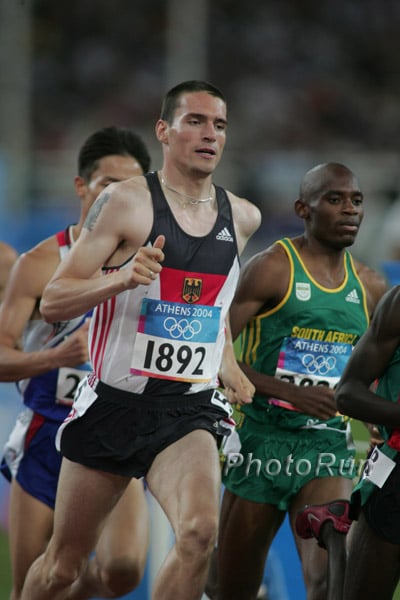 Sad News from Deutschland ...
A heart ailment is suspected but we're sure in this day and age people will speculate about drug use.
26-Year-Old German Mid-D Star (1:44.14 PB) René Herms Found Dead