World XCs *Results *Race Reports



Get Used to ItBekele Amazes Again
Wins 6th Long Course Title Despite Losing His
Shoe
Bekele tried to give the the rest of the runners in the world a chance. He lost a shoe 2km in to the race, stopped, and put it back on (losing 15 seconds or so). He then wasted no time and zoomed back to the front, pretended to be tired for a little while, then crushed the field over the final loop. Unheralded Leonard Patrick Komon (4th last year in juniors) was 2nd and Tadese 3rd. As we predicted Jorge Torres finished 19th place and no non-African finished in the top 10 as Craig Mottram finished 31st. *Men's Results
Tirunesh Dibaba Back on Top Ethiopian swept all the individual titles as Tirunesh Dibaba used her strong finising kick to regain her individual crown as former Minnesota star Emily Brown led the US women to a fourth place finish.
*Women's Results
*All Results
*Message board blow by blow here
PreRace:



Not AgainLetsRun.com: Men's Preview: Bekele Will Prevail And Africans Will Dominate Can a Non-African Finish in the Top 10 For the First Time in 7 Years? For the 2nd straight year that it's a one-race affair, world cross is once again a must-see event as it will feature the greatest assortment of talent assembled for a single race on the planet in 2008. Can Bekele regain his crown? He'll have his hands full with 3 formidable challengers - one from Eritrea (Tadese), one from Uganda (Kipsiro) and one from Kenya (Ngatuny).Tadese shocked the world last year in the incredible carnival that was the World Champs in Mombasa, Kenya (click here for a must read if you missed our report from last year)
*Women's Preview: Can Dibaba Reclaim Her Title As Golden Girl? link fixed Last year, Dibaba was a huge favorite to get her 3rd straight title but failed to live up to the hype and then went on to have a sub-par year by her standards. She's only raced once this year. How will she do?
*USA's Renee Metivier Ready For World's Big thumbs up to Metivier who believes running world xc is an honor and always goes if selected (she's running it for the 4th straight year). Major thumbs up to her for training in Flagstaff as well.
*Unpredictability and fresh talent - Kenya's line-up for Edinburgh Several unkown by motivated newcomers are on Kenya's team which also features the 3rde and 4th placers from last year.
*A look at Southern African region hopes in Edinburgh
*Shami to lead Qatari team of 10 in Edinburgh
Only in Africa: Uganda Going Coachless At World XC He couldn't get his passport in time apparently.
*Men's World XC Preview From IAAF
*7 Time European Champ Sergey Lebid out of World XCs
*Pray for Us Kenyan XC Team Says
*$280,000 on Tap at World XCs IAAF
*Linet and Moses Ndiema Masai Hoping to Make History at World XCs
*Expectations High as Kenyan Team Leaves for World XCs
Runners In Kenya Still Dealing with Aftermarth of Violence: "It will definitely have an effect at Edinburgh. But Beijing is still very far away. "
On the Boards:
*Greatest performance ever including era?
*I hate talented runners...
*Which elite athlete since WW2 has been the least talked about runner on Letsrun?
*University that SHOULD have successful XC programs
NonRunning:
*20 somethings not growing up
*City Life vs. Small Town Life
Kaki's World Title At 800 Is Still Resulting in Huge Celebrations In Sudan When the youngest ever world indoor champion returned home, thousands showed up at the airport to celebrate. A famous singer even flew in from Egypt to sing a new song, entitled "Kaki, Kaki." We're pleased to say that we called him a sensation before he won.
World XCs Are This Weekend:
*Ed & Jorge Torres Will Be On Same US Cross Team For 1st Time
*7-Time European Cross Winner Sergey Lebid Withdraws The Ukranian, who was the runner-up in 2001, doesn't think he's fit enough to do really well as he missed some training last month after getting the flu.
*Could Grace Momanyi Be The One That Ends Kenya's 14 Yr. Drought For a Sr. Women's Individual Champion? Momanyi was the surprise winner of the Kenyan trials this year. She had been discounted by many after a diasterous and injury-plagued 2006 season.
*World Cross To Feature $280,000 in Prize Money Including $30,000 For 1st
*5-Time World XC Champ Paul Tergat Gives Out His Advice
*Uganda To Be Led By Moses Kipsiro and Boniface Kiprop They won the team bronze last year but Uganda has never has a senior win an individual medal.
*6 Days Before World Cross European U23 5k Champ Laura Kenney Declares For Scotland For world champs, everyone competes for Britain but it will help bring out crwod support.
*Former NCAA XC Champ Keith Kelly Pulls Out of World XC With A Knee Injury Wejo somehow managed to hold him off at Mt. Sac that year.
*Irene Cheptai - A Future Kenyan Star? The 16 yr old was devastated last year when she was left off the junior team because she was too young. She's back this year.
*Japan's Team To Feature 14 Newcomers
*Kenya Team To Depart on Wednesday
*World XCs in Edinburgh a City Full of History
*Kenyan XC Team Needs Armed Escorts in Training to Protect Them from Elephants
*Kenyan Editorial: We Want Our Title (World XC Individual Men's Title)
*Kenyan Coach for World XC Says His Team has New Skills
*Profile on Kenyan World's Team Member Margaret Wangari
Previous:
*Craig Mottram Running World Cross Country This Week, Thinking He Can Win
On the boards: Predict Mottram's World Cross Finish
A Look at Kenyan Teams Preparation for World XCs
*Molly Huddle (and Family) Going to Scotland for World XCs
WADA Paying USADA to Help Prosecute Floyd Landis Case International Herald Tribune
Geb on the Marathon: "I have no intention of committing suicide in Beijing"
Rashid Ramzi Only Going to Run 1500 at Olympics Ramzi pulled off the 800, 1500 double at the 2005 Worlds.
World XCs Next Week: United States Team Named for Next Week's 2008 World Cross Country Jorge Torres is on the team and his twin brother Ed joins him for the first time on the same team.
*Brothers Mathew Kisorio and Headline Kenyan Junior Team for Worlds
*Junior World XC Champ Linet Masai'sOlder Brother on Kenyan Men's Team at World XCs
*Kenyan Coach Says Runners Need to Improve on Kicks for World XCs That's not their problem.
*Kenya's Leonard Patrick Komon Has Moved Up from Junior Worlds XC Team to Senior Team
2008 NCAA Indoors: Complete Results
D2 & D3 Info Here
*Kyle Who?
Arizona State Wins Men's & Women's Team Titles as Kyle Alcorn Shocks Field & Wins 3k To Lead Sun Devils To Team Title Over FSU On Friday, Alcorn led ASU to a surprise 2nd in the DMR. On Saturday, he shocked everyone once again and blew away the 3k field with a big kick in the next to last event to put his team into a tie with FSU. It came down to the 4 x 400 and ASU edged FSU by a second to win. Alcorn's never been a real big collegiate name before today, but he apparently had a gnarly 55 second last lap in HS in the 3200.
*3k Thread Here
In other action, Texas' Leonel Manzano completed the DMR/Mile sweep as was expected by winning the mile with the big surprise being that his teammate Jake Morse was 2nd. The other big surprise was how average the field looked considering you had to run 4:00 to get in. In the ladies' distance races, it was all FSU as Hannah England won the mile and Susan Kuikjen won the 3k.
*Baylor Wins 3rd Straight 4*400
2008 World Indoors : *Results
*Event by Event Recaps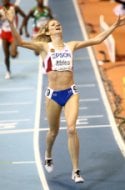 Sunday: Recap Soboleva 3:57.71 WR in 1500, 18 Year Old Kaki Wire to Wire 1:44.81 in 800, Bekele JR Wins 3k, Bryan Clay Wins Heptathlon
*Race Results Weekly Distance Recap Here
The performers at worlds saved the best for last. Most impressive was the women's 1500 where Yelena Soboleva broke her own wold record and picked up $90,000 as she led 4 women under the 4 minute barrier as the top 5 all set PBs. 18 year old Abubaker Kaki was almost as impresive in the men's 800, as the 18 year old led wire to wire to win in a 1:44.81 personal best as the entire field set personal bests including Nick Symmonds who finished last (6th). Tariku Bekele was nearly as impressive as his older brother as he went 3:56 the last 1600 to get the win in the 3000m as Craig Mottram finished out of the medals. Lastly, Australia's Tasmyn Lewis shocked the field to win the women's 800
Video: *Tamsyn Lewis Wins 800 at Worlds
Video: *Defar Wins 3k at Worlds
Video: *Liu Xiang Gets Gold over Allen Johnson in Hurdles
*On the boards: *Kaki=Awesome (Nick Symmonds= Runnersworld Model)
*Soboloeva wins $90k
*Women's 1500 WR, 4 Sub 4:00, 5 PBs
*T Bekele averages 29.1 sec's for the last 7 laps of World Ind. 3k! (3:56 last 1600, 3:54 pace last 1400)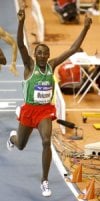 Saturday: Is there anything left for the Kenyans? Deresse Mekonnen Dan Komen Deresse Mekonnen Wins 1500 Mekonnen originally won the race but was DQd along with Nick Willis (for stepping on the infield.). In other action Meseret Defar blew away the field in the women's 3000m with a 28.8 last lap. Nick Symmonds looked incredible in his 800m semifinal. Liu Xiang got his first indoor gold and all that is left is gold in Beijing. American veteran Allen Johnson got the silver.
High Jump: Stefan Holm Wins 4th World Indor High Jump Title
Hurdles:*Lolo Jones Gets World Indoor Gold
*Liu Xiang Gets His First World Indoor Gold
Long Jump: Britain's Chris Tomlinson Gets Silver in World Long Jump
Photos: *Saturday PM *Saturday AM (Qualifying)
*Friday
Video on Demand and Highlights: Entire meet on demand on WCSN
*Day 2 Highlight Video: 2 Minutes
*Dayron Robles Thinks There is a False Start and Stops in 60m Hurdles
*Cantwell Wins Shot
*Fasuba Wins Men's 60
*Angela Williams Wins 60
*Photos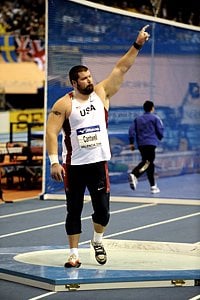 *Friday Recap: Christian Cantwell Wins Shot, Angela Williams and Olusoji Fasuba Win 60 Olusoji Fasuba got Africa's first gold in the indoor 60 as Britain's Dwain Chambers ran a pb to get silver in what may be his final race as everyone is trying to blackball the ex drug cheat from the sport.
*Day 1 Evening Distance Recap: Maria Mutola Takes First Step Towards Eighth World Indoor Title
Shot: Cantwell Wins Shot Gold, Says Critics Can Kiss His Ass IAAF
60: *Dwain Chambers Gets Silver at World Indoors Guardian
Heptathlon:Tia Hellebaut Wins Heptathlon IAAF
*Kelly Sotherton Comes Close But Settle for Silver in Heptathlon
IAAF Previews: Men *Women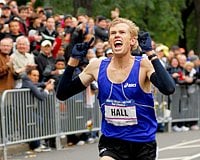 RYAN HALL 2:09:02 Ryan Hall put on one of the most impressive performances ever in American marathoning history, as he destroyed the field and coasted to victory in an incredible 2:09:04 (after a 1:06:17 1st half, yes that's a 1:02:47 2nd half on the hills of Central Park) on the very difficult NYC course. Dathan Ritzenhein ran a very impressive 2:11:07 to get 2nd while Brian Sell got the 3rd Olympic spot in 2:11:40. Former World Record holder Khalid Khannouchi ran a very gutsy race to finish 4th.
Ryan Hall is the real deal in case you didn't know. Here are his 5k splits on the very difficult NY course to prove how incredible he is at the marathon: 16:44, 15:41, 15:27, 15:12, 15:05, 14:48, 14:28. Yes that's right a 14:28 from 30 to 35k. Hall pumped his fist, pointed to the heavens, and waved to the crowd the final mile savoring the incredible run and still ran a 15 minute 5k pace for the final 7.2k (14.56 from 35 to 40k)
*Results
Race Recap From RunnersWorld's Amby Burfoot Amby did an excellent job covering the lead up to the Trials so it is fitting we link to his race article.
*NBCOlympics Recap of 2008 Olympic Marathon Trials: Triumph and Tragedy
*Quotes
*Video: Watch the on Demand (For Free, Skip to Any Crucial Point Instantaneously. Thank you NBC)
*Post Race Press Conference Videos Top 3, Meb, Culpepper, Khannouchi, Lehmkuhle
*Dathan Ritz Quotes
*Brian Sell Quotes
*Khalid Khannouchi 4th at Trials A great great run for Special K. He got 4th hobbling around the park.
*Photos Excellent ones from letsrun.com message boarders skylon
Jeremy Wariner Wins 200, Sanya Richards 100, 200 in Arlington, Texas Plus a few quotes from his new coach.
*UT Arlington Results: Jeremy Wariner 20.37 200, Sanya Richards 11.28 100, 22:56 200
World Cross News:*Missed Flight Makes Bekele Get to World Cross Late, But He's not Worried
*Craig Mottram Sticking to Self Imposed Media Ban Before Big Events
*Tom Lancanshire Wins Home Countries Cross Country International in Saturday Preview of World XC Course
*With Mo Farah Out, Andrew Lemoncello Leads Weak British Team at World XCs
*US Team Previews Course at World Cross (With Quotes from Athletes)
*Liz Yelling Ready to Lead Hometown Brits at World XCs
Lamine Diack Not Happy UK Athletics Tried to Keep Banning Dwain Chambers and Says Chambers "would have won in court"

IAAF President Lamine Diack Opposes Olympic Boycott
Dwain Chambers Switching to Professional Rugby
1:44 800m Man James McIlroy Talks in Detail About Quitting the Sport Due to Lack of Funding He couldn't even pay to get his car out of the parking lot after a pro meet. Guardian
Today: Clint Verran Running the Treviso Marathon in Italy
Yet another Moroccan-born athlete tests positive for EPO 2005 World Champs Bronze Medallist at 1,500, Bouchra Ghezielle, Is Busted *Ghezielle says she's innocent
More World XC
The Unbelievable Story of Kenyan Captain Mark Kiptoo The 32-year old was a career military man who didn't run his first race until 2004. Yes that's right 2004. Then he was posted overseas and didn't resume racing until 2006. Now he's the 2nd best xc runner in Kenya.
Scotland's Andrew Lemoncello Looking Forward To Running Against World's Best At Home The former FSU star understands probably better than just about anyone what he's up against. 1) A very muddy course that made him 'wince' the last time he ran it. 2) An unbelievable armada of Africans who he acknowledged look almost "super-human when you see them running."
Fascinating Profile Of Sonia O'Sullivan The former double world xc champ who is now the Aussie's coach says she'll never retire from running as she loves competing too much. "I feel as good winning (a local road race) as I would a world championship because your friends and family are watching, you get a nice bouquet of flowers and vouchers to the local restaurant and the same winning feeling.
German Fernandez Leading US Junior Effort He admits to being nervous. We don't blame him. He's a phenom, but at 18, Africans are sometimes battling for world senior titles.
Bekele Full of Motivation To Prove He's The Greatest XC Runner Ever He'll be going for a record 6th 12k xc crown this year.
Record Cold Greets Kenyan Athletes The Kenyans decided to huddle in their hotel and let it warm up before going on their training run in 44 degree temps.
*Team USA Selects World XC Captains
Despite Missing Kenyan Trials Due To Malaria, Priscah Jepleting, Looking For Gold In Edinburgh
*Weakened British Squad To Toe Line Normally the host country puts up a really strong squad - not this year. Lemoncello is Britain's top man and he's supplementing his income by working at the Karma Sushi restaurant in Flagstaff.
*World XC Expected To Bring £2m Boost To Edinburgh
*Irish Ready For World XC
*Eamonn Martin - Member of Last British Men's Team To Medal At World XC - Decries Decline of XC In Britain \
*Moses Kipsiro Play Down His Chances Kipsiro defeated last year's champ Tadese earlier this year and some are thinking he might be able to win. Kipsiro "I will try my best. I pray to God that I get a good result."
Only in Africa Zimbabwe's Participation At World XC Still Uncertain
2008 USA Masters Schedule/Results
*2 World, 10 American Records Fall At Day 1 Of 2008 USA Masters
It's Official: Alan Webb To Run Carlsbad 5k Next Weekend
*Britain's Mo Farah To Challenge Webb In Carlsbad
Slovenian Federation Upholds Ceplak Doping Ban Good riddance.
6 Olympic Trials Hopefuls Including Samia Akbar Running SunTrust National Half Marathon in DC This Weekend Akbar is the former American U star who is trained by Scott Raczko - Alan Webb's coach. To win in her hometown would be extra special
NCAA Outdoor Season is Here: Men: Florida State Opens up the 2008 Outdoor Season as the Top Ranked Men's Track Team in Division I They'll need Walter Dix doing this and not getting sick and missing the NCAA meet like he did indoors.
Women: LSU Opens up the 2008 Outdoor Season as the Top Ranked Women's Track Team in Division I
Next Month's Rotterdam Marathon Field Announced (11 Guys Under 2:08) IAAF
Another Balco Drug Case (Cyclist Tammy Thomas)
*Former Drug Tester Says Cyclists Tammy Thomas Was Apparently Shaving Her Face When He Walked in to Test Her
*Patrick Arnold's Ex-Girlfriend Says He Didn't Make Much Money From Designer Steroids Because They Were So Strong Clearly he didn't market the stuff correctly. He should charge $1000s for a dose.
*In Depth Look at Patrick Arnold's Testimony from ESPN
Alan Webb Officially Confirmed for 2008 Carlsbad 5000m Steve Scott: "This is the greatest thing to ever happen to the Carlsbad 5000"
Many Athletes Training at Kip Keino High Altitude Center in Kenya
You gotta love the British press
Britain's Olympic Medal Hopes Are So Slim The Press Is Now Hyping a 13-Year Old Diver Thankfully the 13-year old says he's not trying to medal until 2012. He is apparently very, very good.
Bernard Lagat NY Times Profile Lengthy profile on Lagat and his chance for fame in Beijing including a look at his citizenship controversy, his EPO false positive, and more.
Edwin Soi Ends Winter Season With 3rd Straight Win at Easter Monday Swiss 10k The Kenyan who was 4th at the world indoor 3k edged last year's wold xc silver medallist Moses Mosop by 2 seconds.
Despite Violence In Kenya Kip Keino's Training Camp Is Still Running Strong The camp was only 7 km from where the church was torched with people inside, but lots of foreigners with Olympic aspirations are still training there.
He's Back
ParaOlympian Oscar Pistorious Runs 22.55 For 200m He smashed his old South African amputee national record in the process and is now focused on the world record of 21.70.
Asafa Powell Runs Impressive Leg on 4*100 in Jamaica IAAF
*CARIFTA Games Conclude - For those of you who don't know the Games are sort of the Olympics for the Carribean. Jamacia dominated as usual. Full results here
*CARIFTA Games Underway in St. Kitts
More Weekend Action: New Orleans Crescent City Classic:
Moses Kigen Wins Men Crescent City Classic by 1 Second
*Genoviva Kigen Dominates Crescent City Classic $5000 to the winners.
Forget About Tibet, Serious Problems in China: China scrambling to build western style toilets for Olympic after complaints by US and Europeans
Records Galore on the Boards:
*Most UNbreakable records on the books?
Previous:
*Oldest Collegiate School Records
*What High School Has the Most Impressive School Records
Non running on the boards:
*LEAST favorite city in the USA -
S. Africa: Marco Mambo of Zimbabwe Wins His 3rd Two Oceans
*Nurgalieva Twins Go 1-2 at Two Oceans
*2008 Two Oceans Ultramarathon Results
Footlocker Champ Michael Fout Going After Rudy Chapa's Indiana Records We guarantee he doesn't break the 28:32 10k record. We're glad to see Fout has a ton of respect for Chapa: "A guy like Rudy Chapa is the standard that every high school distance runner in the state is shooting for"
On the boards: Fout Chasing Chapa's Records
Man Knifed in Central Park While Running With His Knife and Wallet
On the boards: Man Knifed in Central Park While Running With His Knife and Wallet
IAAF Doping Statistics Released: 0.3% of Tests Were Positive The good news is 8 out of the 10 busted athletes were in targeted out of competition testing. The IAAF has started doing blood screens to get a pretty good guess of who is doping and then trying to catch the person for whatever wonder drug they are on. The athletes at this stage of the game generally are smart enough to not show up at a competition showing any traces of the drugs.
*List of Tested Athletes in 2007 One athlete was targeted 12 times.
*IAAF Yearly Doping Statistics IAAF
LetsRun.com Jorge Torres, Shalane Flanagan Win in Central Park (link fixed)
Food Poisoning Does Webb In
*Recap, analysis, interviews and photos above *Results
Torres is probably the only guy in American who can say this: every time he has raced Alan Webb, he has beaten Webb. Torres, now training under the legendary Steve Jones, got the win in the final 800m over the very impressive of late Andrew Carlson. Alan Webb had some food poisoning on Thursday and despite leading at 5k faded to finish 16th. Shalane Flanagan had some stomach problems of her own on Thursday but they only seemed to limit her margin of victory as she won over Katie McGregor.
*Photos, video, analysis
*NY Times Article on US 8k Champs
Former 100m Olympic Champ Donovan Bailey Wants Lifetime Bans for Drug Cheats
High School Indoors: Puskedra 8:49 2 mile/ Lowe 8:50
*Photos More coverage here and here
On the boards: *Why did Kastor pull out of Lisbon?
*Fallujah, Iraq Holds Its First 5K Road Race
*How good was Shalane Flanagan in high school?
And only on LetsRun: Is NY Gov David Paterson a Marathon Cheater? The guy is blind and likely ran without a chip or before they were turned on but nonetheless clearly the sleuths on the message boards do not discriminate on physical disability. In other news, Eliot Spitzer went for a long run in the Park once he knew the news of his prostitution ring was going to break.
*LetsRun.com NCAA Basketball Pool
Pre-Race Coverage Of New York City 8ks


LetsRun.com Alan Webb, Carrie Tollefson, Shalane Flanagan on the Road to Beijing America's finest addressed the media and letsrun.com was on hand to cover it. From, Shalane Flanagan's praise of Mary W. "What Phil Knight (chairman of the board of Nike) is to Nike, Mary (Wittenberg) is to distance running.", to our 50 minute audio/video interview with Alan Webb on page 2, we've got it all. Text, photos, and video and even and mp3 you can download.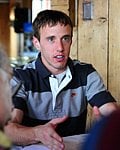 Page 2: More Relaxed, Confident Zen-Like Webb Ready for 2008 We sat and talked to Webb for 50 minutes and have a recap plus video and audio. Webb talks about his 2007 season, his goals for 2008, his desire to win races and how in high school he "did not know what he was doing".
*Shalane Flanagan in NYTimes
*Race Website
Above photos courtesy of Steve Starr.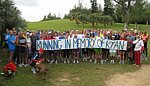 Ryan Shay Run in Bermuda a Huge Success
Organizers Ashley Couper Estwanik and Chris Estwanik were expecting a handful of people, but instead hundreds showed up.
LaSalle Bank Chicago Marathon Women
Unbelievable
Adriana Pirtea Blows It
Just watch the video above. Shorter video here if you're impatient
*Chicago Tribune Recap of Ivuti's Narrow Win
Adriana Pirtrea, a runner basically no one has heard of (including ourselves) (she did finish 2nd at an NCAA indoors once), was on her way to winning the Chicago Marathon. She had been clear of Berhane Adere for miles. Pirtrea, as she took the final turn, was high fiving the crowd. She had a 15 second lead with 58 seconds of runing left. Little did she know that Adere had overcome whatever problems she had had and was quickly making up ground. Pirtrea never looked back and was strolling into the finish thinking about her career changing win. Meanwhile, Adere was in an all out sprint on the other side of the road. She flew by Pirtrea and Pirtrea had no chance to respond. A truly incredible turn of events as Adere made up a 15 second deficent in 47 seconds. Watch it to believe it.
*Former Yalie Kate O'Neill 3rd in Her Debut
*Wheelchair Race Decided by 1 Second All the races in Chicago were close.
LaSalle Bank Chicago Marathon Men
Unvelievable:
Invuti Wins Unbelievable Finish in Chicago Words don't do it justice just watch the video above.
*Chicago Tribune Recap of Ivuti's Narrow Win
It's hard for words to describe the greatest finish in (Chicago) marathon history. It came down to two time world champ Jaouad Gharib and former track/xc star Patrick Ivuti, fresh off his 59:27 half marathon. Gharib surged ahead going up a slight incline down the finishing straight. Ivuti then battled back and took the lead on the downhill. Gharib dug back and retoook the lead as they barreled towards the finish and the two guys still standing there with the finish tape which is only about 5 feet wide. Ivuti surged back right at the finish and it was too close to tell but Ivuti got the win. Hot weather took its toll on everyone.
*Video: Patrick Ivuti Talks About His Narrow Win In Chicago
Millrose
*Results

LetsRun.com! 2008 Millrose Games Recap: Lagat Gets #6, Nelson Entertains, and Goucher Gets It Done Track and field's biggest indoor event saw Bernard Lagat capture his 6th Wanamaker mile, Kara Goucher get an exciting woen's mile win, and our hero Adam Nelson throws some bombs and entertains the crowd. Plus, upsets in the women's pole vault, women's hurdles and more.
*NY Times: Lagat Outduels Mottram
*LetsRun.com! Recap of 2008 Millrose Games High School Miles The boys mile is always the loudest event at Millrose.
*On the boards: Congrats to LetsRun.com Poster Crazystreaker on Winning the Boys' High School Mile
*Distance Photos

LetsRun.com 2007 World's Coverage:
*Sunday Homepage Ndereba marathon
*Saturday Homepage
*Friday Homepage Tyson Gay
*Thursday Homepage Lagat
*Wednesday's Homepage Lagat
*Tuesday's Homepage Bekele 10k
*Monday's Homepage Tyson Gay
*Sunday's Homepage Dibaba/Goucher 10k
*Saturday's Homepage Kibet Marathon