5 NCAA XC Takeaways – The Stanford men look GREAT, the NC State women win but look vulnerable, and an SEC champ smokes a cigar after the race
By Robert Johnson and Jonathan Gault
October 28, 2022
One of the best days in US running is the last Friday in October as it's NCAA conference championship day. Almost all of the top schools in the country were in action and since many schools don't go all-out at the regional meet, today was the last day to gain real insight on who are the teams and individuals to beat at the NCAA championships, which will be held three weeks from tomorrow (November 19) in Stillwater, Okla. After watching a bunch of the races and poring over the results, here are our biggest takeaways from a busy day of racing.
1. The Stanford men were SUPER impressive today and are the NCAA favorites
Article continues below player
Yes, Stanford won Nuttycombe two weeks ago and went into Pac-12s today ranked #1 in the land, but there was some question as to whether they were vulnerable at #5 (30th at Nuttycombe when their 4th was 13th) and particularly #6 (100th at Nuttycombe). Today's run erased those doubts. Stanford crushed the competition. Led by individual champ Charles Hicks, they went 1-3-5-6-7 to run away with Pac-12s with just 22 points as Colorado was 2nd in 61. With three guys with 5000 pbs under 13:25, Stanford has some big firepower up front but they've also got depth. Thomas Boyden (13:37/28:44), who was only Stanford's 8th man at Nuttycombe (119th place), ran much better and was their #5 today. Stanford's sixth man, Devin Hart, was 10th overall and would have been at least the #2 man on every other team in the Pac-12. Hart has pbs of 13:45/29:41 and was 80th at NCAAs last year.
The gap between Stanford's #1 and #5 was just 25 seconds today. The gap for #3 NAU, who has won 5 of the last 6 NCAA titles, was 64.4 seconds at Big Sky.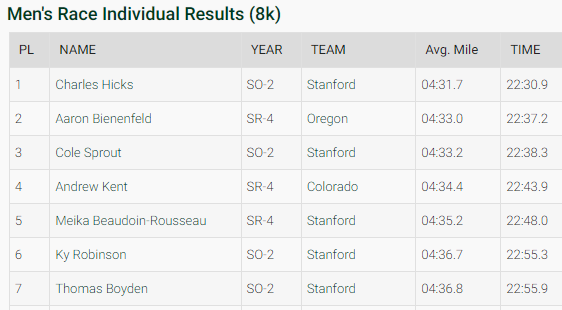 2. The NC State women remain unbeaten but continue to look vulnerable
The NC State women, last year's NCAA champions, have raced a tough schedule in 2022 and have so far won all three of their major competitions – the Joe Piane Invitational at Notre Dame on September 30, the Nuttycombe Invite on October 14, and the ACC Championships today (their seventh straight ACC title). They may very well be the best team in America, but they're not the overwhelming favorites that many projected them to be at the start of the season. 
At Nuttycombe, NC State tied with New Mexico at 80 points apiece but won on the tiebreaker. And today at ACCs, #6 Notre Dame gave the #1 Wolfpack all they could handle as NC State won narrowly, 34 points to 38.
NC State has a very clear top three in Katelyn Tuohy and Kelsey Chmiel (who went 1-2 at Nuttycombe and ACCs) and Samantha Bush. But the #4 and #5 spots are in flux. Tennessee transfer Sydney Seymour had been the next runner behind Bush at Notre Dame and Nuttycombe but had a bad day at ACCs and was 29th (the team's seventh runner). Marlee Starliper is a big talent and was the team's #4 at Notre Dame, but she has battled injuries in the past and didn't race at Nuttycombe or ACCs.
The good news for NC State was the performance of redshirt freshman Brooke Rauber, who had her best run in a Wolfpack uniform today. After finishing 61st (8th for NC State) at Notre Dame and 124th (8th for NC State) at Nuttycombe, she saved their bacon by finishing 10th (4th for NC State) at ACCs.
NC State is still the team to beat at NCAAs. They have two likely top-10 finishers in Tuohy and Chmiel, and they're stacked with talent. Not many other teams can afford someone as talented as Rauber to spend the first half of the year as their #8 before stepping up into a scoring role. But NC State is no lock for the title. We're headed for a scenario similar to last season – if NC State runs its best race, no one is beating them. If they falter at #4 or #5, that opens the door for a team like New Mexico or Oklahoma State to win the title.
3. Put our prediction down in stone: the NCAA will see its first sub-15 woman this year
Two weeks ago, Florida's Parker Valby turned heads by running 18:58.3 for the 6k course at Texas A&M. How short was the course, what did it mean? We said at the time we'd find out more when she raced SECs today against 2020 NCAA XC champ Mercy Chelangat of Alabama. 
What happened? Valby took the lead before the 10-minute mark, quickly gapped Chelangat, and ended up winning in 18:25.9 to Chelangat's 18:33.7 for what was supposedly a 6k course.

It's always dicey relying on XC times as course conditions and distances vary, but the men's times look very reasonable given everyone's pbs. Valby is just really, really good. She beat Arkansas' Sydney Thorvaldson (11th in 20:00.06), who is a 16:00 woman, by nearly 95 seconds.
LetsRun.com coaching guru John Kellogg was super impressed by Valby, writing:
"When I saw the splits unfolding, I thought the wheel they used to measure it must be off by something like 30 meters per 1,000. And those final times were otherworldly. After all, you can usually run a 10k on the track at the same pace you can run for 6k on even the easiest XC courses. So 18:25.9 for 6k is the pace for a 30:43 10k, which is way under the collegiate record and getting into Olympic team territory. But looking at the track 5,000 PRs of some of the other runners, their times today were pretty much in line with what they could do on an exceptionally fast course. And in the men's race, as incredible as the times seem, most of the runners have run 5s or 10s on the track that make today's times look fairly realistic if the course was fast enough to be only about 7-8 seconds per mile slower than the track. That's a super-fast course for sure, but not impossibly fast. So bottom line, I'm thinking Valby's time indicates a potential track 5,000 in the 14:40 range – assuming the course actually is accurate. After all, Valby beat a 16:00 runner by 1:34, which would be a 1:18 margin of victory in a 5k. Looking at low 14:40s if those stats hold up."
A collegian running in the 14:40s shouldn't blow your mind. Remember, Jenny Simpson ran 15:01 13 years ago without super shoes and her best event is the 1500.

That being said, don't hand the NCAA title to Valby quite yet. NC State's Katelyn Tuohy beat Mercy Chelangat at Joe Piane in her first race of the year by more than Valby did today — 12.1 seconds – and that was for a 5k course. And almost all of that came in the last 1k. And West Virginia's Ceili McCabe, who was third last year at NCAAs, hasn't lost all year as today she beat Oklahoma State's Taylor Roe, Natalie Cook, and others at Big 12s.

MB: Jump on the bandwagon now. Parker Valby is officially a SENSATION!!! Should we hand her the NCAA 5000 and 10,000 records now? 
4. Nico Young won Big Sky by 26 seconds, but it's hard to call anyone a definitive favorite for the NCAA men's individual title
Usually, the deeper we get into an NCAA season, the list of NCAA title contenders starts to dwindle as the top guys assert themselves. That is not the case in 2022. You can make a case for at least five guys right now, and it's not a lock that any of them end up winning. Here's a closer look at them:
Nico Young, Northern Arizona:

Our preseason pick for the title, Young was only 5th at his first major race at the Cowboy Jamboree but improved to 2nd at Nuttycombe, just 0.1 behind winner

Ky Robinson

of Stanford. Today was his best performance yet as he beat teammate

Drew Bosley

(13th '21 NCAA XC, 5th '22 Nuttycombe) by 26 seconds to win the Big Sky title.

Alex Maier, Oklahoma State:

Maier, the NCAA 10k runner-up, has only raced twice in 2022, but he's looked great both times out as he won the Cowboy Jamboree and then won Big 12s today by 15 seconds. He'll have the advantage of racing on his home course at NCAAs.
Charles Hicks, Stanford: The top returner from 2021 NCAAs (4th), Hicks has been super consistent, finishing 2nd at Cowboy Jamboree, 3rd at Nuttycombe, and 1st today at Pac-12s.

Ky Robinson, Stanford:

Robinson won the biggest meet of the regular season at Nuttycombe in his season opener on October 14, but he was just 6th at Pac-12s today, 25 seconds behind Hicks.

Victor Kiprop, Alabama:

Kiprop improved to four-for-four in 2022, winning the SEC meet over NCAA 10k champ

Dylan Jacobs

of Tennessee to add to his victories at the North Alabama Showcase, Notre Dame, and the Alabama Crimson Classic.
5. Odds and Ends
The closest meet of the day was the

Pac-12 women's meet

where

#11 Colorado

edged

#10 Utah

on the tiebreaker as both tallied 66 points. Colorado beat Utah at positions 1-4 but was way behind at #5 as they went 1-3-7-16-39 and Utah went 2-5-17-19-23. If you look at places, Colorado's #5, Cornell grad

Gabrielle Orie

, was actually 42nd but she only counted 39 team points as runners outside of the top 7 aren't included in the team scores.

Individually, Colorado's

Bailey Hertenstein

got the win at Pac-12s in 19:11.3 as coach

Mark Wetmore

has continued to find success with transfers. Hertenstein is an Indiana transfer and she is now the second straight Big 10 transfer to win the Pac-12 title for Colorado after Ohio State transfer

Abby Nichols

did so last year (Colorado's #3 today,

Ella Baran

, is also a transfer from Johns Hopkins). Add in the success of

Micaela DeGenero

(2022 NCAA mile champ after transferring from Michigan) and

Rachel McArthur

(4th in 2022 NCAA mile after transferring from Villanova) last year, and few teams have become as dependent on transfers in recent years as the Buffaloes.

Congrats to coach

John Hayes

and the

Wake Forest men

who were fantastic at ACCs. Wake hadn't won a men's conference XC title in 28 years but they put on a clinic at ACCs, scoring just 44 points (3-4-5-8-24) to win a conference that has seven nationally ranked teams in it in dominant fashion.

The

Harvard men

's 50-year drought in conference titles almost came to an end as at 7.1k they had a 40-44 lead over #19 Princeton. But in the end the Princeton men did what they almost always do – win another Ivy League Heps title, 38 to 41.

The

Oklahoma State men

ran a full squad for the first time this year at Big 12s and put on a clinic, going 1-2-5-6-7 to score 21 points – their fewest since scoring 19 in 2010 (that OK State team would go on to win the national title). And they did that despite

Victor Shitsama

(3rd at Cowboy Jamboree) having an off day and finishing just 15th. With two-time NCAA top 10 finisher

Isai Rodriguez

and 13:46 man

Fouad Messaoudi

now in the fold and an NCAA title contender up front in Alex Maier, the Cowboys have their best shot at winning it all since their last title in 2012.

For so long,

Arkansas

has been the dominant program in the SEC, winning nine straight women's XC titles and 10 of the last 12 on the men's side. But for 2022, at least, the SEC belongs to

Alabama as the Crimson Tide swept both titles. Alabama spanked Arkansas 36-74 on the women's side, but the men's race was super tight as the top four were separated by just five points. Alabama ended up on top with 59, just ahead of Tennessee (64), Arkansas (64), and Ole Miss (65).



In football, Alabama has traditionally celebrated its wins over Tennessee with

a victory cigar

and

Brady Grant

came prepared as he immediately started smoking a cigar after the results were announced.





Grant had reason to celebrate. The 14:29 performer had the race of his life to help the Crimson Tide get the win as he was 19th overall and 4th for Alabama. Two weeks ago, he was just 22nd at the less than prestigious Crimson Tide Classic.

Talk about the action on our world-famous messageboard / fan forum.
More: *NCAA.com's 8 Conference takeaways
*USTFCCCA's Conference Musings