WTW: Almaz Ayana is BACK baby, Parker Valby AMAZES & Genzebe Dibaba has the best range EVER
The Week That Was in Running, October 10-16, 2022
By Robert Johnson and Jonathan Gault
October 17, 2022

Each week, we try to make the sport more fun to follow by putting the prior week's action in perspective for you. Past editions of our Week That Was weekly recap can be found here. Got a tip, question or comment? Please call us at 844-LETSRUN (538-7786), email us, or post in our forum.  
****
Florida's Parker Valby Runs 18:58.3 
Article continues below player
Last weekend was a big weekend for NCAA cross country as the last major pre-championship meets were held. In two weeks, conference championships will be on the line and then it's time for NCAA regionals and nationals.
We broke down much of the action at the biggest meet of the weekend – the 2022 Nuttycombe meet at Wisconsin —  for you right after it happened on Friday both on the website and in a bonus podcast for our Supporters Club members.
One of the big takeaways from Nuttycombe was that NCAA 5000 champ Katelyn Tuohy solidified herself as the NCAA XC favorite by winning her second big meet of the year. After beating 2020 NCAA XC champ Mercy Chelangat at Notre Dame, Tuohy bested all challengers in Wisconsin in a field that comprised 24 of the top 30 teams in the land.
On Saturday, however, Florida's Parker Valby, the NCAA 5000 runner-up, made her season debut at the Arturo Barrios Invitational at Texas A&M and she really turned heads. She ran a ridiculous 18:58.2 for the 6k course – the first sub-19:00 we can ever recall seeing for an NCAA race.
Now one of our mantras about cross country is, "We don't care about times," mainly because 6k on one course may not be equal to 6k on another and conditions vary greatly. That being said, times on a specific, well-established course do sometimes mean something.
So what do we make of Valby's time? It was super impressive to say the least.
The women's winning time at Texas A&M is normally roughly 85% of the men's winning time and it's been fairly consistent over the years. This week, Valby's time was 81%.
Women vs Men's Winning Times Comparison

 

Women

Men

W/M %

2019 A&M

20:00.4

23:27.0

85.3%

2020 A&M

20:03.8

23:52.1

85.5%

2021 A&M

19:53.3

23:28.6

84.7%

2022 A&M

18:58.2

23:25.5

81.0%

2022 Wisco

19:44.3

23:09.9

85.2%
Valby won by a ridiculous 64.1 seconds over Ohio State's Addie Engel. Engel is no slouch. She was 66th at NCAAs last year, was the runner-up at Roy Griak earlier this year, and has track pbs of 4:21 for 1500, 9:12 for 3k, and 15:59 for 5k. At NCAAs last year, winner Whittni Orton beat Engel by 50 seconds, so to beat her by more than a minute is super impressive. And Engel ran 20:02.3, which was 85.5% of the men's winning time. That indicates the course was set up properly and in line with what has been run in previous years.
Indeed, Texas A&M distance coach Wendel McRaven told LetsRun the course has not changed since the Aggies began hosting meets on it in 2015. Before Saturday, the fastest any woman had run on it was Dominique Scott's 19:23.6 for Arkansas at 2015 SECs. Scott went on to finish 3rd at NCAAs in XC and win the NCAA 5k and 10k on the track the following spring.
McRaven also said that the course may be 30-40 meters short of a full 6k and that dry conditions (little rain over the summer and none in the past month) plus short grass led to a fast, hard course on Saturday. Though on race day, conditions were warm and humid and not perfect for running fast (78 degrees, 76% humidity, dew point of 70 during women's race).
As for Valby herself, it's worth remembering that she said she was only running twice a week (with a lot of cross training) when she ran 15:20 to finish 2nd at NCAAs in the 5k in June as she was returning from a broken foot. Her coach Chris Solinsky told LetsRun she had a setback at the end of the summer but that didn't affect her base training because she was still able to cross-train a lot. Solinsky says she is now running three to four times a week (and still cross training quite a bit).
So who will win NCAAs? It's more than a month away, people. But we'd be shocked if it's not either Tuohy, Valby, one of Oklahoma State's stars – Natalie Cook (who also cross trains a lot) and Taylor Roe — or one of Alabama's three stars — Amaris Tyynismaa, Hilda Olemomoi, and Mercy Chelangat or Ceili McCabe of West Virginia (who was this last year and is undefeated this year). The Oklahoma State duo will face McCabe at Big 12s and Valby is slated to meet the Alabama trio at SECs on October 28 at Ole Miss.
MB: Parker Valby is the most talented girl in the country
MB: Parker Valby will be the greatest NCAA distance runner
MB: Parker Valby/Natalie Cook – what am I missing?
***
Leftover Nuttycombe thoughts
The top freshman in the men's race has an incredible story.
When it came to freshmen in the men's race at Nuttycombe, most of the attention was focused on Colin Sahlman – last year's RunningLane national champion in cross country and a 3:56 miler on the track. Sahlman ran fine in his collegiate debut – 23:50 for 60th place – but he was only the second freshman across the finish line as Notre Dame' Izaiah Steury finished 28th in 23:32.
How Steury reached this point is almost unbelievable. Steury grew up in Ethiopia living in a mud hut where he shared a bed with a goat. Really. His father left his family when Steury was born, and his mom died when he was young. In Ethiopia, Steury rarely attended school – he was often needed for farming chores – but after being shuffled around step-parents, relatives, and orphanages, he was adopted by a couple in Angola, Ind., in 2013 despite speaking no English when he arrived in the US.
Steury, who hails from the Tigray region currently at the heart of Ethiopia's civil war, took up running in middle school. He gradually improved and finished 8th at Eastbay (aka Foot Locker) Nationals last year in cross country but was too old to compete for his school in track (Steury didn't have an official birth date when he moved from Ethiopia, but was given a birthday in February 2002 after an x-ray from a doctor). He graduated with pbs of 4:08 (mile), 8:08 (3k), and 14:27 (track 5k), and now he's one of the top prospects in the NCAA.
For more on Steury, check out this profile by the Indianapolis Star's David Woods from 2020: How an orphaned Ethiopian shepherd became one of Indiana's top distance runners
Robinson-Young finish recalls Aussie-American McDonald-Fisher rivalry
We can't have been the only ones who, after seeing Stanford's Ky Robinson outkick Northern Arizona's Nico Young to win Nuttycombe on Friday, flashed back to the Grant Fisher–Morgan McDonald rivalry of the late 2010s. In fact, we know we're not – Nick Willis shared the same thought on Twitter but wound up deleting it.
The similarities: Young, 20, was one of the most-hyped American high school distance talents in US history and has found early success in college – just like Fisher. And, like McDonald, the 20-year-old Robinson is an Australian who looks every bit Young's equal. The only difference is this time around, the Australian is running for Stanford.
And we're not just hyping this up based on the outcome of one race. Back in 2016, McDonald and Fisher had a close finish in the NCAA 5,000 final, McDonald taking 5th in 13:29.79 and Fisher just behind in 13:30.13. That fall at Nuttycombe, McDonald beat Fisher by 0.1 of a second (they finished 3rd and 4th overall) in their first cross country matchup. And then in 2018-19, they went 1-2 at NCAAs in XC, the indoor 3k, and the outdoor 5k, with McDonald winning all three races.
Robinson and Young have already had some close NCAA finishes. In the 5k at NCAA indoors last year, Robinson was 2nd in 13:20.17 and Young 3rd in 13:21.23. Outdoors, they flip-flopped: Young was 3rd in 13:28.62, Robinson 4th in 13:30.23. And at Nuttycombe on Friday, Robinson beat Young by…wait for it…0.1 of a second – the same margin of McDonald over Fisher at that race six years ago. Though it's worth noting Young has a comfortable 2-0 record over Robinson at NCAA XC, beating him by 58 and 18 seconds, respectively.
There are a number of other top runners in the NCAA this year so Robinson and Young may not end up dominating the NCAA as McDonald and Fisher did four years ago. But it should be a fun rivalry to watch moving forward.
***
Talent doesn't go away / Genzebe Dibaba has the greatest range in history
Last week on these pages, we spent a lot of time talking about how the women's marathon has reached a new level in 2022. Prior to this year, there had been only three years in history during which we saw 10+ sub-2:20 women's marathons (2018 – 11, 2019 – 13, 2020 – 10). 
We've blown past that number in 2022. Last week, we reported the number was 18 but that was incorrect. Our database hadn't been updated so that was as of three weeks ago. The number was actually 27 and now it's up to 30 as three women did it in Amsterdam on Sunday.
And the three that did it in Amsterdam didn't just break 2:20. They did what most of the sub-2:20 women have done in 2022 — they also broke 2:19, a feat that has now happened 25 times in 2022.
That's the most ever in a single year, by far. At the end of 2019 – less than three years ago – there had only been 24 sub-2:19's in history. There have been 25 in the first 10 months of 2022 alone, and we've still got Valencia to come in December.
Number of sub-2:18, sub-2:19, & sub-2:20 women's marathon performances from 2017-2022
| | | | | | | |
| --- | --- | --- | --- | --- | --- | --- |
|   | 2017 | 2018 | 2019 | 2020 | 2021 | 2022 |
| Sub-2:18 | 2 | 0 | 3 | 2 | 3 | 8 |
| Sub-2:19 | 3 | 6 | 8 | 5 | 6 | 25 |
| Sub-2:20 | 4 | 11 | 13 | 10 | 8 | 30 |
What's more, the three sub-2:19 women in Amsterdam were all making their marathon debuts. Two of the three are track legends. Former 10,000 world record holder Almaz Ayana, who only recorded one result from 2018-2021 (an 8:57 3k 18th-place-showing for last place at 2019 Pre) was sensational in her marathon debut as she recorded the fastest debut time in history, winning in 2:17:20. That broke the previous debut record of 2:17:23 set by fellow Ethiopian Yalemzerf Yehualaw at the Hamburg Marathon in April.
And Ayana, 30, ran 2:17:20 with a big negative split as she ran 69:26 for the first half and 67:54 for her second half. 69:26, for reference, was the same opening half as Emily Sisson ran in her American record in Chicago a week earlier, and Sisson, despite also negative-splitting, wound up running over a minute slower than Ayana (2:18:29).
Ayana's return to form in 2022 has really been inspirational. "I have no words for this. This is very special and I am very happy," said Ayana according to World Athletics after the race. "It was very tough after my Olympic title in 2016 with injuries and pain. I am grateful for my husband, son and management for all the support."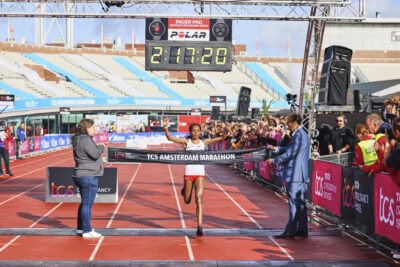 The runner-up in Amsterdam was the 1500 world record holder Genzebe Dibaba, who ran 2:18:05, narrowly missing family bragging rights as her sister Tirunesh Dibaba has a marathon pb of 2:17:56 (the eldest Dibaba, Ejegayehu Dibaba, a former Chicago champ, has run 2:22:09). 23-year-old Tsehay Gemechu, the 2019 worlds 4th placer in the 5000, also debuted at 2:18:59 for third.
By running 2:18:05, Genzebe Dibaba joined an exclusive list. She is now one of just four humans to be ranked in the top 100 on the world all-time list in the outdoor 1500 and marathon. However, she leads the way by a long shot as she's in the top 20 of both lists whereas no one else is even ranked in the top 75 of both lists.

Women Ranked In Top 100 All-Time in Outdoor 1500 and Marathon
Genzebe Dibaba 3:50.07, 2:18:05 – #1 in 1500, #19 in marathon.
Gelete Burka  3:58.79, 2:20:45 – #74 in 1500, #77 in marathon.
Besu Sado  – 3:59.47, 2:21.01 – tied for #98 in 1500, tied for #91 in the marathon
For the men, the list comprises just one person but it will almost certainly be zero very soon.
Men Ranked In Top 100 All-Time in Outdoor 1500 and Marathon
Mo Farah – 3:28.81, 2:05:11 – #13 in 1500, #91 in marathon
*All stats are via Tilastopaja.eu
###
The men's race in Amsterdam was super deep as for only the second time in history, nine men broke 2:06 in the same race (2020 Valencia featured 11 such men). The winner ended up being Ethiopia's Tsegaye Getachew, a 25-year-old who won in Riyadh earlier this year who took the lead in the final 2k to win in 2:04:49, an improvement on his 2:05:11 pb.
***
Edna Kiplagat looks set to become the oldest Boston Marathon champion in history
On Friday, the Athletics Integrity Unit announced it had provisionally suspended 2021 Boston Marathon champion Diana Kipyokei of Kenya after she tested positive for triamcinolone acetonide, a corticosteroid that is banned in-competition. She was also charged with tampering by the AIU.
The positive test came from Kipyokei's post-race drug test in Boston, and the B.A.A. quickly announced that she will be disqualified if her ban is upheld by the AIU. It would be the third time in Boston history that the winner was stripped of their title. In 1980, the notorious Rosie Ruiz was Boston champ for eight days before she was found not to have run the whole course and Canada's Jacqueline Gareau was the rightful victor. Then, in 2014 Kenya's Rita Jeptoo won Boston in a course record of 2:18:57 but tested positive for EPO later that year. Jeptoo was stripped of her title in 2016, with Ethiopia's Buzunesh Deba upgraded to champion.
Now Kipyokei could join Ruiz and Jeptoo's infamous company. And if she does, it would mean history for Kenya's Edna Kiplagat. As the runner-up at 2021 Boston, Kiplagat would stand to be upgraded to champion – which would make her the oldest winner in Boston's 126-year history. Kiplagat was 41 years, 10 months, and 26 days old when she ran 2021 Boston, which is two months older than Miki Gorman when she won in 1977. It's also older than any men's Boston champion. Clarence DeMar was 41 years, 10 months, and 12 days old when he won his seventh and final Boston in 1930 – two weeks younger than Kiplagat.
Kiplagat tweeted the following after hearing about Kipyokei's suspension Friday:
Very disappointed robbed my joy my smile my happiness and the beautiful decorated tape at the finish line https://t.co/zzTVJMCYEy

— Edna Kiplagat (@KiplagatEdna) October 14, 2022
Kiplagat's marathon career is pretty incredible. She only ran 2:50:20 in her debut in Las Vegas in 2005 and didn't run another marathon until age 30 in 2010. Her return was far more successful as she won LA in March 2010, then won New York in November 2010 and Worlds in August 2011. Kiplagat's resume now includes two world titles, two Boston wins (if Kipyokei's ban is upheld), and a win each in London and New York. A 2021 Boston victory would also give her WMM victories 11 years apart. 
And she's not done yet. On November 6, nine days before her 43rd birthday, she will run this year's NYC Marathon as part of the elite field.
###
Kipyokei is one of 10 Kenyans to get popped for triamcinolone acetonide since 2021. We're sure hoping a lot more will come out about why this is happening. Yes, we get it. A small edge can result in life-changing money but that is also true in Ethiopia. This drug has been along for a long time – why are we just seeing this now and why in Kenya?
2021 Boston Marathon champ Diana Kipyokei suspended and her agent doesn't hold back: "Diana is completely guilty. I am sorry."
*MB: Has Kenya found a super drug? 2021 Boston champ is one of 10 Kenyans to test positive for triamcinolone acetonide since 2021
***
Why Run 26.2 When You Can Get Paid For 13.1?
At the Vedanta Delhi Half-Marathon, which offers one of if not the biggest first-place prizes in the world for the half-marathon distance ($27,000), 2017 world xc champ Irene Cheptai picked a great time to win the first half of her life as she won in dominant fashion in 66:42.
66:42 was a 1-second PB for Cheptai who ran 66:43 in Delhi 2020 but that only got her fourth two years ago. The runner-up this year was Dawit Seyaum, the 5000 bronze medallist, who surprisingly got second despite only running 68:02.
Former 1500 man Chala Regasa (3:34 in 2017) got the win in the men's half in a sprint finish. Regasa, who recorded his 59:10 pb earlier this year in Barcelona, won in 60:30 with Kenya's Felix Kipkoech (58:58 pb) second in 60:33 as 18-year-old Boki Diribi of Ethiopia third in a pb of 60:34.
Chala Regasa (60:30) And Irine Cheptai (66:42) Win Delhi Half-Marathon 
****
Recommended Reads
For recommended reads from other weeks, go here.
***
Quotes Of The Day And Last Week's Home Pages
To see the quotes of the day from last week or last week's home page or any home page, go to our archive page.
***
Got a tip, question or comment? Please call us at 844-LETSRUN (538-7786), email us or post in our forum.