2022 Nuttycombe: Katelyn Tuohy and Stanford Men Get Statement Wins
By LetsRun.com
October 14, 2022
For most of the top NCAA cross country teams and athletes, the Nuttycombe Wisconsin Invitational is their biggest test before the NCAA championships in November. The 2022 edition, held today at the Thomas Zimmer Championship Cross Country Course in Verona, Wisc., was especially loaded, featuring 24 of the top 30 women's teams in the country according to the most recent coaches' poll (including eight of the top 10) and 19 of the top 30 men's teams (also including eight of the top 10).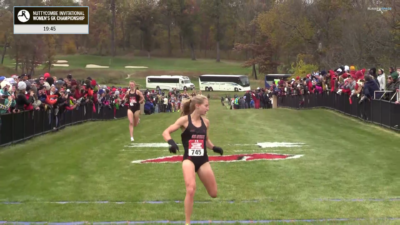 In the women's race, NCAA 5,000-meter champion Katelyn Tuohy made it two dominant victories from two starts in the 2022 XC season as she pulled away with 1200 meters to go to win in 19:44.3 for the 6k course. Tuohy's NC State teammate Kelsey Chmiel, making her season debut, was the runner-up in 19:49.4. The Wolfpack duo led #1 NC State to victory by the narrowest of margins as they finished tied on points with #2 New Mexico at 80 apiece. NC State won the tiebreaker, which compares each team's #1 runner, #2 runner, #3 runner, etc., as the Wolfpack's #1, #2, and #4 runners finished ahead of their Lobo counterparts.
In the men's race, Stanford's Ky Robinson, who had not raced since finishing 6th in the 10,000 meters at the Commonwealth Games for Australia in August, won in his season opener thanks to a big kick in the final straight. Robinson's teammate Charles Hicks had the lead coming off the final turn with just over 200 meters to go but was passed early in the long final straightaway by Northern Arizona's Nico Young. But Young wouldn't lead for long as Robinson, a distant 4th at the top of the straight, closed hard and edged Young by a tenth, 23:09.9 to 23:10.0. Those were the two fastest men's times on the course since Arizona's Lawi Lalang set the course record of 23:03 in 2012.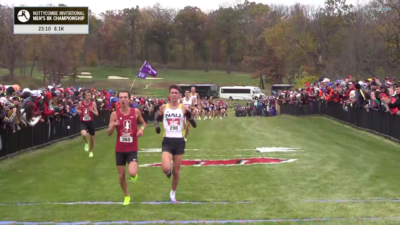 In the team race, #2 Stanford scored 54 points to win comfortably over #1 BYU (89), though BYU held out two of its top three runners, 2021 All-Americans Casey Clinger and Christian Allen. #3 Northern Arizona, winners of the last two NCAA titles, ran a full-strength team – including a season debut for freshman star Colin Sahlman – but finished a distant third with 145 points. Sahlman finished as the Lumberjacks' fifth man in 60th overall.
*Full Results at timing site *TFRRS results
Quick Take: This was a statement win by the Stanford men…but don't hand them the title yet
History says that teams that dominate the Nuttycombe the way Stanford did today typically go on to win the national title. Since 2011, eight teams have scored 80 or fewer points at Nuttycombe and seven of those teams wound up winning it all.
| | | | |
| --- | --- | --- | --- |
| Nuttycombe points | Year | School | NCAA result |
| 32 | 2015 | New Mexico women | 1st |
| 46 | 2018 | NAU men | 1st |
| 50 | 2017 | NAU men | 1st |
| 54 | 2022 | Stanford men | ??? |
| 59 | 2019 | NAU men | 2nd |
| 62 | 2019 | Arkansas women | 1st |
| 66 | 2011 | Wisconsin men | 1st |
| 78 | 2016 | NAU men | 1st |
| 80 | 2018 | Colorado women | 1st |
| 80 | 2022 | NC State women | ??? |
| 80 | 2022 | New Mexico women | ??? |
If Stanford runs like they did today at NCAAs, the Cardinal will almost certainly win the title. Their studs (Robinson, Hicks, and 7th placer Cole Sprout) all ran like studs, they got a huge run from Devin Hart at #4 (13th), and their fifth man Meika Beaudoin-Rousseau was 30th overall. BYU would have scored lower had they run Clinger and Allen, but there's a limit as to how much their score would have improved as their #4 and #5 were 20th and 21st. In order to have beaten Stanford today, Clinger and Allen would have had to have combined for five points or fewer.
As for why Clinger and Allen didn't run today, BYU coach Ed Eyestone told LetsRun he was "still sorting out my roster" but that "you will see Casey and Christian again later in the season."
Based on today, Stanford should enter NCAAs as slight favorites, but only slight. They have the best front three in the country, but BYU is much deeper (their 1-5 spread today was 1.9 seconds!). That gives BYU a much larger margin for error at NCAAs – one of the Cougars' top five could slip up and they could still win it all. Meanwhile Stanford's #6 today finished 101st. That said, Stanford has some depth as well. Their #3 at the Cowboy Jamboree, Thomas Boyden (13:37) was only 119th today but Hart and Beaudoin-Rousseau stepped up in his place.
Article continues below player.
We also shouldn't forget about #4 Oklahoma State, who wasn't far behind Stanford at the Cowboy Jamboree will have home-course advantage. As for #3 NAU…
Quick Take: The NAU men are in trouble
The NAU men ran a full-strength squad today and got spanked by Stanford as well as a BYU team missing two of its top runners. With only five weeks to NCAAs, that's a worrying development.
NAU's top two of Nico Young (2nd) and Drew Bosley (5th) did exactly what they were supposed to, but their other two returning All-Americans, George Kusche and Brodey Hasty, were way back. Kusche was 37th at NCAAs last year but 97th today. Hasty was 39th at NCAAs but 137th today.
The silver lining for NAU was the performance of Santiago Prosser, who finished 33rd overall. Prosser was one of the guys in the mix for NAU's fifth man spot at the start of the year and 33rd would have been a great run if he were NAU's #5. The problem is, he was their #3 today.
You can't totally count out the Lumberjacks at NCAAs. In recent years, no coach has gotten his team to consistently run their best at NCAAs more than Mike Smith – NAU hasn't finished lower than 2nd since 2015. But the Lumberjacks will need Kusche and Hasty to make significant jumps over the next five weeks if they are to have a shot at a three-peat. Hasty did go from 30th at regionals last year to 39th at NCAAs but that was after he was 7th at Pre-Nats.
Quick Take: A number of guys could still win the individual title in November
Stanford's Ky Robinson was terrific today and could absolutely win the NCAA title next month in Stillwater. He looked relaxed while running with the lead pack, and though he was gapped entering the home straight, he showed a huge kick to rally back for the win. It was similar to the big 27.55 last lap Robinson used in March to go from 4th to 2nd in the NCAA indoor 5k.
But Robinson was only 0.1 ahead of Young today, and the 10k distance at NCAAs could favor Young, who has beaten Robinson at NCAAs in each of the past two years (he also outkicked Robinson to finish 3rd in the NCAA outdoor 5k in June). Those two, third-placer Hicks, Cowboy Jamboree winner Alex Maier of Oklahoma State, and Alabama's Victor Kiprop (winner at Notre Dame and today's Crimson Classic in Tuscaloosa) are all in the individual title mix.
Quick Take: Katelyn Tuohy remains the woman to beat individually
On the women's side, there is a very clear favorite for the NCAA individual title and it's NC State's Katelyn Tuohy. After smashing 2020 NCAA XC champ Mercy Chelangat at Notre Dame two weeks ago, Tuohy controlled this race from start to finish today, getting out in the front early before picking her spot and quickly dropping the rest of the field with 1200 to go. We picked Tuohy to win the title before the season started and she's done nothing to change our mind through two races.
Quick Take: The women's team battle at NCAAs should be entertaining
A month ago, the main question in the women's team race at NCAAs looked like it would be "How much is NC State going to win by?" Now it could be "Is NC State going to win at all?" As loaded as NC State is, New Mexico has been a deeper team this season. Two weeks ago, NC State beat UNM at Notre Dame, 55-68. Today, UNM only lost out on winning today by tiebreaker (if the NCAA used the sixth-woman tiebreaker, UNM would have won). 
It's worth noting that NC State didn't run Marlee Starliper (their #4 at the Notre Dame Invite) in this race, so the Wolfpack still have room to improve. But New Mexico made progress from two weeks ago. At Notre Dame, their spread was 13 seconds (over 5k) and their #1 runner was 30 seconds behind Tuohy. Today, their spread was still 13 seconds (over 6k) and their #1 was 21 seconds behind Tuohy.
Teams That Wish They Could Have A Mulligan
The Gonzaga men and Iowa State men did not have a good race. The Gonzaga men came in ranked 14th in the nation but only finished 26th in the men's race that featured 19 ranked men's teams. Iowa State came in ranked 11th and was just 22nd.
For the women, #9 Washington finished just 16th at the meet. 14th ranked Arkansas was just 19th.
Teams That Did Better Than Expected
On the men's side, there were 19 ranked teams in the field but unranked NC State had an amazing meet and finished 10th overall. Portland came in unranked but receiving votes and was 11th.
In terms of ranked men's teams that exceeded expectations, Air Force and Notre Dame both did well as Air Force came in 12th nationally but finished 4th while 13th ranked Notre Dame was 5th.
The women's meet had 24 of the top 30 teams in the country so it was quite an accomplishment for 21st ranked Oregon to finish 11th and for 28th ranked Wisconsin to finish 14th. The highest unranked women's team was Air Force which ended up 23rd.