2022 Pre Classic Men's Recap: Ingebrigtsen Cruises, Aregawi Dominates, & Michael Norman Is Back
By LetsRun.com
May 28, 2022
EUGENE, Ore. — Contrary to some dire weather forecasts predicting cold rain and wind throughout Saturday afternoon, the weather gods mostly cooperated for day 2 of the 2022 Prefontaine Classic, allowing the athletes to shine at a half-full Hayward Field. Conditions still weren't perfect for sprinting (58 degrees, cloudy, 5 mph wind) at the start of the meet, but they were good enough for Alison dos Santos of Brazil to post a world-leading 47.23 in the 400 hurdles. And, in one of the performances of the day, American Michael Norman ran 43.60 for 400 meters — his fastest time in over three years, and a Diamond League record, to boot. Oregon Ryan Crouser also went beyond 23 meters to win the shot put with a world-leading 23.02m heave.
In distance action, the performance of the day belonged to Ethiopia's Berihu Aregawi, who utterly destroyed a loaded 5,000-meter field by running a world-leading 12:50.05 and winning by more than 16 seconds. Olympic champion Jakob Ingebrigtsen successfully defended his title in the Bowerman mile in 3:49.76 (high schooler Colin Sahlman ran 3:56.24, #3 all-time among US high schoolers), while Trayvon Bromell prevailed in the big sprint showdown of the day, running 9.93 to take down Fred Kerley (9.98) and Christian Coleman (10.04) in the 100 meters.
Article continues below player
Like our coverage from Albuquerque?
Our full recap, analysis, and interviews from the men's meet appear below, starting with the distances. You can find our women's recap here and all of our coverage of the 2022 Prefontaine Classic here.
Men's Bowerman Mile: Jakob Ingebrigtsen cruises, Colin Sahlman runs 3:56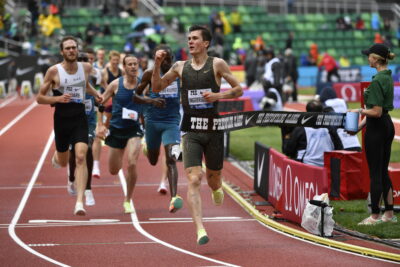 Olympic champion Jakob Ingebrigtsen showed he remains the man to beat in the 1500 meters this year as he had no trouble handling a top field to repeat as Bowerman Mile champion. Ingebrigtsen went to the lead early, after 700 meters, and hit 800 in 1:53.9. After a 58.4 third lap, most of the field was in contention at the bell – save for high schooler Colin Sahlman a few meters off the back of the pack – but that wouldn't last long as Ingebrigtsen began to stretch things out on the first turn. By the back stretch he had a gap of eight meters and he would run unchallenged the rest of the way to win in 3:49.76.
Second place was very much up for grabs, however, as trio of Timothy Cheruiyot, Abel Kipsang, and Cole Hocker (who moved up from 10th at the bell) were all in contention. Neither of them would finish second, however, as Wanamaker Mile champ Ollie Hoare of the On Athletics Club, only 5th with 100 to go, ran all three of them down to take runner-up honors in 3:50.65. Hocker finished 5th in his DL debut in 3:50.97 and in so doing beat his training partner Cooper Teare for the first time in five attempts at the 1500/mile distance (Teare was 6th in 3:51.70).
The high schooler Sahlman went out in the back like Alan Webb and was just behind high school record pace at 800 (1:56.4). He would fade a bit over the second half, but still ran a terrific race, kicking by US 800 champ Clayton Murphy at the end to finish 13th 3:56.24 – the third-fastest mile ever by a US high schooler.
Results
Quick Take: Ingebrigtsen was on a different level from everyone else today
There was a clear gap between the Olympic champ and everyone else in the field today – when Ingebrigtsen made his move early in the final lap, no one could go with it and he would cruise home from there. The question is, will it be more of the same when everyone returns to Eugene for Worlds seven weeks from now? Unlike his top rivals in this race, Kipsang, Cheruiyot, and Hoare, Ingebrigtsen has spent the last few weeks training at altitude in Flagstaff rather than flying around the world racing. It may be that, as in Tokyo, Ingebrigtsen is simply better than everyone else, but it didn't hurt him to be fresher than his opponents today.
He told us afterwards he definitely will run the 1500 and 5000 at Worlds this year. At Euros, he said he also might try the 800. Some weren't sure if he was joking about that and he said he'd like to do the 800, 1500, steeple, 5000, and 10,000, plus the marathon if the schedule allows. The guy is a character.
Later, after some Paris 2024 organizers had him write his goals on a 2024 Olympic sign, LetsRun.com co-founder Robert Johnson had to give Ingebrigtsen a brief track & field history lesson.
He wrote, "Been there done that. Let's be the first to do back-to-back."
Robert informed him that Seb Coe went back-to-back in the Olympic 1500 in 1980 and 1984 so he said something like "just add another 'to back' on there."
Ingebrigtsen did confirm to us that there is no chance that he will retire before the 2028 LA Olympics.
Quick Take: The top eight should all be happy with their race today
It's rare that most of the athletes in a race come away satisfied with their performance, but the entire top eight can at least take a positive from today. Ingebrigtsen won the race, Hoare posted his highest DL finish ever (and PR'd), Cheruiyot beat Kipsang, Hocker and Teare both ran solidly against a world-class field, and OTC teammates Jake Heyward and Will Paulson PR'd in 7th and 8th. The only guy who might be unhappy is Kipsang, who was 4th, but he was right in the battle for second and considering today was his fourth elite 1500/mile in four weeks on four continents, 4th is a solid (and appropriate) finish.
Cheruiyot was upbeat afterwards as he's healthy. He said last year was a struggle due to a hamstring injury.
Hoare said he never put himself in it to challenge for the win, which he'd like to do in the future, but he was happy with his run.
Quick Take: Another great run from Colin Sahlman
Sahlman, the Newbury Park High School senior who had already run 3:58.81 indoors this year, took over two seconds off his mile pb to run 3:56.24 and move to #3 on the all-time high school list. Here's what the top five looks like (if you convert Hobbs Kessler's 3:34.36 from 2021, Sahlman would move down to #4):
1. 3:53.43 Alan Webb, 2001
2. 3:55.3 Jim Ryun, 1965
3. 3:56.24 Colin Sahlman, 2022
4. 3:57.66i Hobbs Kessler, 2021
5. 3:57.81i Drew Hunter, 2016
3:56 by a high schooler is obviously an incredible time, but what we're most impressed by is Sahlman's consistency. He's been racing at a high level since cross country in September yet has been delivering terrific performances week after week and is still running personal bests deep into his spring track season. Start to finish, Sahlman's 2021-22 campaign will go down as one of the greatest ever by a high school distance runner.
Afterwards, he told us he was eyeing Webb's 3:53 record but seemed pleased with the result. He also revealed that he will not race Gary Martin, the 3:57 high schooler, this year as this was his last 1500/mile of the season. Sahlman had been focused on this race for awhile and wants to end on a high note. He also wants to try to run a fast 800 at the Brooks PR Invitational.
Quick Take: Cole Hocker said today's race was a confidence booster
Quick Take: Cooper Teare wasn't thrilled with his tactics but enjoyed racing the world's best for the first time
Men's 5,000: Aregawi crushes a stacked field
No one saw this one coming. Though this field featured Olympic 10k champ Selemon Barega, World Indoor 1500 champ Samuel Tefera, and Olympic 5k silver and bronze medalists Moh Ahmed and Paul Chelimo, none of those men were even close to the win today as Ethiopia's Berihu Aregawi went to the front at 2k and blew everyone away, running a world-leading 12:50.05 to win by more than 16 seconds thanks to a 7:39.4 final 3k. That is not a typo. He won by 16 seconds.
The battle for second was a good one as Tefera, running his first-ever 5,000, found himself in a three-way kick with Barega and Ahmed and came out on top by running 13:06.86 to Barega's 13:07.30 thanks to a 55.6 final lap. Chelimo only made it one mile before dropping out. 
Results
Quick Take: When he's on, Aregawi has been insanely good this year
It's not a total shock that Aregawi won today – he was the Diamond League champion at age 20 last year and set a world record of 12:49 on the roads for 5k. Then, in his first race of 2022, he threatened Daniel Komen's world indoor record at 3k, running 7:26 by himself in Karlsruhe in January. But he looked totally off at World Indoors in Belgrade as he didn't even make the final, and hadn't raced since.
Clearly, nothing is wrong with Aregawi right now as he just administered one of the biggest beatdowns in Diamond League history.
Quick Take: Ethiopia has so much talent in the 5,000 right now
After winning the Olympic 10,000 and World Indoor 3,000 titles, Selemon Barega entered this race as "the man" yet he was only the third Ethiopian in the race today. Once Aregawi pulled away, Barega may have had one eye on next week's World Championship trials in the 10,000, but it's still impressive how many young stars Ethiopia has right now. Of Aregawi, Tefera, and Barega, Tefera is the oldest of the group at 22.
Quick Take: Moh Ahmed revealed he wanted to be in the WR race last night but wasn't let in
And he pointed out Aregawi's 3k split was very close to Cheptegei's last night. He also talked about being in the B heat of a 1500 a few weeks ago.
Quick Take: Next up for Selemon Barega, the Ethiopian 10,000 trials
There is no bye for Barega into Worlds even though he's the defending Olympic champ – although it seems to us since there is no DL in the 10,000 that the reigning Olympic champ should be given a bye. So next week in Hengelo he'll be battling for a spot on the Ethiopian Worlds team. He said his training has been going well.
Quick Take: Paul Chelimo dropped out but says he'll be ready at USAs
When he came through the mixed zone, Paul Chelimo said "not today" when we tried to talk to him after this one. We then yelled out, "But we want to know how things are going" and he said, "It's all good," and flashed a smile.  Later, we happened to bump into him on the concourse and he talked for a bit. He said his legs just didn't feel great but all is well and his mind is focused on USAs.
The race results don't show it yet, though. Chelimo ran 3:41 in his 1500m opener at altitude in Nairobi on May 7 and couldn't even make it five laps today before dropping out. With USAs only four weeks away, he doesn't have much time to get it right.
Men's 1500: Tanner & Gourley hit World Championship standards
After coming short of the World Championship standard nine days ago at the USATF Distance Classic, many of the same athletes reunited for the 1500 today (the B section behind the Bowerman Mile) and came away much happier as the top two men earned pbs and, more importantly, hit the World Championship standard.
As at Mt. SAC last week, New Zealand's Sam Tanner and Great Britain's Neil Gourley went 1-2, but this time the order was reversed, Tanner winning in 3:34.37 to Gourley's 3:34.85. Behind them, three Americans ran 3:36 or faster: Vincent Ciattei (3:35.07), Sam Prakel (3:36.43 pb), and 19-year-old Hobbs Kessler (3:36.63). Christian Noble of New Balance Boston ran 3:38.95 and finished 11th in his pro debut.
Results
By getting the standard today, Tanner punched his ticket to Worlds and was thrilled
Vincent Ciattei said it would have been a near-perfect day if he'd run just .08 faster as he still needs the standard
Teen Hobbs Kessler was upbeat after improving his sb to 3:36 and said he was really focused on running a good 3rd lap
He also said he's much stronger than in years past.
Sprint & Field Events
Men's 400: Michael Norman is back, breaks Diamond League record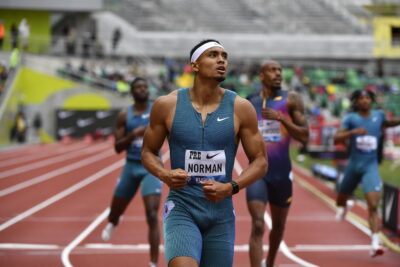 American Michael Norman ran 43.45 in his first race of his first professional season in 2019, but since then has only offered glimpses of the potential within. Though he didn't want to talk about it, he clearly wasn't healthy when he failed to make the World Championship final in 2019, and though he won the US title last year, he failed to medal in Tokyo, finishing 5th.
But today he looked sensational, running 43.60 – his fastest time since April 2019 – to break the Diamond League record and earn a dominant win over reigning Olympic bronze medalist Kirani James. It was the kind of race Norman fans have been waiting for years to see again.
"Besides the win and the time, I think the execution of the race was much more traditional than how I've raced the past few years," Norman told meet organizers. "It feels good to run the way I've been trained to. If you looked at me racing all last year, you could obviously see I was struggling to find my race rhythm again. I kind of lost a sense of how to run the race. Coach [Quincy] Watts and I have been really working hard at practice and at meets to really run it the right way."
"It was a good race, good progress. I'm just excited to feel like all the hard work I've been doing has finally paid off a little bit," Norman told LetsRun, adding that he's going to continue working and hopefully lose a little weight.
Results
Men's 100: Bromell wins
Trayvon Bromell pulled away from Christian Coleman and won the men's 100 in 9.93 (-0.2) as Fred Kerley moved up late to grab second in 9.98 to Coleman's 10.04. American high schooler Erriyon Knighton came up short in his bid to be the first HSer to break 10.00 as he was 6th in 10.14. 
Results
Final, Wind: -0.2
Men's 400 hurdles: dos Santos runs world-leading 47.23
Conditions were a little cool for sprinting but that didn't affect the times in the 400 hurdles as Olympic bronze medalist Alison dos Santos won in a season's best of 47.23. Behind him, the next three men all set personal bests, led by Khallifah Rosser and Quincy Hall, who both ran 48.10 (Rosser edged Hall for second). 
Results
We filmed a great post-race interview with dos Santos in the mixed zone. The 21-year-old speaks excellent English and said he thinks it will take a 45-second time to win Worlds.
Men's shot put: Crouser goes beyond 23 meters
Ryan Crouser opened with a 22.02m throw and then improved by a full meter in round two, the world's first 23-meter throw of 2022.
Results
Talk about the meet on our world-famous fan forum / messageboard:
More: Our women's recap is here and all of our coverage of the 2022 Prefontaine Classic is here.