2022 Millrose Preview: Coleman & Brazier Return, Hocker Makes Pro Debut, and Is the Women's Mile AR in Danger (Again)?
By Jonathan Gault
January 27, 2022
It's been almost two years since the last Millrose Games, one of the final meets held before COVID-19 took over the world in March 2020. That meet was incredible, culminating with three American records in a 70-minute span thanks to Elle Purrier St. Pierre (4:16.85 mile), Donavan Brazier (1:44.22 800), and Ajee' Wilson (1:58.29 800).
A few things have changed since the track world last congregated in Upper Manhattan. Wilson no longer owns the 800 meters in America. Chris O'Hare, the men's Wanamaker Mile champion in 2020, has retired. The NYRR is no longer the title sponsor. And Coogan's, the venerable post-meet hangout for athletes and fans alike, has shut its doors for good.
One constant does remain: the Millrose fields are freakin' loaded. From Athing Mu to Ryan Crouser, Cole Hocker to Christian Coleman, some of the sport's biggest names will be in action at the Armory on Saturday afternoon (AR holders Purrier St. Pierre, Brazier, and Wilson are all back as well). It's going to be incredible.
LetsRun.com will have boots-on-the-ground coverage from New York this weekend, but let's start by analyzing the biggest storylines ahead of the first huge meet of 2022.
What: 2022 Millrose Games
When: Saturday, January 29. TV window from 2:30-4:30 p.m. ET on NBC.
Where: The Armory, New York City
*Schedule/entries/live results *How to watch
Will Ryan Crouser start his season off with a bang (again)?
On his first throw of 2021, Ryan Crouser unleashed a world indoor record of 22.82 meters in the shot put in Fayetteville, Ark. It was a fitting start to the greatest season in the history of the shot put. By the end of the year, Crouser had won all 14 of his competitions, set indoor and outdoor (23.37 to win the US Olympic Trials) world outdoors, broken his own Olympic record by throwing 23.30 to retain his Olympic title, and thrown over 22 meters a staggering 58 times (no one else has more than 39…in their entire career). We are witnessing the event's all-time greatest practitioner at the peak of his powers.
Article continues below player.
What will he do for an encore? Tune in at 3:16 p.m. ET when Crouser takes his first throw of 2022 and find out.
The best 60m race of the year?
We're typically distance-oriented here at LetsRun.com, but the most compelling race of the meet is the shortest one on the schedule: the men's 60 meters. On its own, Christian Coleman's return to the sport would be a humongous storyline. Though Coleman, the reigning world champion in the 60 (indoors) and 100 (outdoors), began his season with a soft open in the 300 at a meet in Kentucky two weeks ago, his race at Millrose will be the first chance for the world to see Coleman since his 18-month ban for whereabouts failures expired at the end of 2021.
But Coleman is far from the only star lining up at Millrose. There's 200m world champion Noah Lyles, who hasn't always had the best relationship with Coleman. There's Trayvon Bromell, the 2016 world indoor 60 champion and last year's US champion/world leader in the 100. And there's Ronnie Baker, fifth in last year's Olympic 100 final and the third-fastest man in history over 60m (6.40). He's also the last man to beat Coleman at that distance.
Coleman, despite the lengthy layoff, will go off as favorite on Saturday. That last loss to Baker? It came almost six years ago at the 2016 NCAA indoor championships. Since then, Coleman has won eight 60m races in a row, set two world records (one that counted, one that didn't) and will enter the race with the three fastest times in history.
With all the talent arrayed in New York — 2016 US Olympian Marvin Bracy and 2016 Olympic hurdles champ Omar McLeod are also entered — this could be the best 60m race all year. There's no guarantee the big four all show up at USAs next month, and even if they do, only two are guaranteed a spot at Worlds in Belgrade (the US could get a third spot if an American wins the World Indoor Tour).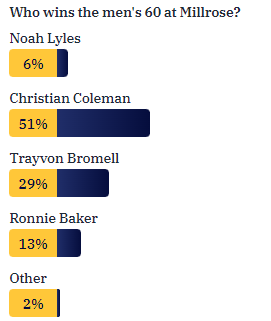 Donavan Brazier returns to racing
The last time we saw Brazier, he was bringing up the rear in the Olympic Trials 800-meter final in one of the most shocking performances of the year. But that Brazier was a shell of the man who won the world title in American record time in 2019. At the Trials, Brazier refused to make any excuses but we now know that Brazier ran the Trials final on a broken leg, and after an offseason of rest and rehab, he will race on Saturday for the first time in seven months.
(Related: Donavan Brazier Is Back. So Is Craig Engels. And About That Name…A Look at the Union Athletics Club Ahead of Millrose)
Millrose has typically been happy hunting ground for Brazier, who has set American 800m records in the last two editions. This year, however, he's racing the 400, an event he has not contested since January 2018 (his time in that race, 46.91, remains his overall pb).
The indoor 400 is a tricky event, even for the best 400 runners (remember Athing Mu at NCAAs last year?). Brazier will be starting out of blocks — something he's not accustomed to — and will be at a disadvantage getting to the lead by 200 in a field that features 44-second men Vernon Norwood and Christopher Taylor. So it's best to temper expectations. But Brazier, according to his coach Pete Julian, has been looking good in practice, no longer plagued by the fractured tibia that derailed his 2021 campaign or the plantar fasciitis that caused him to bring his 2020 season to a premature end.
"I want to see him be competitive and try to win," Julian says. "I know usually that's right around, give or take, a little under 47, sometimes a little slower than that. I feel like he's in that ballpark."
Ajee' Wilson tries to stretch Armory win streak to a sweet 16
It has been almost nine years since Ajee' Wilson lost a race at the Armory. On February 16, 2013, an 18-year-old Wilson was beaten by a 26-year-old Alysia Montaño over 600 meters, Montaño running an American record of 1:23.59. Since then, Wilson has won 15 straight individual races at the Armory, including American indoor records in her last two appearances at Millrose (1:58.60 in 2019, 1:58.29 in 2020). Wilson, 27, is now older than Montaño was in that matchup nine years ago, and the big question is whether she can return to the form that made her the world's best 800 runner in 2019 and mount a challenge against the event's new queen, Athing Mu. Last year, Wilson made her second Olympic team but looked noticeably off and failed to advance to the Olympic final. She hinted that she had been dealing with something throughout the season but never specifically addressed it.
Wilson won't race Mu at Millrose — Mu switched from the 800 to the mile earlier this week — but she'll face a quality field that includes Olympic finalist Natoya Goule and US Olympic Trials fourth-placer Michaela Meyer. It also includes two high schoolers, both of whom competed at the Olympic Trials last year: senior Roisin Willis (2:00.78 pb) and junior Sophia Gorriaran (2:02.26 pb). They raced two weeks ago at the Virginia Showcase at both 500 and 1000, Willis twice getting the better of her rival, and on Saturday will undoubtedly have Sammy Watson's 2:01.78 indoor high school record on their minds.
No one's going to beat Cole Hocker, right?
Last year, the Cole Hocker discourse went something like this:
Wow, what an incredible race by Hocker! But the next one will be tougher. Can he raise his game?
The answer, pretty much always, was yes: it took an Olympic record of 3:28.32 by Jakob Ingebrigtsen for Hocker to finally look outclassed. And it's not as if Hocker ran poorly in Tokyo: he finished sixth in a huge pb of 3:31.40. Not bad for the youngest man in the final.
So as we head into Hocker's pro debut at Millrose in the 3,000 meters, I'm not doubting him. The field is strong, featuring five other NCAA champions (Wesley Kiptoo, Cooper Teare, Geordie Beamish, Conner Mantz, Mason Ferlic) plus Drew Hunter and NAU's Nico Young, fresh off a 4:02 mile in Flagstaff (altitude-converted to 3:54). But who among them is strong enough to break Hocker or fast enough to outkick him?
Kiptoo and Mantz might drive a fast pace, but this race is too short for them. 3,000 is a great distance for Teare, but Hocker beat him in the NCAA 3k last year (when Teare was fresh and Hocker was doubling back from a 3:53 mile) and the rumblings out of Eugene are that Hocker is fitter right now anyway.
The best bet to take down Hocker? Geordie Beamish. Perennially injured during his time at NAU, Beamish was the NCAA mile champ in 2019 and showed what he could do late last summer with a block of healthy training, running a pair of 3:54's to win the Sir Walter Miler and the International Mile at Pre. He went on to run 7:42 for 3k and in December ran a humongous pb of 13:12 to break the New Zealand record, so we know he's fit.
This will also be a big test for Drew Hunter. With a new coach, his mom Joan, Hunter won the US 5k road champs last year, but that was in November, a time when no pro 5k runner is super fit. This race, against a hungry young field, will give him a much better idea of where he stands in the sport right now.
Could we see another American record in the women's Wanamaker Mile? And how fast will Athing Mu run?
An already stacked women's Wanamaker Mile field got a jolt earlier this week when Olympic 800 champion Athing Mu was added to the field. Mu spent much of last year racing the 400 before focusing on the 800 at the summer championships, and so far in 2022 it's been the opposite approach as she opened her season with a 4:37.99 at Texas A&M on January 15 and will race the same distance at Millrose.
Mu is definitely capable of running faster than 4:37 — she looked comfortable at Texas A&M and closed her last lap in 30.47 — but can she really be competitive against a field featuring four sub-4:00 1500 women? The natural comparison here is Donavan Brazier, like Mu a speed-based 800 runner. He stepped up to the 1500 in 2020 and ran 3:35. But at the USATF Grand Prix last year, when Ollie Hoare and Justyn Knight went hard from the front, Brazier chose not to hang and they wound up running away from him. Purrier and Koko are both women who like to push the pace (see: the last two Wanamaker Miles). The guess here is that one of them takes it out fast, Mu plays it conservative, and she's never a factor.
There is a chance Mu tries to go with them, though. She's 19, and in her brief professional career, she's never lost a race. That sort of success breeds confidence. This is her first mile against a field like this, so who knows how she will respond?
But the entire history of track & field suggests that a mile is too far for Mu to be competitive with the very best in the world. Remember, Mu is the reigning NCAA champion in the 400 meters. Not just that: she was one of the best 400 runners in NCAA history, twice breaking the collegiate record, with her 49.57 at NCAAs ranking eighth in the world last year (sixth among non-DSD athletes). How many world-class 400 runners are competitive in the mile? I can think of one, Caster Semenya. It doesn't happen. A great 400 runner can be a great 800 runner, or a great 800 runner can be a great miler, but never the twain shall meet.
At LetsRun.com, we are trying out a new daily poll feature in 2022. So be sure to come to the site each day to vote and see the results as we remove them for the next day. In a poll earlier this week, the most popular predicted time for Mu fell in the 4:25-4:29 range. Our readers are smart. That would be a solid time for Mu, but not nearly fast enough to win.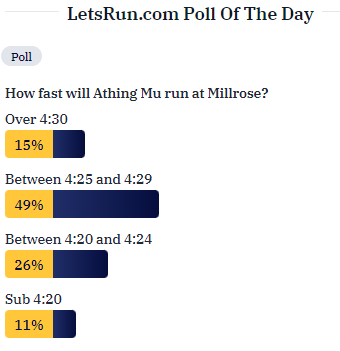 Elle Purrier St. Pierre's career has been a rocket ship after she ran 4:16.85 at Millrose two years ago to break the American record. She broke 4:00 in the 1500 in May 2021, and with Shelby Houlihan banned until 2025, Purrier St. Pierre won her first US title at the Olympic Trials last year with a 3:58.03 solo domination of the field. But at the Olympics, the rocket ship was operating down an engine. Early in that Trials race, Purrier St. Pierre had been shoved to the infield, causing her foot to twist awkwardly. It developed into an injury, and Purrier was barely able to train for the next month: she would not step on a track again until her arrival in Tokyo, which helps explain why she only finished 10th in the final.
MB: What happened to Purrier in Olympic 1500 final? Update: Now we know she got hurt at the Trials
Now, however, Purrier St. Pierre is back to her best.
"I'd say she's at least as fit or fitter than when she ran 4:16 there a couple years ago," says her coach Mark Coogan. "Easily as fit as that."
Coogan revealed that last week, Purrier St. Pierre and training partner Heather MacLean, who is also running Millrose, ran a 1000m time trial last week in Scottsdale, Ariz., and while he did not want to provide exact times, he said both women ran faster than the world-leading time from 2021 (2:34.71). So yes, Purrier St. Pierre is the favorite, and her 4:16.85 AR is definitely in jeopardy. Heck, she might have to run that fast just to win as the top four from the Trials 1500 (Purrier St. Pierre, Cory McGee, MacLean, Shannon Osika) are all running in addition sub-4:00 women Konstanze Klosterhalfen and Jessica Hull. And don't sleep on Josette Norris who, in case you forgot, finished third in the Diamond League final last year behind only Faith Kipyegon and Sifan Hassan. This is gonna be good.
Americans try to keep up with international stars in the men's Wanamaker Mile
Let's conclude, as the meet does each year, with the men's Wanamaker Mile. Based on 2021 form, there is a big gap between two guys in this field and everyone else. Josh Kerr of Great Britain was the Olympic bronze medalist last year and Ollie Hoare of Australia finished fourth in the Diamond League final. Both are based in the US, and both spent their Olympic buildup racing over here and kicking the crap out of any American who crossed their path. From New York to California, Kerr and Hoare wiped the floor with the American pros. It took a college kid, Cole Hocker, to finally mount a challenge as Hocker beat Hoare in the Olympic final (though still finished well back of Kerr).
Will it be more of the same in 2022? Hoare, coming off a surprising 13:09 in December, is clearly fit right now. Kerr hasn't raced since Tokyo, but his coach Danny Mackey still expects him to be competitive on Saturday. Remember, Kerr is a 3:29.05 guy now. He hasn't been peaking for this race, but that sort of talent doesn't just disappear.
"Even with the [post-Olympic break] and being conservative in training and not being on the track that much, he's just at another level," Mackey said in his appearance on the LetsRun Pro Coaches Tour this week.
There are five big questions for this race. Who wins, Kerr or Hoare? Can Nick Willis break 4:00 for the 20th straight year? Who is the top American? And how close can he come to the big two? And how fast does Hobbs Kessler run?
Out of Kerr and Hoare, I'm inclined to pick Hoare given the indoor season is a focus for him this year and it's not for Kerr. Willis will break 4:00. If he can run 4:00.22 at midnight coming back from COVID, Willis will be able to go faster with a few more weeks of workouts (his coach Ron Warhurst told LetsRun he expects a time between 3:56.8 and 3:58.8).
Top American is a much tougher question. Craig Engels was fourth at the Olympic Trials last year and sounds rejuvenated after re-signing with the newly-named Union Athletics Club (for more on Engels, check out our feature on UAC). But Clayton Murphy is a huge talent, Johnny Gregorek has the fastest pb in the field (3:49.98), and Henry Wynne was fifth at the Trials last year. All are in with a chance.
So, too, is 18-year-old Hobbs Kessler. Kessler spent the fall in Flagstaff, lliving at altitude, taking classes and building up his strength and raising his weekly mileage from the 45 he did as a high schooler to around 60. Warhurst, who also coaches Kessler, cautions that there will be a learning curve for his young pupil — this is just his second race on a banked indoor track, and this one will feature more traffic and quality than the last one. The most likely scenario is what we saw from Kessler when he raced the pros last year: hang on to the tail end of the pack, then see how many guys he can beat on the way in.
"He's not going up into second or third," Warhurst says. "He's not ready to go out in 55 and come by in 1:51 or 1:52. That's stuff we're going to be doing in May or June, hopefully that will play out like that. But he's run some pretty good workouts."
I'll take Engels as top American. But the answer to that final question, can he hang with Kerr and Hoare? Let's wait until Saturday. I wouldn't want to spoil everything for you before the race.
More: Donavan Brazier Is Back. So Is Craig Engels. And About That Name…A Look at the Union Athletics Club Ahead of Millrose The Union Athletics Club has a new name in 2022. Donavan Brazier is back from injury and Craig Engels has a lot to prove.
*MB: C. Engels: "I should have never ever lost to Yared… Hopefully, I can prove indoors that I'm still…the best miler in America"