2021 NCAA Women's Indoor: Arkansas Repeats, Athing Mu Gets Beat (Then Runs the Fastest Indoor 4×400 Split Ever), Courtney Wayment Double
By LetsRun.com
March 13, 2021
The 2021 NCAA Indoor Track and Field Championships concluded in Fayetteville, Ark., and the Arkansas Razorbacks won the title 68 to 57 over Texas A&M with a true team performance. The Razorbacks didn't win a single individual event (the Oregon men won six en route to their title), but scored in 10 of the 17 events and clinched the title with 17 points in the 3000m. It added up to the second-highest score in meet history, behind only the 84 logged by Oregon's triple crown winners of 2017.
Arkansas has now won the last four NCAA track and cross country championships contested (they won everything in 2019 and have picked up in 2021 where they left off).
As most NCAA meets are, Saturday evening's competition was full of excitement and top performances, and the record books will require some serious revision after all the action. In the span of 90 minutes, we saw collegiate records in the 60 (Oregon's Kemba Nelson, 7.05), 200 (Kentucky's Abby Steiner, 22.38 — tying Gabby Thomas' record), as well as meet records in the 800 (Baylor's Aaliyah Miller, 2:00.69), 4×400 (Texas A&M, 3:26.68), and triple jump (Texas Tech's Ruth Usoro, 14.27m — tying Keturah Orji's record).
Oh, and Texas A&M's Athing Mu — who was surprisingly upset by USC's Kaelin Roberts in the open 400 — ran the fastest indoor 4×400 split in world history (49.54), dusting Roberts on the anchor leg in the process.
Below, we've got full recaps and analysis of the three distance finals, which featured Miller's big win in the 800 after a blazing 56.90 opening 400, a comfortable victory by Colorado's Sage Hurta in the mile, and a second title for BYU's Courtney Wayment in the 3000 to go with her DMR title from last night.
Women's mile: Sage Hurta runs away from field
Almost two years ago, Colorado's Sage Hurta displayed the talent of a future NCAA champion. In 2019, her third year in Boulder, she ran personal bests of 2:00.99 and 4:09.37 for 800 and 1500, but didn't get the chance to go for an NCAA title as she was redshirting. In 2020, no one had a shot to win an NCAA title due to COVID. Today, in her first NCAA track final, Hurta finally got the opportunity to win a championship, and she did not disappoint, cruising to the win in a personal best of 4:30.58. Behind her, Arkansas picked up 14 valuable points in the team title race from runner-up Krissy Gear (4:32.37) and Kennedy Thomson (4:33.95), who PR'd by over five seconds to take third.
Colorado has a history of distance success, from Kara Goucher to Jenny Simpson to Emma Coburn to Dani Jones. Now you can add Hurta's name to the list of Buffaloes NCAA champions.
"Since I stepped on campus at Colorado, I really wanted to be a national champion," Hurta said.
The Race
Hurta had a fairly straightforward strategy: endure the bumping and jostling over the first 800 before asserting herself during the second half of the race.
Article continues below player.
"I just wanted to be calm and I just wanted to make sure I was good over the second half, somewhere between 800 to 300 meters to go, to make a decisive move," Hurta says. "And just don't look back."
The race could not have gone better if Hurta had scripted it. After Thomson led the way through 1009m (2:53.64), Hurta went to the lead with 500 to go and immediately opened a gap. Though SEC champ Gear — doubling back from her anchor leg of Arkansas' runner-up DMR last night — tried to close that gap, she never got within three meters of Hurta, who went 33.44-32.07-31.12 over the final three laps to close out her win unchallenged.
Women's 1 Mile Results
1 Sage HURTA Colorado [SR]	4:30.58  PB  
2 Krissy GEAR Arkansas [SR]	4:32.37
3 Kennedy THOMSON Arkansas [SR]	4:33.95  PB  
4 Kaley RICHARDS UMass Lowell [JR]	4:36.26  PB  
5 Allie GUAGENTI Ohio State [SO]	4:36.71  PB  
6 Kate HUNTER BYU [SR]	4:37.65
7 Aneta KONIECZEK Oregon [JR]	4:38.46
8 Katie RAINSBERGER Washington [SR]	4:39.67
9 Gracie HYDE Arkansas [JR]	4:44.40
10 Heather HANSON BYU [JR]	4:48.97
Quick Take: Hurta battles back from injury to win her first NCAA title in commanding fashion
Hurta did not compete at all in 2020, and while part of that was due to the pandemic, part of that was due to another reason: she wasn't healthy. During the end of the 2019 cross country season, Hurta ran through shin pain that was ultimately diagnosed as a tibial stress fracture (she still managed to finish 38th at NCAA XC). Hurta took a break, but said she came back too soon and wound up re-injuring herself. Then last fall, she developed a minor bone injury.
| | |
| --- | --- |
| Overall | |
| Comfort | |
| Cushioning | |
| Durability | |
| Appearance | |
| Value | |
Hurta finally returned to the track on January 30 — her first race in over a year — and today she showed she is all the way back by winning her first national title.
Quick Take: Four of the top five ran personal bests
Hurta's 4:30.58 may have been a personal best, but she is clearly capable of a lot more as she ran a big negative split (2:11.04 final 800). Behind her, four of the top five ran personal bests, with Arkansas' Kennedy Thomson (4:39.19 to 4:33.95), UMass Lowell's Kaley Richards (4:35.64 to 4:38.36), and Ohio State's Allie Guagenti (4:40.89 — the slowest seed coming in — to 4:36.71) all making breakthroughs.
Runner-up Krissy Gear (4:32.37) of Arkansas was the only one not to run a personal best, and it's worth wondering how she would have done had she not run the DMR last night. But she could not have done a much better job for the team — coach Lance Harter will be grateful for the 16 big points she collected by taking second in both the DMR and mile, helping the Razorbacks defend their team title.
Women's 800: Former teen star Aaliyah Miller goes out in 56.90 and hangs on to NCAA title
Baylor's Aaliyah Miller went out in a crazy fast 56.90 and held on to win the NCAA 800m title in a meet record of 2:00.69, equaling the 2nd fastest collegiate 800 ever.
Miller's path to the NCAA titles was not the most direct one.
Miller was a high school phenom who ran 2:02.96 as a senior and won silver at the 2016 World Juniors behind Sammy Watson. Then she went to college. While she had some collegiate success (two Big 12 800m titles), she never made the NCAA 800 final until this year.
In the final, she ran like she expected to dominate. After getting the lead with a quick opening 200 (27.69), Miller extended it at 400 (56.90), and when she hit 600 in 1:27.49, she had almost a full two seconds on the rest of the field, led by Laurie Barton of Clemson. The only question was could Miller hold on at all the final 200. With 100 to go Miller was slowing, but she managed to eke out a 33.21 final 200m to get the win by .52 over Barton who just held off Shafiqua Maloney of Arkansas to get second.
QT: Talent doesn't go away…
One of our favorite mantras is talent doesn't go away — but that really isn't always the case, especially when it comes to teen phenoms. Miller's path to the top of the NCAA was far from a straight one, but she looks like someone ready to go sub-2:00 and that means she might want to start dreaming of Tokyo. BaylorBears.com has a nice profile before the meet on Miller's collegiate career.
Women's 800 Results
1 Aaliyah MILLER Baylor [SR]	2:00.69  PB   MR  
2 Laurie BARTON Clemson [SR]	2:01.21  PB  
3 Shafiqua MALONEY Arkansas [SR]	2:01.22  PB  
4 Lindsey BUTLER Virginia Tech [SO]	2:02.15
5 Claire SEYMOUR BYU [JR]	2:02.25
6 Gabrielle WILKINSON Florida [SO]	2:03.32
7 McKenna KEEGAN Villanova [SR]	2:04.26 PB  
8 Sarah HENDRIC KKennesaw State [JR]	2:04.36
Women's 3000: Courtney Wayment completes the double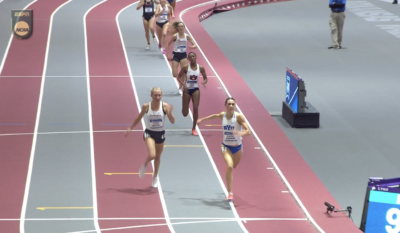 After anchoring BYU to a commanding victory in last night's distance medley relay, Courtney Wayment entered tonight's 3000 as the favorite, and wound up delivering on that status. But she had to work for it, and it wasn't 5000 champ Joyce Kimeli of Auburn, but rather Arkansas' Lauren Gregory who battled Wayment all the way to the finish line over the final lap, Wayment ultimately holding her off to win in 9:01.47 thanks to a 31.20 last lap. Gregory's last lap was actually faster (31.16), but she couldn't quite overhaul Wayment and had to settle for second in 9:01.67 as Kimeli was third in 9:02.79.
Though Gregory didn't get the individual win, she did get the consolation of clinching the team title for Arkansas. Between her, Katie Izzo (4th, 9:03.85), and Abby Gray (5th, 9:05.52), the Razorbacks tallied 17 points in the 3k, enough to put them over the top and claim their second straight championship.
The Race
Nothing much happened in this one over the first 2400 meters, as 10 of the 16 women in the field were still in the lead pack with three laps to go. That number of bodies running that close together spelled trouble, and unfortunately NC State's Elly Henes, the third-placer in the 5k last night, was tripped from behind by Georgia's Jessica Drop with 500 to go as she tried to improve her position (Washington's Allie Schadler also got caught up in the fall).
With two to go, the two champs from Friday night were level, Kimeli on the inside and Wayment on the outside before Wayment made a move with 350 to go to seize the lead. Surprisingly it was not Kimeli who went with her, but Gregory, and after Wayment's 33.04 penultimate lap, those two were clear of the field at the bell.
Gregory gave Wayment all she could handle, battling hard down the home straight. But Wayment would not yield, and her 31.20 cemented the double victory.
Women's 3000 Results
1 Courtney WAYMENT BYU [SR]	9:01.47
2 Lauren GREGORY Arkansas [JR]	9:01.67
3 Joyce KIMELI Auburn [JR]	9:02.79
4 Katie IZZO Arkansas [SR]	9:03.85
5 Abby GRAY Arkansas [SR]	9:05.52  PB  
6 Jessica DROP Georgia [SR]	9:05.98
7 Olivia HOJ BYU [SR]	9:06.77
8 Maudie SKYRING Florida State [JR]	9:09.05
9 Logan MORRIS Arkansas [SR]	9:10.40
10 Jennie BARAGAR-PETRASH ND [SR]	9:10.51  PB  
11 Alyson CHURCHILL Florida State [FR]	9:14.91
12 Elly HENES NC State [SR]	9:19.29
13 Olivia MARKEZICH Notre Dame [SO]	9:21.74
14 Hannah BROOKOVER Wake Forest [SR]	9:28.70
15Allie SCHADLER Washington [SR]	9:29.83 
Allie GUAGENTI Ohio State [SO]	DNS
Quick Take: Courtney Wayment joined an exclusive club of double winners
With her victory in the 3000 today, Wayment became just the eighth woman to win an individual event and anchor the winning DMR at NCAAs since the event was restored to the NCAA program in 1994. There are some pretty famous names on that list, including Jen Rhines and Shalane Flanagan. Here's the full list:
Women who have anchored DMR champs & won an individual event (since 1994)
| | | | |
| --- | --- | --- | --- |
| Year | Athlete | School | Individual event(s) |
| 1995 | Jen Rhines | Villanova | 5k |
| 1998 | Katie McGregor | Michigan | 3k |
| 2003 | Shalane Flanagan | North Carolina | 3k |
| 2009 | Sarah Brown | Tennessee | Mile |
| 2015 | Dominique Scott | Arkansas | 3k |
| 2017 | Dani Jones | Colorado | 3k |
| 2019 | Jessica Hull | Oregon | 3k |
| 2021 | Courtney Wayment | BYU | 3k |
As for tonight's race, Wayment had to be patient before she could kick to the win.
"After a mile, I looked at coach [Diljeet] Taylor like, can I go? Can I go? And she said no, and then it felt like every lap after that she said 'No, you can't go. No, you can't go.' And then 400 to go, she said 'You gotta go!' And so I just went. I knew that I've run 4:30, a 2:05. I know I have closing speed.
With Wayment showing the versatility to succeed in multiple events — she was the fastest miler and 3000 runner in the NCAA this year and was 5th at NCAA XC in 2019 — the natural question is whether she chooses to focus on the 1500 or 5000 outdoors. 
Wayment's answer? Neither.
"I definitely do steeplechase," Wayment said. "That is what my main calling and main event is. I never really thought of myself as a miler, but this year changed my mind a little bit."
Wayment hasn't run a steeple in four years — her pb is only 10:04 — but assuming she's merely competent over the barriers, she will be the heavy favorite outdoors.
Athing Mu runs fastest 400m EVER indoors
The most famous distance runner at this meet, Athing Mu of Texas A&M, the NCAA 800m record holder, didn't run a distance event here, opting for the 400 and the 4×400.
In the 400, USC's Kaelin Roberts beat Mu to the pole and held onto the win in 50.84 as Mu had to settle for runner-up in 51.03.
Mu more than turned the tables in the 4×400. Mu got the baton on the anchor behind Roberts, but there was no stopping her. She split 49.54, the fastest 400m ever run by a woman indoors, to get the win for Texas A&M.
49.54 SPLIT FROM @athiiing!!!

She anchors Texas A&M to a meeting record in the 4x400m (3:26.68).

That's the fastest any woman has ever covered 400m indoors – either individually or in a relay.

And she is 18.

— Jon Mulkeen (@Statman_Jon) March 14, 2021
QT: Distance fans, don't panic yet but Mu realizes she likes the 400
LRC's Jonathan Gault asked Mu why she considers herself first an 800m runner. And for the first time to our knowledge, Athing said she likes the 400. 
"Ever since I started running the 400 again my junior year of high school, I still thought of myself as an 800 runner. But I think now, today, [I thought to myself], 'you know what, I actually like the 400.' It's slowly coming into my resume. The 800, it's just my race. I go into the 400 thinking I'm just doing this for fun. It's less pressure." 
Quick Take: Can BYU get the triple crown on Monday?
BYU won the DMR on Friday, Wayment won the 3000 tonight, and on Monday an entirely different group of Cougars will go for the NCAA XC title in Stillwater (BYU coach Diljeet Taylor split her squad in two this year — none of the track runners are running XC, and Wayment doesn't have XC eligibility anyway). Wayment said she considered trying to finagle her way into the XC meet to cheer on her teammates but sided against it and will watch from Provo with the track squad. It would be quite the feat if BYU, ranked #2 in the coaches' poll in XC, could win two track titles and the XC team crown with entirely separate groups of runners.
As for Arkansas — ranked #1 in the coaches' poll — coach Lance Harter said that they will still run a team at the XC meet on Monday, but may not double back as many women as he indicated earlier this week. 
"It won't be the same team that we had in the fall," Harter said. "We're gonna give a few young people an opportunity to gain some experience."
Harter Full of Praise for his AD and the SEC Commissioner for Making Sure NCAAs Took Place
If you're wondering why NCAA Indoors and NCAA cross country are two days apart, one possibility is a lot of people didn't think they would be — because they didn't think NCAA indoors would take place.
Harter said, "There were lots of doubters. Many who are in Stillwater, Oklahoma, tonight (where NCAA XC will take place on Monday) who said there is no way we can have an indoor season and preserve everybody's health."
Harter said he knew how important NCAA basketball is financially to the NCAA so that gave him confidence the track season could also take place indoors in a safe manner.
"I'm still looking for the individuals who picked this date (for xc). They still have not stepped forward to say, 'Hey, what a great idea.'"
Harter was full of his praise for his athletic director Hunter Yurachek and SEC commissioner Greg Sankey for never losing focus "that we would return to some sense of normalcy."
Arkansas was the hub for indoor track this winter with the Razorbacks hosting many meets including SECs and NCAAs, and the professional American Track League taking place in Fayetteville as well. So perhaps it was fitting that the Razorbacks left with their fourth straight NCAA title on the women's side.
---
Video highlights can be found here. Check out all of our NCAA coverage including our men's recap here: 2021 NCAA Indoor Coverage Hub.
Be a fan and talk about the Day 2 action our world famous fan forum/messageboard.