2021 USATF Grand Prix: Big Wins for Muir, Bromell, & Hoare, Simpson Struggles, & Updike Stuns Steeple Field
By Jonathan Gault
April 24, 2021
Stars traveled from across the globe to Eugene, Ore., to compete at today's USATF Grand Prix, the first professional meet at the new Hayward Field. The cool, wet, and occasionally windy conditions weren't great for achieving top performances, but there was still plenty of drama, intrigue, and disappointment over the course of two hours on Saturday afternoon.
An early-season meet like this, in which many athletes are making their season debuts or running their specialty distance for the first time, can answer questions but often produces just as many. Dominant wins by Laura Muir, Trayvon Bromell, and Shaunae Miller-Uibo? Not too shocking. But few would have predicted wins by Isaac Updike (who?) in the men's steeple or Adelle Tracey in the women's 800. Or Jenny Simpson finishing 9th — and 7th among Americans — in the women's 1500.
There's a lot to digest after the biggest pro meet of the US season so far. Let's dig into it.
Article continues below player.
Laura Muir does Laura Muir things
If I told you before the women's 1500 that Laura Muir would win in 4:01.54, you wouldn't have had much problem believing me. But that result tells far from the whole story.
Up front, the story was Muir. She said after the race she believes she is in PB shape right now — no small feat when your pb is 3:55 — and wanted to run fast. 
Like, really fast.
Before the rabbit even had a chance, Muir was out in front of the field, amassing a 20-meter gap at 400 meters, which she hit in 61.55. That's 3:50 pace, but to hear Muir tell it, that was the aim.
"I was actually on pace for the first lap and it was just really, really windy, and I think that was difficult to do," Muir said.
Muir couldn't hold on, running her next lap in 65.52, her personal best slipping away in the Oregon breeze. But she was never challenged at any point and won handily in 4:01.54.
Muir's lofty aspirations in this race were a reminder of just how tough it will be to earn a medal in the women's 1500 this summer in Tokyo — even tougher than 2019, when Muir ran 3:55 in the World Championship final in Doha and only finished 5th. Gudaf Tsegay's 3:53 indoor world record in February has raised the bar for everybody.
Rough outing for Jenny Simpson in her return to racing
Today's 1500 was Jenny Simpson's first race in 435 days.
It did not go well.
Simpson went out in last place and would barely move up, finishing ninth in the 11-woman field in 4:10.07. Outside of her championship prelims, it was her slowest 1500 since April 2017 — and she won that race, clocking 4:16 at the Drake Relays.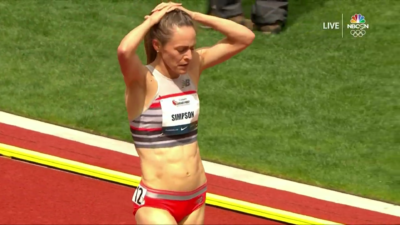 Simpson, 34, very rarely races poorly, which made this result that much more jarring. And though writing her off after one bad race this year would be a bad idea, she will have to be significantly better than she was today if she wants to make her fourth straight Olympic team two months from now. Losing to Muir is nothing to be concerned about, but finishing behind six Americans today is worrying, especially considering none of the other big guns of the 1500 — Shelby Houlihan and Elle Purrier — were not here. Dartmouth grad Helen Schlactenhaufen, now running for Saucony, was the top American in second in 4:04.36.
Would Simpson consider running the 5,000 at the Olympic Trials instead of the 1500? She still has some time to decide, but that's a question worth pondering. Her kick simply was not there today — Simpson closed in 67.91. She needs to race again and find out if today's race was merely an aberration or something more.
Of course making the 5000 team with a 14:56 pb is not exactly easy to do with the likes of Karissa Schweizer (14:26 pb), Shannon Rowbury (14:38 pb), Elise Cranny (14:48 pb) and others expected in the field. We know one thing. It sure would be nice if the 1500/5000 double was doable at the Trials. Making it easy for stars to double is how you grow the sport. The old schedule allowed that. The new schedule doesn't and USATF never bothered to tell the public why it was changed (and yes, we asked them). Yes, now it more closely imitates the Olympic schedule, but the point of the Trials is to pick the best US Olympic team, not imitate the Olympic schedule.
Ollie Hoare makes a statement to the Australian Olympic selectors
After Jye Edwards upset national record holder Stewart McSweyn at last week's Australian championships to clinch a spot on the Olympic team at 1500, the pressure rose on Boulder-based Ollie Hoare to make his case for one of the two remaining at-large spots. He should be feeling better today, as he followed up his dominant 3:32 win at the New Balance Indoor Grand Prix in February with a dominant 3:33 win today.
Hoare has a long time to wait though — he won't find out if he's on the Olympic team until July.
"For me to make my case really is to keep running races like this — a big ranked race running against a world champion in a different event," Hoare said. "The one thing that Athletics Australia looks at is how does this athlete compete against the best in the world."
Hoare convincingly beat world champ Donavan Brazier (3rd in 3:37.58) and everyone else in the field today. Barring an injury or complete loss of form between now and July, Hoare clearly deserves a spot on the team as he's been on fire since joining the On Athletics Club and coach Dathan Ritzenhein last year. Put him in a fast Diamond League this summer with Timothy Cheruiyot and Jakob Ingebrigtsen and it would not be a shock to see him threaten 3:30.
Today's win brought back fond memories for Hoare, as he also ran at the last meet at the old Hayward Field, upsetting Josh Kerr for the NCAA title there in 2018. He is a vastly improved runner now, however, as he said training under Ritzenhein has been "a beast" compared to college at Wisconsin under Mick Byrne — more mileage, more intensity, and more weight work.
MB: OLLI MF HOARE 
Hoppel fades; Brazier and Kessler come on strong
Today was Bryce Hoppel's first 1500 as a professional, and he deserves props for going out hard and trying to run fast. Unfortunately, Hoppel found himself in no-man's-land between leaders Ollie Hoare and Justyn Knight and the chase pack, and though he was third at the bell, he found himself swallowed up over the final 400, fading to ninth in 3:42.62 after a 62.10 last lap. A learning experience for sure.
Hoppel's 800 rival Donavan Brazier chose the opposite approach, running conservatively and rolling people up over the second half of the race. Brazier cost himself any shot at victory when he let Hoare and Knight open up a huge lead early, but third in 3:37.58 with a 56.14 is still a solid run for the 800 specialist.
The fastest close, however, belonged to 18-year-old high schooler Hobbs Kessler. The national record holder in the indoor mile (3:57) chose to stay at the back, and at the bell sat 12th in the 13-man field. But, similar to Alan Webb in his record run at the 2001 Pre Classic, Kessler was able to kick by several pros on the last lap, edging out 2017 World Championship finalist Johnny Gregorek to finish 6th in 3:40.46 — #3 on the all-time high school list. Kessler's last lap was a sparkling 56.06. While his last lap was great, his overall time equates to a 3:58.14 mile — slower than what he ran indoors (3:57.66).
In the other big 1500 of the day at the Drake Relays, Clayton Murphy got the win in 3:39.12 thanks to a 54.77 final lap.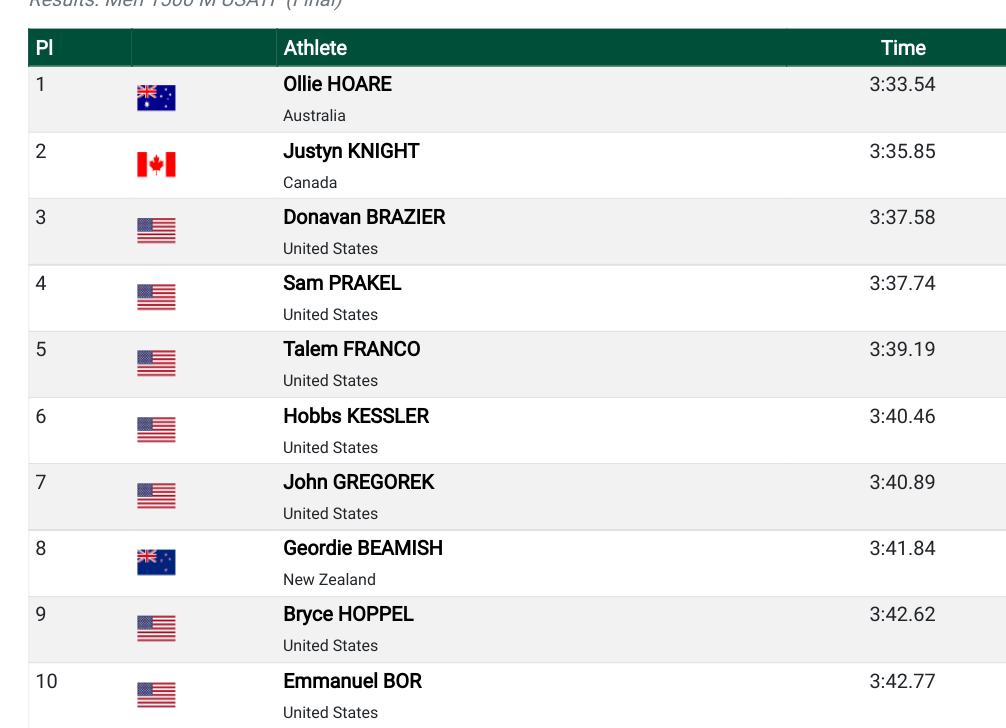 MB: HOBBS KESSLER 56.06 final lap
MB: Guess who's back, back again, Murphy's back, tell a friend Clayton Murphy has won the Drake 1500.
The men's steeple in the USA just got a whole lot more exciting
Heading into today, only three American men had the Olympic standard of 8:22.00 in the steeplechase. And one of those guys, Andy Bayer, just announced his retirement.
For there to be any drama at the Trials, more guys had to run fast. And that's exactly what happened. After today's race, which featured almost every relevant American steepler outside of Evan Jager, the US steeple scene has been shaken up like a snowglobe.
The two men with the standard right now, 2019 US champ Hillary Bor (3rd, 8:22.55) and the second-fastest American ever, Stanley Kebenei (7th, 8:30.57), were both well beaten today (Bor was fortunate to get third, holding off Obsa Ali by just .26 of a second). Instead, it was unheralded Isaac Updike who stole the show, passing Bor at the bell and using a 59.13 last lap to win in 8:17.74, a big improvement on his 8:25.38 pb from 2018. Behind him, 2016 NCAA champ Mason Ferlic also got the standard, running 8:18.49 — his first personal best in five years.
Ferlic had been running well at other distances this year, so his result, while impressive, was not a huge surprise. Updike's was a shocker, however. 29-year-olds don't normally whack eight seconds off their steeplechase pbs. But Updike, who trains under Tommy Nohilly as part of Empire Elite — the club that rose from the ashes of NJ*NY Track Club  — said he benefited from the consistent training offered by the pandemic in 2020. update: Frank Gagliano, the coach of the NJ*NY Track club, called us to say the club is "100% in motion". He's coaching two athletes now and is looking to build the club back-up after the Olympic Trials. This is Gag's 60th year of coaching and he is looking to hire one or two assistants after the Trials.
"We tried to reevaluate what our standards were within workouts and volume for me personally, whether that be more intensity in the workouts or just with more volume on a week-to-week basis," Updike said.
Hitting the Olympic standard was a big goal for Updike, who ran in college at Eastern Oregon, an NAIA school, but he fell just short of another target: beating Nohilly's pb of 8:16.92, which Nohilly set to finish 4th at the 1992 Olympic Trials in New Orleans.
Today's results also mean the two fastest steeplers in the world this year (okay, it's very early) are both unsponsored Americans. The total lack of steeple opportunities in 2020 certainly hurt the event as Ferlic and Bayer were both dropped by Nike at the end of the year.
Trayvon Bromell dominates Noah Lyles in the 100
The showdown between two of the United States' top sprinters turned into a blowout as Trayvon Bromell used a terrific start to bolt out of the blocks and run away with the men's 100 over Noah Lyles, 10.01 to 10.17. Lyles, as usual, was able to claw back some ground late, but this race was basically over at halfway.
Bromell's start was so good that it almost looked as if he tried to time the start rather than react to the gun — but he said after the race that wasn't the case (the results did not list reaction times, but Bromell's had to be very quick).
"I don't ever try to anticipate the start, because that's how you false-start," Bromell said.
The times weren't particularly impressive, though maybe everything has been skewed by Sha'Carri Richardson's 10.72 two weeks ago. The reality is, we're in April and, with temps in the 50s, it wasn't a great day for sprinting in Eugene. The fastest 100 in the US was actually run earlier in the day in Miami; World Championship bronze medalist Fred Kerley ran a stunning 9.91 to join Wayde van Niekerk and Michael Norman as the only men to break 10 for 100m and 44 for 400m. It was Kerley's fifth pb in three meets, as he started 2021 with a 10.49 pb and started the day with a best of 10.03.
MB: Can we see the reaction times for today's men's 100? Did Travyon Bromell false start?
MB: Fred Kerley 9.91 (+2.0) 
Adelle Tracey steals the show in the women's 800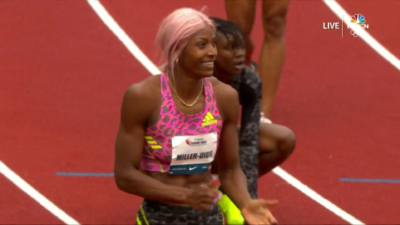 With stars like Raevyn Rogers and Jemma Reekie in the women's 800 field, few would have picked Adelle Tracey — who has a pb of 1:59.86, two seconds slower — to prevail today. But tactical races can deliver strange outcomes, and this race went tactical, with the middle 400 covered in over 65 seconds after the field let pacemaker Alexa Efraimson go after 200.
Still, with 200 to go, the two favorites, Reekie and Rogers, were running 1-2. But Tracey ran both of them down over the final 100, as Rogers didn't have her traditional kick and Reekie couldn't quite hold off her British countrywoman, Tracey winning in 2:03.25 to Reekie's 2:03.26.
Tracey — who is 27 and has made just one World/Olympic team, making the semis in London in 2017 — collected some nice scalps today. Her time wasn't quite fast enough to move the needle and put her in the conversation for the world's top 800 runners, but it was a good win after a stint of mostly solo altitude training in Flagstaff.
Shaunae Miller-Uibo runs the fastest women's 400 ever at Hayward Field — old version or new
The first event of the TV window was the women's 400, and it was won by the heavy favorite, Olympic champion Shaunae Miller-Uibo, in 49.08, taking down the nine-year-old stadium record of 49.29 set at the old Hayward Field by Sanya Richards-Ross. After the race, Richards-Ross — who was commentating on it for NBCSN — wondered if the time could have been aided by the new track. Were we in for a day of record-setting performances?
No. It turned out that Miller-Uibo just ran a ridiculous race. On a day where most of the performances could best be described as ordinary, Miller-Uibo was the exception, running the second-fastest time ever in the month of April. The only faster time? Miller-Uibo's 49.05 from 2019.
Michael Saruni gets a measure of revenge on Isaiah Harris
The last time Michael Saruni and Isaiah Harris raced in Eugene, Harris ran down Saruni to win the 2018 NCAA title. Today, Saruni gained a small measure of revenge by doing the same to Harris, kicking away over the final 50 meters to win the 800 in 1:46.64 to Harris' 1:46.92.
Harris didn't run all that badly — he reeled in leader Sam Ellison smartly over the last lap — but he didn't quite have the sharpness necessary to hold off Saruni, who was a distant third with 120 to go but closed very well (26.37 final 200) to erase the deficit and win the race.
Talk about the action on our messageboard.
MB: Official DRAKE/OREGON Relays Discussion Thread
MB: Guess who's back, back again, Murphy's back, tell a friend Clayton Murphy has won the Drake 1500.
MB: OLLI MF HOARE He dominated the Oregon 1500in 3:33.
MB: HOBBS KESSLER 56.06 final lap
MB: How soon until Cole Hocker beats Jakob Ingebrigtsen??
MB: Jenny Simpson DONE!!!?? She ran 4:10 today.
---
Yesterday: LRC Teenage Dreams: 19-Year-Old Cole Hocker WINS Oregon Relays in 13:19, 18-Year-Old Nico Young Sets American Junior Record 13:24 at Drake