2021 LetsRun Awards: Best Athlete, Best Comeback, Best WTF Performance, Biggest Heartbreak, & More
By LetsRun.com
January 12, 2022
While 2021 could in no way be described as "normal," it was a heck of a lot better than 2020. 2021 gave us an Olympic Trials, an Olympics, five World Marathon Majors, and two NCAA Cross Country Championships. We also got crazy fast women's 100 times, two of the greatest races the world has ever seen (the Olympic 400m hurdles finals), and the emergence of the next generation of American track & field stars in Athing Mu, Erriyon Knighton, Cole Hocker, and Hobbs Kessler.
It wasn't all sunshine and rainbows, though. Shelby Houlihan's four-year suspension after a positive test for nandrolone cast a shadow over the Olympic Trials. And no sooner had American track found a new mainstream star in Sha'Carri Richardson than we heard that Richardson tested positive for cannabis at the Trials, forcing her to miss the Olympics.
Article continues below player
Now that the full year is in the books, it's time to hand out the annual LetsRun.com Awards. Let's get to it.
Previous LRC awards: *2020 *2010s decade awards *2018 *2017
Men's Distance Runner of the Year: Jakob Ingebrigtsen
It's a little strange to name Ingebrigtsen as our Runner of the Year when he was barely the best runner in his primary event, but it was an odd year in the men's distances. Joshua Cheptegei, with an Olympic 5k gold and 10k silver, has an argument, but he was only 6th in the fastest 5k of the year in Florence – a race won convincingly by Ingebrigtsen. The other choice would be Eliud Kipchoge – recipient of LRC's Runner of the Year in 2017 and 2018 – as he won the Olympic marathon by 80 seconds, the largest margin in 49 years. And while Kipchoge was spectacular, we're going with Ingebrigtsen, who smashed the Olympic record in the 1500 (3:28.32) and finished the year as the world leader in the mile (3:47.24, the fastest outdoors since Alan Webb in 2007) and 5000 (12:48.45).
That Olympic 1500 title in Tokyo – his first victory over rival Timothy Cheruiyot in 13 attempts – will be what people remember from 2021, but Ingebrigtsen was sensational across a number of distances. Four years after becoming the youngest sub-4:00 miler in history, Ingebrigtsen returned to Hayward Field to win the Bowerman Mile in a Diamond League record of 3:47.24. Five days and 5,500 flight miles later, he won the 3,000 in Lausanne in 7:33.06. In Florence in June, he glided away from the world's best 5,000 runners to win in 12:48. And for an encore, he stepped up to 10k to win Euro XC in December. He was simply brilliant whenever he stepped on the line – his "worst" race was when he finished 3rd in Monaco in 3:29.25 coming off illness – and earned one of the biggest prizes in the sport at the age of 20. What a year.
Women's Distance Runner of the Year: Sifan Hassan
The truly great athletes push the boundaries of what we think is possible. Sifan Hassan did that at the 2019 World Championships when she became the first athlete to win world titles in the 1500 and 10,000 meters. 
"I like really crazy things," Hassan said.
This year, Hassan stretched those boundaries even further. One month out from the 2020 Olympics, Hassan was leaning towards the more conventional 5k/10k double in Tokyo. Then she got destroyed by Faith Kipyegon in the 1500 meters in Monaco.
"More than winning, losing makes me some crazy," Hassan said. "I can tell you, when I lose, I can climb to this mountain."
Motivated by a shot at redemption against Kipyegon, Hassan did something truly crazy. While most athletes were scared of the 1500/5000 double in Tokyo – it would require five races in eight days, with the first round of the 1500 falling on the morning of the 5000 final – Hassan signed up for the triple: 1500, 5000, and 10,000. And after nine races, 61.25 laps of the Olympic Stadium track, and one very famous fall, Hassan left with three Olympic medals, two of them gold.
What Hassan accomplished over the course of nine days in Tokyo is nothing less than one of the greatest achievements in the history of distance running. And while medals are the objective measure we use for greatness, in Hassan's case, they don't tell the whole story. It is not just that she won Olympic medals in the 1500, 5000, and 10,000, the first woman ever to do so. It is that her unique combination of speed and endurance means she is the only woman who could.
Plus she deserves bonus points for continuing to race after the Olympics when a bunch of stars packed it in. After Tokyo, she ran the 5000 at Pre, the mile in Brussels, and the 1500 in Zurich. And we didn't even mention her world record. Hassan loves to compete and does a lot for the sport.
US Men's Distance Runner of the Year: Paul Chelimo
As fun as Cole Hocker's breakout was to watch, only one American man earned a distance medal at the Olympics, and that was the 31-year-old Chelimo. Early in the year, it wasn't even clear that Chelimo was the best runner in his training group – remember when Emmanuel Bor upset him in Virginia Beach in March? But Chelimo consistently brings his best for when it matters most, reclaiming his US title in the 5,000 meters and earning a second Olympic medal with a bronze in Tokyo in a US-leading 12:59.05.
The other thing Chelimo consistently brings is drama. At the US Olympic Trials, Chelimo forced Grant Fisher and Woody Kincaid out to lane 4 in the final straight; Fisher did not voice any complaints, calling Chelimo's actions "smart racing." In Tokyo, Chelimo was again the center of controversy. With a medal on the line, fourth placer Nicholas Kimeli of Kenya argued Chelimo should have been disqualified after running into him from behind with 600m to go. As in Eugene, the result stood, and Chelimo had made history as the first American to collect multiple Olympic 5,000 medals.
US Women's Distance Runner of the Year: Athing Mu
Athing Mu didn't just have the best season by any American distance runner in 2021; she had one of the greatest seasons an American distance runner* has ever had.
Let's start with this: Athing Mu is just the third American female distance runner to ever win an Olympic gold medal. Madeline Manning Mims won the 800 in 1968, Joan Benoit Samuelson the marathon in 1984, and Mu the 800 in 2021. That's the entire list. So already, she's in elite company.
In the moment, Mu's Olympic run was stunning for its audacity. In her first global championship final, she went wire-to-wire to win in an American record of 1:55.21. But in retrospect it makes perfect sense. When you are clearly the best in the world, why would you run any other way?
Mu broke collegiate records indoors (600, 800, 4×400) and outdoors (400, 800, 4×400) and lowered her own 800 AR at the Pre Classic to 1:55.04 in a race she won by a laughable 2.56-second margin. She also became the first American distance runner to win NCAA, US, and Olympic titles in the same year. And she did all of it at the age of 19. We may never see a season quite like this one again.
*Since Mu ran the 800 at the Olympics, we're counting her as a distance runner
LRC Teenager Athing Mu is Golden With 1:55:21 800m American Record
Comeback Athlete of the Year: Francine Niyonsaba
When the Court of Arbitration for Sport upheld World Athletics' new DSD guidelines in 2019, affected athletes like Caster Semenya, Francine Niyonsaba, and Margaret Wambui had a few choices, none of which were particularly appealing. They could walk away from the sport entirely. They could stay in the 800 meters, which would either require competing in the men's category (where they would no longer be among the best in the world) or lowering their testosterone and competing against women (ditto). They could walk away from the sport entirely. Or they could change events – down to the 200, or up to the 3000 and beyond.
Francine Niyonsaba chose the latter. It was a bold decision, considering she had never raced beyond 800 meters. Pursuing the long distances would require Niyonsaba to completely overhaul her training, with no guarantee of success (Semenya, who earned a World Championship medal at 1500, also tried to move up and could not even hit the Olympic qualifying time). Yet by the end of 2021, Niyonsaba had reinvented herself as one of the world's best distance runners, running a world record of 5:21.56 for 2000 meters, winning four Diamond Leagues (including the DL final), and finishing 5th in the Olympic 10,000 final.
Regardless of whether you believe athletes with internal testes, XY chromosomes, and male testosterone levels should be able to compete in the women's category (it's a firm no from us), Niyonsaba's transformation from world-class 800 runner to world-class 10,000 runner was the most impressive comeback in the sport this year.
And while we didn't think she should have been competing at the Olympics, we think her DQ there was a travesty: LRC The Disgraceful Disqualification of Francine Niyonsaba. Certainly a better explanation should have been given: LRC Track needs some new rule changes.
LRC Message Board Athlete of the Year: Shelby Houlihan
We really need to make this a formal award. (If you've got an idea what the winner should get, email us at wejo@letsrun.com). Supporters Club member John Wesley Harding started a thread hypothesizing that Cole Hocker was the 2021 LRC Message Board Athlete of the Year.
We went and looked at the numbers and it wasn't even close. Six of the top 10 running threads on the forums in 2021 were about Shelby Houlihan, the American record holder at 1,500 and 5,000m who tested positive for nandrolone and was banned for the sport for four years. Houlihan said she didn't know why she tested positive but hypothesized it was because of the burrito she ate.
High School Athlete of the Year: Erriyon Knighton
If you're winning High School Athlete of the Year on LetsRun.com over a guy who ran 3:34 for 1500, you know you've done something special. And with apologies to the brilliant Hobbs Kessler, he was not even in the same league as Erriyon Knighton in 2021.
Knighton's record-breaking summer began in Jacksonville on May 31, where he ran 20.11 for 200 meters to break Usain Bolt's world U18 record. Breaking one Bolt record is cause enough for celebration, but a month later, Knighton broke another, clocking 19.88 in the Olympic Trials semis to break Bolt's world U20 record of 19.93. For good measure, he broke it again the next day by running 19.84 to finish third in the Olympic Trials final and become the youngest US male Olympian since Jim Ryun in 1964. And then he went and finished 4th at the damn Olympics.
So, to summarize: Erriyon Knighton, who is now midway through his senior year of high school, was faster at age 17 than Usain Bolt was at age 19. Seems good to us. This kid might be going places.
WTF Distance Performance of the Year: Letesenbet Gidey's 62:52 Half Marathon
When Letesenbet Gidey stepped to the line for the Valencia Half Marathon in October, the women's world record stood at 64:02. Just over an hour later, she became not only the first woman in history to break 64:00, but the first to break 63:00 as well. Gidey finished in a time of 62:52 that would have been unthinkable as recently as five years ago, when the WR stood at 65:09. At Gidey's pace, Olympians would struggle to keep up with her through 5k (14:53) and all-time greats would struggle to make it to 10k (29:47). There is a strong case to be made that it is the single greatest performance in the history of women's distance running.
Going into the race, much was expected of Gidey. Though it was her half marathon debut, the world record was expected to fall either to Gidey, the 5,000 and 10,000 world record holder on the track, or Yalemzerf Yehualaw, her fellow Ethiopian who had run 63:44 on a short course in Northern Ireland in August (Yehualaw would break the old WR in Valencia as well but was still almost a minute back in 63:51). Both women were asked before the race how low the WR could ultimately go. Both answered that sub-63:00 was possible one day.
That day turned out to be the very next day. And over two months later, we're still having a hard time processing it. The women's half marathon world record starts with a 62, just like the personal bests of Americans like Bernard Lagat, Matt Tegenkamp, Andrew Bumbalough, and Ben True. Maybe at some point in 2022, Gidey's run will finally make sense. But right now, our minds are still blown. 
LRC Making Sense of Letesenbet Gidey's INCREDIBLE 62:52 Half Marathon World Record in Valencia
Screenshot of the Year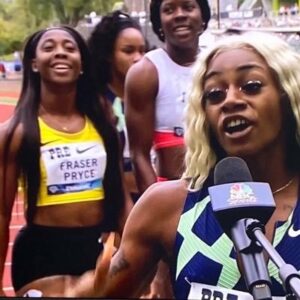 How wild was the women's 100 at the 2021 Prefontaine Classic? Up front, you had Elaine Thompson-Herah running 10.54, a time that really should be the world record (unless you somehow believe the wind for FloJo's 10.49 was actually 0.0). Behind her, you had Shelly-Ann Fraser-Pryce and Shericka Jackson – the second of three straight races in which the Jamaican trio would finish 1-2-3 (Olympics, Pre, Lausanne). And in ninth, dead last, you had Sha'Carri Richardson, running her first race since serving the one-month suspension for cannabis that cost her a spot at the Olympics.
And that was just what happened on the track. Afterwards, NBC opted to interview the American media darling Richardson, who chose to rant about her status as the sixth-fastest woman in history (despite the fact that the second and third-fastest women in history had just obliterated her). The resulting screenshot (which is still Richardson's profile photo on Twitter as of this writing) was a neat microcosm of the women's 100 in 2021. Richardson received the attention, but the glory – and the last laugh – went to the Jamaicans.
Headline of the Year
Okay, we're biased, but it was still pretty cool that Jonathan Gault predicted the perfect headline for the men's 1500 at the Olympic Trials two weeks ahead of time:
DUCK DUCK GOOSE https://t.co/ayh7eHIbFs pic.twitter.com/4Oj0yWdpLc

— Jonathan Gault (@jgault13) June 28, 2021
LRC DUCK, DUCK, GOOSE: Cole Hocker Takes Down Matthew Centrowitz to Win Men's 1500 as Yared Nuguse Grabs 3rd
Heartbreak of the Year: Leah Falland at the Olympic Trials
In 2016, Leah Falland was in third place in the US Olympic Trials steeplechase final with just a lap and a half to run when she landed awkwardly and ruptured her already-torn plantar fascia, causing her to fade to last place. Over the next four years, as Falland dealt with a litany of injuries she raced just one steeple.
But in 2021, everything finally came together again for Falland. She was healthy, and though it had taken five years, she was as fit as she was in 2016 when she had been, at the time, the third-fastest US steepler ever. The final chapter of Falland's comeback story was supposed to come at the Olympic Trials. Once again, she was in the top three with two laps to go. And once again, disaster struck. First, Falland clipped a barrier and fell. Remarkably, she picked herself up and was back in the top three at the bell. But Val Constien was too good over the last lap, and Falland ran out of gas, finishing 9th.
Falland's comeback story is genuine – she didn't need to make the US Olympic team to prove that. But that didn't make her heartbreak on the night of June 24 any less real.
LRC Emma Coburn, Courtney Frerichs Go 1-2 as Val Constien & Leah Falland Show the Beauty & Agony of the Olympic Trials
Steve Prefontaine Award: Courtney Frerichs
Prefontaine was known for his gutsy racing performances and Courtney Frerichs did her best Prefontaine impression at the Olympics in the steeplechase. She seized the lead in the Olympic final and dropped the entire field with a lap to go. She wasn't supposed to win gold, but with 400m to go, the gold was hers for the taking. It had the LetsRun.com crew that wasn't in Tokyo on their feet screaming at the TV. In the end, just like Prefontaine at the 1972 Olympics, it didn't result in gold for Frerichs, but she got the silver, and goosebumps for all American distance fans.
LRC Courtney Frerichs Goes for Gold and Rewarded With Silver as Peruth Chemutai Gets Surprise Gold
Coaching Accomplishment of the Year: BYU Wins NCAA DMR & XC Titles Three Days Apart
When it came to the hybrid NCAA indoor track/cross country season last winter, the top distance schools were forced to choose which championship meet to prioritize. Oregon and Arkansas chose NCAA indoors. Pretty much everyone else chose NCAA XC. And then there were the BYU women, whose coach Diljeet Taylor chose to chase after both, dividing her team into two different training groups for the duration of the season.
The decision was dictated, in part, by the eligibility situation of the team's top runners: Courtney Wayment and Olivia Hoj had indoor but no XC; Whittni Orton and Anna Camp Bennett had XC but no indoor. And somehow, it worked out perfectly. On March 12 in Fayetteville, Wayment anchored the BYU women to the NCAA DMR title. The next day, she won the individual 3k title. And two days after that in Stillwater, the Cougars won their first NCAA team title since 2002. For a team to have the depth of talent to contend at both championships and to then go out and win at both championships is a testament to the culture of success Taylor and her athletes have built in Provo. It is safe to say we'll never see a weekend like that again.
LRC BYU Women Cap Weekend For The Ages With 1st NCAA XC Title Since 2002, Alabama's Mercy Chelangat Wins Individual Crown
Like Father, Like Son Like Mother, Like Daughter
On June 12, Elly Henes capped off a great career at NC State in style by winning the NCAA women's 5000 title. It was the first individual NCAA women's title for NC State since 1991 when Henes' mom and coach, Laurie, won the 5000.
On November 20, NC State captured its first NCAA women's cross country team title in the 29th year of Laurie Henes coaching at NC State. Congrats.
More: