Unbelievable: Sifan Hassan Falls at the Bell, Gets Up and Wins Her 1500 Heat as She Pursues Historic Triple
If you'd like to be a true track & field insider and get all the insights from Tokyo, join the LetsRun.com Supporters Club. Get daily video shows/podcasts from Tokyo, all the LetsRun.com content, savings on running shoes, and a free LetsRun.com or 1:59:40 shirt if you join for a year.
By LetsRun.com
August 2, 2021
TOKYO — The legend of Sifan Hassan grows, and she hasn't even finished the first of what could be three finals in her attempt to pursue the historic 1500-5000-1000 triple.
Hassan entered the 1500 heats on the morning of Day 4 of the Tokyo Olympics hoping to expend as little energy as possible and simply qualify for the semifinals. Unlike any of the other athletes in the field, Hassan has another race tonight — the final of the 5000.
However, the triple was nearly derailed at the bell of heat two, when Hassan stumbled over another competitor and fell to the track. The plan to take it easy certainly went out the window, and Hassan got up and delivered one of the most legendary moments one will see in a first round: running down the entire field to win the heat.
Hassan closed her final lap in 61.1 seconds including the fall, which slowed her by a minimum of two seconds. Her last 300 meters was a ridiculous 43.7 seconds.
Article continues below player.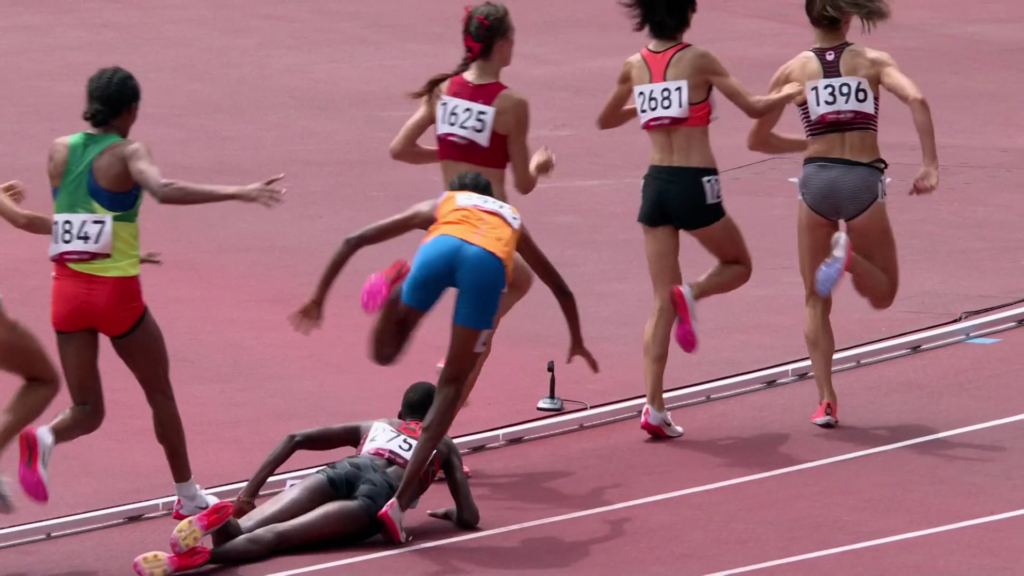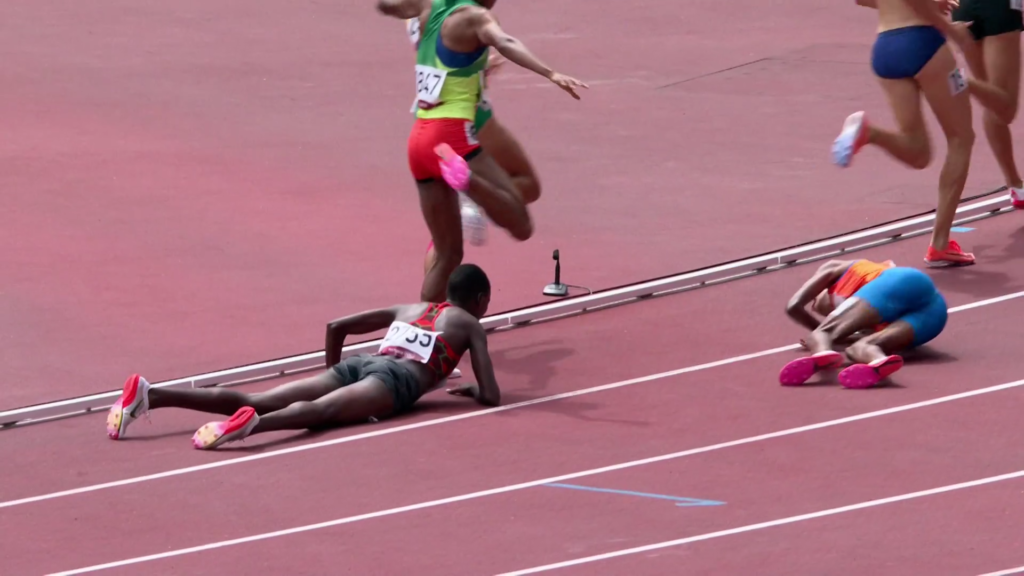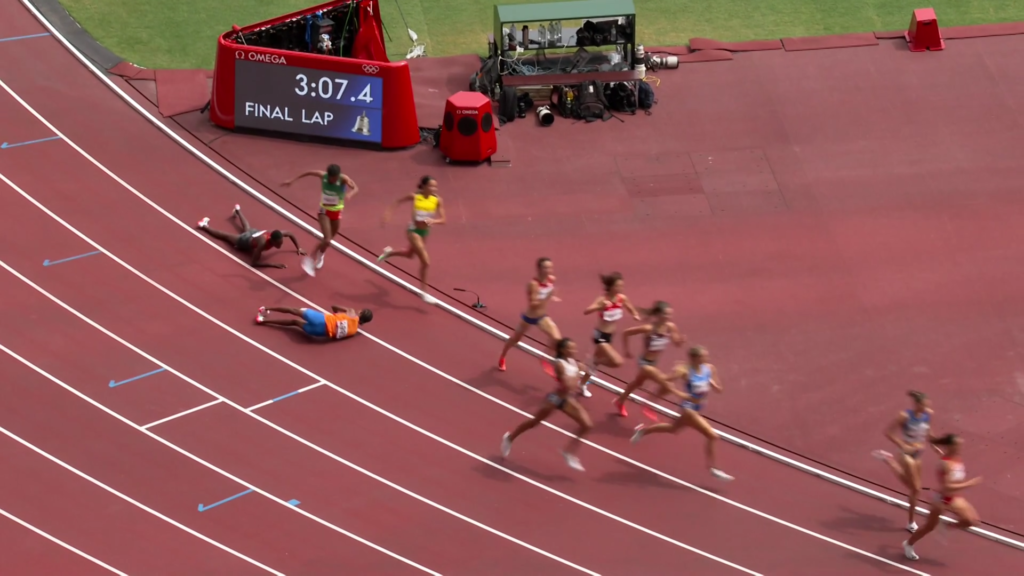 Hassan spent the first three laps of the race conserving energy on a sweltering 88-degree morning in Tokyo, and she was in 11th place at the bell, content to save herself for a kick.
American champ Elle Purrier St. Pierre and Australian Jessica Hull led the heat. Then all hell broke loose.
Romania's Claudia Bobocea nudged Hull just after the bell, which caused a ripple effect through the rest of the field. At least five other women made contact with each other and Canada's Natalia Hawthorn stumbled, which caused Kenya's Edinah Jebitok to stumble and fall to the track. Hassan tried to hurdle Jebitok but her spike caught Jebitok's back and she hit the ground hard.
Hassan spun around on the ground and popped back up, finding herself in 12th place. Officials likely would have advanced the reigning world champ in the event due to the fall (Jebitok was advanced), but she did not have time to think about that in the moment. She launched into an all-out sprint to get back in touch with the leaders.
By 250 to go, she had caught one competitor and latched onto the chase pack but remained in tenth place, a minimum of 20 meters behind Purrier. By 120 to go, she had gotten back into sixth place, safely in auto qualifying position.
Hassan checked over her shoulder as she entered the home straight, as if to make sure she was safely in the top six, but she did not let up, continuing to stride past Purrier and Hull and take the heat win in 4:05.17. She will now have to allow her adrenaline to settle and prepare for the 5000 final in less than 12 hours.
Ethiopian champion Lemlem Hailu also delivered a strong comeback, slowing dramatically to avoid Jebitok and closing to run 4:05.49 and finish fifth.
American Cory McGee, who was watching Hassan's heat while waiting to see if she advanced (she did) said that what Hassan did today was "insane."
"I figured she would just like get in on a [protest] — you know, she got kind of taken down so I thought she would just get in on, like, you know, being Hassan and whatnot," McGee said. "But no it was, it was crazy. She did what she had to do."
All 3 Americans (Elle Purrier St. Pierre, Cory McGee, and Heather MacLean) and all the main contenders advanced. More on the rest of the 1500 to come.
Purrier St. Pierre and MacLean both snagged auto qualifiers, and while McGee had to wait on a time qualifier, her 4:05.15 (8th in heat 1) held up. MacLean looked impressive in heat three, running 4:02.40, just off her 4:02.09 pb from the Olympic Trials, to take third, and will now have a day of before returning for Wednesday's semifinals.
Hassan will be back on the track tonight in 12 hours for the 5,000m final.
Recap and analysis of the rest of the women's 1500 prelims below.
Heat one: DeBues-Stafford, Muir go 1-2
The first heat went out very slow at 2:16.2 for the first 800 meters behind Canadian Gabriela DeBues-Stafford and Great Britain's Laura Muir, then picked up quickly.
Ethiopia's Frewenyi Gebreezibeher tucked into third with 400 to go as DeBues-Stafford picked up the pace. DeBues-Stafford ran 2:02.75 for her final 800 (59.19 final lap) to win the heat in 4:03.70 narrowly over Muir, Kenya's Winny Chebet, Finland's Sara Kuivisto, and Gebreeezibeher.
Kuivisto ran her third Finnish national record of the week, going 4:04.10 to add to her two national records in the 800 this week — a 2:00.15 in the first round, which was good enough for a time qualifier, and a 1:59.41 in the semifinals, which was 0.13 short of making the final.
American Cory McGee was 10th with 200 to go and finished eighth, but the quick last 800 was enough to get her the time qualifying mark.
Heat three: Kipyegon crushes everyone
Japan's Nozomi Tanaka (more on her below) took the third heat out in 2:11 for the first 800, quicker than the other two heats, flanked by Oceania record holder Linden Hall, Great Britain's Katie Snowden and Kenyan Faith Kipyegon.
Kipyegon hit the front at the bell and showed why she is our favorite to win the gold medal, opening a gap with 200 to go and closing her final 300 in 46 seconds flat to win the heat in 4:01.40, the fastest time of the day.
The four aforementioned women got auto Q's, as did MacLean and Uganda's Winnie Nanyondo, who closed well to nab second in the heat.
"I was really close to my PR so definitely excited about that, just to be racing consistently and feeling strong," MacLean said. "I feel good about [recovering for the semis]. If anything, over the last few months I've definitely shown my strength. So, I know I'm definitely strong enough to do it."
Post-Race Interviews and Quick Takes. *Results here
Tanaka crushes the Japanese national record
In the 5000 prelims on Saturday, Nozomi Tanaka of Japan earned a small but significant PB as she lowered her pb from 15:00.01 to 14:59.93 but failed to advance. Today, she earned a more significant PB and did advance as she broke her own national record of 4:04.03 by running 4:02.33 to finish 4th in heat three.
After the race, Tanaka, who set the pace early in heat three, taking the field through 400 in 65.7 and 800 in 2:11.4, said she was focused on giving her "full energy" and keeping her own pace. Frustrated at not making the 5000 final, she said she had extra motivation this morning, was confident entering the race and was really thrilled with the result. When we asked her how much faster could she go — could she be the first Japanese woman under 4:00? — she said that she's never gone out in a 1500 in under 2:10 so doing that would be the first hurdle.
A nervy US champion Elle Purrier St. Pierre was pleased to get things underway and pleased with how things went
Purrier said she very much felt the nerves today like she did in the first round of the Olympic Trials in Eugene and feels that the next round will feel more like a normal race.
"I feel like the next round will be a little bit less nervy and emotional," said Purrier St. Pierre. "[I'll just] be ready to compete, where today like you know I was getting emotional on the way over and I like couldn't look at Facebook cause it's just like everybody at home is just so excited, you know, everybody's just, I can't even, I have not even looked at half of it but I'm just happy to be here and proud to represent my community and my country.
"I was really just looking for that top-six finish to advance so I was really happy with that," said Purrier. 
When we asked her how her training has been since the Trials, Purrier replied, "It's been pretty good you know [there was] a lot to digest for sure after the trials, but just headed straight home and regrouped and just you know didn't do a lot of crazy training, just try to maintain fitness."
Purrier St. Pierre added that she's loving having teammate Heather MacLean with her in Tokyo.  "We pretty much do everything together and you know that's pretty awesome because it's just like practice and you know we just, like, go to breakfast every day. It's pretty nice to have some to eat with," said Elle who added she was yelling for MacLean from the top of the media tribune during her race.
Jessica Hull was pumped to begin her Olympic experience
2018 NCAA 1500 champ Jessica Hull of Australia looked good in running 4:05.28 to finish 2nd in heat 2. She hadn't been in the stadium before today and she took a moment to take it all in and said the stadium is "pretty incredible."
As for the race, she said the goal was just to stay relaxed and she was able to do that.
"The plan with my coach (Pete Julian) was that we were prepared for any style of race so he just wanted me to go out there and execute the plan whether it was fast, whether it was slow, just stay relaxed," said Hull who added it was "pretty cool" as in the middle of the race she took a moment to realize, "I'm really relaxed right now."
As for dealing with Olympic nerves, Hull said it's been helpful that Tokyo is on nearly the same time zone as her parents in Australia (Tokyo is one hour behind her parents). She said they've been "pretty awesome" at calming her down over FaceTime. Her dad reminds her how good she has things – she's an Olympian and has realized a childhood dream. Coach Julian also has kept the nerves down by reminding her it's a 400-meter track like in every other race and there are 14 women competing against you.
Ireland's Ciara Mageean came in as the 22nd-fastest woman in the world for 2021 but won't be in the 24-person semifinal after a "tough week" last week

Mageean was only 10th in heat 1 in 4:07.29 and didn't advance. She said she gave everything she had and was "really disappointed" with how things went as the 4:00.05 1500 runner believes she's proven she is a "world-class 1500 runner." She said that she had a really "tough week" last week physically and that may have impacted her today but she didn't want to reveal the specifics of what was bothering her but said she may do so in the coming days. She said she tried to remind herself you don't lose fitness in a week.