Hobbs Kessler Breaks Alan Webb's Legendary High School 1500m Record
Runs 3:34.36 to Get Under Olympic Qualifying Standard
By LetsRun.com
May 29, 2021
3:34.36.
It might be worth remembering those numbers.
In one of the most incredible runs ever by an American high schooler, 18-year-old Hobbs Kessler ran a 3:34.36 1,500m at the Portland Track Festival tonight to obliterate the US high school record. The previous record, 3:38.26, was set by Alan Webb as a 1500 split en route to his legendary 3:53.43 high school mile record at the 2001 Prefontaine Classic.  
Article continues below player.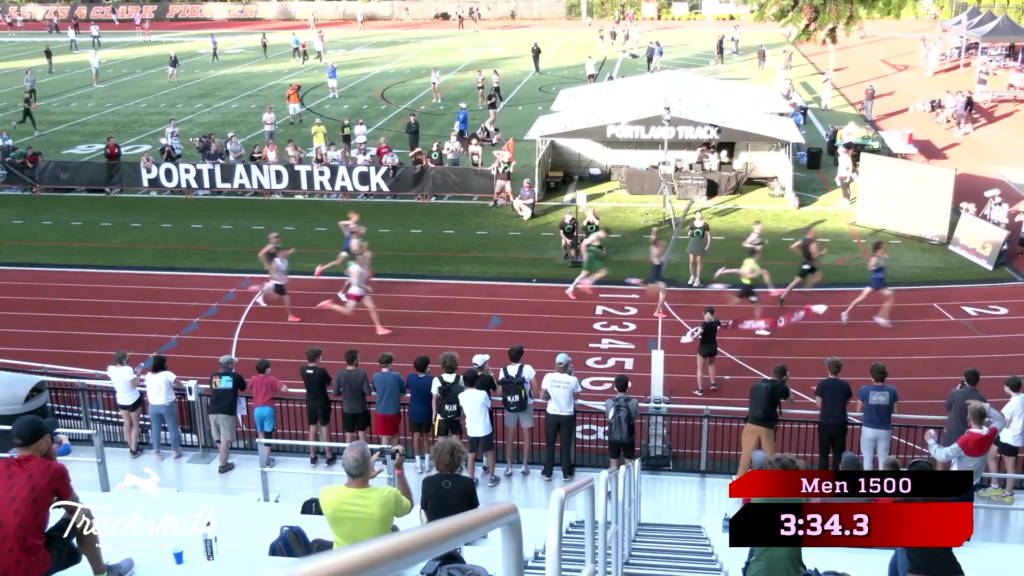 Webb's 3:53.43 has gone unchallenged for two decades, but according to World Athletics' scoring tables, Kessler's 1500 tonight was the superior performance; converting to 3:51.34 for the mile (Webb's 3:53.43 mile converts to 3:36.30 for 1500). Kessler's time is also faster than Jim Ryun's US U20 1,500 record of 3:36.1 which had stood since 1966.
Kessler, who was last in the lead pack of ten with 200m to go, moved up well the final 100 meters, and threw up his hands just before the finish line as he saw the clock and finished 5th in a race won by reigning US champ Craig Engels in a personal best of 3:33.64. Engels, the 2019 US indoor/outdoor champion and a World Championship finalist, entered tonight with a pb of 3:34.04 — barely faster than what Kessler ran.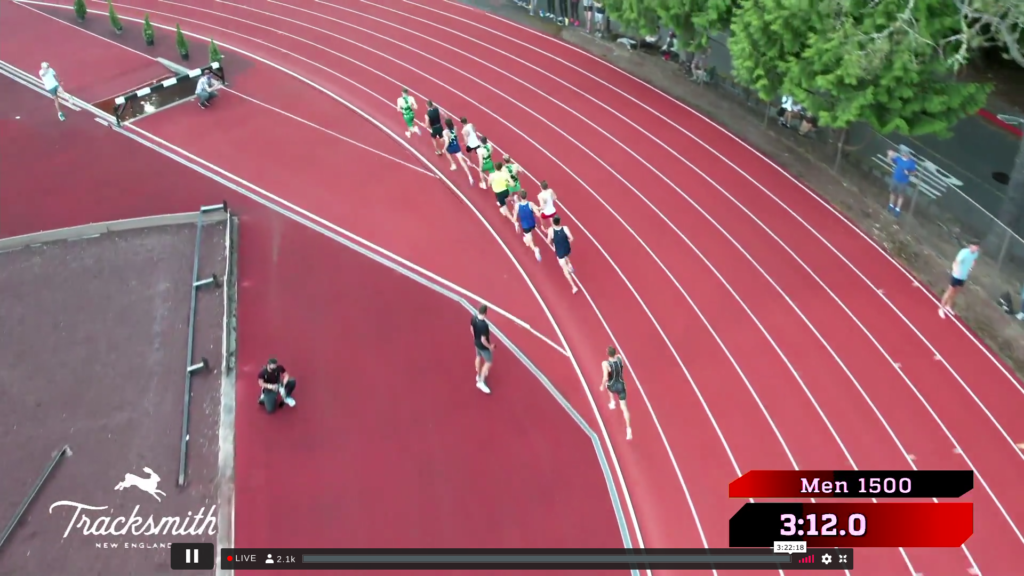 Kessler, a senior at Community High School in Ann Arbor, Mich., was already a high school record holder after running 3:57.66 in February to take down the indoor mile record. Now he is, quite simply, one of the best milers in the United States, regardless of age. His time was the third-best by an American in 2021 — only the winner Engels and fourth-placer Henry Wynne (3:34.08) have run faster this year.
How incredible was Kessler's run? He didn't just break the US high school record by almost four seconds; he also ran faster than the collegiate record of 3:34.68 set by Notre Dame's Yared Nuguse two weeks ago. He also hit the Olympic standard of 3:35.00 — one of just seven Americans to have done so during the qualification period.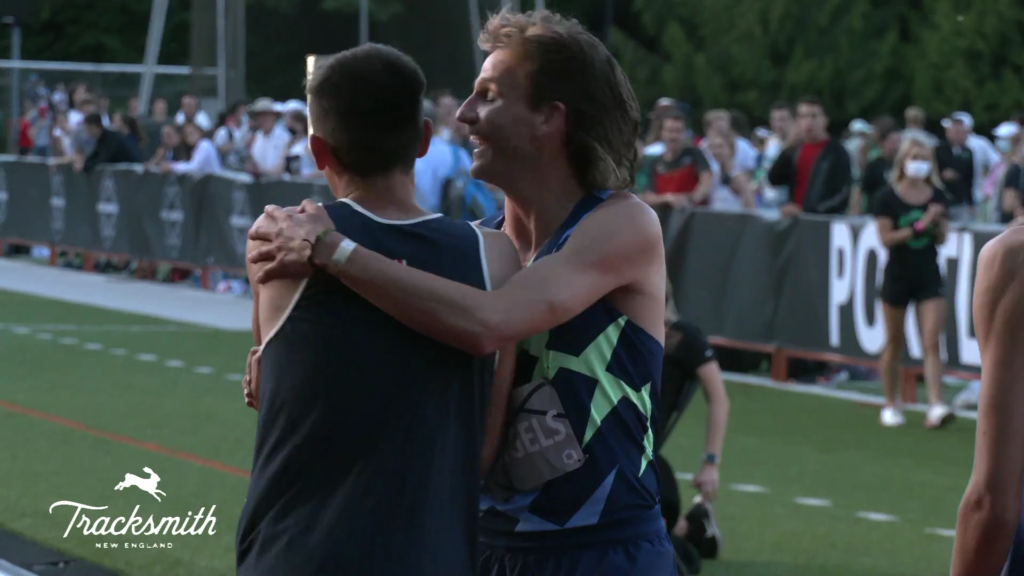 Kessler's run was so much faster than any other high schooler has run for 1500 that it is hard to even make comparisons. Webb's 3:53.43 at Prefontaine, which celebrated its 20th anniversary on Thursday, is the obvious one. Just like Webb, Kessler finished 5th in a field of pros, and just like Webb, Kessler was mowing them down over the final 100 meters.
As impressive as Kessler's run was tonight, it was not the greatest ever performance by an American U20 athlete. That remains Jim Ryun's 3:51.3 mile in July 1966 — a world record at the time that would stand for eight years. Ryun was just 19 years old at the time of that race, which came after his freshman year of college.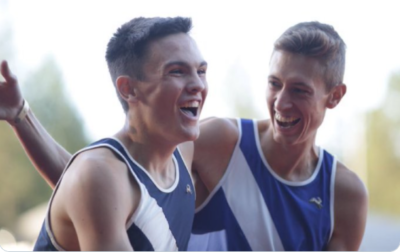 Kessler is a high school senior. His sometimes training partner, Nick Willis, an Olympic 1500m silver and bronze medallist, was in this race and tried to put it in perspective on the broadcast afterwards, "I became a spectator to the greatest performance ever by a high school miler," said Willis, noting he himself went out at the pace prescribed for the rabbits for 800, yet was in last place. "It's like Jim Ryun reincarnated again…He's such a rookie in terms of running…. He's so raw."
Results
1 Craig Engels NIKE 3:33.64
2 Charlie Grice Great Britan 3:33.82 
3 Jake Heyward NIKE / Oregon Track Club Elite 3:33.99
4 Henry Wynne Brooks Beasts 3:34.08
5 Hobbs Kessler Unattached 3:34.36
6 Vincent Ciattei NIKE / Oregon Track Club Elite 3:34.57
7 Amos Bartelsmeyer NIKE / Bowerman Track Club 3:35.24
8 Will Paulson NIKE / Oregon Track Club Elite 3:35.42
9 Mason Ferlic Tracksmith 3:35.45
10 Eric Avila Adidas 3:35.60
11 Josh Thompson NIKE / Bowerman Track Club 3:35.88
12 Nanami Arai Honda 3:37.05
13. Nick Willis Tracksmith 3:40.14
14 Pat Casey Dark Sky / Under Armour 3:43.54

Quick Take: WOW
It will probably take a week to fully break down every aspect of this race — how it ranks among the all-time greatest performances by a high school track athlete, whether Kessler is a contender to make the US Olympic team, and whether he should forego his commitment to Northern Arizona University and turn professional immediately. (Our preliminary answers: very high, absolutely, and yes).
And of course, it must be noted that Kessler broke the record during the era of superspikes, which have rewritten all-time lists across the sport (five of the eight fastest 1500 times in collegiate history have come in 2021 alone). How much that aided his performance is the subject of debate, but it was undoubtedly a factor.
Expect to see more written on those subjects over the coming weeks. But for now, the main thing we have to say about Kessler's run is: WOW.
We shouldn't need to tell you to be super impressed with Kessler's run because it obliterated the high school record. But the two people who see him on an almost daily basis are full of praise for Kessler. The announcers on the livestream said Ron Warhurst, the former University of Michigan coach who is Kessler's coach, said before tonight's race Kessler is the most talented runner he has coached. Warhurst coached both Willis and Alan Webb.
Willis himself said in addition to the amazing fluidity that Kessler exhibits when he runs (he looks like a long distance runner, yet is running the 1500), he has a great combination of naivety and competitiveness. Kessler is a world-class rock climber, yet very raw when it comes to running. Thankfully he doesn't know he's not supposed to be running 3:34 while in high school.
Kessler Speaks After His 3:34.36 High School Record: "That was pretty cartoonish"
Kessler spoke to Dyestat after the race and video of that is here. Kessler said his main goal coming in was to just hit the Olympic Trials qualifying standard. "I really just wanted to make the Trials (the OT standard is 3:37.50). I thought 3:36 at best. [Coach] Ron [Warhurst] said 3:36.8. That was in my brain of what I could run. That was pretty cartoonish. It doesn't seem real," Kessler said. "I wanted to be a factor in the race." For more on and video of Kessler's post-race comments and his goals for the Trials click here.
For more on Kessler, read our profile on him from February: LRC Two Decades After Brannen, Webb, & Willis, Ron Warhurst Has Another Teen Mile Star on His Hands. His Name Is Hobbs Kessler. Also LetsRun.com co-founder Robert Johnson has penned this after tonight's race: Hobbs Kessler Ran Amazing……..But…… Rojo admits that Kessler is a supreme talent, but is still more impressed by Alan Webb's 3:53.43 mile from 2001. Here's why.
Kessler Discussion:
Rest of Meet: Brazier & Lomong Win But Have to Work for It; Houlihan Scratches 2021 Debut, Schweizer in Trouble?
In other action, world champion Donavan Brazier ran his first 800 of the outdoor season and won, but didn't look great in doing so as he was almost run down by Mexico's Tonatiu Lopez but won in 1:45.09 to Lopez's 1:45.14 with Emmanuel Korir third in 1:45.74.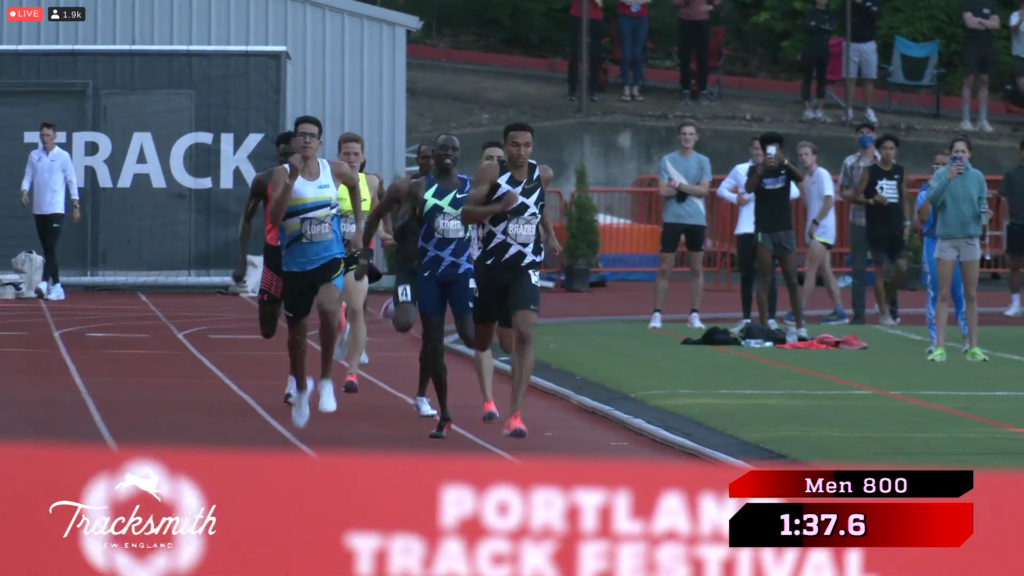 1 1:45.09 OLY Donavan Brazier NIKE
2 1:45.14 OLY Tonatiu Lopez Halcones Her
3 1:45.74 USA Emmanuel Korir NIKE
4 1:46.19 USA Jonah Koech US Army / Nike
5 1:46.23 USA Matthew Centrowitz NIKE / Bower
6 1:46.78 Alex Amankwah District TC
7 1:46.83 Brannon Kidder Brooks Beast
In the women's 800, the big story line was that Brazier's teammate, 2019 world championship silver medallist Raevyn Rogers, didn't look good and was only 6th in 1:59.72.
Up front, Gabriella DeBues Stafford of Canada/BTC  and Sabrina Southerland of the US/OTC both skipped the 1:59s and ran huge pbs in going 1-2 with Stafford winning in 1:58.70 and Southerland running 1:58.82. Stafford 's PB coming into the year was just 2:02.91 and into the race it was 2:00.03 (of course she has run 3:56.12 so her breakin 2:00 isn't a shock). Sutherland, the 2018 NCAA indoor champ, had a pb of 2:00.72 before tonight.
1 1:58.70 Gabriela Stafford NIKE / Bower
2 1:58.82 Sabrina Southerland NIKE / OTC E
3 1:59.04 Kate Grace NIKE
4 1:59.12 Chanelle Price Sports Manag
5 1:59.17 Cory McGee New Balance
6 1:59.72 Raevyn Rogers NIKE
7 2:00.40 Nia Akins Brooks Beast
8 2:00.92 Mariela Real Mexico
9 2:01.23 Sadi Henderson Oiselle
10 2:01.48 Dana Mecke Tracksmith/C
In the women's 1500, Shelby Houlihan, the reigning US 1500/5000 champion, was slated to run her first race of 2021 tonight but wound up scratching prior to the race, which was won by her Bowerman Track Club teammate Elise Cranny in a three-second pb 4:02.62.
1 4:02.62 Elise Cranny NIKE / Bower
2 4:04.26 USA Dani Jones New Balance
3 4:04.47 USA Natalia Hawthorn Brooks
4 4:04.60 USA Rachel Schneider Dark Sky / U
5 4:05.05 USA Grace Barnett Mammoth Trac
6 4:05.39 USA Kate Van Buskirk Unattached
7 4:05.55 USA
Another BTC star, Lopez Lomong, did make his 2021 debut, winning the men's 5,000 in 13:26.11, but he had to work hard to fend off a serious challenge from the Brooks Beasts' David Ribich down the home straight as Ribich took second in an 11-second pb of 13:26.41 in just his second 5k as a pro. Grant Fisher ended up running a meet record of 13:19 in the "B" heat by closing ridiculously fast.

1 13:19.52 Grant Fisher NIKE / Bower
2 13:24.64 USA Woody Kincaid NIKE / Bower
3 13:26.11 Lopez Lomong NIKE / Bower
4 13:26.41 David Ribich Brooks Beast
5 13:27.20 Frank Lara Roots Runnin
6 13:27.95 Sam Chelanga US Army / 7th Sp
7 13:28.03 Reid Buchanan ON Athletics
8 13:28.07 Hyuga Endo Sumitomo Ele
9 13:29.00 Jose Esparza GONDI/OBNOT4
In the women's 5000, Aussie record holder Jessica Hull (14:43 pb) got the win in 14:57.00 as Canadian World Championship finalist Andrea Seccafien dipped under 15:00 for the 2nd time in her career at 14:57.07 with Canadian Julie-Anne Staehli breaking 15:00 for the first time ever in third (14:57.50). But again, big picture-wise, the biggest story may have been who didn't run great — Karissa Schweizer, who has a 14:26 pb, was just 4th in 15:00.44 in her first race since February.
1 14:57.00 Jessica Hull NIKE
2 14:57.07 Andrea Seccafien NIKE
3 14:57.50 Julie-Anne Staehli New Balance
4 15:00.44 Karissa Schweizer NIKE / Bower
5 15:14.20 USA Viola Lagat Ikaika Sports
6 15:22.48 Lauren Ryan Unattached
7 15:22.51 Kim Conley New Balance
8 15:30.31 Jenn Randall Unattached
And Evan Jager was slated to run last night's steeple but scratched as well.
The Olympic Trials start in less than three weeks and it's hard to believe that between Brazier, Lomong, Rogers, Schweizer, Houlihan, and Jager, based on 2021 performances, the only one likely to make the Olympic team is Brazier. Unbelievable. That's what makes the Olympic Trials so special. Even more good news, it was announced today fans will be allowed at the Trials. Get your tickets today.
---
For more on Kessler, read our profile on him from February: LRC Two Decades After Brannen, Webb, & Willis, Ron Warhurst Has Another Teen Mile Star on His Hands. His Name Is Hobbs Kessler.
Also LetsRun.com co-founder Robert Johnson has penned this after tonight's race: Hobbs Kessler Ran Amazing……..But…… Rojo admits that Kessler is a supreme talent, but is still more impressed by Alan Webb's 3:53.43 mile from 2001. Here's why.
Kessler Discussion: