Almaz Ayana Laps Nearly The Entire Field To Win Gold In The Women's 10,000 In One of The Finest Displays in Women's Distance Running History
by LetsRun.com
August 5, 2017
LONDON – Total domination.
In her first race of 2017, world record holder and Olympic champion Almaz Ayana of Ethiopia absolutely obliterated the field to claim her second straight global title in the women's 10,000 meters tonight at the 2017 IAAF World Championships. After a pedestrian first nine laps, she put the pedal to the metal and in one of the finest displays in female distance running history went on to win by an incredible 46.37 seconds by running 30:16.32, lapping the entire field save for the top 4 finishers.
Ayana ripped off 16 straight laps in the 65- to 70-second range and ran her final 5k in a remarkable 14:24.94, a time only seven women have ever bettered for 5k (her 5k from 4k to 9k was also a quick 14:25.93).
Ayana's compatriot, Tirunesh Dibaba, the most decorated 10,000 runner in history (5 global 10k titles, 1 bronze), was the best of the rest as she grabbed silver in 31:02.69 in her first track race of 2017 as Kenya's Agnes Tirop, the 2015 world cross country champion, took the bronze in 31:03.50. Kenya's Alice Aprot, who was fourth in Rio last year, was fourth once again (31:11.86). Top non-African honors went to the Netherlands' Susan Krumins (née Kuijken) as the former Florida State star ran a pb of 31:20.25 (previous pb of 31:31.97), just ahead of 2015 world championship bronze medallist Emily Infeld of the US who also ran a pb of 31:20.45 to take sixth (previous pb 31:22.67). The other two Americans in the field, Molly Huddle (8th, 31:24.78) and Emily Sisson (9th, 31:26.36), ran in the same pack as Krumins and Infeld but were outgunned over the final lap.
The Race
Even though the race started with great mid-60-degree weather, the pace was very slow for the first nine laps. The field passed 1600 in 5:29.38 and 3200 in 10:37.25. After the ninth lap was run in 76.30, Ayana had had enough and she went to the front and ripped off a 68.64 to reach 4k in 13:02.20 (32:35 pace; the first nine laps were run at 33:02 pace). Only Turkey's Yasemin Can, the European champ at 5000 and 10,000 last year who has a 14:36 5000 pb, dared to go with her. A lap later (67.89), Can had been dropped (and she'd pay a steep price for going with Ayana as she'd finish 11th in 31:35.48) and Ayana was on her own. Once clear of the field, Ayana did not let off the gas. 
In total, she ripped off nine straight laps at 69.0 (slowest was 69.03) or faster. While Ayana was slowing a little bit on each successive kilometer, there would be no repeat of the last year's Olympic 5000 where she was caught from behind after going too big with a mid-race surge. For the final 16 laps of the race, Ayana didn't run slower than 70.87. Ayana ran her final six kilometers in 2:49.18, 2:51.59, 2:52.22, 2:54.84, 2:56.80 and 2:49.49.
Full results appear at the bottom. We'll now share a few points of analysis with you.
Quick Take: Putting Ayana's dominance in its proper perspective is hard for us to do.
So we'll let a messageboard poster do it for us. A poster by the name "Bolt is in trouble" provided some nice historical perspective to Ayana's win today:
Winning Margins in the women's 10k world championship and Olympics
Article continues below player.
1987: 4 seconds
1988: 3 seconds
1991: 21 seconds
1992: 5 seconds
1993: 23 seconds
1995: 3 seconds
1996: 1 seconds
1997: 0 seconds
1999: 3 seconds
2000: 5 seconds
2001: 0 seconds
2003: 3 seconds
2004: 0 seconds
2005: 1 second
2007: 7 seconds
2008: 2 seconds (the second place finisher was caught doping and was disqualified from this race, without her time the margin is 28 seconds)
2009: 0 seconds
2011: 1 second
2012: 6 seconds
2013: 2 seconds
2015: 0 seconds
2016: 15 seconds
2017: 46 seconds
As the poster pointed out, Ayana's win is by far the largest in history. How is it possible to win by that much? Well it needs to be remembered in last year's Olympics that Ayana was incredibly dominant as well with her 15-second margin of victory. Ayana beat Molly Huddle, who set an American record in Rio, by 55.72 seconds in the Olympics (the margin of victory over Huddle increased to 68.56 seconds tonight).
Add in the fact that the send, third and fourth placers in Rio all were either absent from this race (2nd placer Vivian Cheruiyot has moved to the marathon) or not in as good of shape (this was the first track race of 2017 for Tirunesh Dibaba who got the bronze last year; 4th placer Alice Nawowuna had already won the Kenyan and African champs and run 30:26 last year before Rio) and one can imagine that the margin could be bigger than last year. The fact that the margin of victory increased isn't a surprise (assuming Ayana was in similar shape as in Rio despite missing time this spring due to injury), but the fact that it occurred after a tactical first 4k is what's surprising. 
Quick Take: Molly Huddle on the Ethiopians: "I feel like they get away with a lot to be honest."
Huddle picked up a calf strain two weeks ago and though she felt healthy on the start line tonight, it put her behind in her preparations. It wasn't the difference between a medal and no medal tonight, but it may have meant that she wasn't able to close quite as well as she wanted. If she had been healthy, Huddle may have been able to battle Krumins for top non-African honors.
Huddle, unlike Infeld, didn't have any regrets about not being aggressive.
"I was going as hard as I would," Huddle said. "When they went, I was hoping to be able to go, but my body didn't have that."
We asked Huddle about whether the massive gap from first to second, and she said that it wasn't much of a surprise to her as Huddle herself knows what it's like to win races by large amounts when she is the class of the field.
But when asked whether she was suspicious of Ethiopia, a country that lacks the testing infrastructure of the United States, Huddle did not mince words.
"I mean yeah, I feel like they get away with a lot to be honest," Huddle said. "Everyone talks about Russia and Kenya, and they've kind of cracked down on them so maybe they'll be the next country to get a bit more stricter regulations and testing. Unfortunately nowadays you always have to question a world record, but who really knows?"
MB: Molly Huddle on the Ethiopians: "I feel like they get away with a lot" 
QT: Emily Infeld, Bronze in 2015, Was "Hoping to be Top 10." On Ayana: "There's innocent until proven guilty and I hope that she's just the best there ever was in the world"
To show how radically women's 10,000m running has changed in the last two years, bronze medallist from 2015 Emily Infeld said her goal coming in was "hoping to be top 10." She accomplished that with her sixth place finish but was left wanting a little more.
"I feel like I had a little too much left in the end, and I was too hesitant to make a move," she said.
She came in with the expectation after Rio where a world record was set in warm conditions, that the pace here was going to be super fast, so she was prepared to challenge the 31-minute mark. Instead the opening pace was pedestrian.
Infeld said one reason her expectations were lower this year was it was "mentally debilitating" to get lapped 18 minutes into the Rio Olympic final. She held off getting lapped tonight until about 500 meters to go.
Infeld said she tries not to think the worst of her competitors or get caught up in doping news. "There's innocent until proven guilty and I hope that she's just the best there ever was in the world. Otherwise if you go into it not thinking that it kind of gets in your head. Hope the best for everyone and expect the best," she said.
(2nd Infeld interview here)
QT: Emily Sisson Pleased With Her Worlds Debut, Looking Forward to Roads
Sisson, making her first international Worlds appearance, said her 8th place finish was "decent" and she was "pleased but not ecstatic" with it. She prefers a much more even pace, but needs experiences in races like this one.
When asked what was next Emily said she has a "big road season ahead." She may stay in Europe and do the Birmingham 3000, but she already has the New Haven 20k on her plans, and possibly the World Half Marathon Championships. She loves the roads and is already thinking about her marathon debut which will come before 2020.
She said the American women are making progress and she tries not to get caught up too much on what is going on in other countries in regards to doping. "All we can do is focus on ourselves and what we're doing…The only thing we have control over is ourselves," she said.
Talk about the race on our fan forum:
Results
Lap by lap notes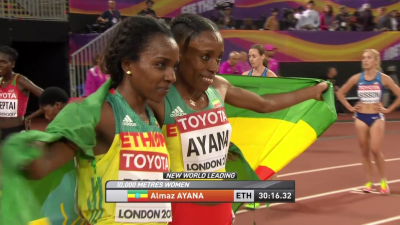 Lap 1 81.27
Lap 2 87.61 2:48.88
Lap 3 81.68  4:10.64
Lap 4 78.74 529.38 –
Lap 5 79.38 – 648.76 –
Lap 6 76.20 – 804.96
Lap 7 – 76.50 –  921.46
Lap 8 – 75.80 – 10:37.25
Lap 9 – 76.30 – 1153.55 Ayana has gone to the lead. Within 200 meters the top 5 are pulling clear.
Lap 10 – 68.64 – 13:02.18 . Can is with Ayana. Then a 5 meter gap to 3 kenyans and then 2-3 meters until Dibaba.
Lap 11 67.41 – Ayana is now dropping Can. No one else is within 20 meters of her.
Lap 12 – 67.89 Ayana has crushed everyone.  At least 15 meter lead on Can who is 10+ meters up on chase pack.
5k – 1551.38 – 8 second lead. 249 last 1k!!!
Lap 13 – 68.14
Lap 14 –  68.37
Lap 15 – 69.01
Lap 16- 69.02
Lap 17- 68.53
Lap 18 – 69.03
Lap 19  – 70.04  infeld goes by huddle at end of 19th lap. But they're still together. They're running in the third pack, with kuijken at the front right now. Sisson also in that pack. They're all together.
Lap 20 – 70.45 –
Lap 21 – 70.19  ayana is 240 meters clear with a mile to go.three kenyans plus dibaba in battle for other medals with a mile to go.
Lap 22 – 70.87 sisson struggling to hang on to chase pack of huddle, infeld, kiuijken and japanese
Lap 23 – 70.36 with two to go, it's down to tirop, aprot and dibaba for the other medals.
Lap 24 –  69.46.  Dibaba and cheptai breaking away. Dibaba takes second just before bell, tirop she's leading tirop the whole final lap, finally gains a little ground and dibaba pulls away for second. Infeld kicks big but kuijken holds her off. She drops huddle hard.
Lap 25 –  65.43 –   ayana lapped almost everyone. I think kuijken was the highest finisher that she lapped.